Turkey Pinwheels are a seasonal spin on the popular party snack. These will make for an excellent Christmas or Thanksgiving appetizer!
With plenty of turkey pinwheel recipes on the internet, we wanted to make some special for Thanksgiving. Follow along with our recipe to see how to make sandwich wraps for a party this holiday season!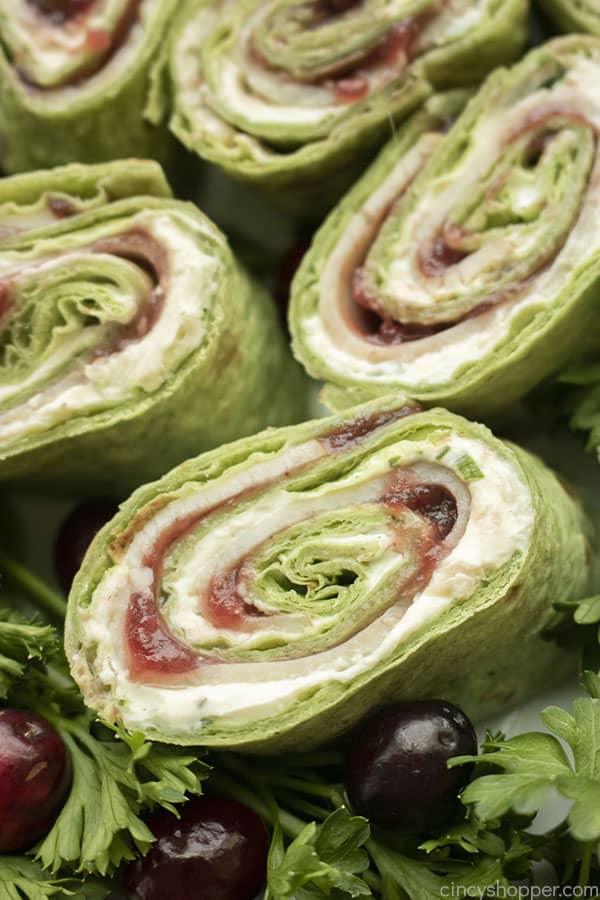 Turkey Pinwheels
We're all probably waiting for that big chance to throw our first big party of the holiday season. With these fall and winter parties comes the promise of delicious, great-tasting party snacks and appetizers! We've got plenty of recipes for tasty appetizers here on the site, but today we wanted to do a seasonal spin on the ever-popular turkey pinwheel.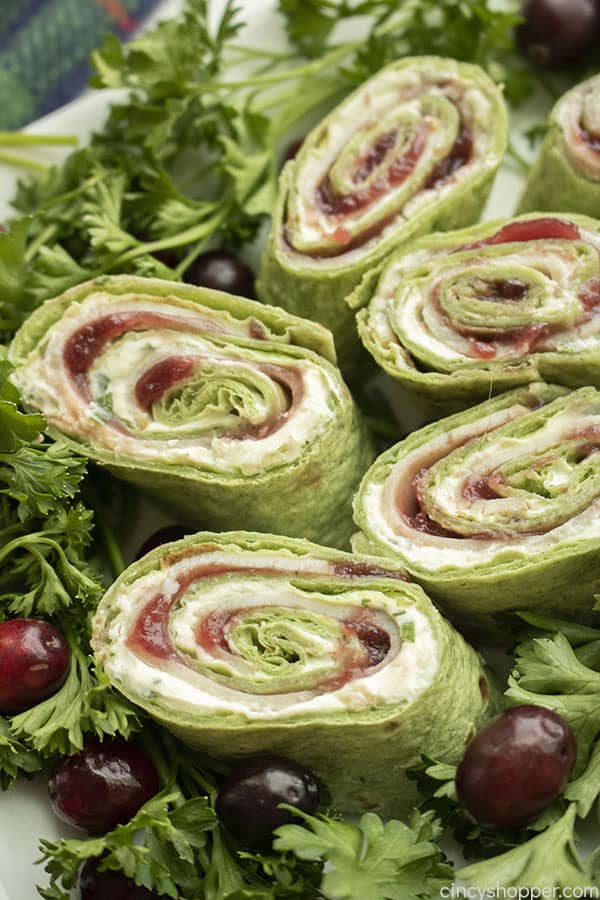 Our little turkey rolls mix things up a bit, with a delicious cream cheese spread in addition to a healthy serving of cranberry sauce. We also found these spinach wraps at our grocery store- they don't taste too different from a regular tortilla wrap and look a bit more interesting! All of this comes together to make for a delicious a good-looking party appetizer your guests will love.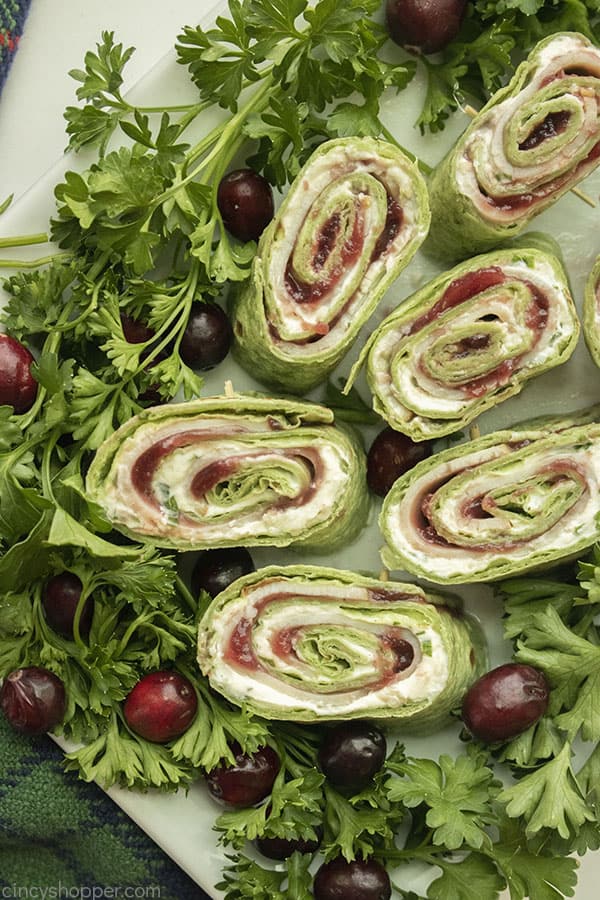 The best part of this entire recipe? How easy it all is! The only real prep-work is a quick slicing of green onion- all that's left after that is spreading our spread and sauce and rolling our pinwheels up. We hope you enjoy!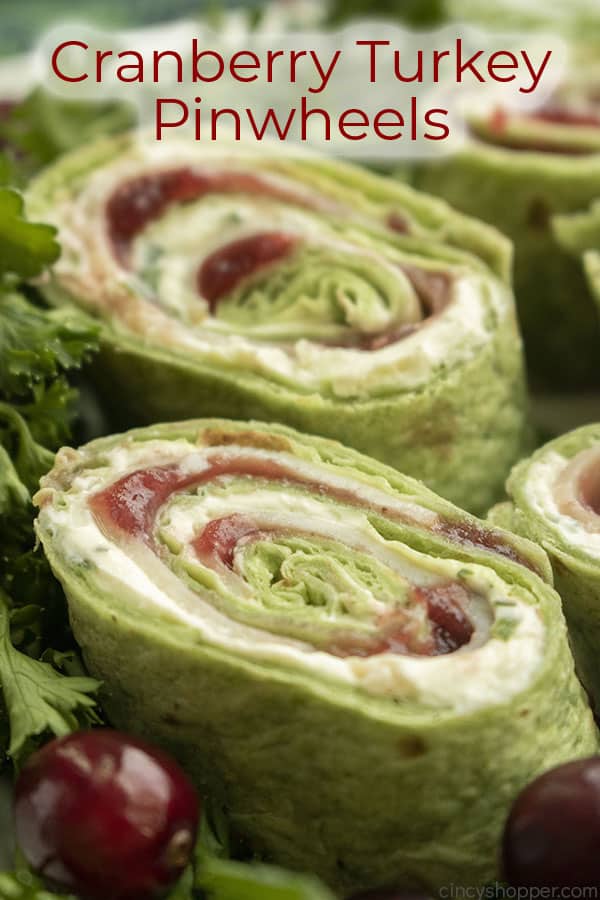 More Christmas and Thanksgiving Appetizers
No holiday party would be complete without some of our

Slow Cooker Cranberry Meatballs

! These sweet-and-spicy bites have been a long-time favorite of ours and they're easy to make.

If you have some crackers or chips that need dipping, try some of our

Cranberry Salsa Dip

.

With

just

the rich amount of heat,

perfectly

balanced with the sweetness from the cranberries- we know you'll love this dip

!

For something on the sweeter side, you can serve up our

Old-Fashioned Cranberry Salad

.

Our spin on this holiday classic uses crushed pecans and crushed pineapple to take things in a more "dessert-y" direction

.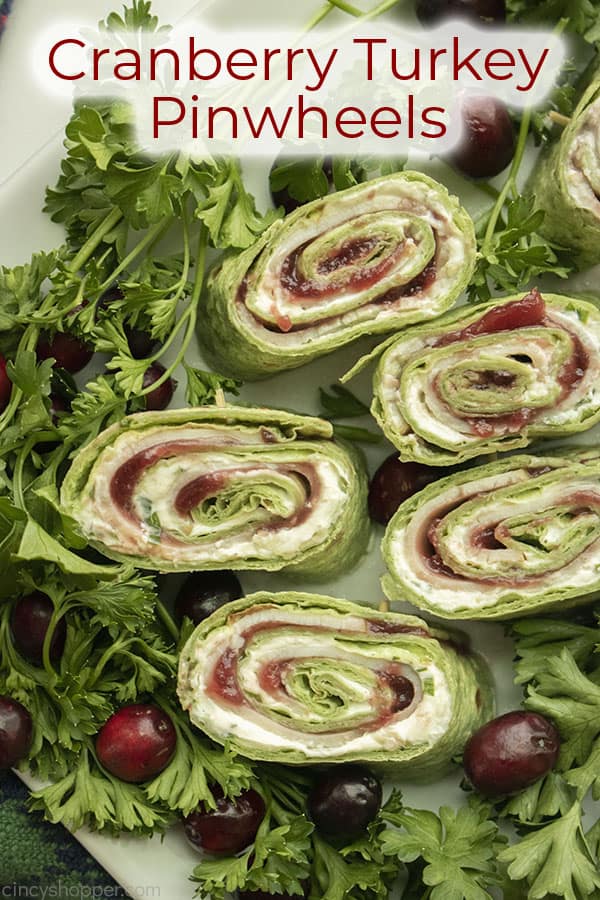 Ingredients for Roll Ups
Tortilla Wraps – You could use the regular wraps if you want. These spinach wraps don't taste too different, and

we think

they look a bit more interesting!

Green Onions,

thinly

sliced
How to make Turkey Pinwheels
There isn't much in the way of prep for our turkey roll ups. In fact, the only thing we're going to have to use a knife for slicing our green onions. Slice them thin!
Now we've got to mix up a quick cream cheese spread. To do that, add our cream cheese, sour cream, sliced onions, garlic, salt, and pepper to a mixing bowl. Use something like a hand mixer to make quick work of beating all these together.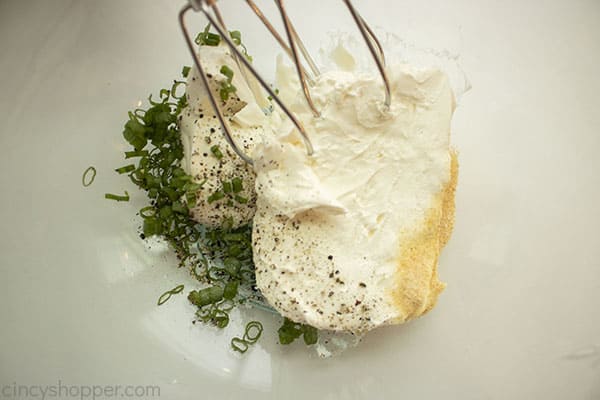 From here, assembly is as simple as pie! First, spread some of our cream cheese mixture onto our wrap.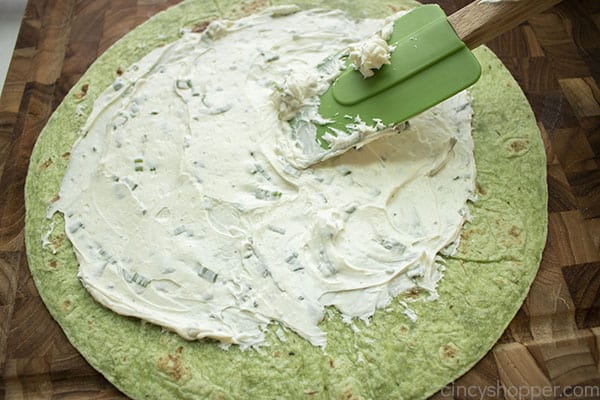 Next, lay down your deli turkey…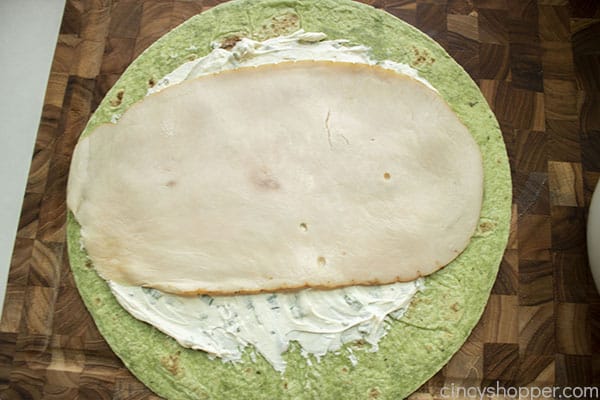 Finally, give that turkey a generous smearing of cranberry sauce.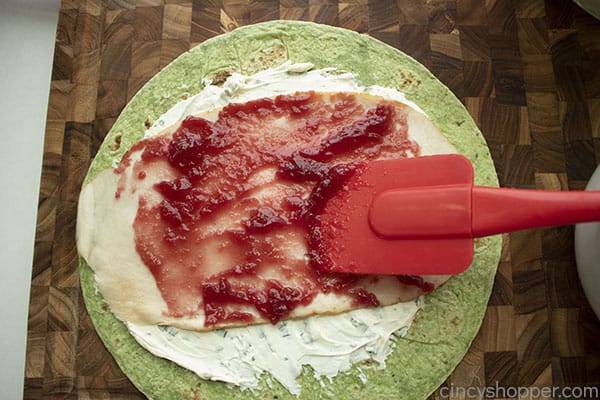 All that's left is to roll our pinwheels up tight. The tighter you can get these things without tearing them, the better! Before slicing our pinwheels out from the wrap, we'd recommend skewering each slice with a toothpick. This will help them keep their shape while you're slicing.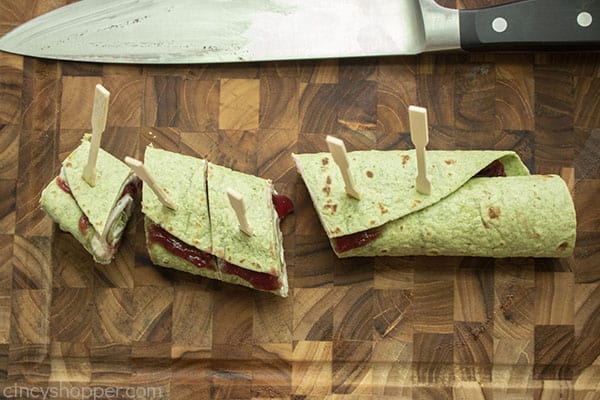 With your turkey pinwheels all cut, you can finally plate them up and serve them to any waiting guests. We know you and your guests will love these delicious turkey roll ups! Enjoy!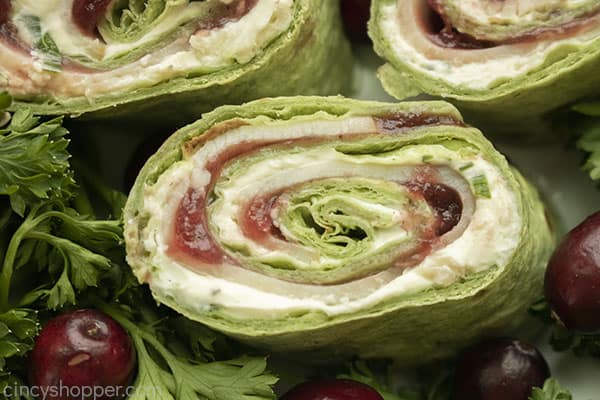 Turkey Pinwheels
Turkey Pinwheels are a seasonal spin on the popular party snack. These will make for an excellent Christmas or Thanksgiving appetizer!
Ingredients
8

oz

Cream Cheese

softened

1/4

cup

Sour Cream

1

bunch

Green Onion stems

thin sliced

1/4

tsp

Garlic Powder

1/8

tsp

Black Pepper

1/8

tsp

Salt

3

large Tortillas

7

oz

Whole Cranberry Sauce

1/2

lb

Deli Turkey Breast

thin sliced
Instructions
Combine the cream cheese, sour cream, Green onion, garlic powder, salt and pepper in a bowl.

Mix until blended. Set aside.

Evenly spread cream cheese mixture over each tortillas.

Place sliced turkey on cream cheese mixture.

Evenly spread the cranberry sauce on turkey.

Roll the tortilla up tightly.

Use a 8 toothpicks for each tortilla to secure.

Trim uneven ends and discard (eat).

Cut each roll into 8 pieces.
Nutrition
Calories:
71
kcal
|
Carbohydrates:
6
g
|
Protein:
2
g
|
Fat:
4
g
|
Saturated Fat:
2
g
|
Cholesterol:
16
mg
|
Sodium:
160
mg
|
Potassium:
74
mg
|
Fiber:
1
g
|
Sugar:
4
g
|
Vitamin A:
155
IU
|
Vitamin C:
1
mg
|
Calcium:
17
mg
|
Iron:
1
mg