Ambrosia Salad is a fluffy, fruity, and sweet dessert salad that's easy to make. This old fashioned recipe is always sure to be a favorite!
These creamy dessert salads are always easy to make and a treat to eat! Loaded up with oranges, cherries, pineapple, and coconut- what's not to love in this simple recipe?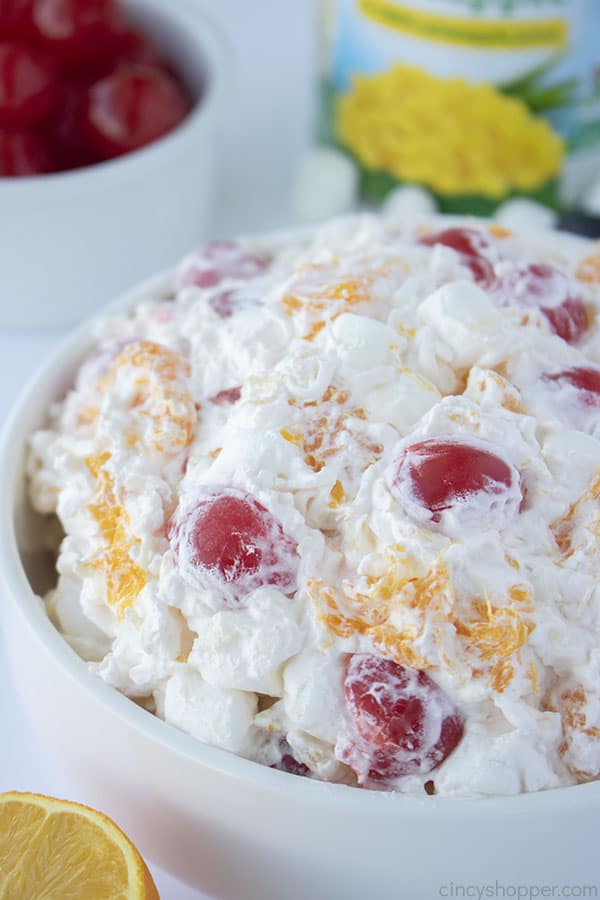 Ambrosia Salad
If you look around on the internet, you'll find a bunch of people calling different things "Ambrosia Salad." Ingredient lists will vary by town or by region or by state: some folks add nuts, some add sour cream or cottage cheese. Personally, I like to keep my Ambrosia Salad simple and delicious!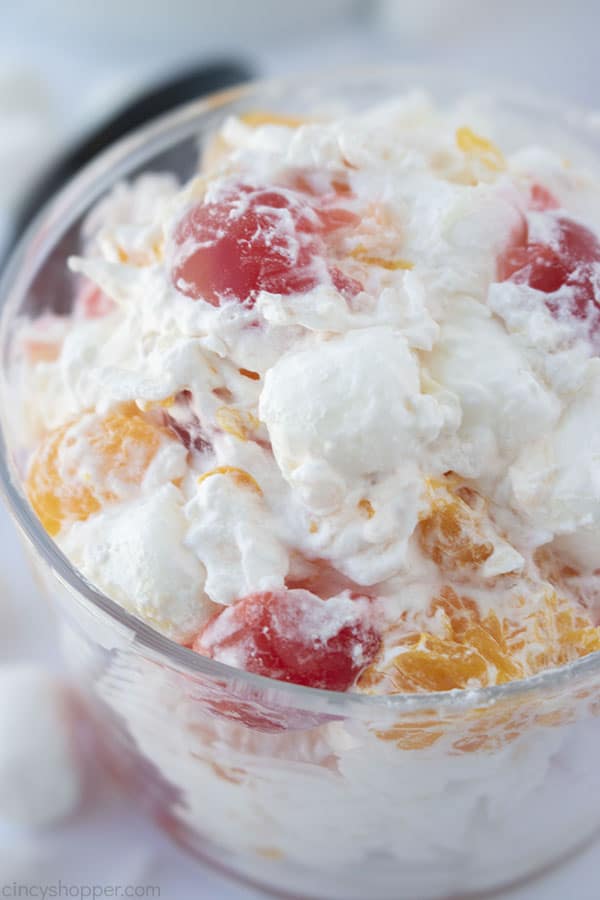 At its core, this salad is chunked fruit in a fluffy and creamy base. We can make this simple recipe even simpler by reaching for canned fruit! The only real prep we'll end up doing is chopping our cherries and mixing everything together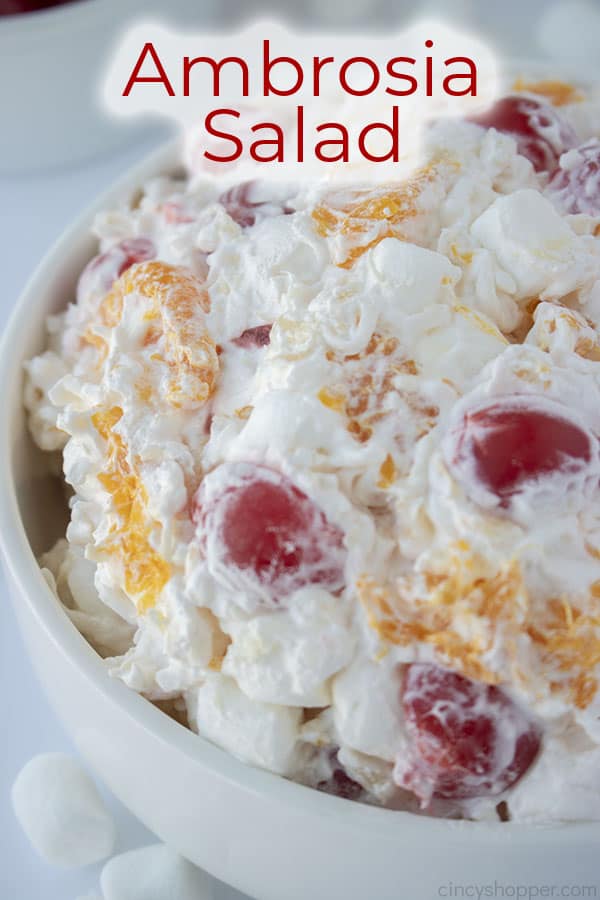 Our Ambrosia Fruit Salad is great served up on its own as a delicious and fluffy dessert salad. It's simple to make and incredibly easy to scale up so it's the perfect salad for a crowd! Hope you love it.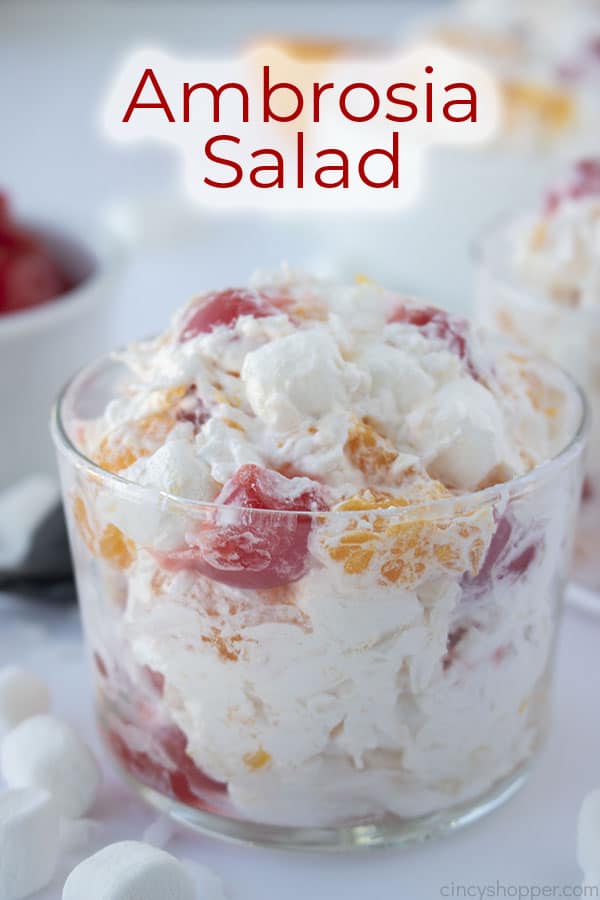 Sweet Salad Recipes you'll want to try next!
Watergate Salad

is a pistachio delight!

A super short ingredients list and a simple prep makes this tasty dessert salad the perfect side dish for any meal

. Great with a pistachio garnish!

Our

Cranberry Fluff Salad

makes for an amazing holiday side dish. If you enjoy this Ambrosia Salad, this holiday spin has to be your next stop!

Fluffy Pineapple Salad

is light, refreshing, and perfect for a side dish or dessert!

Whip this up a few hours in advance for the perfect treat to bring to your next potluck or for Easter dinner- it pairs great with ham

.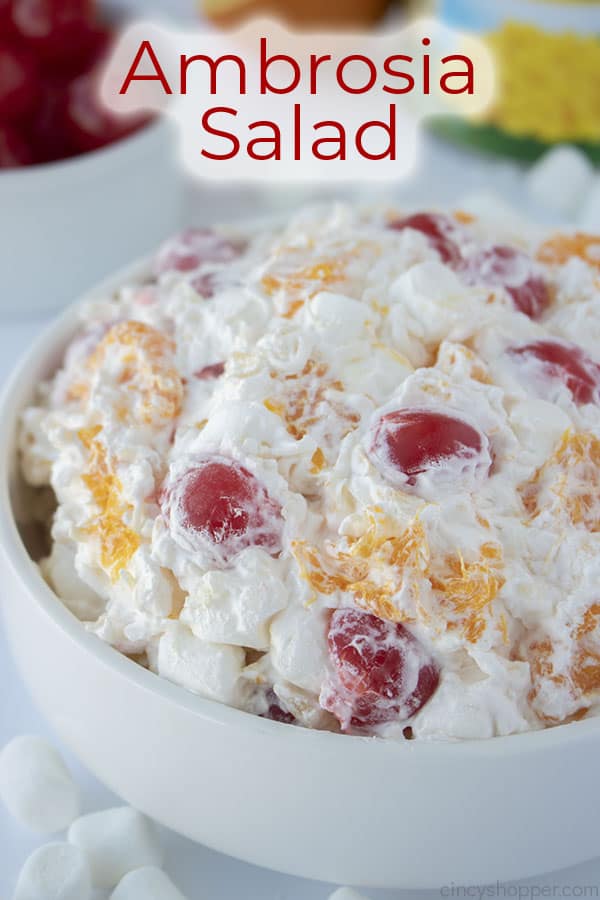 Ingredients for our Fruit Salad
Crushed Pineapple or Pineapple Chunks

Whipped Topping – Like Cool Whip.
You can also add other fruits- like grapes or strawberries- or some nuts- usually crushed pecans- if you'd like!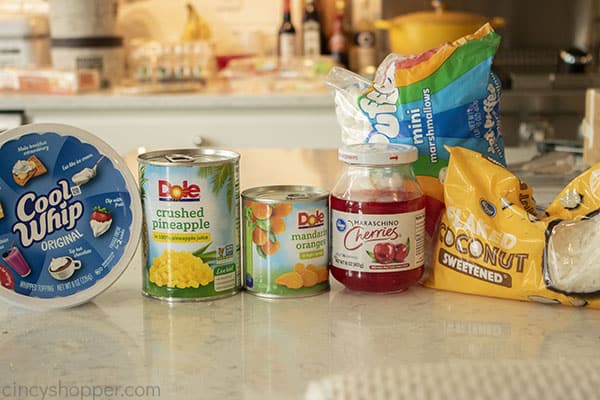 How to make Ambrosia Salad
First, you'll want to take your cherries and give them a quick chopping. No need to dice them real fine- just halves or quarters will work. Maybe save a whole one for a garnish if you'd like.
If you're using canned ingredients, crack the cans open and drain off the liquids before adding the solids to a bowl. In all, you should add your cherries, oranges, pineapple, coconut, and marshmallows to the bowl.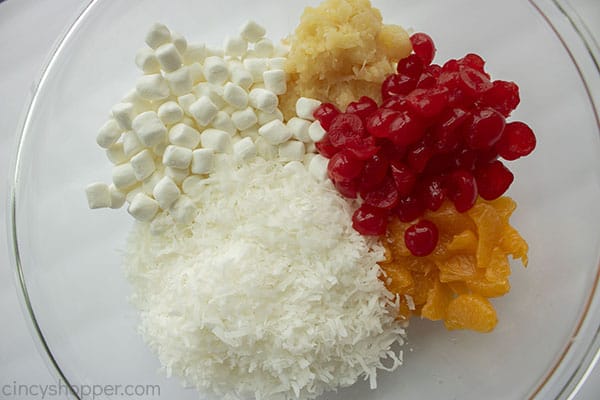 The only ingredient missing here is our whipped topping! Ensure your topping isn't frozen at all before adding it into the bowl along with all your other ingredients.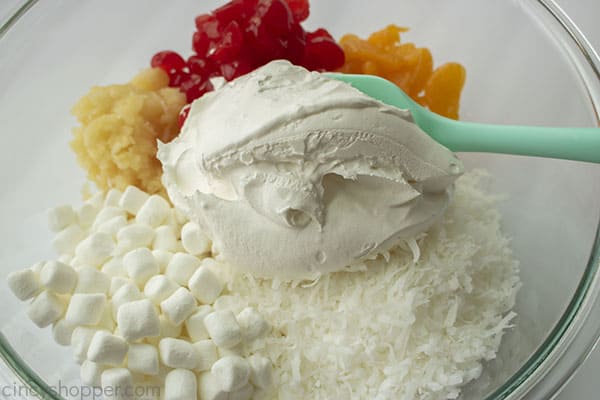 With all our ingredients in the bowl, we'll want to gently mix them together. Take care as you fold everything together into a consistent, fluffy fruit salad.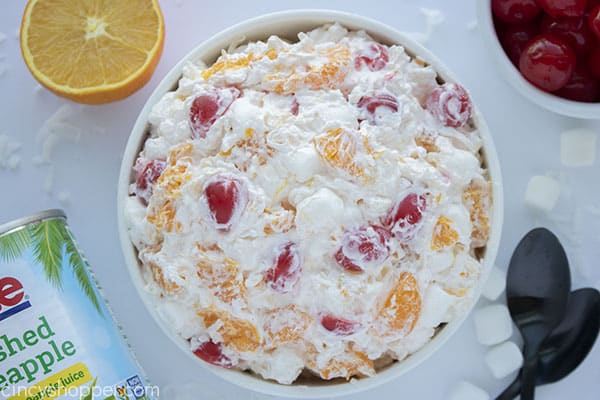 Once your salad is all mixed up, you'll want to transfer it to an airtight container for storage- unless you're serving it immediately. If kept airtight, your salad will stay good for 3-4 days, meaning you could make this recipe well in advance for a party or get-together.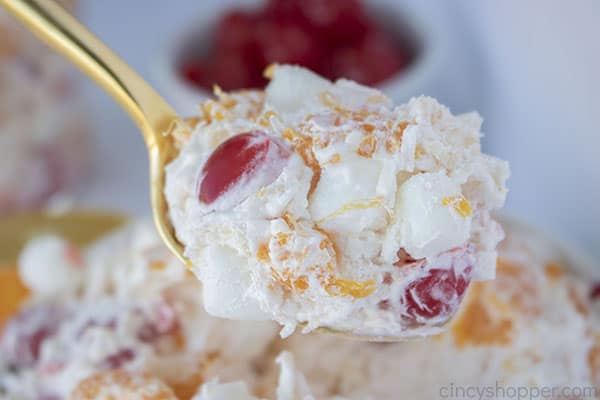 When it's time to serve your ambrosia salad, dole it out into some nice cups or bowls for presentation. Optionally garnish with a cherry before serving and enjoying!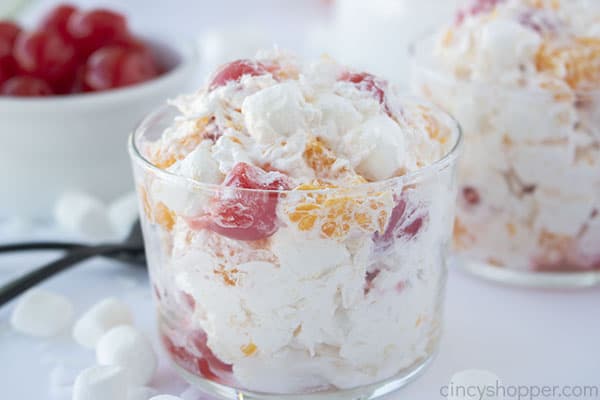 Ambrosia Salad
Ambrosia Salad is a fluffy, fruity and sweet dessert salad that's easy to make. This old fashioned recipe is always sure to be a favorite!
Ingredients
1/2

cup =

Maraschino Cherries

drained

11

oz

Mandarin Oranges

can drained

20

oz

Pineapple Chunks

can drained

2

cup

Sweetened Flaked Coconut

2

cups

Mini Marshmallows

8

oz

Whipped Topping
Instructions
Gently chop cherries in half without crushing.

Combine all ingredients except whipped topping in a serving dish.

Fold in whipped topping until distributed.

Refrigerate until ready to serve.
Nutrition
Calories:
288
kcal
|
Carbohydrates:
50
g
|
Protein:
2
g
|
Fat:
10
g
|
Saturated Fat:
9
g
|
Cholesterol:
1
mg
|
Sodium:
93
mg
|
Potassium:
258
mg
|
Fiber:
4
g
|
Sugar:
42
g
|
Vitamin A:
329
IU
|
Vitamin C:
17
mg
|
Calcium:
56
mg
|
Iron:
1
mg