Homemade Eggnog tastes way better than anything store-bought and is so simple to make. Our rich, creamy nog uses an easy recipe you'll love!
Eggnog is one of the tastiest drinks to enjoy during the winter season. Instead of running to the store to grab a cheap jug of nog, follow along with our easy recipe for delicious eggnog you can enjoy through the holidays!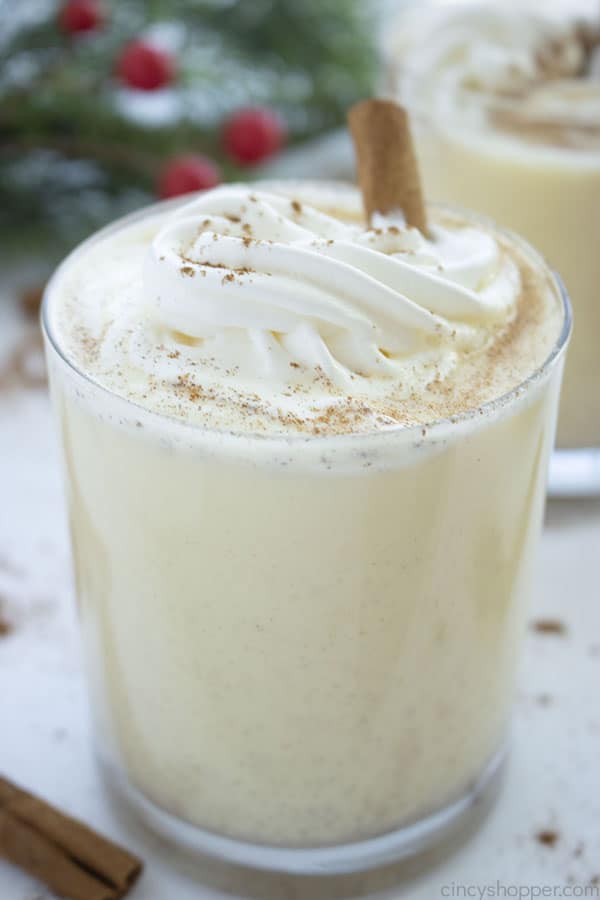 Homemade Eggnog
Some drinks just seem to fit in with the seasons. Lemonade always feels right on a hot spring or summer day, some pumpkin spice coffee is perfect during those cool autumn days. In the dead of winter, I love some nice, delicious eggnog. I've ran out to the grocery many times just to stock back up on store-bought eggnog but, recently, I've taken the time to start making my eggnog from scratch!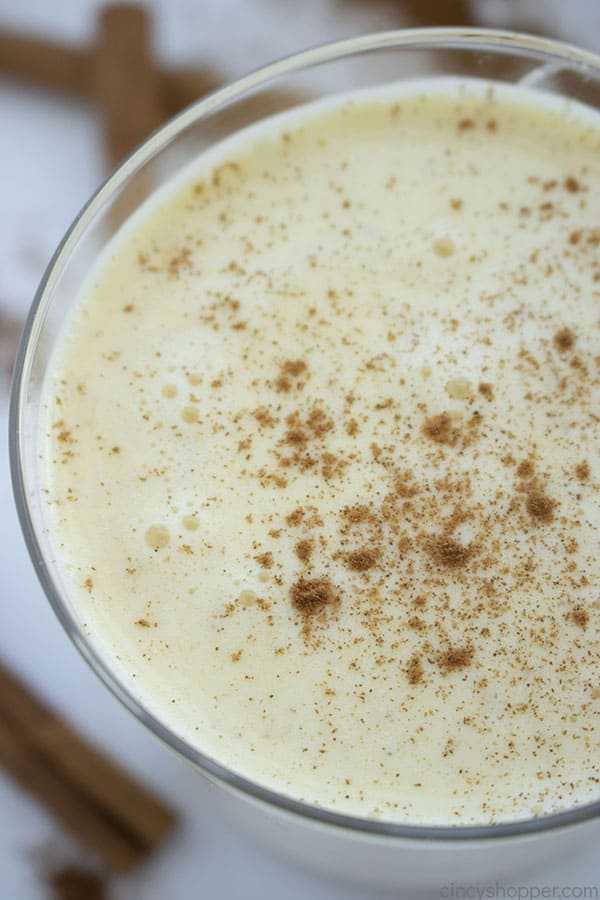 I quickly found out that making nog at home is real easy. The effort's well worth it too: homemade eggnog tastes much fresher and creamier than any stuff from a carton or jug. The best part when you make eggnog at home is all the add-ins you can use! You can add some spiced rum or bourbon for a little extra flavor or make non-alcoholic eggnog for the kiddos. With a bit of extra work, you can even make eggnog with egg whites to add a bit more frothiness to your drink. Follow along with our recipe to see how to make eggnog easy- hope you enjoy!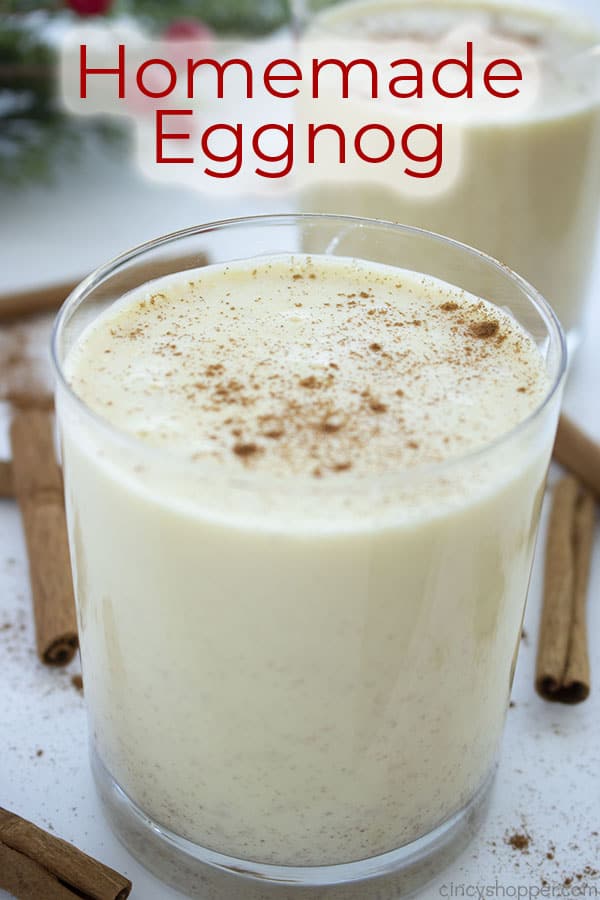 Loved our tasty Homemade Eggnog? Here are some other eggnog-inspired recipes to try!
Keep that stovetop warm so you can make some delicious

Eggnog Fudge

!

This tasty holiday sweet combines white chocolate, a bit more nutmeg spice, and some eggnog to make a delicious Christmas fudge

. A great treat to serve to guests for the season!

If you're more interested in some no-bake recipes, you've got to make some

No Bake Eggnog Cheesecake

. This is a delicious holiday dessert that even eggnog-haters will be asking for more of! This tasty recipe is perfect for holiday parties.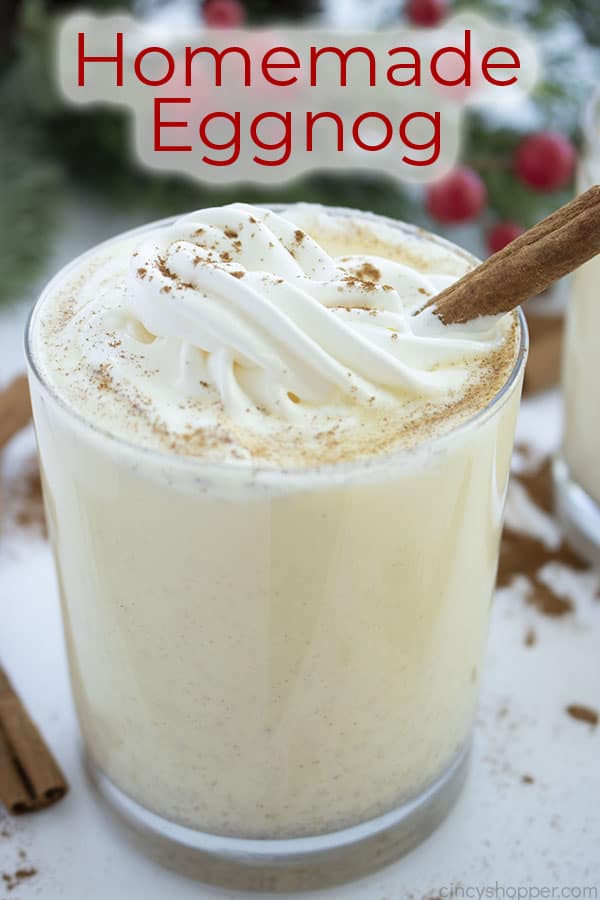 What is in Eggnog
Egg Yolks – Use more or less depending on how rich you want your eggnog to taste.

Sugar – Add more if you'd like sweeter eggnog.

Nutmeg – If it's available, use some freshly-grated nutmeg. Though, the pre-grated stuff works

just

fine here!

Egg Whites

(optional)

– Adding egg whites can take a bit of the "weight" out of eggnog- making it bit more airy and fluffy.

Alcohol

(optional)

– Lots of folks will add some amber spirits to their eggnogs.

The usual picks are bourbon or rum but experiment- some folks have tried brandies and Irish whiskeys

.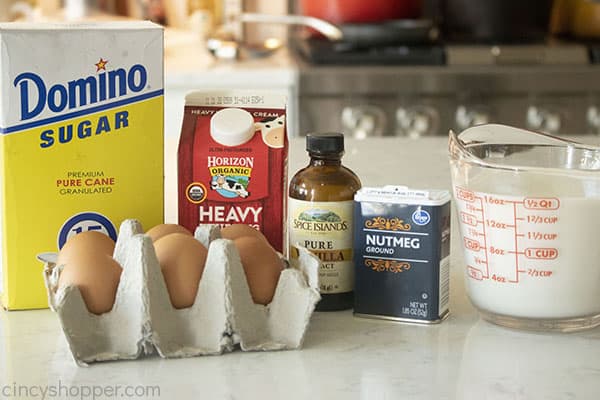 How to make Eggnog
To start our nog, we need to crack a few eggs. Crack some eggs and seperate the yolks from the whites. Drop the yolks into a bowl and set the whites aside if you feel like using them in your homemade eggnog. Beat the egg yolks until smooth.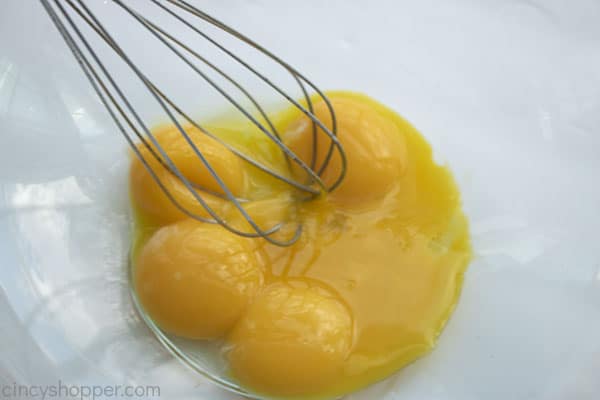 Once you've whisked the yolks to a smooth texture, add your sugar to the bowl and beat all those together until nice and fluffy. It's this rich, sweet mixture that's going to give our eggnog a lot of it's flavor!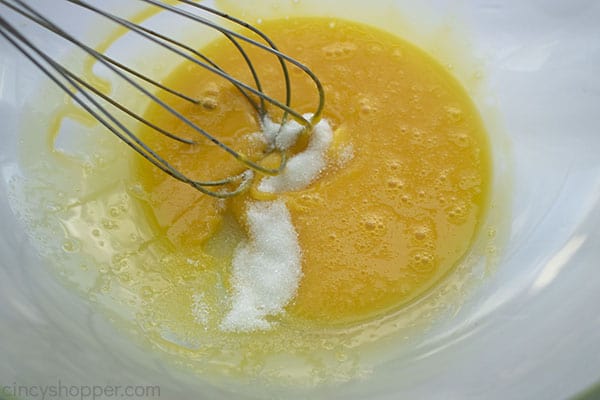 The next big part of our eggnog is going to be delicious spiced milk. We're going to heat this milk up so we can temper our eggs and form the base of our eggnog. For this spiced milk, combine our milk, cinnamon, and cloves in a pot and heat on the stovetop over a medium flame. Once it reaches a bubble, pull it from the heat.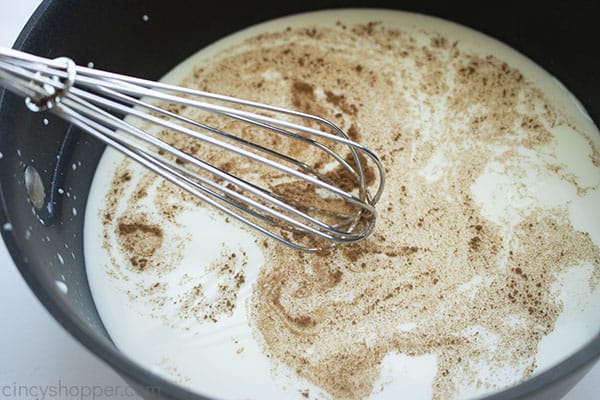 We're now going to use this milk to temper the sugar-egg mixture. You'll need both your hands working for this, so wet a dish-rag, ring it out, and wrap it around the base of the bowl holding the eggs. This will keep the bowl steady while you whisk with one hand and add ladles of the milk with the other. Keep streaming ladlefuls of your hot milk into the eggs, whisking constantly, until you've added about half your milk. Once you've added half the milk, transfer the tempered eggs back to the pot and whisk to combine.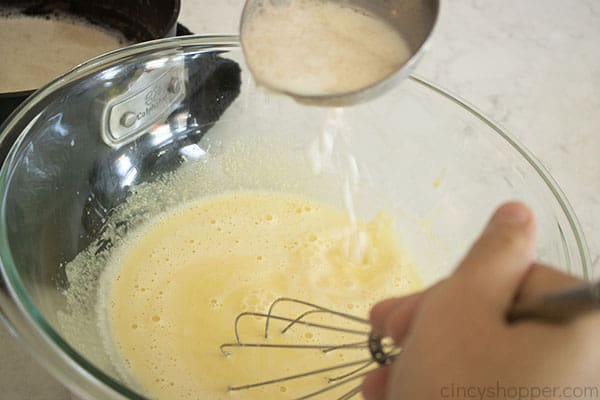 We're going to continue cooking this mixture over medium heat once again, stirring constantly with a wooden spoon. We're going to cook this up to 160 degrees or until the mixture starts to coat the back of your wooden stirring spoon. We don't want this mixture to boil, as this will cause the mixture to curdle.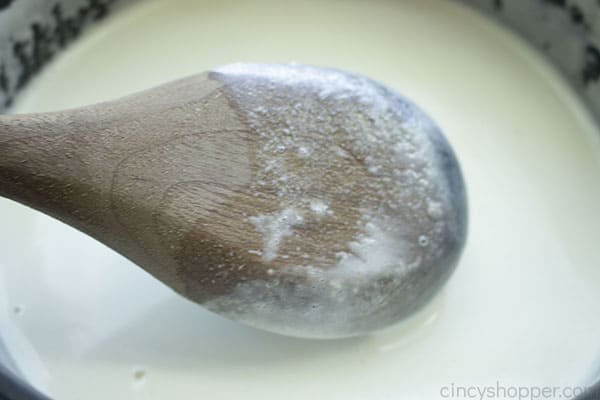 Once we've cooked this eggnog base to this point, remove it from the heat. To really make our homemade eggnog rich and creamy, we're going to mix it with some heavy cream. Pour and stir in the heavy cream until everything is combined.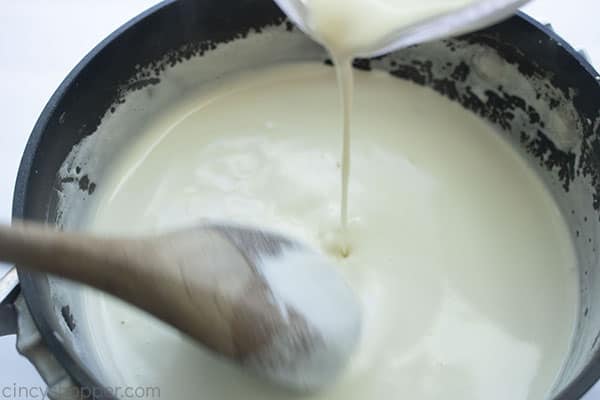 There's still a lot of loose spices and likely a bit of scrambled egg in our eggnog, so we do want to strain it off. Grab a fine-mesh sieve and pour your eggnog through it, catching all those spices and eggs and leaving you with a smooth nog.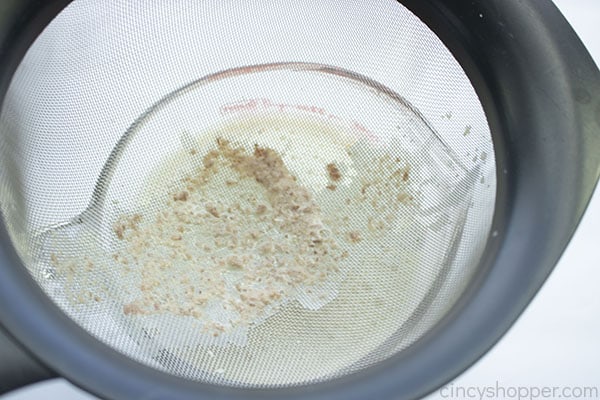 At this point, your homemade eggnog is technically done… but you can still add a few other things! We highly recommend at least adding in some vanilla extract and some nutmeg. Outside of this, you can slip in a pour of some rum or bourbon if you want a spiked eggnog. You can also use those egg whites from earlier if you'd like: beat them to stiff peaks with a teaspoon of sugar before folding into your eggnog. Heat this mixture up to 160 degrees before letting cool. Whatever you add, we recommend storing your eggnog in the fridge once it's cooled down some.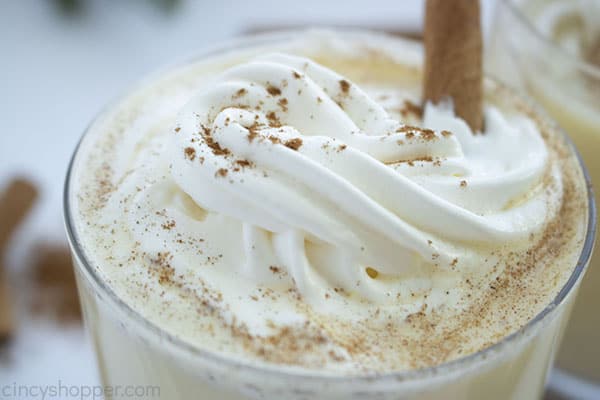 For health and safety reasons, we recommend enjoying all of your eggnog within the next 2-3 days. Whether you serve it cold or warm, we hope you enjoy!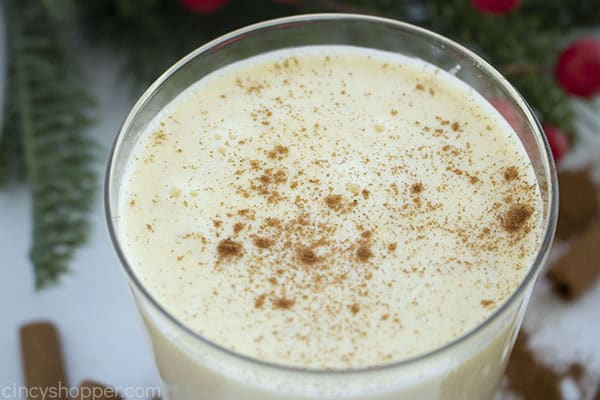 Eggnog
Homemade Eggnog tastes way better than anything store-bought and is so simple to make. Our rich, creamy nog uses an easy recipe you'll love!
Ingredients
6

Egg Yolks

1/2

cup

Sugar

2

cup

Milk

Pinch

Ground Cloves

1/4

tsp

Cinnamon

1

cup

Heavy Cream

1

tsp

Nutmeg

1 1/2

tsp

Vanilla Extract

1/4

cup

Rum or Bourbon

optional

4

Egg Whites

optional
Instructions
In a large bowl, whisk egg yolks until smooth.

Gradually add the sugar, whisking constantly until fluffy. Set aside.

In a heavy pan, combine the milk, cloves, and cinnamon.

Heat on medium heat until it just starts to bubble.

Remove from heat.

Temper the egg mixture by adding a ladle of hot milk mixture to the egg mixture while whisking constantly.

Repeat until about half of the milk has been added to the egg mixture.

Pour the tempered egg mixture back into the pan (that has the remaining milk).

Cook over medium heat, stirring constantly with a wooden spoon.

Cook until temperature reaches 160 or mixture coats the back of the spoon. Don't allow to boil, or it will curdle.

Remove from heat and stir in the cream.

Strain through a mesh sieve and allow to cool.

Stir in vanilla extract, nutmeg, and bourbon or rum (if desired).

If you you are adding egg whites, beat them with a electric mixer until soft peaks form.

Add a teaspoon of sugar and beat until stiff peaks form.

Fold eggwhites into eggnog.

Heat the combined eggnog and egg white mixture until it reaches 160°F.

Remove from heat and let cool.

Chill.
Nutrition
Calories:
348
kcal
|
Carbohydrates:
23
g
|
Protein:
8
g
|
Fat:
22
g
|
Saturated Fat:
12
g
|
Cholesterol:
258
mg
|
Sodium:
92
mg
|
Potassium:
189
mg
|
Fiber:
1
g
|
Sugar:
21
g
|
Vitamin A:
974
IU
|
Vitamin C:
1
mg
|
Calcium:
141
mg
|
Iron:
1
mg