These Fall Pretzel Kisses are so quick and easy to make even the kiddos can put these together. I am always looking for a quick afternoon snack to whip up for all the monsters as they arrive each afternoon.  These Fall Pretzel Kisses are so simple that I can have the teens whip them up for everyone in just a few minutes time. I am also thinking these would be great for some little treats to toss on the Thanksgiving snack table. It's that time of year when we can find all the holiday inspired M&M's for making up festive looking treats.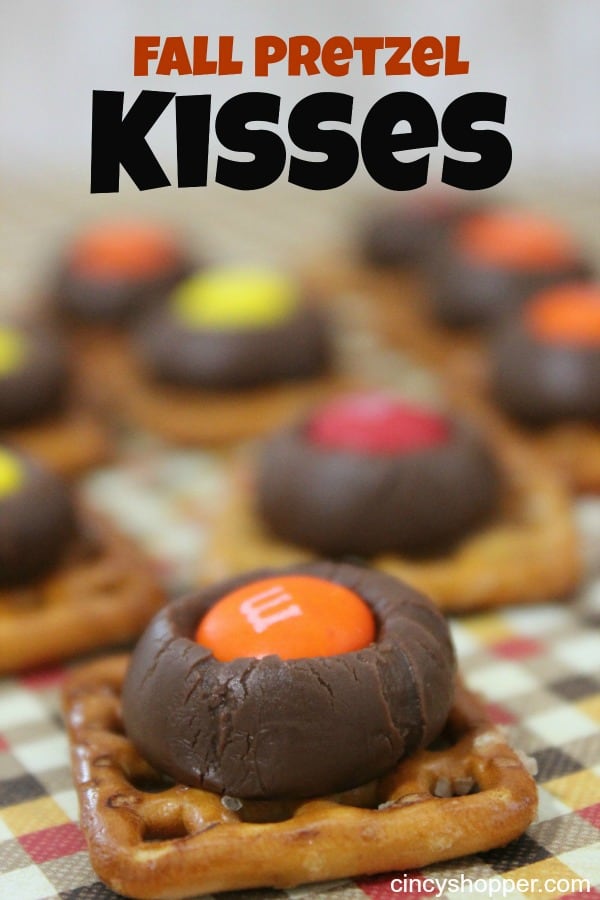 This past week while shopping in Walgreens I spotted the Fall M&M's and had to grab a couple bags. Yes I will admit I am a bit obsessed with the holidays. Sometimes I will admit I get a little bit overboard and crazy. The holidays just always make me feel a bit of needing everything special.  If you are looking for a quick treat for anytime of year, grab a bag of M&M's, some Hershey's Kisses and some pretzels and in just a few minutes time you can have yourself a tasty (sweet and salty, yum) treat.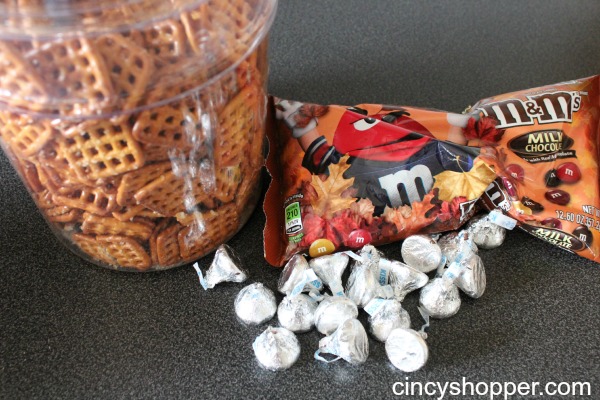 INGREDIENTS
Square Pretzels
Hershey Kisses
Fall M&Ms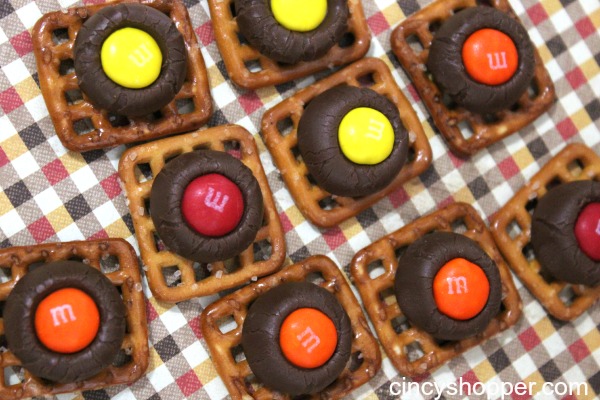 DIRECTIONS
Preheat oven to 325
Arrange pretzels on parchment paper on baking sheet.
Place a Hershey Kiss on top of each pretzel.
Bake for 3 minutes. Remove from oven.- Keep a very close eye as you do not want these to get to soft. The chocolate will continue to get softer after removed from oven.
Press a Fall M&M in the center of each kiss.
Refrigerate 5 Minutes to firm.
Looking for other fall quick and easy snack ideas? If so be sure to see the cute little Nutter Butter Acorn Kisses and also the cute Nutter Butter Pilgrims I put together this past week.