Oh my check out this Nutter Butter Pilgrim the kiddos and I whipped up this afternoon. I will admit this one was the hubby's idea and he did most of the work, ha ha. He can be so creative at times. With Thanksgiving just around the corner we have broken out the Thanksgiving decor. I was quite obsessed for many years on Pottery Barn Kids Thanksgiving lines that include all the turkey and Pilgrim tableware. This year I want a special treat to match all of our cute Thanksgiving dinnerware.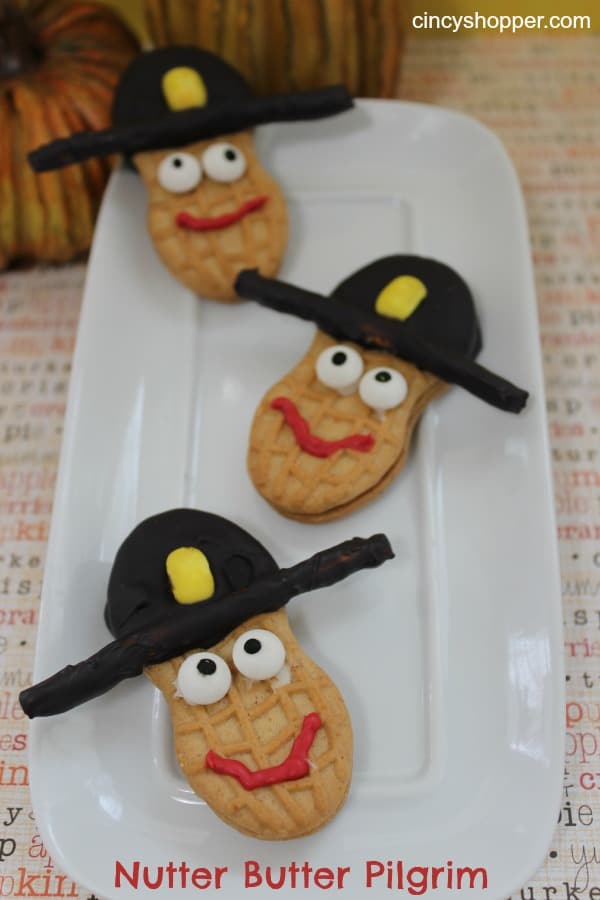 Nutter Butter Pilgrim
If you are looking for a quick and easy themed idea for the kiddos (or the big kids) think about whipping up this cute Nutter Butter Pilgrim. I even had the teenagers commenting how cute these ones were. Grab your bag of Nutter Butters, some chocolates and your pretzel sticks and have yourself a themed treat for Thanksgiving.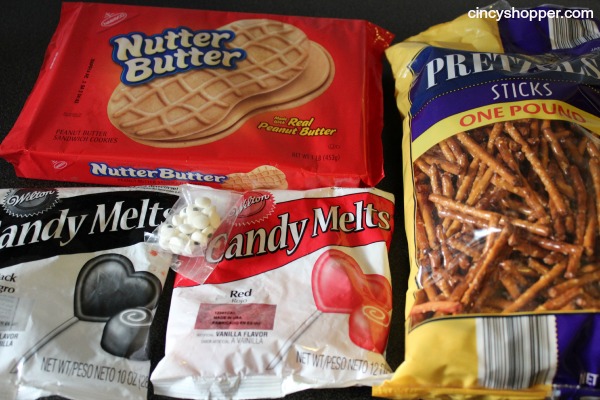 INGREDIENTS
6 Nutter Butters
1/2 cup Black Candy Melting Chips
1/8 cup Red Candy Melting Chips
6 Pretzel Sticks
6 pieces of Candy Corn
12 Candy Eyes
DIRECTIONS
Cut of yellow ends of candy corn to use as buckles for pilgrim hat.
Heat Black Candy Chips by microwaving for 30 seconds stirring and repeating until melted. Allow to cool for 2-3 minutes.
Dip Nutter Butter in melted candy to create hat.
Carefully remove from candy and let excess drip off.
Lay cookie on wax paper.
Dip pretzel stick in candy and cover completely.
Place along dipped edge of cookie to create hat brim.
Press candy corn buckle above pretzel stick.
Carefully place a little melted candy on back side and place 2 Candy eyes.
Heat Red Candy Chips by microwaving for 30 seconds stirring and repeating until melted.
Transfer Red chocolate to small plastic bag and clip very tiny piece of corner to use for piping.
Pipe Red to make mouth.
Immediately place in refrigerator for 10 minutes to set candy mix.