Crispy Potato Wedges are a no-fuss, oven-baked appetizer or side dish that's simple to make. This easy dinner side is seasoned to perfection!
This is the easiest and tastiest side dish you'll ever whip up to go with dinner! These wedge fries pair well with all sorts of pork, chicken, beef, and fish main courses.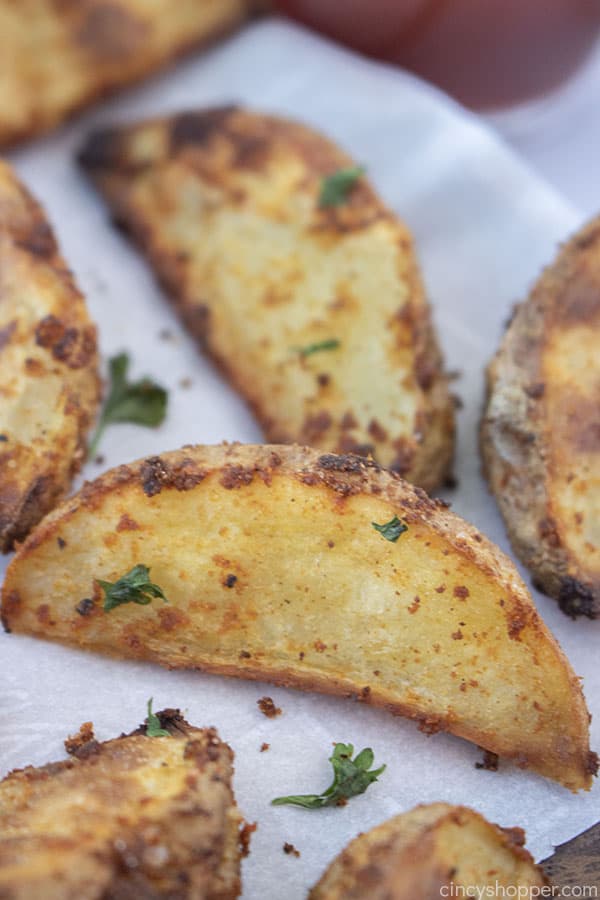 Crispy Potato Wedges
I've always looked at wedge fries as the french fries' simpler but more sophisticated cousin. They're way easier to cut and make but I always imagine wedges plated up next to a nice sirloin or pork tenderloin. A bit fancier than a burger and fries. In any case, I find that potato wedges are perfect for home cooks and busy moms trying to whip up tonight's dinner!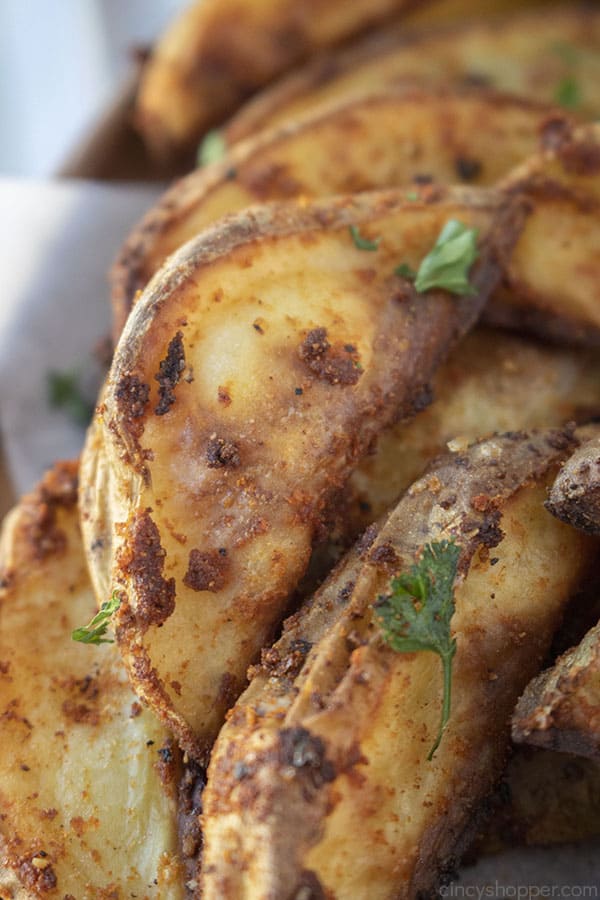 They're hard to mess up and real easy to make perfect. Made really simply, you just cut your wedges and toss them in the oven. However, with a bit of extra work, you can get some Extra Crispy Potato Wedges! Even better, these wedge fries are a sort of blank canvas- hit them with your favorite spice or herb combos for fries that are perfect for you.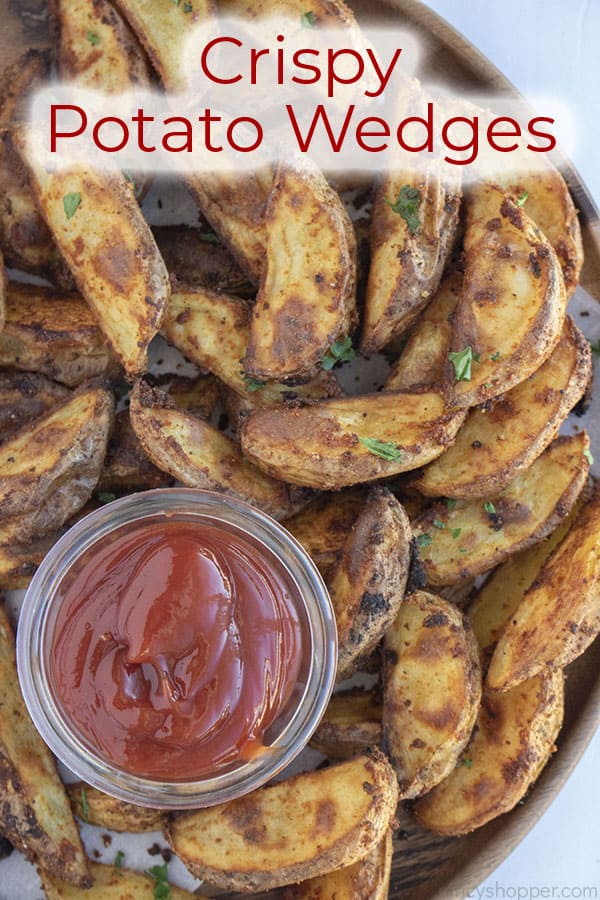 When they're done cooking, you can plate these babies up alongside all sorts of main fare or set out a big plate of them as an appetizer. Don't be shocked when the plate gets eaten clean! We loved our Potato Wedges and we're certain you will too.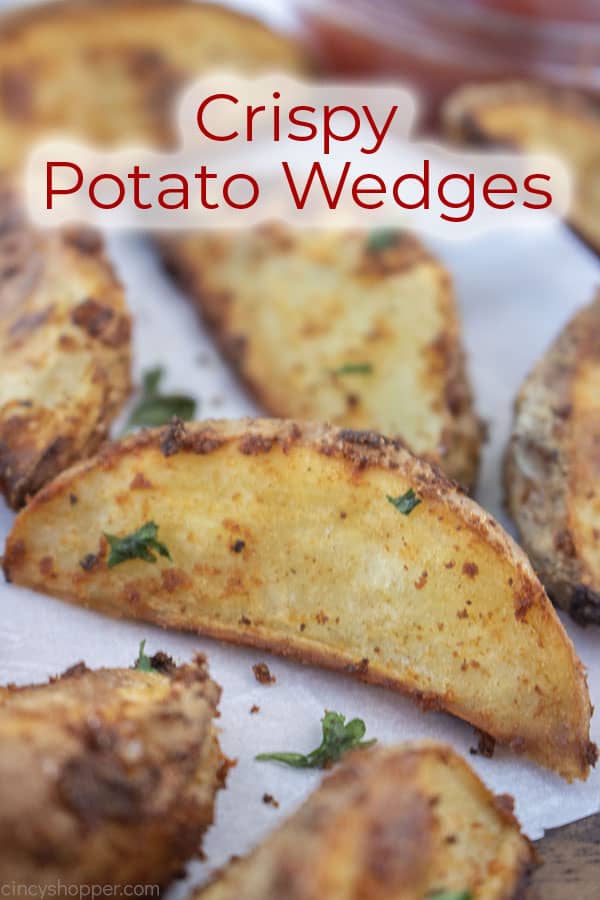 Need some more potato sides? Here's a couple(+ an easy main dish that'll work
perfectly
with this recipe)!
Easy Breakfast Potatoes

are perfect to have first thing in the morning.

Crisp outsides, fluffy insides, and a little bit of heat from the peppers and pepper flake- these potatoes smell great and taste even better

!

If you're looking for another easy sheet pan side like our wedges, try some

Roasted Sweet Potatoes

. Crispy, delicious, and dead simple to make- they'll pair well with all sorts of chicken and pork entrees.

Looking for an easy main course to pair with your simple potato sides?

Our

Parmesan Crusted Chicken

is pan-fried to a crisp, golden-brown that that tastes amazing

! A great entree to serve with your new favorite potato side dish.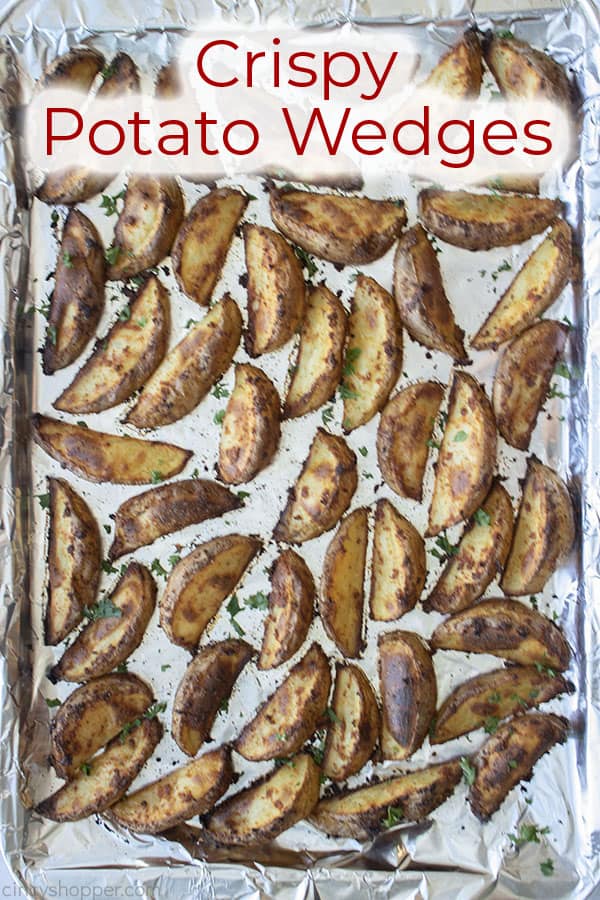 Ingredients for Wedge Fries
Potatoes – Plenty of good candidates here for our potato wedges recipe. Yukon Golds and Russets are the popular picks here.

Other Seasonings – Go with some of your favorite spice combos! We ended up using garlic & onion powders and some paprika.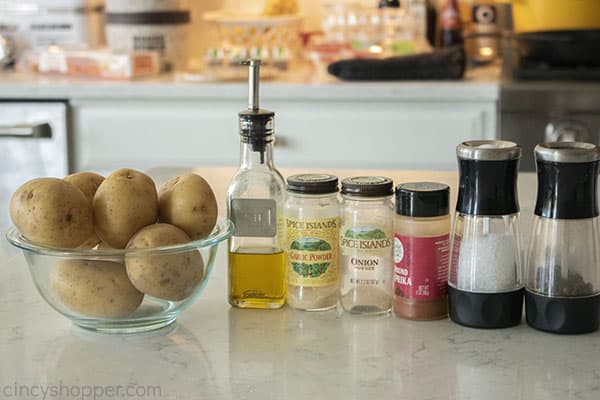 How to make Potato Wedges
Make sure you wash or scrub your potatoes before starting this recipe to make sure you've knocked off any excess dirt. Once your potatoes are cleaned– no need to peel them- start cutting them into wedges. You'll usually get about 8 wedges from each potato, though smaller ones might give you 6 or 4.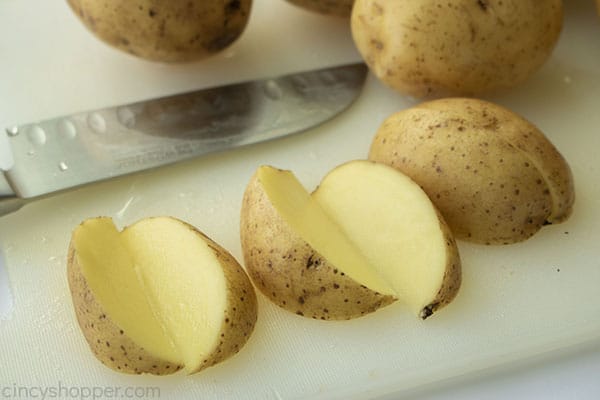 If you've got the time, transfer your sliced wedges to a bowl of saltwater to soak for 10 minutes. Drain off the water, and then cover your wedges with saltwater and let soak for another 10 minutes. This will leech off some of the excess starch- which will help our potatoes crisp up a bit better.
Even if you skipped the previous soaking step, make sure to pat your potatoes dry with paper towels. When it comes to crispy exteriors, moisture is the exact opposite of what you want.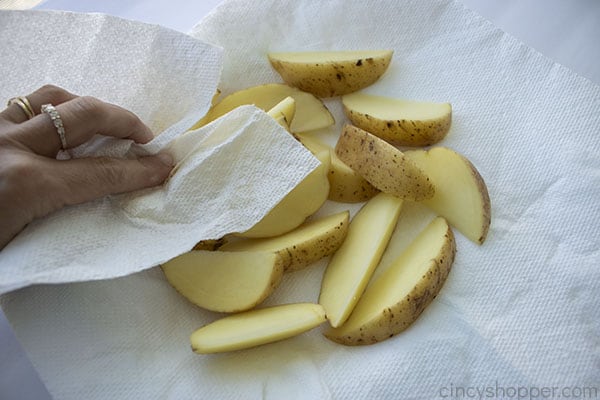 Once dried, put your potato wedges into a large mixing bowl and toss them with a couple of tablespoons of olive oil.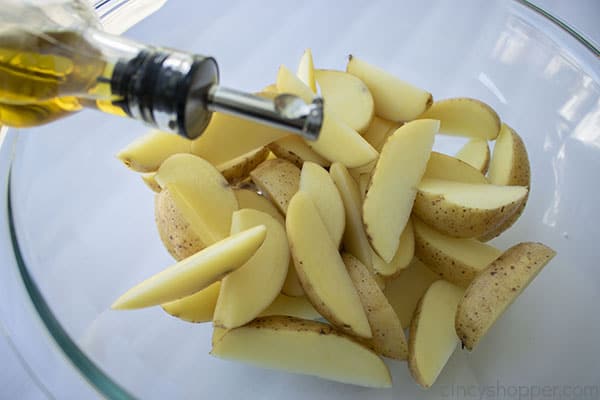 After tossing your wedge fries in oil, add in your seasonings and toss to coat.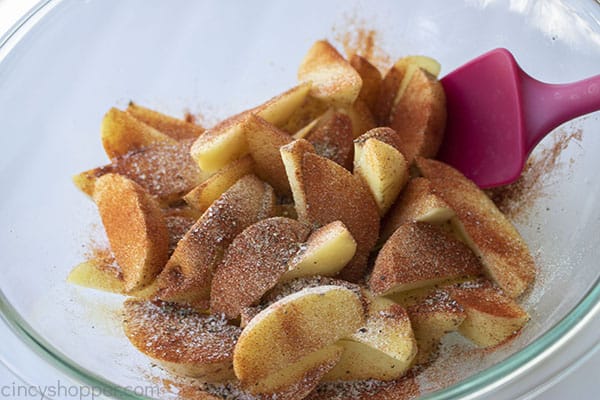 Line a baking sheet with some aluminum foil before putting your wedges on in a single layer. Try to not overcrowd any parts of the sheet and make sure your wedges are laying on one of their flat sides.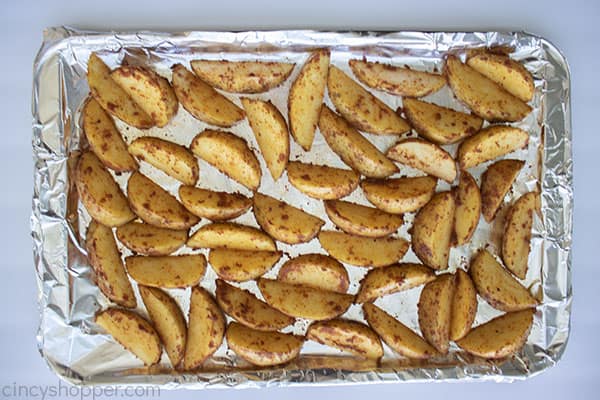 Send your sheet of potato wedges into an awaiting 400 degree oven and allow to bake for 45 minutes to an hour. Make sure to keep an eye on them- we want crispy potato wedges, not burnt.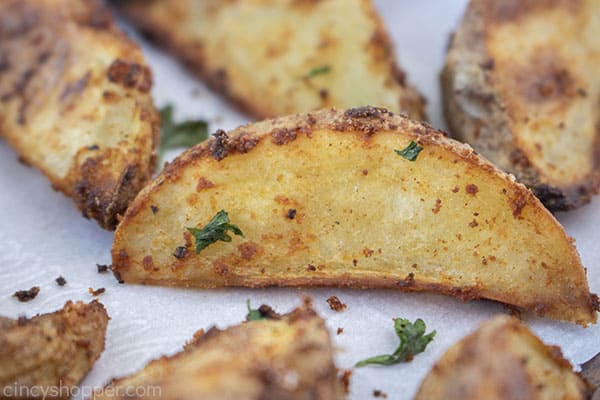 Once your wedges have finished baking, pull them from the oven and hit them with some salt and pepper while they're still hot. Optionally garnish with some parsley flake before serving up with some ketchup and enjoying!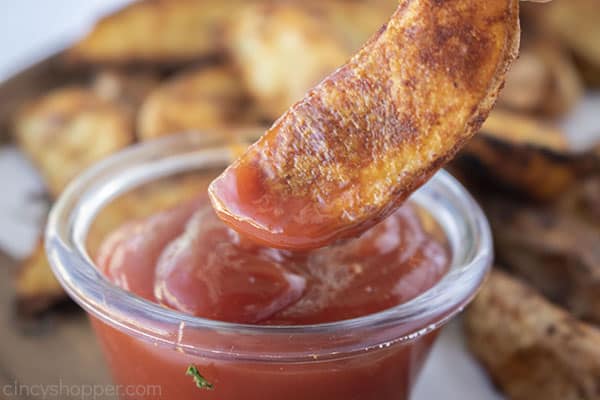 Potato Wedges
Crispy Potato Wedges are a no-fuss, oven-baked appetizer or side dish that's simple to make. This easy dinner side is seasoned to perfection!
Ingredients
2

lb

Yukon Gold Potatoes

about 4-5 waxy potatoes

1

tsp

Salt

2

tbsp

Olive Oil

1 1/2

tsp

Paprika

1

tsp

Garlic Powder

1

tsp

Onion Powder

1

tsp

Kosher Salt

1

tsp

Black Pepper
Instructions
Preheat the oven to 400.

Line a baking sheet with aluminum foil. Set aside.

Wash the potatoes.

Cut potatoes lengthwise into quarters. If too large, cut quarters in half lengthwise again.

Add the wedges to a large mixing bowl. Sprinkle with 1 teaspoon salt. Add enough water to cover potatoes and stir with your hand to dissolve salt into water.

Allow to soak for 10 minutes.

Drain water and pat dry.

Return potatoes to dry bowl.

Drizzle with olive oil and sprinkle with paprika, garlic powder, onion powder, kosher salt and pepper.

Toss to coat.

Arrange the wedges in a single layer on prepared sheet.

Bake for 45-50 minutes until golden brown.
Nutrition
Calories:
243
kcal
|
Carbohydrates:
41
g
|
Protein:
5
g
|
Fat:
7
g
|
Saturated Fat:
1
g
|
Sodium:
1177
mg
|
Potassium:
964
mg
|
Fiber:
5
g
|
Sugar:
2
g
|
Vitamin A:
58
IU
|
Vitamin C:
47
mg
|
Calcium:
27
mg
|
Iron:
2
mg