Crispy Fried Fish is so easy to make pan fried! This fish fry is a simple & delicious recipe that's great for Lent or any time of the year.
Fried Fish is a lot easier to make than you think- even if you've never deep fried at home. Perfect with a side of Easy Stovetop Mac & Cheese or some Crispy Potato Wedges!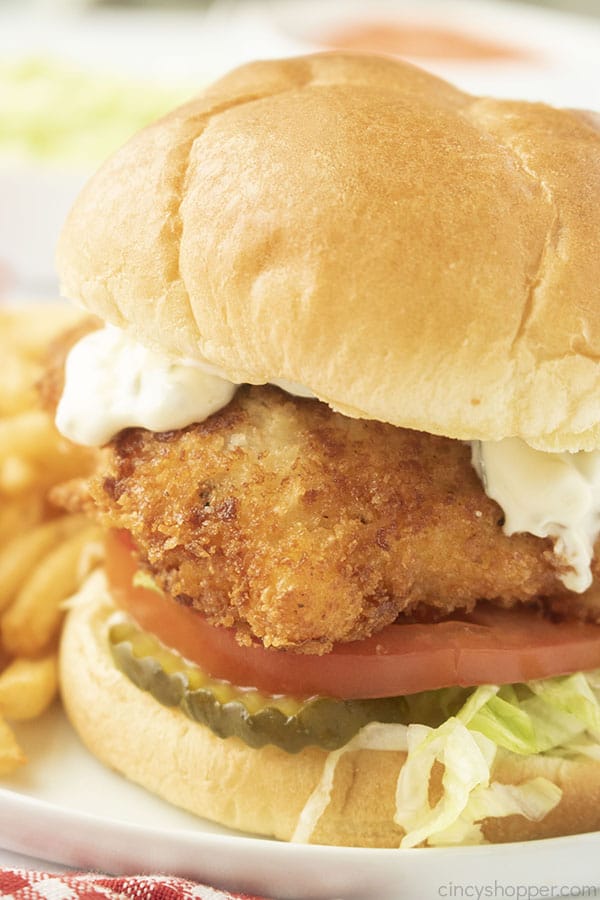 Crispy Fried Fish
Seeing as we're in the midst of Lent, I figured I'd share an easy and delicious recipe for Fried Fish with all of you. While my family has never been the most devout, we have found ourselves enjoying a bit more fish whenever Lent comes around each year. It's a great way to mix things up- a break from the usual pot roasts and slow cooker dishes.
Whatever the reason you're making fish for, you can feel safe in knowing that our recipe for Fried Fish is delicious and real simple to follow along with! Breading is simple- no odd beer batters or anything like that- and well-seasoned. Better yet, we tried to simplify the deep frying process as much as possible: no need to double fry or anything crazy. We've even got a few easy tips to ensure your fish fillets fry perfectly and evenly!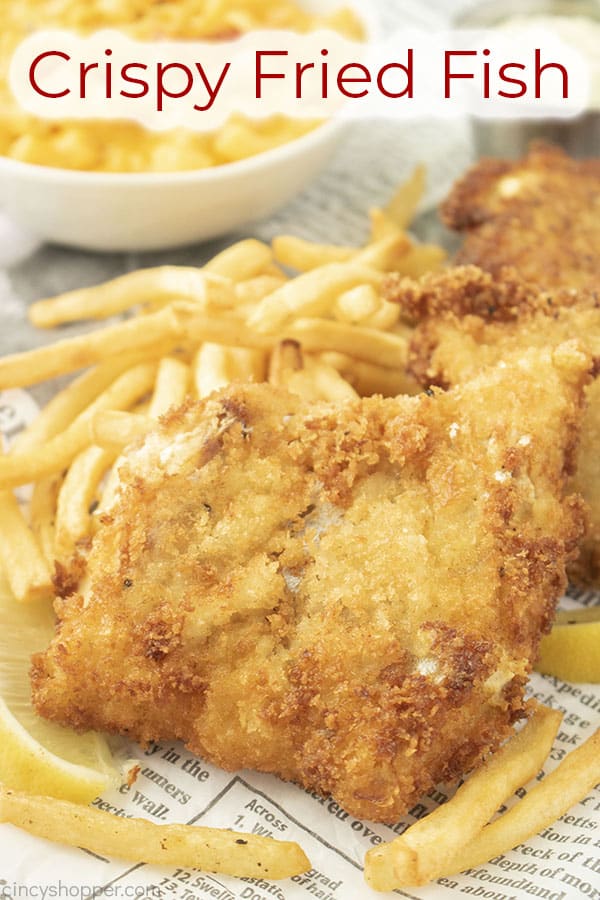 You can serve your Crispy Fried Fish fillets any way you'd like. Serve it up as a fish sandwich, topped with the usual sandwich fixings, and dressed with plenty of tartar sauce. You could also serve it up as is with a side of fries if you want something more like "Fish and Chips." However you serve it, we know you'll love this easy recipe for Fried Fish!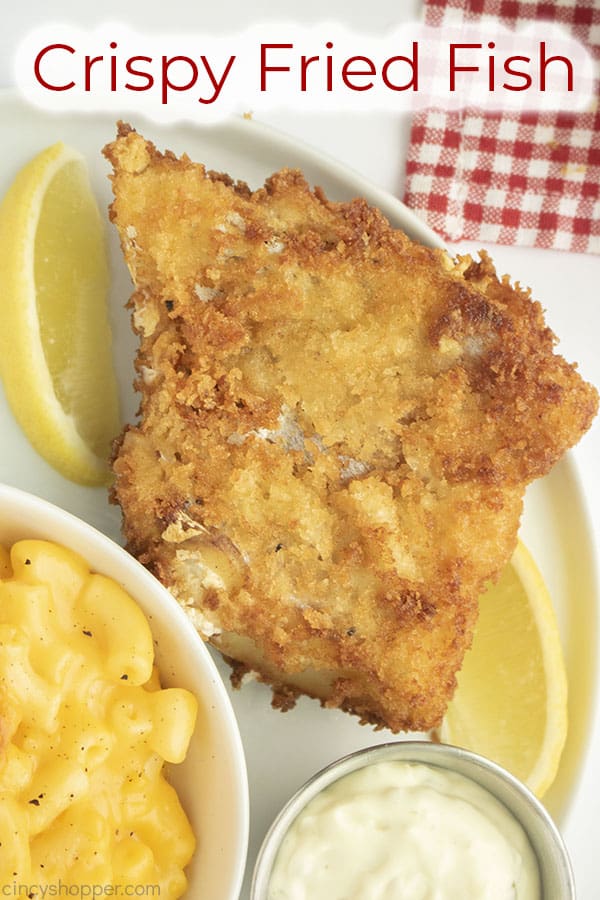 Liked this fish recipe? Try these seafood recipes next!
For another delicious fried fish recipe, we've gotta recommend our

Fried Coconut Shrimp

. A loved and popular appetizer, keeping the tails on makes them great finger food! A little touch of coconut gives these seafood bites a tropical taste we know you're gonna love.

If you've got a special occasion coming up and want to make something nice, consider a

Lobster Tail

dinner!

Making this delicious seafood dish doesn't have to be hard at all- we've kept things simple with this tasty recipe

. The best simple dinner recipe for an elegant date night or holiday dinner.

Of course, you can't talk about seafood without talking about sauces- and we've got you covered!

Homemade Cocktail Sauce

is delicious, especially when paired with an appetizer like our Coconut Shrimp

.

Tartar Sauce

, meanwhile, is great as a dip or as a dressing for any number of fried fish dishes- like the one you're reading through now

! Both are easy to make up and are oh-so tasty.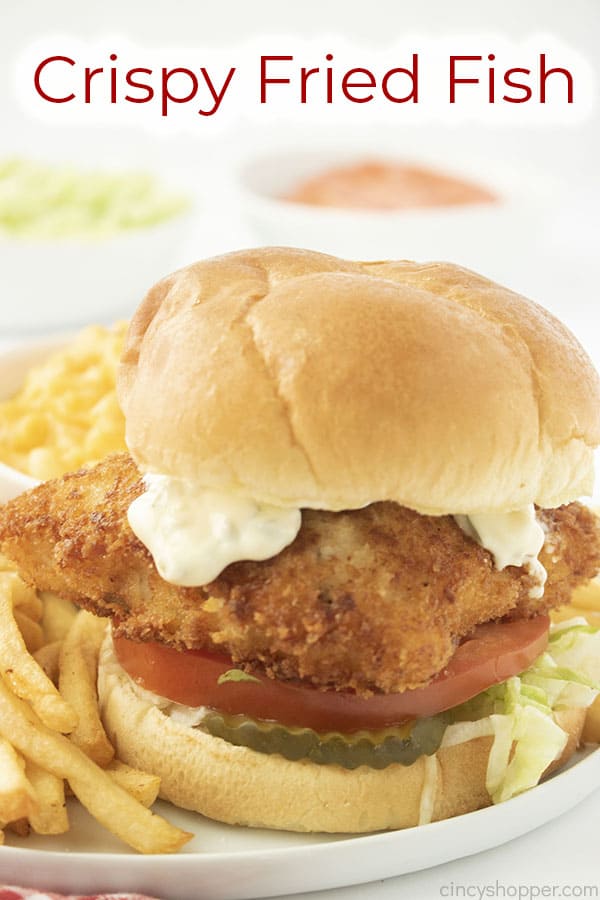 Ingredients for Deep Fried Cod
Cod

– We happened to have cod on hand and it's one of the best fish to fry.

You'll find that most restaurants use it but feel free to use your favorite white fish here- tilapia, halibut

! Avoid fish like salmon- there are much better ways to prepare it than deep frying. For convenience, try to cut any larger, thicker fillets into smaller, thinner ones- you'll see why in a bit.

Spices & Seasonings

– To keep things simple, start with

just

some salt & pepper, garlic & onion powders, and some cayenne

. Feel free to experiment with

all of

your other favorite spices once you get a feel for things.

Eggs

Bread Crumbs

– We used panko here.
You'll also need some frying oil-
ideally
, something neutral like vegetable or canola oil
.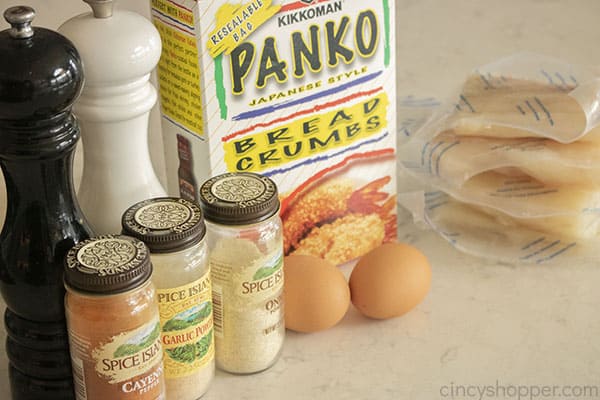 How to make Fried Fish
The process for making fried fish is very simple. To make it, here's all you need to do:
Generously

season your fish fillets

with some salt, pepper, cayenne, garlic powder, and onion powder

.

Dip your fillets in an egg wash

before

breading with panko breadcrumbs.

Pan-fry your fish in a skillet with 375 degree oil

until golden brown and done.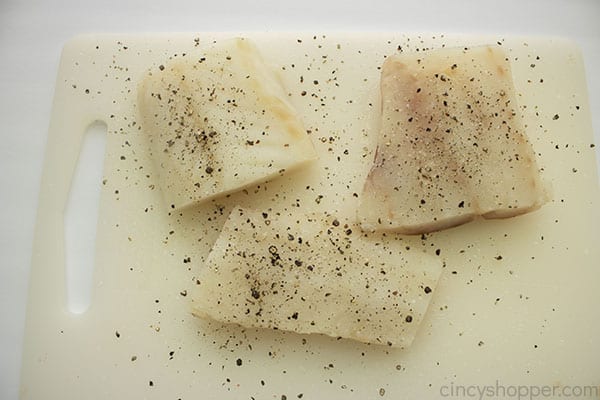 Feel free to experiment with the spices you use for seasoning your fish- our combo here makes for a great starting point.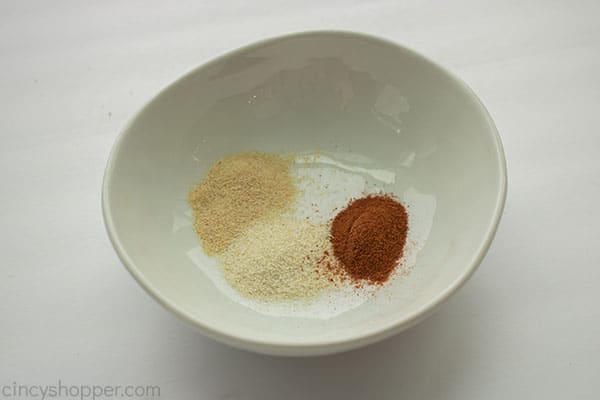 Just make sure you generously season your fish- especially if you have thicker fillets. We found that seasoning has a hard time reaching deep into the flesh of the thicker fish fillets.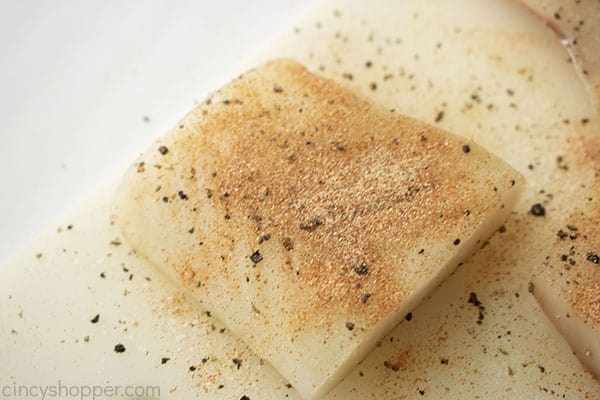 How to bread fish for frying
For breading our fried fish, we're going to go with a basic, two-station set-up. At our first station, we're going to grab a wide and shallow bowl or plate. Into it, we'll crack a couple of eggs, add in some salt & pepper, and give a quick whisking.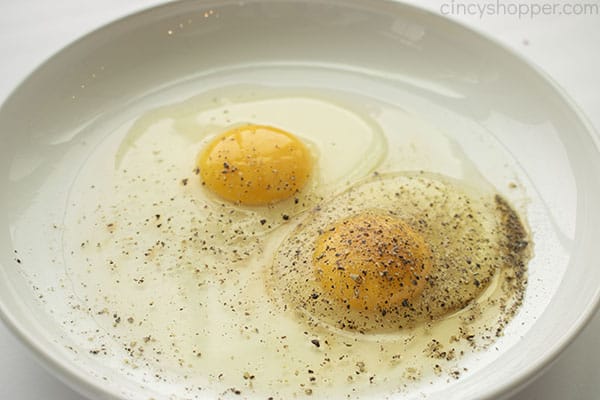 For our second station, we're going to combine some panko bread crumbs with some of our spices from earlier. This is just going to give our breading a bit more flavor.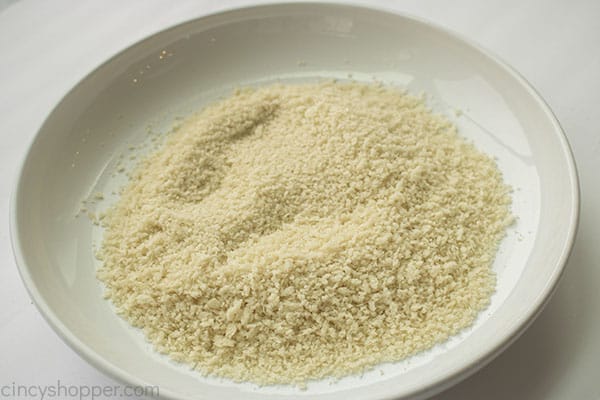 Now, we're going to get our fish breaded. First, carefully drop a fillet into the egg wash and turn it a few times to ensure it gets an even coating of egg on it.
Next, we're going to transfer our eggy fish over to the seasoned bread crumb mixture- use your other, non-egg-covered hand to make things cleaner. Once again, drop it into the crumbs and give it a few turns and flips until you get a full, even breading. Repeat with the remaining fillets until all are breaded before transferring to a plate or sheet and setting in the freezer for 10 minutes.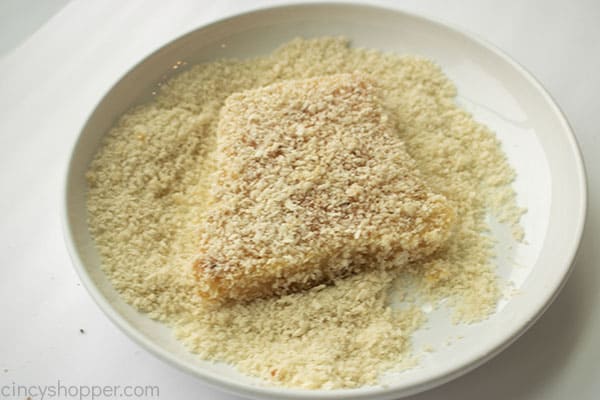 How to fry fish
While your breaded fillets are in the freezer, we can get our oil warming up. We find a high-walled cast-iron pan does the job of pan-frying great! Add enough of your frying oil of choice to the pain that it would go about half-way up your fillets. Heat the oil over medium-high heat until it reaches a temperature of 375 degrees- adjust the flame as necessary to hold it there. Once your fillets are done in the freezer, you can start frying them- for best results, fry individually.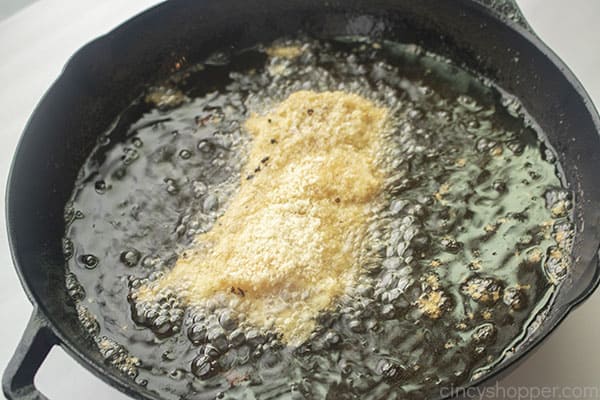 You'll want to fry the fish for about 2-3 minutes on each side. Once your breading is golden brown and the fish registers an internal temp of 145, you're good to go! Plate up and serve with plenty of lemon or malt vinegar or put it on a bun and enjoy as sandwich.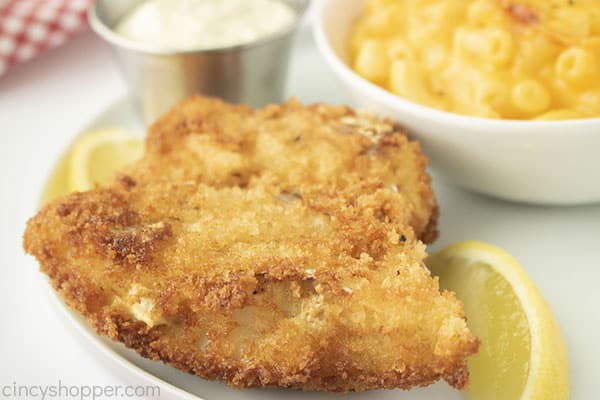 Deep Frying Tips
How to keep finished fillets warm?

You've got two good options here. The first is to keep your finished fillets on a wire rack over a baking sheet in a low oven. This will keep them warm and their breading crispy. Your other option is to

just

tent with aluminum foil- this is a good option if you want to keep the oven open.

My breading is golden brown but my fish

is undercooked

! What do I do?

Relax and take a deep breath- deep frying, especially at home, tends to be very finicky and there might be

a number of

reasons the fish

is undercooked

. The easiest way to finish cooking the fish is either in the oven or in the air fryer if you have one.

Let that oil come back up to temp!

One of the easiest ways to avoid most of the problems that arise from deep frying is to let your oil come back up to temp between each fish

.

Dropping cold or room-temperature fish into hot oil

naturally

brings down the temperature of the oil

. Try to let it get back up to 375 degrees before adding in the next fish fillet.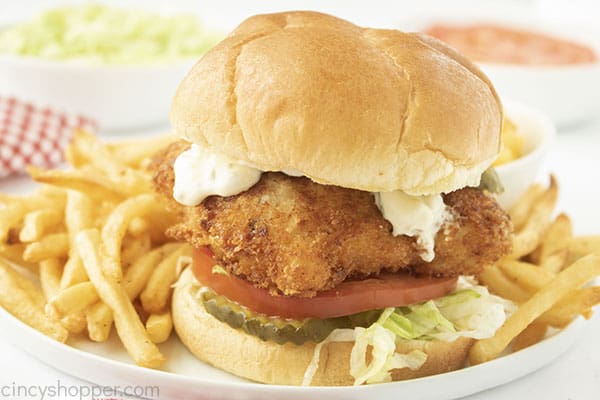 Best Fried Fish Sides
Vinegar or Citrus

– This stuff tasted amazing with a good helping of malt vinegar!

Fries or Potato Wedges

Macaroni and Cheese

Sandwich Toppings

– If serving up as a sandwich, top

simply

with some shredded lettuce, a few pickle chips, some tomato, and plenty of tartar sauce

!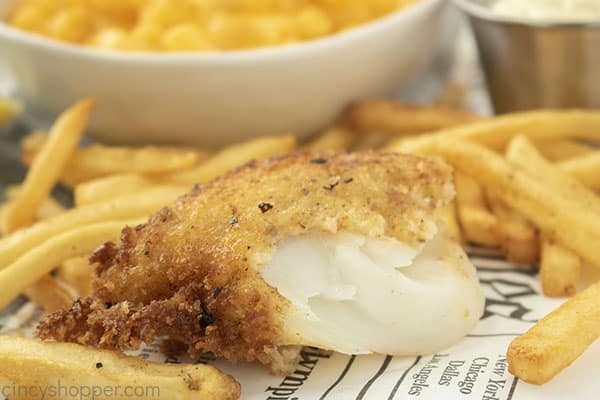 Crispy Fried Fish
Crispy Fried Fish is so easy to make pan fried! This fish fry is a simple & delicious recipe that's great for Lent or any time of the year.
Ingredients
1

lb

Fish

I used cod

Salt and Pepper

1/2

tsp

Garlic Powder

1/2

tsp

Onion Powder

1/2

tsp

Cayenne

2

Eggs

1

cup

Panko Bread Crumbs
Instructions
Pat fish dry.

Salt and pepper on both sides of each piece of fish.

Place eggs in a shallow bowl, season with salt and pepper, and whisk until blended.

In a small bowl whisk together garlic powder, onion powder, and cayenne.

In another shallow bowl add panko bread crumbs and 1/2 of the spice mixture and whisk to blend.

Sprinkle the remaining spice mixture over fish pieces.

Dip each piece of fish in the egg mixture and turn to coat.

Dip in seasoned bread crumbs and turn to coat.

Place in the freezer for 10 minutes.

Add enough oil in a skillet to halfway cover fish.

Heat over medium-high heat to about 375.

Fry fish for about 2-3 minutes per side until golden brown and internal temperature is at least 145.
Notes
Let that oil come back up to temp!
One of the easiest ways to avoid most of the problems that arise from deep frying is to let your oil come back up to temp between each fish
.
Nutrition
Calories:
270
kcal
|
Carbohydrates:
15
g
|
Protein:
37
g
|
Fat:
6
g
|
Saturated Fat:
2
g
|
Trans Fat:
1
g
|
Cholesterol:
185
mg
|
Sodium:
267
mg
|
Potassium:
552
mg
|
Fiber:
1
g
|
Sugar:
1
g
|
Vitamin A:
297
IU
|
Vitamin C:
1
mg
|
Calcium:
70
mg
|
Iron:
2
mg