Baked Lobster Tail is delicious, easy to make, and great for special occasions. This is the best simple recipe for an elegant dinner night.
Lobster tail is perfect for special occasions- Valentine's Day, date night, or Christmas dinner. Try pairing with some Filet Mignon for some surf and turf or go with an easy side of Homemade Cheddar Biscuits.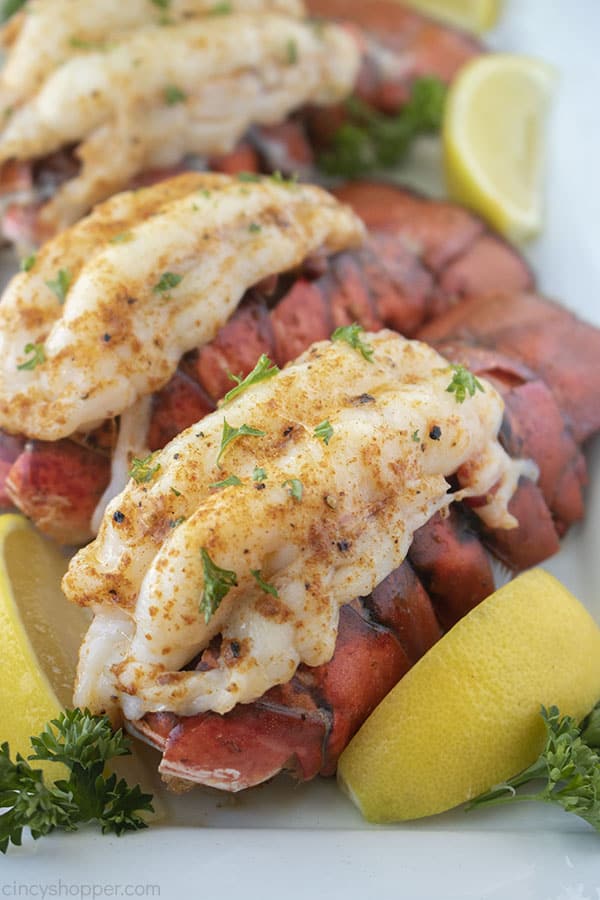 Baked Lobster Tail
I love recipes that taste amazing and hard to mess up. Often times, some ingredients are just so good that it's hard to make them taste bad. For example, you really have to go out of your way to ruin a cut of beef like a ribeye or a beef tenderloin. When it comes to seafood, lobster seems to be one of those ingredients: you don't have to do much to make lobster taste amazing. That's why it's perfect for special occasions like Valentine's dinner or that long-overdue date night you've been meaning to have.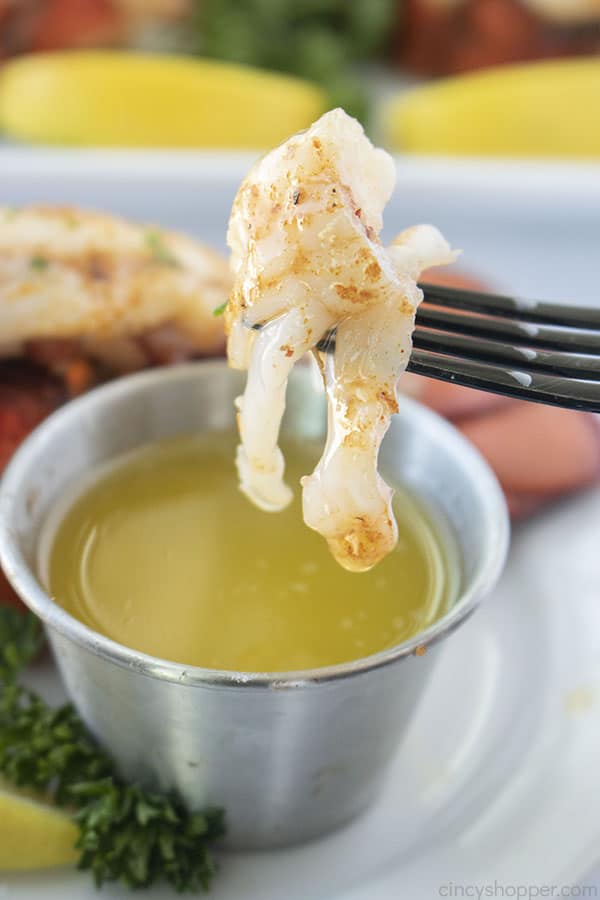 We tried to keep this recipe for Baked Lobster Tail simple so that anyone can have a delicious seafood dinner without worrying too much. For starters, we've gone with baked instead of a broiled lobster tail because we've found it's much more consistent. It's easy to broil lobster too long- baking it gives you a bit more room where you won't mess it up! We've also skipped out on any crazy seasonings, opting instead for a blend of some simple, reliable spices. Our recipe plays things safe but still gives you delicious, tender lobster that's cooked perfectly every time!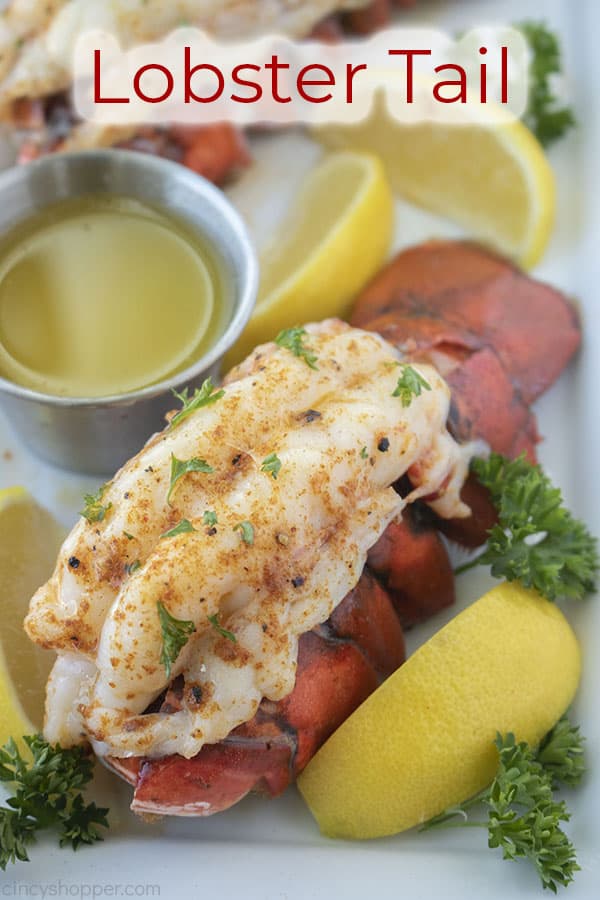 This simple recipe for beautiful lobster tails is certain to be one of your new favorites! Pair it up with any of the sides we recommend below and feel safe in knowing you've got an elegant, five-star dinner menu always on standby. You're going to love this recipe- we guarantee it!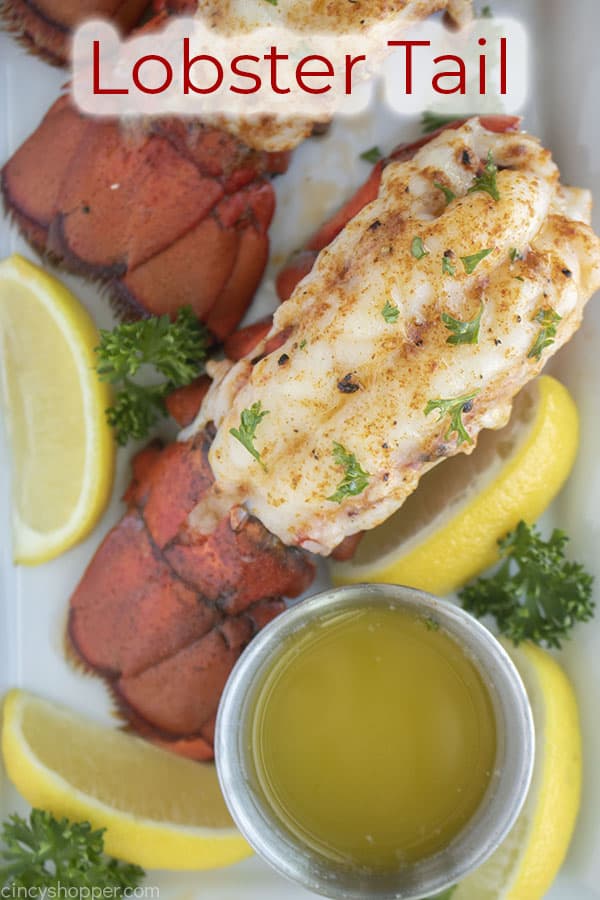 Enjoyed this Seafood recipe? Pair it with these elegant vegetable sides!
This cheesy

Asparagus Casserole

is an excellent side dish to pair with your lobster! Delicious baked asparagus spears get covered with a rich cheese sauce.

But we didn't stop there- we tossed some parmesan and some bread crumbs together to make a delicious crispy topping

. You'll love this easy casserole!

These

Au Gratin Potatoes

look beautiful and taste amazing. Instead of going with mashed potatoes, go for this upgrade on scalloped potatoes. Topped with a rich, creamy cheese sauce and baked to a nice golden-brown on top- yum!

Our

Creamy Mac and Cheese

recipe is one of the best I've ever made!

Easy to make with a simple cheese sauce, we layer the macaroni in a casserole dish with some extra cheddar and gruyere before baking it

. Once cooked to a bubbling golden-brown, it's

just

perfect!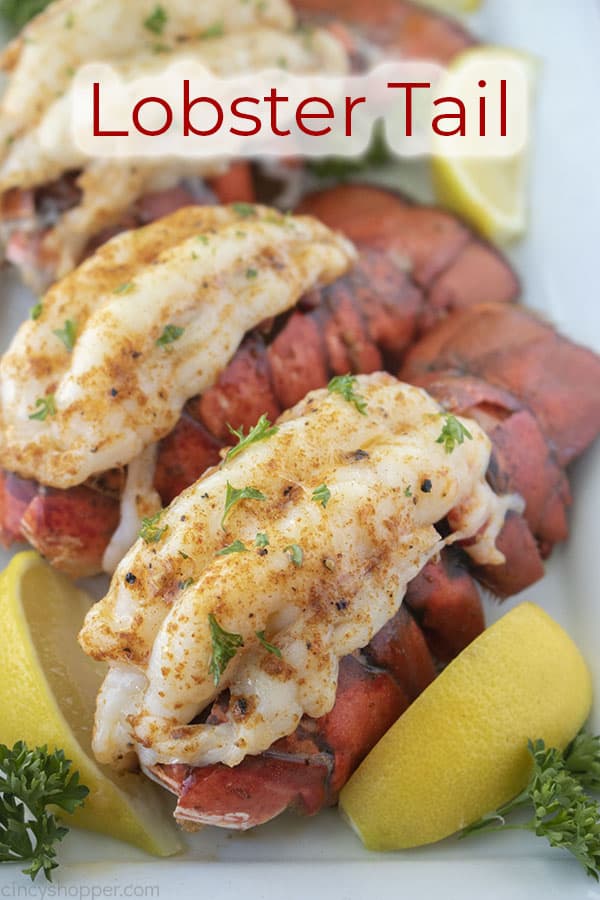 Ingredients for our Recipe
Lobster Tails

– This recipe is for fresh lobster tails. If you have frozen, you can thaw lobster tails fast by sealing in a plastic bag and submerging them in cold water.

Alternatively

, let thaw in the fridge overnight.

Butter

– Half of it will be for cooking and half of it will

be saved

for serving.

Seasonings

– We'll go over some other spice/herb combos near the end. For your first run-through of this recipe,

just

go with some reliable spices. We used garlic powder, paprika, and some salt & pepper.

Lemon

– For cutting into wedges and serving with our tails.
How to prepare Lobster Tails
Despite being such a fancy-looking and delicious dish, lobster tails are
surprisingly
easy to make
! To make this elegant seafood entree, here's what you need to do:
Using a pair of kitchen shears and a spoon,

butterfly your lobster tails.

Combine some melted butter and seasonings

before

brushing your tails down with the seasoned butter.

Bake your lobster tails in the oven at 450 degrees

before

serving with lemon and melted butter.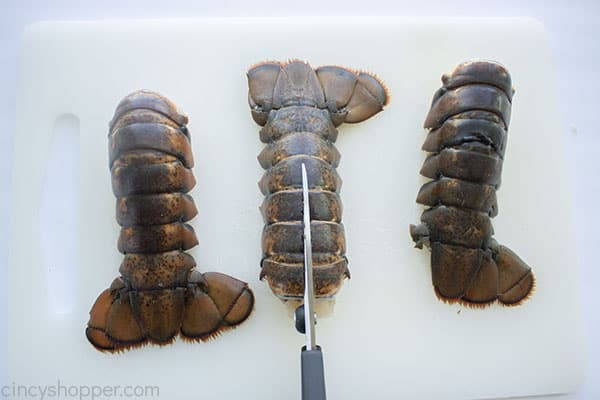 How to butterfly a Lobster Tail
Butterflying is one of those steps that folks say is optional but, really, it isn't. When you butterfly a lobster tail, you're ensuring that the delicious meat inside the tail is going to cook much more evenly. Less important, but it also helps with the presentation a fair bit. To butterfly, you first want to start by taking your kitchen shears and cutting into the top side of the shell with them. Don't worry if you cut into the meat a little bit- we'll explain why in just a second.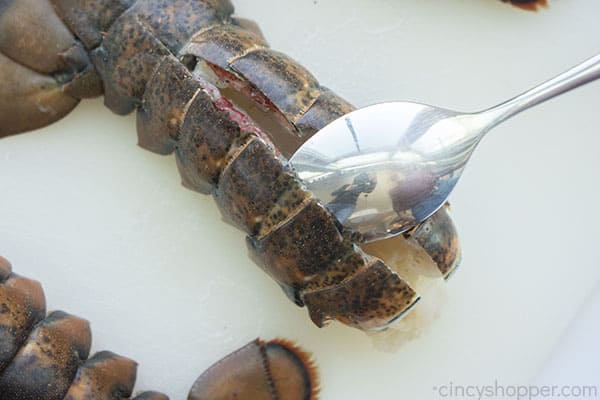 Keep cutting until you reach the part of the tail where the shell starts to fan out. Put down the shears and reach for a spoon. Using that spoon, loosen the meat from the shell but make sure to leave it attached near that fan-shaped end. Once you've loosened it, gently lift the meat out through the cut in the shell and lay it on top. If you don't have a cut on the top of the meat, make a shallow cut with a kitchen knife. Use this cut to spread the lobster meat out to the side, exposing the white flesh on the inside. With practice, all of these steps will become much easier!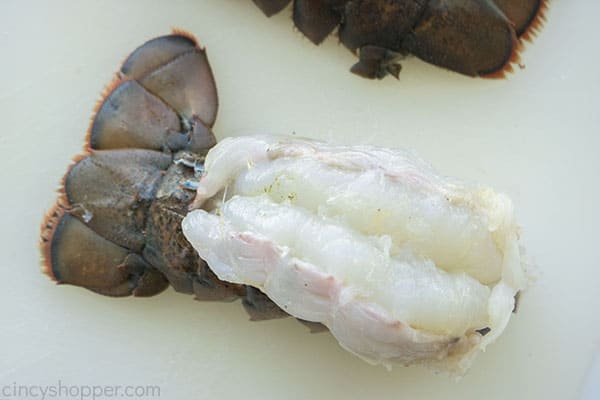 How to season Lobster Tails
Some folks will insist that the best lobster tails need no seasoning at all. While we don't hit the actual lobster meat with any seasonings, we do like to season out butter with a few spices before brushing our tails down. This ensures the perfect amount of seasoning! If you want to try lobster tails unseasoned, just use plain melted butter.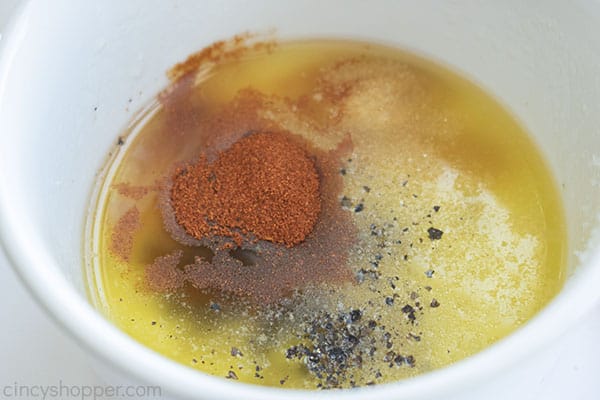 If you want your lobster tails seasoned, then do like we do and just season the butter. Since lobster tails taste so good, we can get away with some simple spices- paprika, garlic powder, and some salt & pepper. However, there's a whole world of spice and herb combos you could add to your butter. We'll list a few places to start near the end of the post. Whether you add spices to your butter or not, brush your tails down with it before placing it on a baking sheet.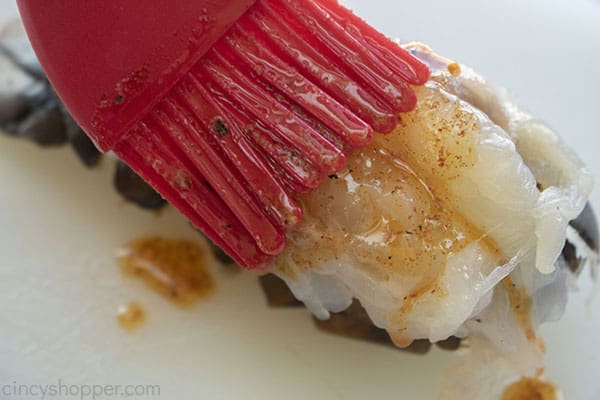 How to bake Lobster Tails
With our lobster tails butterflied, buttered, and seasoned, we can finally get to baking them! Baking, we feel, will provide much more consistent results than broiling them. Whatever the case, we bake our lobster tails at 450 degrees on a baking sheet.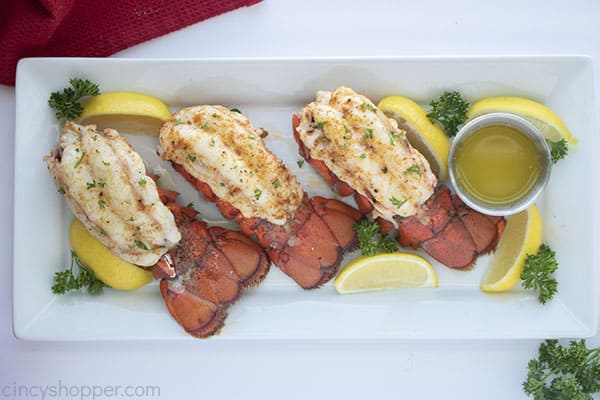 If you're wondering how long to bake lobster tails at 450 degrees, we found that about 10 minutes is long enough. You'll know the lobster is done when it reaches an internal temp of 135 degrees. Pull from the oven, hit with a parsley garnish for some color, and serve up with some lemon wedges and more melted butter. Enjoy!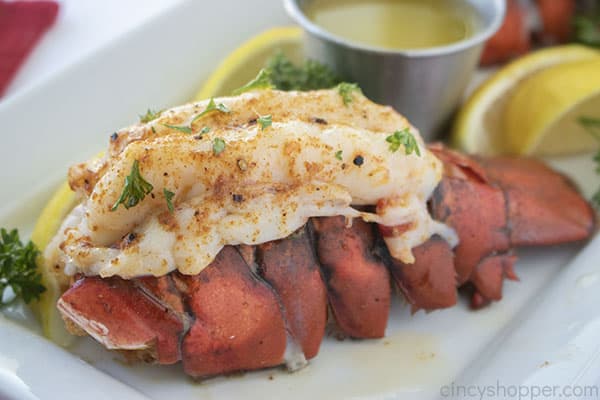 Other Seasoning Ideas
French

– If you enjoy the taste of French cuisine, there are a few herbs you can use to season your lobster. Try using a blend of chervil, chives, parsley, and tarragon. This blend- known as

fines herbes

– is great for seafood or eggs!

Italian

– Italy is well-known for its love of seafood. To give your tails that

ristorante

flavor, reach for your favorite Italian herb blend. You can buy some store-bought mix or make up some homemade

Italian Seasoning

yourself!
Whatever spices you use, remember to not go too crazy with them! Lobster tail is rich and decadent: it's the star of the show, not the seasonings.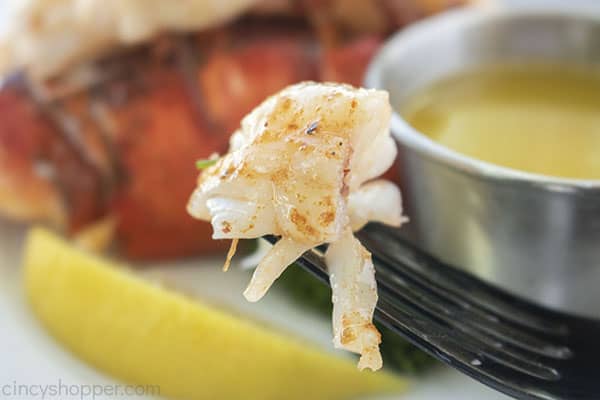 Baked Lobster Tails
Baked Lobster Tail is delicious, easy to make, and great for special occasions. This is the best simple recipe for an elegant dinner night.
Ingredients
3

Lobster Tails

4-5 oz each

3

tbsp

Butter

1/4

tsp

Salt

1/4

tsp

Pepper

1/4

tsp

Garlic Powder

1/4

tsp

Paprika

1

Lemon

3

tbsp

Melted Butter
Instructions
Preheat oven to 450

Using shears, cut down the center of each tail stopping at the fan shaped end.

Using a spoon or your fingers, loosen the meat from the shell along the top and the bottom leaving it attached at the uncut end.

Gently lift the meat above the cut area and lay on top.

carefully spread to expose white flesh.

Place on baking sheet.

Melt butter in microwave safe bowl for 30 seconds.

Add salt, pepper, garlic and paprika to butter and stir to combine.

Brush seasoned butter over lobster meat.

Bake for 10 minutes.

Squeeze lemon juice over each tail.

Serve with melted butter.
Nutrition
Calories:
261
kcal
|
Carbohydrates:
4
g
|
Protein:
11
g
|
Fat:
23
g
|
Saturated Fat:
15
g
|
Trans Fat:
1
g
|
Cholesterol:
141
mg
|
Sodium:
662
mg
|
Potassium:
189
mg
|
Fiber:
1
g
|
Sugar:
1
g
|
Vitamin A:
724
IU
|
Vitamin C:
20
mg
|
Calcium:
70
mg
|
Iron:
1
mg