This coconut shrimp recipe will remind you of all the fresh flavors of the tropics. Learn how to make fried shrimp for an impressive party dish.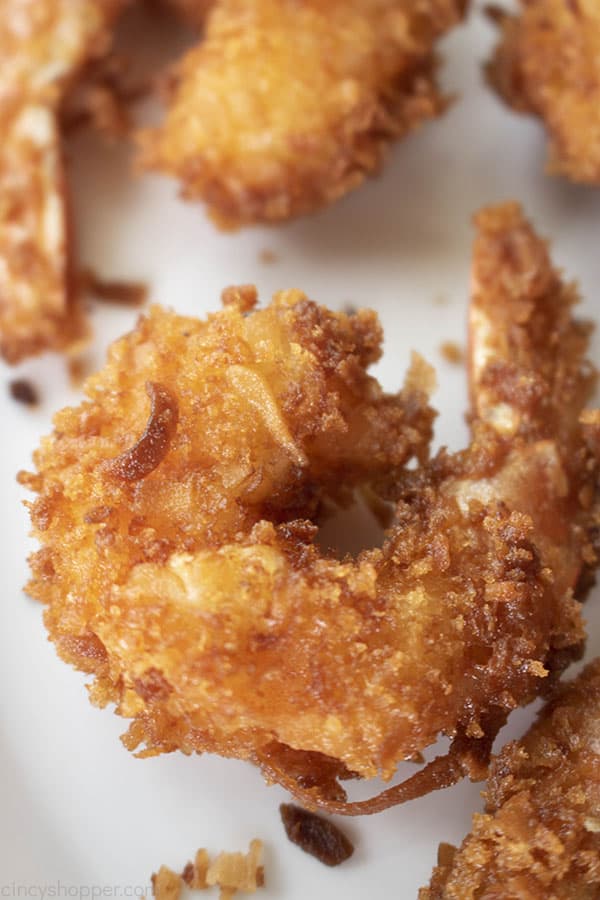 Coconut fried shrimp is a popular appetizer. It's packed with great flavor and, because we leave the tails on the shrimp, it's a finger food. The taste will remind you of fresh tropical fruit, even on cold dreary winter days.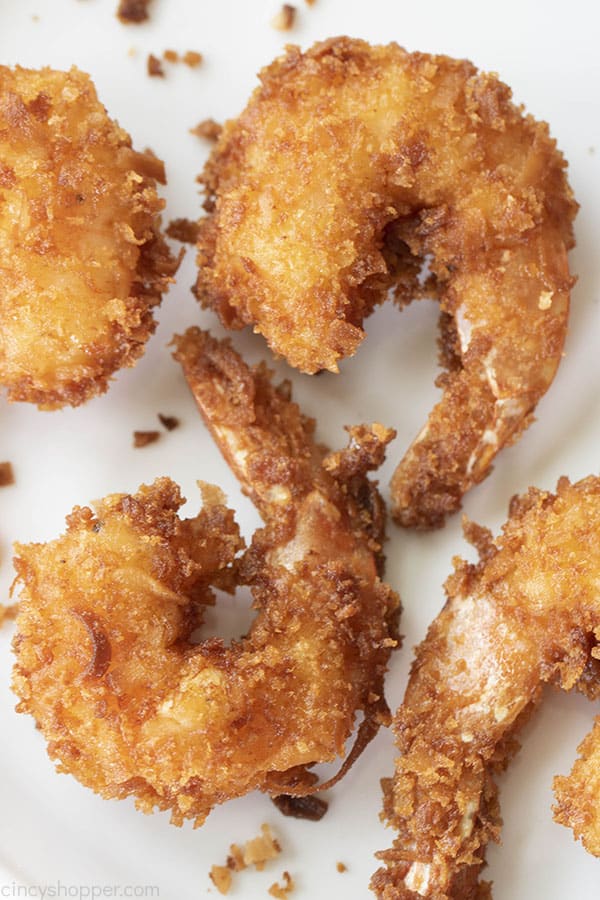 How do you peel shrimp quickly?
For this, and lots of other shrimp recipes like my Copycat Bonefish Grill Bang Bang Shrimp, you will need to use peeled and deveined shrimp. While you can buy it that way in the store, it's a great skill to know how to prepare shrimp.
If you have frozen shrimp, thaw them first. Leave the bag in the refrigerator overnight or to do it quickly, you can set the bag of shrimp in cool water for 20 minutes.
Remove the legs to get them out of the way.
Starting inside where the legs were, push your thumbs inside the shell of the shrimp and pull it back. You can leave the tail on.
Make a shallow slit in the back of the shrimp. Use the point of the knife to pull the vein out of the shrimp. This is actually the digestive tract of the shrimp. While it won't hurt you to eat it, it's more aesthetically pleasing to remove it.
What is panko?
Panko is a Japanese style bread crumb that is used to coat foods before frying them. The main difference between panko and regular bread crumbs is that panko is made from bread without the crust.
Panko is ground into big flakes. It produces a light crispy coating because panko doesn't absorb as much oil as traditional bread crumbs.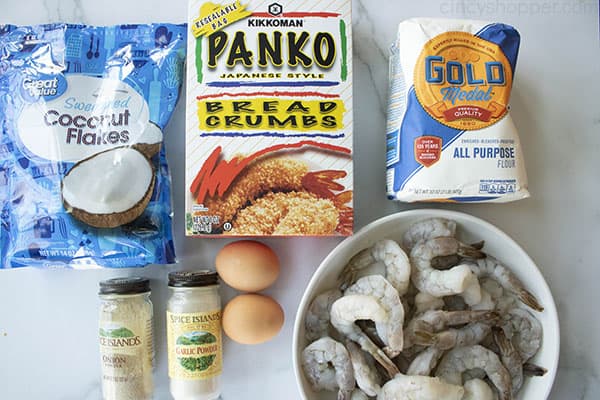 How to make fried shrimp
The best way to make this coconut shrimp recipe is to have an assembly line of three bowls to dip the shrimp in.
Bowl #1– flour and seasonings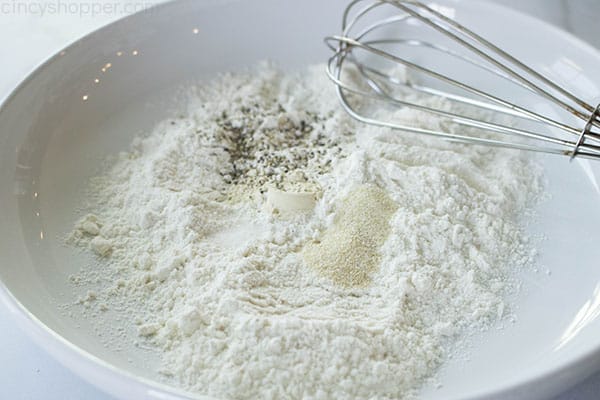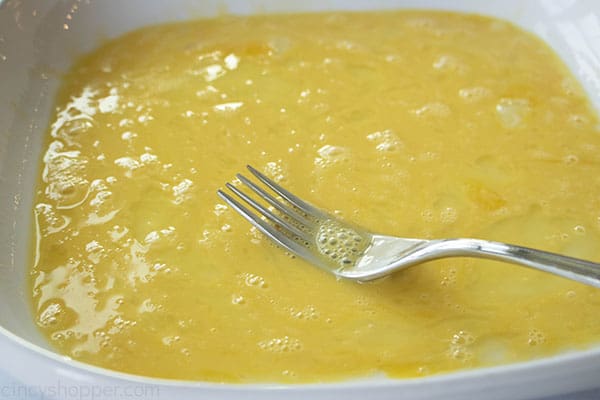 Bowl #3– panko bread crumbs and shredded coconut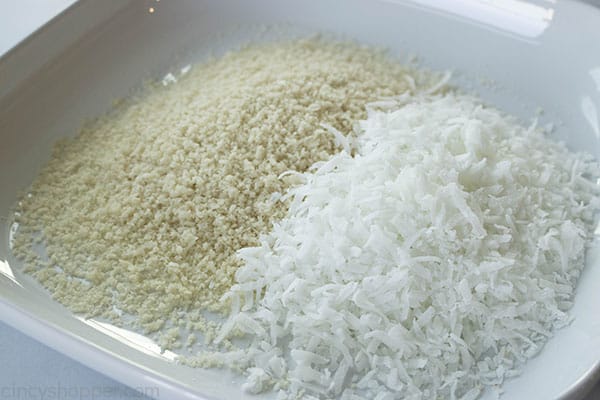 Preparing your bowls first makes the rest of the process goes much faster.
Dip the shrimp in each bowl in order. Make sure the ingredients cover the shrimp completely.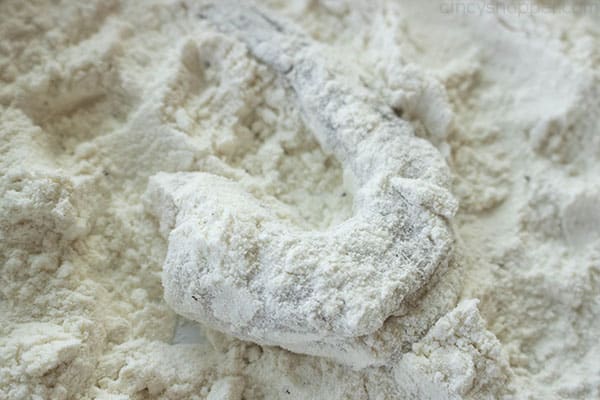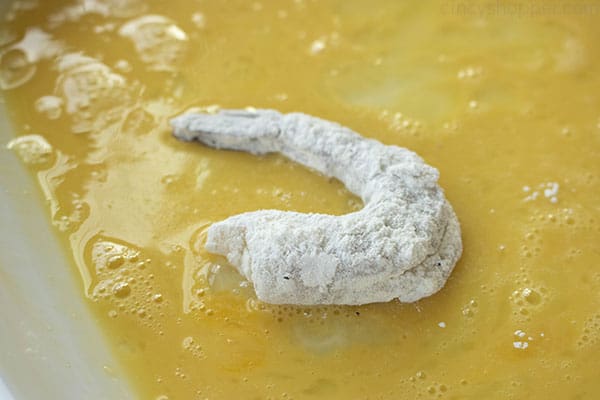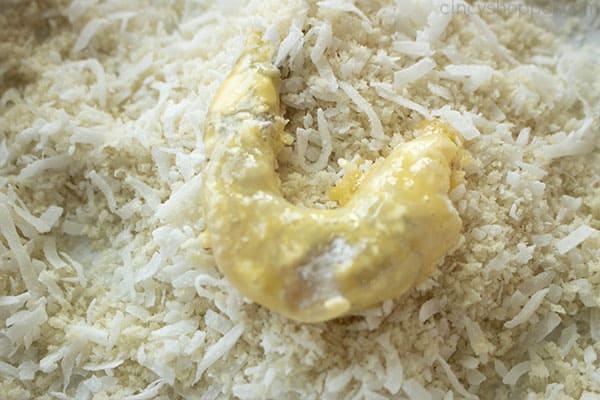 2. Put the shrimp on a baking sheet covered with parchment paper and freeze for an hour.
3. In a heavy skillet, fry the shrimp in vegetable oil. Do this in batches so the shrimp do not touch. This ensures that the coating gets nice and crisp all the way around. Fry for just a few minutes on each side.
4. Put the coconut fried shrimp on a plate lined with paper towels to drain any excess oil.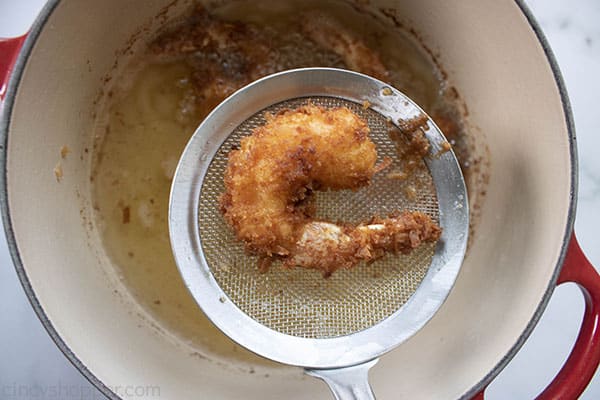 How do you know when a coconut shrimp recipe is done?
You know that shrimp is cooked when the exterior is pink and the tails are red. The flesh should be opaque, slightly white. If the shrimp is completely white, it is overcooked.
For coconut fried shrimp, you have to pay attention to the breading since you can't see the flesh any more. The exterior of the coconut shrimp should be lightly browned. It shouldn't look wet in any areas. But don't let it get burnt. It's a balance to find what is perfectly done for shrimp.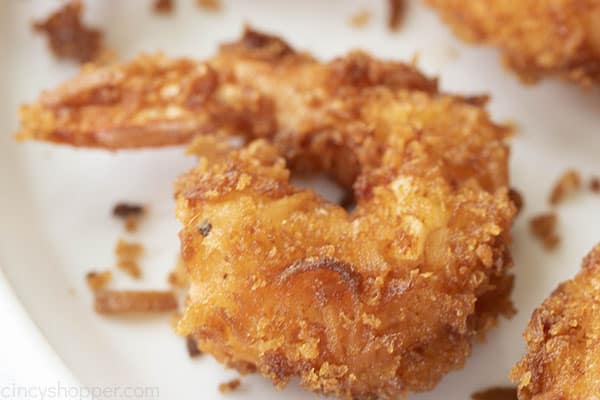 Does coconut shrimp taste like coconut?
You can make this coconut shrimp recipe with a subtle coconut flavor or really highlight the tropical tastes. If you follow the recipe as I have it written, you will end up with a slightly sweet flavor that perfectly accents the shrimp.
If you are in love with the rich sweetness of coconut, try a few of these swaps:
Marinate the shrimp first in coconut milk. You can add some flavors to this as well. Some lime juice and jalapenos will give it a nice kick.
Use coconut flour instead of white flour.
Use coconut oil for frying. Unrefined coconut oil has more coconut flavor than others.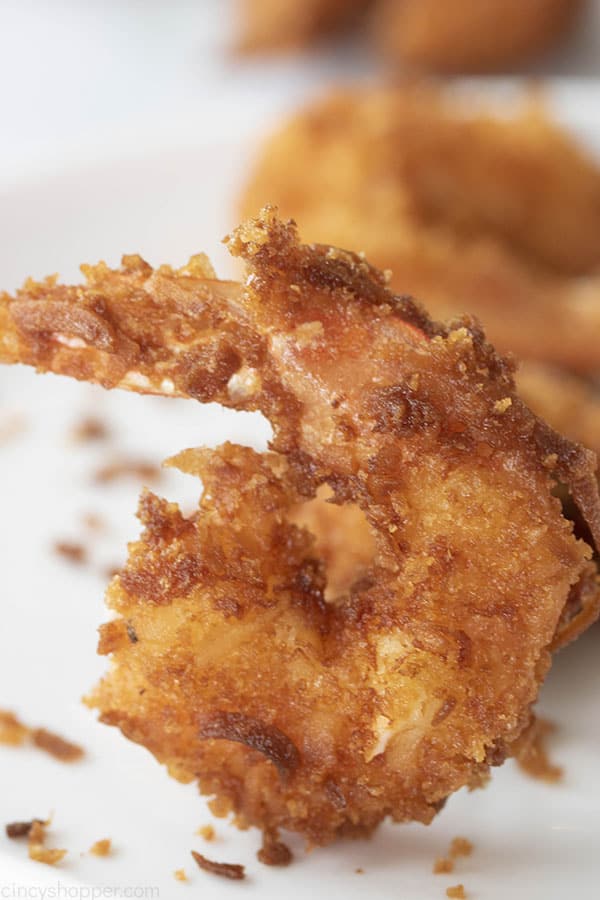 How do you cook air fryer coconut shrimp?
If you can use an air fryer to make these coconut shrimp, you will get a perfectly crisp shrimp each time without using oil.
Here's how to make air fryer coconut shrimp:
Prepare the shrimp the same way, using the three bowls and coating the shrimp with each mixture. Then freeze.
Arrange the shrimp in an even layer in the air fryer basket. If you are making a lot of shrimp, it's OK to cook them in batches. Just like in a frying pan, you want to give the shrimp space so they are evenly crisp on all sides.
Cook in a preheated air fryer at 350F for ten minutes.
Gently flip the shrimp and cook for another ten minutes. Keep an eye on the shrimp though. Overcooked shrimp are rubbery. You want them to be a light golden color when you serve them.
You don't have to wait for a special occasion to make shrimp in the air fryer though. Shrimp can go in the air fryer any time, even without the breading.
Just toss the shrimp with oil and seasoning and arrange them in the air fryer in a single layer. Shrimp takes just 10-14 minutes to be perfectly cooked in the air fryer when it is not breaded.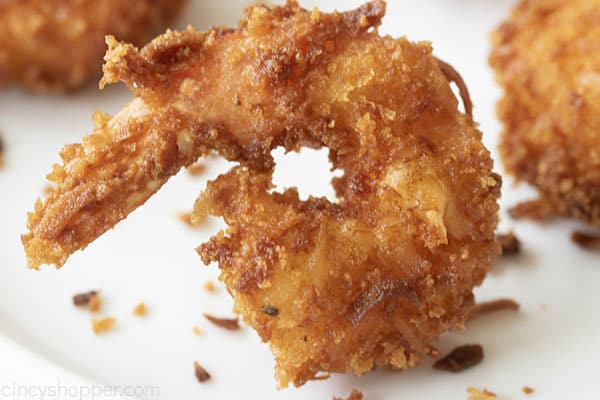 What do you eat with a coconut shrimp recipe?
To make this a complete meal, you'll need some other dishes to complement the coconut shrimp. Try some of these side dishes:
Pasta
Rice
Sauteed veggies
Cole slaw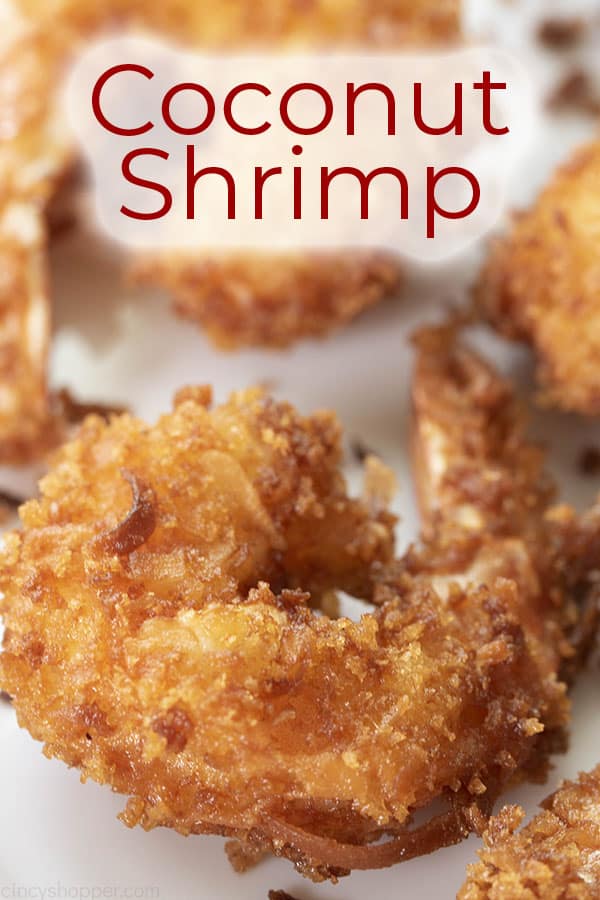 What do you dip shrimp in?
Coconut shrimp has a light subtle flavor. It's a great dish to offer lots of dipping sauces. Everyone is sure to find something they love. Try a wide variety of coconut shrimp dipping sauce with some of these options:
Sweet chili sauce
Orange sauce- mix orange marmalade and sweet chili sauce
Tropical sauce- add crushed pineapple and coconut flakes to vanilla yogurt
Yum yum sauce
Coconut Shrimp
This coconut shrimp recipe will remind you of all the fresh flavors of the tropics. Learn how to make fried shrimp for an impressive party dish.


Ingredients
1/2

cup

Flour

1/4

tsp

Garlic Powder

1/4

tsp

Onion Powder

1/8

tsp

Salt

1/8

tsp

Black Pepper

2

Eggs

beaten

1

cup

Panko Bread Crumbs

1

cup

Shredded Coconut

1

pound

medium Shrimp

peeled and deveined

2

cup

Vegetable Oil
Instructions
In a shallow bowl, combine flour, onion powder, garlic powder, salt and pepper.

Whisk to combine. Set aside.

Place beaten eggs in a separate dish.

In another dish, whisk together bread crumbs and coconut.

Line a baking with parchment paper or use a sheet pan with rack.

Take each shrimp and dredge in flour, shaking off excess.

Then take shrimp and dip in egg, making sure to coat both sides.

Then dip shrimp in coconut mixture, pressing lightly to ensure it sticks.

Place on prepared pan.

Place tray of shrimp in freezer for 1 hour.

Line a large plate with a double layer of paper towels.

Heat vegetable oil in a heavy skillet or Dutch oven over medium high heat.

Cook shrimp 2 or 3 at a time.

Fry for 2 minutes until bottom is golden brown. Then turn over and cook another 1-2 minutes until evenly golden brown.

Remove to prepared plate.
Nutrition
Calories:
1315
kcal
|
Carbohydrates:
34
g
|
Protein:
30
g
|
Fat:
122
g
|
Saturated Fat:
97
g
|
Cholesterol:
368
mg
|
Sodium:
1154
mg
|
Potassium:
243
mg
|
Fiber:
2
g
|
Sugar:
11
g
|
Vitamin A:
119
IU
|
Vitamin C:
5
mg
|
Calcium:
208
mg
|
Iron:
5
mg