Cheesy garlic bread just may be the perfect side dish. It pairs well with almost everything, and this recipe is so quick and easy to make, you can have a loaf ready in about 20 minutes!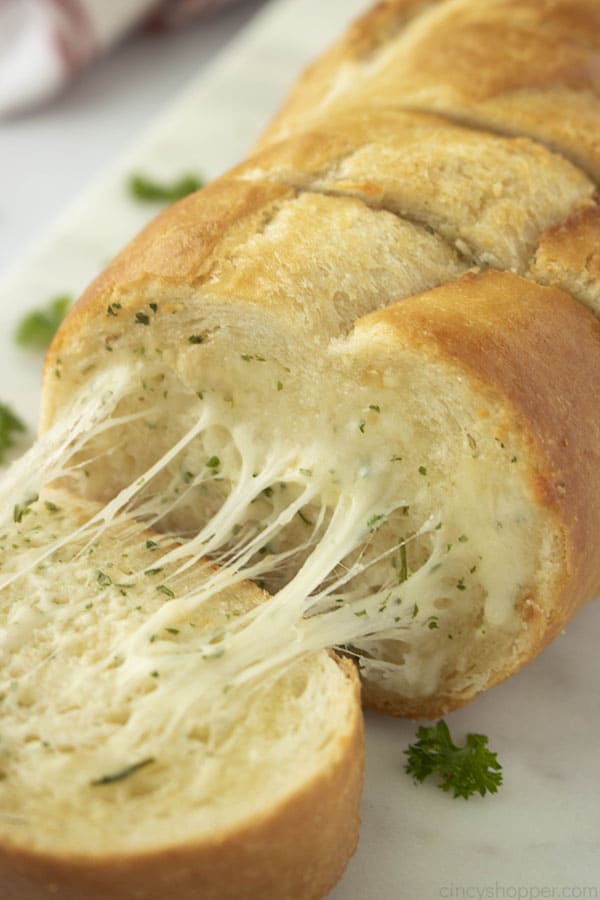 Do you enjoy slices of warm, homemade bread with your meals? Garlic bread is perfect with Italian comfort foods, like lasagna, spaghetti and meatballs, and baked ziti. But it's also great with meals like beef stew or chicken and rice casserole. If you don't want to spend hours baking bread, this easy-to-make, cheesy garlic bread recipe is for you!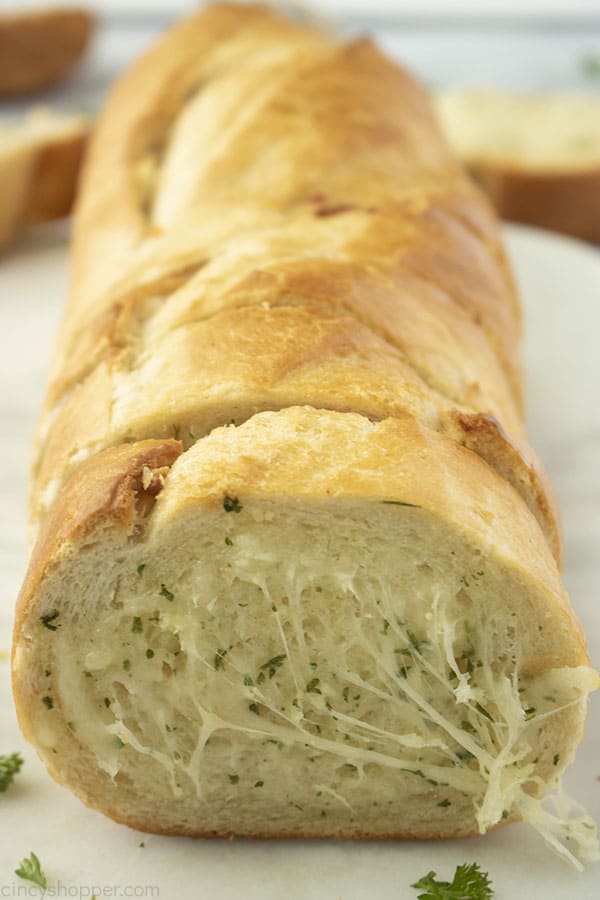 What is the best cheese for melting?
For people who love cheese, there are no limits when choosing a variety to eat. The problem is, there are some cheese varieties that don't melt as well as others do.
The meltability of cheese is determined by three things.
The AGE of the cheese.
VARIETY OF MILK it's made from.
How the cheese reacts to HEAT.
For the most part, as cheese ages, it loses lactose, which is a sugar found in dairy products. This is why, among others, firm, aged cheeses like Parmesan, Gruyere, and Asiago are typically lower in carbs.
When lactose is heated, it attaches itself to casein, which is a protein in dairy milk. Cow's milk has the highest percentage of casein and usually, the most lactose as well.
Under heat, lactose melts, forming a glue of sorts. That glue is what gives the cheese its meltability.
For this reason, the best cheese for melting are usually soft, cow's milk cheeses, like cheddar or mozzarella.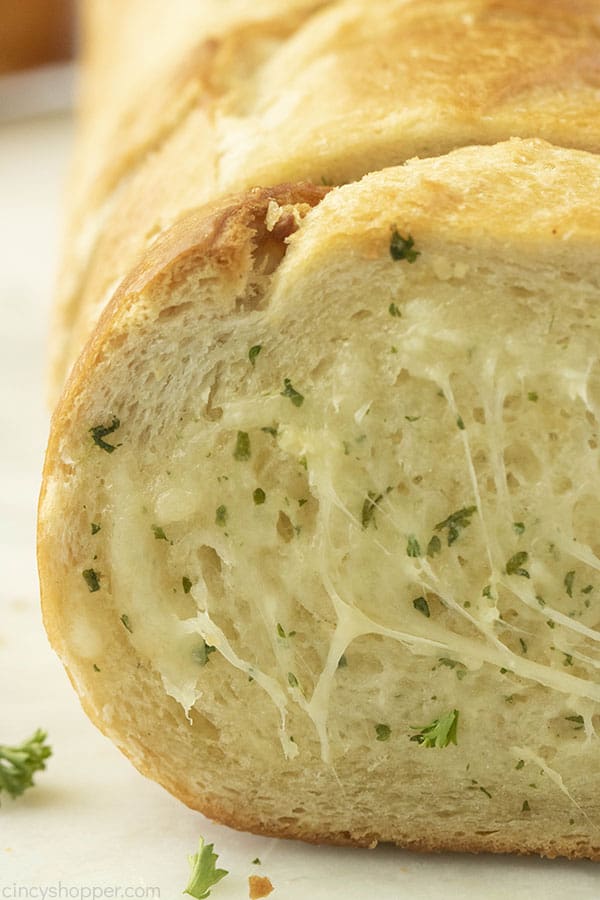 I use my basic Garlic Butter Spread with this loaf. Since it's simple pantry ingredients, I usually have everything on hand.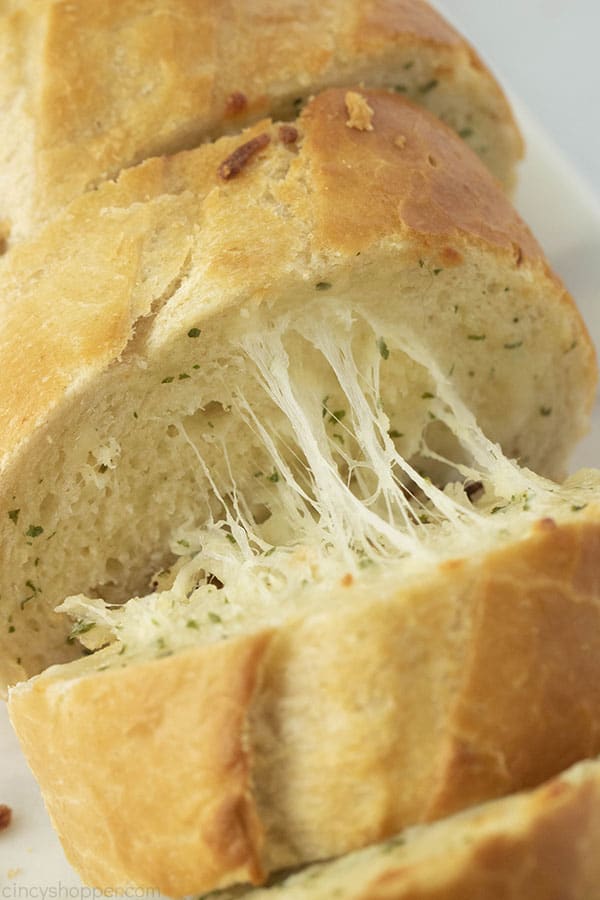 Garlic bread recipe ingredients
In order to make ooey, gooey cheesy garlic bread, you need to use a variety of cheese that melts really well under heat.
For this recipe, we use two types of cheese. We use mozzarella for its meltability, and Parmesan to add a nutty taste to the bread.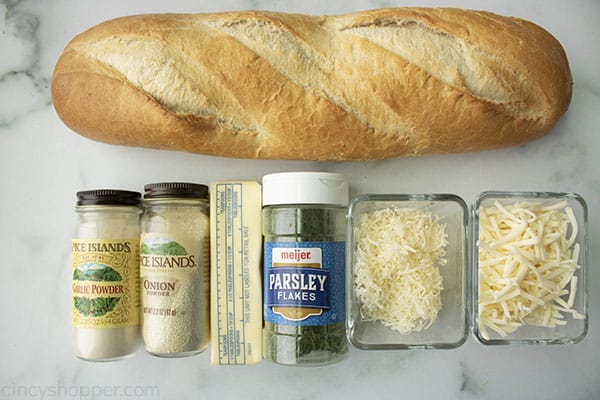 Here are all of the ingredients you will need to make this recipe:
Crusty, firm loaf of bread– French bread is usually the best choice for garlic bread. The crust is thick and crunchy. As a result, it doesn't become soft and mushy during baking.
Butter- Either salted or unsalted butter will work. But keep in mind that cheese usually has a lot of salt in it. Because of this, using unsalted butter will help to keep the garlic bread lower in sodium.
Cheese- As mentioned earlier, for the best melting cheese and the best flavor, we use two types of cheese; shredded mozzarella and Parmesan.
Shredding your own cheese will give you the best results. This is because shredded cheeses from the store have a chemical added to them, which prevents the cheese from clumping. Unfortunately, that chemical also prevents the cheese from melting well.
Seasonings- Garlic powder, onion powder, and dry parsley flakes. If you want to add a stronger flavor, go ahead and use fresh garlic and fresh parsley. Just be sure to finely mince the garlic. Otherwise, you may end up with large pieces of garlic in your bread.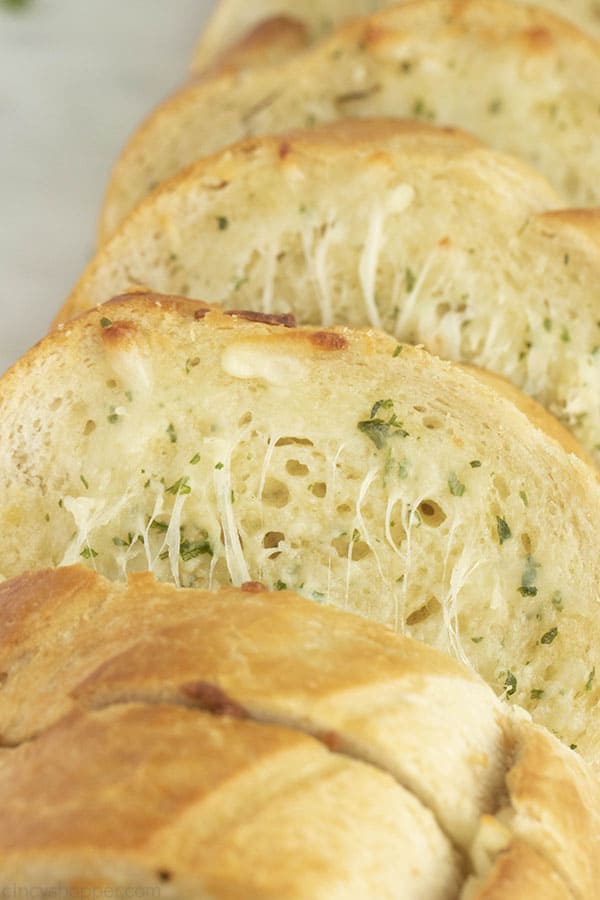 How to make cheesy garlic bread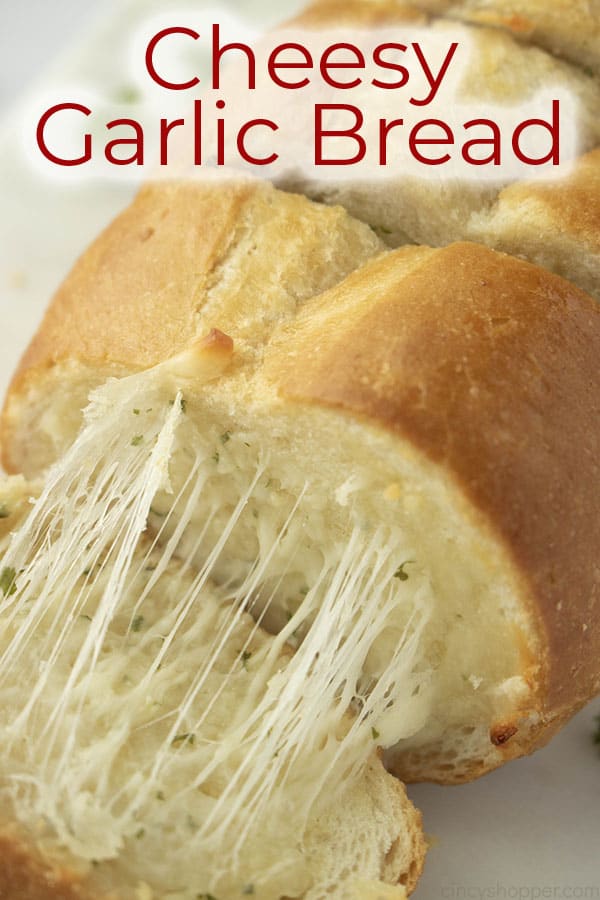 Start by preheating your oven to 400 degrees F.
To a small bowl, add room temperature butter, all of the seasonings, and both cheeses. Use a spoon or silicone mixing spatula to combine everything together.
Or, put kitchen gloves on, then mash everything together with your hands! This a great job for kids to help with.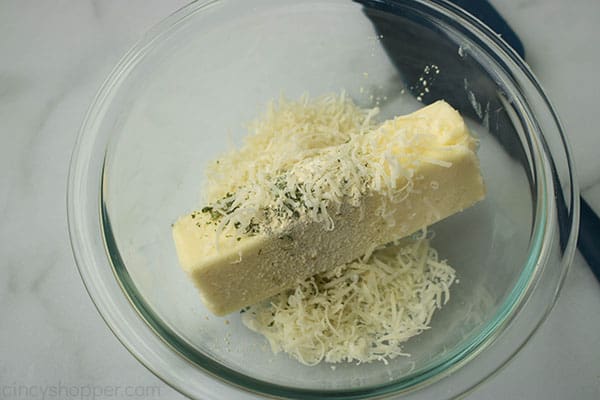 Use a sharp bread knife to cut the loaf into 3/4-inch thick slices.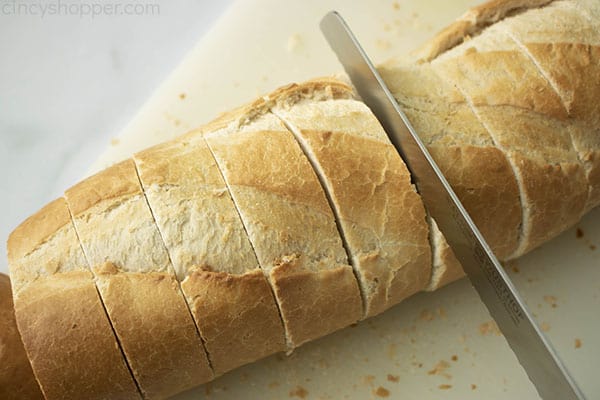 Using a butter knife, apply the butter mixture to one side of each bread slice. Use your fingers to pull the bread slices apart slightly, if necessary.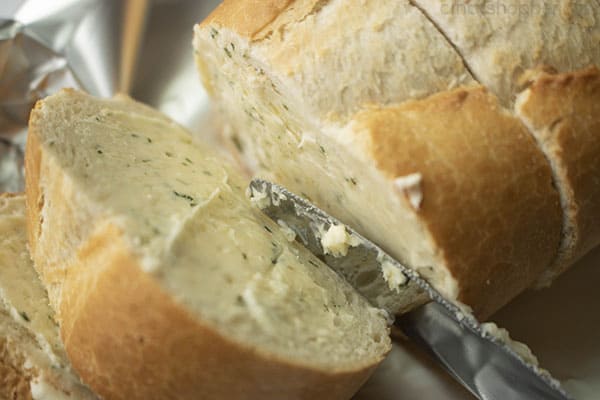 Sprinkle shredded cheese between each slice of the loaf.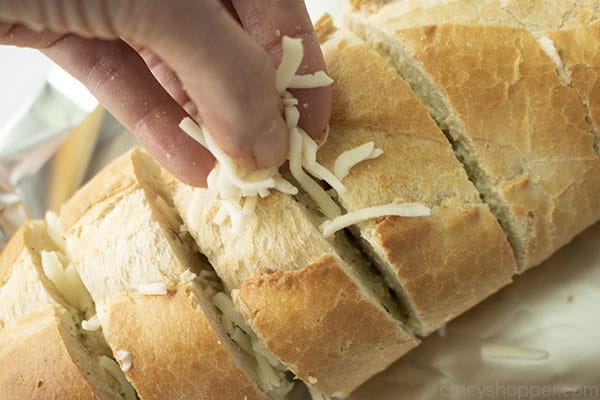 Wrap the loaf in aluminum foil. TIP: To prevent cheese from sticking to the foil, apply a light coating of non-stick cooking spray to the inside of the foil.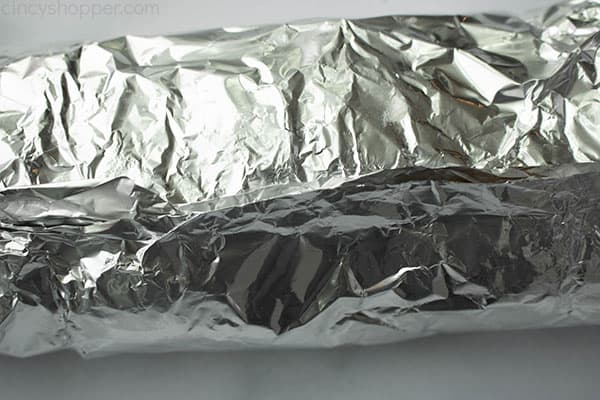 Place the loaf onto the middle rack of your oven and bake for 15 to 20 minutes.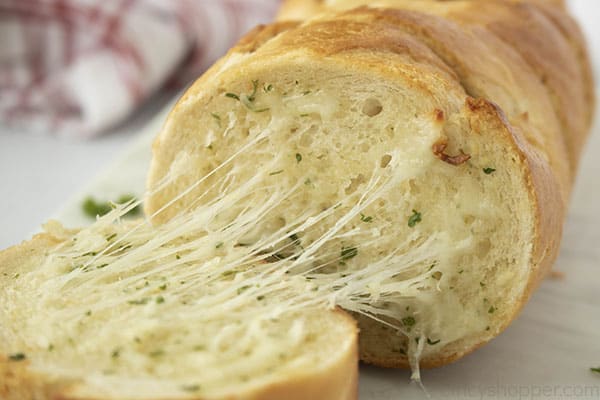 Cheesy Garlic Bread
Cheesy garlic bread may be the perfect side dish.This recipe is so quick and easy to make, you can have a loaf ready in about 20 minutes!
Ingredients
Loaf of French Bread

1/2

cup

softened Butter

1

tsp

Garlic Powder

1/4

tsp

Onion Powder

1/2

tsp

Dried Parsley

3/4

cup

Shredded Mozzarella Cheese
Instructions
Preheat oven to 400.

Slice french bread into about 3/4" slices.

In a bowl, mix together butter, garlic powder, onion powder and parsley until well blended.

Spread mixture between each slice of bread.

Sprinkle cheese between slices and wrap loaf in aluminum foil.

Bake 15-20 minutes until cheese is melted.
Nutrition
Calories:
135
kcal
|
Carbohydrates:
1
g
|
Protein:
3
g
|
Fat:
14
g
|
Saturated Fat:
9
g
|
Cholesterol:
39
mg
|
Sodium:
168
mg
|
Potassium:
13
mg
|
Fiber:
1
g
|
Sugar:
1
g
|
Vitamin A:
426
IU
|
Calcium:
56
mg
|
Iron:
1
mg