The perfect pasta dish every time is this Easy Baked Ziti. A great casserole that is made with beef and sausage meat blend, tender pasta, delicious tomato sauce and lots of cheese. It's ideal for graduation parties, family get-togethers, and Sunday dinners!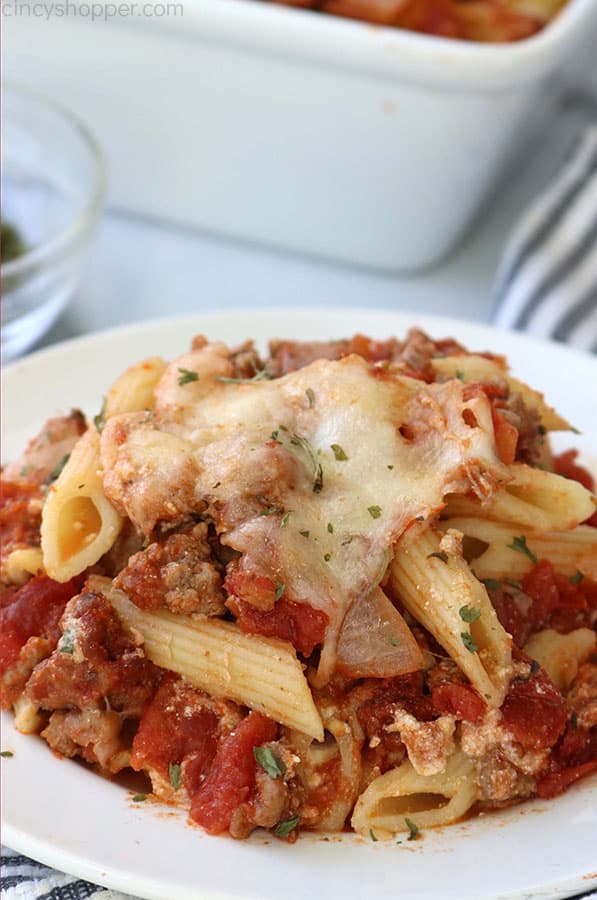 Baked Ziti
Pasta dinners are some of my favorites. I make our American Goulash as well as my Lasagna Roll-Ups quite frequently. I can make these dishes quickly on busy weeknights. Baked Ziti is another one of those dishes that fit in this easy dinner category. It's an amazing dish, it's delicious, it's also really simple! You could plan to make it ahead or it's a dinner that's great thrown together at the last minute. You'll be able to get dinner on the table in no time.
There is just something about Italian dishes loaded up with baked cheese that I can't get enough of. I'd have to say that shredded mozzarella is one of my favorite cheeses to use with Italian pasta dishes. If you make this Baked Ziti the way I do, it's going to be delicious every single time. It's so good that everyone will love it. I've never heard a single complaint about this dish and I've made it dozens of times.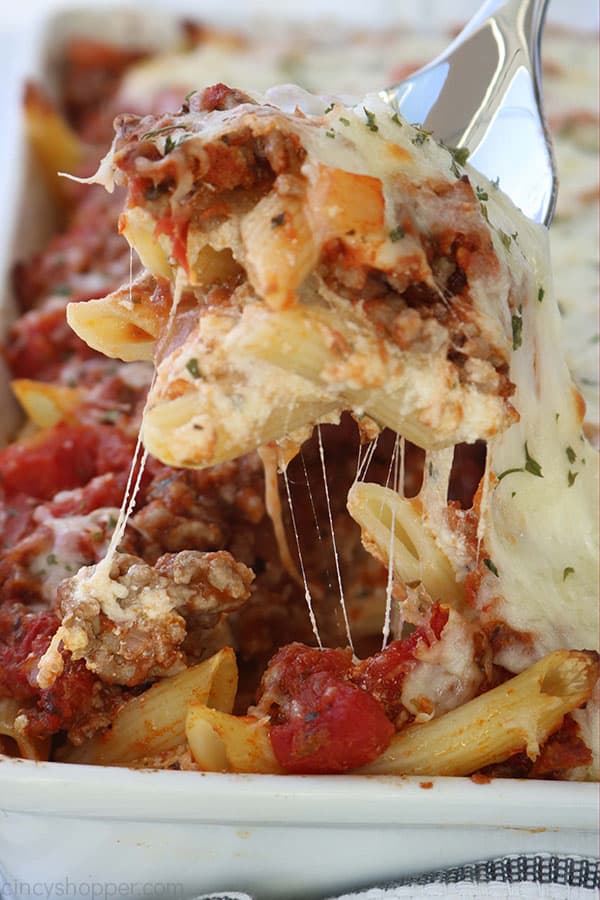 I think one of my favorite parts about this meal is that it's going to feed a lot of people. If you have a big family or you just want to have leftovers, Baked Ziti is a great option. I'll sometimes even make a double batch and add one to the freezer, to pull out later. I like to use a 60/40 beef and pork blend of meat, to help give this pasta dish even more flavor. This is the ultimate family dinner that your family will ask for again and again.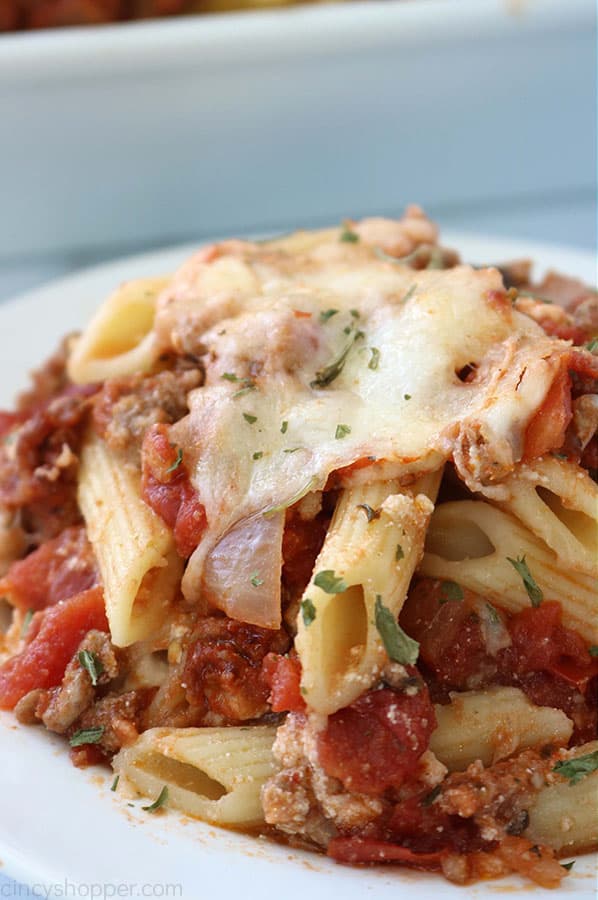 Where Did Baked Ziti Originate From?
Also known as Ziti al Forno, this is a popular dish across many Italian towns. The way Baked Ziti is made in our kitchens is way different than the way it's made across Italy. Oven baked pasta is truly the winner here. It dates back to the Middle Ages. It's safe to say that you're carrying on a very old tradition when you make Baked Ziti right in your own home.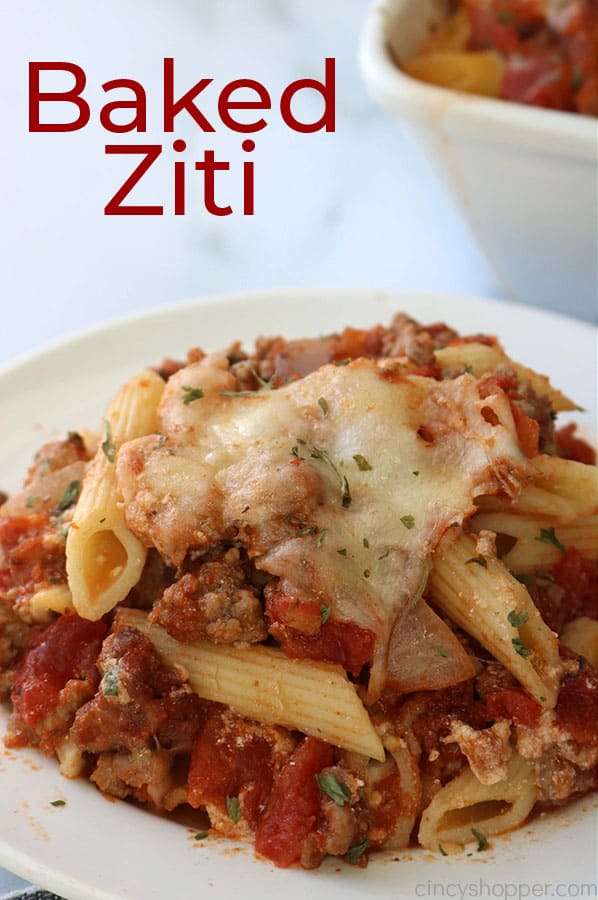 Ingredients to Make Baked Ziti
Pasta – I use a Penne
Ground Beef and Sausage (I used a packaged blend)
Diced Tomatoes
Marinara Sauce
Ricotta Cheese
Mozzarella Cheese ( I use fresh, not pre-shredded)
Eggs
Garlic
Italian Seasonings (Oregano and Basil)
Parsley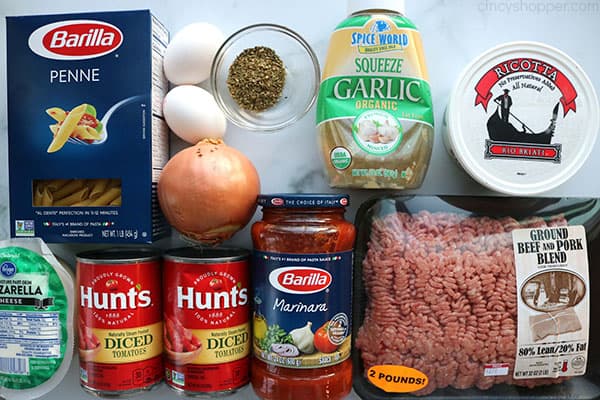 How to Make Baked Ziti
Before you get started with making this delicious dish, you'll want to preheat the oven to 350 degrees. I like to do this before I start prepping dinner because then the oven is ready to go. On those busy weeknights, this meal will be a true lifesaver. It's such an easy dinner idea, anyone can do it! You'll want to start your food prep by dicing the onion. I use a half onion in this recipe. If you would like to keep the dish kid-friendly, go ahead and omit the onion or you can puree it.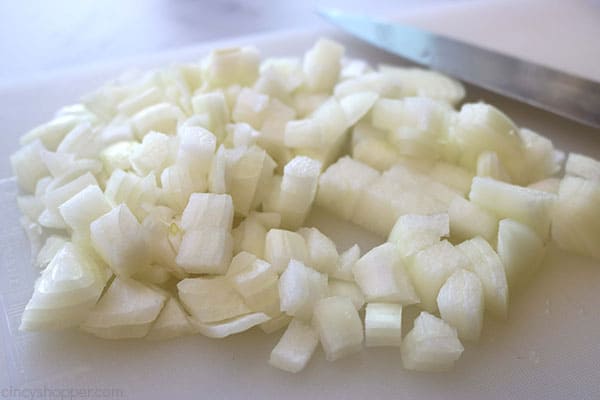 Add the beef and pork mixture to a pan to brown. I usually add the garlic and diced onion at this step. After my mixture is brown, I drain most of the grease.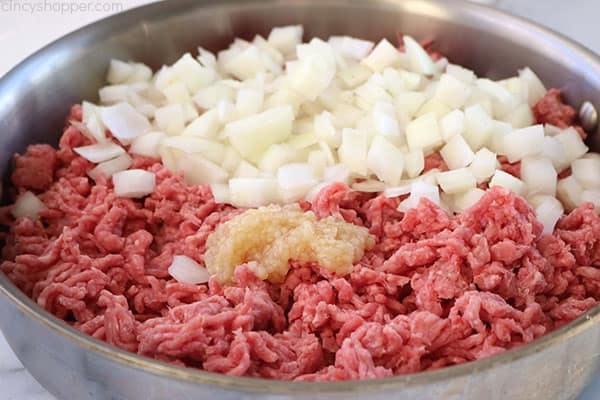 Next, you'll want to add the diced tomatoes, seasonings and the marinara sauce to the pan. I stir to combine.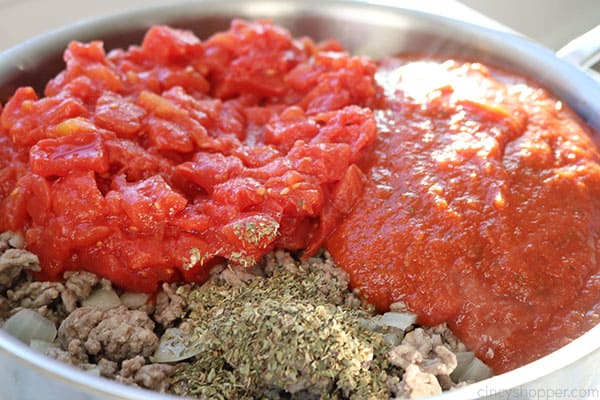 I cook my pasta according to package directions. I remove at an almost al dente. Immediately drain and rinse with cold water to keep your pasta from cooking any further. You don't want to make the pasta super done because it will continue to cook while in the oven baking.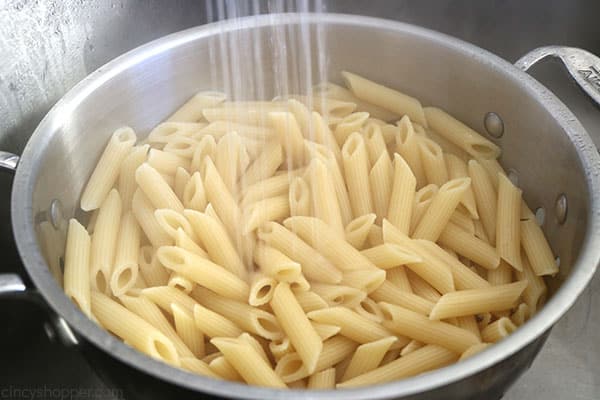 I really enjoy shredding my own mozzarella cheese, not only does it taste better, but it looks best when it's done. In a pinch, you could use shredded mozzarella from a bag, but I just prefer to use fresh and shred myself. If you have never shredded fresh mozzarella, you can check out this post over on for How to Shred Mozzarella.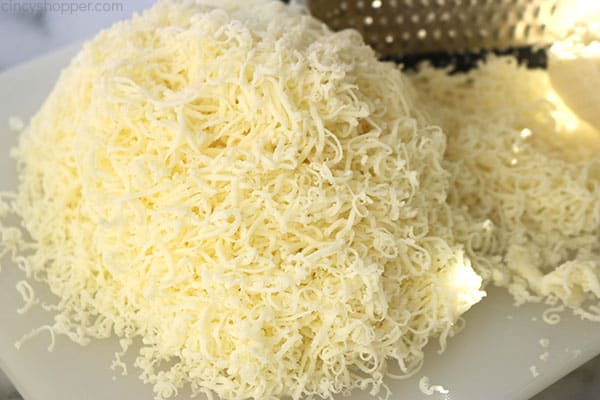 In a large bowl, mix the ricotta, mozzarella, two eggs, and parsley together. This is going to be the mixture that makes the whole Baked Ziti recipe come together.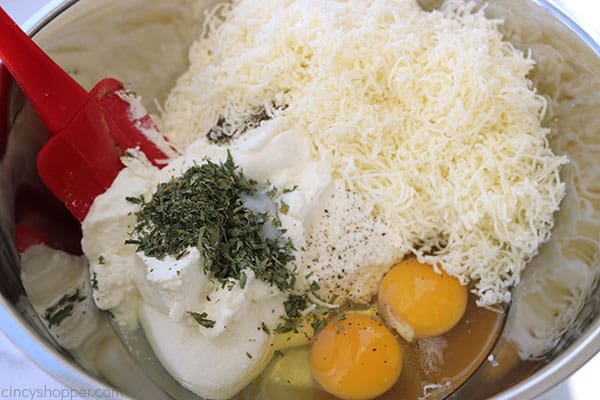 Start by adding a layer of the meat mixture to the bottom of the pan. You'll want to use a deep baking dish for this meal.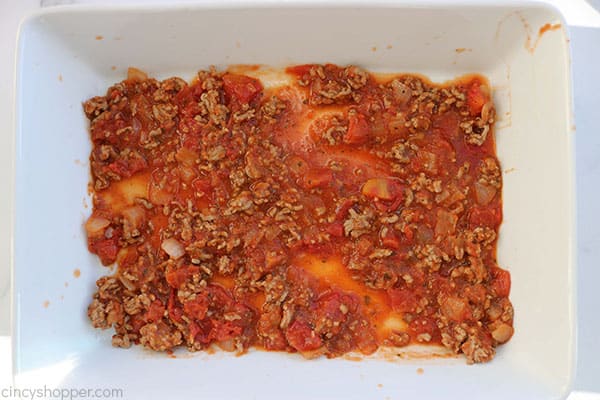 Add a layer of pasta.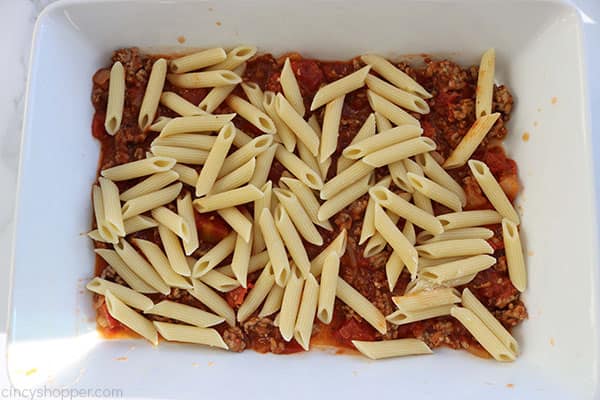 Then add a layer of the cheese mixture, on top of the pasta.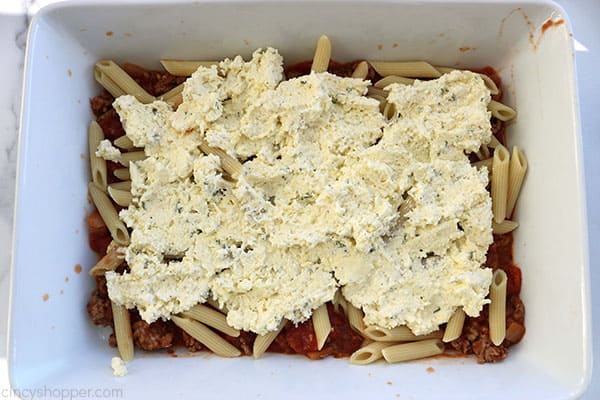 And then another layer of the meat mixture.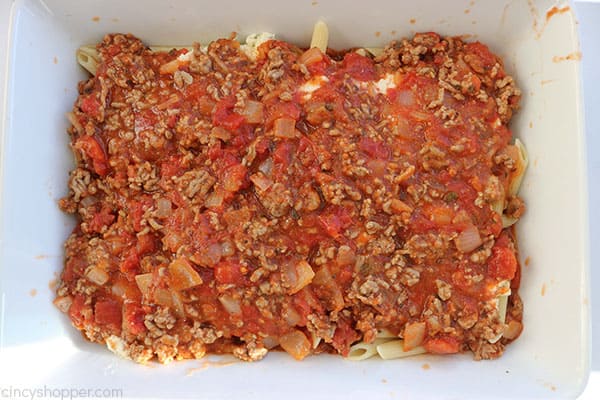 Another layer of pasta.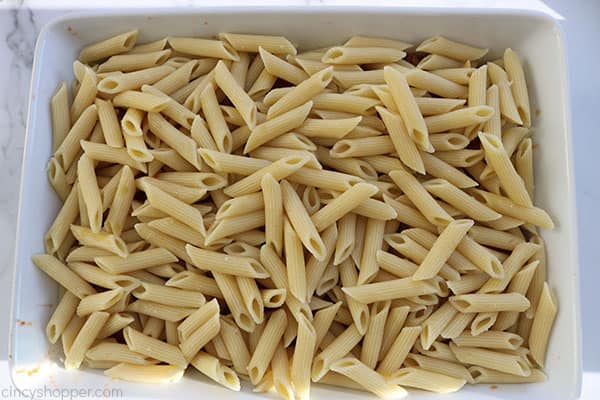 Add another layer of the cheese mixture.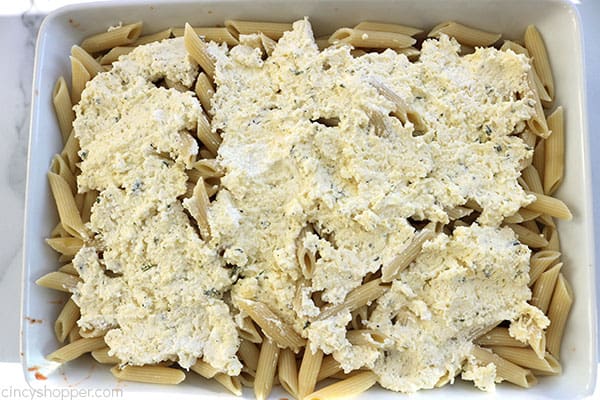 Finally, add the last layer of the meat sauce.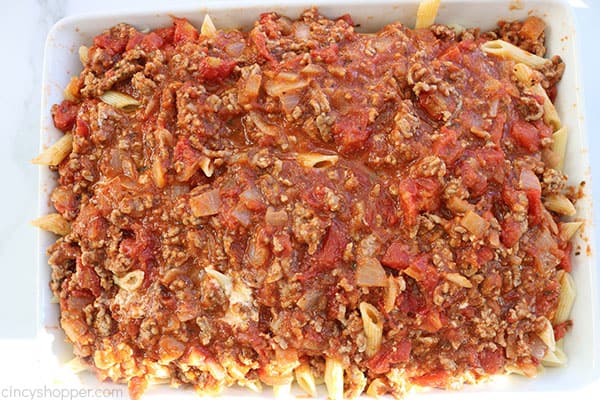 Finish prepping the dish by adding a layer of shredded mozzarella.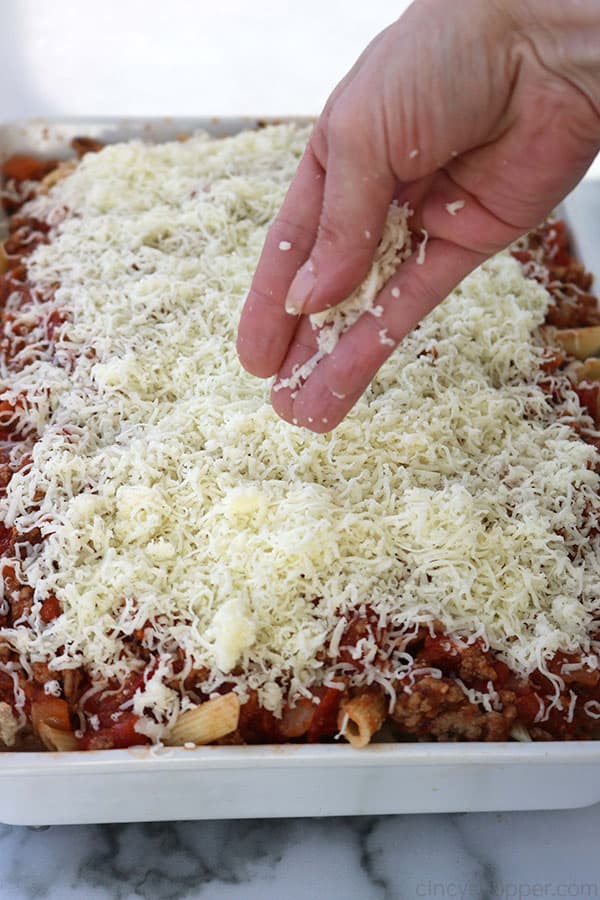 Cook until done and serve warm. I like to add parmesan cheese to the top of my pasta. Give it a try!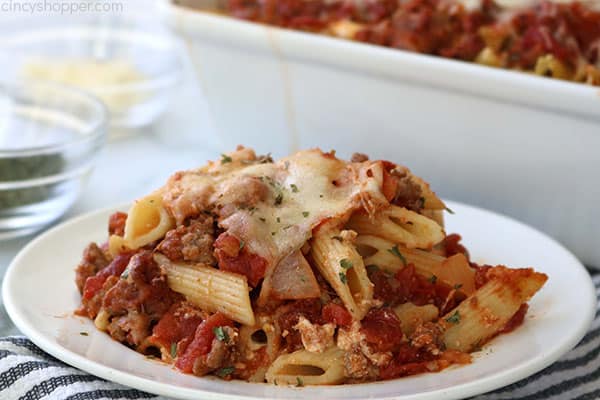 Can You Make Baked Ziti Ahead of Time?
Baked Ziti is one of those dishes that you can prep ahead of time. Since the meat and pasta are cooked before it's baked, this makes a great prep ahead dish. So, the answer is yes! Go ahead and make the Baked Ziti ahead of time for your graduation parties, large gatherings, and Sunday dinners!
Looking for some great side dishes to serve with your pasta? Be sure to see some of these recipes that I have shared:
Baked Ziti
The perfect pasta dish every time is Baked Ziti. The cheese, pasta, and tomato sauce mix together just right. This dish is ideal for graduation parties, family get-togethers, and Sunday dinners!
Ingredients
2

tbsp

Olive Oil

2

tsp

Minced Garlic

1/2

large Onion

diced

2

lb

Ground Beef and Pork

28

oz

Marinara Sauce

28

oz

canned Diced Tomatoes

1

tsp

Oregano

1

tsp

Basil

1

tsp

Salt

1/2

tsp

Black Pepper

1

lb

Penne Pasta

1

lb

Mozzarella

grated

12

oz

Ricotta

2

Eggs

2

tbsp

Parsley
Instructions
In a large skillet over medium heat, heat the olive oil.

Add ground meat, diced onions and garlic.

Break up meat as it cooks, and continue until until all meat is browned.

Drain off most of the excess fat.

Add the marinara sauce, tomatoes, spices, salt and pepper.

Stir and simmer for 30 minutes.

Bring a large pot of water to a boil and cook the pasta until al dente.

Drain the pasta and rinse under cool water.

Preheat the oven to 375 degrees F.

Reserve 1/2 cup mozzarella for later.

In a bowl, mix remaining mozzarella, the ricotta, parsley and eggs.

Stir until just combined.

Spread 1/3 of tomato sauce mixture on bottom of pan.

Spread 1/2 of the pasta over sauce.

Spread 1/2 egg and cheese mixture over pasta.

Spread 1/3 of tomato sauce mixture over cheese mixture.

Spread remaining pasta over sauce.

Spread remaining egg and cheese mixture over pasta.

Spread remaining tomato sauce mixture over cheese mixture.

Sprinkle top with reserved mozzarella cheese.

Bake 20 minutes until bubbling.

Garnish with parsley.
Nutrition
Calories:
715
kcal
|
Carbohydrates:
31
g
|
Protein:
44
g
|
Fat:
46
g
|
Saturated Fat:
21
g
|
Cholesterol:
188
mg
|
Sodium:
1437
mg
|
Potassium:
969
mg
|
Fiber:
4
g
|
Sugar:
8
g
|
Vitamin A:
1271
IU
|
Vitamin C:
18
mg
|
Calcium:
456
mg
|
Iron:
6
mg