Apple Cranberry Crisp is a blend of sweet apples, tart berries and crumbly crisp topping. An easy & delicious holiday or fall dessert recipe. You can serve it up as dessert for Thanksgiving dinner or freeze it and save it until Christmas- super freezer-friendly!
It's pretty well-known that we love our fall dessert recipes here on the site. The season is the perfect time of year for all sorts of delicious apple desserts- Traditional Apple Pie, Apple Cobbler, and so many others. Of course, another big favorite is Traditional Apple Crisp and also our Pear Crisp with that tasty oat crisp topping. It's one of the best apple dessert recipes and we've been thinking about ways to shake it up a little, especially with Thanksgiving coming soon. That's how we came up with this Apple Cranberry Crisp.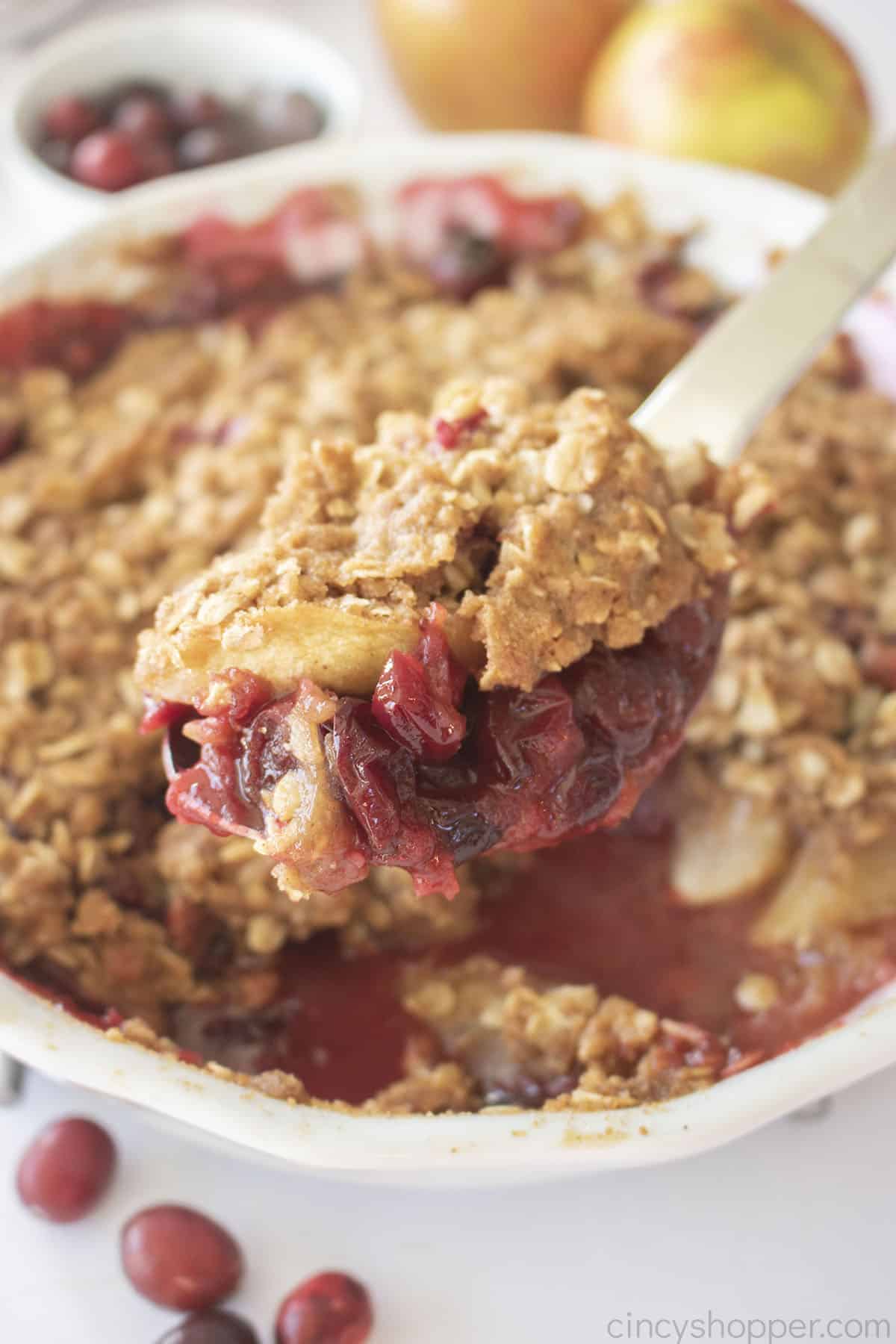 This Apple Crisp with Cranberries takes that classic fall dessert and adds in a little bit of holiday flavor with some fresh cranberries. The result is a delicious Cran Apple dessert that gets the best from both fruits. That juicy tart pop of flavor from the tart cranberries plays off the sweet crisp taste of the apples perfectly- especially when it's all wrapped up in brown sugar, baking spice, and a buttery oat topping. It's a great dessert recipe for fall but we think it's going to be even better as a Thanksgiving dessert- maybe even Christmas if you want to freeze it!
Jump to:
Why you'll love this easy Apple Cranberry Crisp recipe
This recipe hits a sweet spot between being super easy to make and being comforting and delicious. It's also loaded with apples and cranberries, which makes it the perfect easy Thanksgiving dessert. So simple to make which means you have plenty of time to focus on sides and other dishes.
Adding cranberries to your classic apple crisp recipe adds another layer of flavors to this classic fall dessert. Cranberries tend to a bit more sharp and tart: paired with the sweetness in some Honeycrisp apples and a rich crumble topping, it makes a dessert that's hard to hate.
Your Apple Cranberry Crisp is going to last for a fair bit. It'll last a good 4-5 days in the fridge. Need to save it for even longer? Freeze it, either before or after baking it! You could easily whip up one crisp as a Thanksgiving dessert and freeze another for Christmas next month.
Cranberry Apple Crisp Ingredients
Like all of the best comforting fall dessert recipes, our Apple Cranberry Crisp is simple to make while still being tasty. Lots of pantry staples and some fresh fruits. This is all you're going to need: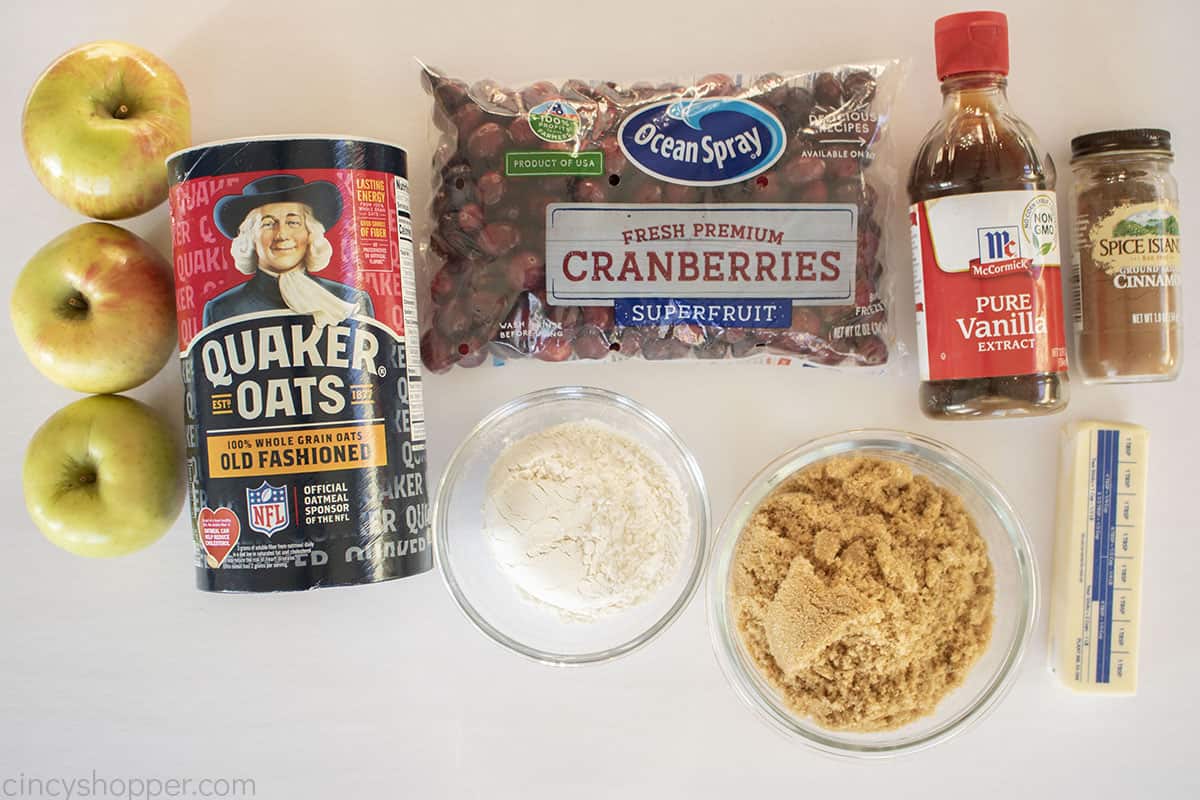 Apples – We made this recipe with some Honeycrisp apples and think it turned out great! I thought about using granny smith apples but was worried about the flavors being to tart.
Cranberries – We use fresh cranberries for this recipe. We'll cover some alternatives later in the post.
Brown Sugar in a pinch you could use granulated sugar.
Vanilla Extract
Cinnamon – If you have any on hand, you might consider using some Apple Pie Spice here instead.
For the Oat Crisp topping, you'll need the following:
Flour – Some basic all-purpose flour will work here.
Brown Sugar
Oats – We used these Old Fashioned Oats.
Cinnamon
Vanilla Extract
Butter – Keep this in the fridge for as long as you can before using it. We want to use cold butter for the topping.
See recipe card for quantities.
How to make Apple Cranberry Crisp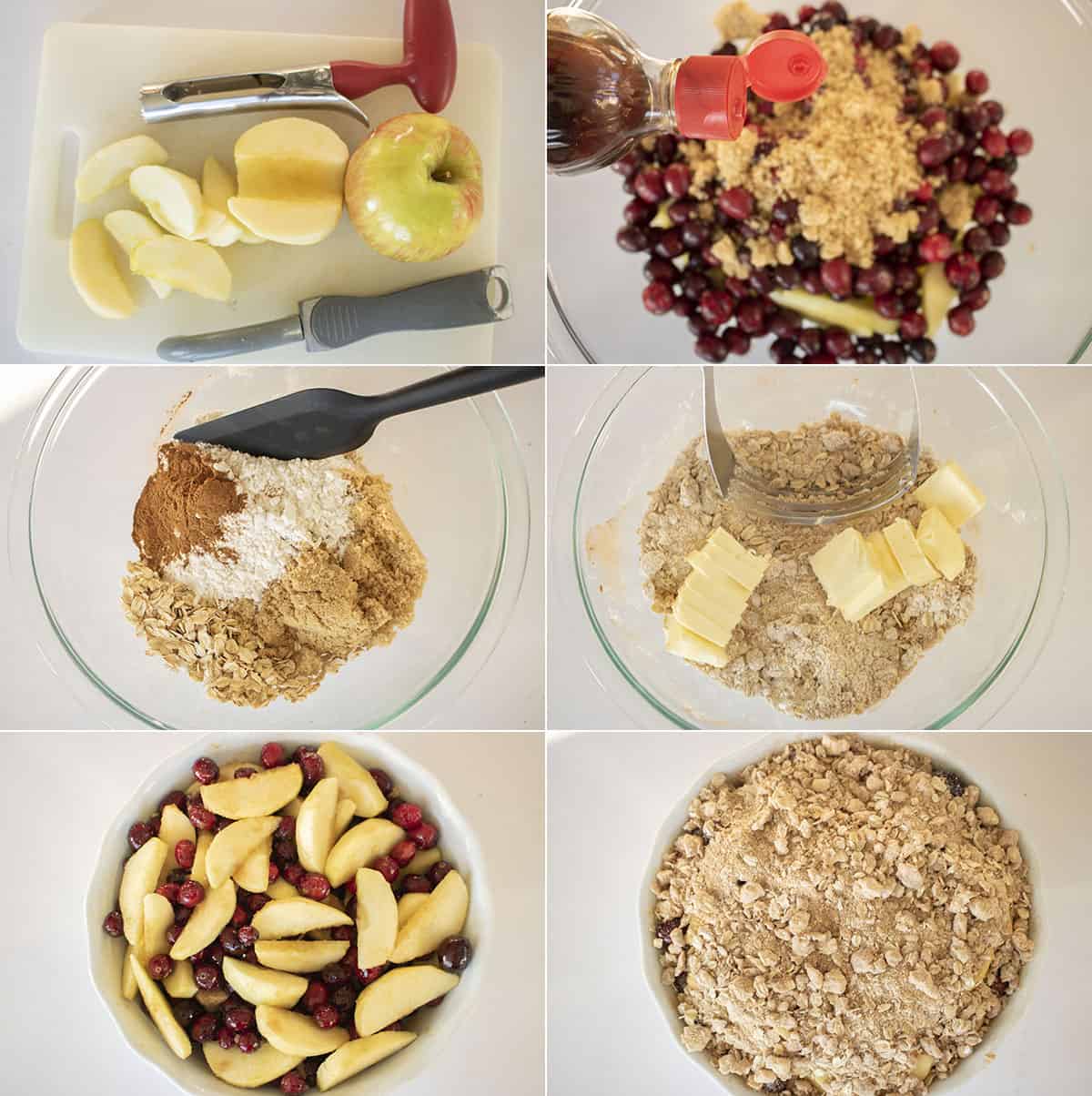 This Easy Apple Cranberry Crisp recipe is so simple to throw together. Outside of prepping the crisp topping, it really is as simple as mixing the ingredients up and letting the oven do it's thing. To make this delicious Cranberry Apple Crisp for yourself, here's all you'll need to do:
Core, peel, and slice apples before combining in a large bowl with cranberries, brown sugar, vanilla, and cinnamon. Toss and stir to mix before transferring to greased 9″ pie pan or 8×8 baking dish.
In a separate bowl, mix together flour, brown sugar, oats, and cinnamon. Add in vanilla and pats of cold butter before using a pastry blender or fork to work into a crumbly mixture.
Sprinkle finished crisp topping over fruit mixture before setting in a 350 degree oven. Allow to bake around 35-45 minutes or until topping is golden brown and fruit is bubbling. Serve warm with an optional scoop of vanilla ice cream.
Substitutions
Chances are, you probably have most of the ingredients for our Apple Cranberry Crisp tucked away in your pantry or fridge right now. But if you're looking for a few substitutions, here's some you can give a shot:
Apples – Honeycrisp Apples seem to be one of the best apples for dessert recipes like this: mildly sweet while being crisp and firm enough to hold their shape while baking. However, you don't have to use Honeycrisp apples if you can't find them or don't prefer them. For other good apples for apple crisp, try something like a Pink Lady or a Golden Delicious apple.
Cranberries – We made this recipe with whole fresh cranberries in mind. They're going to taste much better and give us the texture we want from this Cranberry Apple Crisp. In a pinch, you might be able to get away with using something like a canned cranberry sauce- the taste and texture won't be as good. If you can, try finding something like canned whole berry cranberry sauce.
Oats – Generally speaking, we find that old fashioned oats work best for crisp recipes. They hold up really well against all the moisture and have a much easier time staying nice and crisp like we want. But if you don't have old fashioned oats on hand, something like steel cut oats or rolled oats will work out well enough. You could probably even get away with using quick oats- avoid instant oats though.
Variations
With how simple and easy this Cranberry Apple Crisp recipe is, there's still plenty of ways you can change it up and add some new flavors into it. Here's a few ideas you can try for yourself:
Apple Pear Cranberry Crisp – Pears are another classic fall fruit that you can easily toss into this crisp recipe. Even better, apple and pear pair really well together and the cranberry is only going to make that combo even tastier! Sub out one or two of the apples for one or two pears and continue with the recipe like normal.
Apple Cranberry Pineapple Crisp – Another popular spin on this recipe involves getting a little tropical with some pineapple. You should probably use fresh pineapple in a recipe like this but canned pineapple chunks would probably work in a pinch.
Oatmeal Pecan Crisp Topping – Maybe not really a whole "variation" on this recipe, but a fun way to shake up the crisp topping is to add in some crushed pecans. Subbing out around half of your oats for chopped pecans will yield a toasty, nutty crisp topping that might taste even better!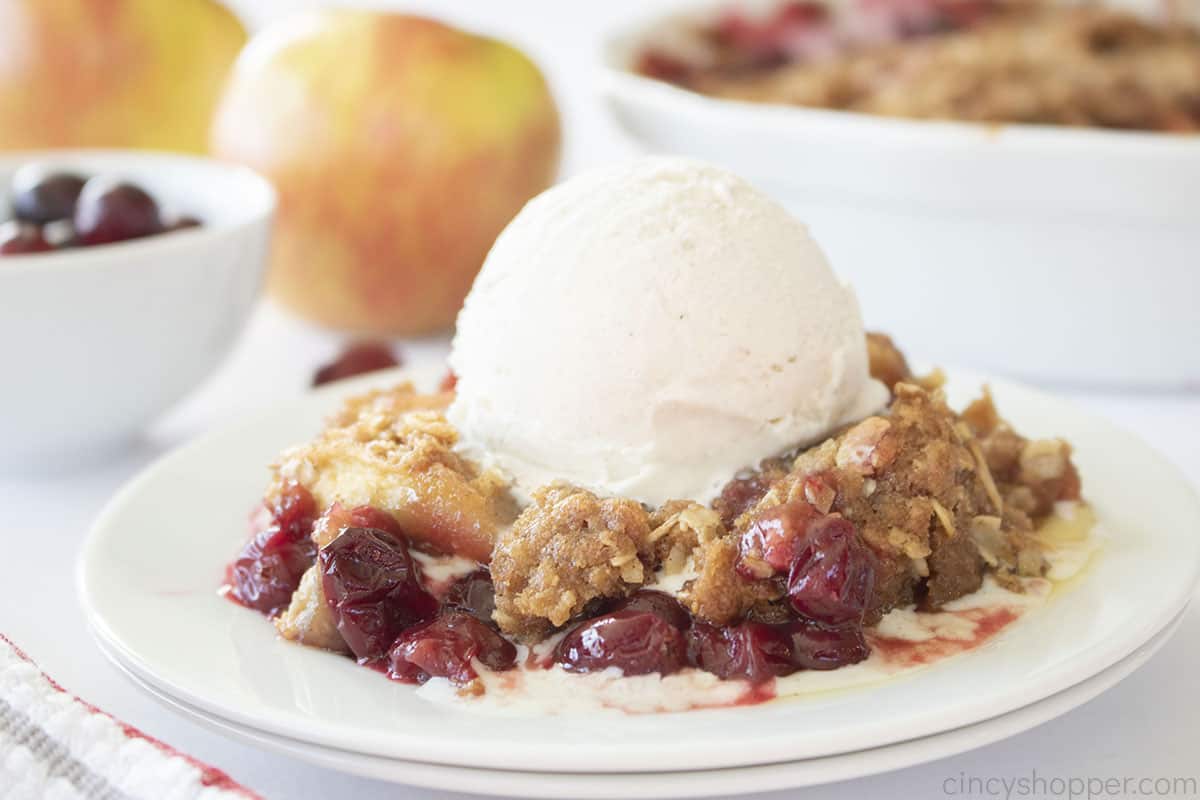 Storage / Freezing
Storage: This Apple Cranberry Crisp is so good- if you haven't finished it already, you'll want to save the leftovers. Let cool completely before covering with plastic wrap or transferring to an airtight container. Keep it in the fridge for 2-4 days- 5 days at the most.
Freezing: Maybe the best part about this recipe is that you can freeze it before or after baking it! If freezing after baking, allow to cool completely before covering with foil and keeping frozen for 2-3 months. Instead, if you want to treat more like a freezable apple crisp, add the crisp topping and cover with foil instead of baking. Prepared like this, we'd expect it to stay good for 6-9 months. Bake at 350 degrees for 20-25 minutes with the foil wrapping still on before removing the foil and baking like normal.
Top tip
Top this fresh fruit crisp with whipped cream or vanilla ice cream.
Other Cranberry Recipes
Looking for other cranberry recipes? Try these:
Other Apple Recipes
Here are some apple recipes that I have shared: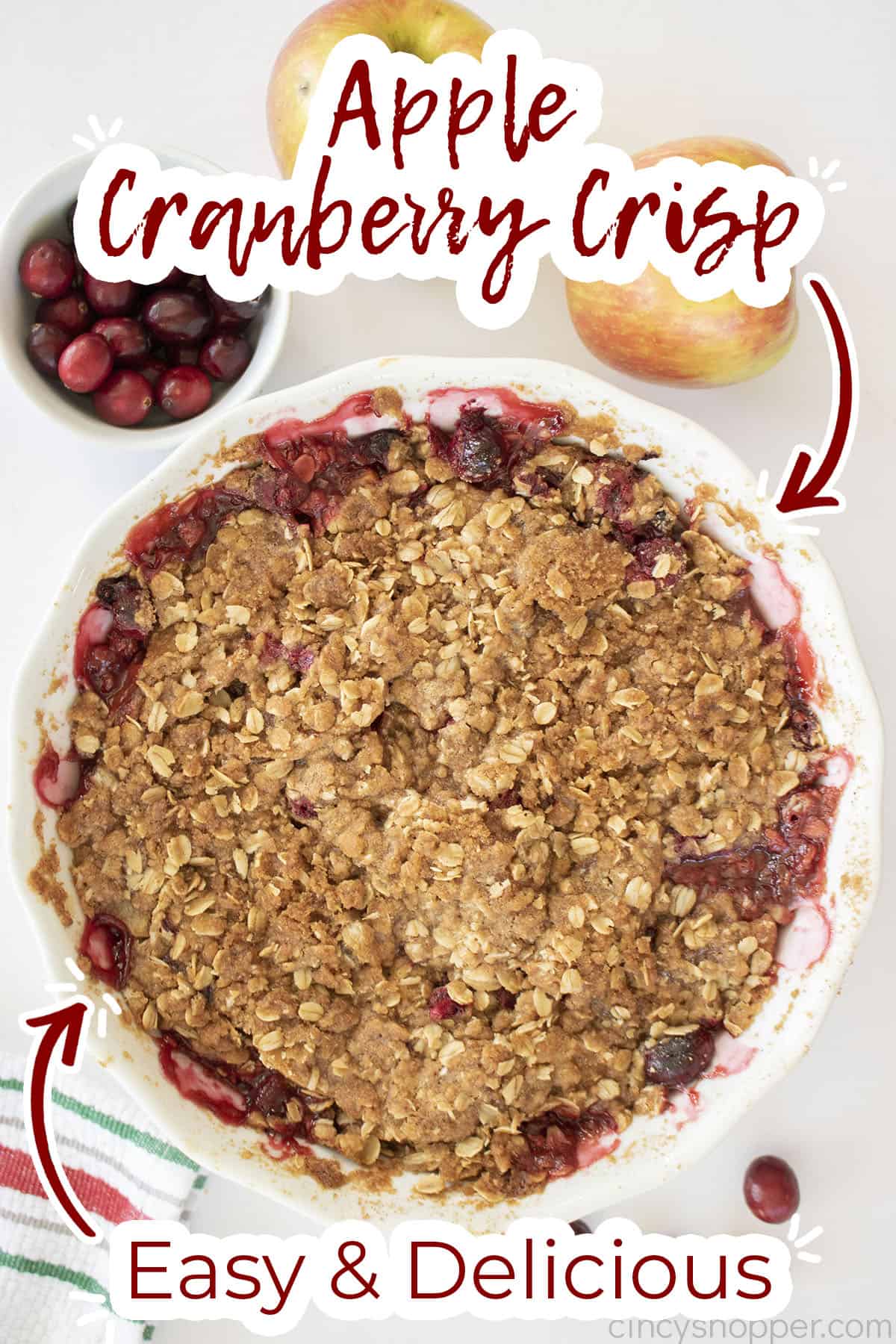 Apple Cranberry Crisp
Apple Cranberry Crisp is a blend of sweet apples, tart berries and crumbly crisp topping. An easy & delicious holiday or fall dessert recipe. You can serve it up as dessert for Thanksgiving dinner or freeze it and save it until Christmas- super freezer-friendly!
Ingredients
Filling
3

cup

Cranberries

3

medium Honeycrisp Apples

cored. peeled and sliced

1/2

cup

Brown Sugar

1

tsp

Vanilla

1

tsp

Cinnamon
Topping
1

cup

Brown Sugar

1

tsp

Vanilla

3/4

cup

uncooked Old Fashioned Oats

1/2

cup

Flour

1

tsp

Cinnamon

1/2

cup

Butter cold
Instructions
Preheat oven to 350.

Grease a 9″ pie pan or 8×8″ Baking dish.

Combine the apples, cranberries, brown sugar and vanilla. in a lerge bowl.

Toss to mix, then transfer to your prepared dish.

For the topping, mix together flour, brown sugar, oats and cinnamon in a bowl.

Add in vanilla and cut in butter with a pastry blender or fork.

Work until mixture forms large crumbs.

Sprinkle topping over fruit mixture.

Bake until the topping is golden brown and the fruit is bubbling, about 35-45 minutes.
Notes
Top this fresh fruit crisp with whipped cream or vanilla ice cream.
Nutrition
Calories:
497
kcal
|
Carbohydrates:
88
g
|
Protein:
3
g
|
Fat:
16
g
|
Saturated Fat:
10
g
|
Polyunsaturated Fat:
1
g
|
Monounsaturated Fat:
4
g
|
Trans Fat:
1
g
|
Cholesterol:
41
mg
|
Sodium:
140
mg
|
Potassium:
268
mg
|
Fiber:
6
g
|
Sugar:
65
g
|
Vitamin A:
554
IU
|
Vitamin C:
11
mg
|
Calcium:
73
mg
|
Iron:
2
mg