Lattice Apple Pie is sweet, comforting, and delicious- just like grandma used to make! Our homemade pie recipe makes the perfect fall dessert.
Apple pies are a must make for the fall season and holidays. Follow along with our recipe for an old-school, traditional apple pie we know you'll love!
Lattice Apple Pie
Like clockwork, whenever the fall season rolls around, I find myself craving apple pie. Few desserts are so synonymous with the season quite like delicious, warm apple pie! Personally, I enjoy mine with a big scoop of ice cream on top.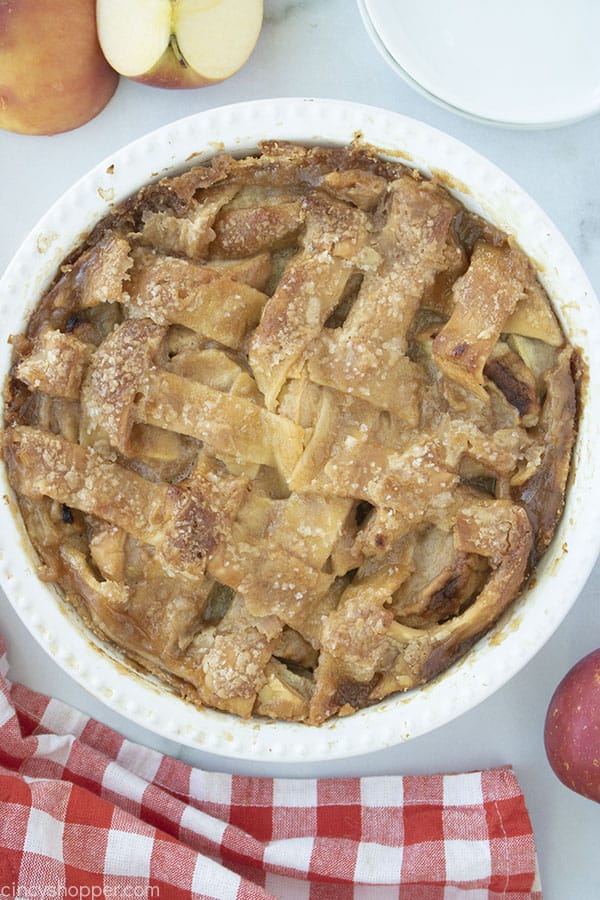 Today, we've got a tasty recipe for an old-school style apple pie. We've packed this rich dessert with plenty of caramel-y flavor and tons of Granny Smith apples. Keeping with tradition, we even weaved a decorative lattice crust topping! If you're looking for an apple pie just like grandma used to make, look no further- this has got to be the best apple pie recipe on the internet!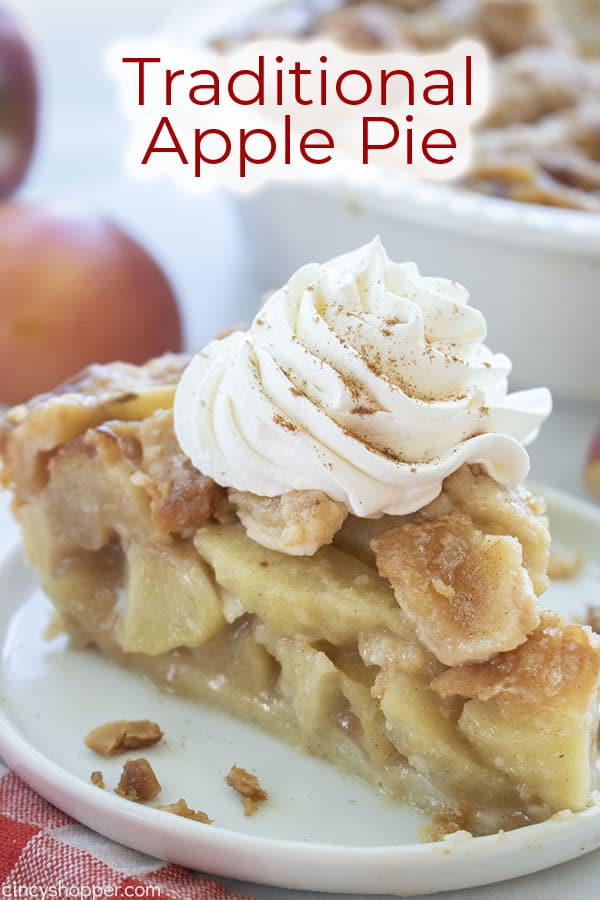 More Apple Pie and Apple Dessert Recipes
Dutch Apple Pie

is another classic apple pie recipe we know you'll love!

Streusel topping tastes sweet, buttery, and delicious on top of this flaky, homemade pie

.

Our

Apple Pie Bites

are great for breakfast or dessert. They're really easy to make- all you need is crescent roll dough and pie filling for this sweet recipe!

Apple Hand Pies

are another way to deal with those apple pie cravings. These easy hand pies are so simple to make and taste perfect when dipped in a glaze!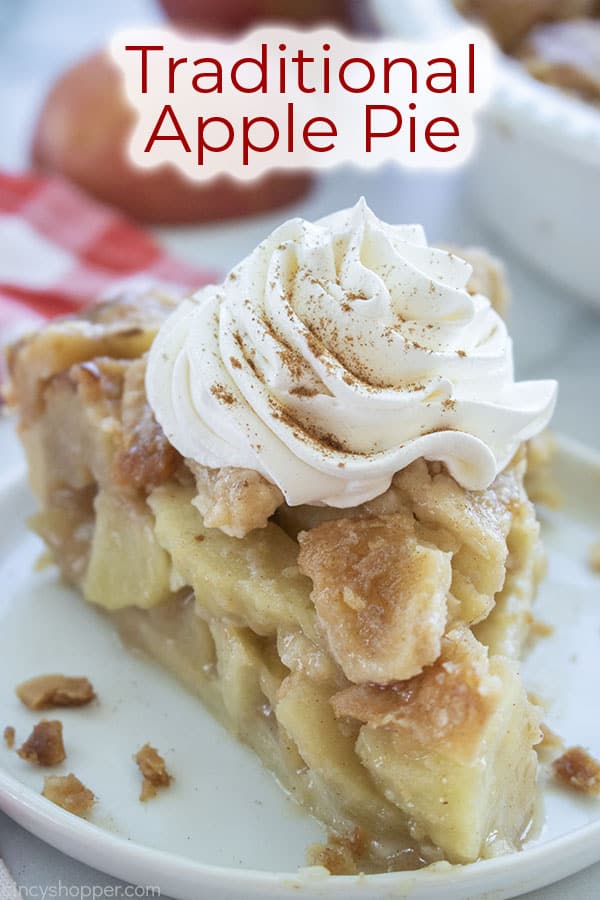 Ingredients for our Classic Pie Recipe
Pie Crusts – If you don't have any on hand, you can make some

Easy Pie Crust

at home.

Apples – Granny Smith's are the traditional choice here.

Egg – We'll just need the white from it.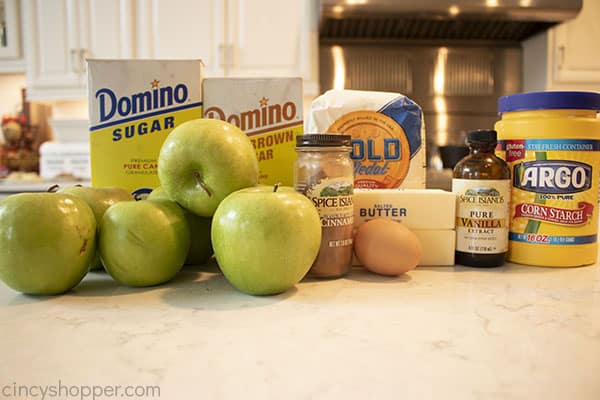 How to make Apple Pie
The first thing we want to do is get our crusts ready. We're going to top our pie with that recognizable lattice design, so weave one together real quick that covers the top of the pie.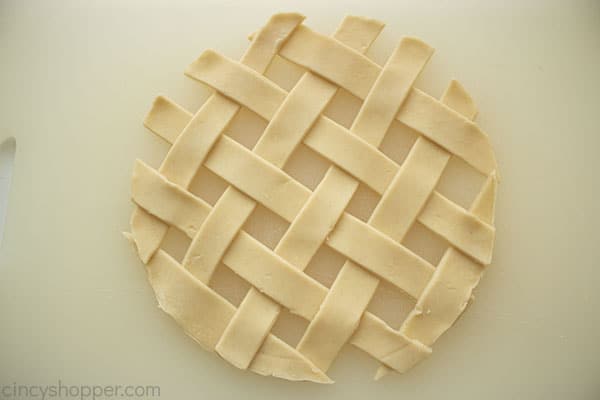 For the actual crust, our pie is going to fill, we'll first want to brush it down with an egg white. This step will allow your crust to not become soggy.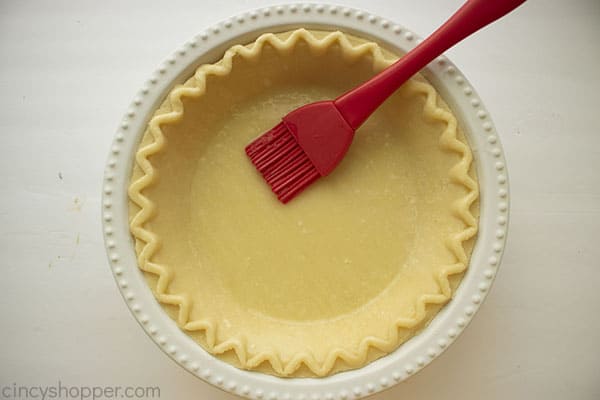 After this, we'll want to give the crust a quick docking as well.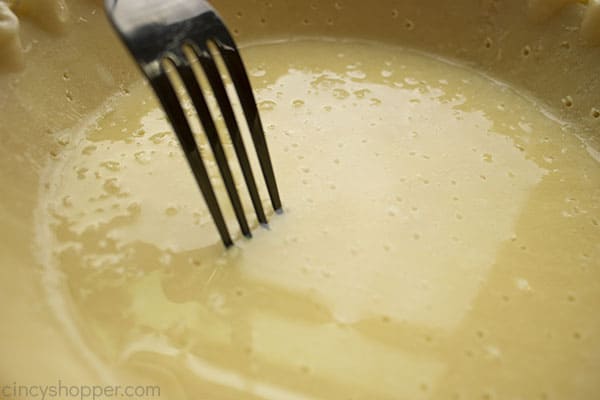 The next thing we need to deal with is the apples. Give your apples a quick coring and peeling before slicing them.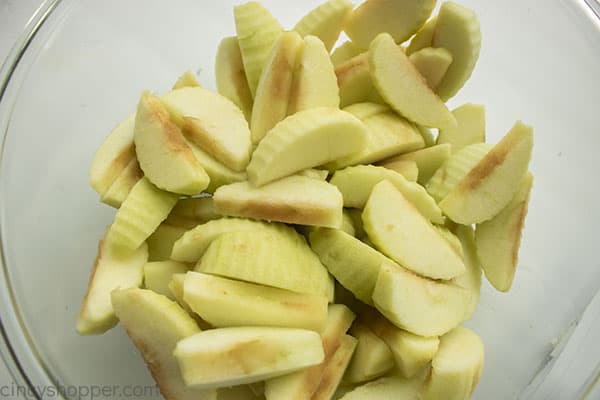 Fill your awaiting pie crust with your apple slices. It's okay if your apples mound slightly, they will bake down.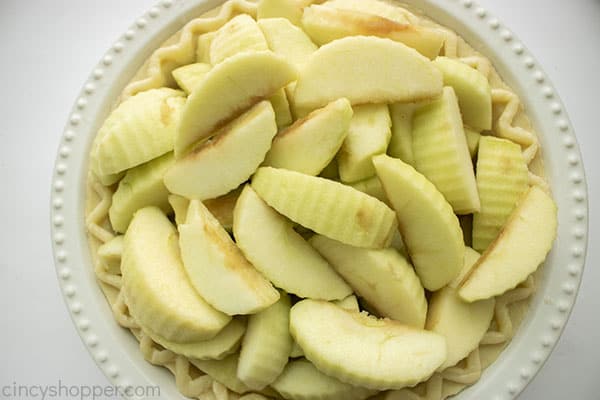 The next order of business is making our sweet, caramel-y pie sauce. First, melt some butter in the bottom of a saucepot.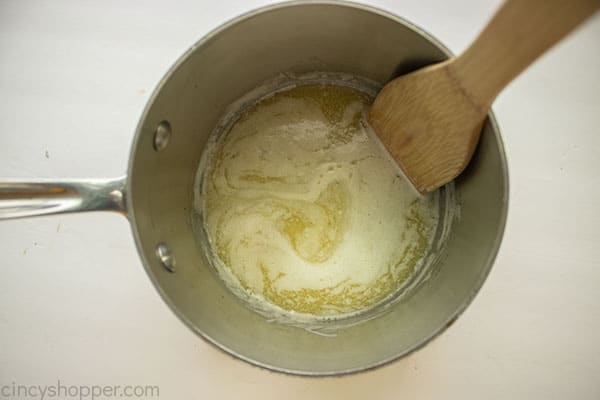 To this melted butter, we're going to add flour to make a roux.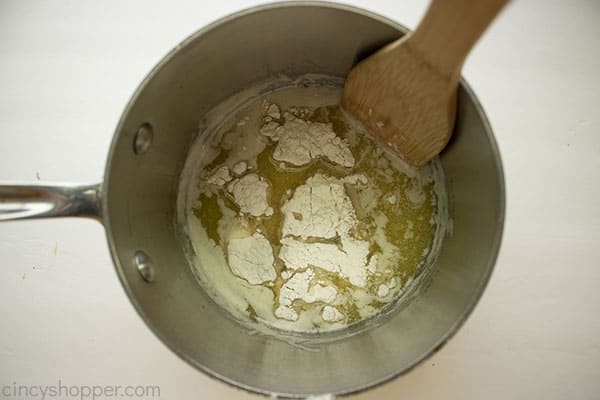 Let this roux cook for a few minutes- until the raw flour smell goes away and it starts smelling nutty- before adding our next ingredients. Along with some water, add your cinnamon, white sugar, and brown sugar.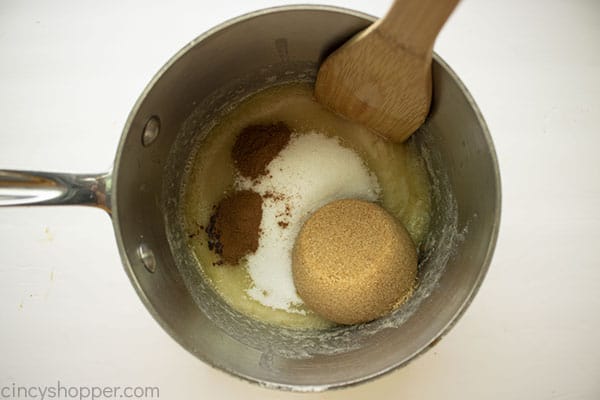 Bring this mixture up to a boil before lowering the heat and letting it simmer for about 5 minutes. Once you've finished that simmer, add in the cornstarch and vanilla.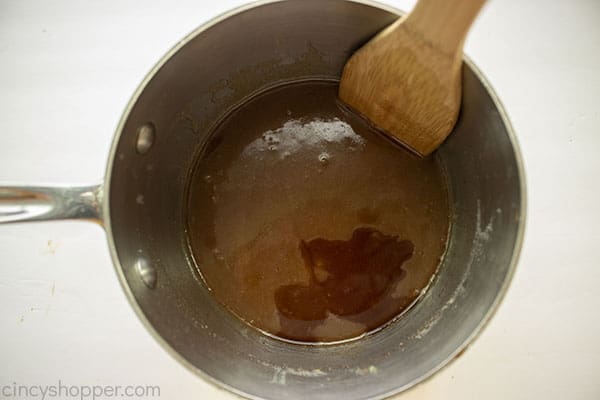 Remove this mixture from the heat once those have mixed in. We'll have a decent amount of this pie sauce, so be generous as you most of it over our apples- probably around 2/3 of it.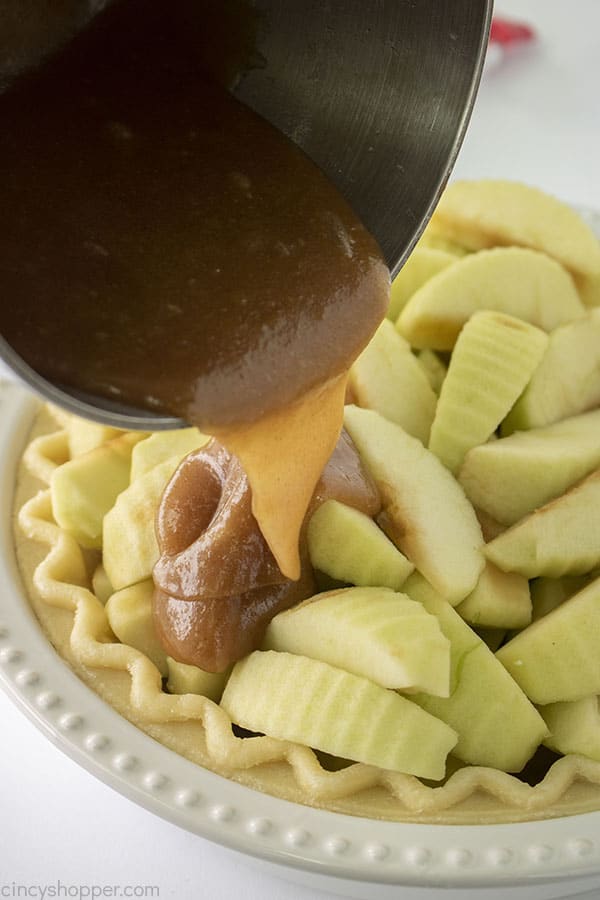 With our pie filled, we can start topping it off. First, put our lattice crust over the top of the filling. If you have any other decorative crust designs, now's the time to add them. We had this cute little apple design we decided to top ours with!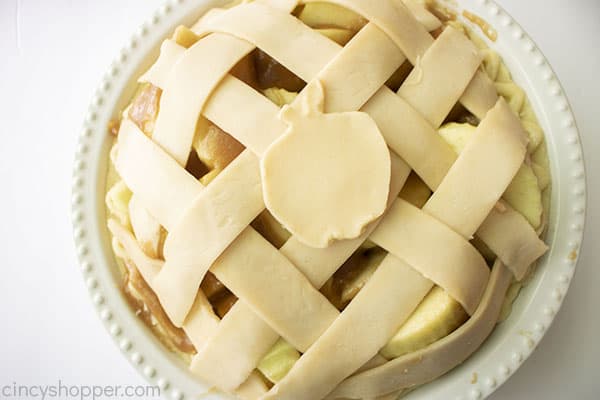 We're also going to want to give this crust topping an egg wash as well.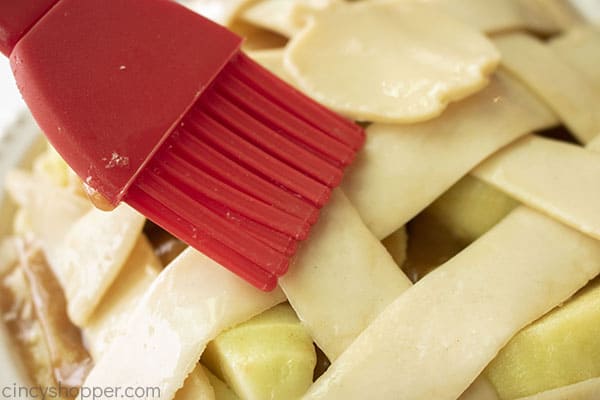 Take whatever pie sauce you have left and spread it over the top of your pie. Don't waste a drop of this stuff!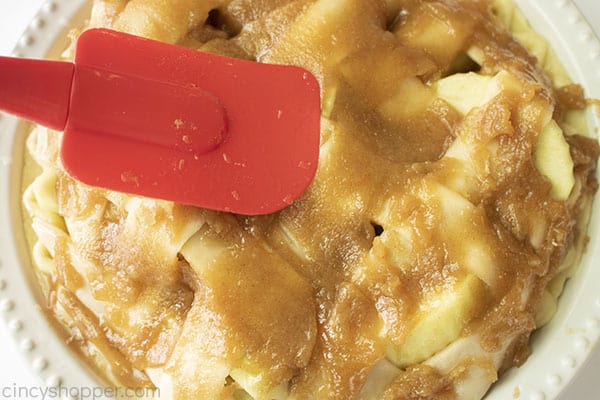 All that's left is for us to bake the pie. Get the oven warmed up to 350 degrees before putting our pie in and letting it bake!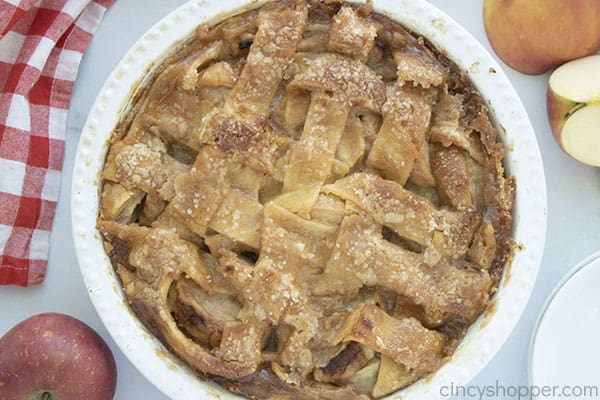 We're going to let this bake until those apples get nice and soft. It'll take around an hour- maybe 70 minutes. Once it's finished baking, let it cool before cutting off a slice and enjoying it!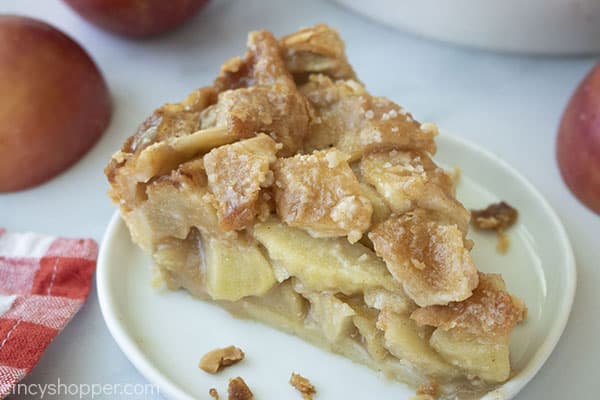 Pie Baking Tips
Try to keep your crusts as cold as possible before baking. The end product will be much better!

If possible, bake your pie on the lowest rack in your oven.

Keep the oven's temperature at 350 degrees- this will help prevent burning.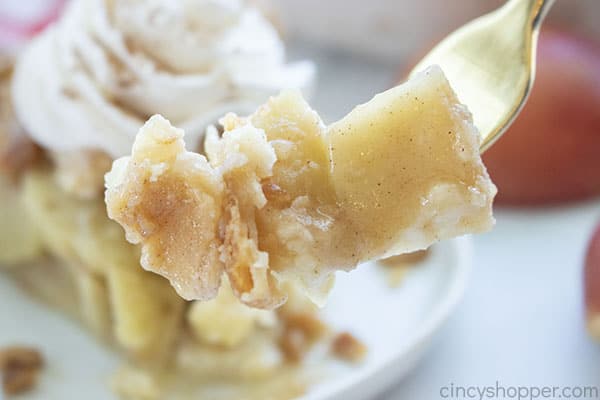 Traditional Apple Pie
Lattice Apple Pie is sweet, comforting, and delicious- just like grandma used to make! Our homemade pie recipe makes the perfect fall dessert.
Ingredients
2

Pie crusts

homemade or store bought

1

Egg White

1/2

cup

Butter

3

tbsp

Flour

1/4

cup

Water

2/3

cup

Sugar

1/2

cup

Brown Sugar

1

tsp

Cinnamon

8

medium Granny Smith Apples - peeled

cored and sliced

1/2

tbsp

Cornstarch

1

tsp

Vanilla
Instructions
Preheat oven to 350.

Place top crust on floured surface.

Place inverted pie plate on crust and cut cirle to size.

Discard excess dough.

Cut into strips and basketweave into lattice top. Set aside.

Place the bottom crust in pie pan.

Brush bottom crust with egg whites and dock with fork.

Fill with apples, mounded slightly. Set aside.

Melt the butter in a pan.

Add in flour stir to form a roux. Cook for 2-3 minutes.

Stir in water, sugar, cinnamon and brown sugar.

Bring to a boil, reduce heat and let simmer for 4-5 minutes.

Add vanilla and cornstarch and mix.

Evenly pour/spread 2/3 of this mixture over the apples.

Cover with prepared lattice pie crust.

Brush lattice crust with egg whites.

Evenly pour/spread remaining sugar mixture over the crust

Bake 60-70 minutes, until apples are soft.
Nutrition
Calories:
524
kcal
|
Carbohydrates:
79
g
|
Protein:
4
g
|
Fat:
23
g
|
Saturated Fat:
11
g
|
Cholesterol:
31
mg
|
Sodium:
288
mg
|
Potassium:
260
mg
|
Fiber:
6
g
|
Sugar:
49
g
|
Vitamin A:
453
IU
|
Vitamin C:
8
mg
|
Calcium:
36
mg
|
Iron:
2
mg