Air Fryer Breaded Pork Chops turn out crisp and juicy every time! This is a quick & easy dinner recipe perfect for busy weeknights.
Using an air fryer, you can make perfect pork chops with a crispy breading in no time at all! Goes great with a side of Garlic Green Beans or The Best Mashed Potatoes.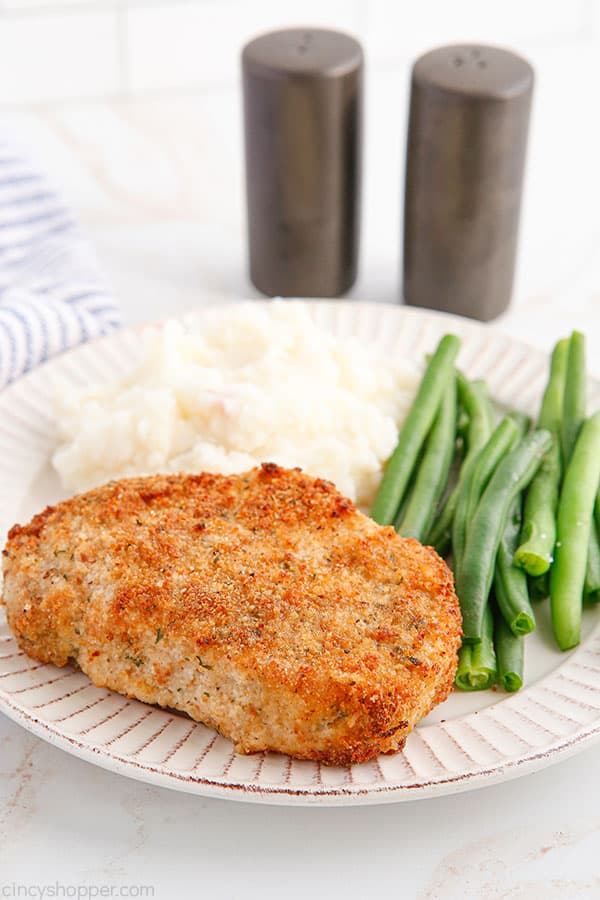 Air Fryer Breaded Pork Chops
Breaded Pork Chops are sort of a dinnertime staple in our house. Grab a package of Shake N Bake and you can make some Baked Breaded Pork Chops pretty easily. We usually run into a few issues with the oven version though: sometimes, the pork chops are dry or the breading just doesn't crisp up right. That's why we've started doing these Air Fryer Breaded Pork Chops instead.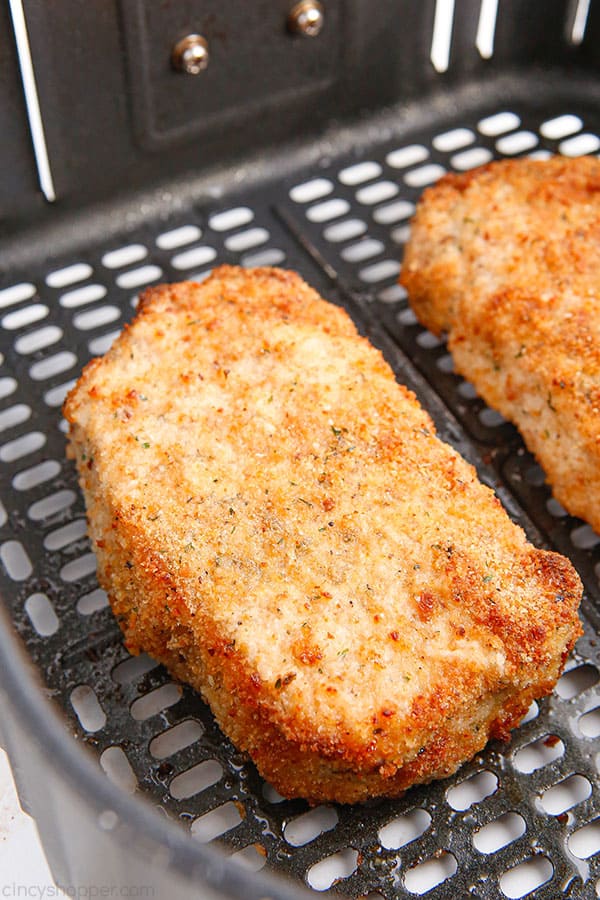 These Crispy Air Fryer Pork Chops seem to skip a lot of the pitfalls you run into with other recipes while keeping things simple and healthy! The air fryer works by acting like a convection oven, circulating the heat all around the food. This helps the food cook quickly and evenly- which is great for getting crispy and juicy pork chops! It does all this without any added fats or oils too, which makes this a pretty healthy way to make pork chops.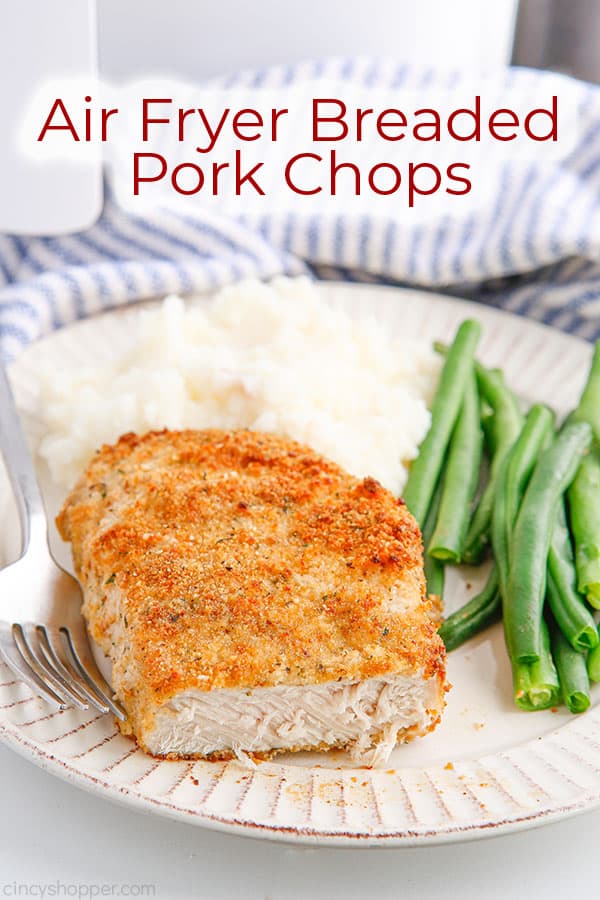 I'm thinking this might be one of our new go-to easy dinner recipes for a while. Depending on how big your air fryer is, you could make anywhere from 2 to 4 perfect pork chops at a time! On top of that, you can still prep sides while the air fryer is cooking. If you've got an air fryer at home, we think this recipe is definitely worth a try- I'm sure you'll love it!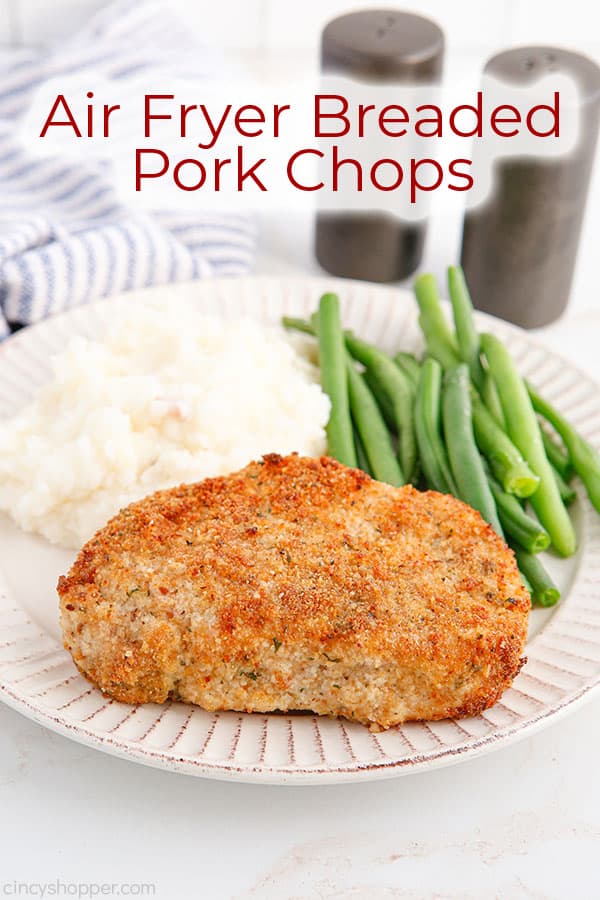 Enjoyed our recipe? Try these other pork recipes next!
If you're looking to add flavor to your pork chops, we'd suggest trying our

Simple Ranch Pork Chops

next time.

These baked pork chops use a simple spice blend made with ranch dressing mix, paprika, and some parsley

. The result is juicy pork chops packed with flavor that cook in less than 30 minutes!

The air fryer isn't the only kitchen gadget that can make delicious pork chops:

just

look at our

Slow Cooker Pork Chops Recipe

.

We were able to use our crockpot to make these delicious moist pork chops a few years back and we still come back to it even today

. Remember to save the cooking liquid- it makes for a great sauce or gravy to serve with your pork chops at dinner!

We love pulled pork, and our go-to pulled pork recipe is our

Dr. Pepper Slow Cooker Pulled Pork

.

Using a slow cooker helps make making pulled pork a no-stress/low-effort job:

just

cover your pork with a good spice rub and slow cook it with some Dr. Pepper

.

You can go the extra mile and make up some of the Dr. Pepper Barbecue Sauce we outline in the post to make your next round of pulled pork something special

!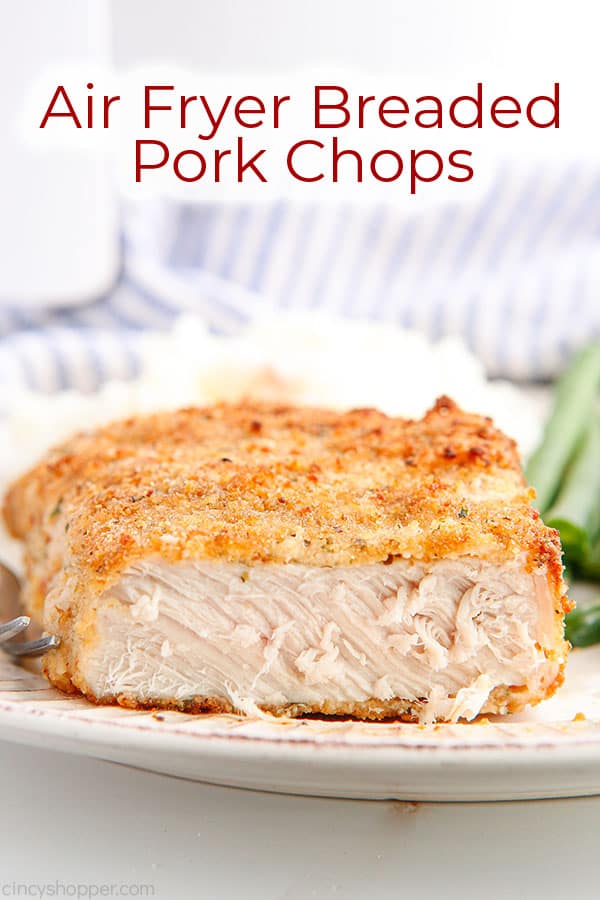 Ingredients for Breaded Pork Chops
Pork Chops

– We used boneless pork chops.

Seasonings – Rosemary and thyme work great on pork, but feel free to experiment! Today, we're using a mix of Italian Seasoning, onion and garlic powders, and some salt and pepper.

Breading

– There's plenty of options for breaded pork chops. You could go with normal or panko breadcrumbs. You could also try using saltines or Ritz crackers. We used bread crumbs this time around

Egg

– Mix with a touch of water for an egg wash.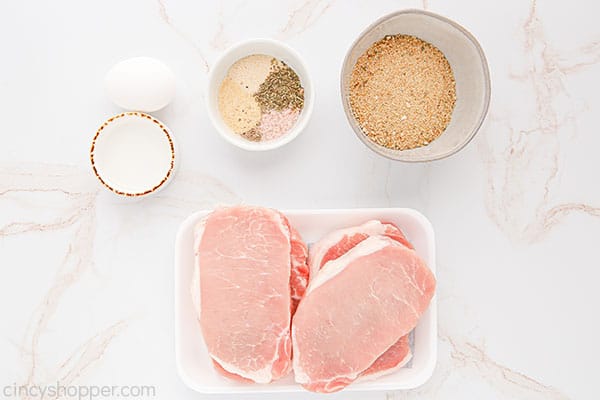 How to cook pork chops in air fryer
These Air Fryer Pork Chops are going to be perfect for busy weeknight dinners: they come together quick and the air fryer does a lot of the work
. To make some yourself, here's what you need to do:
Pat your pork chops dry

before

seasoning with your spice blend

.

Dredge your pork chops in your egg wash then your breading

, making sure to coat all sides.

Air fry at 380 degrees for 10-13 minutes

, flipping halfway through cooking.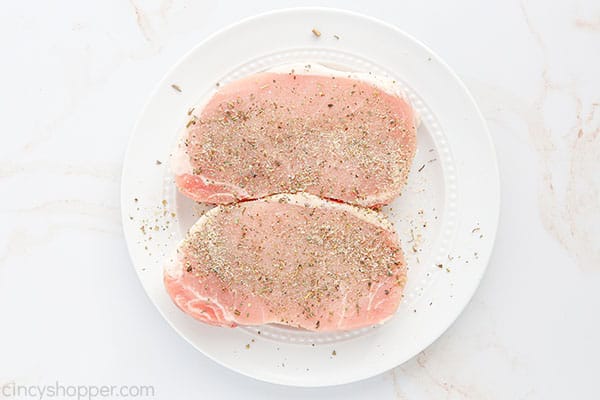 Before we bread them, we're going to season our pork chops first. This'll make sure that they've got some flavor on them before we get to cooking. Feel free to use all your seasoning or save a little bit to add to your bread crumbs. Once the chops are seasoned, coat them with your egg wash.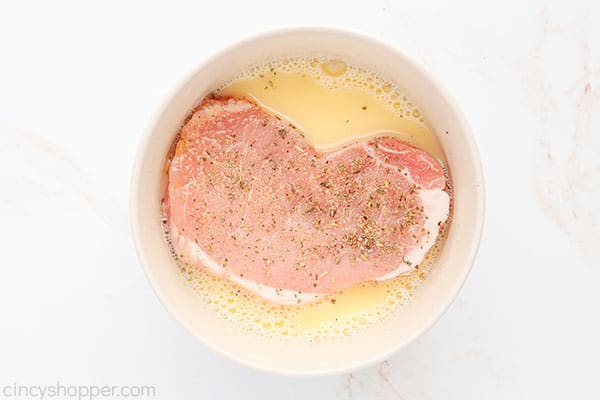 After coating with egg, you're going to start breading your chops. Again, you can mix some of your seasonings in with the breading if you'd like!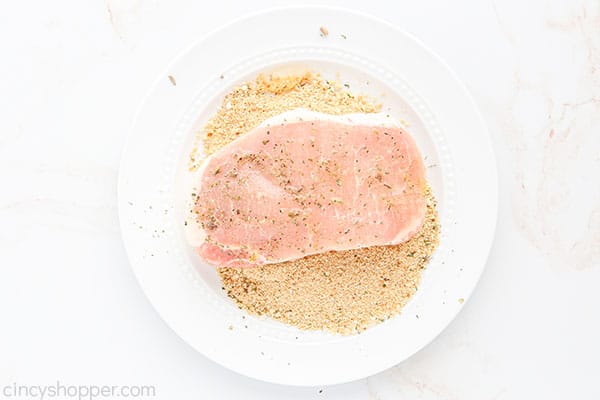 Remember to get all the sides!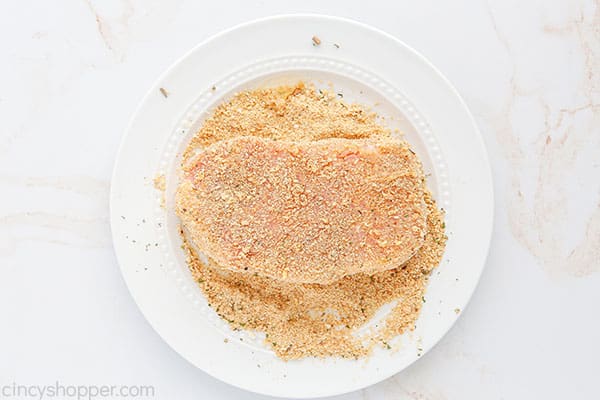 Once you've got a good coating, it's time to fry. If you haven't already, preheat your air fryer to 380 degrees and give it a light coat of cooking spray. Once it's warmed up, toss your Breaded Pork Chops in.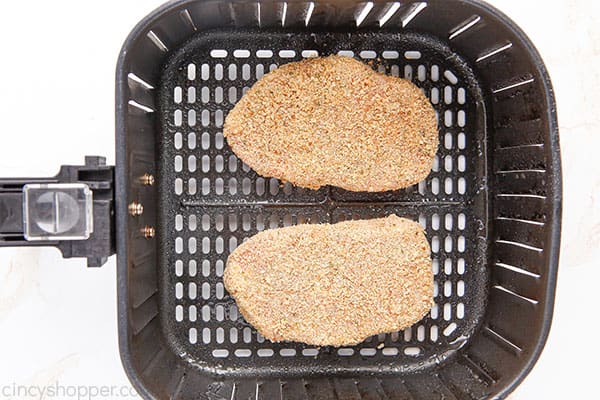 Those pork chops are going to air fry at 380 degrees for 10-13 minutes, depending on how crispy you want them. Make sure you give them a quick flip around the 5-6 minute mark to make sure they cook and crisp evenly.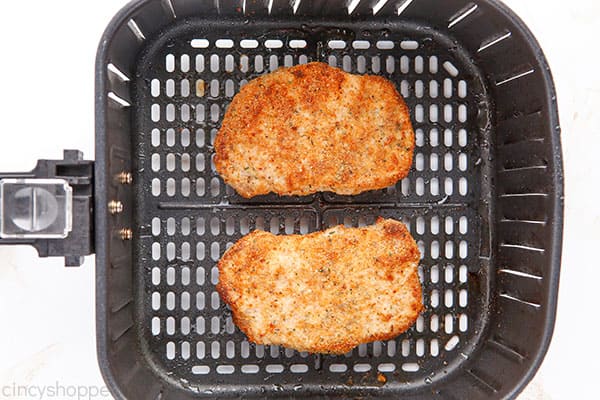 Remove the chops from the fryer and let them cool for a minute or two before serving up with your favorite sides. Enjoy!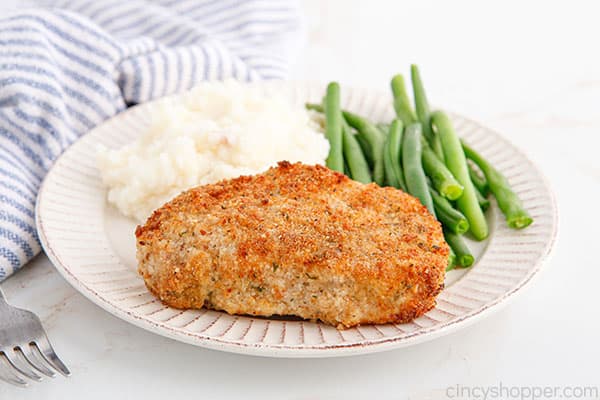 If you have any leftovers, keep them in an air-tight container in the fridge. They'll keep for 3-4 days. Reheat in the air fryer to crisp it back up.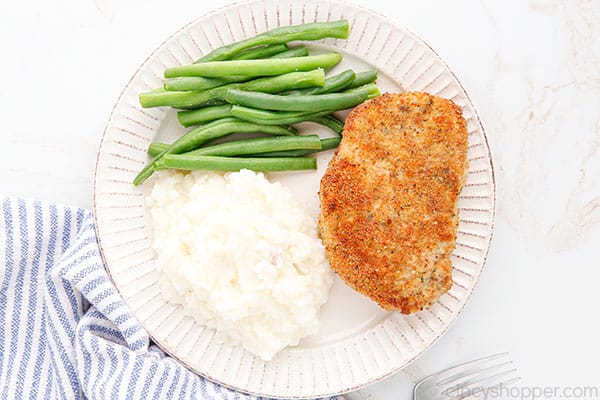 Air Fryer Breaded Pork Chops
Air Fryer Breaded Pork Chops turn out crisp and juicy every time! This is a quick & easy dinner recipe perfect for busy weeknights.
Ingredients
4

Boneless Pork Chops

1

tsp

Italian Seasoning

1/2

tsp

Onion Powder

1/2

tsp

Garlic Powder

1/2

tsp

Kosher Salt

1/4

tsp

Ground Black Pepper

1

large Egg

1

tbsp

Water

1/2

cup

Breadcrumbs

Cooking spray
Instructions
Spray the air fryer tray with cooking spray and set aside.

Mix together the italian seasoning, onion powder, garlic powder, salt and pepper.

Pat the pork chops dry with paper towels and season with the mixed seasonings on both sides.

Whisk together the egg and water in a bowl.

Place the breadcrumbs on a plate.

Dredge the pork chops one by one in the whisked egg mixture, followed by the breadcrumbs, coating all sides.

Place pork chops in the air fryer (you may have to cook in batches depending on the size of your air fryer). Cook on the air fry setting at 380F for 10-13 minutes, flipping halfway through, until the pork chops are fully cooked and the internal temperature reaches 145F.

Serve immediately, enjoy!
Notes
Air fryer cook times may vary depending on the brand and air fryer size.
Store in an airtight container in the refrigerator for up to 3-4 days.
Nutrition
Calories:
280
kcal
|
Carbohydrates:
11
g
|
Protein:
32
g
|
Fat:
11
g
|
Saturated Fat:
4
g
|
Polyunsaturated Fat:
2
g
|
Monounsaturated Fat:
5
g
|
Trans Fat:
1
g
|
Cholesterol:
131
mg
|
Sodium:
470
mg
|
Potassium:
556
mg
|
Fiber:
1
g
|
Sugar:
1
g
|
Vitamin A:
74
IU
|
Vitamin C:
1
mg
|
Calcium:
50
mg
|
Iron:
2
mg