Air Fryer Roasted Asparagus is cooked crispy in this popular kitchen gadget. This quick and easy recipe is sure to be a dinnertime favorite!
A bright side of greens looks and tastes good on almost any plate! This easy recipe might be your new favorite: simple-to-make crispy asparagus spears!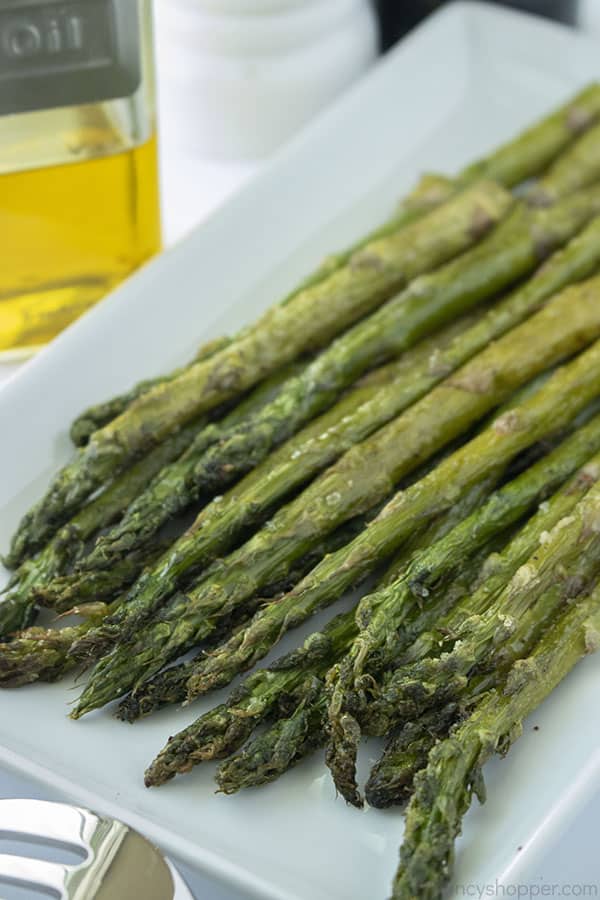 Air Fryer Roasted Asparagus
The air fryer is, without a doubt, one of my favorite kitchen gadgets that has come out in the past few years. It's capable of cooking up all sorts of sides, main dishes, and even a few desserts! It's crazy how much of a difference a cooking method can make- even with something as simple as Roasted Asparagus.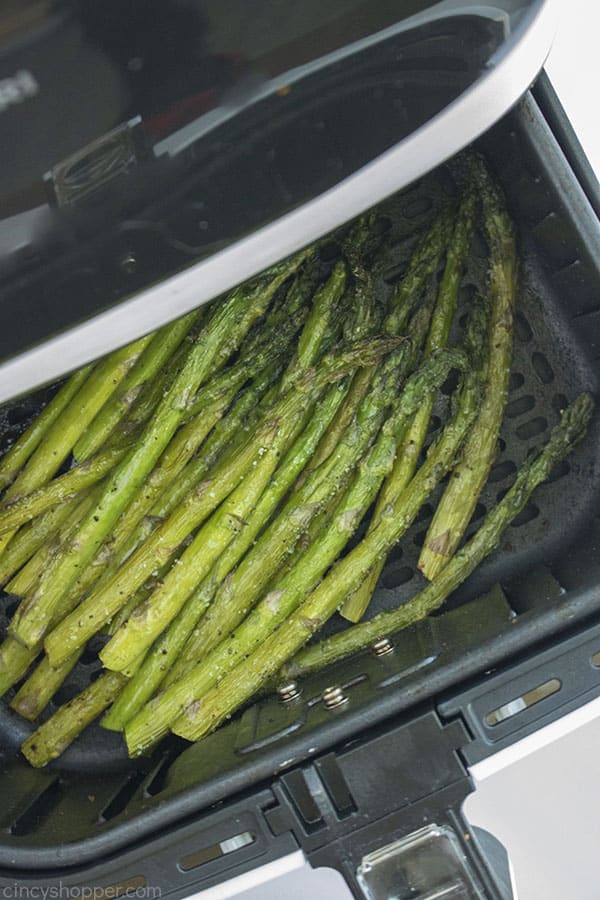 This Air Fryer Asparagus recipe has all the benefits of your typical Roasted Asparagus. The prep is simple, you can throw all sorts of seasonings at it, and it's incredibly healthy while staying delicious! The biggest appeal to the air fryer recipe, however, is that it'll get the job done much faster.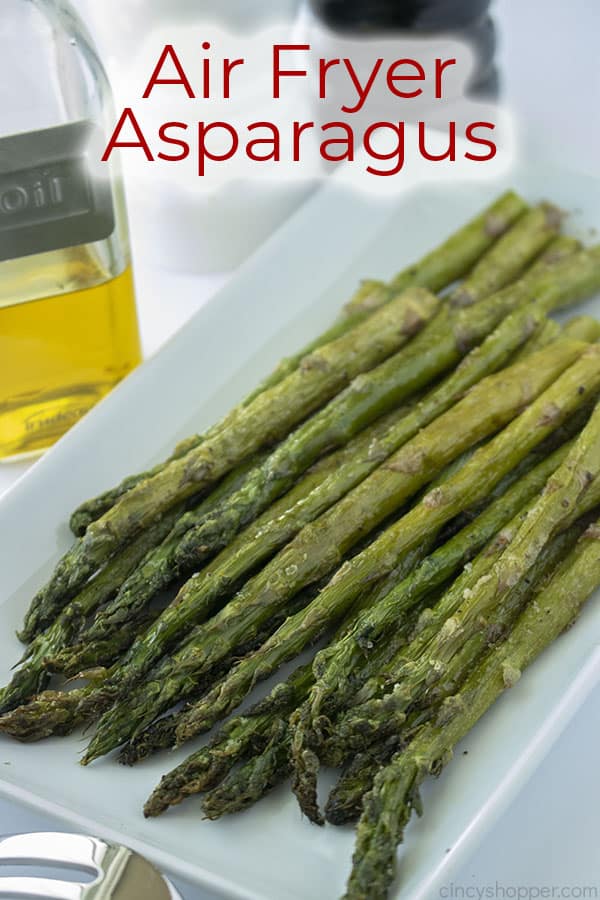 This Asparagus Air Fryer recipe is one you'll want to keep on hand if you're a fan of pressure cookers! It'll pair well with anything from beef to fish to chicken and all sorts of other main courses in between! Easy to make, clean-up is simple, your spears are nice and crispy- what's not to like?
Loved this Easy Roasted Asparagus Recipe? Try these asparagus recipes next!
Everything's better with bacon, right? So why not make up some

Bacon Wrapped Asparagus

bundles! Bundle your asparagus portions together with a strip of crispy bacon. Looks good and tastes even better!

A bit more on the decadent side, we also have our creamy

Asparagus Casserole

.

This delectable cheesy asparagus dish is great for the holidays- roasted asparagus spears in a delicious cheese sauce

. Things only get better when you add on a tasty parmesan and bread crumb topping!
Air Fried Asparagus Ingredients
Asparagus Spears – We want to use fresh asparagus spears for this recipe. If you use frozen asparagus, your spears might end up a little soggy and wilted. You can try using canned but

just

make sure you use less salt and cook for less time.

Olive Oil – No need to use anything fancy here:

just

use whatever you cook with.
Outside of this, feel free to experiment with other seasonings or ingredients.
Maybe
add some garlic and herbs next time?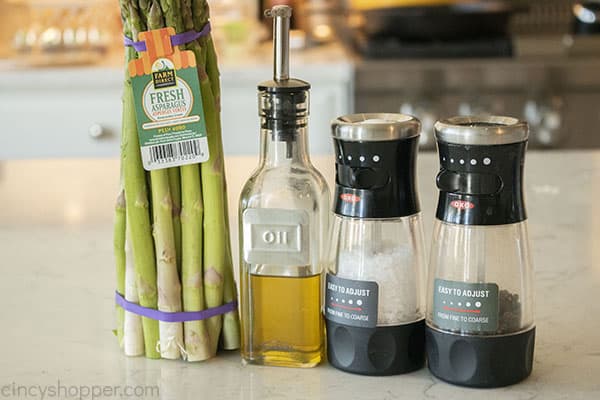 How to cook Asparagus in Air Fryer
The first thing you'll want to deal with before starting on frying up your asparagus is giving it a quick trim. All we want to cut off here is what folks call the "woody" ends of the asparagus. This is usually just that last inch on the bare-end of the spear where it's a green-brown color.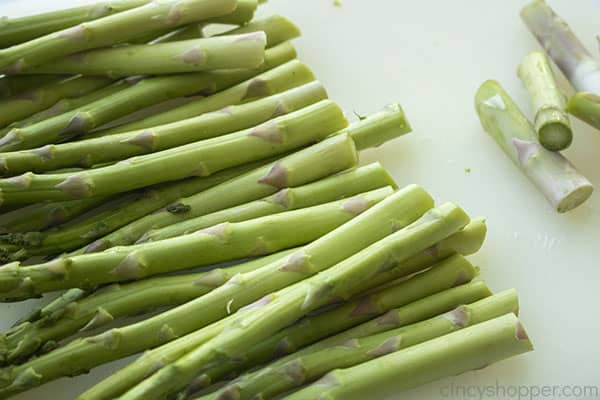 With our spears trimmed, it's time to prep them for the air fryer. You'll first want to give them a generous drizzling of your olive oil. This will help add a bit of flavor and get the asparagus to crisp up a little easier.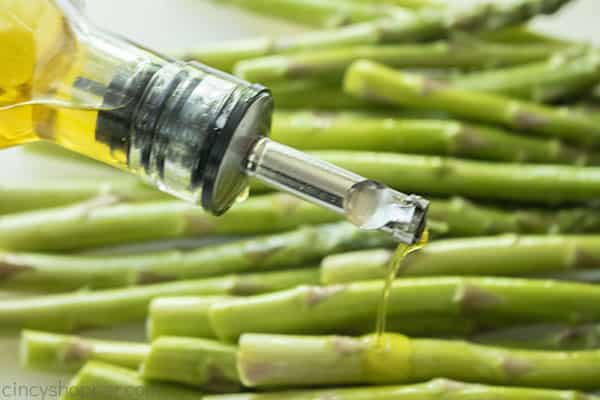 Now add any seasonings. We just went with some salt and pepper this time around. Give the asparagus and seasonings a good toss to coat well.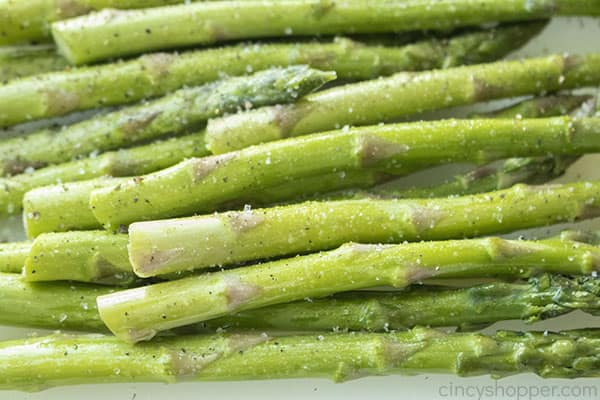 Place your asparagus into your air fryer's basket. Try to leave a bit of room around the edges for the air to flow through while it cooks.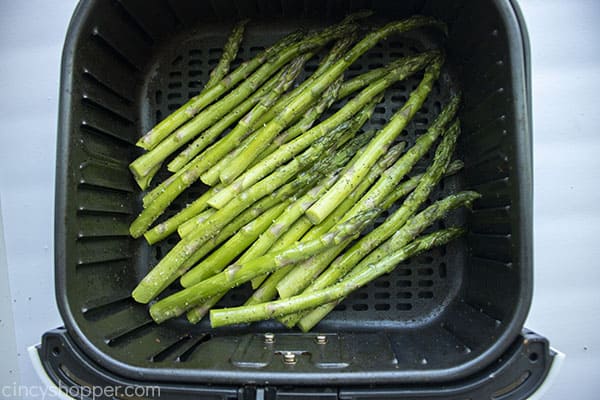 Set your air fryer temp to 400 degrees and allow to cook for 8-10 minutes. If you like your spears extra crispy, maybe give it an extra minute or two.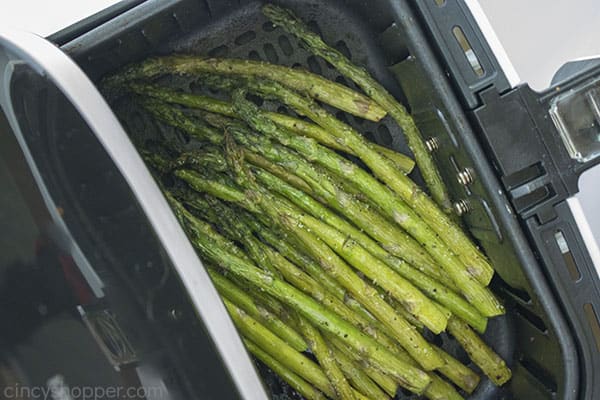 When your spears are cooked to your liking, pull them from the air fryer. Ideally, give them a couple of minutes to cool before plating, serving, and enjoying!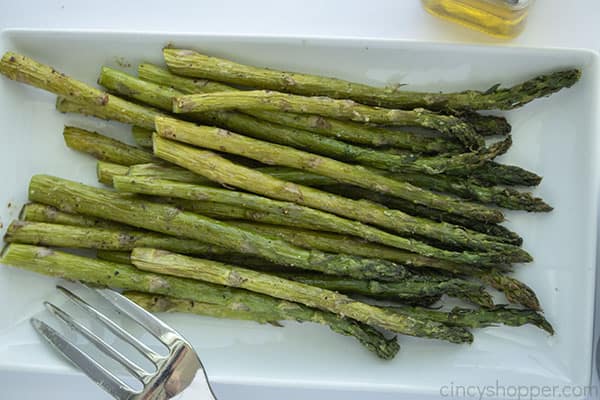 Air Fryer Asparagus
Air Fryer Roasted Asparagus is cooked crispy in this popular kitchen gadget. This quick and easy recipe is sure to be a dinnertime favorite!
Ingredients
1

lb

Asparagus

trimmed

1/8

tsp

Kosher Salt

1/8

tsp

Black Pepper

1

tbsp

Olive Oil
Instructions
Trim the stalky end of the asparagus to fit in the fryer basket.

Spread the asparagus out and drizzle with olive oil.

Season with salt and pepper, then toss to coat.

Place in the air fryer basket and cook at 400 for 8-10 minutes.
Notes
Cook a bit longer if you prefer. Try different seasonings like garlic or parmesan cheese coating.
Nutrition
Calories:
54
kcal
|
Carbohydrates:
4
g
|
Protein:
3
g
|
Fat:
4
g
|
Saturated Fat:
1
g
|
Sodium:
75
mg
|
Potassium:
229
mg
|
Fiber:
2
g
|
Sugar:
2
g
|
Vitamin A:
857
IU
|
Vitamin C:
6
mg
|
Calcium:
27
mg
|
Iron:
2
mg