Chicken Parmesan is a classic Italian dish. It features juicy breaded chicken breast smothered in marinara sauce. This chicken recipe is perfect for Sunday dinner, but easy enough to make any day of the week.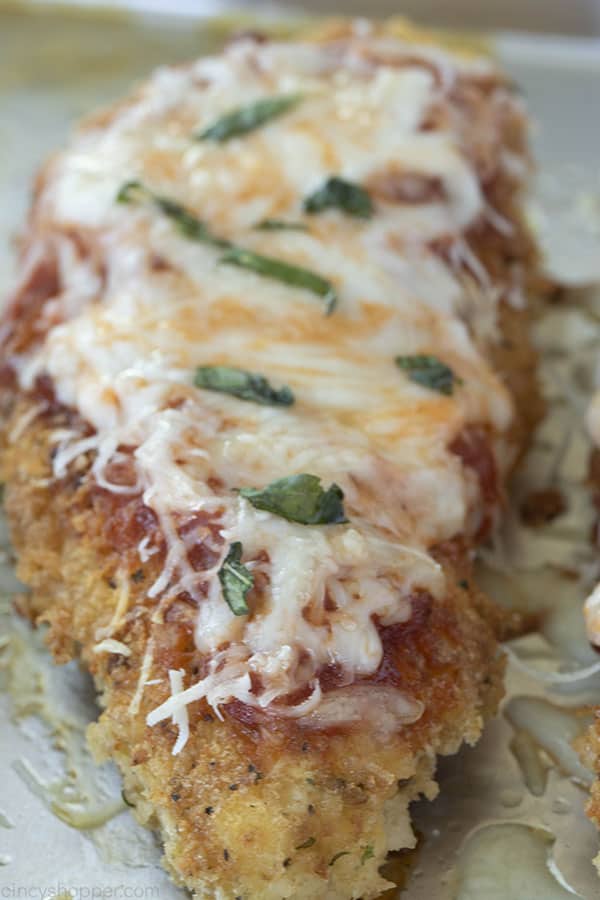 Chicken parmesan is the ultimate Italian comfort food. Follow this recipe to learn the secret to moist juicy chicken with a crisp coating of breadcrumbs.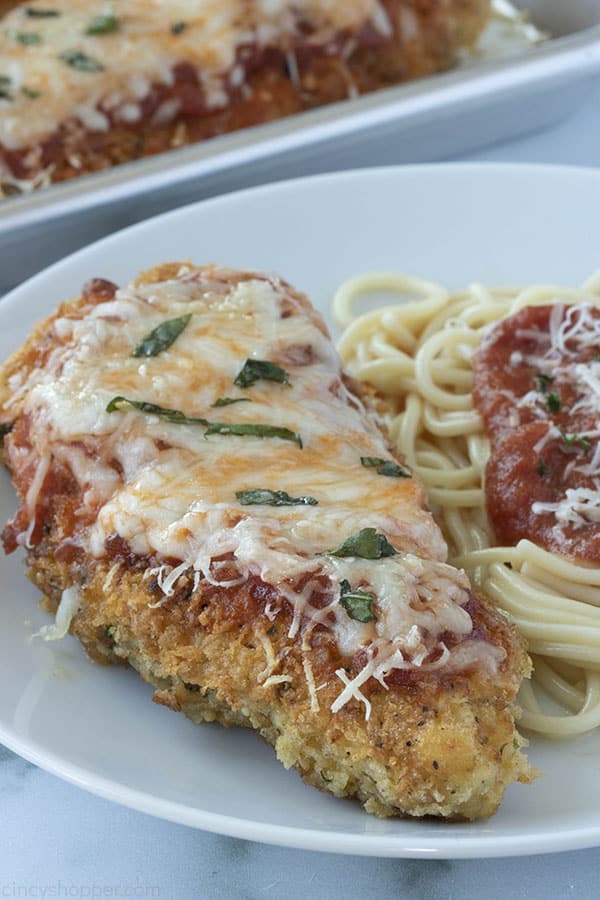 Prepping the chicken breast
The first step in making this recipe for chicken Parm is to cut the chicken breast in half. You need to do this for several reasons. First, you want all the sides covered evenly with the breading. Plus, a smaller chicken breast will cook quickly.
When you cut your chicken breasts in half, be sure to cut across the grain. Look at the breast to determine which way the grain is running. Make a long stroke with your knife in the opposite direction. As a result, you will have the most tender cooked chicken Parmesan.
If your chicken breasts are especially thick, you can pound them between two sheets of wax paper. A thinner breast has more surface area for the breading to stick to. Also, it will cook quicker and more evenly.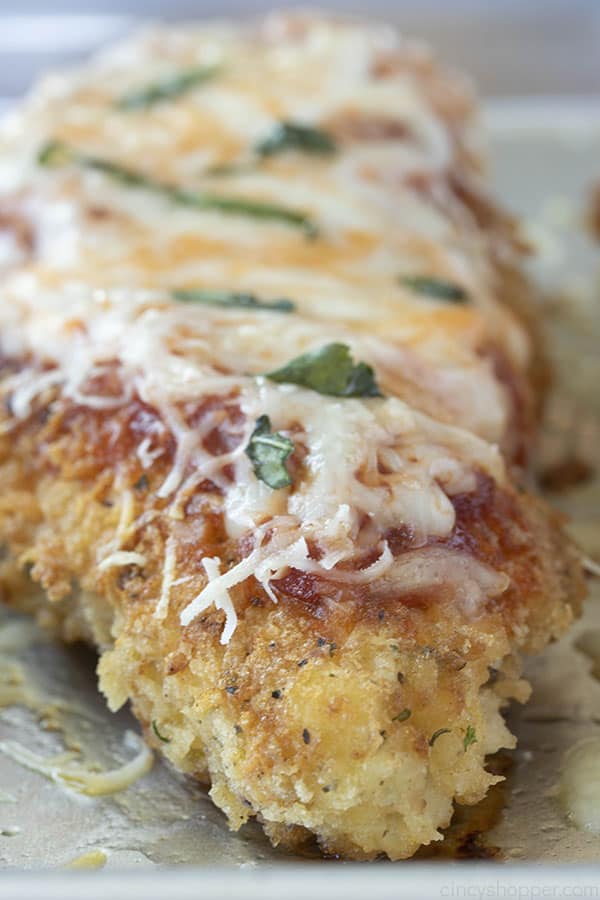 How do you get breading to stick to chicken?
For perfect chicken parmesan every time, you need an even layer of breading on the chicken. Follow these easy tips to make sure your breading stays on the chicken and not in the pan.
Dry the chicken first. The flour sticks better when it is not wet.
Shake off any extra flour. You want it to have a thin layer. Any extra will keep the egg from sticking to the chicken.
Stick to the correct order for dipping the chicken into the breading ingredients.
Use your hands to pat the panko crumbs and parmesan firmly in place on the breast.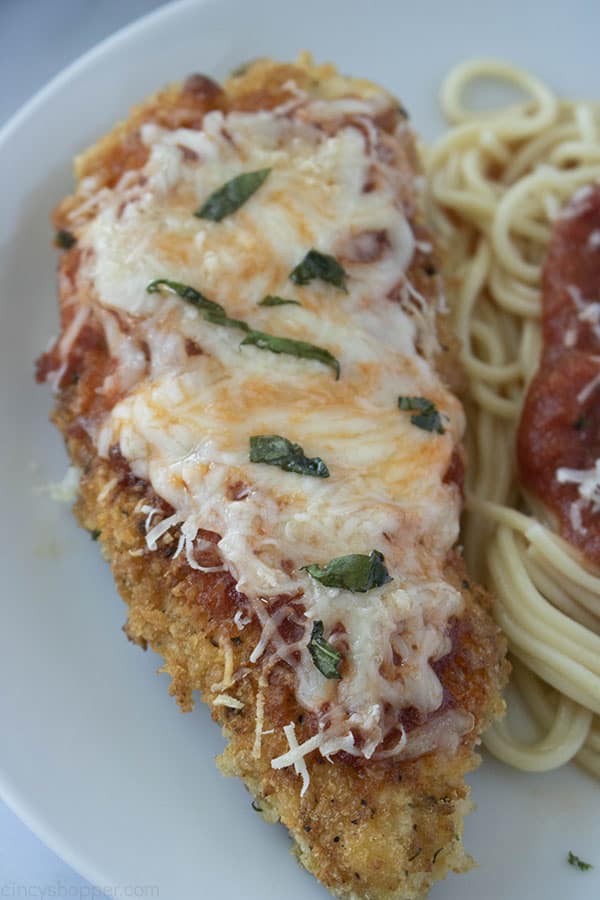 Should you bake chicken Parmesan covered or uncovered?
It isn't necessary to cover chicken Parmesan while baking.
The coating on the chicken protects it from drying out in the oven. Plus, because we are using smaller pieces of chicken breast, it will only be in the oven for about 20 minutes. Also, we want to keep the crisp edges that form during the pan frying. Moisture can build up when the chicken is covered, ruining the crispy edges.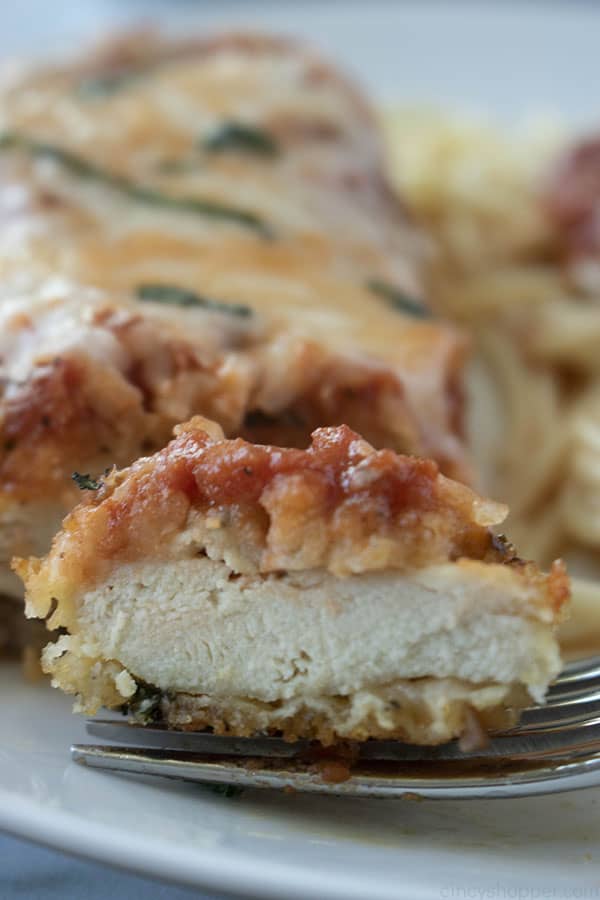 Chicken substitutions
Other popular Parmesan recipes are veal Parmesan and eggplant Parmesan. Veal is very tender and flavorful. Eggplant is a great way to make this a vegetarian friendly meal, and it cooks very quickly.
If you substitute the chicken with veal or eggplant, you will use the same dipping method to apply the breading.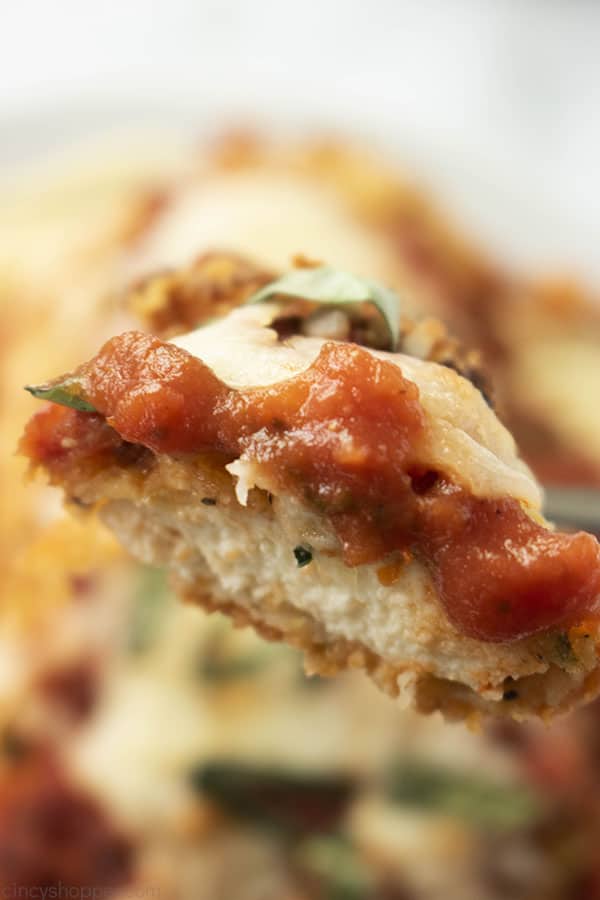 How do you make chicken parmesan from scratch?
The secret to having perfectly breaded chicken is to make an assembly line and dip your chicken in each ingredient in the correct order.
First you'll assemble 3 bowls with ingredients to coat the chicken in. You want wide shallow dishes so you can immerse the entire breast in the ingredients evenly. This is the same method you use for other recipes that call for breading, such as Parmesan Crusted Chicken.
Taking a moment to set up the bowls this way will make you more efficient in making the chicken Parm. Now you just need to cook!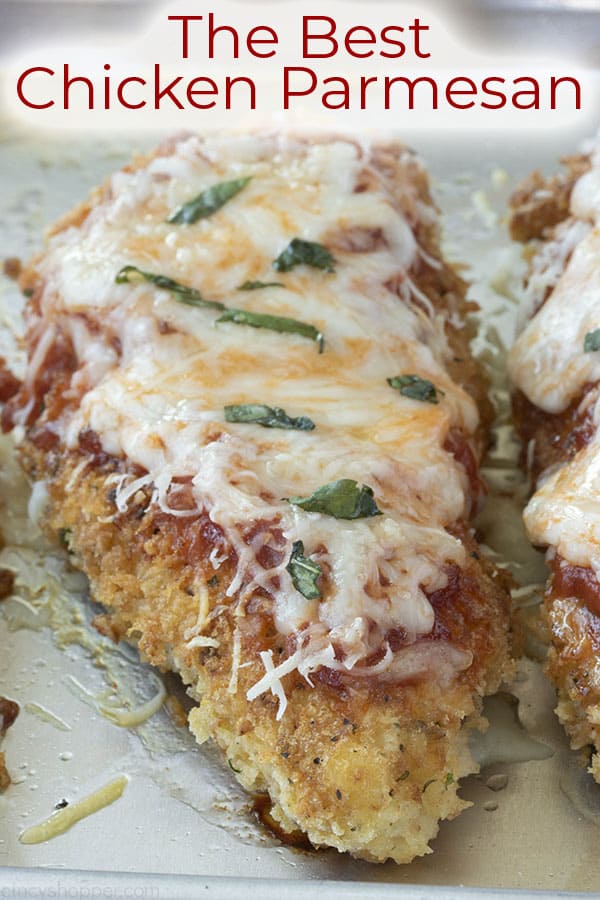 Ingredients in Italian chicken Parmesan
Although it tastes fancy, you won't need anything special to make this dish!
Boneless skinless chicken breasts
All purpose flour
Panko Italian bread crumbs
Shredded mozzarella cheese
Parmesan cheese
Eggs
Your favorite pasta sauce– Buy it or make this slow cooker spaghetti sauce recipe!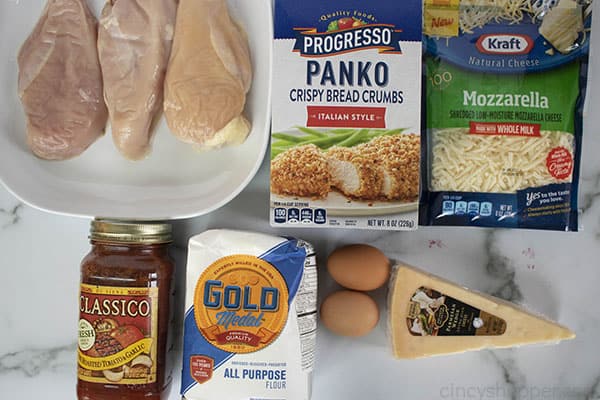 Bowl 1- Flour. The flour is a barrier between the tender meat and the hot fat in the pan. It will keep your chicken moist. If you want to add any spices like parsley or Italian seasoning, add it to the flour and stir to combine.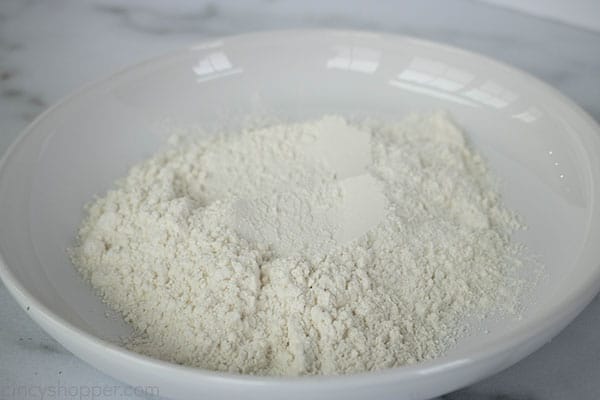 Bowl 2- Beaten egg. The egg is the glue that makes everything stick to the chicken. You can use melted butter instead if you are feeding someone with an egg allergy.
Bowl 3- Panko, parmesan cheese and parsley, combined well.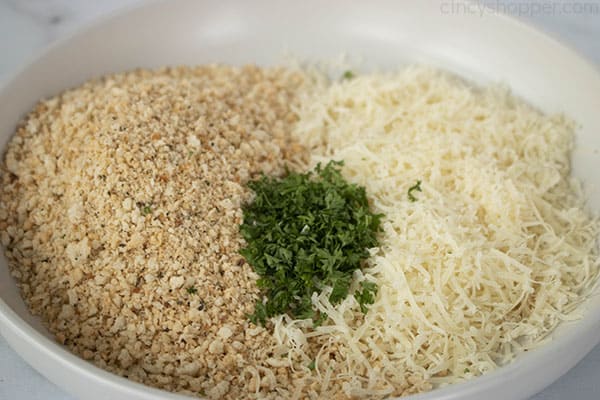 Cut the chicken breast in half and season with salt and pepper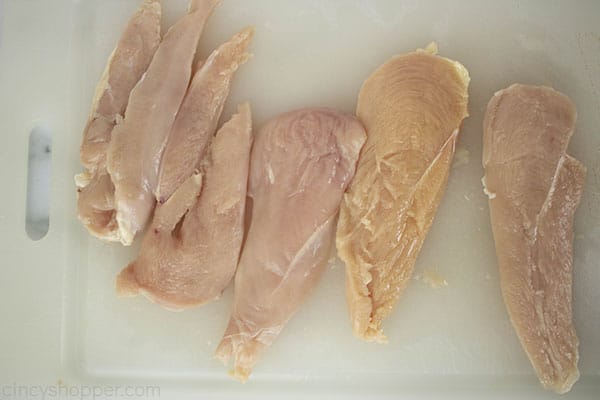 Dredge the chicken through each bowl in order, one through three. Make sure the breast is coated well but not excessively. First, dredge through the flour.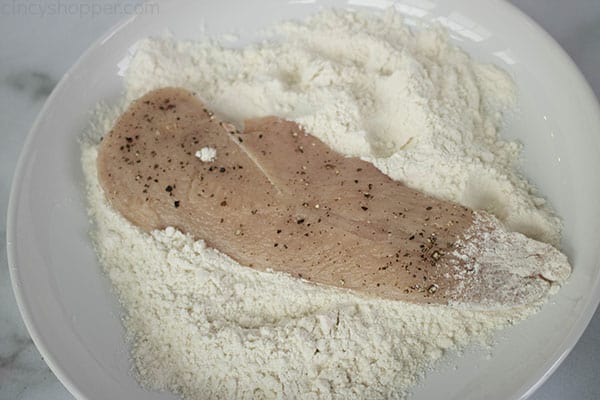 Next,  dredge the chicken through the bowl with the beaten egg.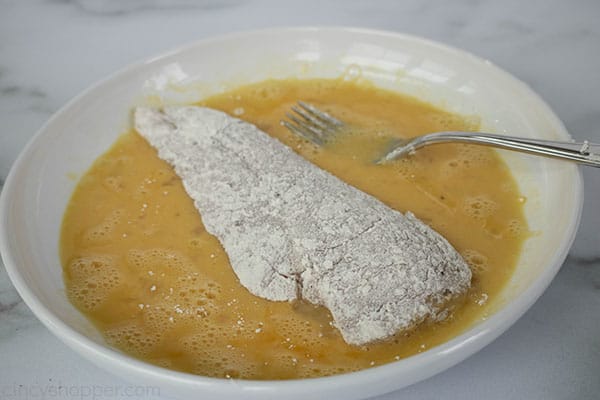 Finally, cover the chicken with the breading mixture.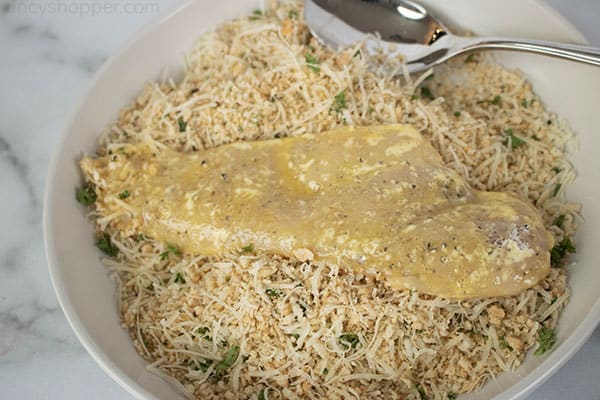 Brown the chicken in a skillet with oil.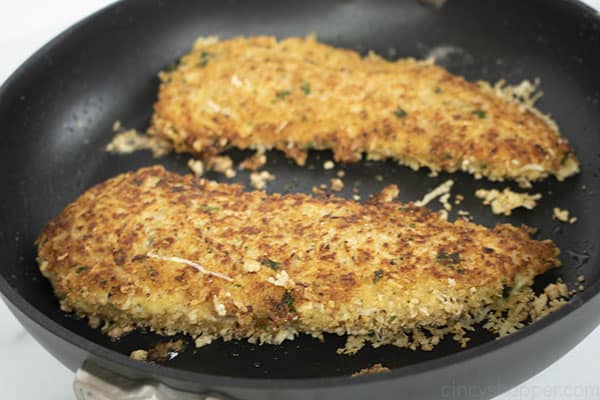 Transfer the chicken to a baking sheet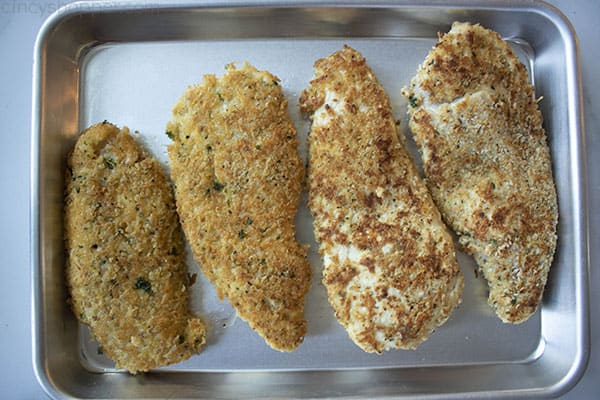 Pour marinara sauce over the chicken, and cover with shredded cheese.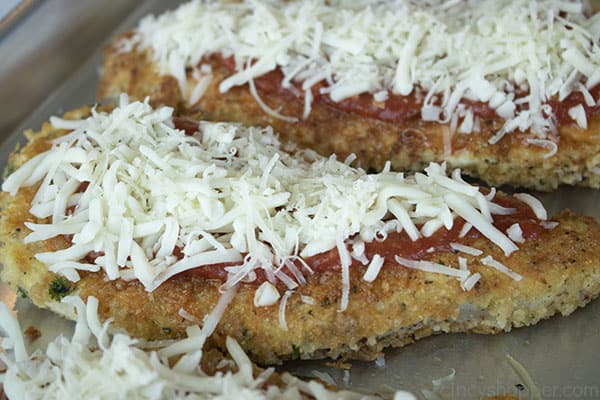 Bake at 400F for 20-25 minutes. Chicken is fully cooked when it reaches an internal temperature of 165F. Check with a meat thermometer to be sure.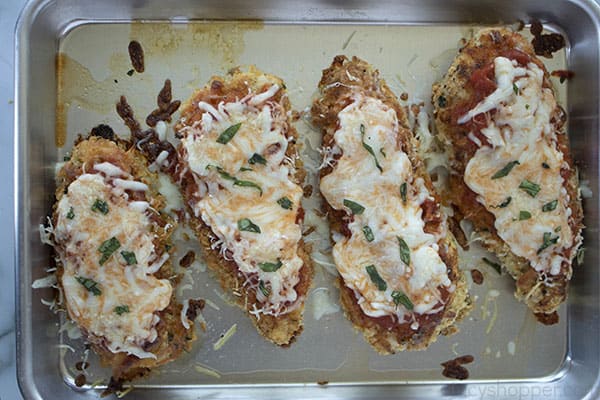 How do you reheat chicken parmesan?
Any leftovers can be kept in the refrigerator for up to four days.
You can put leftover chicken parm in the microwave, but the breading may lose its crispness. The best way to reheat this dish while keeping the integrity of the chicken is in the oven. Bake it at 325F for ten to twenty minutes, until warm all the way through.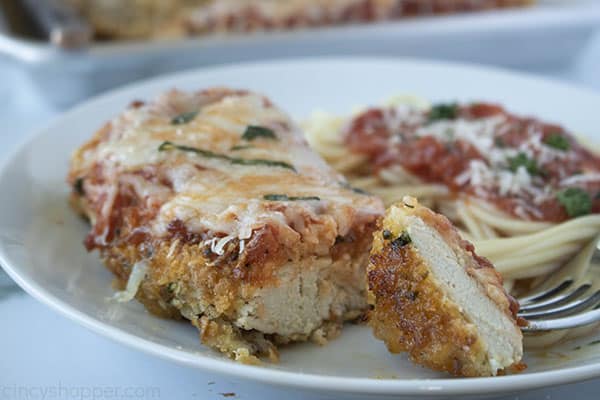 What sides go well with chicken parm?
Chicken parmesan is traditionally served on a bed of pasta. But this protein dish can be paired with just about anything. Try some of these fresh ideas:
Other Great Chicken Breast Recipes:
Chicken Parmesan
Chicken Parmesan is a classic Italian dish. It features juicy breaded chicken breast smothered in marinara sauce. This chicken recipe is perfect for Sunday dinner, but easy enough to make any day of the week.
Ingredients
3/4

cup

Flour

2

eggs

1 1/4

cup

Italian Panko Bread Crumbs

3/4

cup

shredded Parmesan Cheese

2 1/2

tbsp

chopped Parsley

divided

2-4

tbsp

Oil

3

boneless skinless Chicken Breast halves

24

oz

Marinara Sauce

1 1/4

cup

shredded Mozzarella
Instructions
Preheat an oven to 400.

Place flour in shallow dish.

Place the eggs in another dish and beat until blended.

In a third dish, combine Panko, Parmesan and 2 tablespoons of parsley.

Cut each breast half in two down the middle and season with salt and pepper.

Dredge each piece of chicken into flour and flip to coat both sides.

Dip chicken in beaten eggs. Coat both sides and allow excess to drip off.

Place into Parmesan bread crumb mixture and flip to coat. Gently press to make sure coating adheres.

Heat 2 tablespoons of oil in a large pan.

Cook chicken until brown on each side (about 4 minutes per side).

Place chicken on baking sheet and top each with several tablespoons of sauce.

Then top each piece with a mozzarella.

Bake 20-25 minutes or until cheese is bubbling and starting to brown. Internl temperature should be 165.

Garnish with remaining chopped parsley.
Nutrition
Calories:
385
kcal
|
Carbohydrates:
28
g
|
Protein:
29
g
|
Fat:
17
g
|
Saturated Fat:
7
g
|
Cholesterol:
120
mg
|
Sodium:
1111
mg
|
Potassium:
688
mg
|
Fiber:
3
g
|
Sugar:
6
g
|
Vitamin A:
993
IU
|
Vitamin C:
11
mg
|
Calcium:
310
mg
|
Iron:
3
mg