Strawberry Cheesecake Lush is a delicious and creamy treat that's simple to make. An easy, no-bake dessert perfect for any summer gatherings!
We made this tasty dessert recipe with many delicious layers: cheesecake, strawberry cheesecake pudding, and plenty of whipped topping! If you love strawberry desserts like this, try our Strawberry Pie Cupcakes or our Easy Strawberry Pie.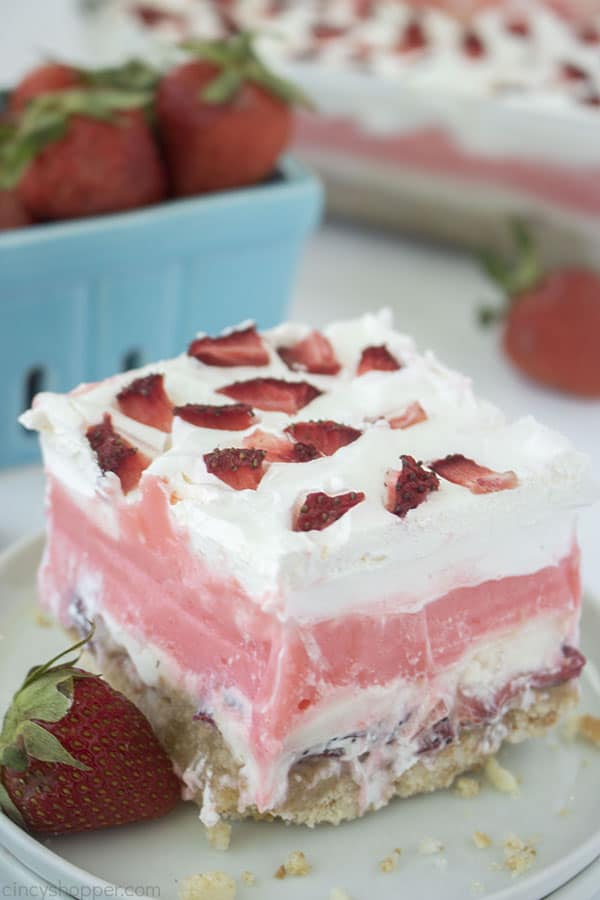 Strawberry Cheesecake Lush
Delicious, chilled, fruity desserts are one of the highlights of the summer for me. As the weather gets warmer, I definitely start needing some cold treats to keep me cool. I love making all sorts of popsicles and Jell-O cups and molds, but it's just not summer without a lush! I've made other lush flavors in the past, but this summer I made this tasty Strawberry Cheesecake Lush.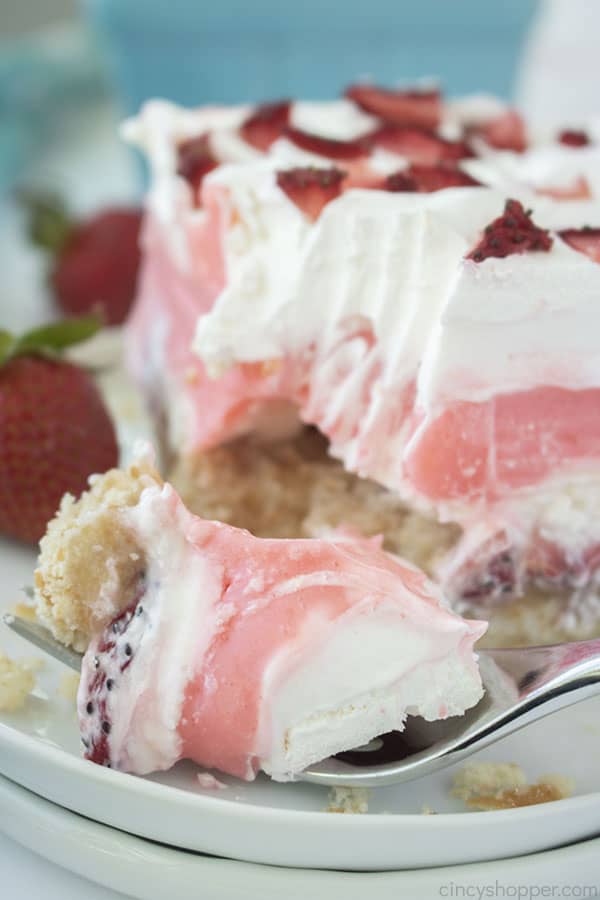 If you've never had a lush before, think of it as a sort of dessert lasagna. It's a layered dessert, made with all sorts of creamy, delicious layers- lots of puddings and cheesecake-style fillings. They're served cold and- you're gonna love this- they're usually no-bake recipes! This Strawberry Lush is no different: it's a no-bake made with all sorts of tasty dessert layers. It's basically the perfect mix of a strawberry cheesecake and a strawberry delight!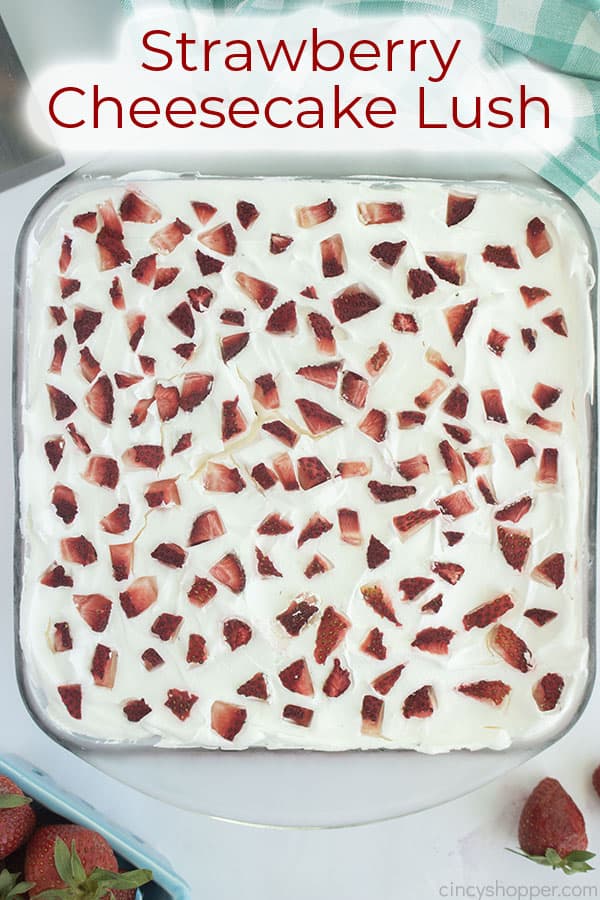 We absolutely enjoyed this easy lush dessert recipe. It does take a bit of time for some of the parts to set up in the fridge or freezer but the wait is well worth it! My family and I ate this first batch all up on our own but I'm eager to make this for a get-together or party very soon. Give it a try and I'm certain it'll be one of your new favorites!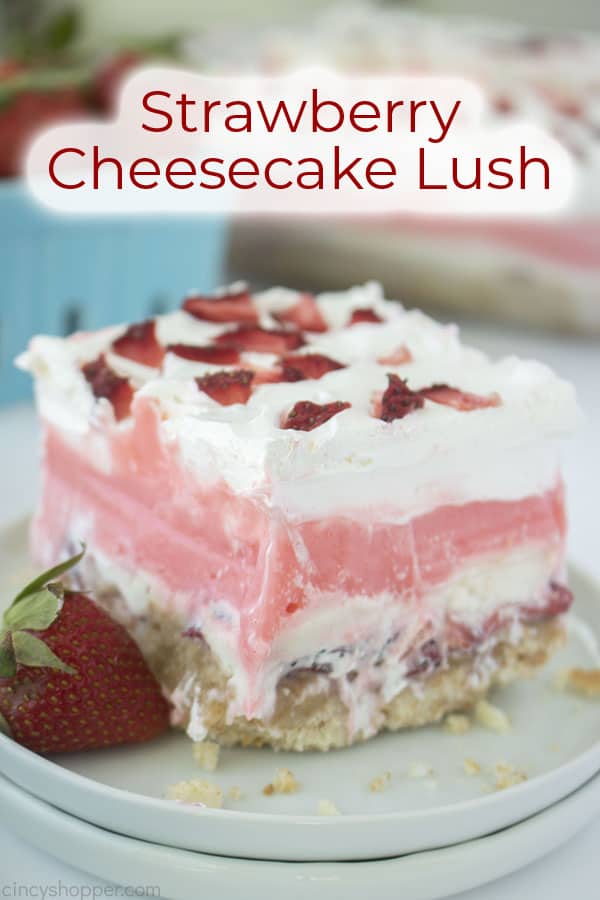 Enjoyed this dessert? Try some of our other lush recipes!
Let's keep things simple with our

Easy Cherry Lush

.

This

is made

very

similarly

to our Strawberry Cheesecake Lush you see here-

just

with cherries

!

With a creamy cheesecake layer, some cheesecake pudding, and some delicious cherry pie filling, what's not to love

?

For one of our all-time favorites, check out our

Lemon Lush Bars

!

It all starts with a sweet shortbread crust, topped with some cream cheese, some lemon pudding, and plenty of whipped topping

. A perfect dessert for any summer get-togethers or parties!

Enjoy our spin on the classic with a

Banana Split Lush

.

Made with a delicious chocolate graham cracker crust and plenty of sliced banana and crushed pineapple, this is a sweet treat you don't wanna miss out on

! Tasty, no-bake, and perfect with a little chocolate syrup drizzle

just

before serving.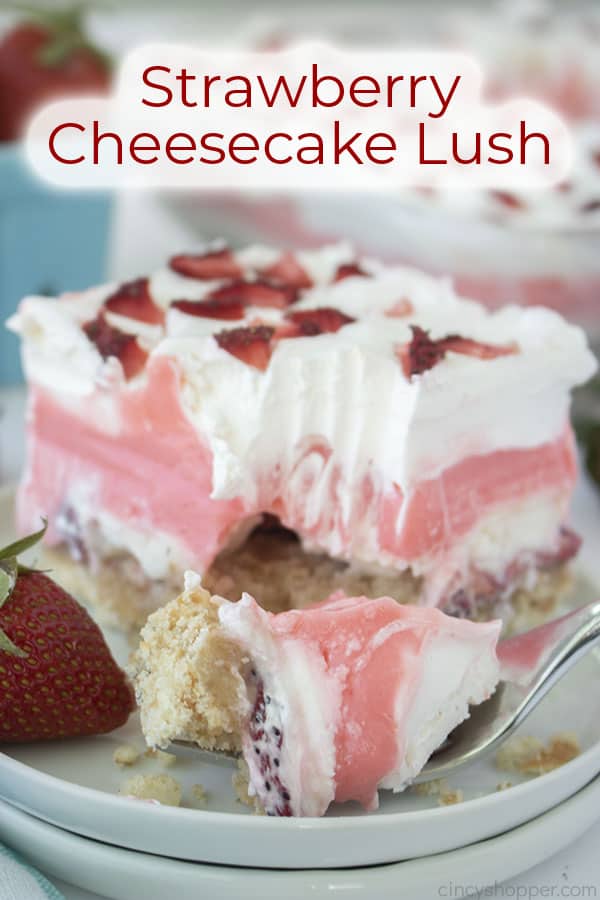 Lush Ingredients
We're gonna break this ingredients list up into layers. Starting off with the crust, you'll need…
Vanilla Wafers

– Go with some like Nilla Wafers if you can.

Sugar

Melted Butter
Next up, for the cheesecake layer, you'll use…
Strawberries

– Hulled and sliced into planks.

Cream Cheese

Sugar
The strawberry cheesecake pudding layer is going to need…
Cheesecake Pudding Mix

Milk

Strawberry Jello
Finally, for the whipped topping…
Frozen Whipped Topping

– Like Cool Whip.

Strawberries

– For garnish.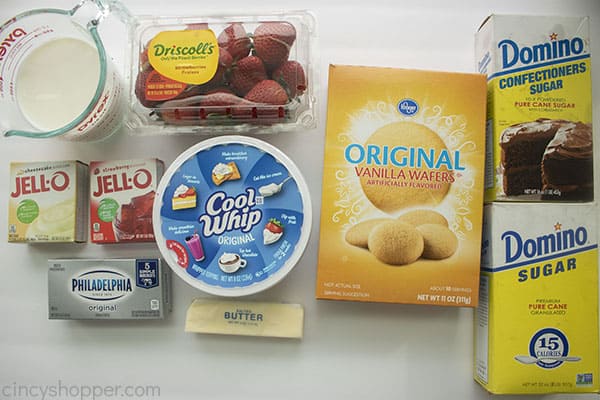 How to make Strawberry Lush
This recipe might seem hard or complex, but it
really
isn't! Here's all you need to do:
Make a vanilla wafer crust

by mixing crushed wafers, sugar, and melted butter.

Let crust freeze

before moving on.

Lay a layer of strawberries over the crust

before

spreading a cream cheese and sugar mixture over

to make the cheesecake layer

.

Beat together cheesecake pudding mix and milk

with

strawberry gelatin powder

before

spreading over cheesecake layer

.

Let sit in the fridge for 15 minutes before topping with Cool Whip

and

garnishing with strawberries

.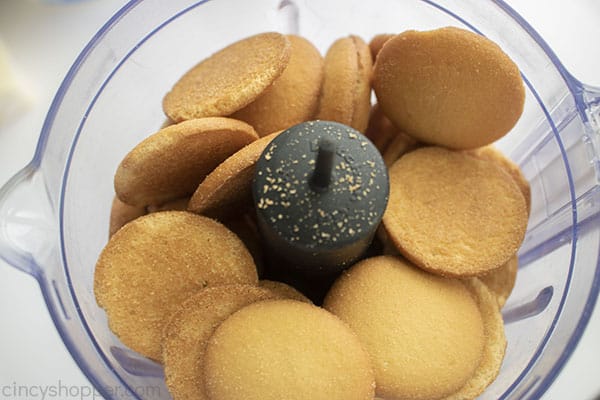 First, the crust. Start by pulsing your vanilla wafers in a food processor until finely crushed. Your gonna mix the crushed wafers with some sugar and melted butter.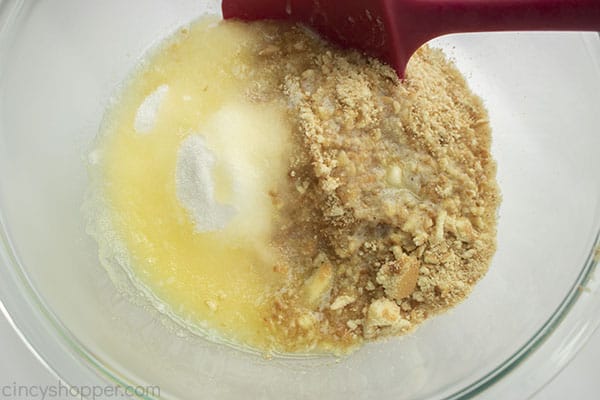 That should come together into a mixture that feels like wet sand. Press that into the bottom and slightly up the sides of a greased glass 8×8″. Pressing with something like a metal measuring cup helps keep things even. Transfer that to the freezer to set for about 1-2 hours.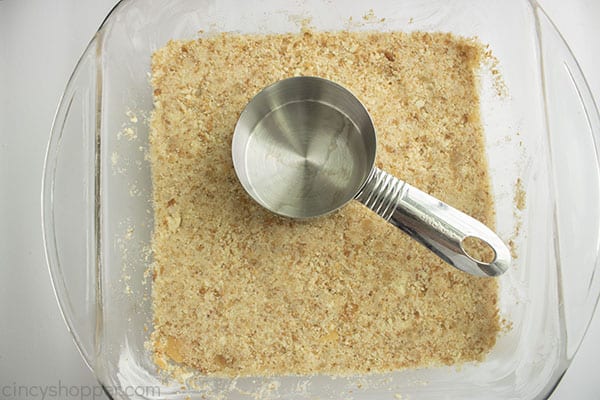 Cheesecake Layer
This layer of our Strawberry Lush is going to be a basic cheesecake filling with some fresh strawberry slices mixed in. First, slice the strawberries into thin, plank-like slices.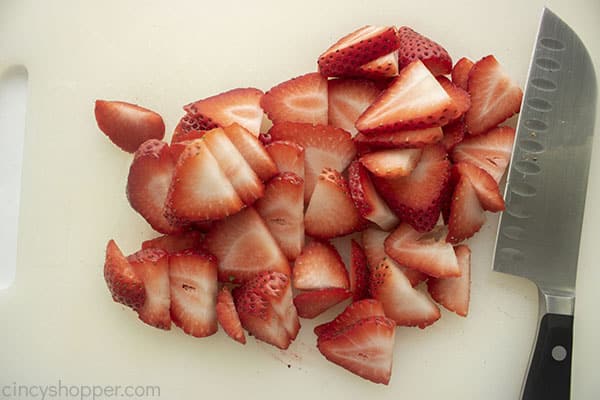 For the cheesecake filling, we're going to keep things real simple. Just beat together some softened cream cheese and some sugar until well-blended.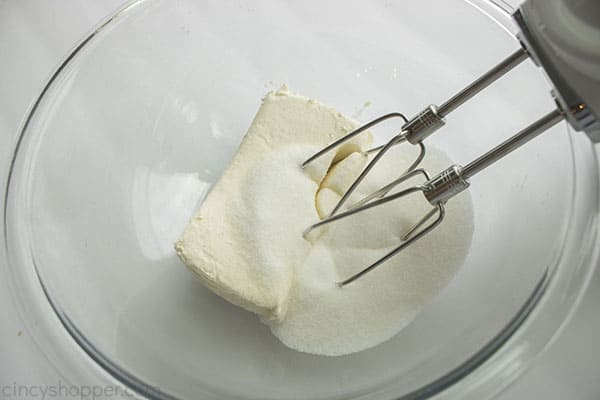 Lay out a layer of your strawberry slices over the crust. You could, optionally, spread a bit of cheesecake filling down first if you wanted.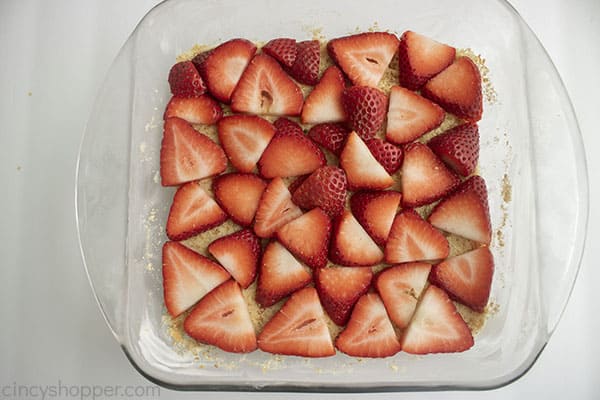 Once you've got a layer of strawberries set, spread that cheesecake filling over them. If you sliced your strawberries extra-thin, you may have some leftover. In that case, try to use only half the cheesecake filling at first. Once you've spread the first half, lay another layer of strawberries and spread the rest of the filling.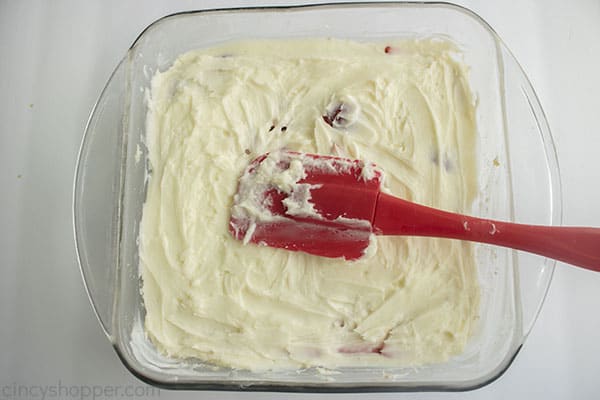 Strawberry Cheesecake Pudding Layer
For this layer, all you have to do is beat together some milk, cheesecake pudding mix, and some strawberry Jello. Do that in an appropriately sized mixing bowl.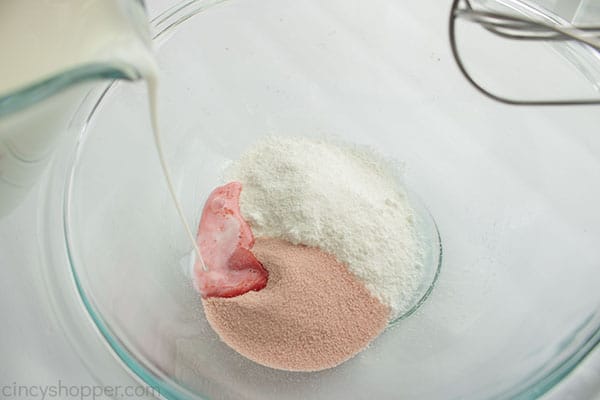 Let that mixture set up just a little bit before spreading it over top the cheesecake layer you laid earlier. Once you've got that layer spread, transfer it to the fridge to chill for 15 minutes before moving on.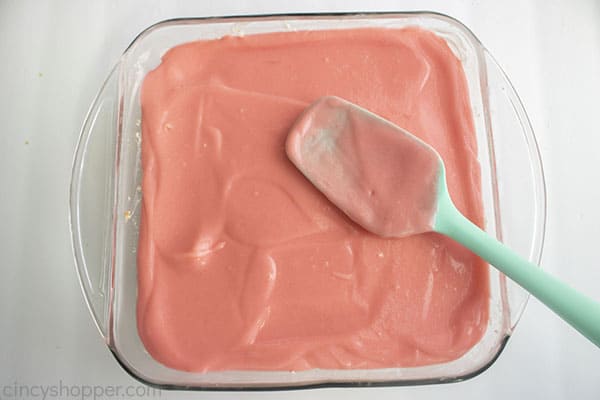 Topping your Strawberry Lush
Finally, all that's left is to top your lush. We're going to keep things simple by just using some Cool Whip for this. Spread that nice and evenly over top your cheesecake pudding layer.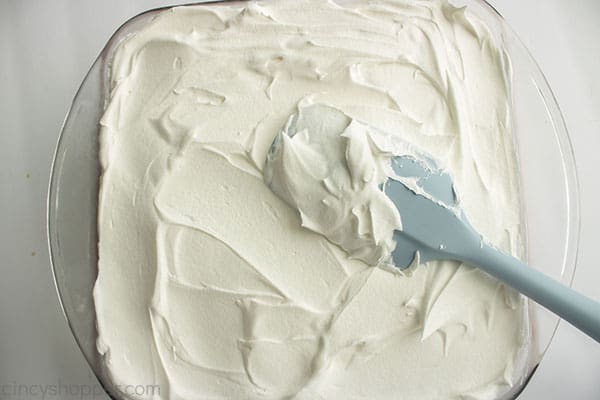 Once the Cool Whip is spread, sprinkle some diced strawberries over the topping. This strawberry topping is optional but we think it looks good and who doesn't love some extra strawberry flavor? Once your topping is on, feel free to serve your strawberry lush and enjoy!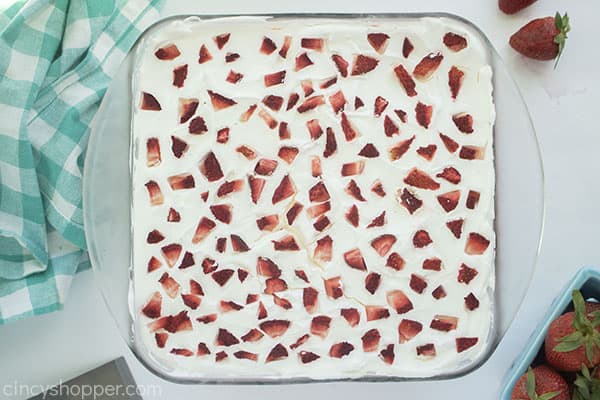 How long are lush desserts good for?
Considering there are quite a few delicate ingredients in this Strawberry Lush, we wouldn't consider keeping it for too long. Try to enjoy your lush dessert within 3-4 days of making it. Keep it covered well in an airtight container in the fridge.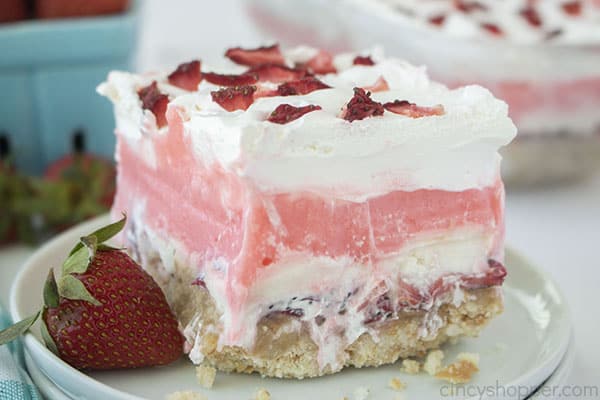 Can I freeze my lush dessert?
Technically
speaking, you could try freezing your Strawberry Lush. There are a bunch of issues that might spring up after you thaw it out,
however
. Jello and gelatin products don't freeze very well- often losing their texture.
Similarly
, that cheesecake filling can become a bit "grainy" after freezing and thawing.
If you don't mind these texture changes, you can give freezing your lush dessert a try- we'd recommend keeping it for around 3 months if frozen
.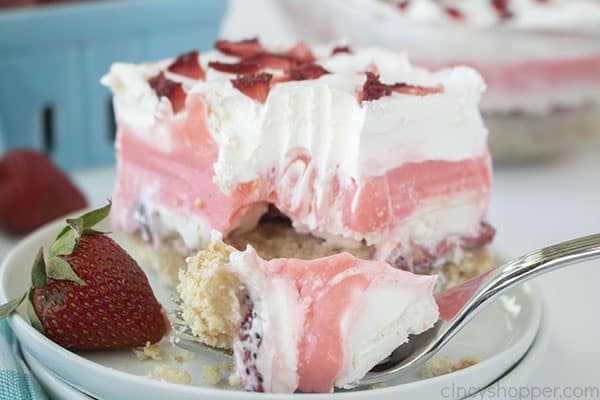 No Bake Strawberry Lush
Strawberry Cheesecake Lush is a delicious and creamy treat that's simple to make. An easy, no-bake dessert perfect for any summer gatherings!
Ingredients
8

oz

Nilla Vanilla Wafers

about 3/4 of box

1

cup

Sugar

divided

1/2

stick

Butter

melted

15

Strawberries

hulled and sliced

8

oz

Cream Cheese

1

box

Cheesecake Pudding Mix

1 3/4

cup

Milk

1

box

Strawberry Gelatin

8

oz

Cool Whip
Instructions
Grease glass 8x8" dish. Set aside.

Pulse wafers in food processor until finely crushed.

Add 1/2 cup sugar and pulse.

Add melted butter and pulse until well blended.

Press mixture into bottom and sides of prepared dish.

Place in freezer for 1-2 hours.

Create a layer of strawberry slices on top of crust. Set aside.

Beat together cream cheese and 1/2 cup sugar until well blended.

Spread over cooled crust.

In a medium bowl, beat together cheesecake pudding mix, 3 tablespoons of strawberry Jello powder and the milk.

After it is slightly set, spread mixture on top of the cream cheese mixture.

Refrigerate for about 15 minutes.

Top with Cool-Whip.

Garnish with a few diced strawberries
Nutrition
Calories:
484
kcal
|
Carbohydrates:
70
g
|
Protein:
6
g
|
Fat:
21
g
|
Saturated Fat:
11
g
|
Trans Fat:
1
g
|
Cholesterol:
50
mg
|
Sodium:
458
mg
|
Potassium:
179
mg
|
Fiber:
1
g
|
Sugar:
55
g
|
Vitamin A:
619
IU
|
Vitamin C:
12
mg
|
Calcium:
111
mg
|
Iron:
1
mg