Easy Brown Gravy is delicious and simple to make with just 5 ingredients. Why use a brown gravy packet when you have this homemade recipe?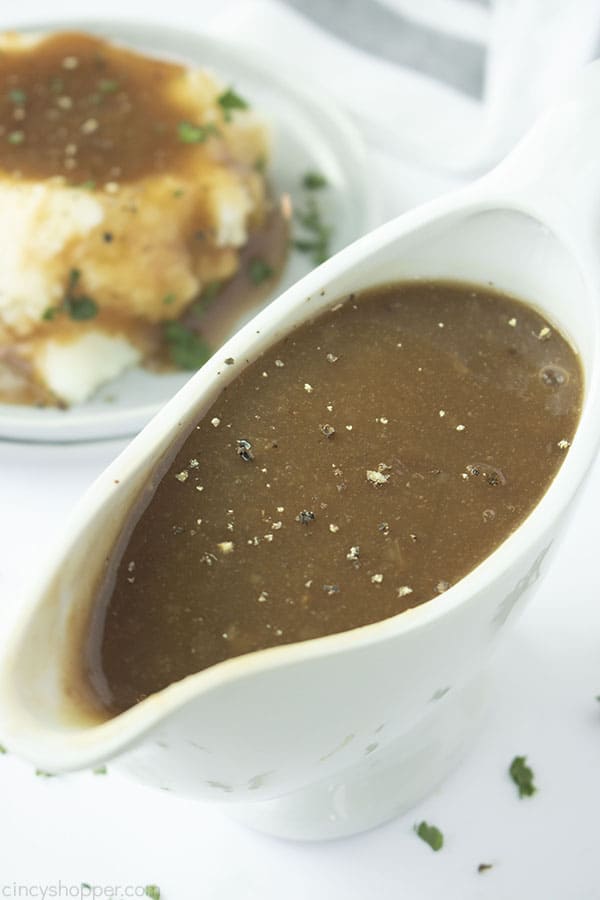 Easy Brown Gravy
Gravy can be a difficult beast to tackle in the kitchen. You could run to the supermarket and just grab a brown gravy packet but… they're not really too good, are they? They never taste right- it's certainly not what the restaurants use! That's what we're all really after in the kitchen- that rich, delicious, restaurant-quality gravy! Problem is, it can be hard to get gravy just right… but we think we found a solution!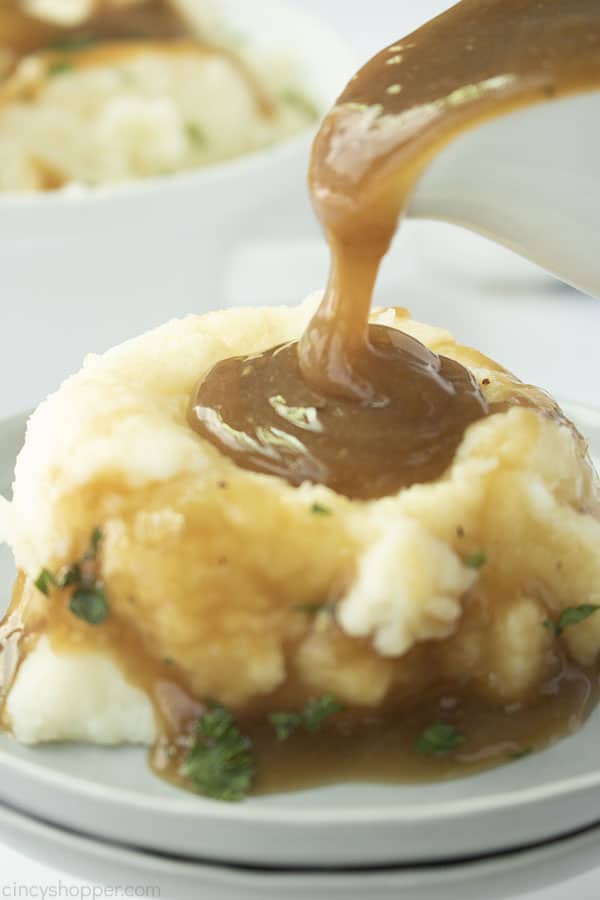 Homemade brown gravy doesn't have to be difficult! Usually, you have to make a roux, carefully pour your stock in, keep the heat under control- really, it doesn't have to be that hard. You don't even need flour to make a great tasting gravy! With just a few simple ingredients- some beef stock and cornstarch being chief among them- you can make the best beef gravy in a snap.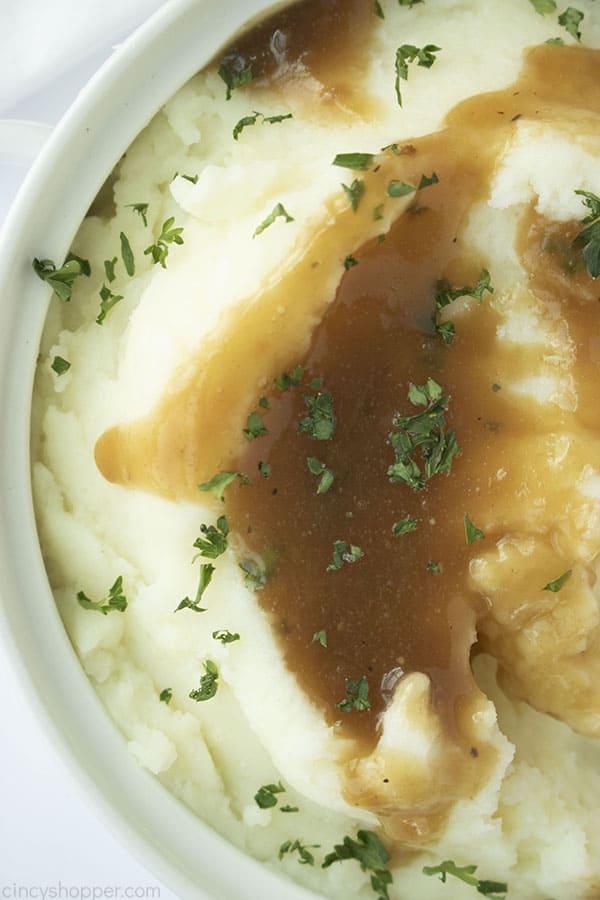 This easy beef gravy recipe will be perfect for all sorts of main dishes! Here are a couple ideas for what to pair it with:
Our simple brown gravy goes

perfectly

with some

Simple Salisbury Steak

!

This delicious dinner recipe is inexpensive, easy to make, and a perennial favorite- even with picky eaters

!

Pair this beef gravy with some Liver and Onions. So rich and tasty- this dish is

absolutely

to die for!
If you've got the main course figured out, you'll still need some sides.
We've got you covered there too with sides that are perfect for big dinners- Thanksgiving, anyone
?
Few matches are as amazing as delicious gravy and

The Best Mashed Potatoes

.

These creamy potatoes can only get better when paired with our unctuous gravy recipe here

.

If you're prepping for mashed potatoes, why not get some Garlic Roasted Green Beans ready too while you're at it

! These greens are great on their own- buttery and garlicky- but you're missing out if you don't drizzle a little gravy over them…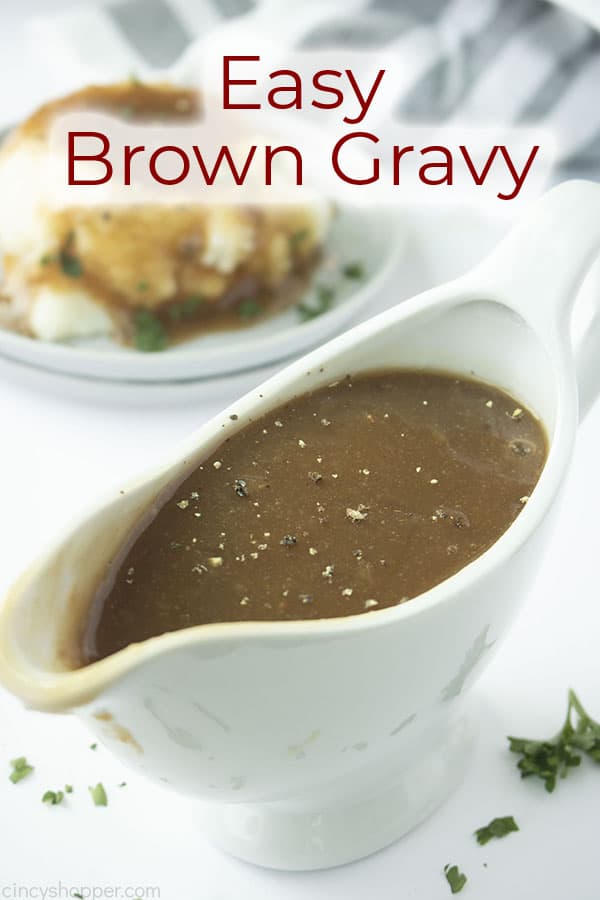 Ingredients for Beef Gravy
Beef Broth – How you get your beef broth is up to you. Jugged broth, bouillon cubes, beef stock- any of these will work for our gravy! Consider using some drippings or some roast juices to deepen the flavor.

Cornstarch – This is going to serve as our thickener. If you don't have cornstarch, flour will work as well.

Worcestershire Sauce –

Just

to add more flavor and color. Consider a dash or two of soy sauce as well! Browning sauce might also work…

Seasonings/Spices – While we only added garlic & onion powders to our gravy, feel free to experiment with other popular spices

.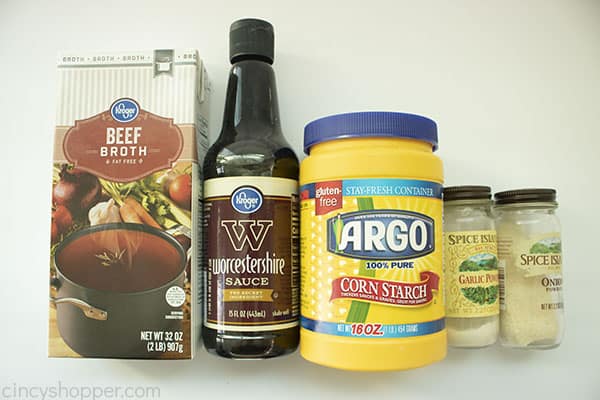 How to make Easy Gravy
To start things off, get your beef broth poured into a saucepot. Start warming this stock up to a boil before adding anything to it.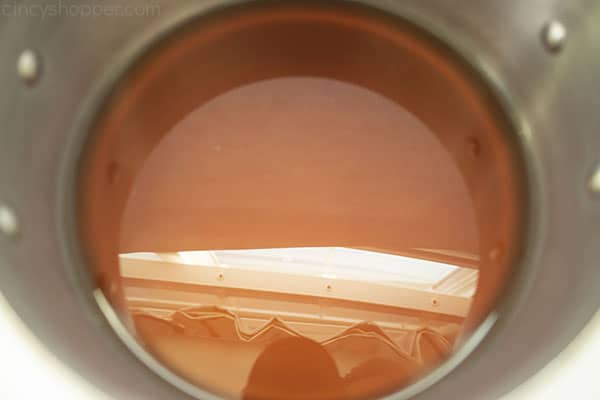 The first order of business: spices. Add in the seasonings you picked out and stir them in until dissolved.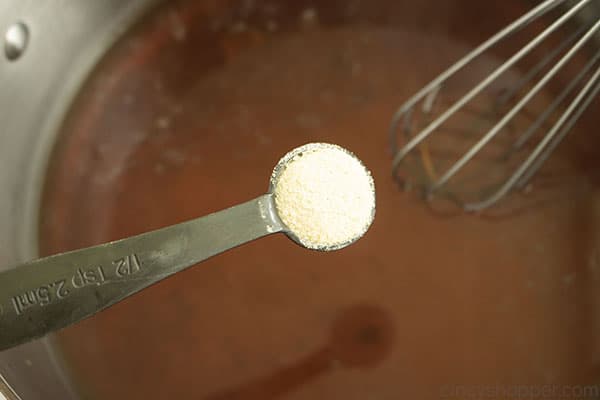 Along with your spices, you'll want to add any other sauces you chose as well. At a bare minimum, you should at least add some Worcestershire.
Now, for the secret ingredient that's going to thicken this gravy up. Instead of making up a roux with flour and butter, we used a cornstarch slurry. Remember to use cold water to mix your slurry before pitching it into your gravy!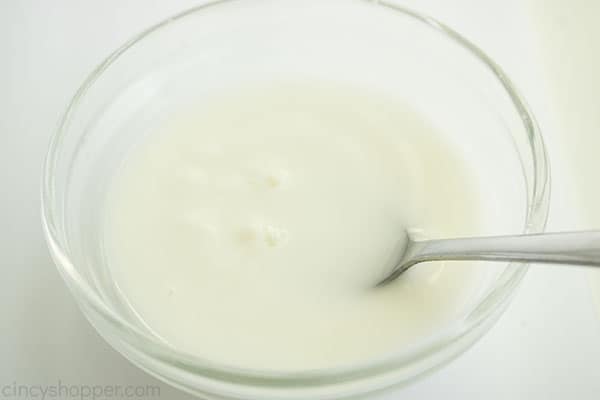 After pitching your slurry, all that's left is to turn down the heat, stir in your cornstarch, and let your brown gravy thicken up. Keep giving your gravy a taste and season it with some salt and freshly-cracked black pepper until you've got the flavor just right! If you find your gravy is thickening up too much, slowly add in some more beef stock until it's thinned back out to where you like it.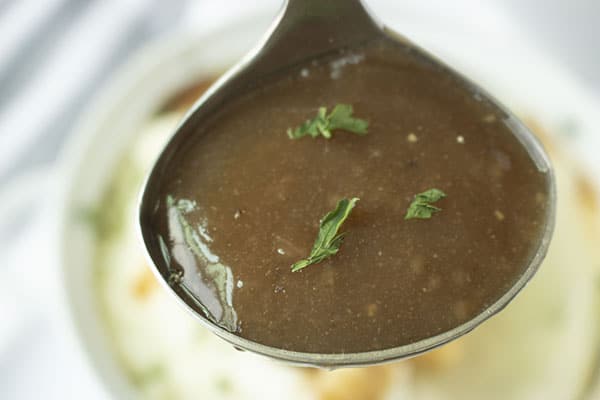 Keep warm on the stovetop until dinnertime. Optionally transfer to a pretty-looking gravy boat for easy pouring. Serve your Easy Brown Gravy over some mashed potatoes or beef dishes and enjoy!
Beef Gravy
Easy Brown Gravy is delicious and simple to make with just 5 ingredients. Why use a brown gravy packet when you have this homemade recipe?
Ingredients
2

cup

Beef Broth

1

tsp

Garlic Powder

1/2

tsp

Onion Powder

1

tbsp

Worcestershire Sauce

3

tbsp

Cornstarch

3

tbsp

Water

Salt and Pepper to taste
Instructions
In a medium saucepan over medium high heat, bring beef broth to a boil.

Stir in garlic powder, onion powder and Worcestershire.

In a small bowl, mix together cornstarch and water until blended and smooth.

Reduce temperature to medium low and add cornstarch mixture to pan.

Stir to incorporate and continue stirring until mixture thickens.

Add salt and pepper to taste.
Nutrition
Calories:
19
kcal
|
Carbohydrates:
4
g
|
Protein:
1
g
|
Fat:
1
g
|
Saturated Fat:
1
g
|
Sodium:
245
mg
|
Potassium:
54
mg
|
Fiber:
1
g
|
Sugar:
1
g
|
Vitamin C:
1
mg
|
Calcium:
6
mg
|
Iron:
1
mg