Mornings in our household are always very hectic and rushed. Getting everyone out the door so early is always quite the task. My teenage kids never have time for breakfast so we keep a Quick and Easy breakfast bin on our counter tops for them to grab a quick on the go breakfast. I spend an hour or so on Sundays to whip up some convenience foods that are available for them for their breakfasts if I have not located any cheap coupon deals.
With back to school almost here, I have spent the week whipping up some of my favorite quick and easy breakfast ideas to share with you. Yesterday we whipped up one of my kiddos favorites (mind you they are teenagers and keeping them away from sugary cereals is difficult) -Quick and Easy DIY Fruity Pebbles Cereal Bars. All the kids seem to love the sugary cereal bars but buying prepackaged store bought cereal bars can get quite expensive. If I find a sale combined with a coupon that makes for some very cheap prepackaged cereal bars, I will stock up. If there are no current sales I like to stretch my grocery budget by taking just a few minutes to whip up my own.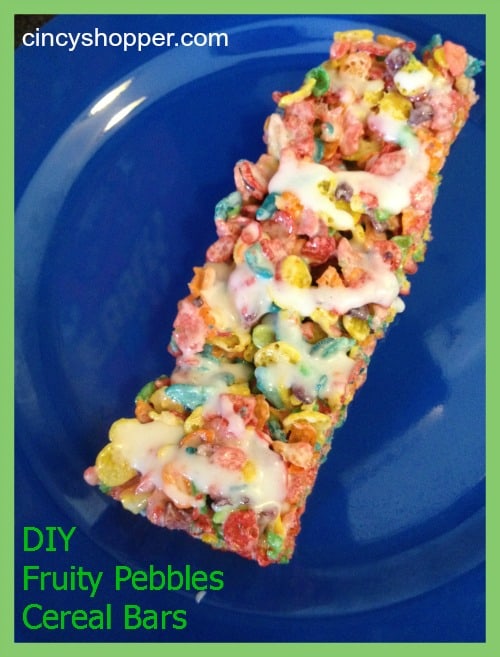 Quick & Easy Breakfasts DIY Fruity Pebbles Cereal Bars
DIY Fruity Pebbles Cereal Bars are so quick and easy to make. Just grab some Fruity Pebbles, marshmallows, Butter and Icing (optional).  Consider stretching your grocery budget by whipping up a quick batch. If your school mornings are pressed for time like ours, throw them in some ziploc snack sized storage bags and your kiddos can have a quick and easy breakfast too!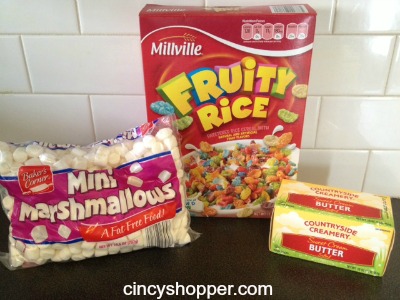 Ingredients
6 Cups Fruity Pebbles
1 10 oz Bag of marshmallows
4 Tablespoons of Butter
White Icing in Squeeze Bottle (optional)
Melt butter in 2-3 quart saucepan over low heat. Add marshmallows and stir until completely melted. Add cereal and mix to coat evenly. Turn mixture into a buttered 10×15 pan and press down. Allow to set for a few hours. Cut with sharp knife into cereal bar shape. Add icing if desired.