Fruity Pebbles Treats are just like Rice Krispie Treats made with Fruity Pebbles cereal. Everyone loves these tasty and chewy cereal bars!
These delicious fruity cereal bars make for a fun snack, treat, or dessert! If you liked these, make sure to check out The Best Rice Krispie Treats and our Homemade Peanut Butter Granola Bars.
Fruity Pebbles Treats
I'll admit it: I still buy and eat plenty of Rice Krispie Treats. The kids always loved packing them with their lunches so I had plenty of reason to stock up and snack on them myself. They're all older now but I still like to buy a box of Rice Krispie Treats every now and then- a bit of a treat for myself. They're so tasty and it's hard to make them better… but not impossible!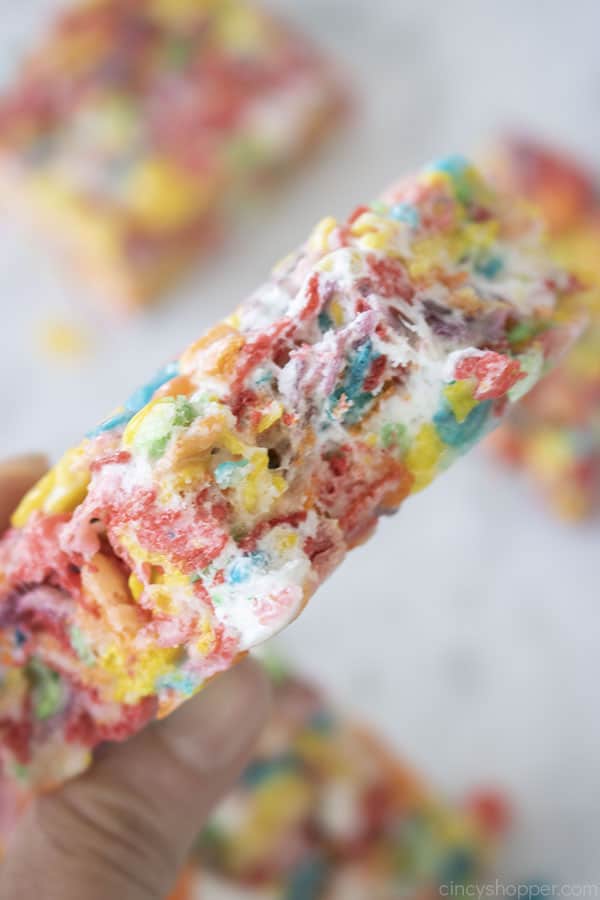 How do you improve on these classic cereal bars? It's easy: just use some of your favorite cereals! For me, I really like a bowl of Fruity Pebbles every now and again and I was curious how they'd work out. So I made these Fruity Pebbles Treats: they're just like Rice Krispie Treats, just made with Fruity Pebbles instead. Such a simple change really makes these Fruity Pebbles Bars something special: you get that familiar chewy bite of Rice Krispie Treats but with a sweet fruity edge to it.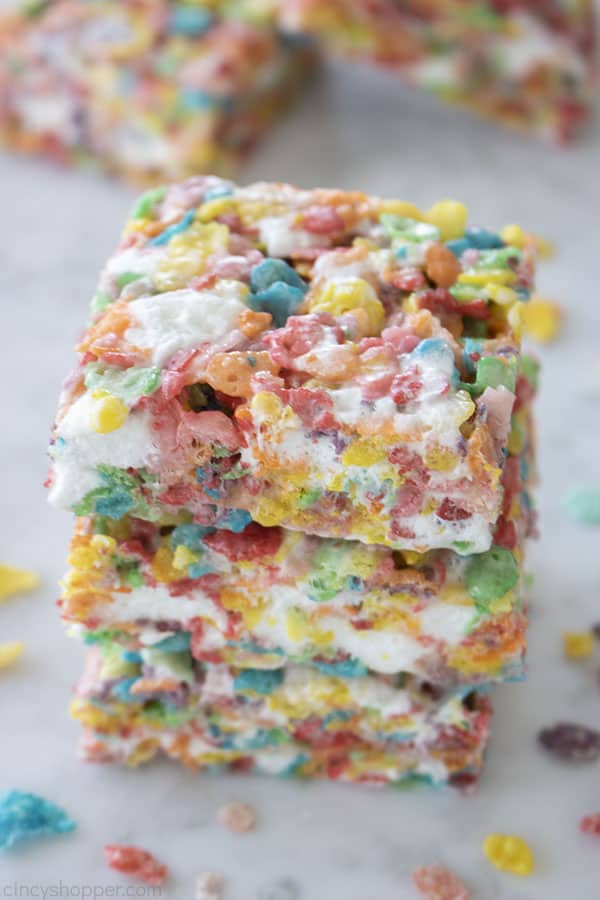 Whether you're making some treats for school lunches or just want a sweet fruity snack during the day, it's worth making a batch of these at least once! They're so simple to make and you only need 3 ingredients. For a touch of extra sweetness, you can even top these Fruity Pebble Crispy Treats with a simple sugary glaze. With or without it, I'm certain you're going to love them!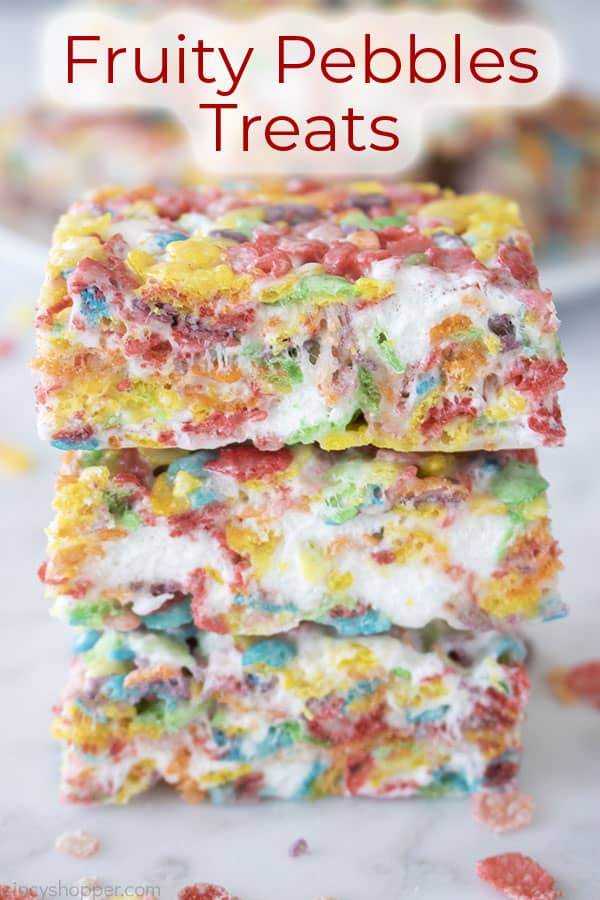 Liked this recipe? Try some other cereal dessert recipes next!
March is

just

around the corner, so why not make some of our

St. Patrick's Day Lucky Charm Cupcakes

?

Cake mix cupcakes have always been some of my favorite dessert recipes because they're so easy- and this recipe is no different

! Add a green marshmallow icing to the middle to

really

take these cupcakes to the next level.

For another spin on Rice Krispie Treats, you've gotta try our

S'Mores Krispie Treats

.

It can't get much better than combining this timeless treat with the flavors of everyone's favorite campfire dessert

! Cooks up nice and easy in the oven and makes for a wonderful snack on the 4th of July.

Fried Ice Cream is fun to make but can leave a big mess to clean up when you're done, so make some

No Fry Fried Ice Cream

instead!

This easy dessert recipe comes together in

just

minutes and doesn't need a deep fryer or for you to deep freeze your ice cream

.

Just

mix up a delicious cinnamon coating with some corn flakes and you're good to go- so simple to make and you're certain to love it

!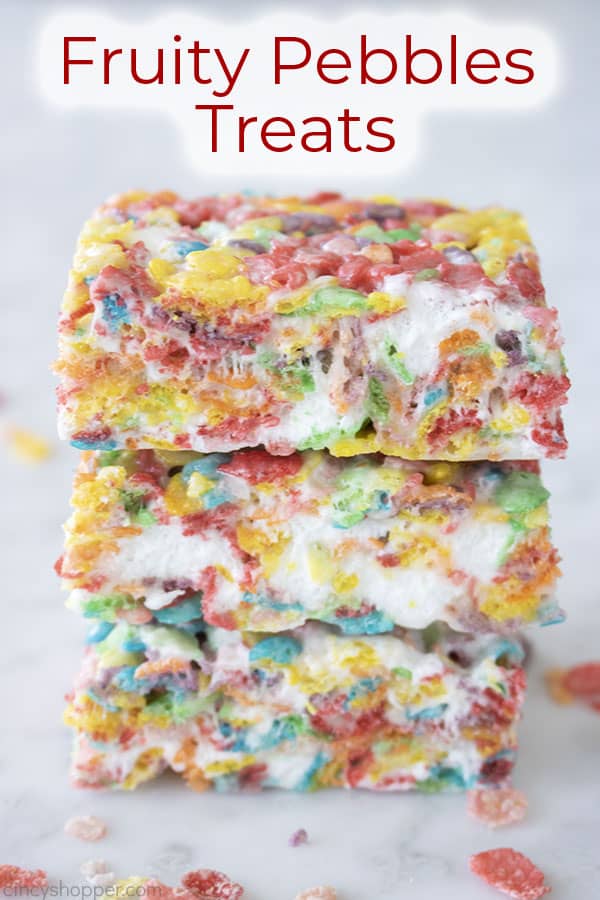 Fruity Pebble Rice Crispy Treats
Ingredients
Fruity Pebbles

Butter

Marshmallows

– The mini marshmallows will melt the easiest.
If you like, you can also grab some
powdered sugar
and some
milk
to make a glaze to drizzle over the Fruity Pebble Cereal Bars when they
are done
. Not required, but it can make for an extra sweet finishing touch!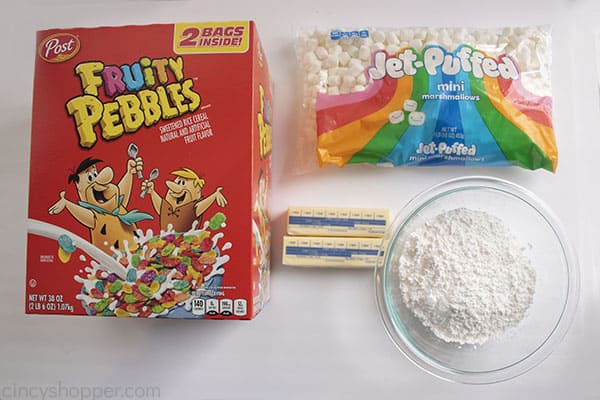 How to make Fruity Pebbles Treats
These Fruity Pebbles Treats are very easy to make- kind of like homemade rice crispy treats. To make some for yourself, here's what you'll have to do:
Melt butter

in the bottom of a non-stick pot

before adding and melting part of the marshmallows

.

When marshmallows have melted,

mix in Fruity Pebbles

and then

melt in the remaining marshmallows

.

Transfer to a greased or lined baking dish

and let set before

cutting into cereal bars

and serving.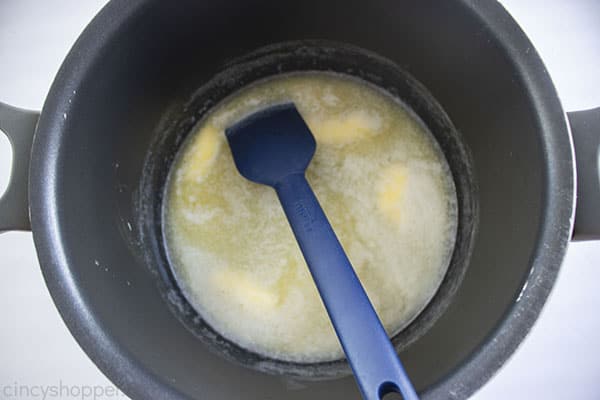 Start by setting your butter into the bottom of a large, non-stick pot. Set the heat to medium to medium-low and let it melt. Once melted and bubbling, add some of your marshmallows.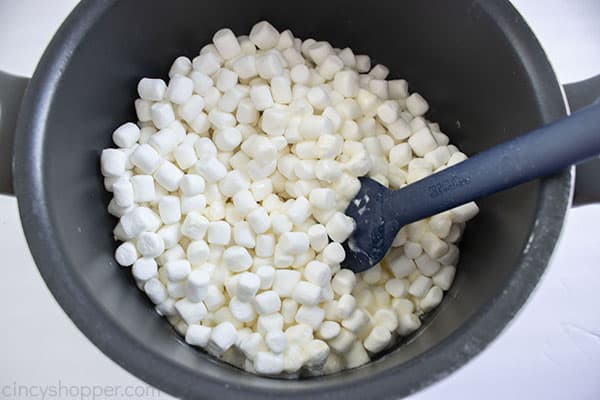 Stir this stuff constantly to help it melt evenly and consistently. Once the marshmallows are mostly melted, add in your fruity pebbles and mix vigorously to incorporate them.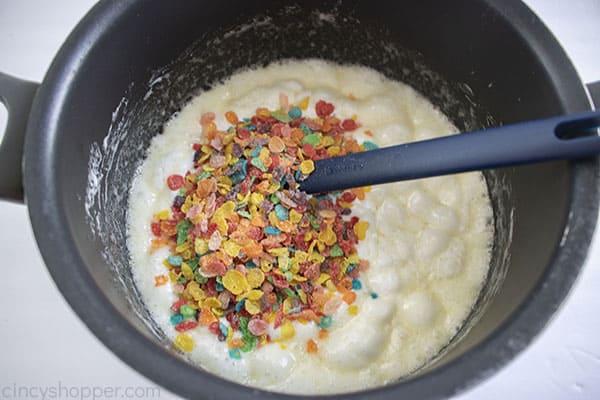 At this point, add in the rest of the marshmallows and continue to mix vigorously until they're melted with the rest of the mixture.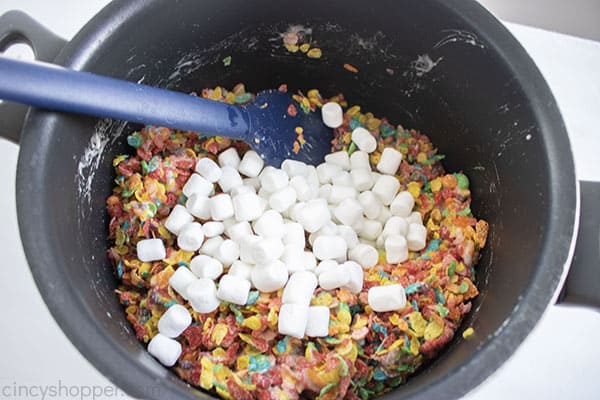 You'll want to oil up your hands for this next part: grab some leftover butter or a neutral-flavored oil and give your hands a good coating. When you're oiled up, transfer the Fruity Pebble Treat mix to a greased or lined baking dish. Feel free to get real hands-on here and get anything sticking to the inside of the pot out- and having an extra set of hands nearby definitely helps! When it's all transferred, let sit on the counter until the mixture has fully set. Remove from the dish, cut into cereal bars, and optionally top with a simple glaze. Enjoy!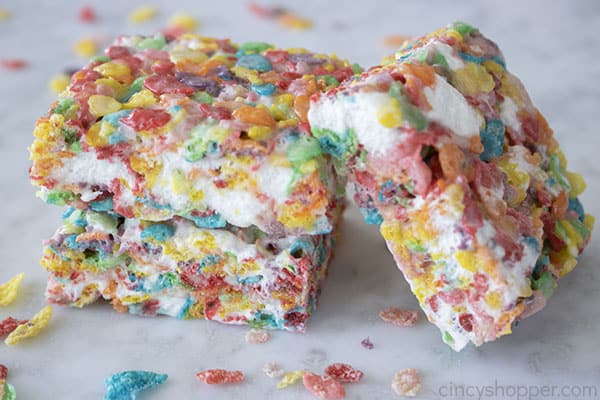 Fruity Pebble Treats
Fruity Pebbles Treats are just like Rice Krispie Treats made with Fruity Pebbles cereal. Everyone loves these tasty and chewy cereal bars!
Ingredients
9

cup

Fruity Pebbles cereal

2

stick

Butter

19

oz

Mini Marshmallows

16 oz bag plus 2 cups, divided
Glaze (optional)
2

cups

Powdered Sugar

2

tsp

Milk
Instructions
Line a 9" square baking pan with parchment paper. Set aside.

Melt butter over medium heat in a large pan.

Add 16 oz of mini marshmallows.

Reduce heat to low and stir until melted.

Add Fruity Pebbles cereal and remaining 2 cups of mini marshmallows.

Remove from heat and stir to combine.

Pour into the prepared pan and lightly press into place.

Allow to set (about 15 minutes) before cutting.

If you want to glaze them, place powdered sugar in a bowl and gradually stir in milk until desired thickness is achieved.

Drizzle glaze over cut bars.
Nutrition
Calories:
357
kcal
|
Carbohydrates:
62
g
|
Protein:
2
g
|
Fat:
12
g
|
Saturated Fat:
8
g
|
Polyunsaturated Fat:
1
g
|
Monounsaturated Fat:
3
g
|
Trans Fat:
1
g
|
Cholesterol:
30
mg
|
Sodium:
270
mg
|
Potassium:
21
mg
|
Fiber:
1
g
|
Sugar:
43
g
|
Vitamin A:
916
IU
|
Vitamin C:
5
mg
|
Calcium:
9
mg
|
Iron:
1
mg