How cute are these Pumpkin Rice Krispie Treats? A few years back the we decided to let the kiddos have their friends all over for a Halloween party. They had not had Halloween parties since they were quite young. Being the cute food crazy mom that I am I insisted they let me choose the food if they were to have a Halloween Party. I pitched the idea of Pumpkin shaped Rice Krispie Treats to each of them. Amazingly they all agreed that they would be perfect (yes, they agreed on something, ha ha). Needless to say these cute little pumpkins were a hit with everyone.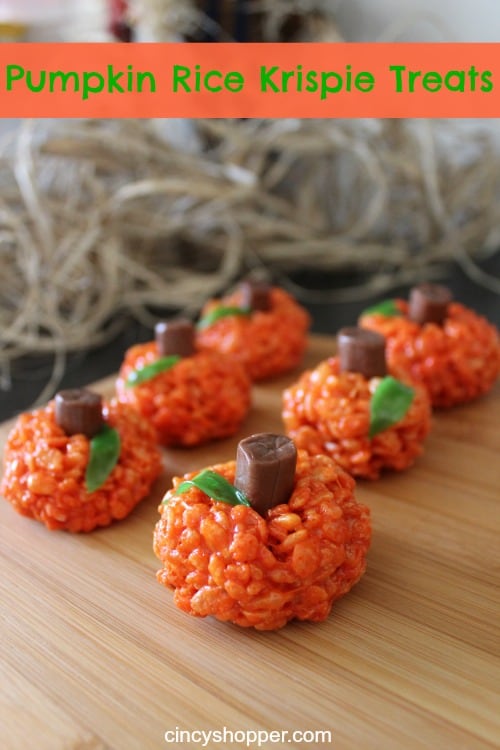 Pumpkin Rice Krispie Treats Recipe
This past weekend when I was making up some of my other fall goodies the kiddos were begging the hubby and I about having another Halloween party and recalled the cute Pumpkin Rice Krispie Treats that I made for their past party. I was not the push over that I normally am and totally blew their idea of a Halloween party down the tubes ha ha. The thought of a house full of teenagers dressed in Halloween costumes really had me stressed. Since I turned down their brilliant Halloween party idea I figured I would surprise them all with those cute little Pumpkin Rice Krispie Treats. They are so quick and easy to whip up and really put me in the Halloween spirit. Are you looking for a special treat for a Halloween party? If you are consider throwing together a patch of these little guys.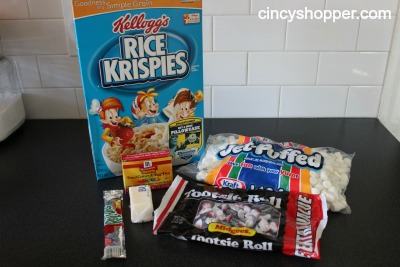 Ingredients
6 Cups Rice Krispie Cereal
3 tbs Butter
10 oz Marshmallows (approx 1 Bag)
Red & Yellow Food Coloring (to make orange color)
12 Tootsie Rolls
1 Green Fruit Roll-up (you will only be able to find the blue/green combo)
Melt your butter in a large sauce pan over low heat
Add marshmallows and stir constantly until melted
Remove from heat
Add approx 4 drops of red food coloring & 2 drop yellow food coloring- Add until you have a nice bright orange color
Mix in Rice Krispies
Form small balls into the shape of a pumpkin (Tip: Add Non-Stick Cooking Spray (Pam) or Crisco to your hands before forming your balls)
Cut Tootsie Roll in Half and add a half into each pumpkin while still warm
Cut small leaves from the green portion of your Fruit Roll Up
There ya have it a quick, easy and adorable Pumpkin Rice Krispie Treats recipe. Whip up a batch and everyone who seems them will let you know "how cute" they are.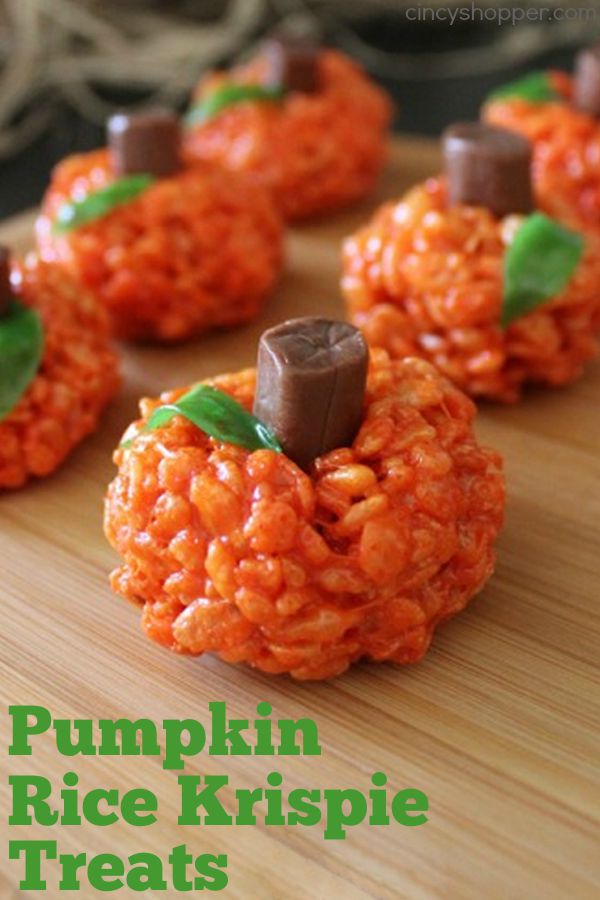 Pumpkin Rice Krispie Treats Recipe
Ingredients
6

Cups

Rice Krispie Cereal

3

tbs

Butter

10

oz

Marshmallows

approx 1 Bag

Red & Yellow Food Coloring

to make orange color

12

Tootsie Rolls

1

Green Fruit Roll-up

you will only be able to find the blue/green combo
Instructions
Melt your butter in a large sauce pan over low heat

Add marshmallows and stir constantly until melted

Remove from heat

Add approx 4 drops of red food coloring & 2 drop yellow food coloring- Add until you have a nice bright orange color

Mix in Rice Krispies

Form small balls into the shape of a pumpkin (Tip: Add Non-Stick Cooking Spray (Pam) or Crisco to your hands before forming your balls)

Cut Tootsie Roll in Half and add a half into each pumpkin while still warm

Cut small leaves from the green portion of your Fruit Roll Up