If you love pumpkin recipes you are going to want to give this Pumpkin Cupcakes with Cream Cheese Frosting Recipe a try. It's almost fall and I am looking forward to doing some baking with pumpkin. The stores have already started releasing all these yummy fall ingredients for us to do some baking with.  Pumpkin and cream cheese always go so well together so these Pumpkin Cupcakes with Cream Cheese Frosting are sure to be a hit with all pumpkin lovers.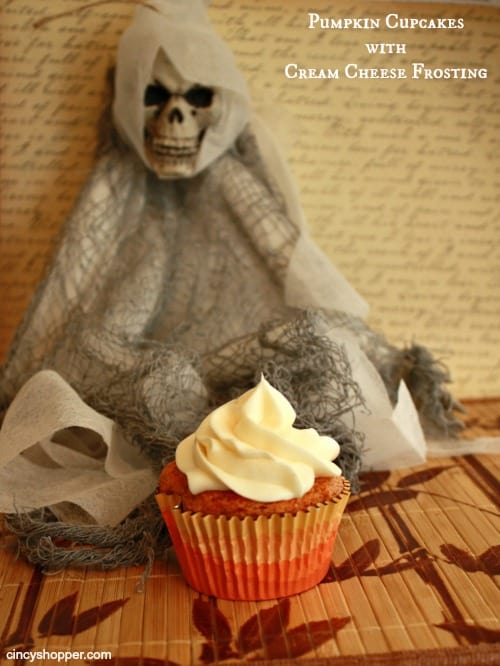 Pumpkin Cupcakes with Cream Cheese Frosting Recipe
Pumpkin Cupcakes from the bakery always seem to be so expensive. The hubby and I are always checking out all the delicious fall baked goods but the price tag always scares us away from purchasing. Making these extra special baked goods at home is always so much cheaper and always seem to taste better too.  Grab your ingredients on a sale then whip up a batch of these Pumpkin Cupcakes with Cream Cheese Frosting and save yourself a bundle.
Ingredients
2 1/4 cups cake flour
2 teaspoons ground cinnamon
1/2 teaspoon ground allspice
1 teaspoon salt
1 tablespoon baking powder
1/2 teaspoon baking soda
1/2 cup butter, softened
1 cup sugar
1/3 cup packed brown sugar
2 large eggs
3/4 cup buttermilk
1 1/2 cups pumpkin pie
Cream Cheese Frosting
1 (8 ounce) package cream cheese, softened
1/4 cup butter, softened
3 cups confectioners' sugar
1 teaspoon vanilla extract
1 teaspoon ground cinnamon
Makes 24 cupcakes.
Preheat oven to 375 degrees F. Line cupcake tin with liners. If you're using the color-fade ones like I did, they're foil on the inside so you need to spray them with some non-stick butter spray. Sift together the flour, cinnamon, allspice, salt, baking powder, and baking soda. Set aside.
Combine 1/2 cup butter, all of the sugar, and brown sugar with an electric mixer in a large bowl. Mixture should get light and fluffy. Add eggs, milk, and pumpkin pie filling. Stir in the flour mixture – don't over-stir! Pour the batter into the cupcake liners.
Bake about 25 minutes or until toothpick comes out clean when inserted into middle of cupcake. Allow cupcakes to cool before icing. If you skip this step, your icing will just melt on the cupcakes. :(
Make the frosting! Combine cream cheese and 1/4 butter with electric mixer until smooth. Add in the confectioners' sugar a little at a time until incorporated. Add the vanilla extract and cinnamon. Beat until fluffy. Ice cupcakes with a Wilton 1M tip to achieve the look in the photo above.
Are you looking for other yummy Fall Recipes? If so be sure to see all of my fall cooking and baking ideas here.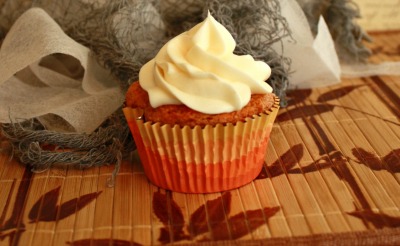 Recipe slightly adapted from All Recipes Pumpkin Spice Cupcakes