If you are a fan of Peppermint Patties you will be exited to know you can easily make your own Homemade Peppermint Patties. These peppermint patties are great to enjoy yourself or for gifting this holiday season.  Super quick and so simple to make right at home. I made ours a bit festive so that we can gift them to my uncle this holiday season (he's a bit crazy for peppermint patties so I know he will enjoy them).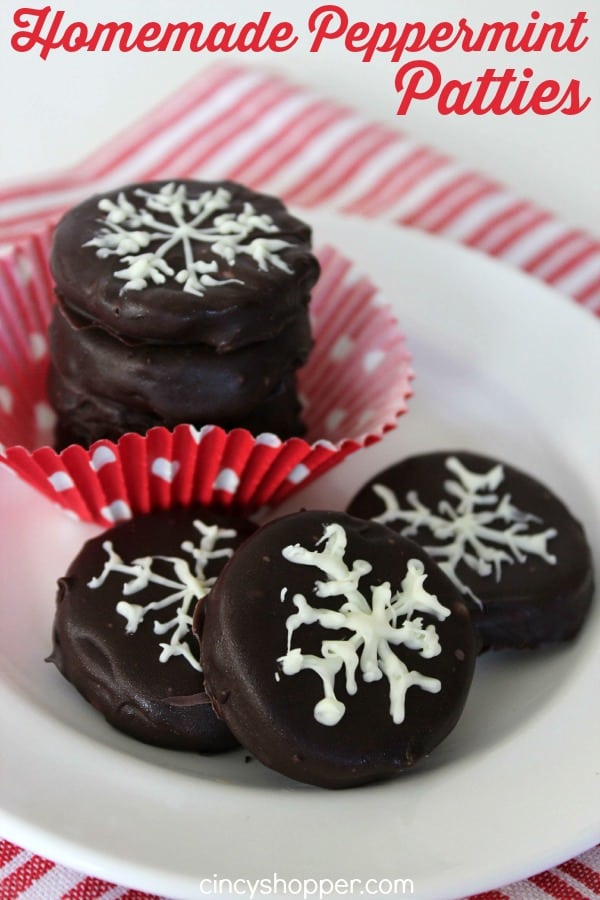 Homemade Peppermint Patties Recipe
I decided to make layers of red on the inside to make them more festive to. You can leave yours with just white if you choose. Adding the color just adds food coloring to your ingredients.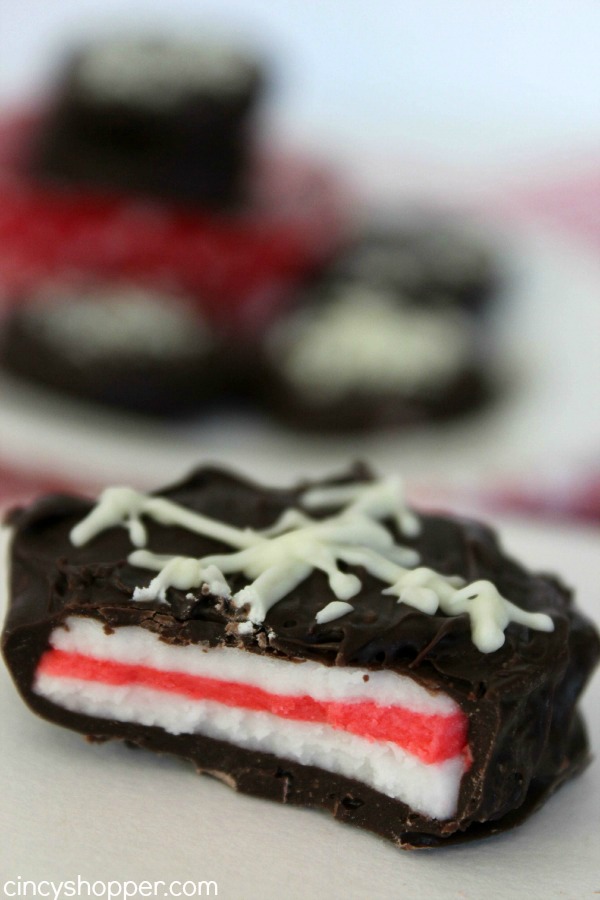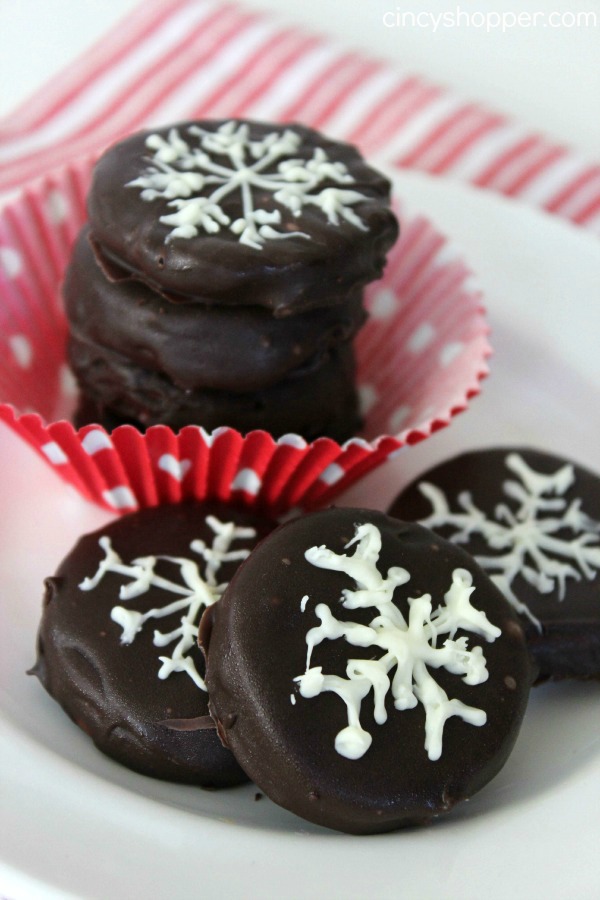 See how adorable they look for gifting? I purchased some simple cardboard foldable boxes. Voila a simple and nice homemade gift for the holidays.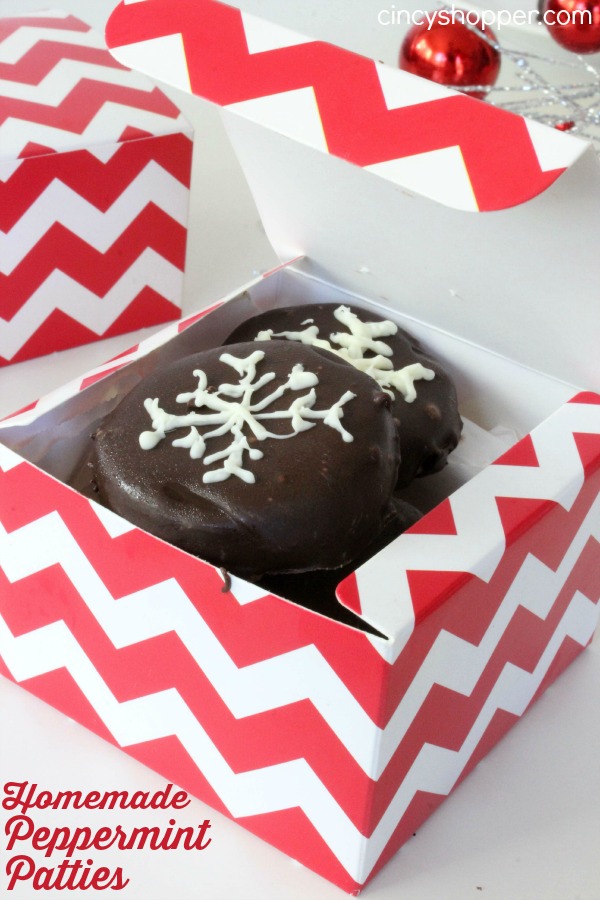 The ingredients for your own Homemade Peppermint patties are so simple and inexpensive. This recipe is so simple (that's why it is one of my new favorite recipes, ha ha)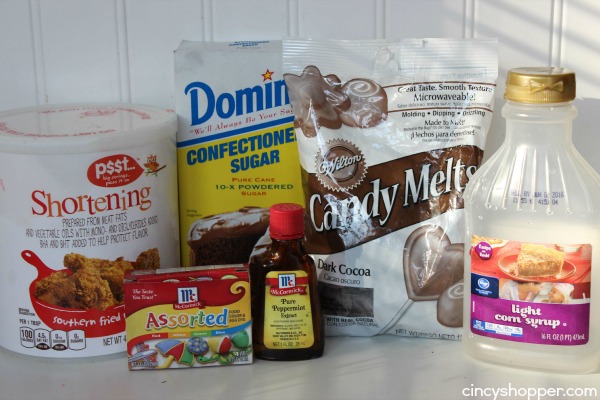 INGREDIENTS
2 1/2 cup Powdered Sugar
2 tbsp Corn Syrup
2 tbsp Water
1 tbsp Vegetable Shortening
1/2 tsp Peppermint Extract
Red Food Coloring
1 cup Dark Chocolate Melting Chips
1/4 cup White Chocolate Chips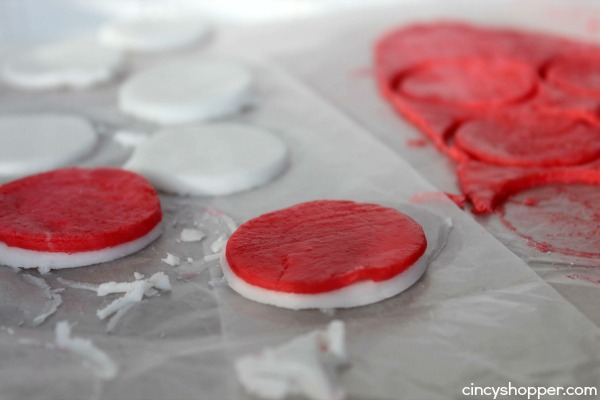 DIRECTIONS
Combine 2 cups powdered sugar, corn syrup, water, peppermint and shortening.
Mix at low speed just til mixture comes together.
Transfer 1/3 of mixture to a separate bowl and add red food coloring.
Mix until blended.
Dust work surface with powdered sugar and knead white mixture until smooth.
Roll out between sheets of parchment or wax paper until 1/8-1/4″ thick.
Knead red mixture on work surface until smooth.
Roll out between sheets of parchment or wax paper until 1/8″ thick.
Place both rolled peppermints in freezer for 15 minutes.
Cut out as many white circles as possible anp place on a parchment lined sheet.
Cut out as many red circles as possible anp place on top of white circles.
Place in freezer for at least 40 minutes.
Melt chips by microwaving for 45 seconds, stirring and repeating until melted and smooth.
Place each patty on fork and dip in chocolate. Gently tap against side of bowl to let excess drip off.
Place patty back on sheet.
Refrigerate 10 minutes to let chocolate set up.
Place white chocolate in the corner of a zippered sandwich bag and microwave for 45 seconds.
Knead chocolate to make sure it is melted. If not, microwave another 15 seconds.
Clip very tip of corner, and pipe snowflake on mints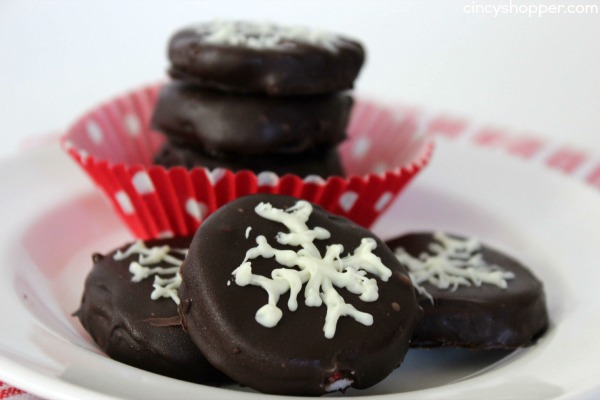 These Homemade Peppermint Patties would be great for the holiday dessert table for an after dinner mint too! I think we will add it to our spread.

Homemade Peppermint Patties Recipe
Ingredients
2 1/2

cup

Powdered Sugar

2

tbsp

Corn Syrup

2

tbsp

Water

1

tbsp

Vegetable Shortening

1/2

tsp

Peppermint Extract

Red Food Coloring

1

cup

Dark Chocolate Melting Chips

1/4

cup

White Chocolate Chips
Instructions
Combine 2 cups powdered sugar, corn syrup, water, peppermint and shortening.

Mix at low speed just til mixture comes together.

Transfer 1/3 of mixture to a separate bowl and add red food coloring.

Mix until blended.

Dust work surface with powdered sugar and knead white mixture until smooth.

Roll out between sheets of parchment or wax paper until 1/8-1/4" thick.

Knead red mixture on work surface until smooth.

Roll out between sheets of parchment or wax paper until 1/8" thick.

Place both rolled peppermints in freezer for 15 minutes.

Cut out as many white circles as possible anp place on a parchment lined sheet.

Cut out as many red circles as possible anp place on top of white circles.

Place in freezer for at least 40 minutes.

Melt chips by microwaving for 45 seconds, stirring and repeating until melted and smooth.

Place each patty on fork and dip in chocolate. Gently tap against side of bowl to let excess drip off.

Place patty back on sheet.

Refrigerate 10 minutes to let chocolate set up.

Place white chocolate in the corner of a zippered sandwich bag and microwave for 45 seconds.

Knead chocolate to make sure it is melted. If not, microwave another 15 seconds.

Clip very tip of corner, and pipe snowflake on mints