Hamburger Gravy is simple and uses easy-to-find ingredients. Also known as "SOS," this dish is rich, creamy, and incredibly easy to make!
There are few ground beef recipes that get easier than this simple Ground Beef Gravy. Serve over some of The Best Mashed Potatoes with a side of Garlic Roasted Green Beans!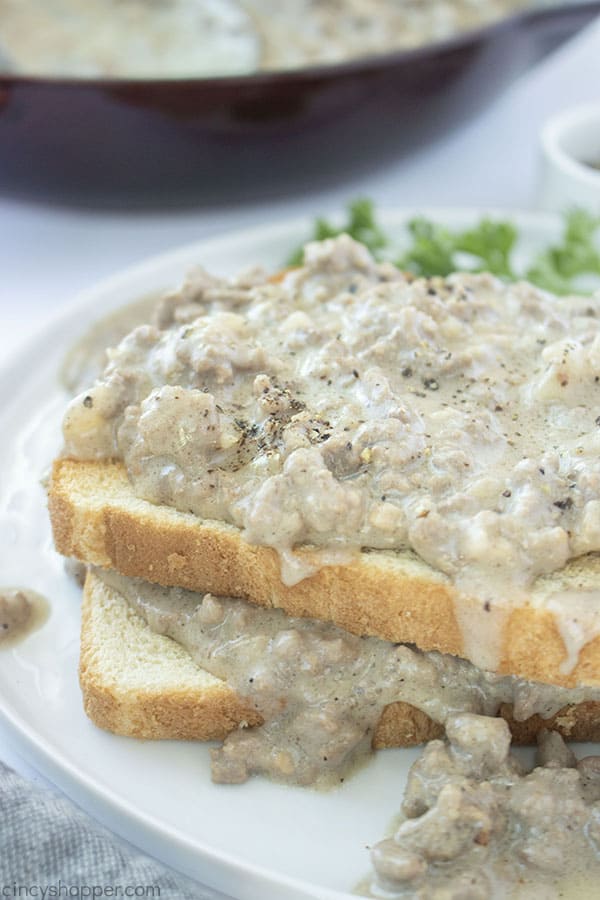 Hamburger Gravy
Today's recipe goes by a lot of names- Ground Beef Gravy, Hobo Gravy, "SOS," or Stuff-On-A-Shingle. To keep things simple, we're going to stick with calling it Hamburger Gravy. It's a fitting name: like hamburgers, this gravy has a short ingredients list, is easy to make, and it's hard to hate!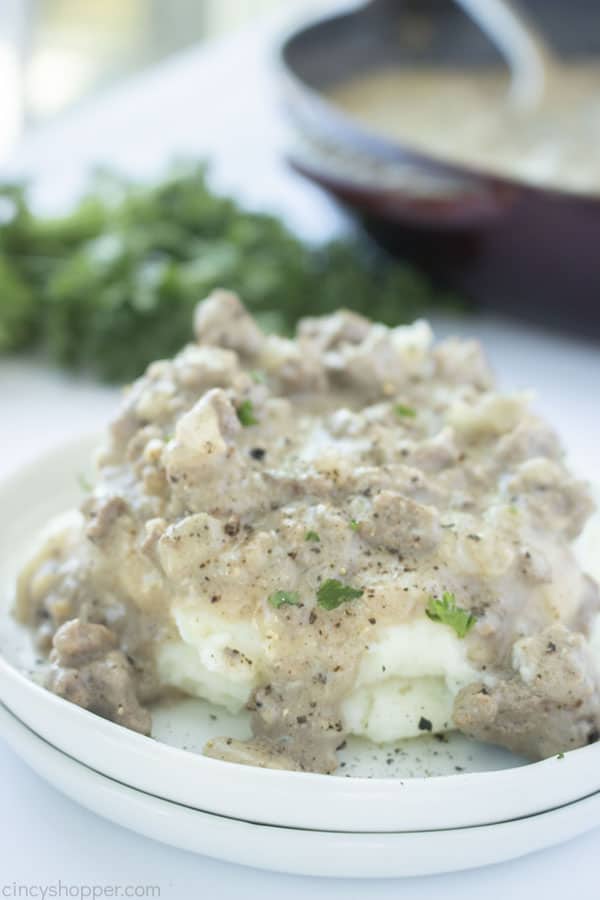 Ground beef served in gravy is a pretty old idea: back around World War II, many GIs and soldiers were probably eating dishes similar to this. It was a budget-friendly and economical way to keep folks fed so they could get to work- especially when served over toast or potatoes! Those boys ate plenty of this stuff and, in time, they started referring to it as "Stuff-on-a-Shingle-" the "stuff" often being subbed out for another S-word…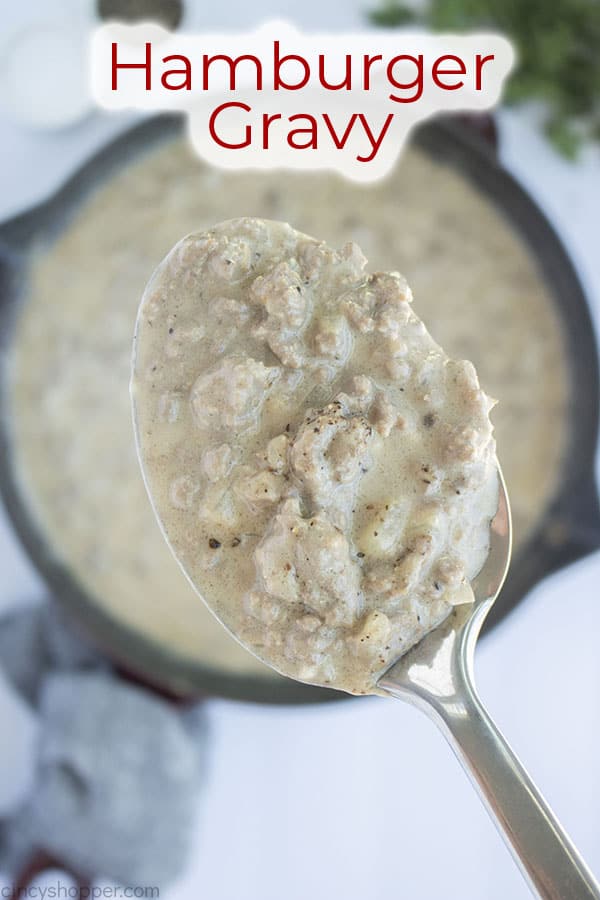 Really though, there's nothing wrong with this dish- it's ground beef in a nice, creamy gravy! I wouldn't want to eat it every day but it's pretty delicious. Couple that with the fact that it's super easy to make and you can see why you might want to hang on to this recipe. It's an easy, simple way to feed the family!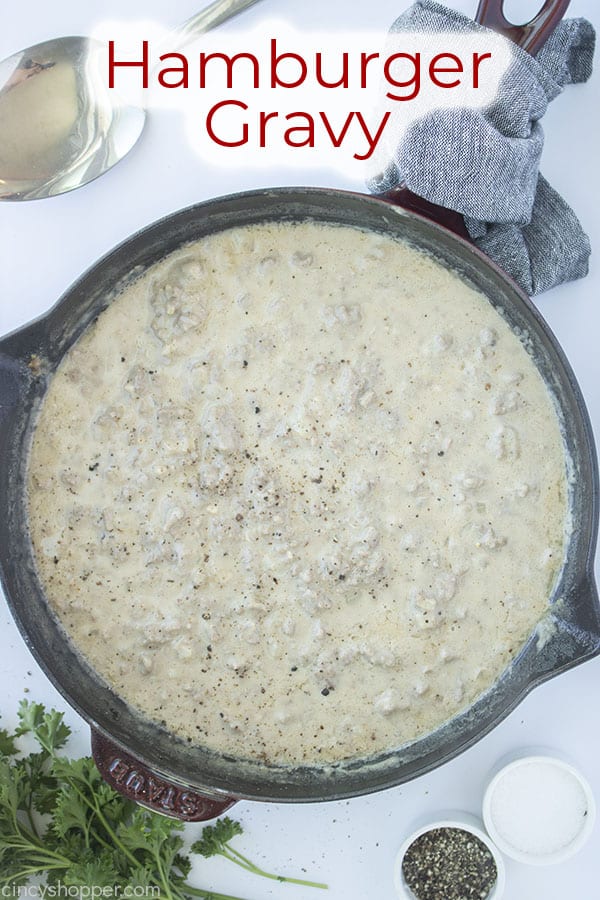 Ground beef recipes are usually pretty easy and this one is definitely one of the easiest. There's no shaping into patties or meatballs- just brown the beef, make some gravy, and you're done! Whether you're serving over biscuits or "on a shingle" for breakfast or with some potatoes and veggies for dinner, we know you'll love this recipe. Hope you enjoy it!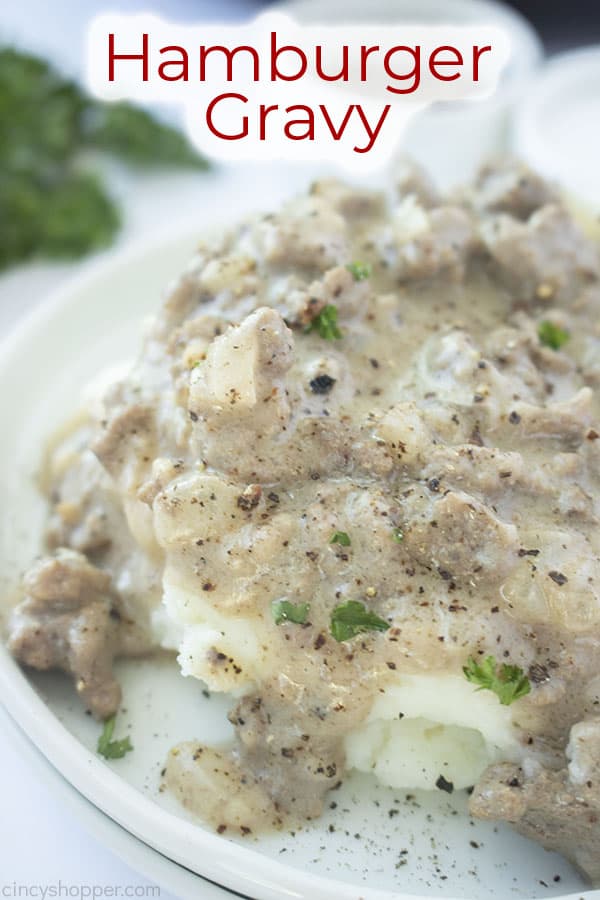 Loved this recipe? Try some more beef recipes next!
If you're wanting some more creamy and beefy flavors, consider some

Slow Cooker Beef Stroganoff

. Tender beef tips and a creamy onion and mushroom sauce come together for this classic beef dish! Tastes great served over some easy egg noodles for an easy family favorite meal.

Skip the store-bought and try some

Homemade Hamburger Helper Beef Noodle

!

Making Hamburger Helper from scratch is easier than you think- it's quick and uses common pantry and spice cabinet ingredients

. Not to mention homemade almost-always tastes better than whatever's in the box!

Of course,

Simple Salisbury Steak

with gravy is always popular! This is an easy, solid, standby dinner dish that's always a favorite on busy weeknights.

Tasty, well-cooked patties pair well with delicious brown gravy- bonus points if you make some gravy from scratch

!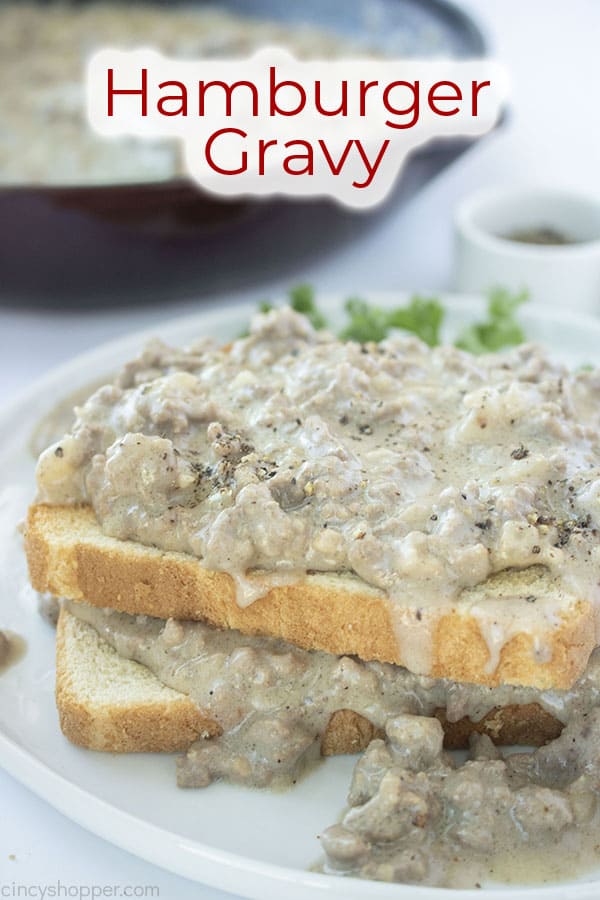 Ingredients for Ground Beef Gravy
Ground Beef

Onion

Minced Garlic

Butter

Flour

Worcestershire Sauce

Milk

Beef Broth

Salt & Pepper – To taste.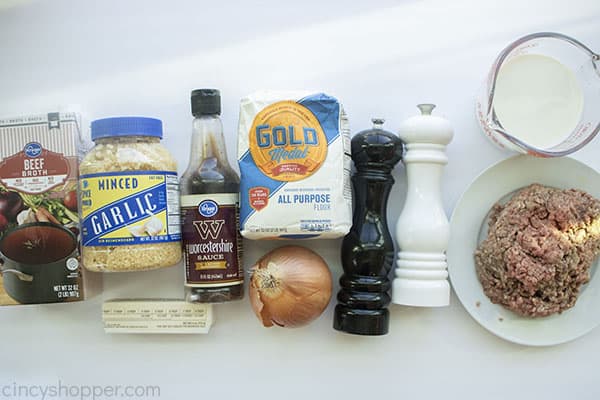 How to make Hamburger Gravy
Our Hamburger Gravy is pretty easy to make! If you want to make some yourself, here's all you'll need to do:
Brown your ground beef, minced garlic, and chopped onions.

Push the beef, onions, and garlic over

and

add some butter to the pan

before

mixing in some flour to make a roux.

Add your Worcestershire sauce

before

streaming in your milk and broth, mixing until a cohesive gravy forms.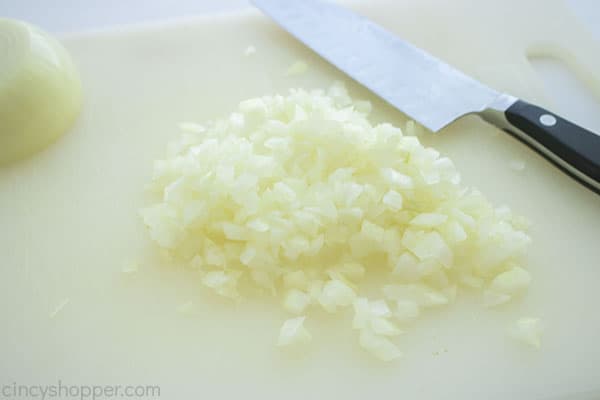 After getting your onion finely chopped, you can add it to a pan with some ground beef and garlic. Brown all of these over medium/medium-high heat until no pink remains.
After browning, there should be some fat in the pan- drain some of this if you have a high-fat content ground beef! We're going to use this fat- along with about 2 tablespoons of butter- to make a roux. Move the ground beef mix off to one side of the pan and drop in your butter.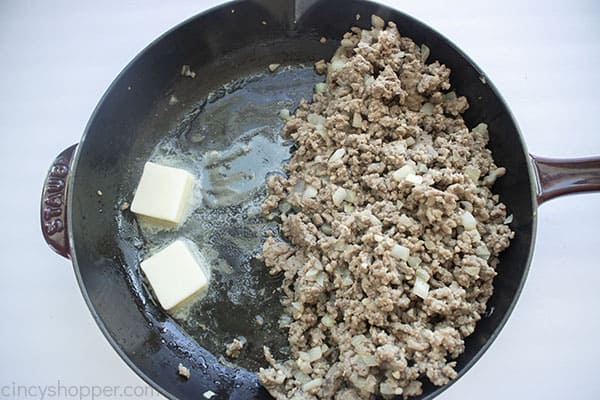 Once melted and mixed with the beef fats, add the flour to all the fats. Mix well until a roux forms.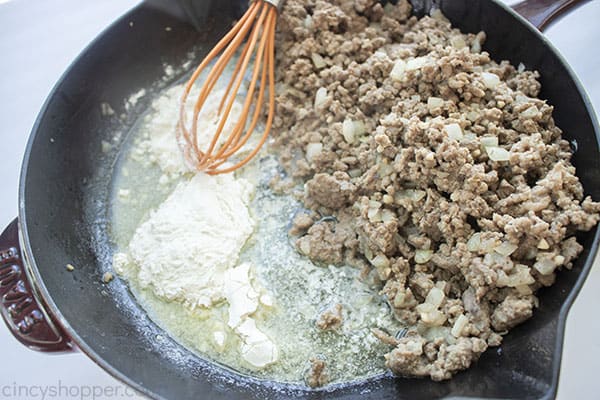 Let that roux cook for a couple of minutes until the raw flour smell is gone. Add your Worcestershire and mix it into the roux.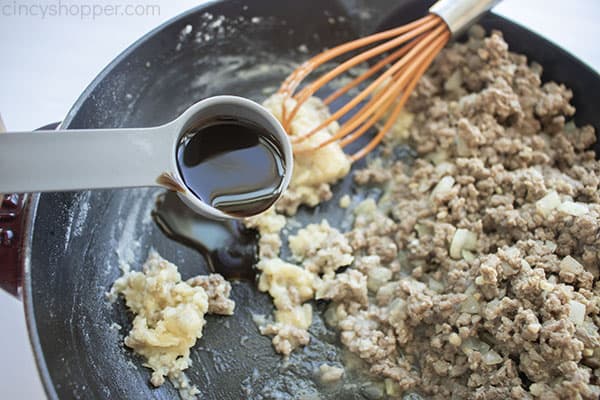 Now we're going to turn this roux into a rich, flavorful gravy! First, slowly stream in your milk while whisking constantly.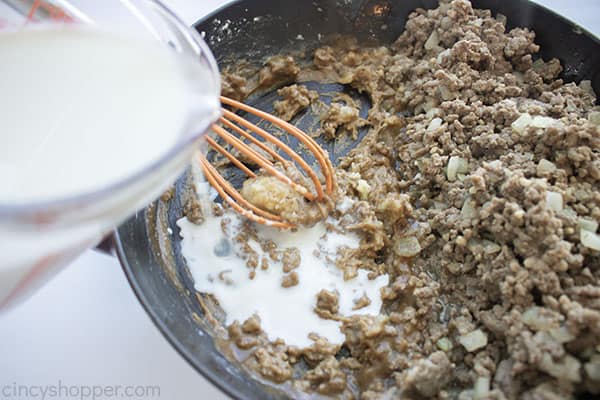 Once all the milk is added and you have a fairly creamy gravy in the pan, we're going to add in some beef broth to amp up the beefy flavors.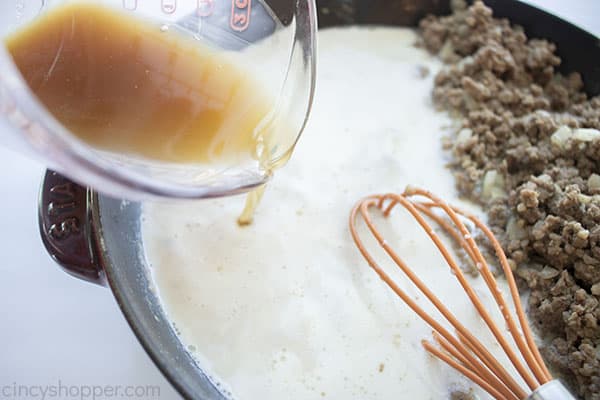 With the gravy all mixed up, stir it together with the beef to make our Hamburger Gravy. Add salt and pepper to taste, serve, and enjoy!
What to serve with Hamburger Gravy?
This Hamburger Gravy goes great over any sort of starch or grain. Like any gravy, it'll taste great over mashed potatoes or serve it up "on a shingle" of bread or toast for something more like "SOS." Goes great over rice and noodles as well! Considering serving with a side of vegetables.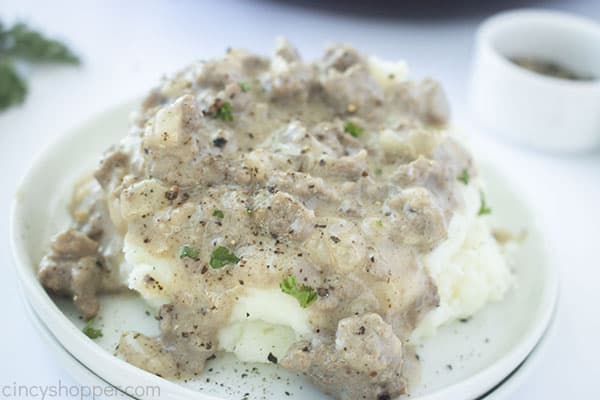 How long is Hamburger Gravy good for?
If you have any leftovers, I'd recommend keeping them in the fridge. Seeing as our gravy is very dairy-heavy, it won't freeze very well. Instead, keep it in an airtight container in the fridge. Kept this way, it will taste best if consumed within about 3-4 days.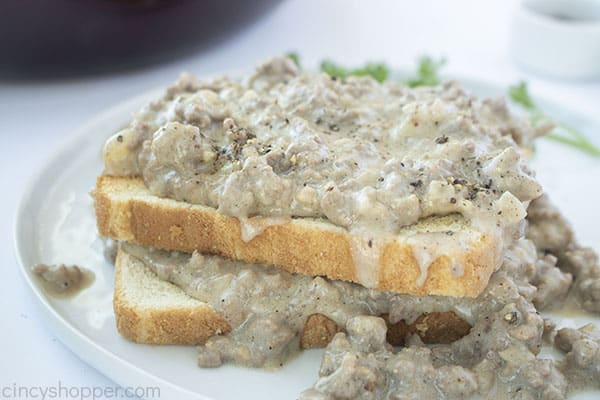 Hamburger Gravy
Hamburger Gravy is simple and uses easy-to-find ingredients. Also known as "SOS," this dish is rich, creamy, and incredibly easy to make!
Ingredients
1

Lb

Ground Beef

1

tbsp

Minced Garlic

1/2

Onion

finely diced

2

tbsp

Butter

3

tbsp

Flour

2

tbsp

Worcestershire Sauce

1 1/2

cup

Milk

1/2

cup

Broth

Salt and Pepper

to taste
Instructions
Brown ground beef, onion, and garlic over medium-high heat.

Drain most of the grease and move browned ground beef to one side of the skillet.

Melt butter on the other side of the skillet and add flour.

Stir/whisk constantly until roux forms and has cooked for several minutes.

Add Worcestershire, and slowly add milk while stirring constantly to make a smooth gravy.

Add the broth while continuing to stir.

Salt and pepper to taste.

Serve over toast or mashed potatoes.
Notes
Consider serving over mashed potatoes, toast, rice, or noodles
Nutrition
Calories:
434
kcal
|
Carbohydrates:
13
g
|
Protein:
23
g
|
Fat:
31
g
|
Saturated Fat:
14
g
|
Trans Fat:
2
g
|
Cholesterol:
105
mg
|
Sodium:
367
mg
|
Potassium:
538
mg
|
Fiber:
1
g
|
Sugar:
6
g
|
Vitamin A:
393
IU
|
Vitamin C:
3
mg
|
Calcium:
145
mg
|
Iron:
3
mg