Frozen Cranberry Margarita cocktails are perfect for serving a crowd or party. These drinks will make for a fun and festive holiday beverage!
Keep the drinks simple for your next Christmas or Thanksgiving party by making Frozen Cranberry Margaritas. Using a blender keeps these cocktails easy to make while staying just as delicious!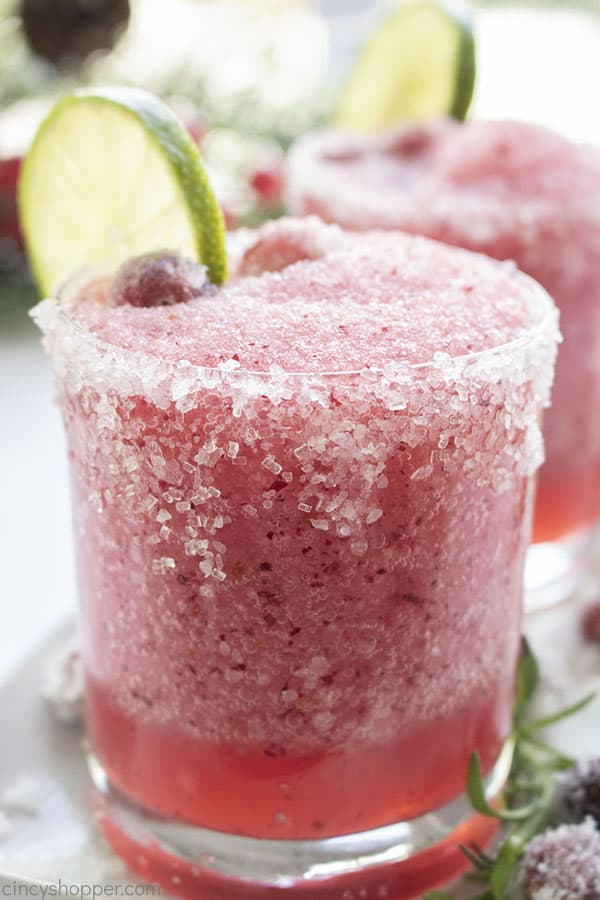 Frozen Cranberry Margarita
When it comes to parties, I enjoy having a pitcher of margaritas on standby for all the adult guests. It's a real easy way to have cocktails ready for anyone who wants them and making them by the batch cuts down on prep time. Most importantly, frozen margaritas can be tweaked in all sorts of ways to use all sorts of new flavors. Which brings us to today's recipe: by combining some tequila and cranberry, we can make Frozen Cranberry Margaritas.
Frozen Christmas drinks might sound like a weird idea, but it makes sense if you think about it. With all the heating and fireplaces, sometimes you just want a cool drink. This Cranberry Margarita Recipe fits the bill perfectly! The drink is well-balanced, all the ingredients play off each other perfectly, and it's certain to cool you off. Great holiday flavors in a delicious and easy-to-make drink- we're certain you'll love it!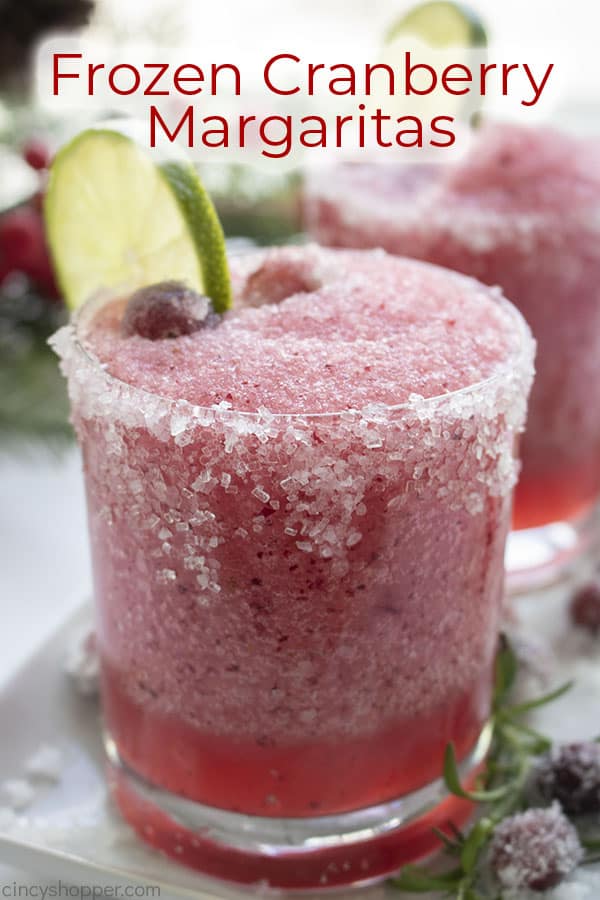 Loved our Cranberry Margaritas? Give these other holiday drink recipes a look!
Our Frozen Margaritas aren't the only way to keep cool! A nice batch of

Holiday Punch

is a sweet, tasty way to serve any guests you have over for Christmas or New Years!

If you're looking for something a little warmer, you can grab your slow cooker and make some

Homemade Apple Cider

. This fall and winter drink can

be served

warm or chilled and is a must-have for the colder months.

Perfectly

spiced and

absolutely

delicious!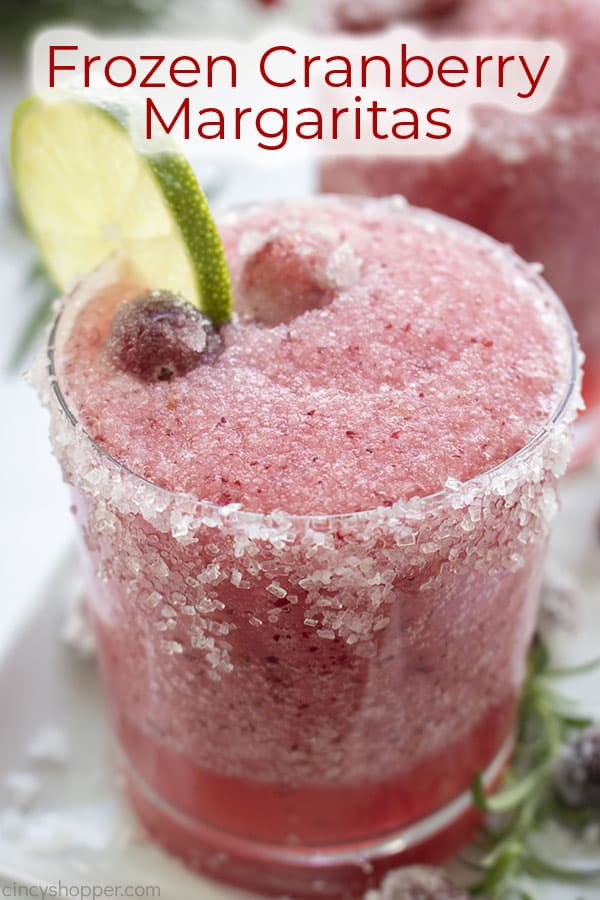 Cranberry Margarita Ingredients
Tequila – Since we're working with plenty of mixers here, you don't need real fancy tequila for this recipe. Jose Cuervo will work

just

fine!

Whole Cranberries – These can be fresh or frozen.

Sugar – If you're using pure cranberry juice, you'll

probably

want to add a bit more sugar unless you want your drink a bit more tart

.
For garnishes, we'd recommend keeping things simple with something like a lime wedge or wheel
. We also enjoyed adding a couple of Sugared Cranberries on top of each drink! If you plan on rimming the glass, use a 50/50 mix of margarita salt and some coarse sugar.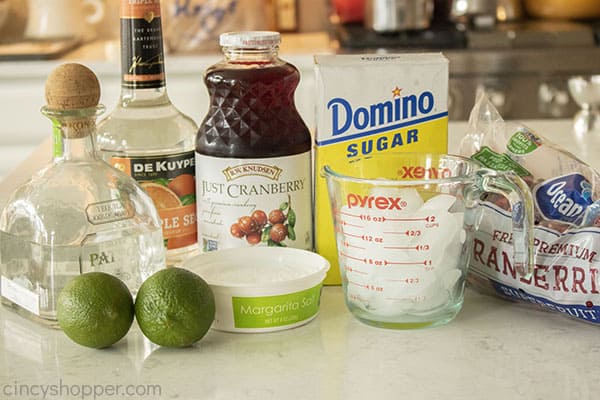 How to make our Frozen Margarita Recipe
Rather than going through the trouble of stirring or shaking this drink, we decided to make our margaritas frozen and blended. This makes the drink-making process way easier! To start, measure out all your ingredients into your blender.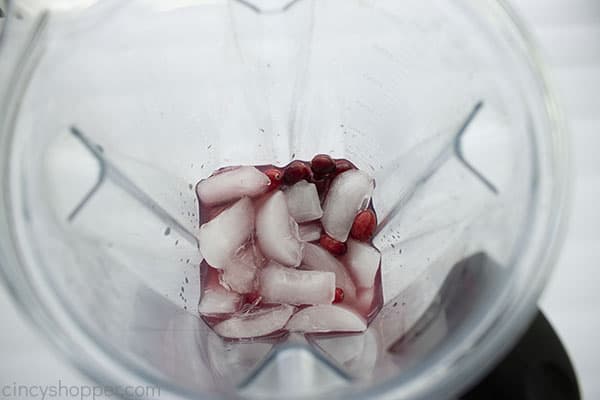 Once you've added your ingredients, pitch in several cups of ice. We initially tried 2 cups here but felt we didn't have enough margarita made up and that it was still a bit thin. We bumped it up to 4 cups of ice total and that seemed to do the trick for us!
The best part about making margaritas by the pitcher is that you can taste-test throughout the blending. You can see if your drink is too sweet or not sweet enough and add ingredients as needed. We could've added a bit more sugar here- our margarita mix tasted a little tart- but we went with it and still enjoyed it!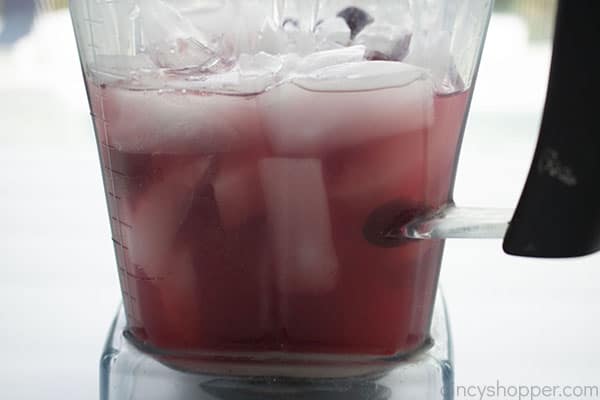 Before pouring off your margaritas into glasses, you'll want to first prep your glasses and garnishes. Wet the rims of your glasses with some lime juice- this will help our sugar-salt mix stick better.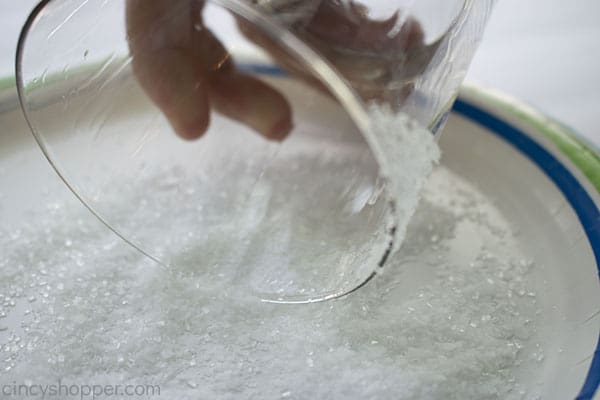 Mix together a quick mix of margarita or coarse salt and some coarse sugar. Run the edge of your glasses through this mix to give them a coated rim.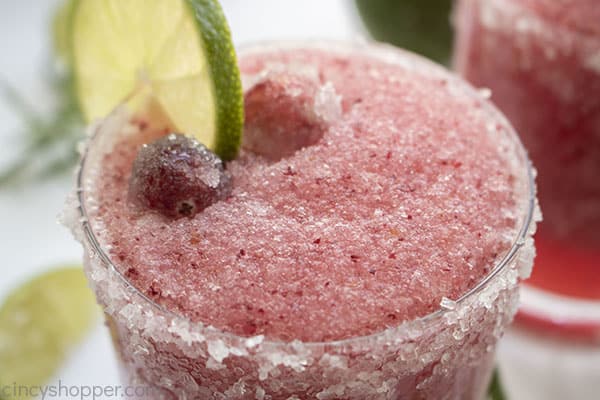 With your glasses prepped, pour your frozen margaritas in and add your garnishes. Again, we kept things simple with some lime wheels and a few sugared cranberries- feel free to experiment. Once ready, serve up your drinks and enjoy responsibly!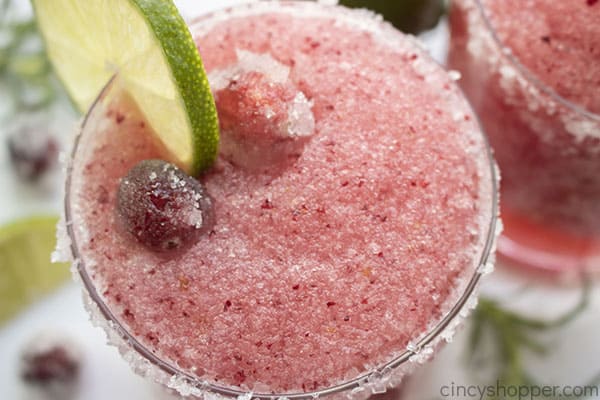 Frozen Cranberry Margarita
Frozen Cranberry Margarita cocktails are perfect for serving a crowd or party. These drinks will make for a fun and festive holiday beverage!
Ingredients
4

oz

Tequila

1

oz

Triple Sec

2

oz

Lime Juice

1/4

cup

Sugar

1/2

cup

Whole Cranberries

1/2

cup

Cranberry Juice

4

cup

Ice

1

tbsp

Coarse Salt

1

tbsp

Coarse Sugar
Instructions
In a blender, combine ice, cranberries, cranberry juice, tequila, triple sec, lime juice and sugar.

Pulse until blended and slushy.

In a shallow plate, mix together coarse salt and coarse sugar.

Wet the rim of your glasses with some lime juice and roll rim in salt/sugar mixture to coat.

Fill glasses and garnish with a lime slice and or sugar coated cranberry.
Notes
Add sugar if using pure cranberry juice
Nutrition
Calories:
413
kcal
|
Carbohydrates:
67
g
|
Protein:
1
g
|
Fat:
1
g
|
Saturated Fat:
1
g
|
Sodium:
3536
mg
|
Potassium:
100
mg
|
Fiber:
1
g
|
Sugar:
64
g
|
Vitamin A:
58
IU
|
Vitamin C:
16
mg
|
Calcium:
19
mg
|
Iron:
1
mg