The Starbucks Pink Drink is a creamy, cold and refreshing drink that you can make at home. Our copycat recipe tastes just like the original! Best of all, you can easily find all the ingredients at your local grocery store and making the Pink Drink from scratch is a breeze.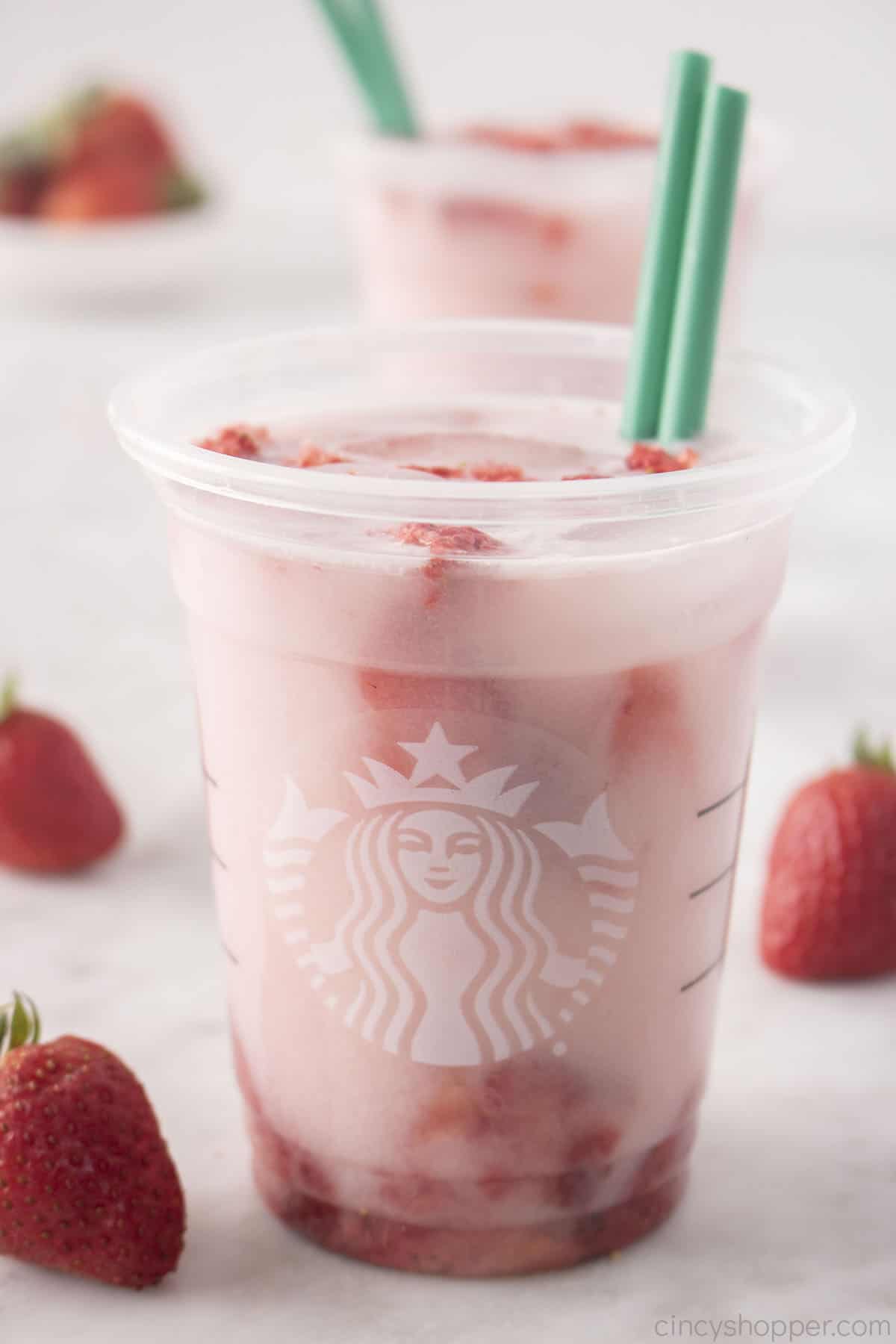 While you can enjoy this Starbucks Pink Drink year-round, all these ingredients and it being served cold just screams "spring drink" or "summer drink" to me, just like my Homemade Starbucks Passion Tea Lemonade Recipe! We cover a lot of stuff in this post: what's in a pink drink, how to make a pink drink, some handy substitutions and variations, and even a little bit about the original ingredients. We all definitely loved making and enjoying our Homemade Pink Drink and we're certain you'll love it too. Skip the drive to Starbucks and save a few bucks by making this Pink Drink at home!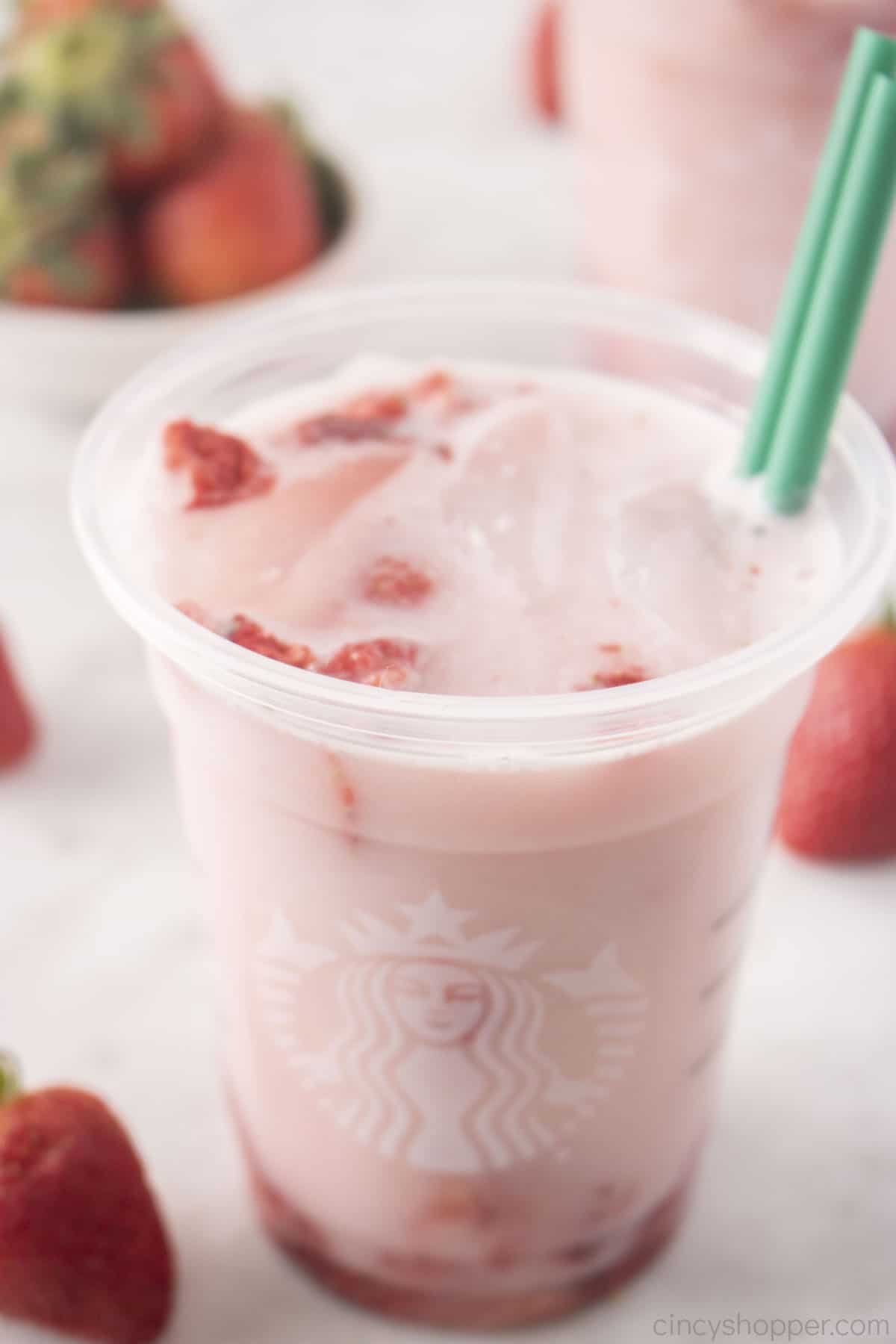 Jump to:
Why you'll love our Pink Drink recipe
It tastes really close to the original drink while using ingredients that are easy to find and taste delicious.
Making the actual drink is very simple: muddling strawberries is probably the hardest part!
This copycat recipe will save you plenty of cash between the Starbucks markup and driving out to get your pink drink from an actual Starbucks.
Starbucks Pink Drink Ingredients
A few notes to make about our Starbucks Pink Drink ingredients. For starters, you'll find a lot of ex-Starbucks employees online talk about the actual ingredients for pink drink. It's 3 ingredients: a strawberry-acai base or concentrate, barista coconut milk, and freeze-dried strawberries. The main problem is that strawberry-acai base- if you can find something close to it, you're closer to an exact copy of the drink. It is almost impossible to find, but the good news is that you can still get pretty close without it! To make a pink drink at home, here's what you'll need: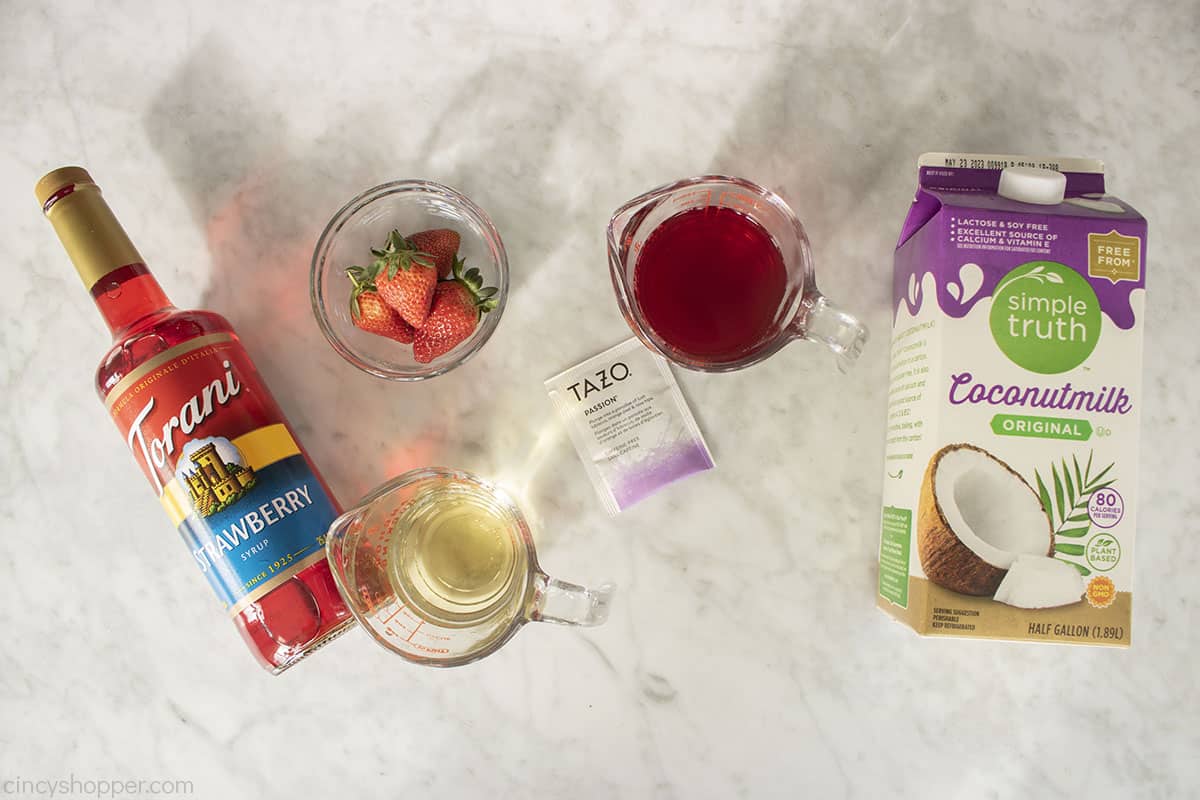 Tazo Passion Tea – You can usually find this fruity tropical tea blend at your local grocery store or Walmart. We'll only need a few tablespoons for one pink drink.
Strawberries – Fresh strawberries are a definite upgrade and also less expensive from the freeze-dried strawberries Starbucks uses! Make sure you hull and slice beforehand.
White Grape Juice – Weirdly enough, this is the main ingredient in that strawberry-acai base we mentioned earlier!
Coconut Milk – The other main ingredient that's going to help your Pink Drink taste authentic. If you can find the Barista brand, you'll get a little closer but any brand should work.
Those are the ingredients you're going to need. You can optionally add in something like Monin or Torani strawberry syrup to add a bit more strawberry flavor if you'd like!
How to make Starbucks Pink Drink
Making the pink drink is pretty easy once you've got all the ingredients around. Outside of a couple extra steps, it really is just mixing the liquid ingredients together and serving it up! If you want to know how to make a pink drink, here's what you do: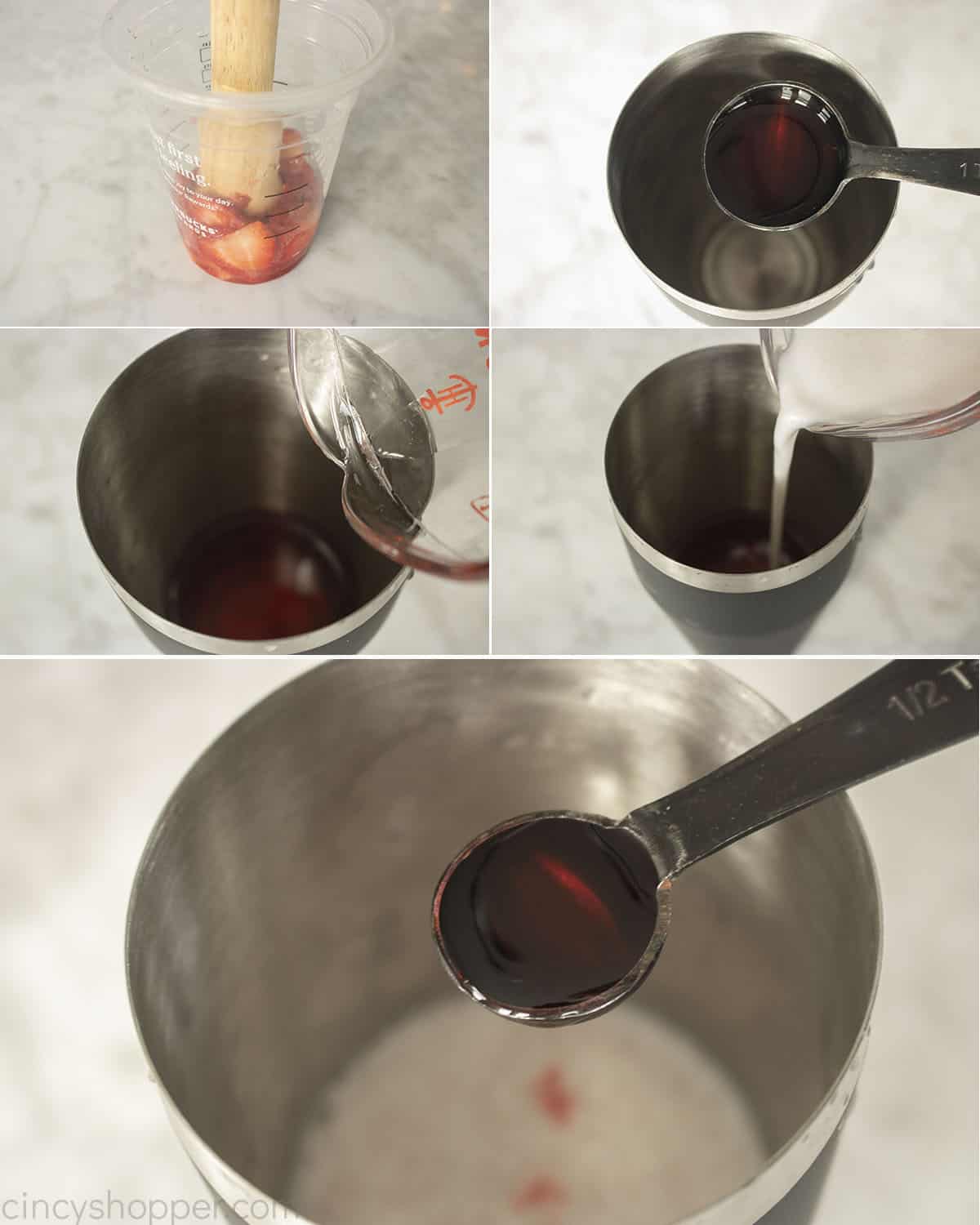 Brew passion tea and let cool. Muddle strawberries in serving cup and set aside.
Combine tea, grape juice, coconut milk, and optional strawberry syrup in drink shaker or sealable container.
Close shaker or container and shake well to combine drink ingredients. Add ice to serving cup with strawberries and pour drink over ice.
Substitutions
Quite a few ingredients for our Starbucks Pink Drink recipe are pretty non-negotiable without totally changing the taste. One area you can make a few substitutions is the milk:
Coconut – If you don't have coconut milk and still want to try and get that flavor in the Pink Drink, you have a few tricks you can use. Blend together 1 part shredded coconut with 2 parts water to make a quick coconut milk. You can also mix 2 tbsp of coconut cream- not cream of coconut– with a cup of water to make another quick coconut milk.
Non-Dairy – There are many coconut milk substitutes that are still nondairy. Your best bets are going to be oat milk, soy milk, and plenty of nut milks like macadamia nut milk or something as simple as almond milk.
Dairy – If you choose to go with the dairy route, whole milk will probably work out perfectly fine with this recipe. Coconut milk can be a bit thicker and creamier than dairy milk depending on the brand, so consider adding in some heavy cream to preference.
Variations
While the classic Pink Drink is tasty as it is, there are a couple little tweaks you can make to it to make it even better:
Berries – We muddled strawberries for our Pink Drink but you could also try adding in blackberries or blueberries instead- some other popular options. You can even try branching out and trying this type of recipe with all other sorts of berries.
Fruit Juice – While that white grape juice is one of the main ingredients that makes our Copycat Pink Drink taste like Starbucks's, you can add in splashes of other juices as well. One popular addition I've seen online is a little bit of peach juice- give it a shot!
Storage / Freezing
We'd recommend just making pink drink from these ingredients whenever the mood hits. However, you could probably mix up the liquid ingredients in bulk and simply pour that over some crushed strawberries and ice. This Pink Drink mix will keep in the fridge for 7-10 days, but will taste best within 2-3 days. This is mostly due to that tea- it can lose it's flavor and taste pretty quickly, which will affect the mix.
Top tip
When making this Homemade Starbucks Pink Drink, use a shaker to mix ingredients. This insures a smooth and creamy drink.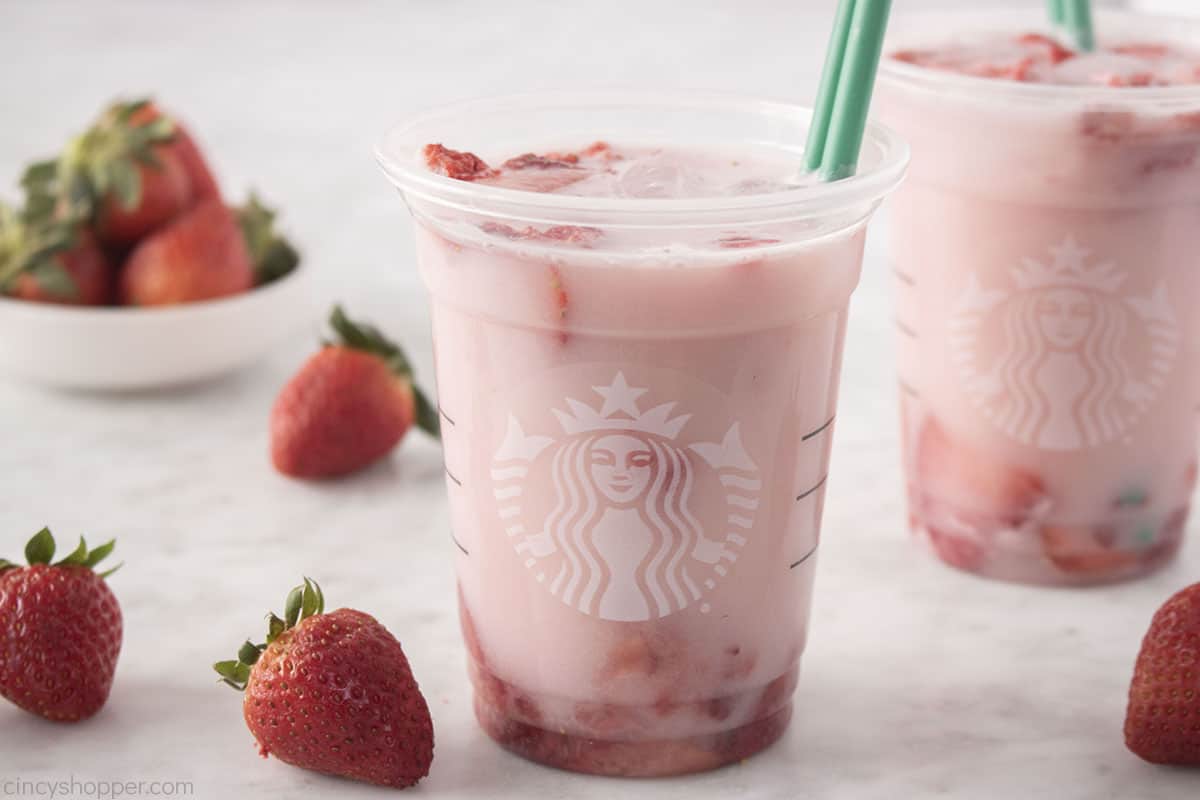 FAQ
What is Starbucks Pink Drink?
Starbucks Pink Drink is a popular drink made with Strawberry Acai Refresher, coconut milk, and a scoop of strawberries. It has a light pink color and a sweet, fruity taste.
What does a Starbucks Pink Drink taste like?
It tastes like a lightly sweet strawberry taste with hints of passion fruit and acai.
Is Starbucks Pink Drink healthy?
Starbucks Pink Drink is a relatively low-calorie drink that is made with real fruit juice and coconut milk, making it a healthier alternative to other sugary drinks. However, it still contains sugar and caffeine, so it should be consumed in moderation.
Other Homemade Starbucks Drinks
Looking for other Starbuck Drink ideas? Try these:
Other Strawberry Recipes
Needing other Strawberry dessert ideas? Try these: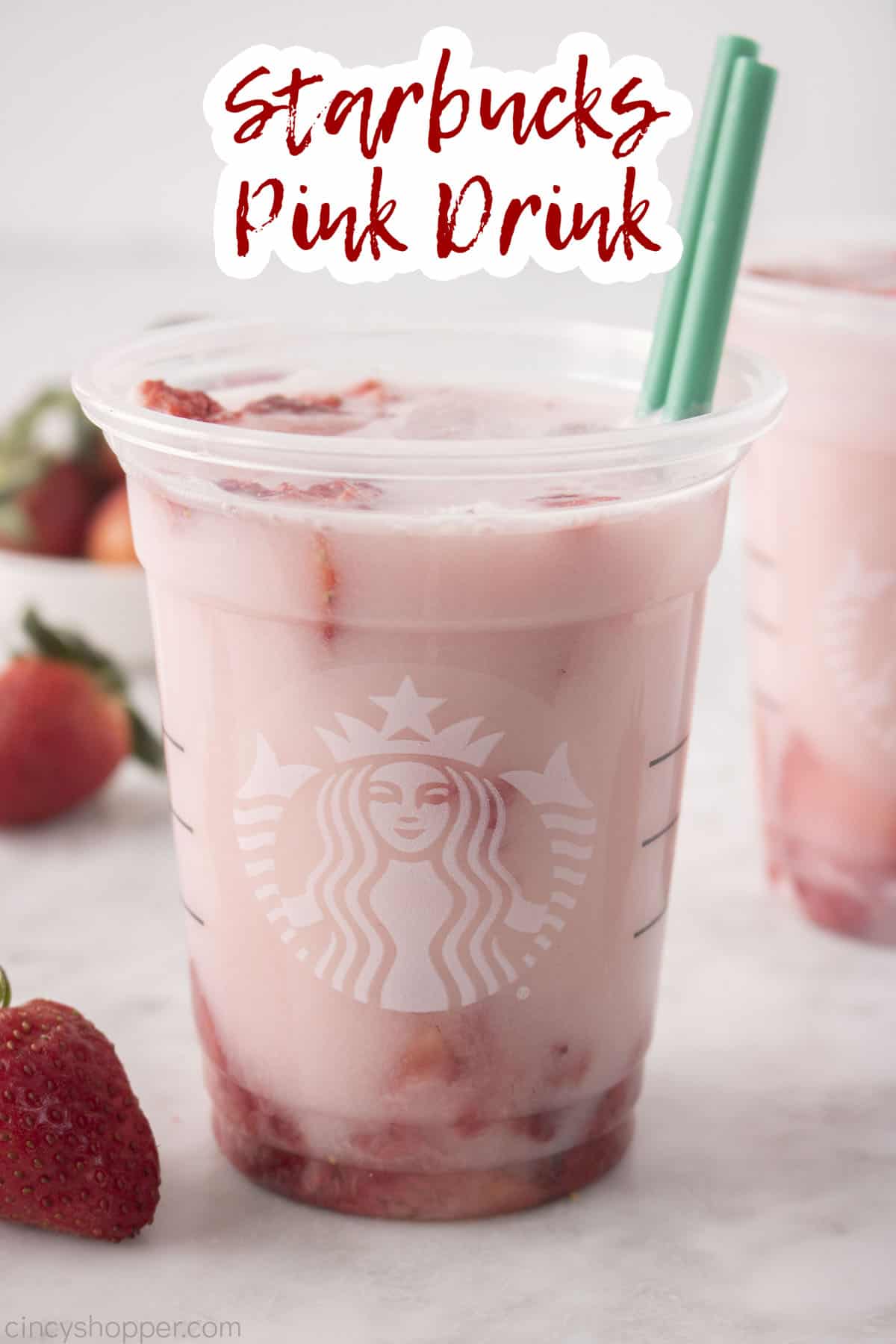 Starbucks Pink Drink
The Starbucks Pink Drink is a creamy, cold and refreshing drink that you can make at home. Our copycat recipe tastes just like the original! Best of all, you can easily find all the ingredients at your local grocery store and making the Pink Drink from scratch is a breeze.
Ingredients
4

Strawberries

hulled and sliced

3

tbsp

Tazo Passion Tea

1/2

cup

White Grape Juice

1/2

cup

Coconut Milk

1/2

tsp

Strawberry Syrup

optional

Ice Cubes
Instructions
Brew passion tea according to package instructions. Set aside and allow to cool.

Muddle (gently crush) the strawberries in the serving cup.

In a drink shaker or sealable container, add 3 tablespoons of the passion tea.

Add the grape juice and the coconut milk.

Add the strawberry syrup.

Close container and shake to mix well.

Add ice to serving cup and pour contents of container over ice.
Nutrition
Calories:
238
kcal
|
Carbohydrates:
10
g
|
Protein:
3
g
|
Fat:
24
g
|
Saturated Fat:
21
g
|
Polyunsaturated Fat:
0.3
g
|
Monounsaturated Fat:
1
g
|
Sodium:
15
mg
|
Potassium:
322
mg
|
Fiber:
1
g
|
Sugar:
5
g
|
Vitamin A:
6
IU
|
Vitamin C:
29
mg
|
Calcium:
28
mg
|
Iron:
4
mg