Cucumber tomato salad has vine ripened tomatoes, cucumbers, onions with red wine vinaigrette. Make this recipe for a healthy summer side dish!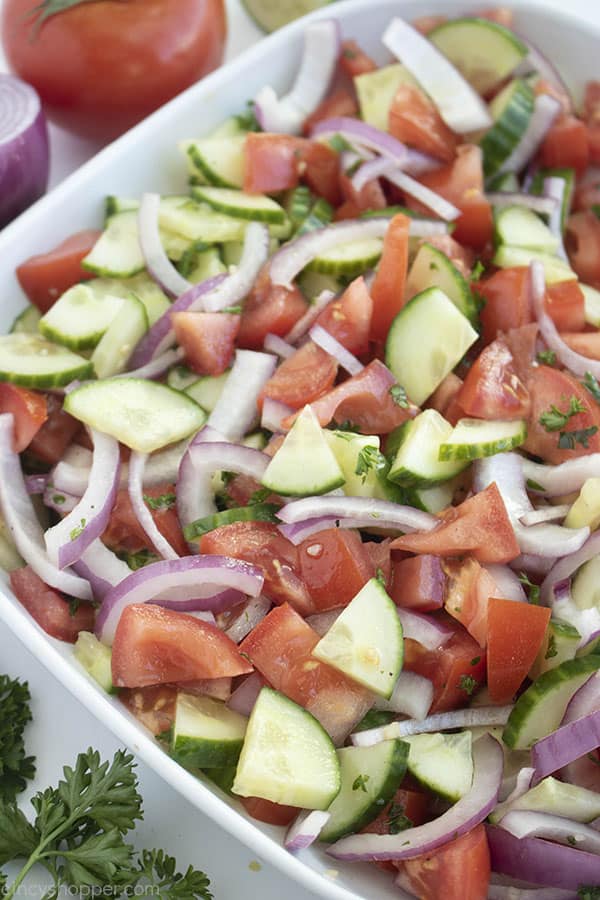 This easy side salad is delicious at any time of year, but it's the best when it's made with fresh garden vegetables. It's a refreshing salad on a hot summer day.
Plus, it doesn't have any mayonnaise in it, making it safe to leave out in the sun for a while – perfect for a picnic or cookout with friends or family!
The ingredients are easy to prep ahead, and so is the dressing.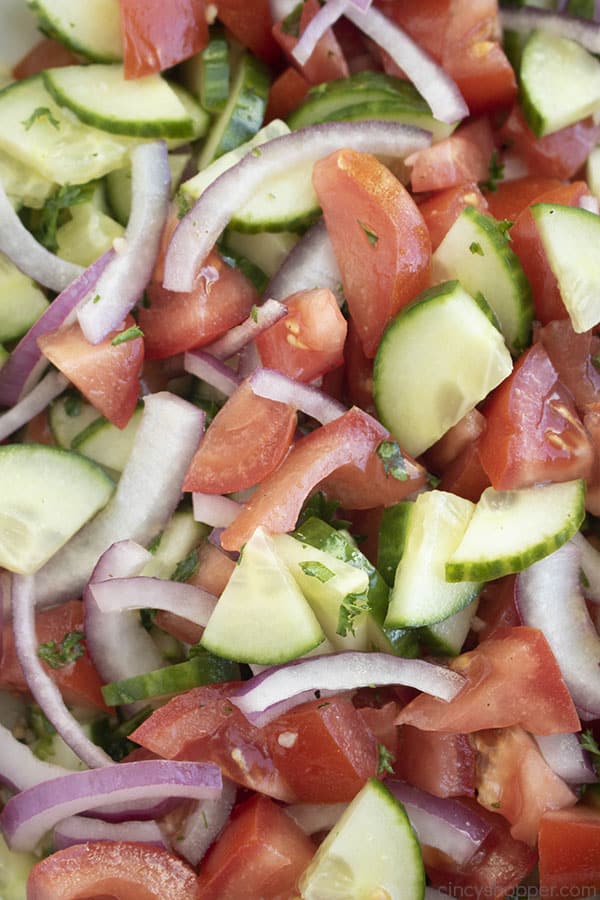 How to make cucumber tomato salad
Cucumber tomato onion salad is a great side dish for weeknight dinners, family barbecues, or neighborhood potlucks.
You only need a few simple ingredients, and they are all easy to substitute.


What type of cucumbers to use
There are basically three groups of cucumbers but many different varieties within each group. The groups are: slicing, pickling, and seedless cucumbers.
Slicing cucumbers are the ones most often seen in the main produce section of the grocery store. They have a tough, waxy skin and are firmer than other varieties, which makes them easy to slice.
The bitter flavor of the waxy skin is unpleasant to some people, and it is also a little more difficult to digest. To reduce the bitter flavor of slicing cucumbers, remove some or all of the skin.
Pickling cucumbers are shorter and thicker, primarily to be used for making pickles. However, they are also perfectly delicious without being pickled.
Seedless cucumbers, also known as English, burp-less, or hothouse cukes, these cucumber varieties most always have smaller seeds, or none at all. Plus, the skin is much thinner and a little bit sweeter than slicing cucumbers. As a result, they are easier to digest.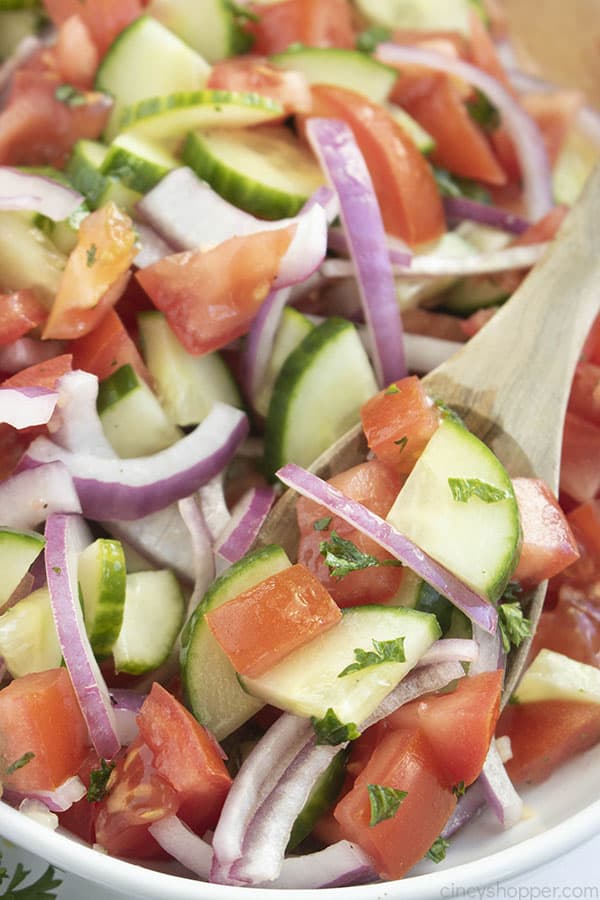 For the salad
Cucumbers – I like to use seedless English cucumbers, but any variety will work
Red onion – Red onion is sweeter than white or yellow onions, but feel free to use them if you don't have any red onion on hand.
Tomatoes – I like to use tomatoes grown on a vine, but use your favorite. For a meaty tomato, choose varieties that feel heavy for their size.
Fresh parsley – Flat leaf parsley is easier to chop, but curly parsley is a good substitute.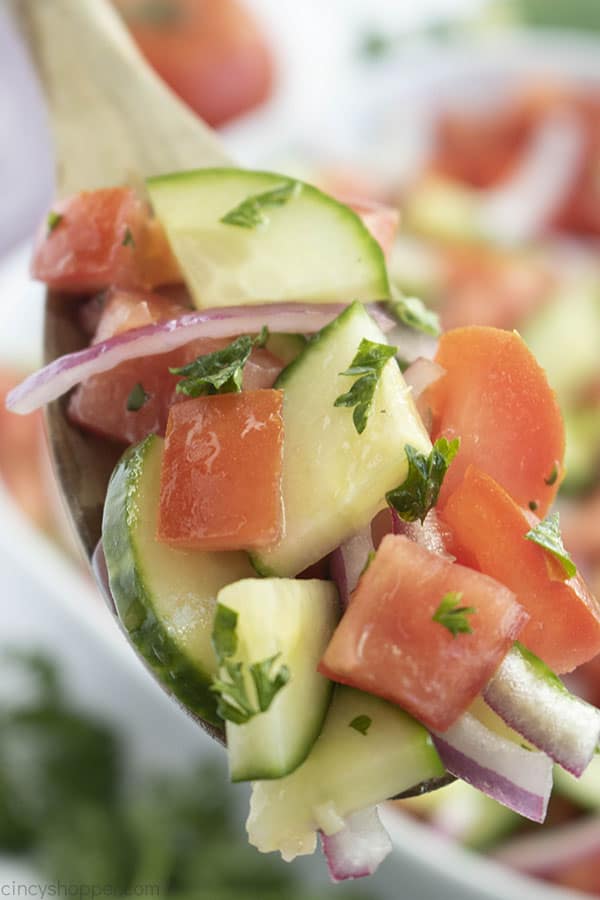 For the red wine vinaigrette
Red wine vinegar – white vinegar or apple cider vinegar would be delicious, too
Olive oil – If you don't have any on hand, any neutral flavor of oil like avocado, grape seed, or vegetable oil will work.
Minced garlic – You can use the kind that comes in a jar packed in oil, or mince fresh garlic cloves.
Sugar – regular granulated sugar adds a bit of sweetness to the salad. You can use a sugar substitute if you prefer. Honey or agave are also good substitutes for sugar, but start with half the amount listed for the sugar and adjust to taste.
Salt
STEP BY STEP INSTRUCTIONS
Prep the salad ingredients
Cut the cucumbers in half lengthwise, then place each half, cut side down, onto a cutting board. Use a sharp knife to cut the cucumbers into half-round slices.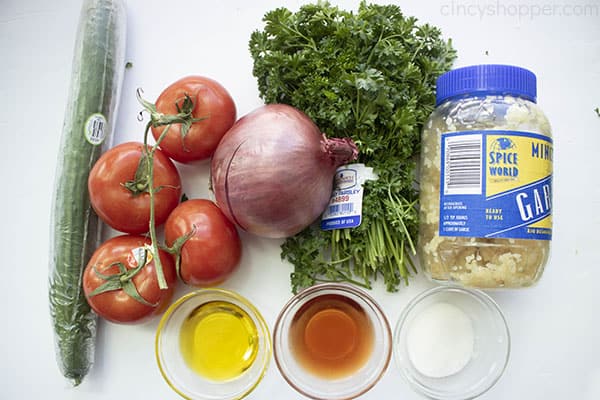 Peel the red onion and cut it in half through the root. Cut it into very thin slices, then cut the slices again, creating 1-inch strips.
Chop the tomatoes into bite-sized pieces and remove the seeds if you want to. For cherry or grape tomatoes, just slice them in half.
Add the cucumber, tomatoes and red onion to a bowl. Cover the bowl with plastic wrap or a lid and refrigerate until you are ready to serve.
Mix the red wine vinaigrette
Place the dressing ingredients into a mason jar. Place the cover on the jar and secure it tightly. Shake until the sugar is completely dissolved.
Alternatively, you can whisk the red wine vinaigrette dressing ingredients together in a non-reactive bowl.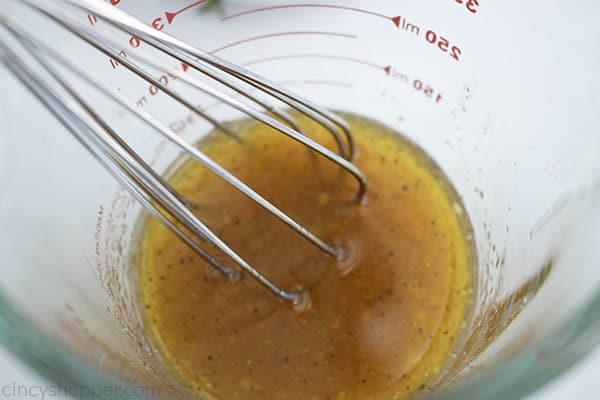 Add dressing and toss to coat
Pour the red wine vinaigrette over the cucumbers, tomatoes and red onion, stirring to coat all the pieces.
TIP: You can serve the salad immediately. But for extra flavor, place the dressed vegetables in the refrigerator for at least 2 hours so the vegetables can soak up the vinaigrette.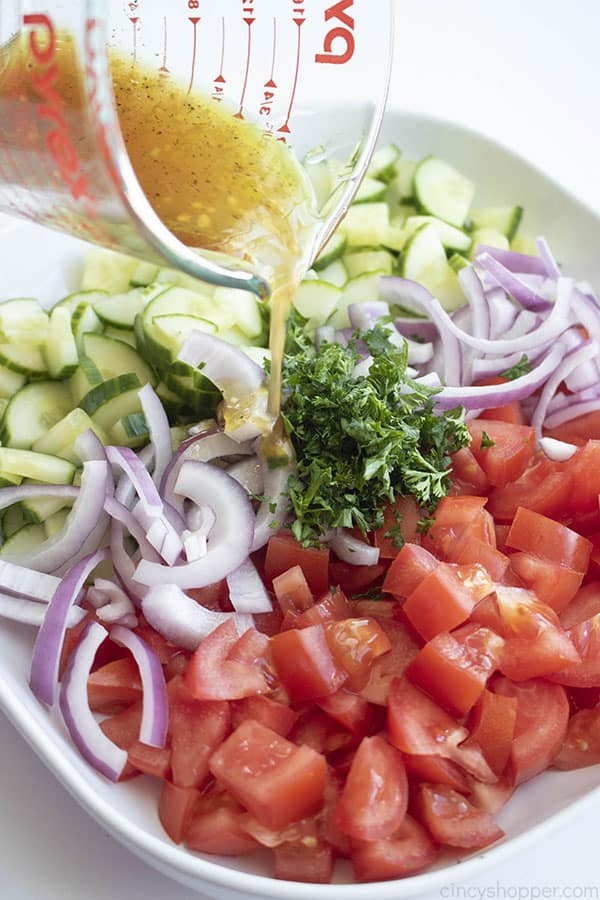 When you're ready to serve, drain off any excess liquid. Then, garnish with the fresh parsley and enjoy!
Recipe Tips
No more tears! Before slicing onions, freeze them for 15 minutes. As a result, it will reduce the acidic enzyme that causes tears.
Make the dressing ahead. You can make the red wine vinaigrette up to a week ahead of time. Refrigerate it in an airtight container. The ingredients may separate, so be sure to shake well before using.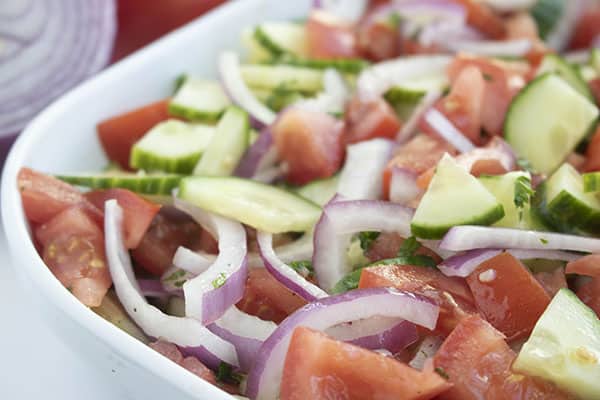 Other things to add to the side salad
This salad is a delicious side with many different things. It pairs well with chicken, pork chops, steak, ribs, and even fish.
You can also add more flavor and texture by mixing in more ingredients at the end. Some ideas are:
Crumbled feta or goat cheese
Avocado slices
Cured meats
Black or Greek olives
Seasoned croutons
Cucumber Tomato Salad
Cucumber tomato salad has vine ripe tomatoes, cucumbers, onions with red wine vinaigrette. Make this recipe for a healthy summer side dish!
Ingredients
1

English Cucumber

chopped

1/2

Red Onion

chopped

4

Tomatoes

On the Vine, chopped

2

tbsp

fresh Parsley

chopped

2

tbsp

Olive Oil

1

tbsp

Sugar

4

tbsp

Red Wine Vinegar

1

tsp

minced Garlic

1/4

tsp

Salt
Instructions
Place cucumber, tomatoes, onions and parsley in bowl and set aside.

In a medium bowl combine olive oil, sugar, vinegar, garlic and salt.

Mix until well blended.

Pour dressing over vegetables and toss to coat.
Nutrition
Calories:
79
kcal
|
Carbohydrates:
8
g
|
Protein:
1
g
|
Fat:
5
g
|
Saturated Fat:
1
g
|
Sodium:
104
mg
|
Potassium:
288
mg
|
Fiber:
1
g
|
Sugar:
5
g
|
Vitamin A:
842
IU
|
Vitamin C:
15
mg
|
Calcium:
20
mg
|
Iron:
1
mg