If you are looking for a SUPER Simple and SUPER yummy breakfast idea to feed your family this Cinnamon Roll French Toast Casserole is going to be perfect. Yup, your store bought cinnamon rolls meet up with french toast in a gooey breakfast casserole that everyone will enjoy.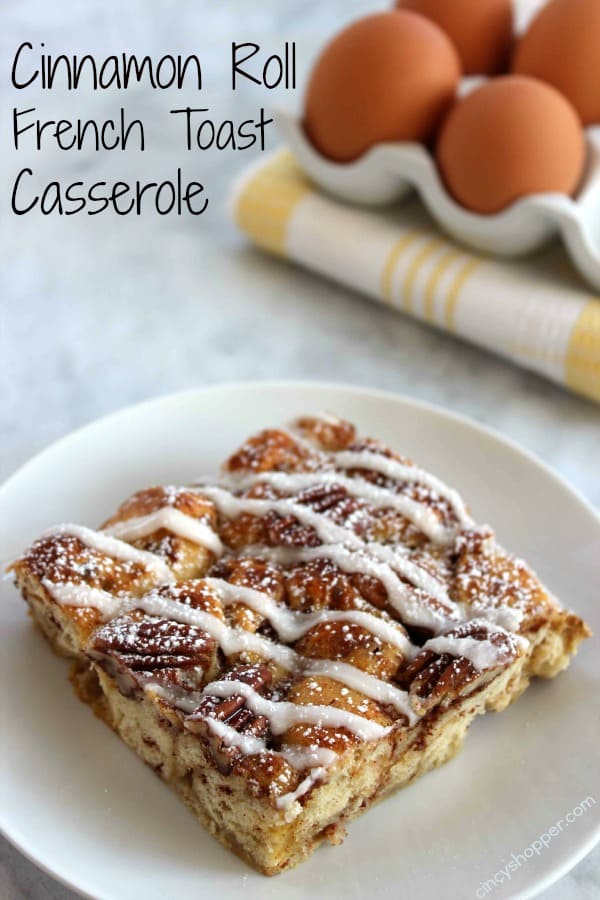 Cinnamon Roll French Toast Casserole
My family has become quite the fan of breakfast foods. They love French Toast so I will quite often make them their favorite French Toast Cups to eat on their way to school. On the weekend, they have come to expect a bigger breakfast. I enjoy making a big breakfast so we all can meet at the table and catch up on what is going on for everyone. Sometimes, my time on the weekend can be quite pressed. This past weekend, we had quite a bit going on. I really did not have time to fix up a big elaborate breakfast for them. So I made them up this yummy Cinnamon Roll French Toast Bake. I had the whole dish made and on the table in no time at all.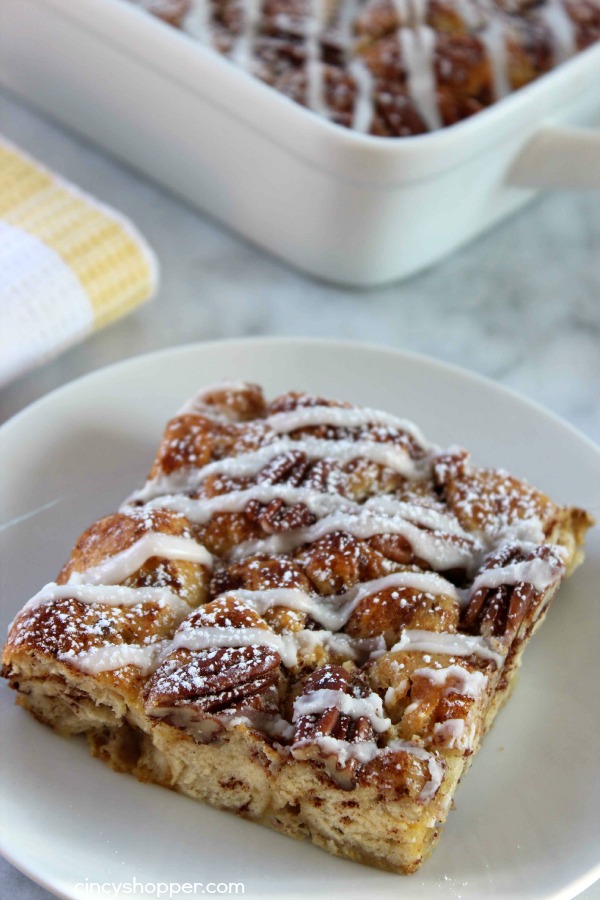 The kids all love French Toast. They all love Cinnamon Rolls. So heck… it was time to combine the two. This breakfast casserole knocked it out of the park. Each one of the kiddos went back for seconds and was overly pleased that I did not have the time for a big weekend breakfast.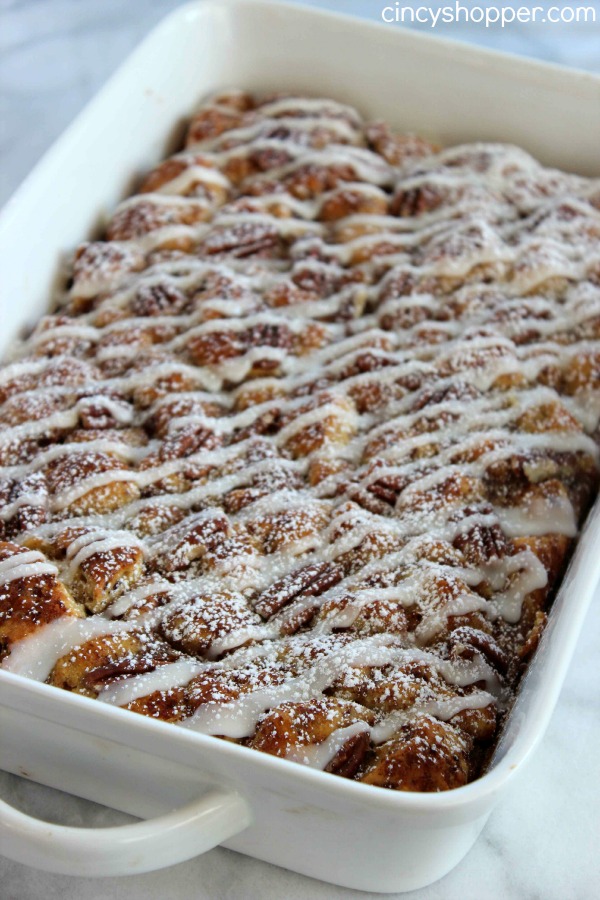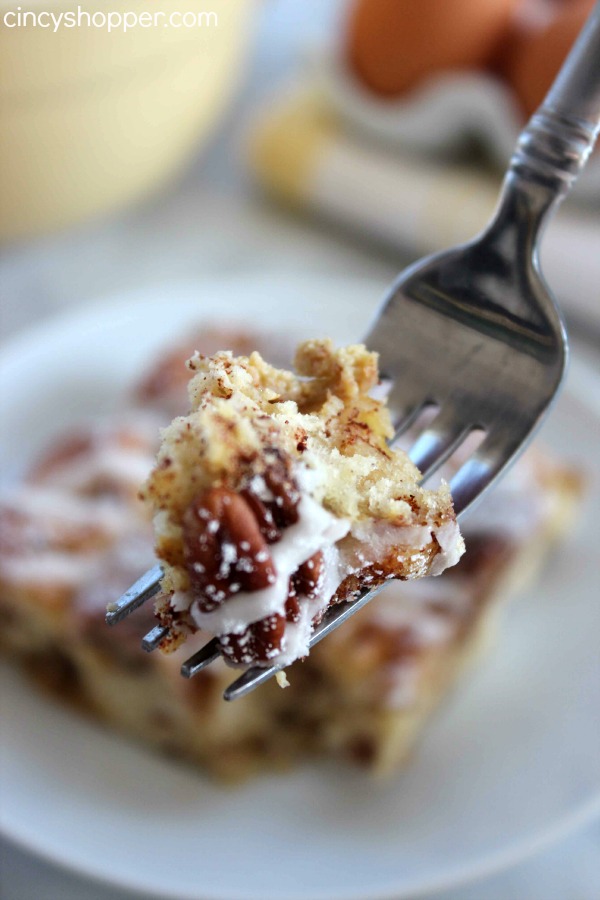 The ingredients needed for your Cinnamon Roll French Toast Casserole are so simple. Grab some store bought canned cinnamon rolls (hopefully you bought them with a coupon), eggs, heavy cream and a few spices and you are ready to make this wonderful dish.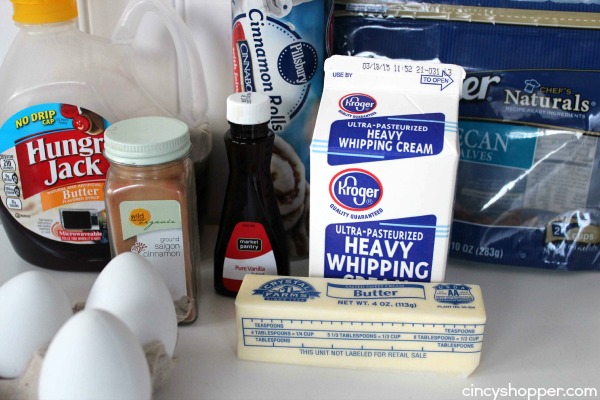 INGREDIENTS
2 tbsp melted Butter
1 can Refrigerated Cinnamon Rolls
3 Eggs
1/4 cup Heavy Cream
1 tsp Cinnamon
1 tsp Vanilla
1/4 cup Pecans
1/4 cup Maple Syrup
DIRECTIONS
Heat oven to 375.
Pour melted butter into 8×8 baking dish.
Open amd separate rolls.
Cut each roll into 8 pieces and place in buttered dish.
Beat eggs, then add cream, cinnamon and vanilla and continue beating until well blended.
Pour over rolls.
Sprinkle with pecans and drizzle with syrup.
Bake 20-24 minutes or until golden brown.
Transfer icing to zippered sandwich bag and set aside.
Allow to cool.
Clip corner of bag and drizzle icing over top and lightly sprinkle with powdered sugar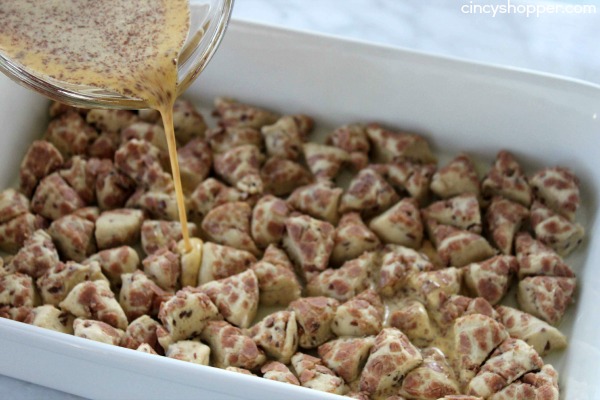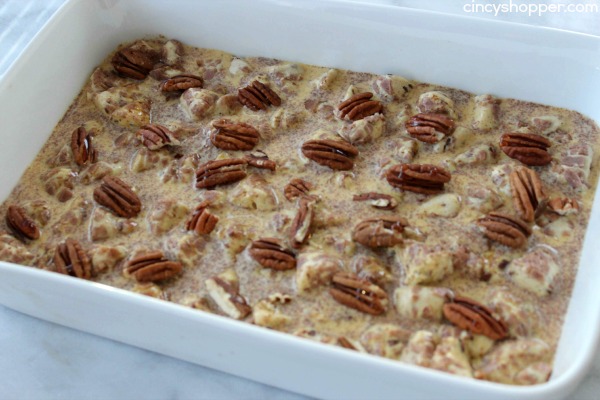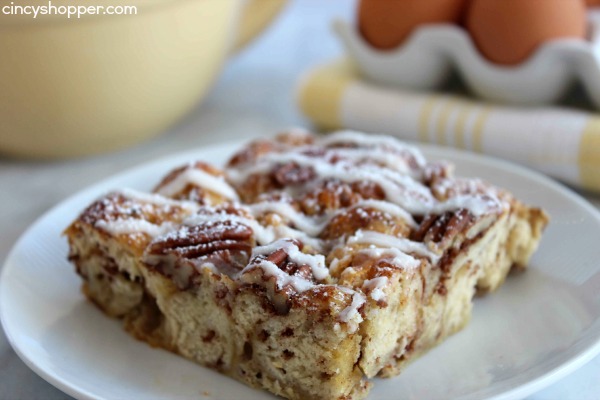 Cinnamon Roll French Toast Casserole
Ingredients
2

tbsp

melted Butter

1

can Refrigerated Cinnamon Rolls

3

Eggs

1/4

cup

Heavy Cream

1

tsp

Cinnamon

1

tsp

Vanilla

1/4

cup

Pecans

1/4

cup

Maple Syrup
Instructions
Heat oven to 375.

Pour melted butter into 8x8 baking dish.

Open amd separate rolls.

Cut each roll into 8 pieces and place in buttered dish.

Beat eggs, then add cream, cinnamon and vanilla and continue beating until well blended.

Pour over rolls.

Sprinkle with pecans and drizzle with syrup.

Bake 20-24 minutes or until golden brown.

Transfer icing to zippered sandwich bag and set aside.

Allow to cool.

Clip corner of bag and drizzle icing over top and lightly sprinkle with powdered sugar