Looking for a yummy Caramel Apple Loaf Cake Recipe? This fall weather really has me in a baking mood. The chill in the morning here in Cincy has really made me realize that fall is here. I have mentioned in quite a few of my posts how much I really enjoy eating apples and caramel in the fall. I remember dropping by the roadside stands as a child to grab a jug of cider. I was always anxious to get home and consume up all the apple goodness. I will admit that I was known to overdue it on the apples ha ha! I am still the same as I was when I was a child anything with apples excites me. Can you tell that I like food just a little bit too much?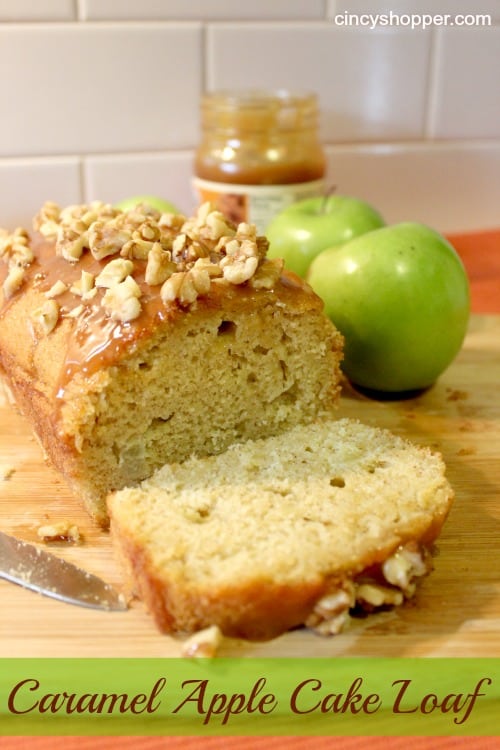 Caramel Apple Loaf Cake Recipe
Last weekend I made this yummy Caramel Apple Loaf Cake. Pure yumminess is all I can say. The hubby was trying to snag himself a piece. One piece was all I was allowing him to consume. This caramel apple goodness was mine for the weeks late breakfast. I will admit I consumed this loaf all week long and probably gaining some poundage on this body of mine with all this baking. This Carmel Apple Loaf cake like many of my recipes is quick and easy. I like to use all those cheap cake mixes that I purchase with my coupons to come up with something a bit unique. This recipe uses one of my cheap cake mixes, apples and my cheap caramel ice cream topping (yes, I purchased it with coupons too).
Ingredients
1 Yellow Cake Mix Box and ingredients your box calls for
1 teaspoon of cinnamon
1 cup of peeled and diced apples
Caramel ice cream topping
1 cup crushed walnuts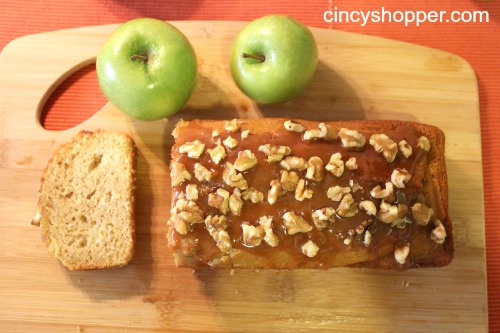 Directions
Preheat oven to 350 degrees.
In a mixing bowl combine your ingredients as called for on your cake mix box.
Add in your cinnamon
Mix on low speed for 3 minutes.
Add in your apples by "folding" them into the batter.
Divide your Mix into 2 Loaf Pans
Bake for time mentioned on your cake box.
Drizzle Caramel on top when warm.
Load on Crushed Walnuts
This cake loaf is great for early morning breakfast, an afternoon snack, evening snack with coffee or I would say anytime. I will consume it all day long. If you have many of those cake mixes in your pantry whip yourself up a batch of this apple goodness. Looking for other apple recipes? If so check out more of my apple recipe ideas
here
.