Oh my I am enjoying these Caramel Apple Cheesecake Bars with my late morning coffee and I can not explain how delish they actually are! I think I am in food heaven. Sweet and yummy is all I can really say! Delish one more time, ha ha! These Caramel Apple Cheesecake Bars are so simple and everyone will be devouring these as quick as you can make them. I have always loved the flavors in a granny smith apple blended with caramel. Add in the streusel and the cheesecake filling and we really have a winner here.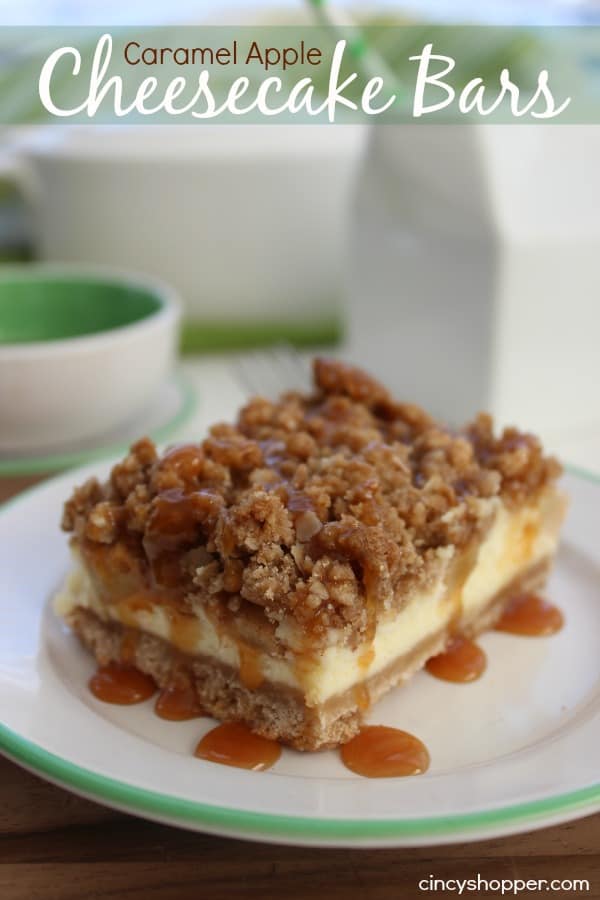 Caramel Apple Cheesecake Bars
Since trying a few cheesecake recipes, I have become addicted. I guess it is time to admit it, ha ha. The hubby is not a big cheesecake fan but wow these kiddos of mine are. We can polish off some cheesecake in no time at all. I think for years I was served plain cheesecake. I am still not a fan of plain or even plain with fresh fruit. I find that cheesecake is great with some extra combined flavors. The fresh apples, streusel and caramel really make these Caramel Apple Cheesecake bars so yummy. I really like the addition of the quick oats in the crust too. So many great flavors all in one dish.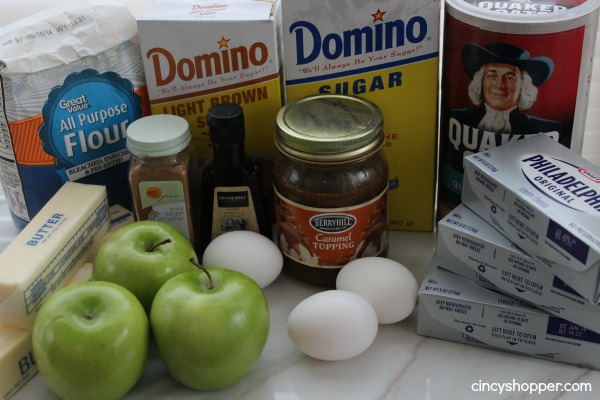 INGREDIENTS 
CRUST:
2 cup Flour
1/2 cup Brown Sugar
2 Sticks Butter softened
FILLING:
3 packages Cream Cheese (8 oz.) softened
1 cup Sugar
1 tsp Vanilla
3 Eggs
APPLE MIXTURE:
3 Granny Smith Apples peeled, cored and diced into small pieces
2 tbsp Sugar
1/2 tsp Cinnamon
1/4 tsp Nutmeg
TOPPING:
1 cup Brown Sugar (packed)
1 cup Flour
1/2 cup Quick Oats
1 stick Butter Softened
Caramel Topping (to drizzle)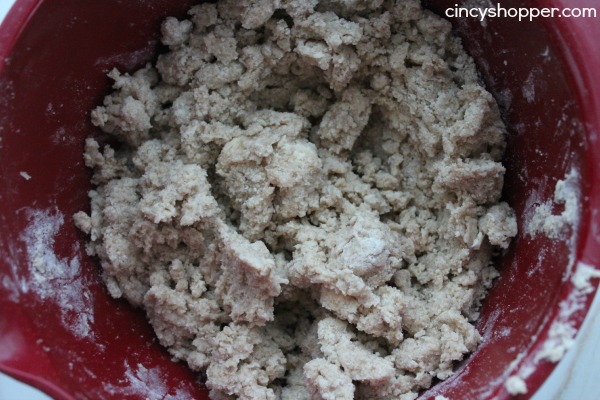 DIRECTIONS
Preheat oven to 350.
Line a 9X13 baking pan with aluminum foil be sure to leave overhang on all four sides.
Add flour and brown sugar to a medium sized bowl.
Cut in butter with 2 forks or a pastry blender until your mix is crumbly
Press mixture into prepared pan.
Bake for 15-20 minutes.
Add cream cheese, vanilla and Sugar to a large bowl.
Beat mixture until smooth.
Add eggs to mixture 1 at a time mixing to combine.
Pour mixture into baked crust.
Add Apples, sugar and cinnamon to medium sized bowl.
Mix together until apples are coated well.
Sprinkle apple pieces evenly over cream cheese mixture.
Add brown sugar, flour, quick oats and softened butter to a medium sized bowl and combine well.
Sprinkle topping evenly over your apple layer.
Bake for 45-60 minutes. Watch for filling to set (I do this by slightly jiggling the pan.
Allow to cool and then place in refrigerator. I let mine set overnight.
Remove from pan and cut into 16 even sized bars.
Drizzle with caramel topping.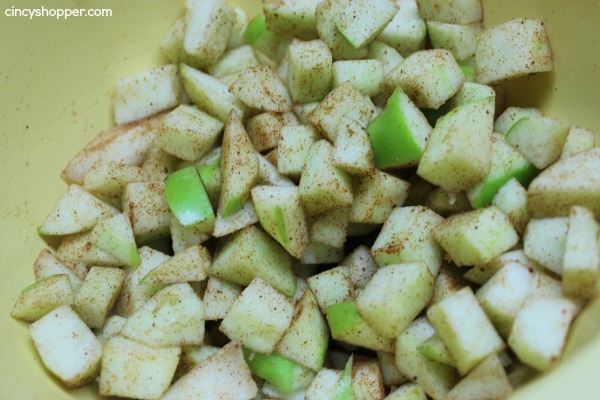 This Caramel Apple Cheesecake will be a hit with your family. I am considering whipping this up for our get together with family at the end of the month. It is so good, I know it will impress, ha ha!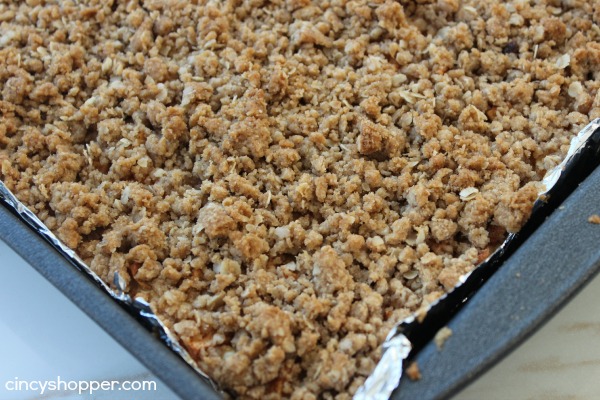 Please ignore some of the less heavy spots of streusel, I was picking as it was cooling, ha ha!. Sometimes it is so difficult keeping myself from just dipping into the yumminess before it is finished.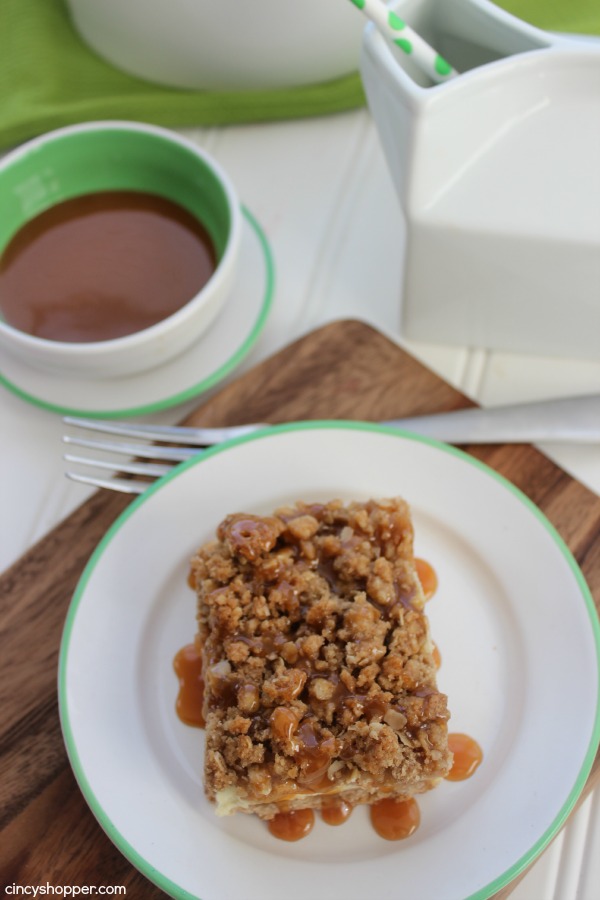 I will admit this was quite a tasty late morning snack. I am thinking it is so tasty that I just might have to take a piece of this one over to my neighbor lady. This one is definitely a keeper and needs to be shared.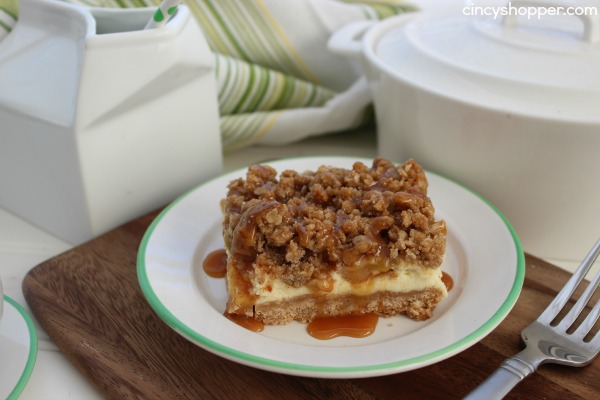 Looking for other yummy desserts? If so be sure to see all my recipes I have shared with you here.