Nothing says fall like candy corn or should I say Candy Corn Cupcakes? I will admit we have already consumed about 5 bags of candy corn this season. My kiddos and family are VERY picky about what candy they like but one thing is for certain… they all LOVE Candy Corn.  We look forward to when the stores begin putting out all the Halloween and Fall candy.  I break out all the fall candy dishes for the counter and coffee tables (they like the pumpkin shaped, I thing the leaf is much more decor friendly, ha ha). My oldest son in particular is a Candy Corn addict so I thought I would surprise him and his teenage friends with an after school treat today. I figured I could excite him with some Candy Corn Cupcakes.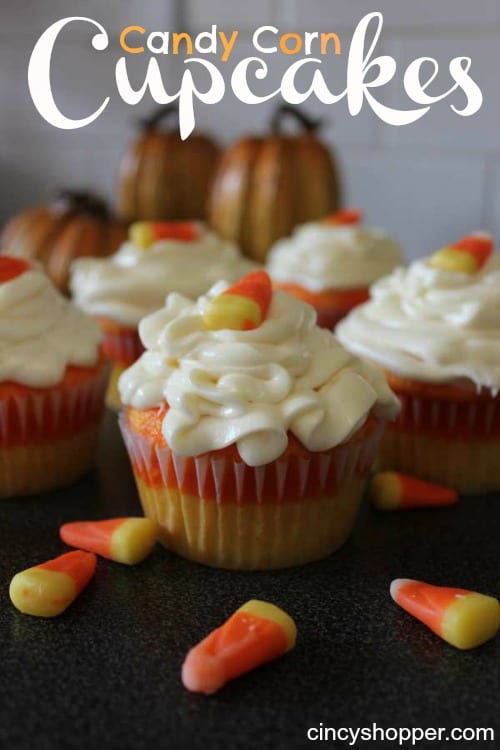 My pantry is always filled with Betty Crocker Cake Mixes and Frostings. When we have a great sale combined with a coupon I stock up. Having cake mixes and frosting on hand at all times allows me to whip up something unique on the fly.  Fall is one of those times I like to turn the oven on and warm the house with some festive treats.  If you are like I am and am constantly picking up those cheap cake mixes consider throwing these adorable Candy Corn Cupcakes together for a quick and easy treat or even for a Halloween or Fall party.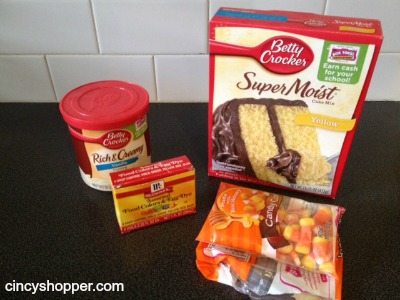 Ingredients
1 Yellow Cake Mix
1 Frosting
Eggs (however many your cake mix calls for)
Oil (however much your cake mix calls for)
Yellow Food Coloring
Red Food Coloring
Make your Cake mix according to the directions on the packaging. After Mixing your ingredients together in your mixing bowl split your mix into two different bowls. Add red and yellow food coloring to one of your bowls blend until orange in color adding a small amount of red and a small amount of yellow at a time. In your second bowl add a small amount of yellow food coloring. After both colors are perfect you are ready to add them to your cupcake cups (white or light colored cupcake liners work best for Candy Corn Cupcakes). Add yellow to each cupcake line untill about 1/3 filled. After the batter has settled add your orange colored batter to the top making sure each cupcake liner is around 2/3 of the way filled. Last bake according to the directions on your cake mix box.
After your cupcakes have cooled grab a ziplock bag and fill with your icing. Snip a small corner of your bag. Swirl on icing and top with a yummy Candy Corn.