Needing some Halloween Treats that are sure to please? The stores have started stocking Halloween candy and decor so all of us are starting to look for the perfect Halloween treats. I have shared quite a few Halloween treat ideas here on my blog so I thought I would put them all right here in one roundup for you. Be sure to let me know your favorites that you decide to make this Halloween season.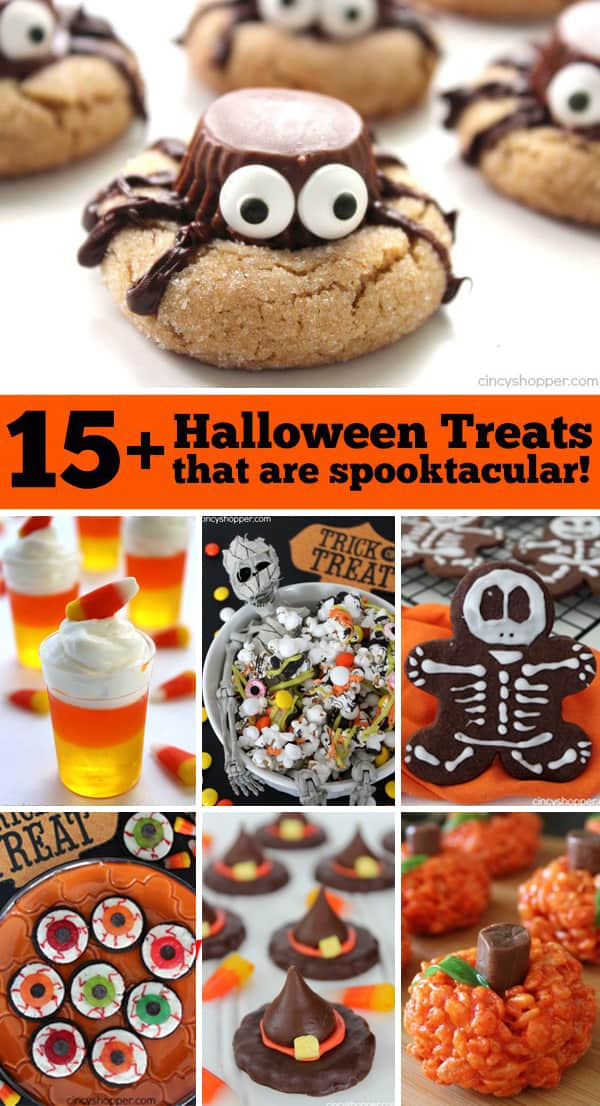 15+ Halloween Treats That Are Spooktacular!
1. Halloween Spider Cookies – These Halloween Spider Cookies will make for a perfect party treat. We start with a simple peanut butter blossom cookie, top it with a Reese's Miniature, add on some eyes and some legs. Super cute and super tasty too!
2. Candy Corn Jello – These super simple Candy Corn Jell-O cups will make for a super easy and fun fall and Halloween treat. Two boxes of Jell-O and some whipped topping and you have one colorful candy "cornish" treat. Perfect for Halloween parties or even an after school treat.
3. Spooky Halloween Popcorn – This Spooky Halloween Popcorn is perfect for a fun and tasty treat this Halloween Season. Popcorn is one of our favorite snacks. We love dressing up popcorn with sweets and Holiday themed goodies.
4. Chocolate Skeleton Cookies – Spooky cookies are always fun. We used a gingerbread man cookie cutter and put a fun Halloween spin on our little man.
5. Oreo Eyeballs – If you are searching for a quick easy and spooky Halloween treat these Oreo Eyeballs will be perfect! These Oreo Cookie Eyeballs Halloween Treats are not too spooky but just spooky enough to excite the kids (and adults).
6. Halloween Witch Hats – If you are needing a cute but simple treat for Halloween you will adore these Halloween Witch Hats Treats. These treats are made with store bought cookies, Hershey's Kisses and some simple icing.
7. Pumpkin Rice Krispie Treats – The most popular Halloween treat here on my blog. These cute little Krispie treat pumpkins are easy and so cute for the holiday.
8. Oreo Spider Cupcakes – This recipe is super simple since it starts with a boxed cake mix. We even stuffed them with Oreo cookies to make them extra fun. Such a fun Halloween treat idea.
9. Pretzel Bones Halloween Treats – If you are looking for a fun idea these Pretzel Bones Halloween Treats are going to be awesome to serve up to your kiddos or party guests. Simple to make since they use store bought pretzel sticks, marshmallows and chocolate.
10. Reese's Witch's Broom Halloween Treats – Simple treats that use Reese's cups and pretzel sticks.
11. Halloween Twinkie Mummies – Super simple since we use Twinkies and chocolate to make these cute little mummies.
12. Easy Candy Corn Fudge – Easy and adds a candy corn flare to a chocolaty fudge.
13. Pumpkin Pretzels Treats –  These Pumpkin Pretzel treats have been a lifesaver many times. Super simple since we use chocolate and pretzels.
14. Graveyard Pudding Cups – If you are needing a cute and sort of spooky Halloween Treat these Graveyard Pudding Cups will be perfect. My kiddos LOVE pudding and if you dress it up spooky they love it even more. Pudding cups are perfect for kids parties.
15. Witchs Broom Halloween Snacks – If you are looking for a fun and healthy Halloween snack these Witch's Broom Snacks for Halloween will be perfect. A healthy appetizer or snack idea for your Halloween parties or lunchboxes. Spooky treats can come in healthy form too!
16. Twinkie Frankenstein Treats – Twinkies dressed up to mimic Frankenstein. Easy, cute and fun.
17. Nacho Pumpkin Cheese Ball – If you are looking for a tasty appetizer for your Halloween or Fall parties this Nacho Pumpkin Cheese Ball will be perfect. Cheese balls are always a hit when we serve them up at our get togethers. This Nacho Pumpkin Cheese ball is loaded with Dorito flavor on the outside, cheesey cream cheese and a bit of spice on the inside.
18. Peeps Ghost Brownies – This PEEPS Ghost Brownies Recipe will be perfect for all your Halloween dessert needs this fall. A simple store bought brownie mix gets dressed up with PEEPS Ghosts.
19. Scarecrow Bar – Sweet and salty candy corn treat that is sure to please.