Sugar Cookie Fudge is an easy fudge recipe that's so simple and easy to make. These are perfect for Christmas and are tasty holiday treats. Whether you need a candy gift, a sweet Christmas party snack, or just need to satisfy a sweet tooth, this is the perfect fudge recipe for you!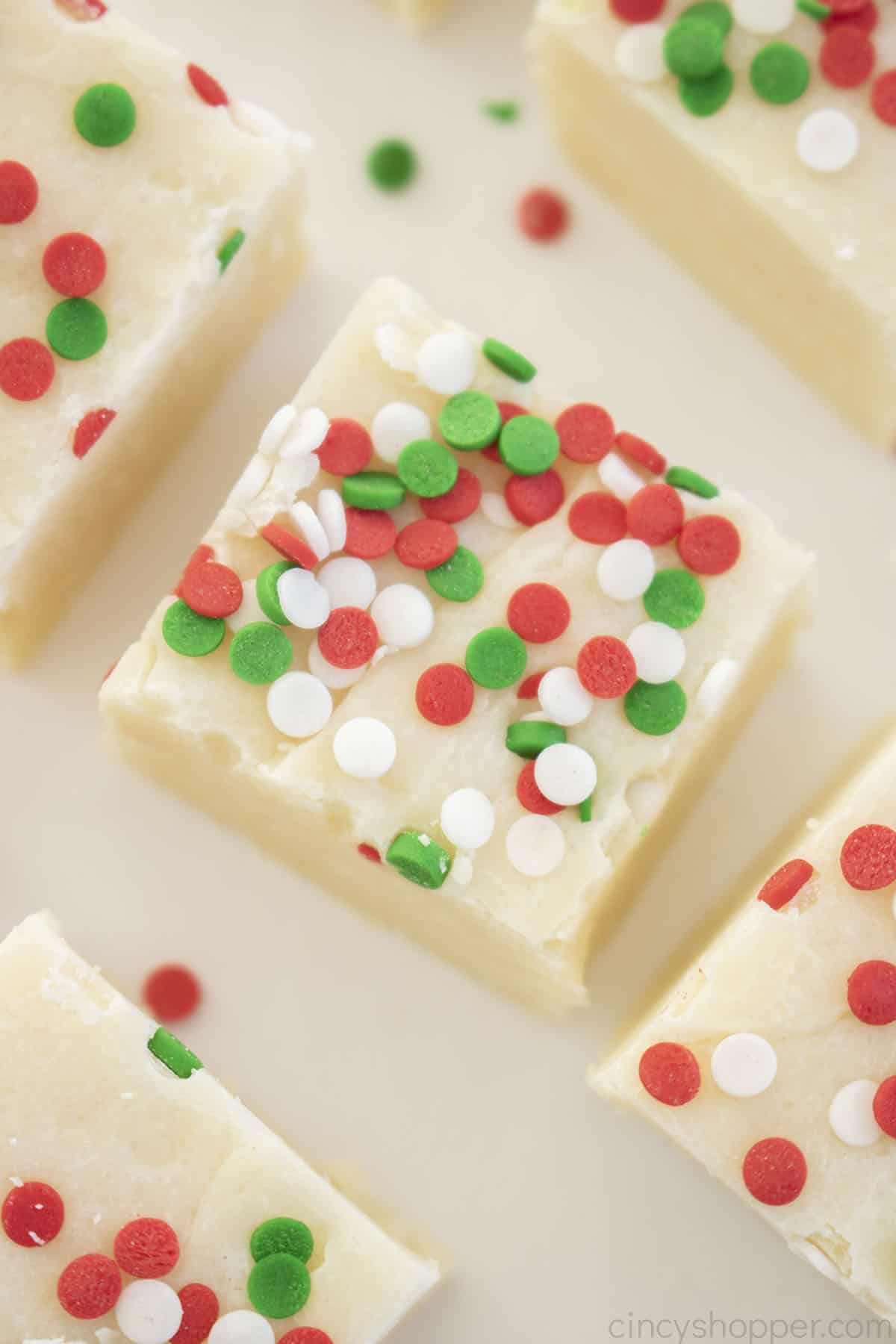 The holiday season is the perfect time of the year for all sorts of tasty winter and fall desserts or treats like this Sugar Cookie Fudge. Everyone seems to get a sweet tooth once the weather starts getting cold and we're always eager to get around to making all sorts of Christmas desserts especially.
Christmas cookies are always a big favorite: just check out recipes like our Peanut Butter Blossom Cookies and Butter Cookies. Another classic Christmas dessert recipe we usually end up making is our Traditional Chocolate Fudge Recipe. This year, we wanted to mess around a little and try something new, so we ended up making some of this Sugar Cookie Fudge.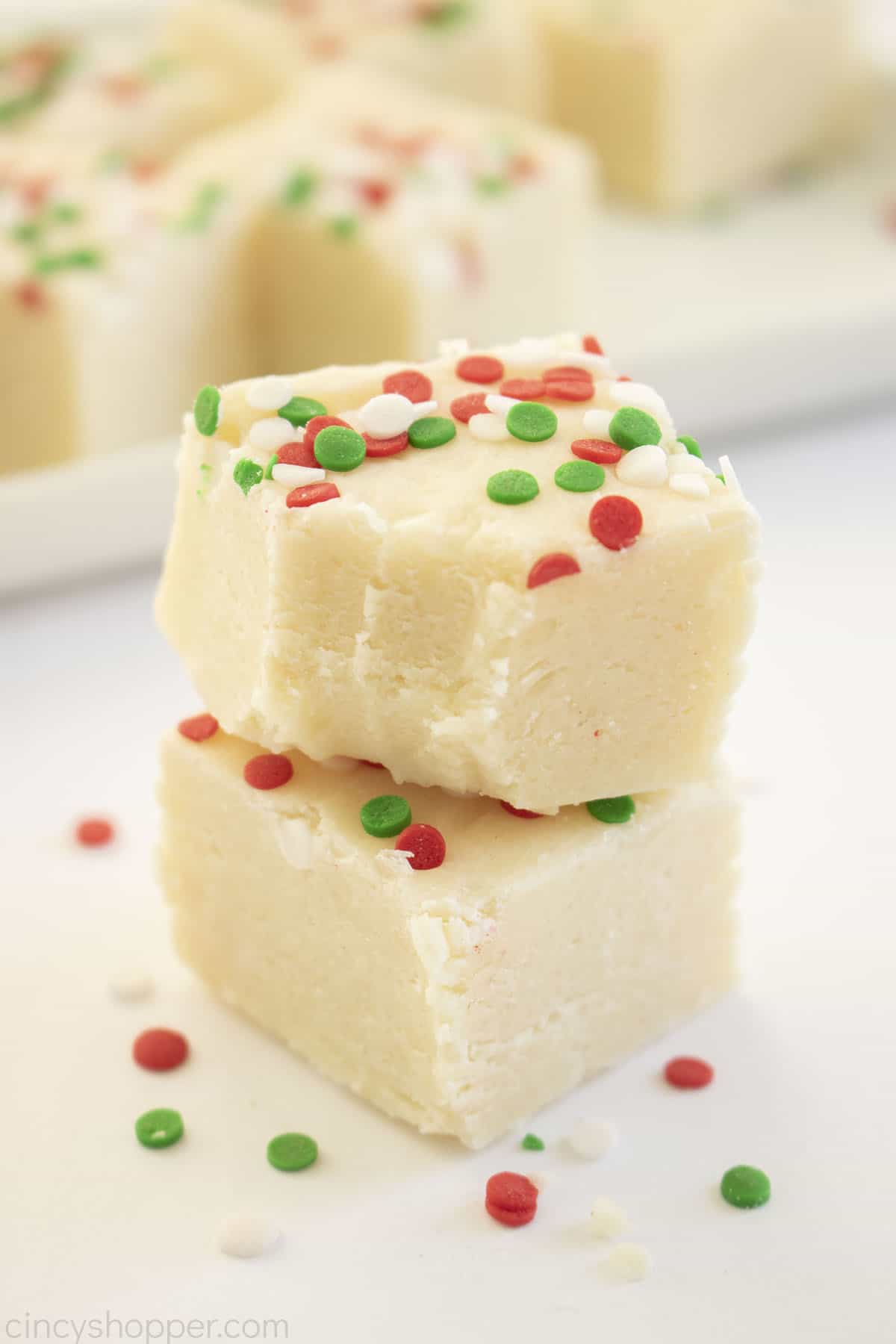 Fudge recipes have always been pretty easy to whip up but Sugar Cookie Fudge is definitely one of the easiest you can find. You'll melt everything together on the stovetop, move it to a dish, and then let it set in the fridge- you won't find any other easy fudge recipe that's as simple as this while staying as tasty. You'll get all these wonderful and rich buttery and vanilla flavors along with plenty of sweetness. Top with sprinkles and you might have your new go-to Christmas Fudge Recipe!
Jump to:
Why you'll love this easy Sugar Cookie Fudge recipe
This is, without a doubt, one of the easiest fudge recipes you'll come across. Just 5 ingredients are needed for the fudge mixture, there's no baking involved, and the lower and slower you cook it, the better.
Sugar Cookie Fudge or Cookie Dough Fudge is a wonderful break from the classics like Chocolate Fudge and Peanut Butter Fudge. Rarely do you get to make a easy sweet treat that packs all these sweet vanilla and butter flavors together!
These fit the bill for anything from a sweet party favor you can serve up to your guests at your next Christmas party or you can package them and give them as something like a candy gift. Bottom line, folks will love these delicious Christmas Sugar Cookie flavored Fudge Bites!
Christmas Sugar Cookie Fudge Ingredients
You're not going to need many ingredients for our Christmas Cookie Fudge recipe: it's a simple 5-ingredient recipe, 6 if you count some sprinkles. Here's all the ingredients you'll need: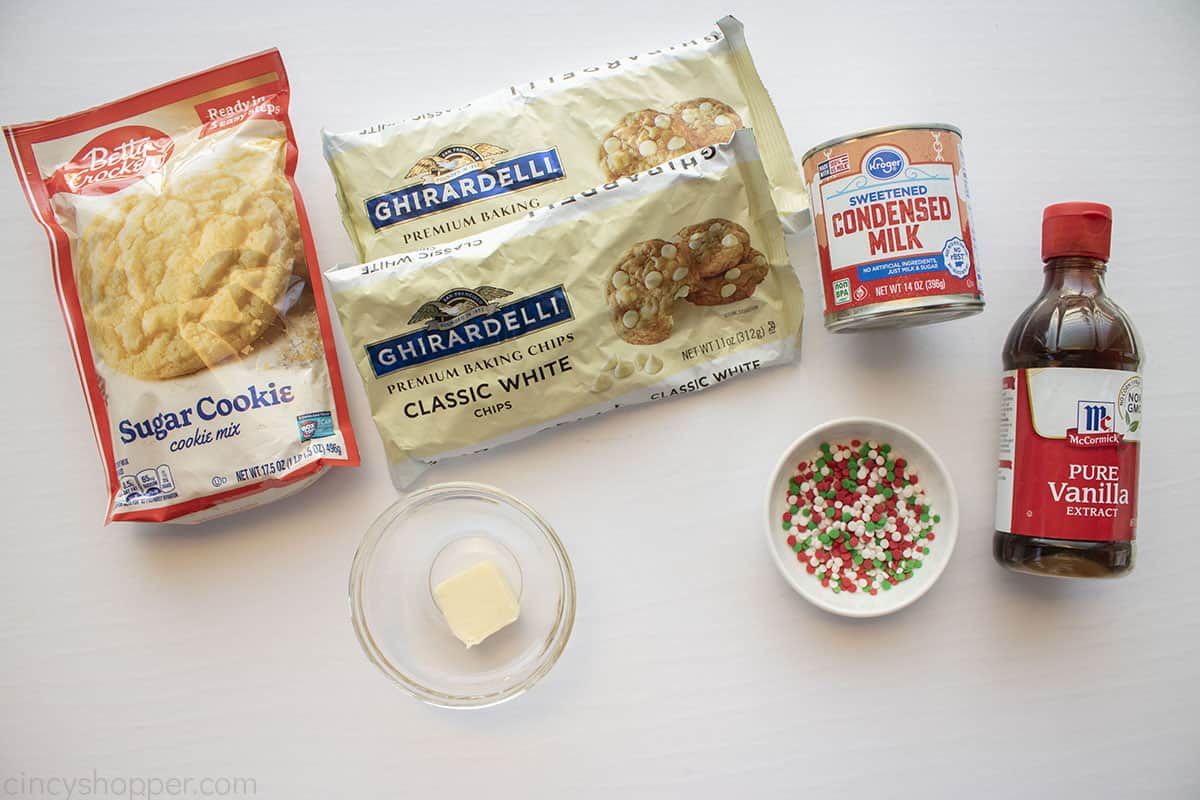 Chocolate Chips – We'll be using these white baking chips. White chocolate pairs a bit better with the sugar cookie mix.
Sweetened Condensed Milk
Butter
Vanilla Extract
Sugar Cookie Mix – We used this Betty Crocker Sugar Cookie Mix.
Festive Sprinkles – Really, any sort of candy decorations will work here. Any sort of christmas color sprinkles or jimmies will help bring that splash of holiday cheer to the fudge when it's finished.
See recipe card for quantities.
How to make Fudge with Sugar Cookie Mix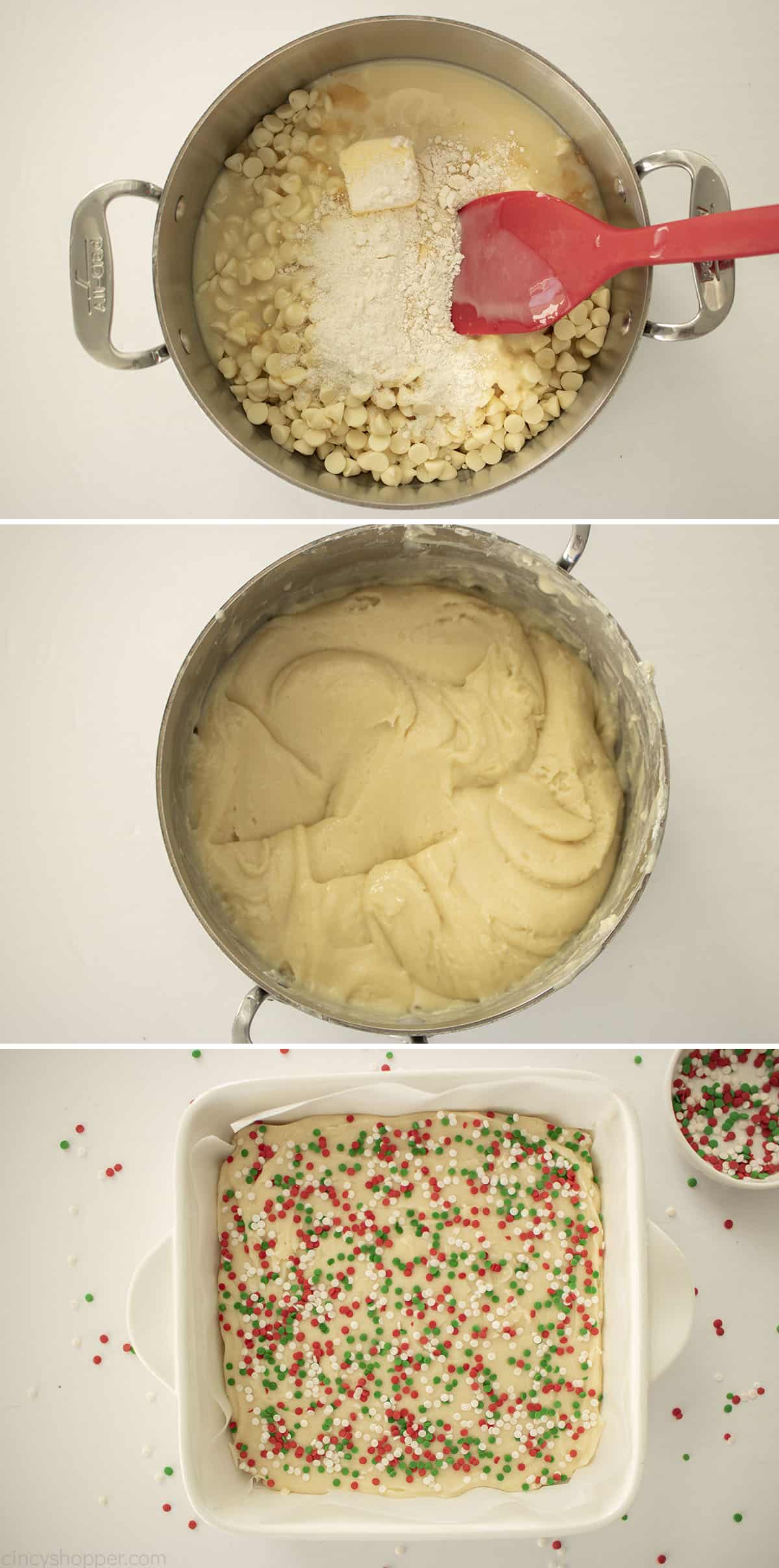 What you're going to love the most about our Sugar Cookie Fudge recipe is how easy to make it is. Since it never really sees the oven, you could call it a no-bake fudge recipe. To make this delicious Christmas Fudge for yourself, here's what you need to do:
Add chocolate chips, condensed milk, butter, vanilla, and sugar cookie mix to a medium pan. Cook over low heat, stirring constantly until melted and mixed.
Remove from heat and transfer to a parchment lined 8×8 baking dish. Spread and smooth with a spatula until top is smoothed.
Evenly top Sugar Cookie Fudge with holiday sprinkles before moving to the fridge. Allow to refrigerate for at least 2 hours before cutting into bite-sized pieces and serving.
Substitutions
Unfortunately, a lot of these ingredients are pretty set-in-stone: you can't make Sugar Cookie Fudge without sugar cookie mix, after all. There are a few substitutions you can try though:
Chocolate Chips – Those white chocolate chips pair the best with all the sugar cookie mix and the sweetened condensed milk. If you don't have any, your next best bet is probably butterscotch chips. All else fails, find some milk chocolate chips- the further away from dark chocolate, the better.
Sweetened Condensed Milk – Take 2 parts milk to 1 part sugar and combine in a saucepan over medium heat before simmering on low for about half-an-hour to make a sweetened condensed milk substitute. You can also do this with all sorts of non-dairy milks as well- almond milk, oat milk, soy milk, et cetera. Cream of coconut is another workable substitute that'll add some tropical flavor to your fudge.
Butter – While the butter is really important for this recipe, there are a few substitutes we can think of. If you're low on butter, you might be able to sub something like shortening in for some of it. In terms of complete substitutes, coconut oil might be your best bet.
Variations
We think this Christmas Cookie Fudge turned out great! However, if you're looking for a few ways to shake this recipe up, here's a few ideas you can try out:
Coconut Fudge – Like we outlined in the substitutions, you can sub in coconut ingredients like cream of coconut and coconut oil. Especially if you use something like a virgin coconut oil, you'll get a lot of coconut flavor in your finished fudge. You might even consider topping your coconut fudge with some coconut flakes.
Butterscotch Fudge – Another thing you could try is doubling down on all those caramel flavors. Use butterscotch chips instead of white chocolate chips and try sneaking something like caramel topping in with the sweetened condensed milk.
Loaded Sugar Cookie Fudge – Once you've got all your Sugar Cookie Fudge ingredients melted and mixed together, you can add all sorts of mix-ins. If you don't want to pick up any extra ingredients, mix some of those christmas sprinkles into the fudge before topping with the rest. Other tasty options include butterscotch or chocolate chips, nuts like pecans or almonds, or even little bits of edible cookie dough- a lot of folks love serving up this Cookie Dough Fudge!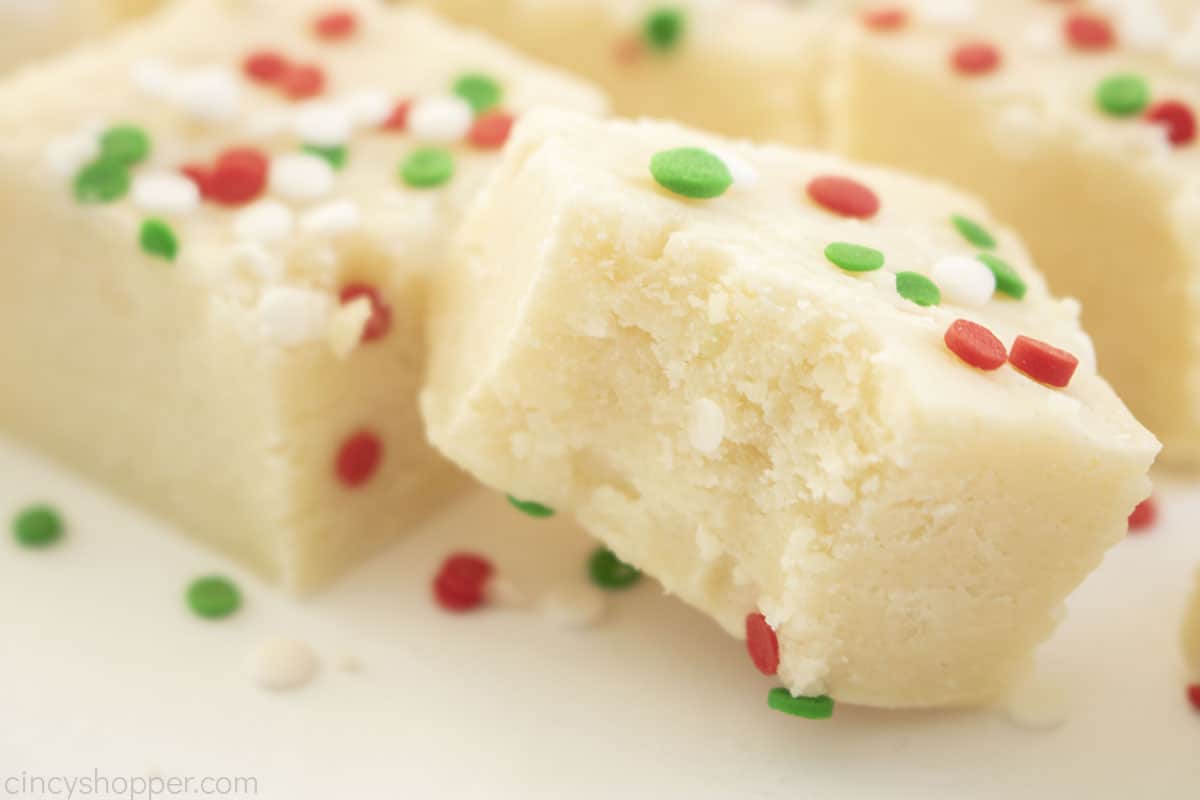 Storage / Freezing
Storage: Like any good fudge recipe, our Sugar Cookie Fudge is really hardy and will last quite a while. For best results, keep in an airtight container in the fridge. Use a layer of wax paper in between layers. Keep it like this, and you can get a good 2 weeks out of it- maybe even 3 weeks!
Freezing: You can also try freezing fudge for long-term storage. Once again, put in an airtight container and optionally seperate with parchment paper. Pop it in the freezer and you can expect it to last up to 3 months. Allow to thaw in the fridge before enjoying.
Top tip
Add your creamy fudge to a Christmas tin or cellophane bag with a bow for an edible gift.
Other Christmas Candy Recipes
Looking for other Christmas Candy recipes? Try these:
More Christmas Candy Recipes
Here are some more of our favorite Christmas Candies: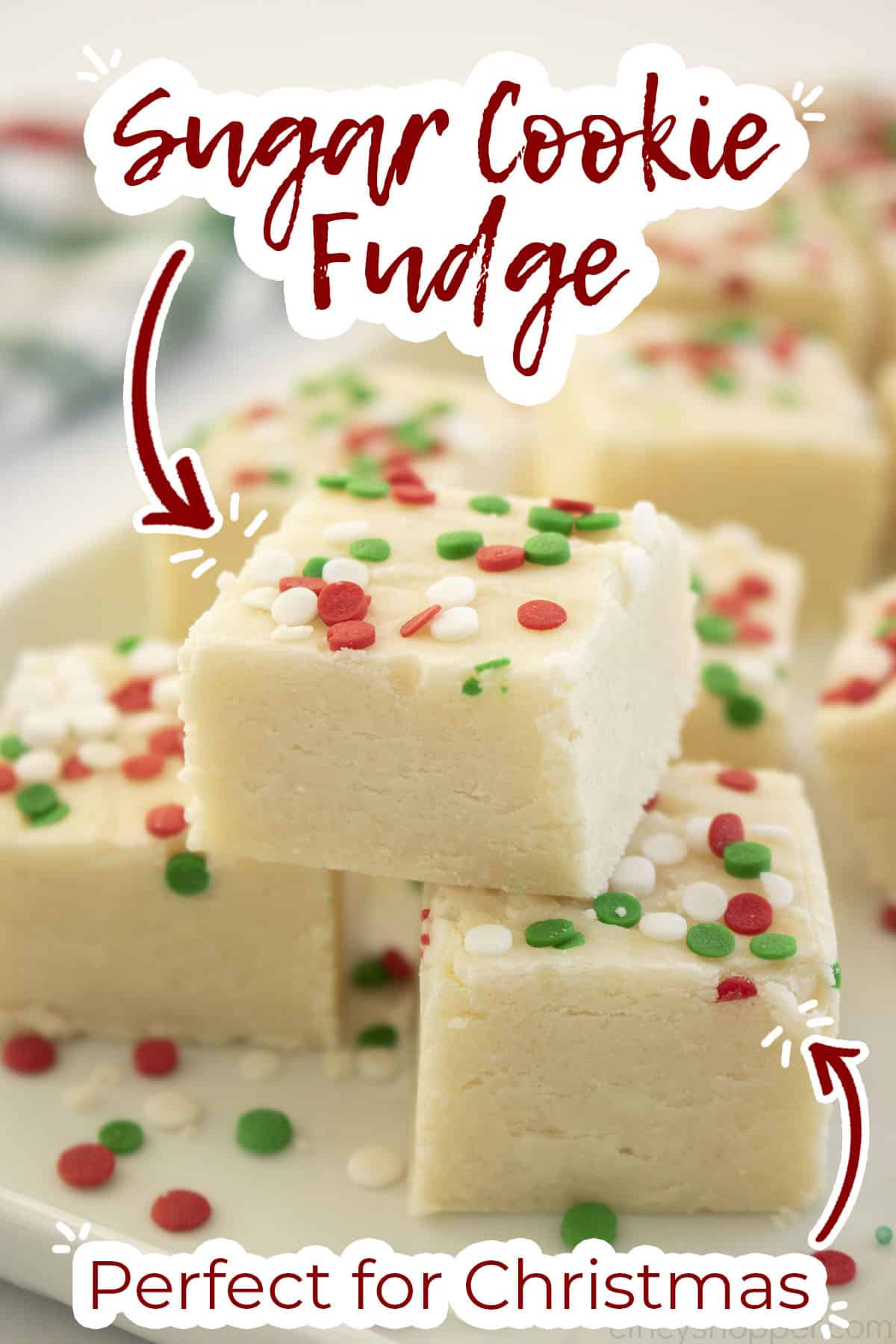 Sugar Cookie Fudge
Sugar Cookie Fudge is an easy fudge recipe that's so simple and easy to make. These are perfect for Christmas and are tasty holiday treats. Whether you need a candy gift, a sweet Christmas party snack, or just need to satisfy a sweet tooth, this is the perfect fudge recipe for you!
Ingredients
14

oz

Sweetened Condensed Milk

3

cup

White Baking Chips

1 1/2

cup

Sugar Cookie Mix

1

tbsp

Butter

1

tbsp

Vanilla

1/4

cup

Candy Decorations
Instructions
Line a 8×8″ baking dish with parchment paper. Set aside.

In a medium pan over very low heat, add chips, condensed milk, butter, vanilla and cookie mix.

Stir constantly until melted and smooth.

Remove from heat and immediately transfer to prepared dish.

Use a spatula to spread and smooth the top.

Evenly sprinkle top of the fudge with the candy decorations.

Refrigerate for at least 2 hours.

Cut into bite-sized pieces.
Notes
Add your creamy fudge to a Christmas tin or cellophane bag with a bow for an edible gift.
Nutrition
Calories:
368
kcal
|
Carbohydrates:
54
g
|
Protein:
5
g
|
Fat:
15
g
|
Saturated Fat:
8
g
|
Polyunsaturated Fat:
0.5
g
|
Monounsaturated Fat:
4
g
|
Trans Fat:
0.03
g
|
Cholesterol:
17
mg
|
Sodium:
131
mg
|
Potassium:
190
mg
|
Fiber:
0.1
g
|
Sugar:
46
g
|
Vitamin A:
98
IU
|
Vitamin C:
1
mg
|
Calcium:
138
mg
|
Iron:
0.2
mg