A crostini recipe is a must for entertaining. This parmesan version is simple and elegant with olive oil, butter and cheese.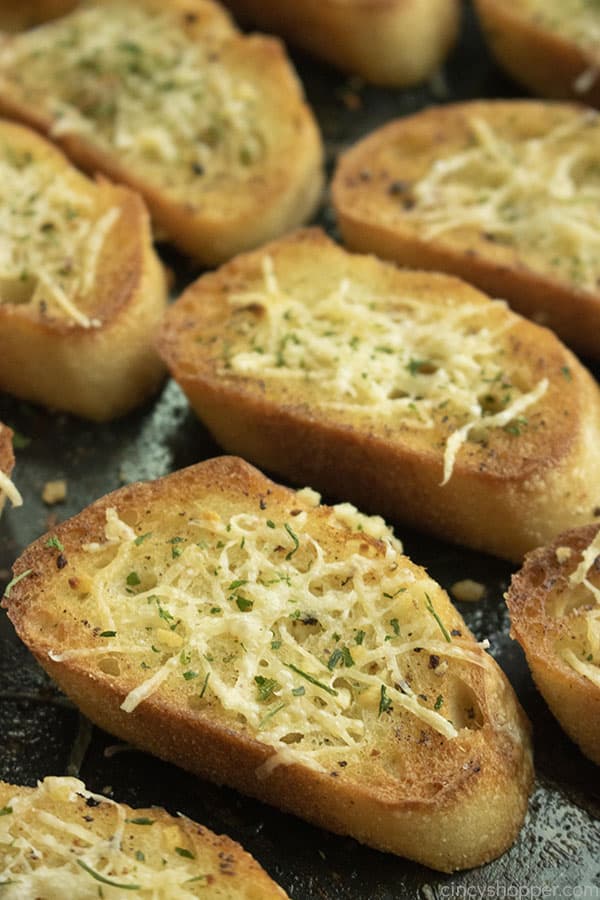 Everyone needs a go-to appetizer for parties. This crostini recipe is about to become your new favorite. Parmesan crostini is perfectly toasted so it has a crisp crust and a fluffy interior. It is infused with a buttery flavor and topped with fresh parmesan cheese.
It is quick and easy, consisting of items you probably already have at home. You can make enough for a snack for date night or you can cut up several loaves for a big party appetizer.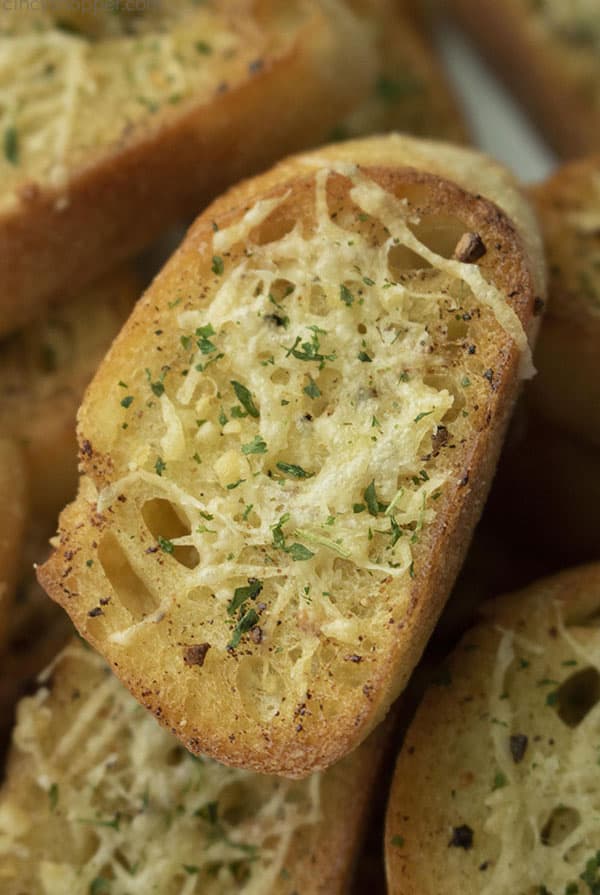 What is crostini?
Crostini is an Italian appetizer of small grilled pieces of bread with toppings. The toppings can be as varied as the chef, but typically include cheese, meat or vegetables. Simple versions of this appetizer may just be olive oil and herbs on toast. More elaborate variations can include sauces, jams and spreads. I often make The Spicy Kitchen's Tomato Jam with Feta Crostini, it's so good!
It makes a great finger food due to its small size. Plus, it's easy to make with pantry staples and a loaf of good fresh bread.

What kind of bread do I use for crostini?
Traditional crostini is made from a white French baguette. You should end up with small, almost bite sized pieces of bread after it is sliced.
But you can try other kinds of bread for unique flavor combinations. Just avoid any particularly dense and heavy varieties. Ones with visible holes in the interior are perfect texture for soaking up the buttery taste of the crostini sauce. Any of these toast well:
Ciabatta
Sandwich rolls
Tuscan loaf
Boules
Country loaf
There are now gluten free French breads available to make this dish that even your low carb friends can enjoy!
Since you will be toasting crostini, this recipe is a great way to use up bread that is past its prime. Slightly stale bread makes great crostini!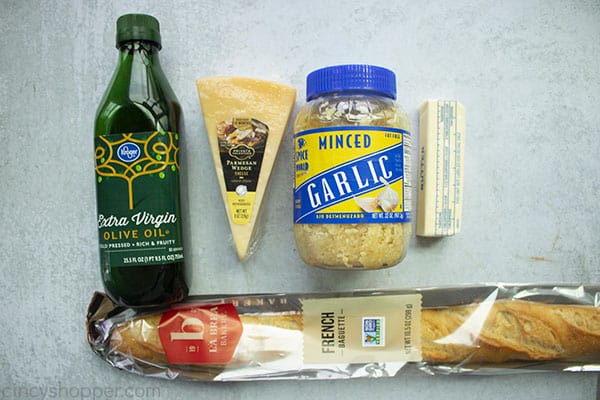 How to make crostini
This crostini appetizer is complete in under 30 minutes. It's easy to double or even triple if you are serving a large number of guests.
Slice the baguette in ¼" slices. This is thick enough to hold the toppings without collapsing, but thin enough that you taste more than just bread.
Boil olive oil, butter and garlic together in a small sauce pan. Extra virgin olive oil has a strong flavor. You can choose to use it or a regular olive oil for a more mild taste. Always use real butter for the best flavor. Sauteing the garlic before putting it on the bread slices creates a deep rich flavor. Using jarred minced garlic is an easy solution. You can also buy whole cloves of garlic and mince them yourself. Rubbing some of the garlic directly into the bread will create a stronger garlic flavor if you prefer.
Brush both sizes of each crostini slice with the olive oil mixture.
Place the bread on a baking sheet. Leave some space between each slice so the edges get nice and crispy.
Top the crostini with freshly grated parmesan cheese.
Bake at 425F for nine to ten minutes.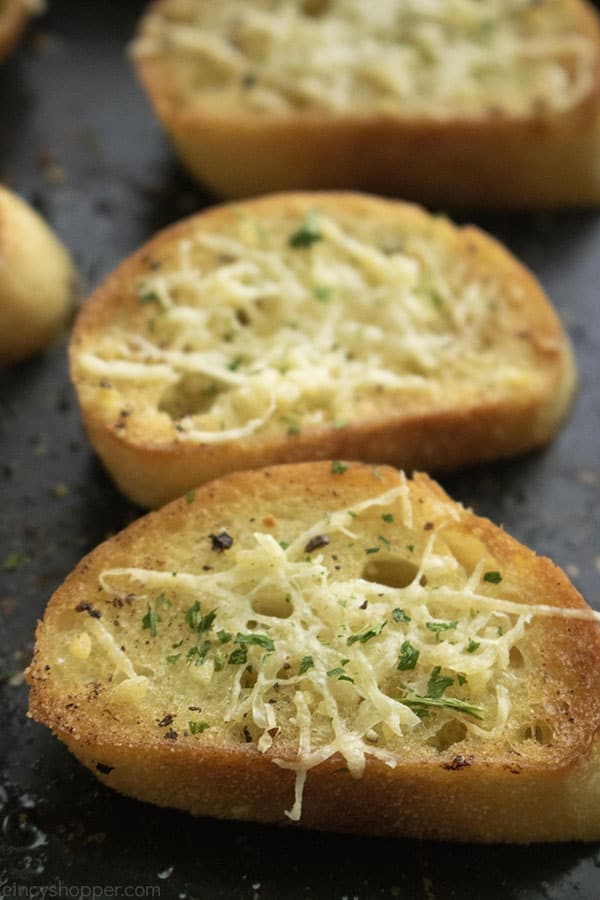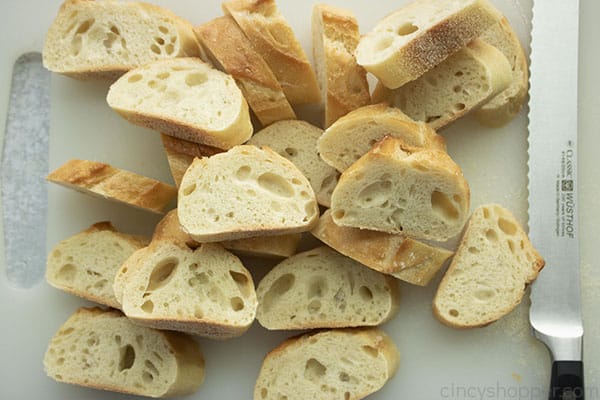 Crostini toppings
This parmesan crostini recipe is a basic appetizer that should be in every chef's repertoire. Once you know the method of making crostini, you can get creative with your toppings.
Any of these choices make an elegant and impressive appetizer when served on top of crostini slices:
Smoked salmon or shrimp
Cheeses like goat cheese, blue cheese, cream cheese or mozzarella
Sun dried tomatoes
Caramelized onions
Spinach
Bacon
Jams, spreads or pesto
Salsa or pico de gallo
Roasted vegetables
Fruits like pears and thin apple slices
Fresh herbs such as basil, rosemary and oregano
Avocado slices
All of these options make it a great party food. If you toast the baguette with a little butter and olive oil, you could even create a crostini bar full of fruits, vegetables and spreads. Everyone could make their own topping combinations.
Crostini is versatile and can be served hot or cold. Some ingredients are best toasted on the crostini, but many, like the spreads and pico de gallo, would be served on the side as dip.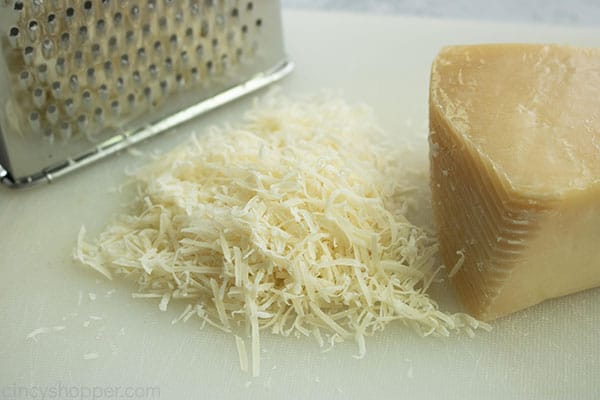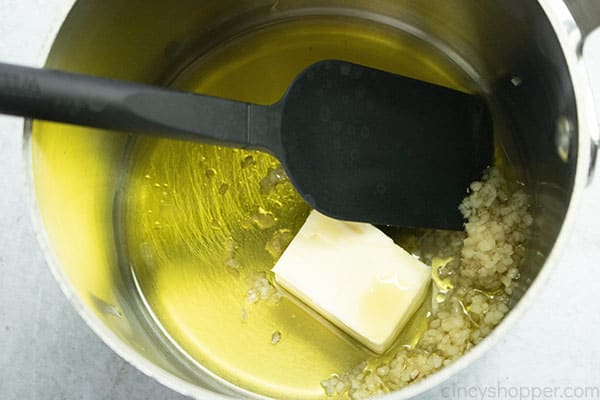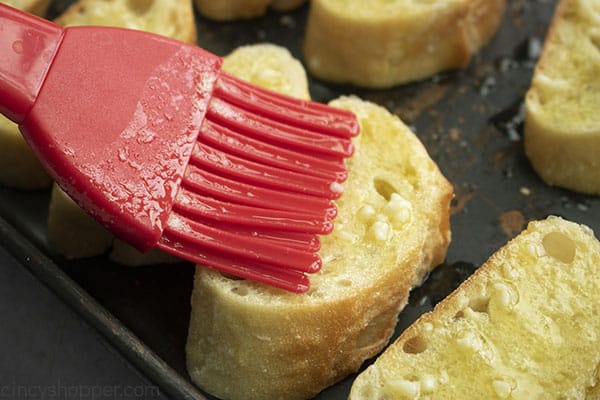 What is the difference between bruschetta and a crostini recipe?
Both crostini and bruschetta are part of an Italian antipasto plate. They are typically served alongside other appetizers like cheese olives and meat.
As you can see, crostini is made from a French loaf baguette. This kind of bread, when sliced, leaves us with small round pieces. It is similar to white bread in taste and texture. Because they are so small, four or five are usually considered a serving size.
On the other hand, bruschetta has a base of rustic Italian or sourdough bread. This bread is typically wide and much bigger when sliced.

How far ahead can you make crostini?
I prefer to eat these right out of the oven. But you can make them ahead and store them.
The main consideration is to preserve the crisp texture. So store them in an airtight container for up to two days at room temperature. Make sure they are cooled completely before storing them.
If they start to get soggy, you can pop them back in the oven for a few minutes to recrisp.
You can actually freeze the parmesan crostini as well. Again allow them to cool completely and then put in a freezer safe container. Put them in the oven to reheat so they are crisp.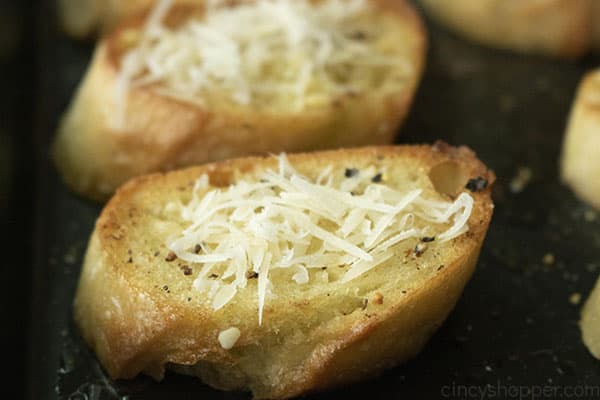 Italian dinner party
This is just the first dish for creating the perfect Italian dinner party.
Follow this crostini recipe with a classic Italian dish like baked ziti or creamy tomato fettuccine.
It tastes great as a side dish for soup on a cold evening too. You'll see parmesan crostini served alongside tomato basil soup or chili.
Crostini
A crostini recipe is a must for entertaining. This parmesan version is simple and elegant with olive oil, butter and cheese.
Ingredients
1

loaf French Baguette

1/3

cup

Olive Oil

3

tbsp

Butter

2

tsp

minced Garlic

1/4

cup

Parmesan Cheese
Instructions
Preheat the oven to 425.

Slice baguette into approximately 1/4" thick slices.

In a small pan, combine the olive oil, butter and garlic.

Cook over medium heat until butter has melted and the mixture is bubbling.

Remove from the heat.

Brush both sides of each piece and place on baking sheet.

Place Parmesan cheese on top of each slice.

Bake on the middle rack of oven until golden brown (about 9-10 minutes).
Nutrition
Calories:
289
kcal
|
Carbohydrates:
22
g
|
Protein:
5
g
|
Fat:
20
g
|
Saturated Fat:
6
g
|
Cholesterol:
18
mg
|
Sodium:
373
mg
|
Potassium:
53
mg
|
Fiber:
1
g
|
Sugar:
1
g
|
Vitamin A:
210
IU
|
Vitamin C:
1
mg
|
Calcium:
87
mg
|
Iron:
1
mg