Grasshopper Pie is the perfect combo of chocolate and minty flavors. This easy no bake dessert tastes great on St. Patrick's Day!
This beautiful Green Pie is a fresh, minty treat you're going to love! For other mint desserts, check out our Easy Shamrock Pie and our No Bake Mint Oreo Cheesecake.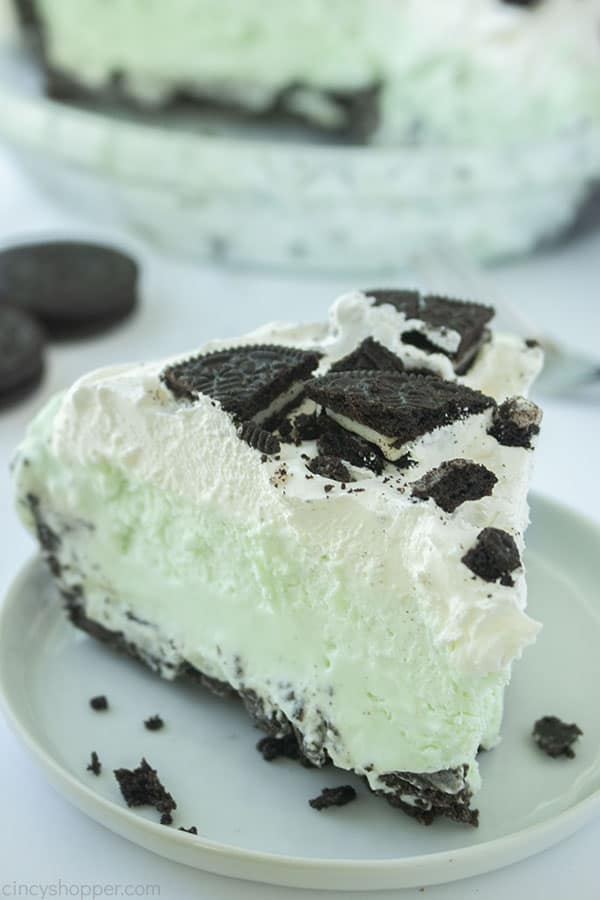 Grasshopper Pie
Trying fresh and interesting new desserts is always such a treat- literally! These dessert recipes are usually some of my favorite recipes to make: I'm always on the lookout for simple and easy desserts. Baked desserts like cookies and cakes are great but no bake desserts are usually some of the easiest dessert recipes you can make. Today's recipe is one of these easy no bake desserts that you folks at home can make with no real difficulty: Grasshopper Pie!
No, we're not putting actual grasshoppers into a pie- that's silly. A Grasshopper Pie is another name for a Creme de Menthe Pie: it's a cool, minty dessert made with a touch of mint liqueur. Mixed up with some whipped cream and marshmallow creme, that mint liqueur works wonderfully in a no bake pie filling. The pie filling tastes great, but pairing it with an Oreo crust and a crushed Oreo topping just makes things even better!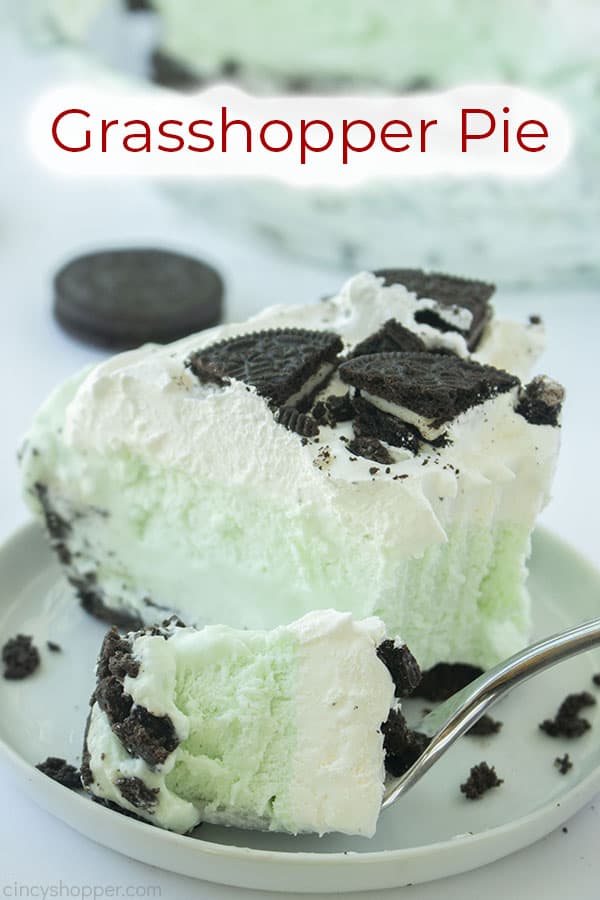 Minty desserts like this Green Pie are always perfect around St. Patrick's Day. This stuff would make for a great holiday dessert after Saint Patrick's Day dinner, but there's nothing stopping you from making this no bake pie anytime of the year. Follow along with the recipe below for the Best Grasshopper Pie you've ever had! Hope you enjoy.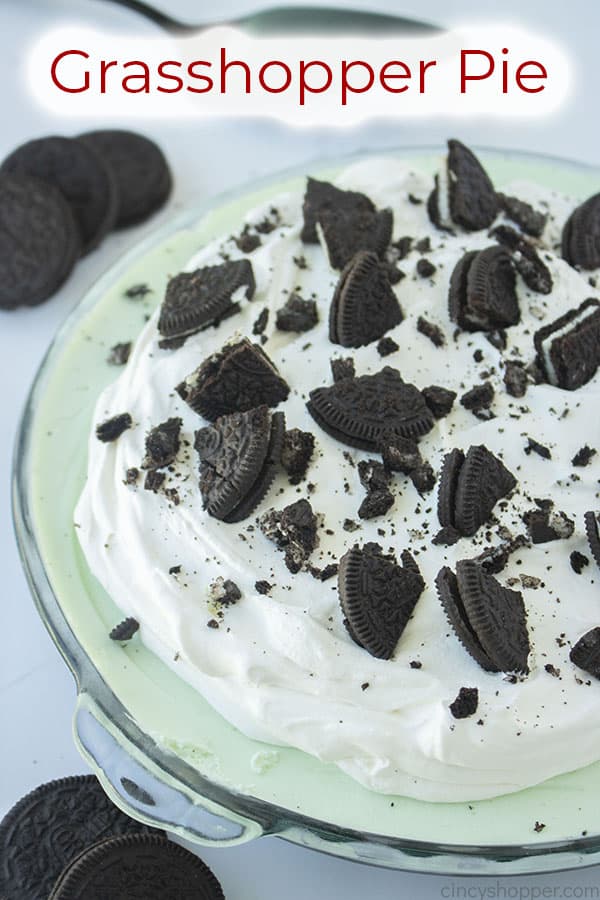 Loved this dessert? Try some other St. Patrick's Day Dessert recipes next!
Keeping things minty, we've got our copycat recipe for the

McDonald's Shamrock Shake

.

This classic green drink is always a favorite on the McDonald's Menu every time St. Patrick's Day comes around, and it's easy to make one from scratch

. Creamy, minty, and oh-so good- yum!

We love ourselves some good baked desserts too, like our

Guinness Cupcakes with Bailey's Frosting

.

This easy recipe sees moist chocolate cupcakes made with a touch of Guinness beer topped with a delicious Bailey's buttercream frosting

. These are great for serving up to a big crowd of party guests at your next get together.

Can't forget a creamy, no bake cheesecake recipe, so how about trying our

Bailey's Cheesecake

? There's a touch of Bailey's in the Oreo crust, and our filling is the perfect combo of Bailey's and sweet chocolate!

Topped off with a chocolate ganache drizzle, this simple no bake dessert is certain to be one of your new favorites

.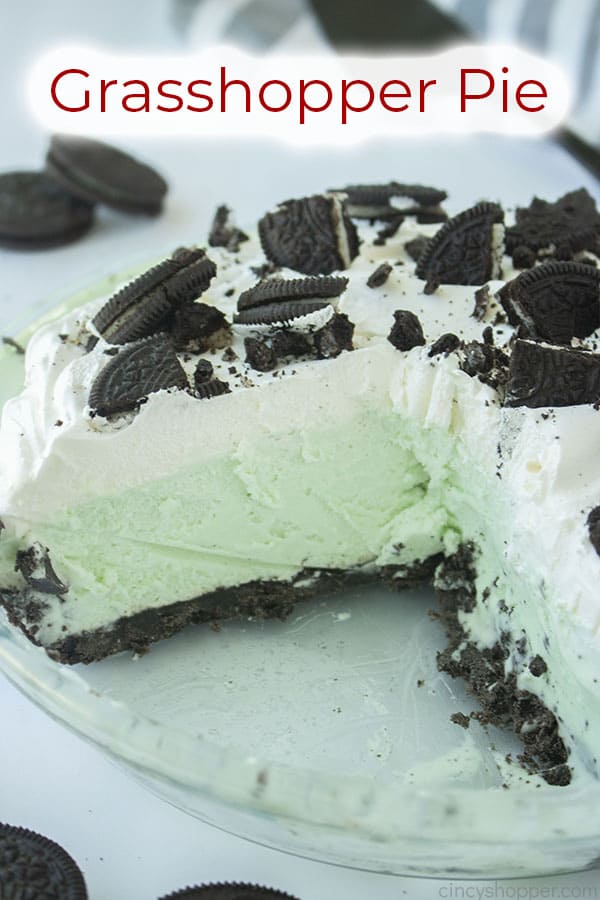 Creme de Menthe Pie Ingredients
Oreos – We'll use these to top the pie and to make the crust- using the butter. If you want a more in-depth look at how to make an Oreo Pie Crust from scratch, click that link. If you'd like, you can also buy a ready-made Oreo pie crust from the store and save a bit of time

Butter

Creme de Menthe Liqueur

–

Ideally

, you'll use a green creme de menthe to make a green pie.

However

, if you can only find clear/white creme de menthe or you like the flavor of it better, you could always add a bit of green food coloring

.

You shouldn't have to worry too much about the ABV or how boozy the liqueur is since we're only using around 1/4 cup or 2 fluid ounces

.

Non-Alcoholic Creme de Menthe Substitute – If you don't want to use Creme de Menthe, you do still have a few other options. If you don't mind the extra sweetness, there are some mint Italian soda syrups like the ones from Torani: maybe use 2 tablespoons instead of 1/4 cup. You could also use just 1/2 tsp of peppermint or mint extract and add a touch of green food coloring to get the green color back.

Marshmallow Creme

Heavy Whipping Cream
Ignore the marshmallows: we thought we were going to use them and never ended up doing so. Whoops!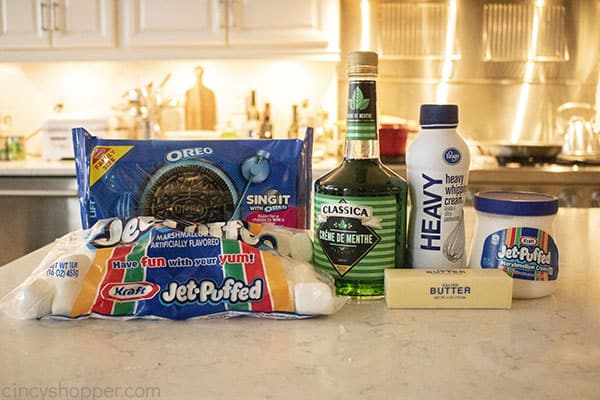 How to make a Grasshopper Pie
This No Bake Grasshopper Pie is very easy to make. Here's all the steps you need to follow:
Make an Oreo Pie Crust

by

mixing crushed Oreos with melted butter

and

pressing into bottom of pie dish

.

In separate bowls,

whip together creme de menthe and marshmallow creme

and

whip heavy whipping cream to soft peaks

.

Fold whipped cream into the creme de menthe and marshmallow creme

before

pouring pie filling into crust

.

Freeze for two hours

to set.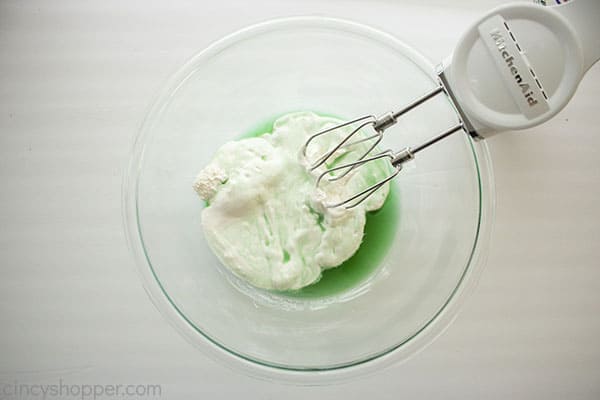 Prep your pie crust by melting your butter and mixing it with finely crushed Oreos until you get a sort of dough. Press it into the bottom of a pie dish and let set in the fridge for about 30 minutes. While that sets, whip together the creme de menthe and the marshmallow creme. To a separate bowl, add your whipping cream.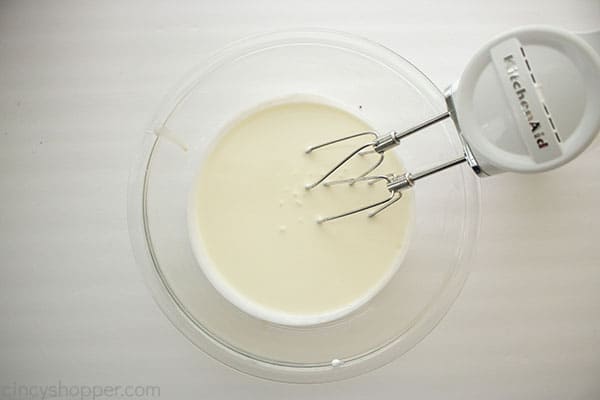 Grab a whisk or a hand or stand mixer and start beating the whipping cream. What we want is soft peaks.
Once you hit soft peaks, pour the whipped cream into the bowl with the other pie filling ingredients. Fold everything together to keep the cream from deflating. When everything is mixed, transfer to the awaiting pie crust.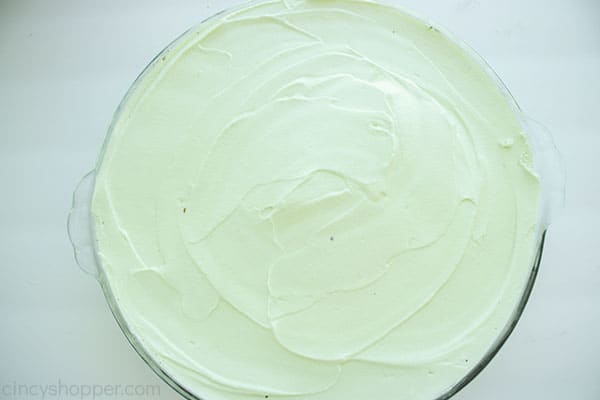 Optionally top your pie with a bit of extra whipped cream and some roughly crushed Oreo cookies. After decorating your pie, put it in the freezer to set for at least 2 hours.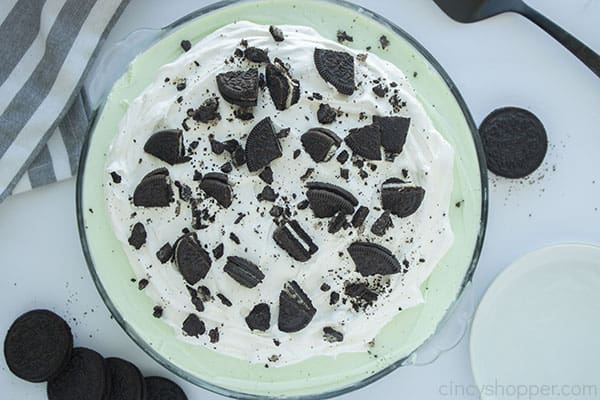 Pull your pie from the freezer about 10-20 minutes prior to serving to soften it up. After freezing, this pie is best enjoyed within a week- after that, it starts to pick up some odd flavors. Hope you enjoy!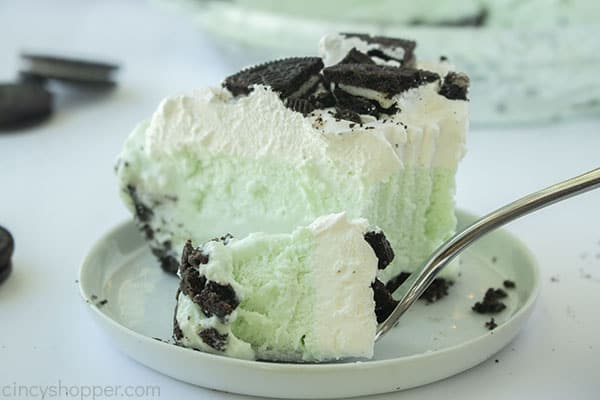 Grasshopper Pie
Grasshopper Pie is the perfect combo of chocolate and minty flavors. This easy no bake dessert tastes great on St. Patrick's Day!
Ingredients
25

Oreo Cookies

divided

1/2

cup

Butter

melted

2

cup

Marshmallow Creme

1/4

cup

Creme de Menthe liqueur

2

cup

Whipping Cream
Instructions
Finely crush about 21 cookies.

Place crushed cookies in a bowl with melted butter and mix to combine.

Press mixture firmly into bottom and sides of a pie dish and refrigerate for 30 minutes.

In a bowl, whip together the marshmallow creme and creme de menthe until blended. Set aside.

In another bowl, whip the whipping cream until soft peaks form.

Fold the whipped cream into marshmallow mixture.

Transfer mixture into the prepared crust.

You can dress this up by adding a layer of additional whipped cream.

Roughly crush the remaining Oreos and sprinkle the top of the pie.

Freeze for at least 2 hours.

Remove from freezer 10-20 minutes before you serve.
Nutrition
Calories:
608
kcal
|
Carbohydrates:
58
g
|
Protein:
3
g
|
Fat:
41
g
|
Saturated Fat:
23
g
|
Polyunsaturated Fat:
3
g
|
Monounsaturated Fat:
13
g
|
Trans Fat:
1
g
|
Cholesterol:
112
mg
|
Sodium:
297
mg
|
Potassium:
129
mg
|
Fiber:
1
g
|
Sugar:
38
g
|
Vitamin A:
1230
IU
|
Vitamin C:
1
mg
|
Calcium:
50
mg
|
Iron:
3
mg