Baileys Cheesecake is flavored perfectly with delicious Irish cream liqueur. This is an easy no bake dessert that's well worth the wait!
We're big fans of these No Bake Cheesecake recipes: they're easy, don't clog up the oven, and make for delicious cool treats! For more easy, no bake cheesecakes, try Orange Creamsicle Cheesecake or our Mint Oreo Cheesecake.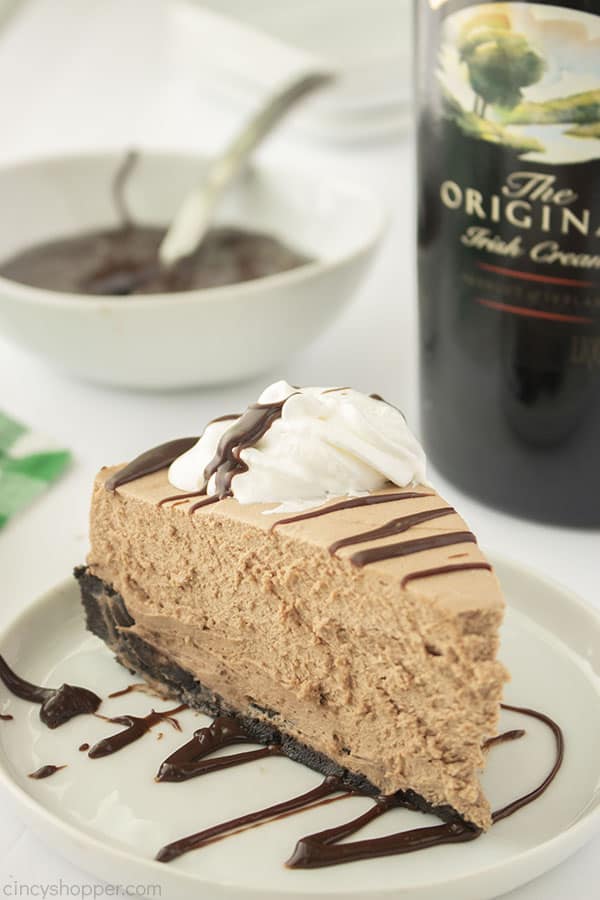 Baileys Cheesecake
I've personally lost track of how many No Bake Cheesecakes we've made for this site. The format is just so easy to tweak with and change up to set up all sorts of amazing flavor combinations! You can make them fruity, creamy, sweet, chocolatey- the possibilities are endless. Today, I've got a special no bake recipe ready: a Baileys Cheesecake that's perfect for dessert this St. Patrick's Day!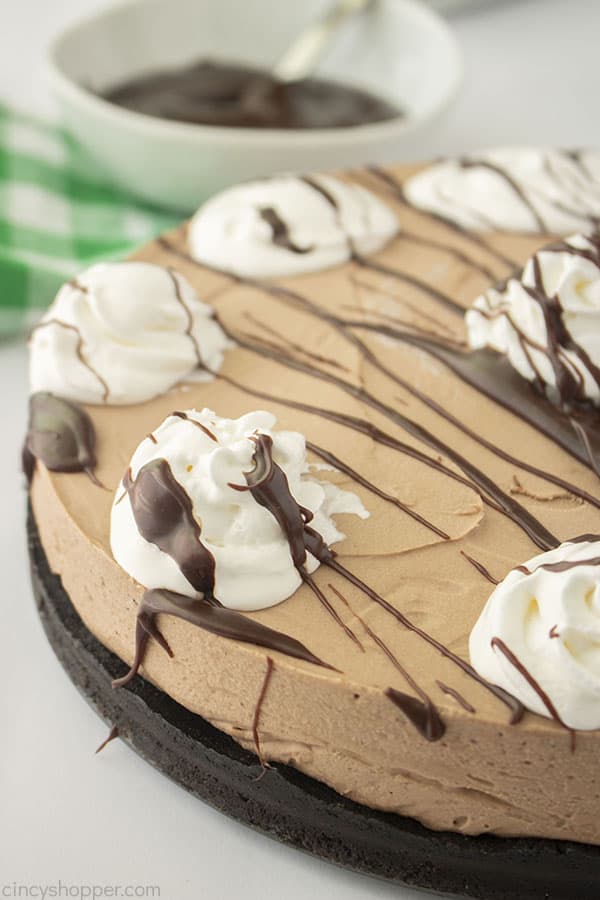 Without the Baileys, this recipe would make a great No Bake Chocolate Cheesecake. However, those touches of Irish Cream really take this dessert dish to the next level! If you've ever cooked with Baileys- we've got a few recipes further down if you'd like to try- you know that it can bring some wonderful flavors to a recipe. This No Bake Irish Cream Cheesecake is no exception!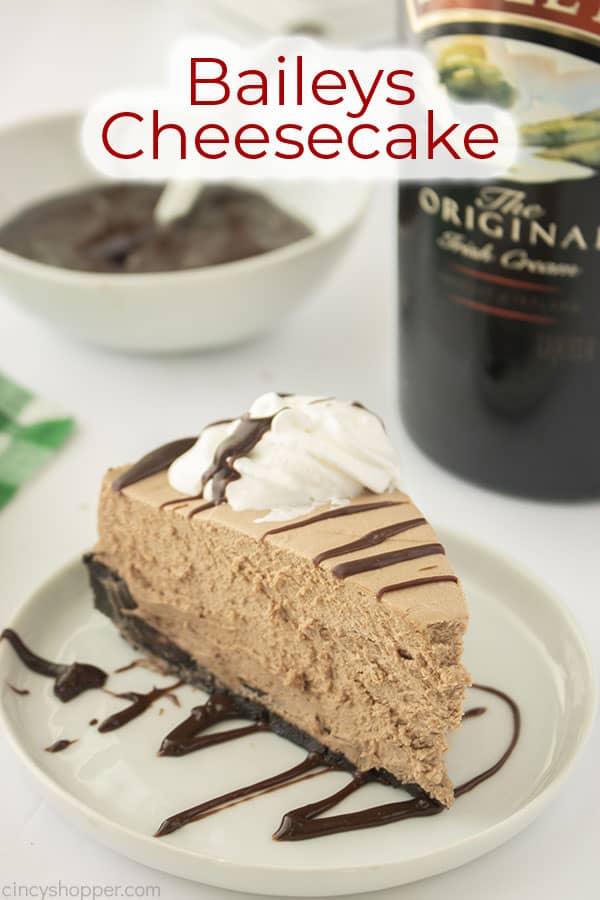 A touch of Baileys in the Oreo crust gives a bit of creaminess. The Baileys in the cheesecake filling combines perfectly with the sweet chocolate. Finally, we couldn't help but add a bit of Baileys to our chocolate ganache dressing. It helps tie the dish together: you can find a bit of that Baileys flavor in everything! It's a darn shame the kiddos can't get in on this boozy dessert- it really is something special.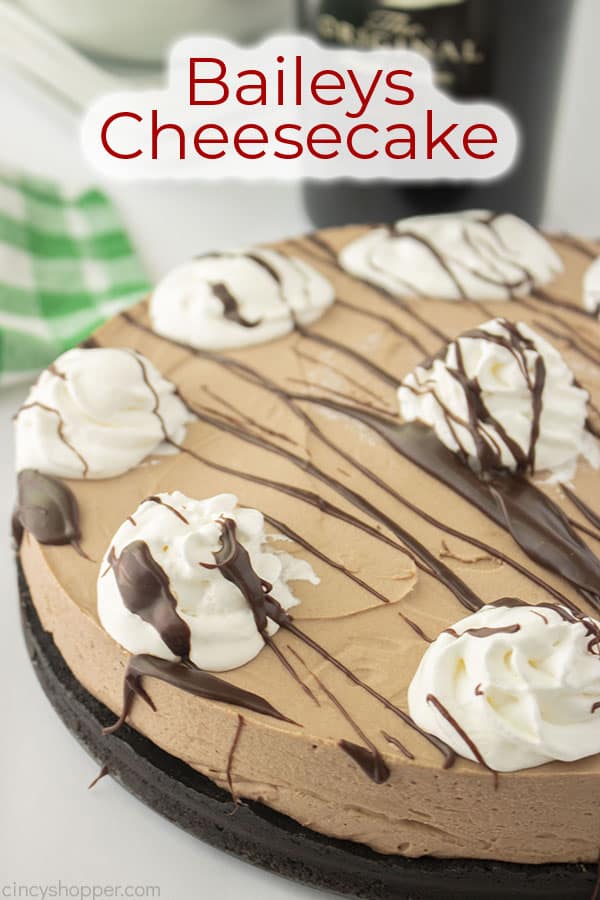 Like all of our other no bakes, you're going to love how easy this Baileys No Bake Cheesecake is to make. It's going to feel like your cheating, getting a dessert so delicious with so little hands-on time with the dish! You just need a bit of patience: it'll all be worth it, though, when you finally pull your finished cheesecake from the freezer and grab yourself a slice. This is a tasty dessert we know you all are going to love!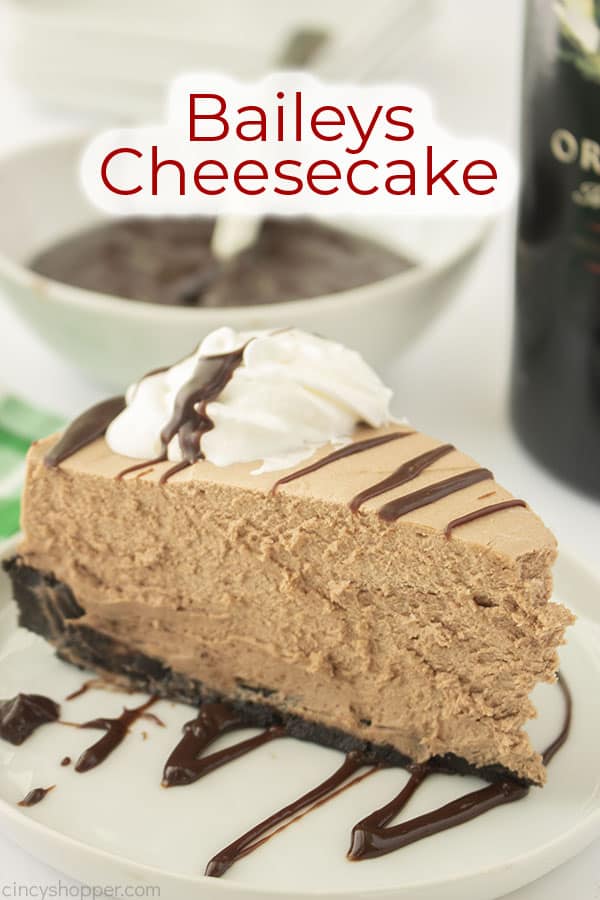 Enjoyed this Baileys Cheesecake recipe? Give these Guinness and Baileys recipes a try!
For another cool treat, try making up a batch of

Baileys Ice Cream with Guinness Chocolate Ripple

.

A touch of that cream liqueur has the right amount of flavor without making this homemade ice cream real boozy

. Add in a delicious chocolate drizzle made with Baileys and your in for a real tasty sweet treat!

If you're wanting some baked goods, try these

Guinness Cupcakes with Baileys Frosting

.

These'll make for a great St. Patrick's day dessert: moist, chocolatey cupcakes topped up with a creamy frosting

.

Just

the right amount of Guinness and Baileys to taste wonderful without being too boozy!

Keep the oven warm- you still have to try our

Guinness Chocolate Donuts with Baileys Glaze

.

Again, Guinness combines

perfectly

with the chocolate for a flavor combo you're gonna love

! A bit of Baileys in that glaze is a definite upgrade as well.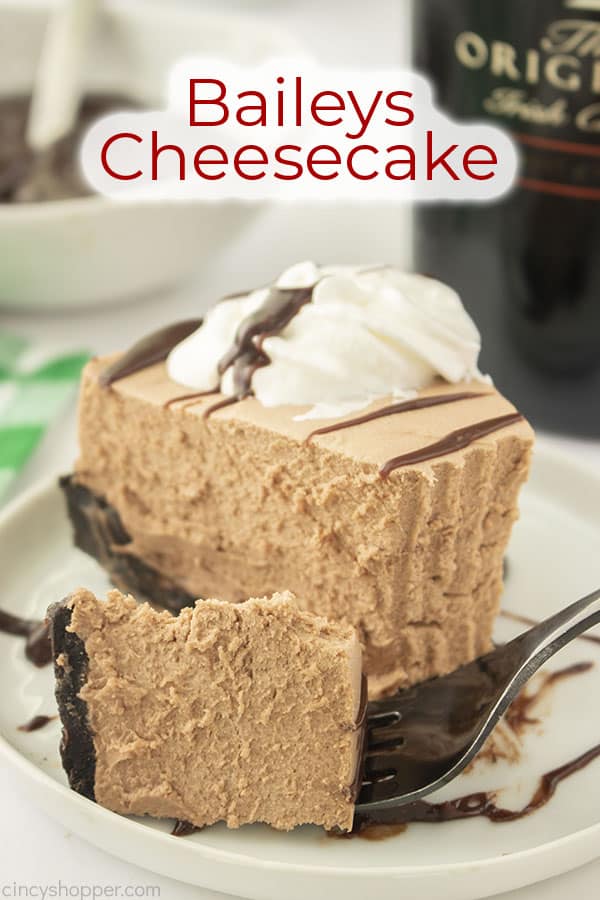 Ingredients for Irish Cream Cheesecake
We have three different working parts that are going to come together into our Bailey's Cheesecake
. For the crust, you'll need…
Oreos

– Or your favorite chocolate wafer cookies…

Butter

Baileys Irish Cream
Cream Cheese

Sugar

Baileys

Chocolate Chips

– We loved this cheesecake filling when we made it with sweet chocolate chips! Try it with semi-sweet chips if you prefer.

Heavy Whipping Cream

– You can use heavy cream but it may take

slightly

longer to whip.
Finally, the chocolate ganache dressing is going to need…
Heavy Cream

Chocolate Chips

Baileys
How to make our No Bake Baileys Cheesecake
Prep for our No Bake Cheesecake recipe is very easy! Here's all you'll need to get done:
Blitz together your crust ingredients in a food processor

before

pressing into a greased springform pan.

Beat together your cream cheese filling

before

folding it with some whipped cream

and

adding it to the pan.

Let the cheesecake freeze for a few hours

before

topping it with a chocolate ganache drizzle.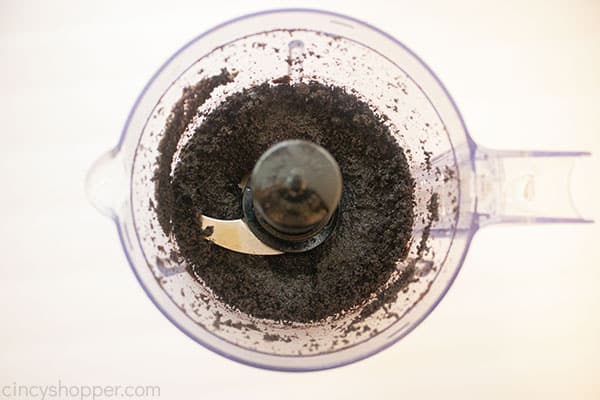 Add your crust ingredients to a food processor and process until crushed and well-mixed. Press the crust mixture into the bottom and slightly up the sides of a greased springform pan (I used a 9 inch). Set that in the freezer to set for about half-an-hour- the perfect amount of time to whip up a filling! Start the filling by beating together some cream cheese and sugar.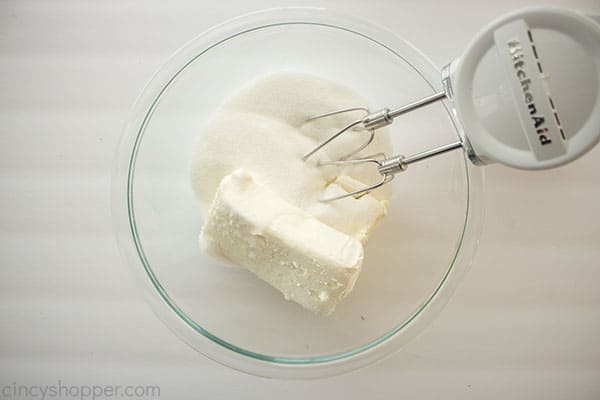 Once that reaches a consistent, fluffy texture, add in some of our Baileys. Beat that in until fully incorporated.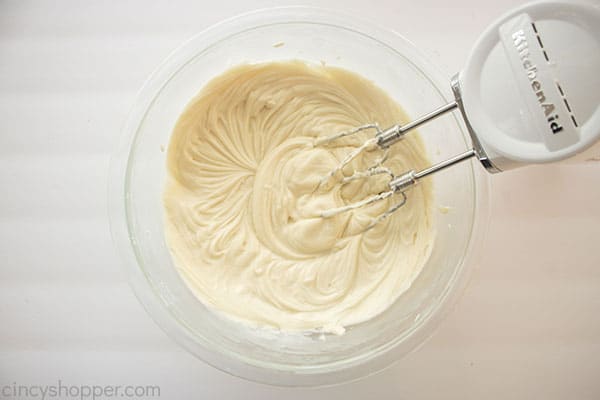 Now we need to melt some chocolate. The best way to do this is to microwave and stir the chocolate in 1-minute bursts. Repeat until melted and smooth before adding to the cream cheese mixture and beating until fully mixed.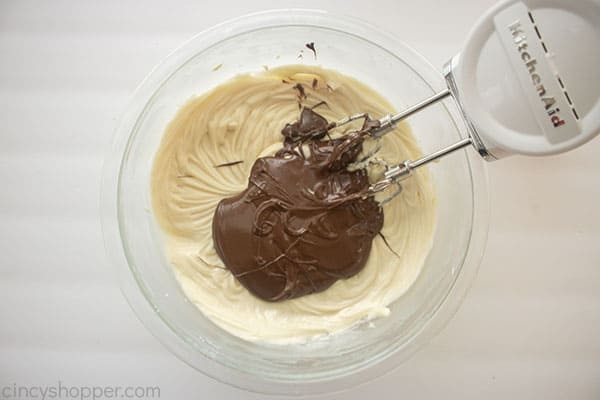 To give our filling a bit more volume, we're going to fold it with some whipped cream. First, beat your whipping cream until it's… well… whipped-stiff peaks!
Once that's whipped, add your cream cheese mixture to the bowl with the cream and start gently folding the two together. Try your hardest to not deflate that whipped cream! Once those are mixed, you can pour the filling into our set crust from earlier and return it to the freezer for 3-4 hours.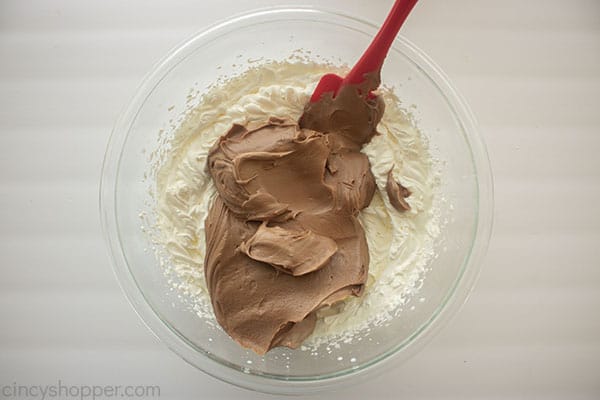 When our cheesecake is getting close to being done in the freezer, we can prepare our ganache topping. To do that, heat some heavy cream in the microwave or on the stovetop until very hot but not boiling. Add in your chocolate chips and stir until melted- the heat from the cream should be enough to melt it. Add in a bit of Baileys, let the mixture cool until just warm and still runny before using it to top your cheesecake. Cut off a slice, plate, and enjoy!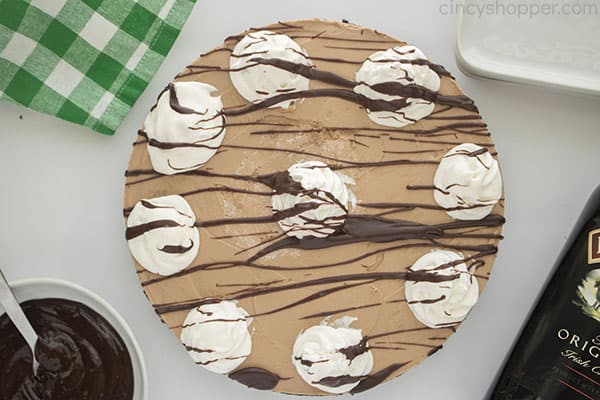 How long is No Bake Cheesecake good for?
After letting it
fully
set in the freezer, you can keep your Baileys Cheesecake in the fridge for around 3-5 days. Kept in the fridge, it will stay set but not freeze solid. For long-term storage, keep it in the freezer wrapped with plastic wrap. If kept this way, expect it to last 6 months-
maybe
even longer!
How to freeze No Bake Cheesecake- the right way!
You'll find out, very
quickly
, that you can't
just
toss your cheesecake into the freezer if you're planning on storing it long-term
. When you pull it out, it's often frozen together into a solid mass that's hard to make clean cuts in.
Before freezing your cheesecake, consider pre-portioning it out into slices and putting a bit of parchment paper between each slice
. Frozen this way, you'll be able to
easily
grab a slice from the freezer whenever your hungry.
We'd recommend
gently
reheating your slice if you're in a rush:
carefully
cook in a microwave on half-power until thawed but still set
.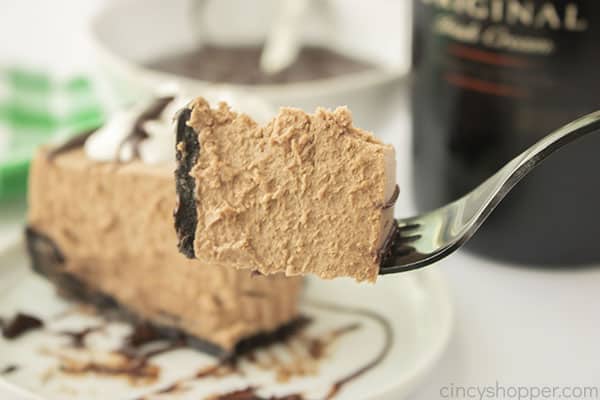 Bailey's Cheesecake
Baileys Cheesecake is flavored perfectly with delicious Irish cream liqueur. This is an easy no bake dessert that's well worth the wait!
Ingredients
Crust:
22

Oreos

3

tbsp

Butter

melted

2

tbsp

Bailey's Irish Cream
Filling:
16

oz

Cream Cheese

softened

1

cup

Sugar

1/4

cup

Bailey's Irish Cream

6

oz

Semi-sweet Chocolate Chips

melted

16

oz

Whipping Cream
Ganache:
1/4

cup

Heavy Cream

6

oz

Semi-sweet Chocolate Chips

2

tbsp

Bailey's Irish Cream
Instructions
Grease a springform pan and set aside.

In a food processor combine cookies, melted butter and Bailey's and pulse until crushed and well mixed.

Press mixture into bottom and slightly up the sides of prepared pan.

Place in freezer for 30 minutes.

In a large bowl, cream together sugar and cream cheese until fluffy.

Add 1/4 cup of Bailey's and beat until incorporated.

In a microwave, heat 6 ounces of chocolate chips for 1 minute, stir and repeat until melted.

Add melted chocolate to cream cheese mixture and beat until incorporated.

In a separate bowl, whip 16 ounces of whipping cream until fluffy.

Fold cream cheese mixture into whipped cream.

Pour/spread mixture into prepared springform pan over crust.

Heat 1/4 cup of heavy cream in the microwave until very hot but not boiling.

Add chocolate chips and stir until chocolate is melted and the mixture is smooth.

Add 2 tablespoons of Bailey's and stir until blended.

Allow mixture to cool to just warm before drizzling over cheesecake.
Nutrition
Calories:
999
kcal
|
Carbohydrates:
78
g
|
Protein:
10
g
|
Fat:
72
g
|
Saturated Fat:
41
g
|
Trans Fat:
1
g
|
Cholesterol:
164
mg
|
Sodium:
400
mg
|
Potassium:
440
mg
|
Fiber:
4
g
|
Sugar:
59
g
|
Vitamin A:
1857
IU
|
Vitamin C:
1
mg
|
Calcium:
132
mg
|
Iron:
6
mg