French Bread Pizza is so easy to make and can use your favorite pizza toppings. Our homemade pizza recipe tastes way better than Stouffers!
Pizza from scratch always tastes so good, and using French bread makes things so much easier. For some other easy pizza recipes, try our Broccoli Flatbread Pizza or Veggie Pizza Bites.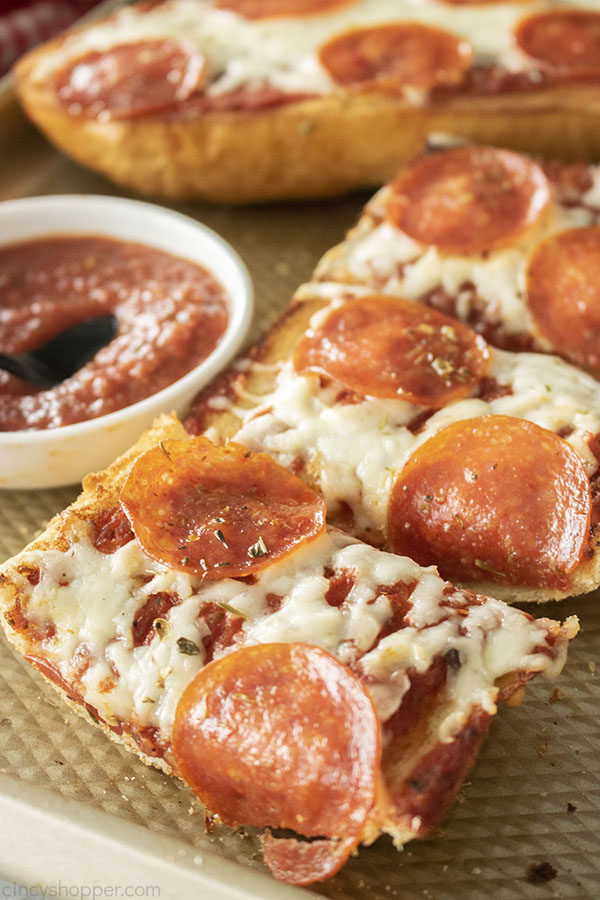 French Bread Pizza
Quick and easy snacks have always been a necessity for a family as big as ours. One of our favorite frozen snacks to stock up on has always been Stouffers French Bread Pizza. It's one of the quickest- and tastiest- ways to get something pizza-like cooked up for a snack or small meal. It's so easy to make Frozen French Bread Pizza, but it's just about as easy to make French Bread Pizza from scratch!
Pizza Bread combines the chew and doughy bite of your favorite French bread with all your favorite pizza toppings. A good homemade sauce, some fresh mozzarella, and some pepperoni are perfect for making up a Pepperoni French Bread Pizza all your own! But, like any pizza, you can use any pizza topping of your choosing: you can make a supreme pizza, a meat lovers pizza, and anything else between. Cooks up quick too- you could have pizza ready in less than half-an-hour if you work quick enough!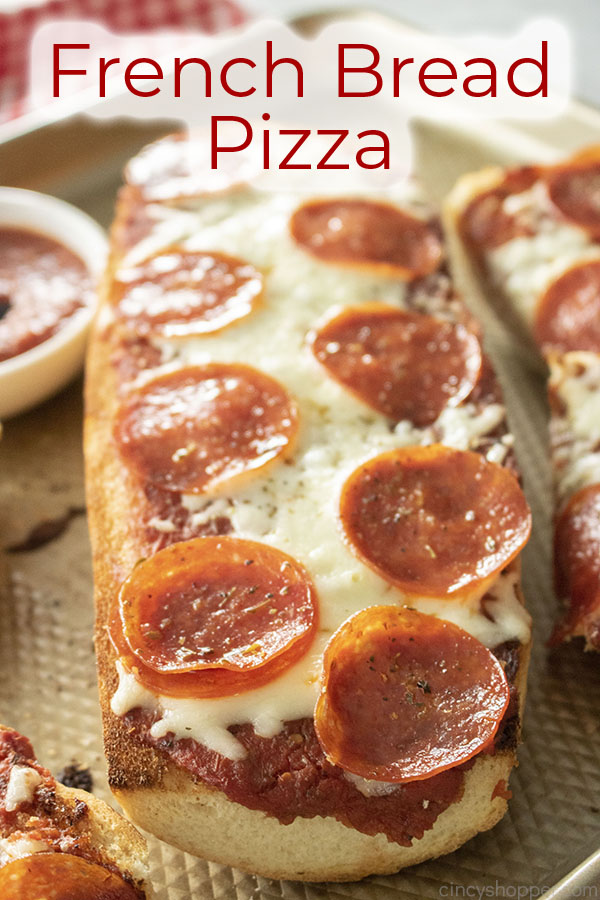 Enjoyed this recipe? Try these pepperoni pizza recipes next!
For a tasty party snack or appetizer, try our

Pepperoni Pizza Crescents

.

Crescent rolls make for such delicious snacks, and when they're stuffed with pepperoni and string cheese with some marinara for dipping, they're perfect

! So easy to make and packed with flavor.

If you need a good party dip, then go with our

Easy Cheesy Pizza Dip

. This is a hot, melty blend of pizza sauce, 3 cheeses, some pepperoni, and classic Italian pizza spices! For easy dipping, pair up with some Ritz crackers.

For a good, filling family meal, make some of our

One Pot Pepperoni Pizza Pasta

.

Everybody loves pizza and everybody loves pasta, so why not throw them together into a meal everyone will love

? This is a hearty filling meal that tastes great and isn't hard on the wallet!
Pizza Bread Ingredients
Bread

– There's plenty of bread loaves that'll

work

for this recipe, but a classic french loaf tends to work out the best

.

Garlic Butter

– For toasting our bread, we're going to mix up some of our

Easy Garlic Butter Spread

. This is a simple blend of butter, garlic powder, onion powder, and some parsley.

Pizza Sauce

– You can go with some store-bought pizza sauce or you can make up some

Homemade Pizza Sauce

instead! You can also try making your French Bread Pizza with some

White Pizza Sauce

too.

Cheese

– Fresh shredded mozzarella works the best! Feel free to throw in some parmesan or

Pecorino Romano

if you'd like.

Pizza Toppings

– Pepperoni is the go-to option here, but you can pick any of your favorite pizza toppings.

Grab some ham, bacon, and/or meatballs for a meat-lovers pizza or throw on some peppers, onions, and sausage for a supreme pizza

!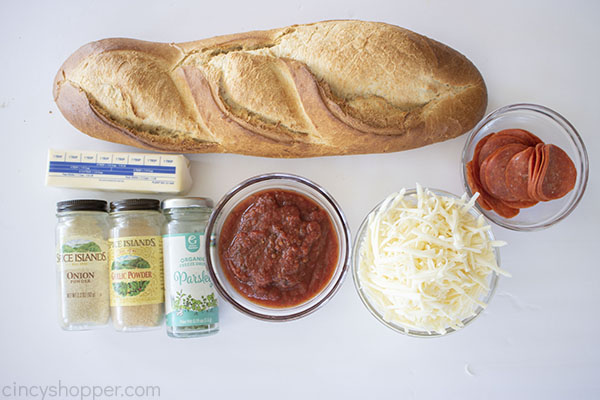 How to make French Bread Pizza
Homemade French Bread Pizza isn't that much harder to make than frozen french bread pizza:
just
a couple extra steps
! Here's all you have to do:
Mix up

the

garlic butter

and

spread over halved bread loaves

.

Toast in 400 degree oven

for about

7 minutes

.

Spread the pizza sauce over the toasted bread halves

and

then top with your cheese

.

Add

on

any other toppings

you'd like as well.

Cook in 400 degree oven

for about

12 minutes

, or

until cheese

is melted

. Let cool before slicing and serving.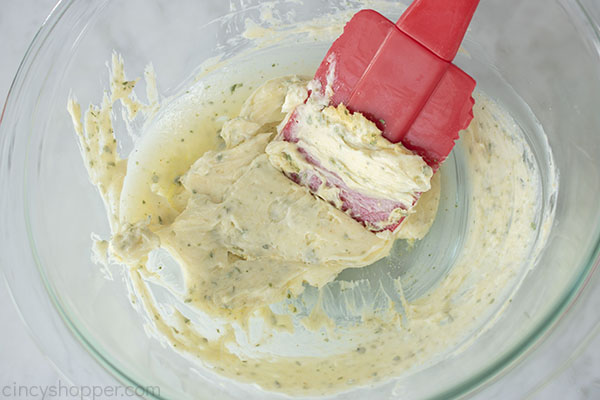 Let's start by toasting our bread with some garlic butter. To make garlic butter, melt or soften butter in the microwave and mix with garlic powder, onion powder, and parsley. Take the loaf and cut it half both crosswise and lengthwise to give you 4 pieces. Take your garlic butter and spread it.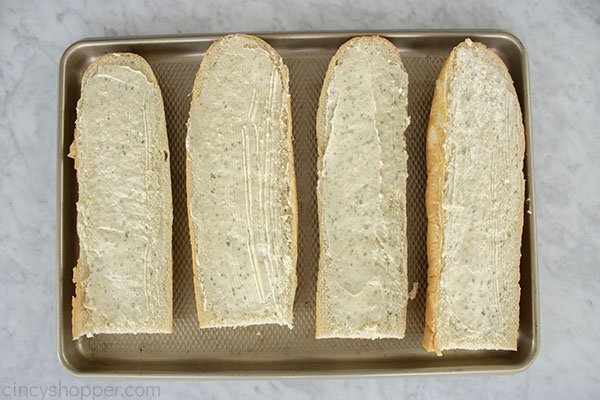 Set on a baking sheet and toast in an awaiting 400 degree oven for around 7 minutes.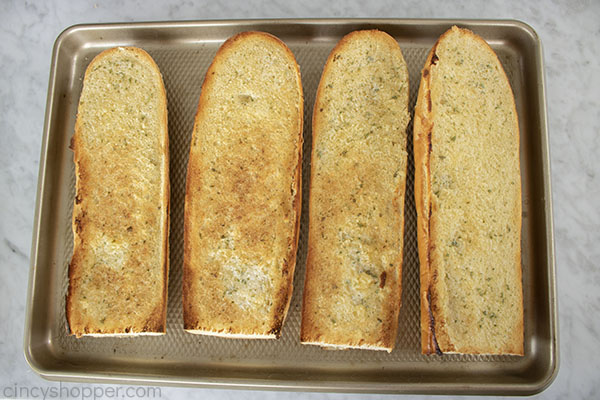 Once toasted and golden-brown, pull from the oven. Spread your pizza sauce evenly over the toasted surfaces.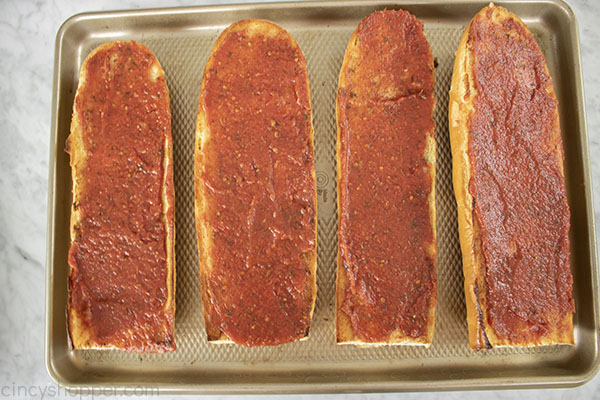 Top with your cheese(s) of choice. We just went with freshly shredded mozzarella this time around.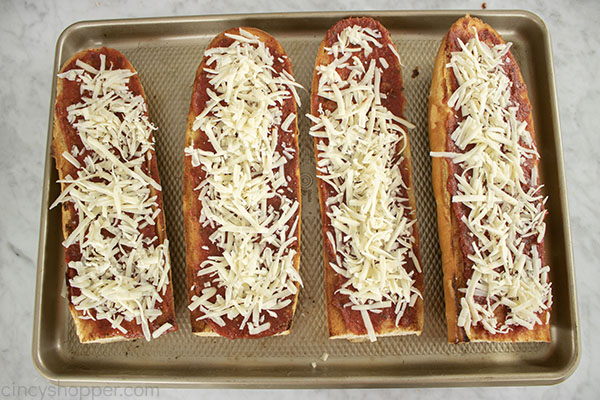 Add any other toppings you'd like at this point: we kept things simple with some pepperoni. Return to the 400 degree oven and let bake for about 12 minutes. Once the cheese is melted and your toppings are cooked, your French Bread Pizza is done. Let cool before slicing, serving, and enjoying!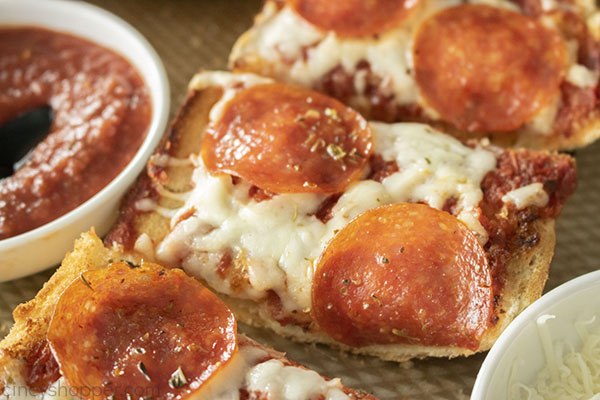 French Bread Pizza
French Bread Pizza is so easy to make and can use your favorite pizza toppings. Our homemade pizza recipe tastes way better than Stouffers!
Ingredients
1

loaf

French bread

8

tbsp

Butter

softened

1/2

tsp

Garlic Powder

1/4

tsp

Onion Powder

1/2

tsp

Dried Parsley

1 1/2

cup

shredded Mozzarella Cheese

1

cup

Pizza Sauce

1

cup

sliced Pepperoni

1

tsp

Italian Seasoning
Instructions
Preheat the oven to 400.

In a medium bowl, combine softened butter, garlic powder, onion powder and parsley. Stir until blended. Set aside.

Cut French bread in half and then split lengthwise.

Spread butter spread over each of the four bread pieces.

Place the bread on a baking sheet bake in the oven until lightly browned (about 5-7 minutes).

Spread each of the pieces with a generous amount (about 1/4 cup) of pizza sauce.

Sprinkle 1/4 of the cheese on each piece.

Top each with 1/4 of the pepperoni (as desired).

Sprinkle each pizza with 1/4 of the Italian Seasoning.

Place back in the oven and bake until the cheese is melted and lightly browned, about 12 minutes.
Nutrition
Calories:
759
kcal
|
Carbohydrates:
57
g
|
Protein:
27
g
|
Fat:
48
g
|
Saturated Fat:
25
g
|
Polyunsaturated Fat:
3
g
|
Monounsaturated Fat:
15
g
|
Trans Fat:
1
g
|
Cholesterol:
121
mg
|
Sodium:
1783
mg
|
Potassium:
427
mg
|
Fiber:
3
g
|
Sugar:
7
g
|
Vitamin A:
1258
IU
|
Vitamin C:
4
mg
|
Calcium:
294
mg
|
Iron:
5
mg