Pepperoni Pizza Crescent Rolls are easy to make and packed with flavor. This is a simple appetizer or snack recipe that's too tasty to miss!
If you've been looking for some easy and tasty game day appetizers, these Pizza Crescents are going to be perfect! For a couple other crescent roll appetizers, try Mini Chili Dog Crescents or our Veggie Pizza Bites.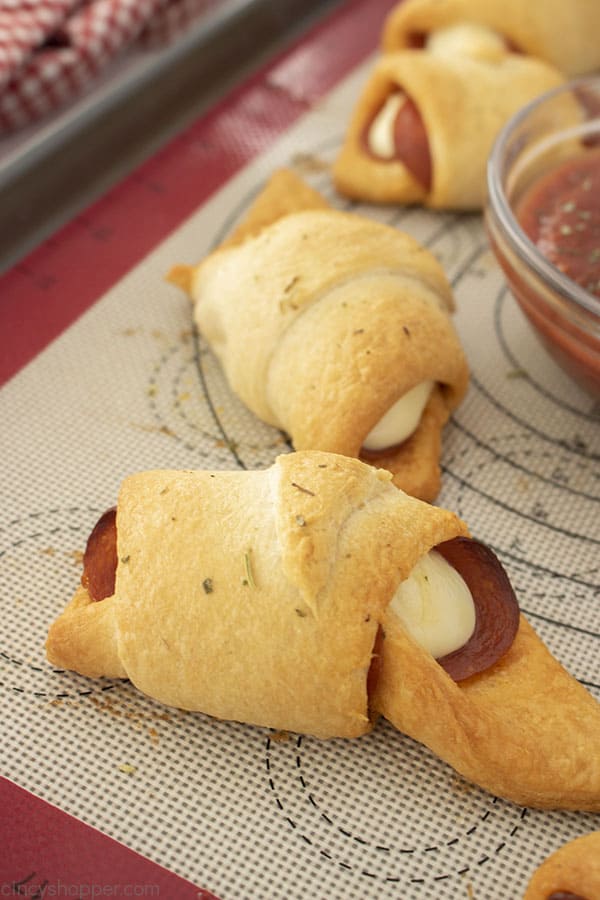 Pepperoni Pizza Crescent Rolls
It's not hard to love pizza: that combo of melty cheese, rich sauce, and perfectly-cooked toppings just hits the sweet spot for most people. If you need a safe and cheap option for dinner, you can always call up your local pizza place. The best pizzas and pizza dishes, however, are made at home. If you're not in the mood to prep dough and blend up some sauce for a homemade pizza, try making some of these Pepperoni Pizza Crescent Rolls instead!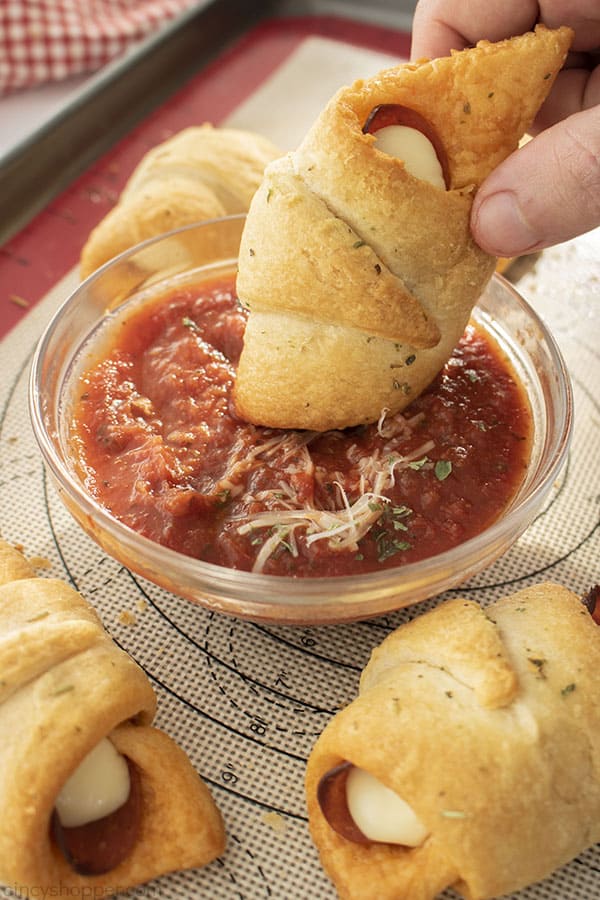 Crescent rolls are so useful in the kitchen for making all sorts of different snacks and appetizers. Here, we're using them to make something like pepperoni pizza rolls, but wrapped up in buttery crescent rolls instead of a crispy pizza dough. We've messed with all sorts of stuffed crescent roll recipes, but this is one of our favorites!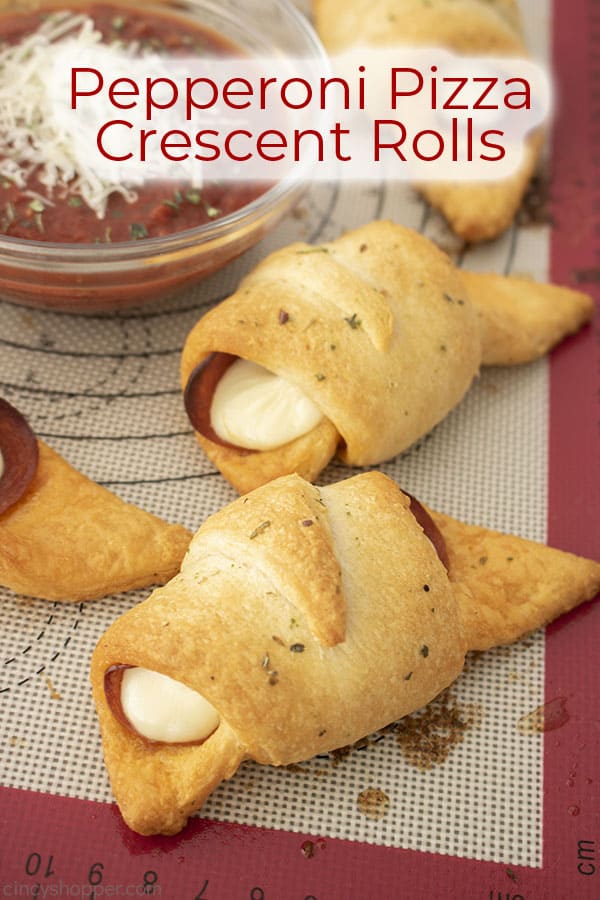 Our Pepperoni Pizza Crescents are so easy to make and work as a quick snack or a fun appetizer recipe. You can even mix-and-match the fillings to copy all sorts of different pizza flavors! We hope you give this recipe a try and let us know if you find any other delicious fillings we can use.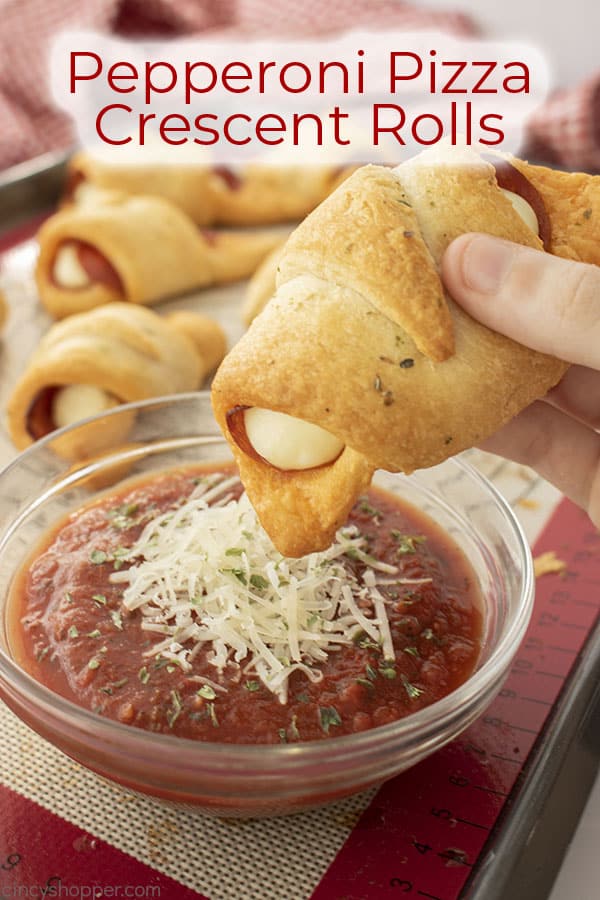 Loved this recipe? Try some of our other crescent recipes next!
We used crescent roll dough to make an appetizer here, but how about using it for an easy weeknight dinner? For that, try our

Chicken Pot Pie Casserole

!

This is one of our favorite recipes for busy weeknight dinners: it uses plenty of storebought ingredients to keep things easy and it's great for using leftover chicken

. So simple to whip up and it tastes to delicious and comforting!

You can also make some delicious crescent roll desserts, like our

Apple Dumplings

. These are an amazing autumn dessert that'll get your house smelling like fall in no time! One of our favorite apple recipes and must-make when autumn comes around.

For another easy sweet breakfast or dessert recipe, you could try our

Cherry Pie Bites

.

This is another sweet treat that we've kept super simple with the help of some crescent roll dough and some cherry pie filling

. Flaky crust and sweet cherries- topped with a bit of sugary glaze, what's not to love?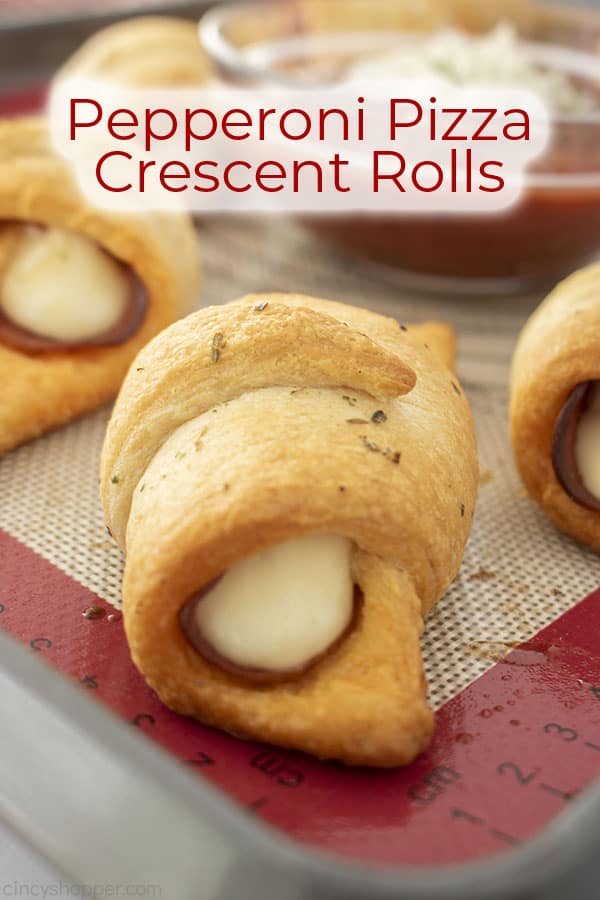 Ingredients for Pizza Crescents
Canned Crescent Roll Dough

Pepperoni

Mozzarella String Cheese Sticks

Seasoning

– Go with any of your favorite pizza seasonings and spices! For something easy, go with something like our homemade

Italian Seasoning

.

Butter

– You'll be mixing your seasonings into the butter so they'll stick to the crescents more

easily

in the oven

. You could also try using olive oil if you wanted.

Marinara/Pizza Sauce

– We like to dip our Pizza Crescent Rolls in the sauce. You can try adding a bit of sauce to each crescent instead if you'd like!
You can also try using all sorts of different ingredient combos to copy the tastes of all your favorite pizzas
. Toss in some bacon, ham, and meatballs for a meat lovers pizza.
Maybe
, instead of red sauce, try dipping your crescent rolls in some
White Pizza Sauce
and see which you like better
?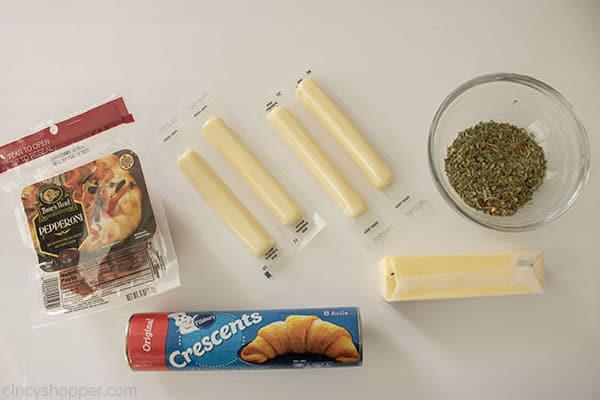 How to make Pizza Crescent Rolls
These Pepperoni Crescent Rolls are so easy to prep and bake in less than 20 minutes. To make your own, here's what you need to do:
Assemble and prep your ingredients:

half your cheese sticks

, unroll your crescent dough, and

mix your seasonings and butter

.

Add a few pepperoni slices and a cheese stick half

to your crescents before

rolling up

.

Brush with seasoned butter

before putting in the oven.

Bake at 375 degrees for 10-15 minutes

until browned to your liking.

Serve with a bowl of pizza sauce

for dipping.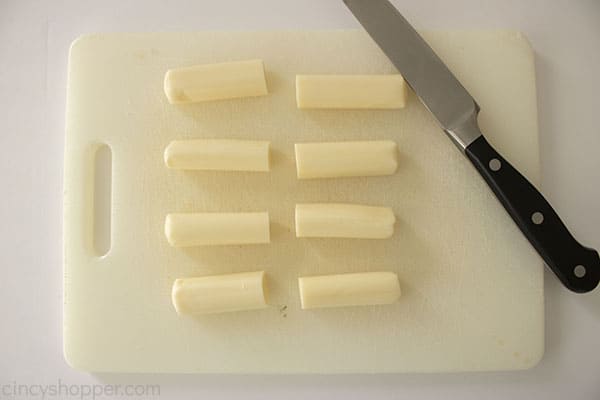 Before assembling our rolls, we do have to put in a little bit of effort. Take a knife and cut your mozzarella string cheese sticks in half so they'll fit inside our rolls. After that, melt some butter and add your seasonings to it.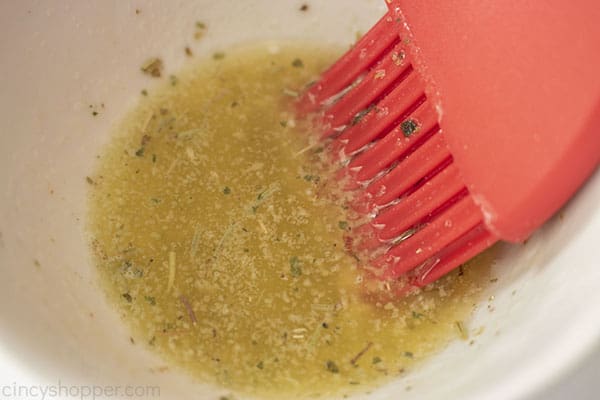 Really, that's the hardest parts done and dealt with. All that's left is assembly. Unroll and separate your crescent roll dough into the perforated triangles. Put some pepperoni slices on there- we like about 4-5- and put a string cheese half in.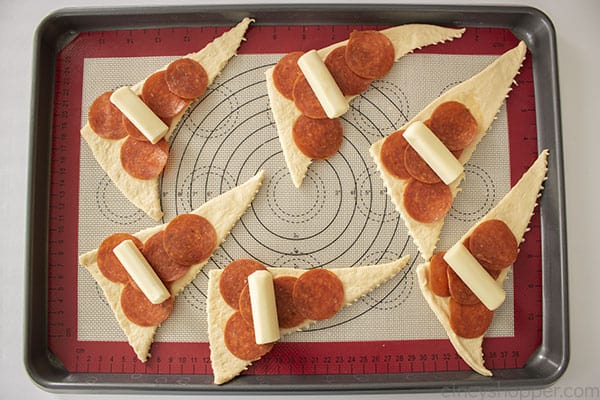 Next, roll the dough and fillings up.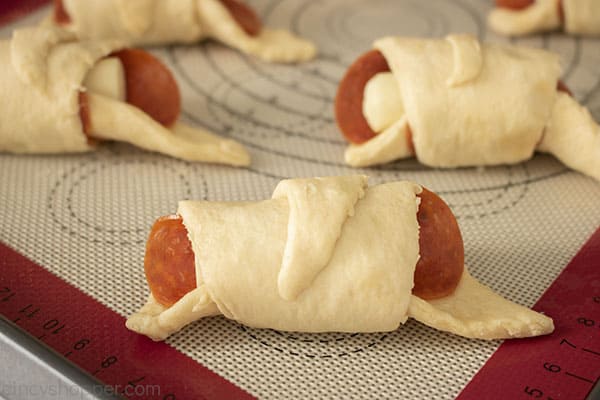 Now, before we get these things baking, you'll want to hit them with the seasoned butter. This will help them brown and also add in some of those recognizable pizza spices and flavors to the rolls.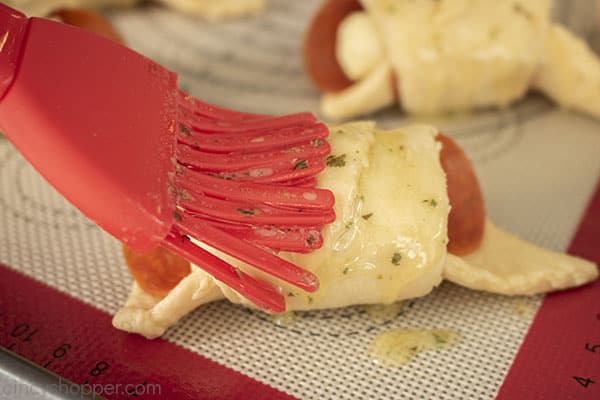 All that's left is to bake! At 375 degrees, these Pizza Crescent Rolls will take about 10-15 minutes. Basically, pull them when they're browned to your liking and the cheese is a bit meltier. Let them cool for a minute or two before serving up with some warm pizza or marinara sauce- grate a bit of parmesan over the sauce if you're feeling fancy. Dip, bite, and enjoy!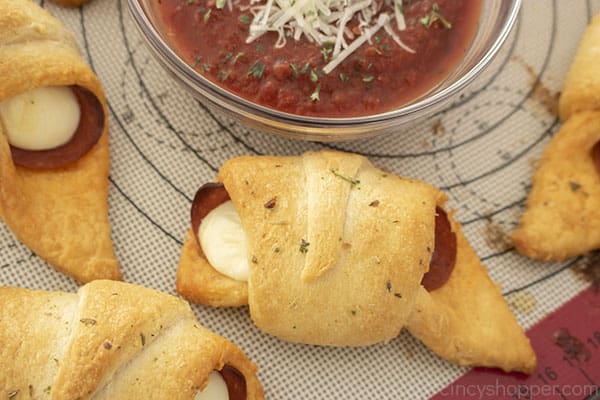 Pepperoni Pizza Crescent Rolls
Pepperoni Pizza Crescent Rolls are easy to make and packed with flavor. This is a simple appetizer or snack recipe that's too tasty to miss!
Ingredients
1

can

Crescent Rolls

32-40

slices

Pepperoni

4

Mozzarella String Cheese

2

tbsp

Butter

2

tsp

Italian Seasoning
Instructions
Preheat oven to 375.

Cut each string cheese in half.

Melt butter, add seasoning and stir until blended. Set aside.

Unroll and separate crescent rolls.

Cover with 4 or 5 overlapping slices of pepperoni and a cut cheese piece.

Roll up and place on a baking sheet.

Brush each roll with the seasoned butter.

Bake for 10-15 minutes, until golden brown.

Serve with warm pizza or marinara sauce.
Nutrition
Calories:
205
kcal
|
Carbohydrates:
12
g
|
Protein:
6
g
|
Fat:
15
g
|
Saturated Fat:
7
g
|
Polyunsaturated Fat:
2
g
|
Monounsaturated Fat:
3
g
|
Trans Fat:
1
g
|
Cholesterol:
23
mg
|
Sodium:
498
mg
|
Potassium:
29
mg
|
Fiber:
1
g
|
Sugar:
3
g
|
Vitamin A:
98
IU
|
Vitamin C:
1
mg
|
Calcium:
21
mg
|
Iron:
1
mg