Easy Chicken Pot Pie is a delicious, filling, and comforting dish packed with plenty of chicken and vegetables. Premade crust makes it easy!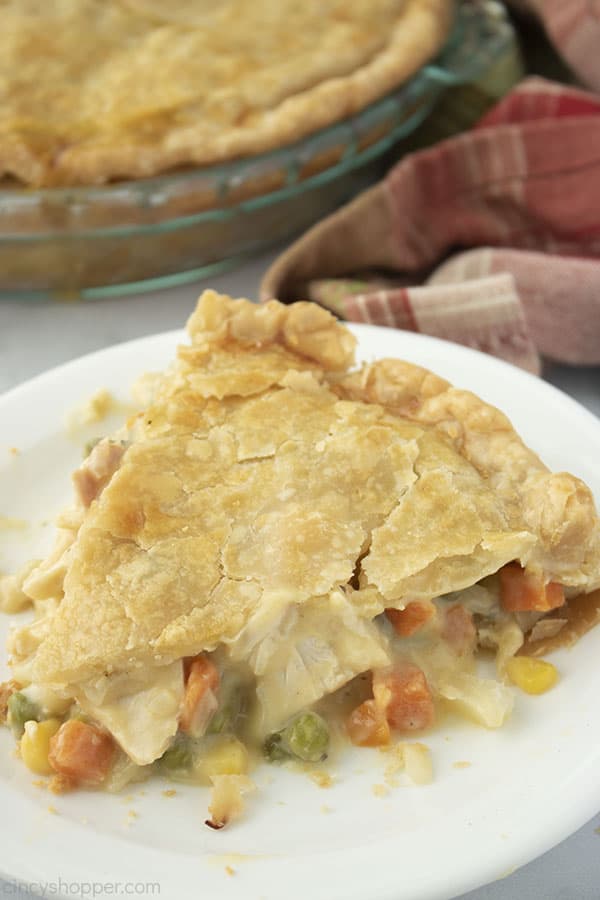 Easy Chicken Pot Pie
There are tons of people who are only familiar with chicken pot pie in its frozen form- be it Stouffer's or Marie Callender's. Frankly, I feel bad for these people- while frozen pot pies are one of the tastier frozen meals you can get, they just don't compare to the real deal. The issue comes with prep: nothing is going to be easier than tossing a ready-made pie into the microwave. We understand that, but- for just a little extra effort- you can easily make a full-sized pot pie that'll blow the frozen stuff out of the water!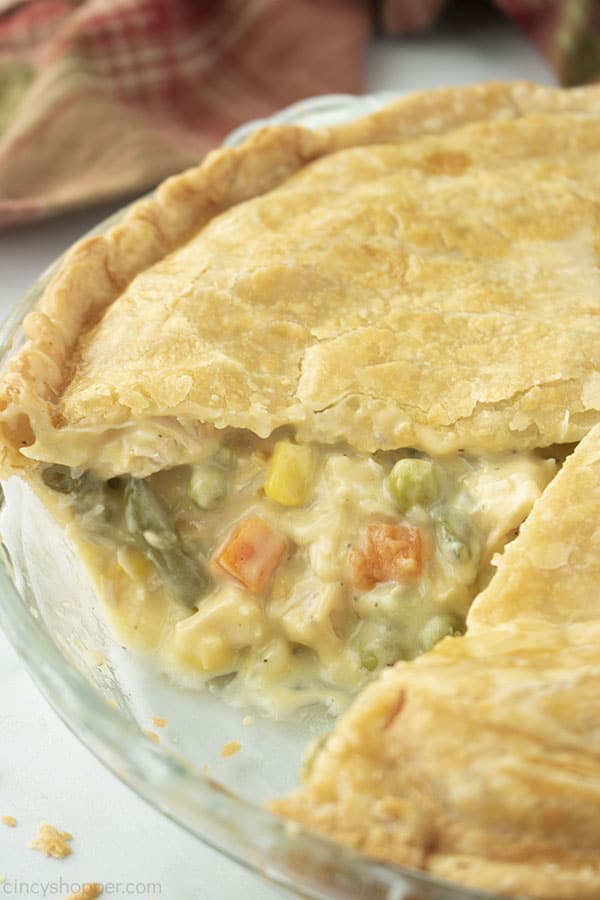 The trick is using the right ingredients. For chicken, you could use anything from a rotisserie to leftovers. When it comes to veggies, frozen vegetables will work just fine! For the pot pie crust, nothing will be easier than a premade pie crust. As far as you're concerned, the only real "prep" you'll have to do is dicing some onions- outside of that, most of the work is already done for you!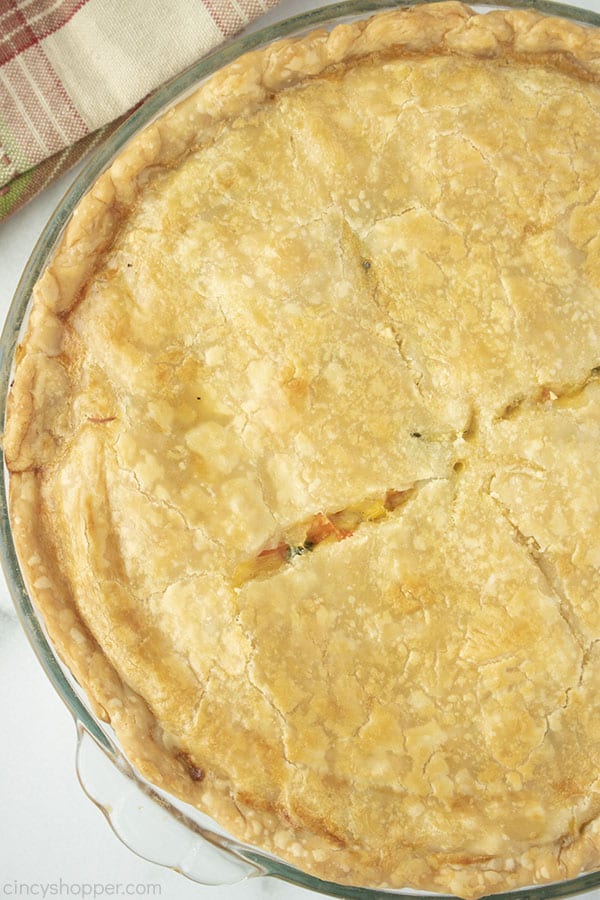 We've got a couple more comforting chicken dishes you'll want to check out!
Chicken Pot Pie Casserole gives you all the warm, filling flavors of chicken pot pie and puts them into an easy, weeknight dinner idea

!

We used buttery, flaky crescent roll dough as a crust to make sure this dish becomes a dinnertime favorite

!

Few dishes are as classic and comforting as

Easy Skillet Chicken & Biscuits

.

Frozen veggies, premade chicken, and canned biscuits make this warm, filling dinner a breeze to make

.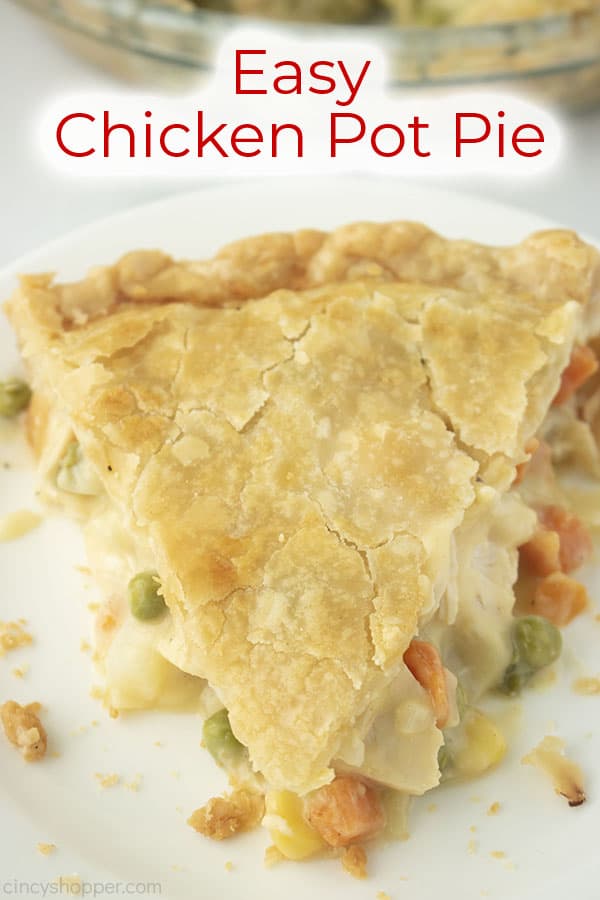 With all these simple ingredients, you can make an amazing homemade chicken pot pie that'll be a dinnertime standby for years to come! You'll even find out that your leftovers will store really easily- more on that later!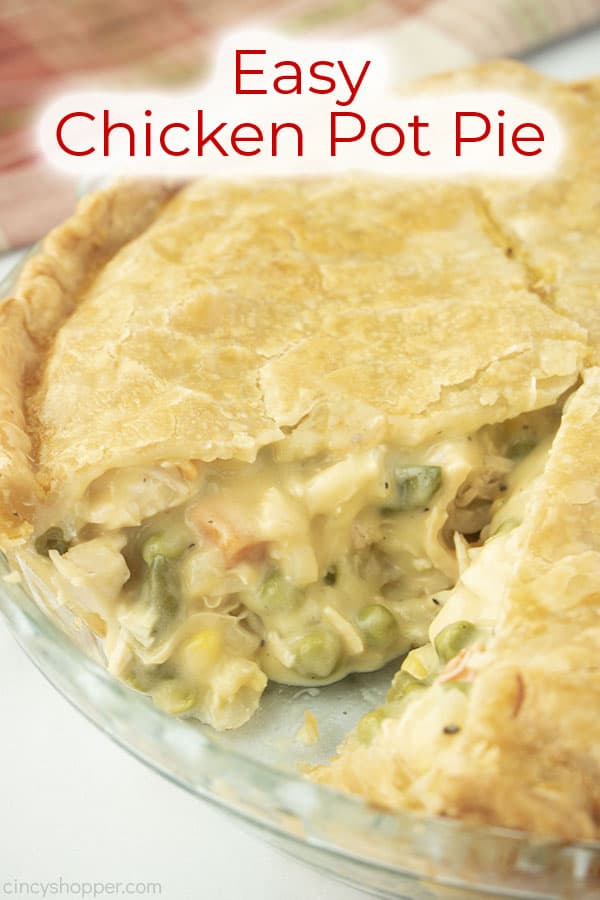 Ingredients for Easy Chicken Pie
Chicken Breast – If you have any leftover chicken, this is a great recipe to use it in. If not, you have plenty of options for making some chicken to use in this recipe:

Baked Chicken Breast

is one of the simplest and easiest ways to get some chicken made for this recipe. Might also be your best option if you're making a larger pot pie…

Why go to the store and buy a rotisserie chicken when you can

just

make one at home?

Slow Cooker Rotisserie Chicken

will give you rich, flavorful chicken that you can cube for this pot pie

. It may take a few hours, but it'll be worth the wait!

Egg – For an egg/water wash

Pie Crusts – You can use either a refrigerated pie crust or- if you have 4 simple ingredients on hand- you can make

Easy Pie Crust

from scratch

!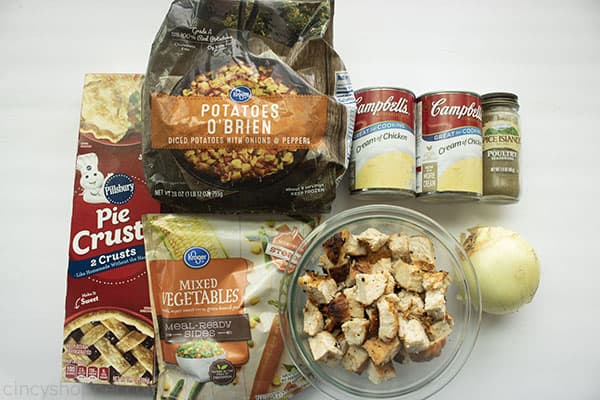 How to make Homemade Pot Pie
Before starting this recipe, get your ingredients all prepped. While your frozen ingredients are thawing on the countertop, start cutting your chicken and dicing your onions.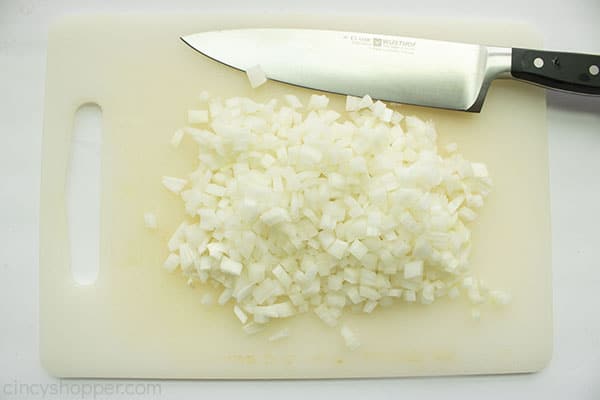 Once you've thawed your frozen ingredients and prepped the others, we can properly get started! In a large pan, start sauteing your onions- optionally with a little pat of butter.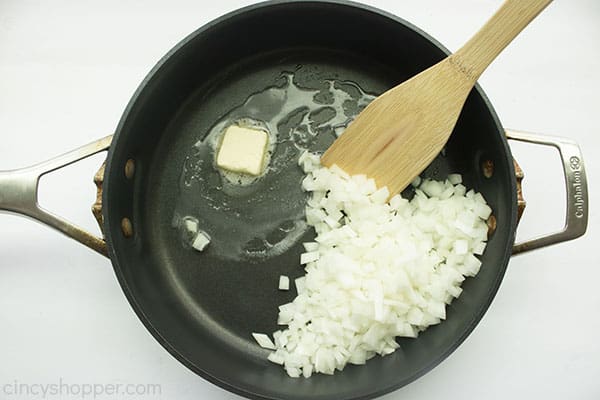 Once your onions are soft and have picked up some color, add in your frozen veggies, potatoes, chicken pieces, poultry seasoning and some water. Let this cook for another 5-10 minutes until everything's warmed through.
At this point, you can add in your cream of chicken soup and continue cooking for another 5 minutes, seasoning to taste along the way. Once that's done, we can add it to our pie! Press one of your pie crusts into the bottom of a pie pan, give a quick docking, and then carefully pour your filling into the pan. Make sure you've allowed the filling to cool for a few minutes before pouring!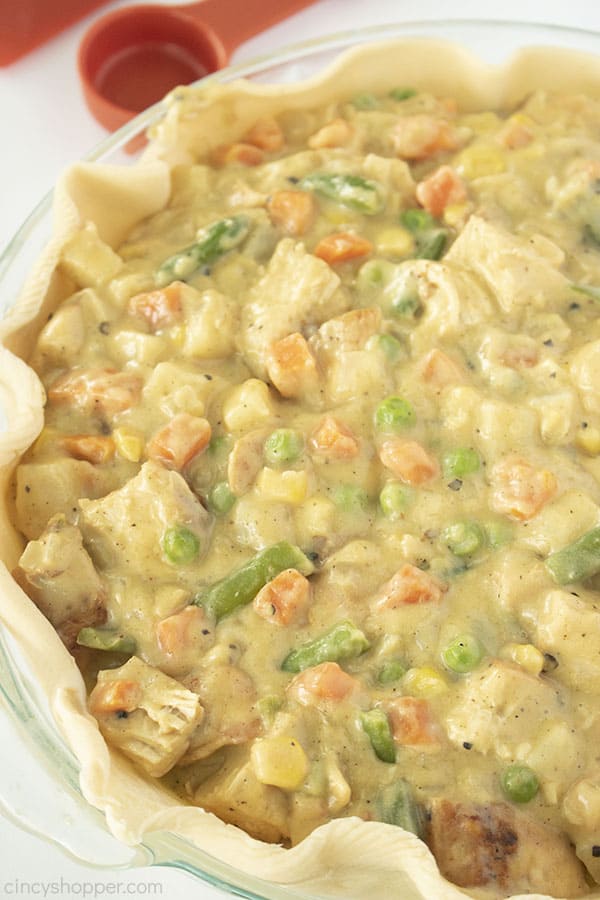 With your filling added, it's time to seal the pie shut. Take your second pie crust and lay it over top of your pie. To seal the pie, just pinch the crusts together- consider giving it a nice decorative crimp while you're at it. Before you send this thing into the oven, however, you'll want to do a few important things. One, you'll want to cut some slits into the top crust- these may look decorative, but they're actually going to keep our pie from exploding in the oven. Second, you'll want to hit the top crust with a quick egg-and-water wash.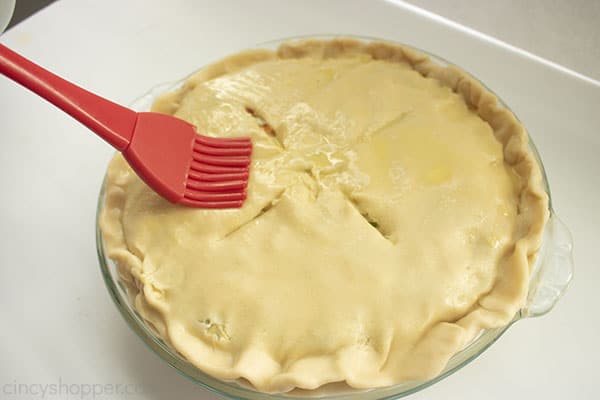 From here, all that's left is to bake! Toss your pie into a 425-degree oven for around 30 minutes. After that 30, we pulled our pie from the oven and added a pie crust ring over our pie and added it back in- you could use aluminum foil here instead. Whether you used foil or a ring, allow the pie to bake for another 25-35 minutes, or until the crust is golden brown and your filling is bubbling.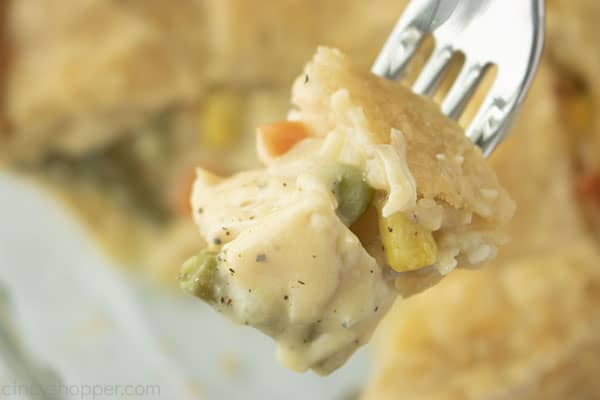 Once your pie has finished baking, pull it from the oven and allow to cool for a bit. Once the filling has cooled to your tastes, start hacking off some slices to serve and enjoy!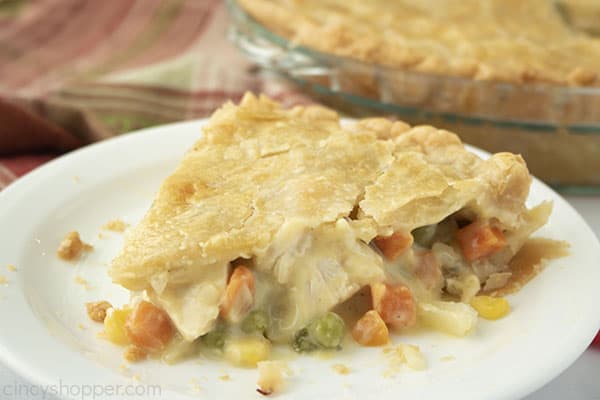 What to do with leftover Chicken Pot Pie and freezing
This chicken pot pie recipe should hold up real well in both the fridge and the freezer.

That means you could

easily

make this ahead of time, toss it into the fridge, and then warm it back up for a party later in the day

. The pie should last for a few days in the fridge, given it's covered

tightly

in plastic wrap or foil.

For freezing, allow your pot pie to cool completely before covering

tightly

with some aluminum foil

. Place in the freezer and store from anywhere to 4 to 6 months. To reheat,

simply

warm it back up in the oven at 425 until the filling has warmed back up.

Have any leftovers?

Just

follow the same advice above! If stored

properly

, this pie could keep you well-fed for a good few days!
Chicken Pot Pie
Easy Chicken Pot Pie is a delicious, filling, and comforting dish packed with plenty of chicken and vegetables. Premade crust makes it easy!
Ingredients
1

lb

Chicken Breast

grilled or meat from 1 Rotisserie Chicken

12

oz

Frozen Peas and Carrots thawed

2

cup

Frozen Diced Potatoes thawed

like Hash Browns or Potatoes OBrien

1

Onion diced

2

can Cream of Chicken Condensed Soup

1

cup

Water

1/8

tsp

Poultry Seasoning

2

Refrigerated Pie Crusts.

Salt and Pepper to taste.
Instructions
Dice chicken into 1/2" cubes.

In a large skillet, grill diced onions until transparent.

Add chicken, water, potatoes, soup, poultry seasoning and peas and carrots.

Stir and cook over medium heat until ingredients are warm (10-15 minutes). If sauce looks too thick, slowly add a little more water until desired consistency is reached.

Remove from heat and allow to cool a little (10 minutes).

Preheat oven to 425.

Heavily grease a 9" pie dish.

Place 1 pie crust in prepared pie dish and use a fork to pierce the crust in several places.

Pour chicken mixture over crust and spread evenly.

Unroll other crust and place over top of chicken mixture and crimp crusts together around edge of dish.

Use a knife to make 4 slits around the top to allow steam to vent.

Brush top with an egg wash.

Bake for 30 minutes. Pull from oven and cover edges with a pie ring or aluminum foil.

Bake for 25-35 minutes or until top is golden brown.
Nutrition
Calories:
532
kcal
|
Carbohydrates:
55
g
|
Protein:
26
g
|
Fat:
23
g
|
Saturated Fat:
7
g
|
Cholesterol:
57
mg
|
Sodium:
1096
mg
|
Potassium:
721
mg
|
Fiber:
5
g
|
Sugar:
1
g
|
Vitamin A:
5592
IU
|
Vitamin C:
14
mg
|
Calcium:
55
mg
|
Iron:
4
mg