My creamy mac and cheese is the BEST according to my friends and family. It's baked and is so cheesy and creamy from the combination of cheeses I use in the easy sauce. It will quickly become a favorite for you too.
Mac and Cheese
Most everyone has a favorite mac and cheese recipe. I have had quite a few favorites throughout the years. I have made a basic easy weeknight Stovetop Version and also made a quick Instant Pot version . Even if you have your favorite, you will want to try this recipe because it is really the BEST. It's great for family dinner or holiday side dish. I serve it for Easter, Thanksgiving, and Christmas.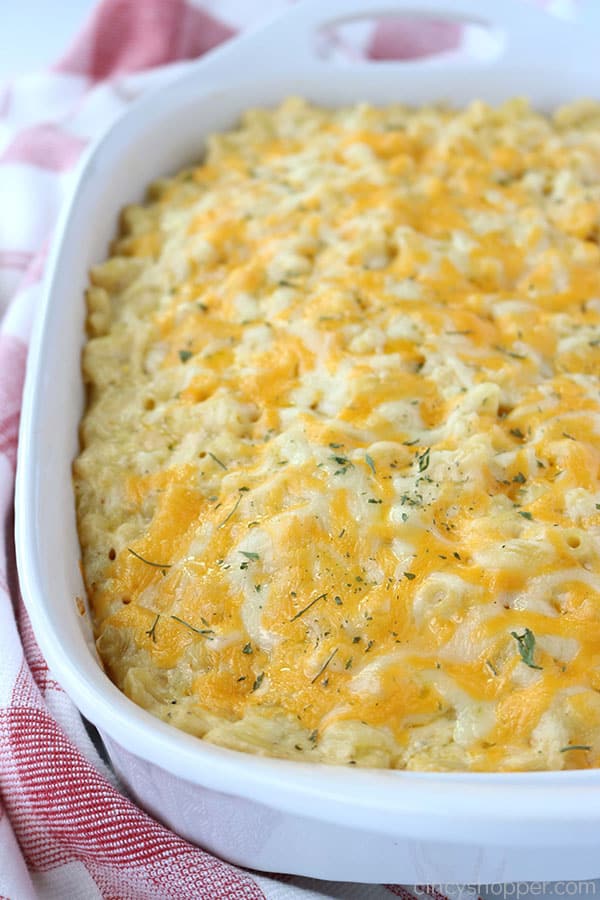 To make this creamy mac and cheese recipe, you will want to start with a pound of pasta. I used the traditional medium-sized elbow. Go ahead and use your favorite. Elbows and shells usually hold the creamy sauce the best. Cook it according to the package directions but remove from heat and drain just before fully cooked (al dente). Then, quickly rinse your almost cooked pasta with cold water to stop it from cooking completely. Your macaroni will finish cooking during the baking process. If you cook the pasta too long, you will end up with a very soggy and overcooked macaroni.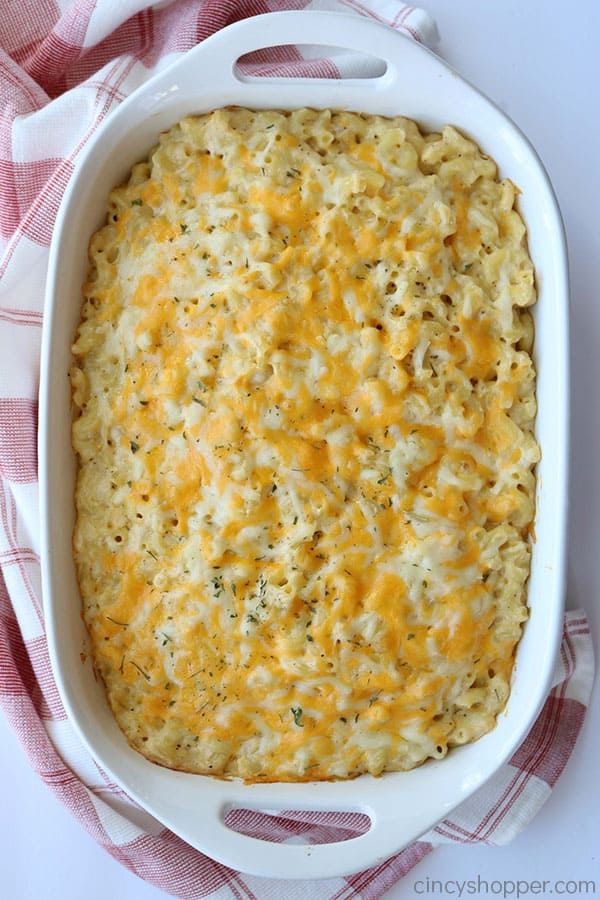 For the cheese sauce, we start with a roux (flour and butter). Making the roux may seem intimidating but it is really so simple. Just whisk constantly and it will be perfect. I used both milk and half and half in the sauce. When adding your milk, be sure to add them slowly. Whisk nonstop to keep a smooth texture to the sauce.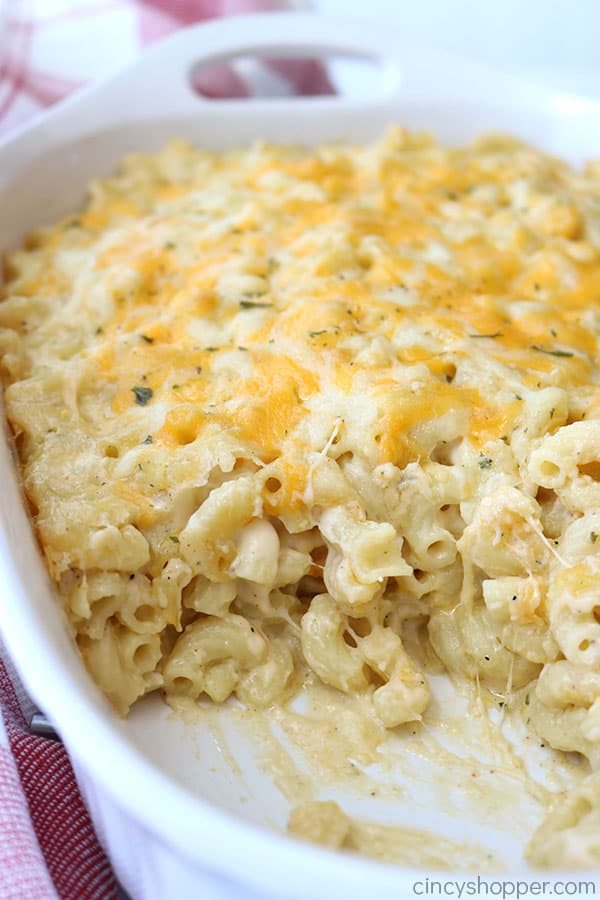 When adding the cheeses, add them gradually and use a spoon or spatula to blend it really well. Add about a cup at a time to keep it creamy.
When adding your sauce to the cooled pasta, combine and coat all the macaroni. I added a generous layer of butter to the sides and bottom of my 9 X13 casserole dish to help prevent too much sticking. Then, add 1/2 of the pasta, then a layer of reserved shredded cheese, more macaroni, and a final layer of cheeses on top. The cheese on top will bake and create a nice cheesy top layer.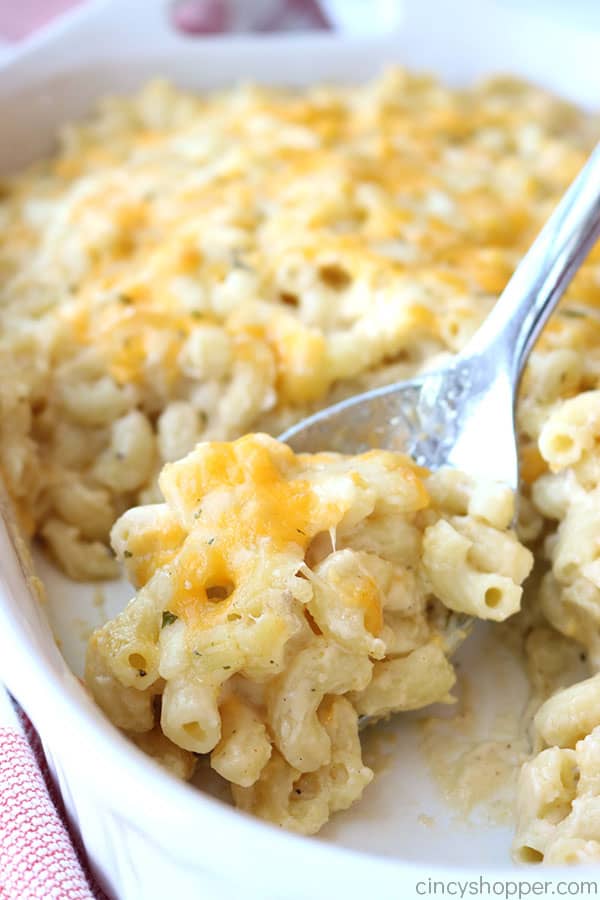 What kind of cheese is best for creamy macaroni and cheese?
In the past, I always used a basic cheddar or sharp cheddar. My favorite was always with white sharp cheddar because that is what I grew up with. For this recipe, I decide to use some Gruyere and sharp cheddar.
I have made quite a few dishes with Gruyere and each one has been so rich and creamy. You are can use mild or medium cheddar but also use the Gruyere cheese. Always shred the cheese with a grater. You will not want to use pre-shredded.
If you do not shred your own, you will not get the oh so gooey creaminess that you get from the freshly grated cheese. If you would like to have an additional spice, go ahead and consider adding in a pepper jack or even a habanero cheese instead of the sharp cheddar.
What Topping is best for Homemade Mac and Cheese?
For this Homemade Baked Creamy Mac and Cheese, I did not add on a true crust topping. It can be topped with a layer of Panko breadcrumbs or a Ritz cracker layer to make it extra crunchy. Consider topping with bacon to add some additional flavor and crunch.
Prefer yours without a crust? Cover the dish with foil before baking. I like a bit of cheesy crust that baking uncovered adds.
How long do you bake mac and cheese?
This mac and cheese does not need to be in the oven baking for very long. I had ours baking for about 35 minutes at 325 degrees. If you want to make it quicker, go ahead and kick your temperature up to 350 degrees and cook for a bit less time. If you would like a crispy bubbly cheesy crust, go ahead and pop your dish under the broiler for just a couple additional minutes to make the crust on top a bit more crunchy/crispy.
Can you make mac and cheese ahead of time?
During the holidays, I made this dish ahead of time. I prepped everything but did not do the baking or broiling process. It was covered and in the fridge the day beforehand. I then pulled it out and let it sit on the countertop for about an hour before baking. It worked well.
Can you reheat baked mac and cheese?
If you have leftovers, I am sure the recipe would be fine for reheating. Just stir in a bit of milk before placing in the oven to reheat. We have never had any leftovers because everyone really thinks this is the BEST mac and cheese so they devour it. Be sure to leave us a comment if you have leftovers that you reheat to let us know the results of reheating.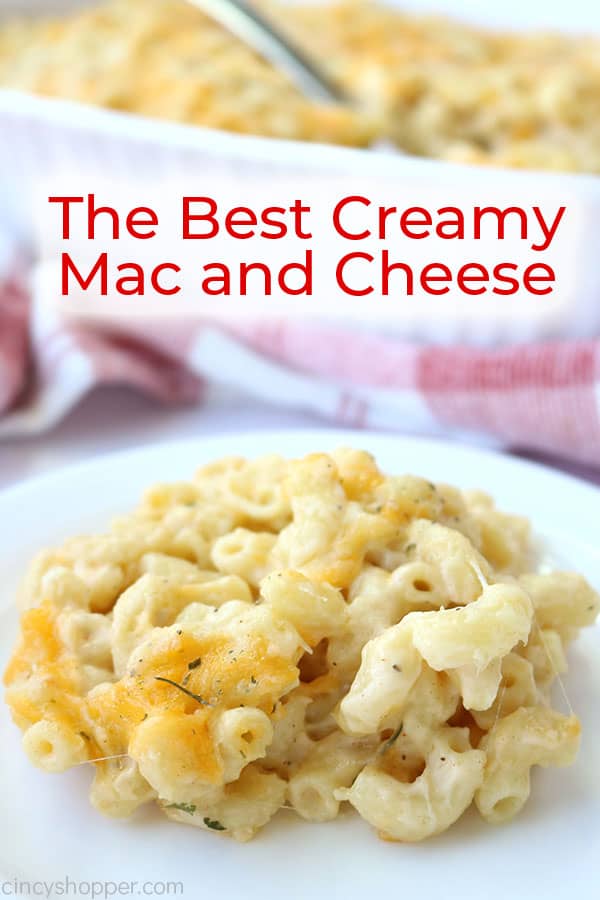 What Ingredients are needed to make Homemade Creamy Mac and Cheese?
Elbow Macaroni
Butter
Flour
Milk
Half and Half
Sharp Cheddar Cheese shredded
Gruyere Cheese shredded
Salt
Pepper
Paprika
Onion Powder
Garlic Powder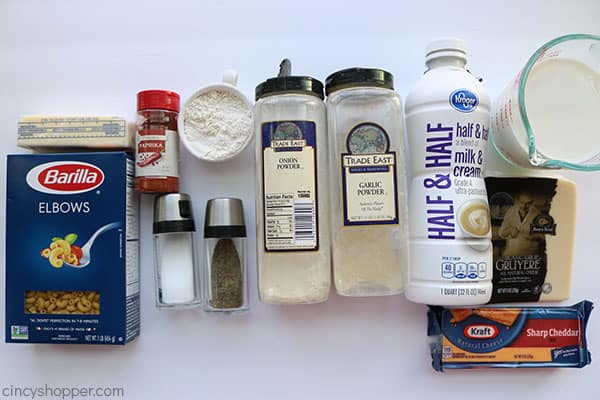 How to make creamy mac and cheese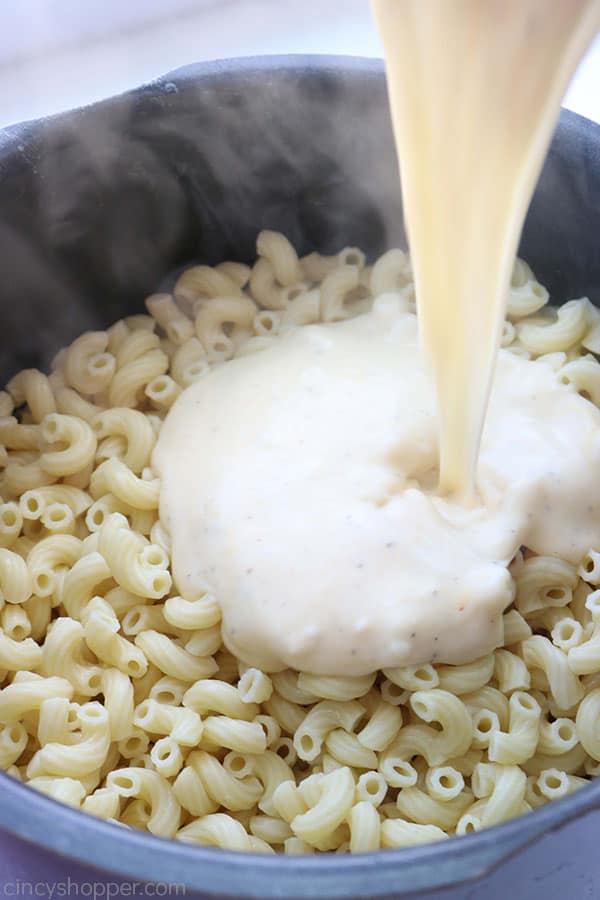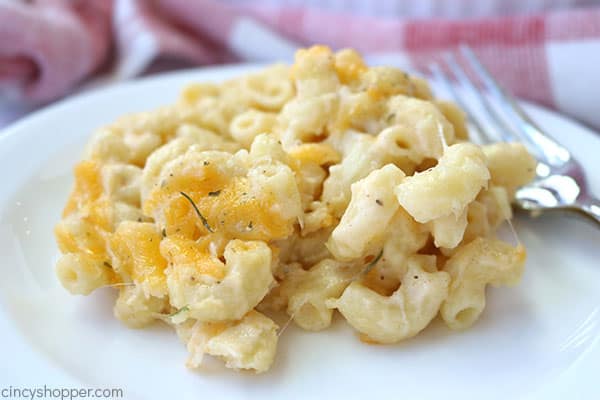 If you make this recipe, be sure to leave us a comment to let us know if you are a fan.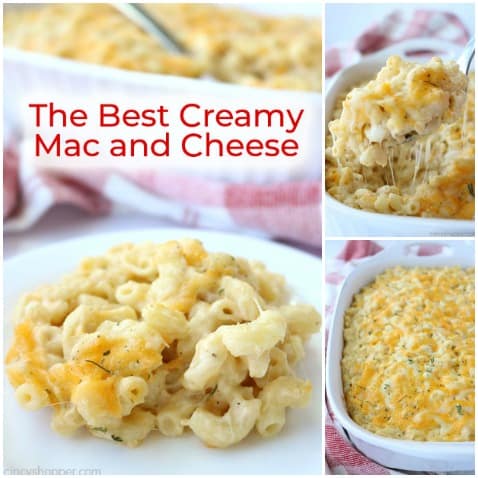 Creamy Macaroni and Cheese
My creamy mac and cheese is the BEST according to my friends and family. It's baked and so cheesy and creamy from the combination of cheeses in the easy sauce.
Ingredients
16

oz

Elbow Macaroni

7

tbsp

Salted Butter

1/2

cup

Flour

2

cup

Milk

2

cup

Half and Half

8

oz

Sharp Cheddar Cheese shredded

4

oz

Gruyere Cheese shredded

1

tsp

Salt

1/2

tsp

Pepper

1/4

tsp

Paprika

1

tsp

Onion Powder

1/2

tsp

Garlic Powder
Instructions
Preheat oven to 325.

Bring 5 cups of water to a boil over high heat.

Add dry pasta and 1/4 tsp salt.

Cook for 6-7 minutes.

Remove from heat, drain and rinse in cold water. Return to pot and set aside.

Heavily grease a large 9x13" baking dish with butter and set aside.

Combine cheeses and mix well. Set aside.

Melt remaining butter in a large saucepan over medium heat.

Add flour, whisk to blend and continue whisking for about 2 minutes.

Gradually add in the milk and half and half, whisking constantly. Sauce should remain just below a simmer (if you stop whisking you see an occasional bubble).

Add remaining salt, pepper, paprika, onion powder and garlic powder.

Whisk to blend and continue whisking and cooking until sauce thickens (about 2 minutes).

Remove from heat.

Divide cheese in half.

Gradually add half of cheese to pan stirring constantly until melted and smooth.

Add cheese sauce to cooled pasta until it is well coated with the cheese.

Pour half of the macaroni and cheese into the prepared dish.

Divide remaining cheese in half.

Top with half of remaining cheese.

Add remaining macaroni and cheese to dish.

Top with remaining cheese.

Bake until bubbly and golden, about 35 minutes.
Nutrition
Calories:
617
kcal
|
Carbohydrates:
55
g
|
Protein:
23
g
|
Fat:
34
g
|
Saturated Fat:
21
g
|
Cholesterol:
100
mg
|
Sodium:
657
mg
|
Potassium:
333
mg
|
Fiber:
2
g
|
Sugar:
5
g
|
Vitamin A:
1038
IU
|
Vitamin C:
1
mg
|
Calcium:
495
mg
|
Iron:
1
mg