Stuffed Cabbage Rolls are a classic dish flavored with tangy tomato sauce. This is the best recipe for simple, hearty comfort food!
This simple, comforting dish is made easy with a tasty beef or pork filling! Great with a side of The Best Mashed Potatoes or some Garlic Roasted Green Beans.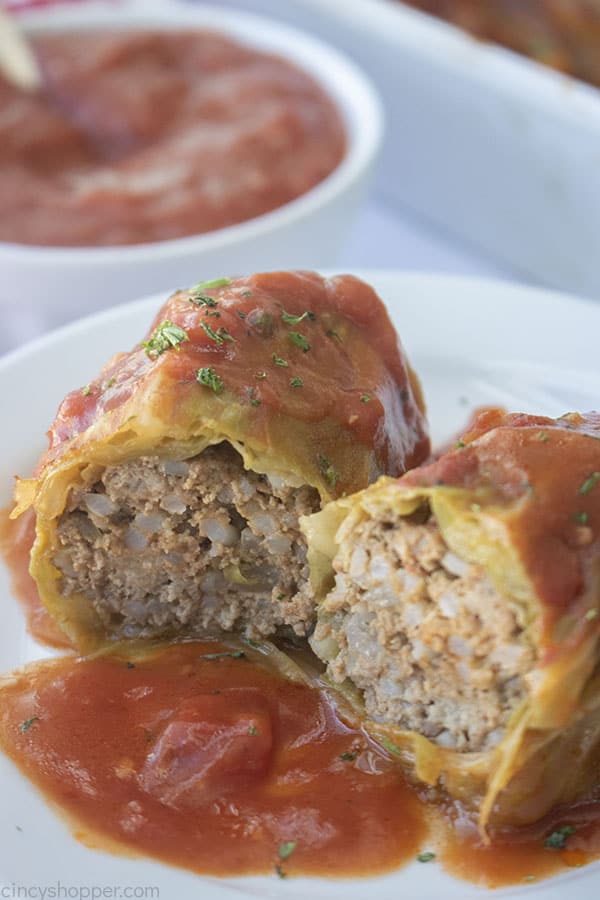 Stuffed Cabbage Rolls
Depending on where you look, you'll see recipes like this called "Hungarian Cabbage Rolls," "German Cabbage Rolls," or "Polish Cabbage Rolls." So, who made these things? Chances are, they all probably did- all I know is that they're delicious! Whether you're calling these "rolls" or "galumpkis," I'm certain you're going to enjoy them!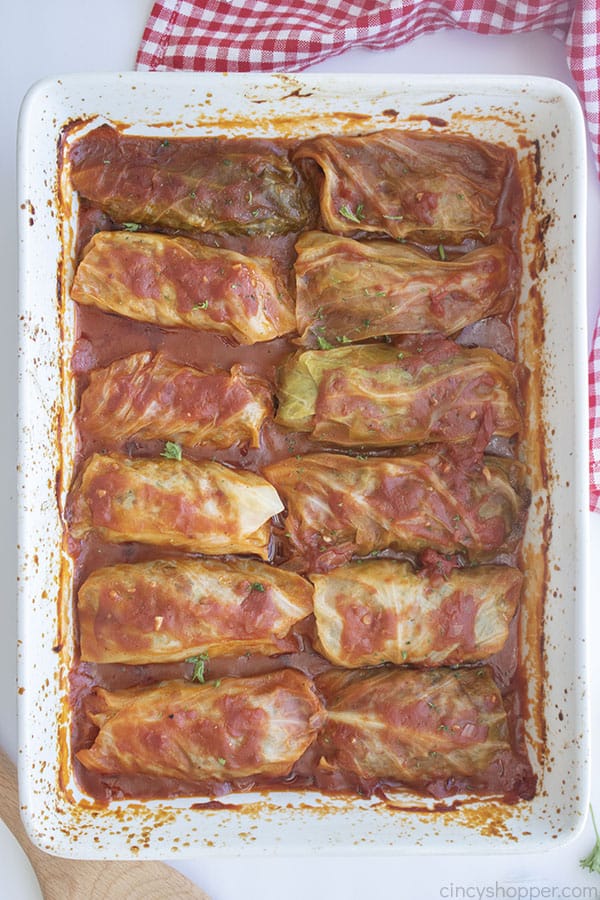 These Stuffed Cabbage Rolls are just the perfect little things. Delicious, tender cabbage leaves are wrapped around this hearty, beef filling- I could stop there and already love this recipe! But there's also the sauce: it's this tasty balance between sour and sweet. Slather it over these rolls, let it bake in, and the flavor is just to die for!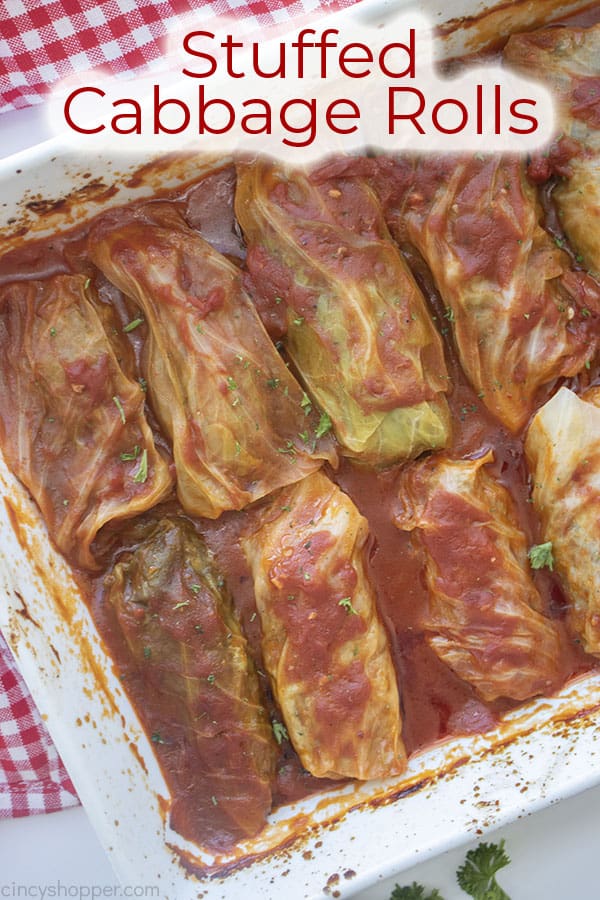 Even though they might sound a bit intimidating, you'll actually find this a very simple and easy-to-make recipe. The prep isn't hard at all and making your cabbage rolls is easy once you get the technique down. Give this dish a shot and you just might find one of your new favorite recipes especially for St. Patrick's Day holiday!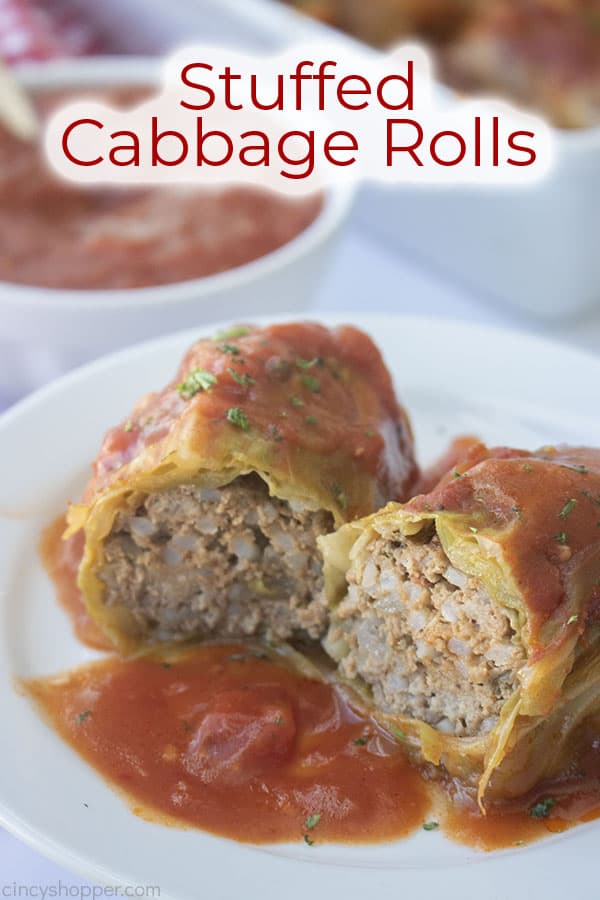 Enjoyed this recipe? Try these ones next!
If you loved the flavors in this recipe, try mixing things up with some

Cabbage Roll Soup

.

You get all the flavors you'd find in these Traditional Cabbage Rolls but in a simpler soup that doesn't need all that extra work

.

Looking for another soup? Try our

Creamy Cabbage Soup

! This, rich and flavorful soup

is packed

with nutrients and healthy goodness. With ham and potatoes tossed in, what's not to love?

For a bit more of a Southern recipe, give our

Southern Fried Cabbage with Bacon

a shot! This is a side dish so tasty that even cabbage haters will come back for seconds. Everything's better with bacon, right?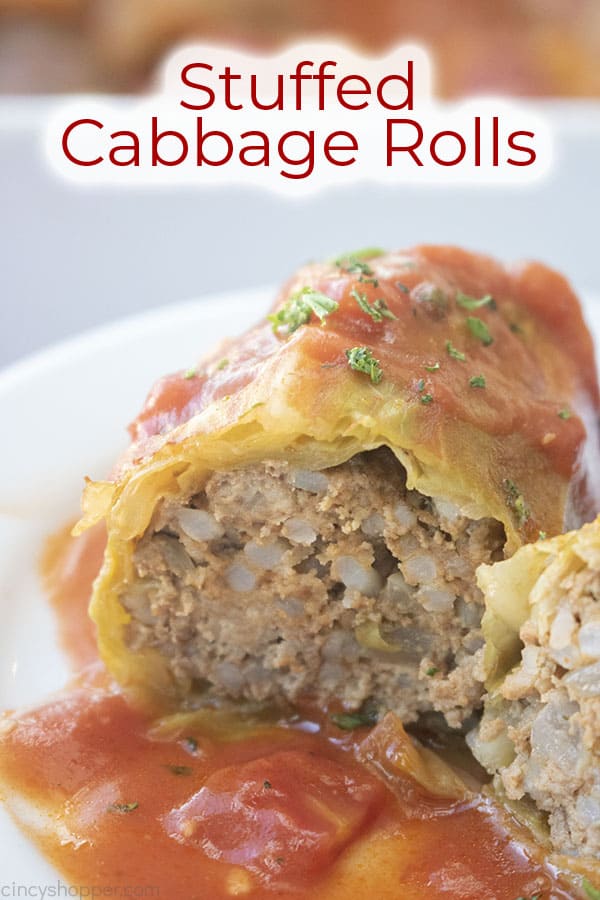 Ingredients for our Recipe
To make our Stuffed Cabbage Rolls, you're going to have to prep a tomato sauce that we're going to dress and cook our rolls in
. For that, you'll need…
Butter

Onions

Garlic

Canned Crushed Tomatoes

Tomato Sauce

Condensed Tomato Soup

Crushed Red Pepper

Salt & Pepper

Sugar

Red Wine Vinegar
In addition to this sauce, you'll also need the following…
Cabbage

Ground Beef

– Many of the more traditional recipes, especially the Polish ones, may use some pork sausage as well

. Experiment a bit: try going 50/50 with the beef and pork or using all sausage.

Rice

– Make sure it's cooked!

Onion

Garlic

Salt & Pepper

Parsley

–

Freshly

chopped parsley works best here.

Egg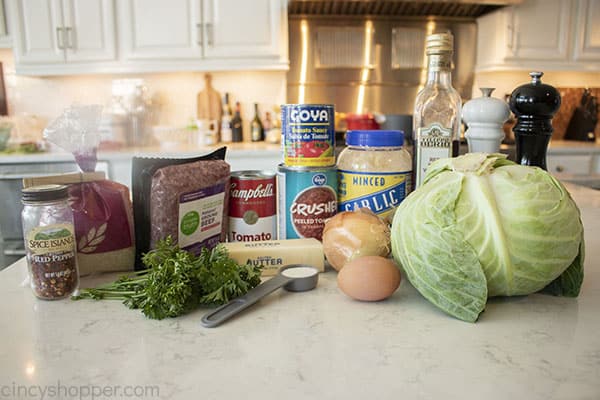 How to make Cabbage Rolls
This recipe may seem intimidating but trust us: it's not hard at all! Here's all you need to do…
Saute some onions and garlic to make your tomato sauce.

Mix up your cabbage roll stuffing

before

rolling the stuffing into some cooked cabbage leaves.

Cook your cabbage rolls in the oven with your sauce

before

garnishing with chopped parsley.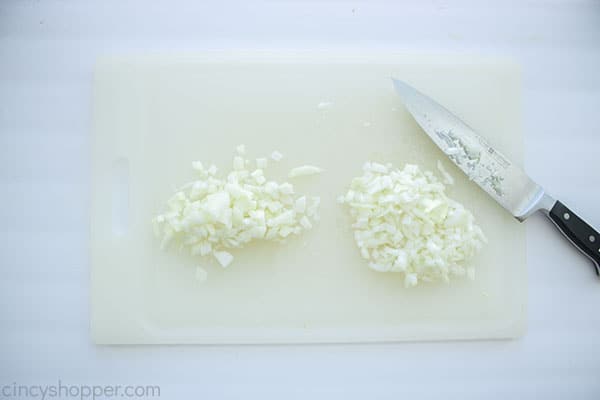 Before we get started, you'll want to prep some of your ingredients. Finely dice your onion and fresh garlic if you're using it- we used pre-minced garlic to save some time and effort. Once your onions are all diced, divide them up for use in your sauce and meat stuffing later.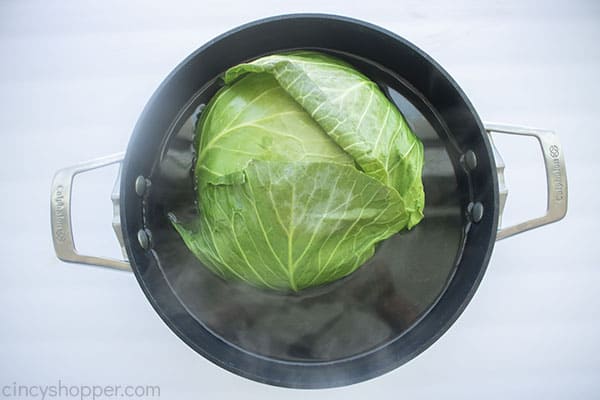 This recipe will work out much better if we boil our cabbage to cook it right now. Bring a pot of water to a boil before carefully dropping your head of cabbage in. Let it cook in the pot until the cabbage leaves soften up. Once soft, pull 12 leaves from the cabbage head and use a knife or some kitchen shears to cut off the thick, hard stems near the bottom of the leaves.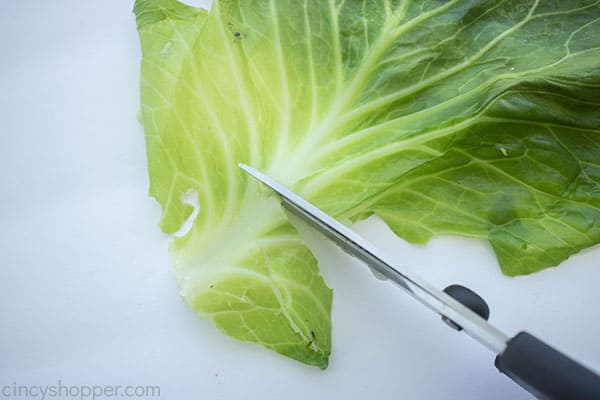 Set your prepared leaves off to the side under a towel to keep warm while you cook up your tomato sauce. First, melt a couple of tablespoons of butter in a pan before adding in some of your chopped onions. Let cook until softened and translucent.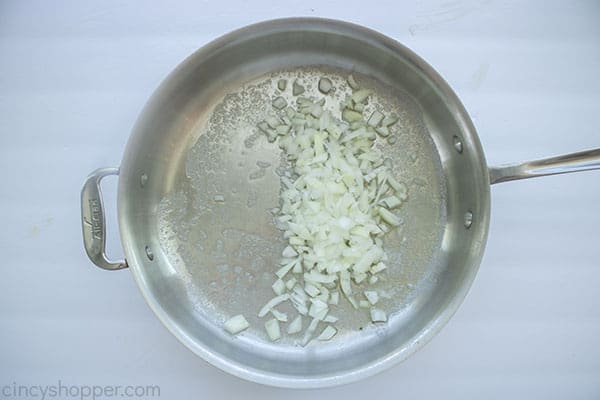 Next, drop in your garlic and let that cook a bit. It should only take about 30 seconds for the garlic to cook through and become nice and fragrant.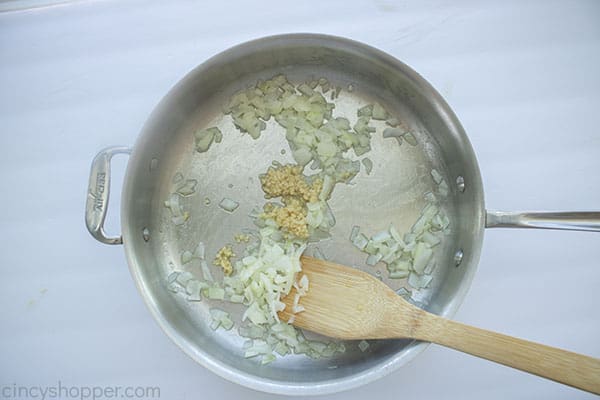 At this point, add in the rest of your sauce ingredients and give a thorough mixing until everything's combined. Bring to a simmer and let cook for about 5 minutes. After that, your sauce is done!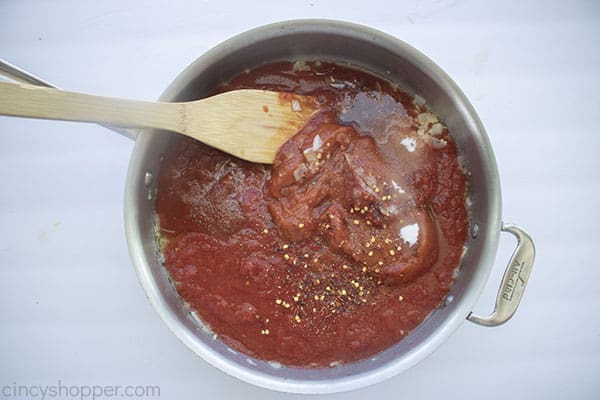 How to roll Cabbage Rolls
With our sauce cooked and ready, we can finally move on to assembling our Cabbage Rolls. First, we're going to make our stuffing.
To do that,
just
mix together all the ingredients we set aside for the stuffing- saving some parsley for a garnish when the rolls
are done
. Make sure all your stuffing ingredients aren't hot- your rice should be cool when you add it in. Also add in about a 1/4 cup of our cooked tomato sauce from earlier.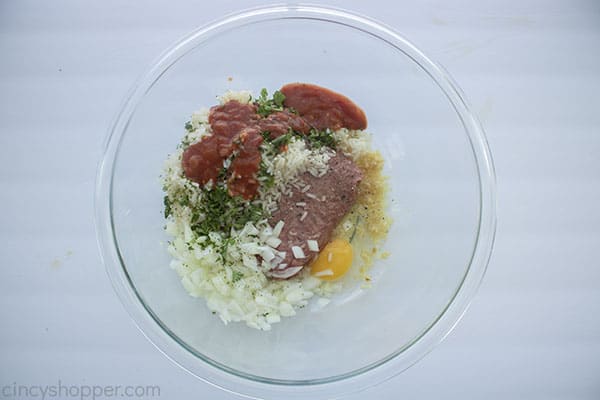 Before making your rolls, go ahead and spread some of your sauce across the bottom of your baking dish. This will just ensure a bit more sauce coverage for our rolls.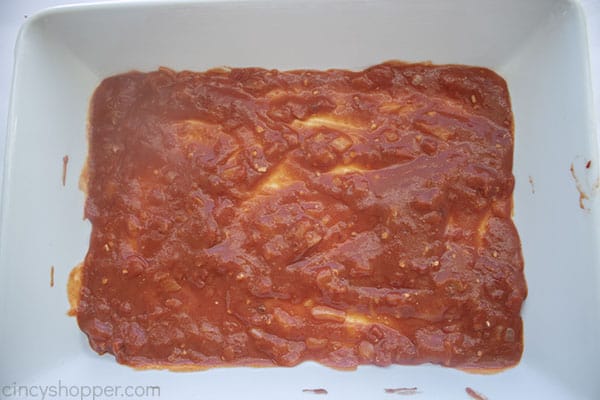 Alright, cabbage rolling time. Grab your prepared cabbage leaves and keep them nearby. Grab about 1/3 cup of our meat mixture and roll it out into about a 3-inch long log. You're going to set this into the middle of your cabbage leaf and wrap it up like a taco or a burrito. Fold in the sides and then roll it shut. Place your completed roll into the baking dish, seam-side down. Repeat with your remaining leaves and meat mix.
Once all of your Cabbage Rolls are in the baking dish, top them up with the rest of your sauce before covering the dish with foil. Put the dish into a 350 degree oven and let bake. If you're wondering how long to bake stuffed cabbage, we found it took about 90 minutes for our cabbage to become tender and our meat to cook through. It may take longer or shorter for you!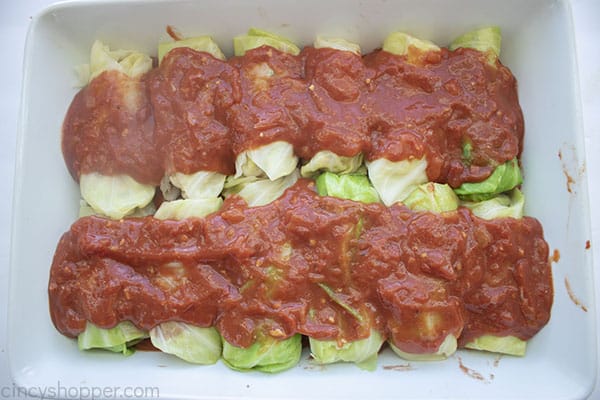 After 90 minutes, remove the foil and check your cabbage. If it's done cooking, pull it from the oven and garnish with your remaining chopped parsley. Enjoy!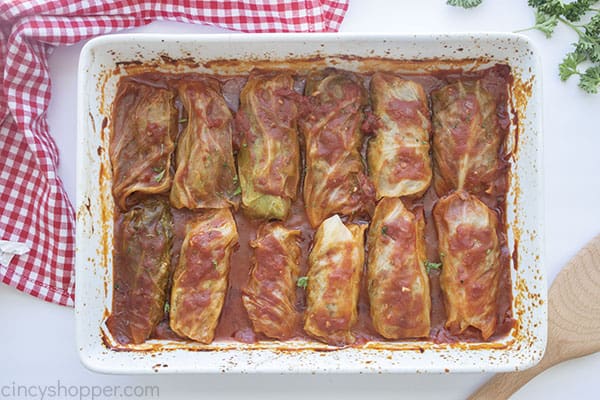 What to serve with Cabbage Rolls?
These cabbage rolls bring plenty of flavor to the table.
We'd recommend keeping your sides simple:
maybe
go with some mashed potatoes or some butter noodles
.
Some roasted veggies would also look great plated up next to these rolls-
maybe
some asparagus or green beans
?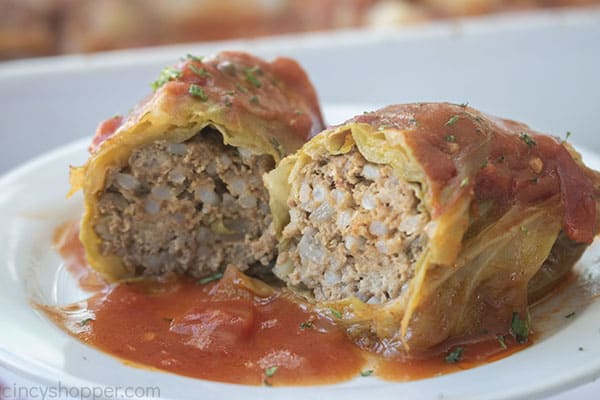 Stuffed Cabbage Rolls
Stuffed Cabbage Rolls are a classic dish flavored with tangy tomato sauce. This is the best recipe for simple, hearty comfort food!
Ingredients
Sauce:
2

tbsp

Butter

1/2

cup

Onion

chopped

1

tsp

Minced Garlic

15

oz

Crushed Tomatoes

8

oz

Tomato Sauce

10.75

Condensed Tomato Soup

1/4

tsp

Crushed Red Pepper

1/2

tsp

Salt

1/2

tsp

Pepper

1

tbsp

Sugar

1

tbsp

Red Wine Vinegar
Rolls:
1

lb

Ground Beef

1

cup

cooked Rice

1/2

cup

Onion

chopped

1

tsp

minced Garlic

1

tsp

Salt

1/2

tsp

Pepper

1/4

cup

Parsley

chopped divided

1

Egg
Instructions
Bring a large pot of water to a boil.

Immerse the cabbage head in the boiling water.

Cook for several minutes until cabbage leaves are soft.

Peel 12 large leaves off the cabbage head.

Use a paring knife or scissors remove the hard thick part of the leaf.

In a large pan, melt 2 tablespoons of butter over medium heat.

Add 1/2 cup of onion and until translucent them add the minced garlic.

Add the crushed tomatoes, tomato sauce, tomato soup, crushed red pepper, salt and pepper to the pot.

Add the sugar and red wine vinegar.

Bring to a simmer and cook for 5 minutes.

Grease a 9x13" baking dish.

Spread about 1/4 cup of our prepared sauce on the bottom of the dish. Set aside.

In a large bowl, combine ground beef, cooled rice, onion, garlic, salt, pepper, egg, and 2 tablespoons of chopped parsley.

Add in 1/4 cup of our cooled prepared sauce.

Stir until combined.

Scoop up about 1/3 of a cup of the meat mixture and form into a 3 inch long roll and put in the center of each cabbage leaf.

Fold the sides inward and roll the cabbage leaf around the meat.

Place the cabbage rolls, seam side down, in the prepared dish.

Top with remainder of the sauce.

Cover with foil and bake for 90 minutes until cabbage is tender and meat is cooked.

Remove foil and sprinkle with remaining parsley.
Notes
Feel free to use 50/50 ground beef and ground pork mixture or all pork.
Nutrition
Calories:
546
kcal
|
Carbohydrates:
44
g
|
Protein:
28
g
|
Fat:
30
g
|
Saturated Fat:
13
g
|
Trans Fat:
2
g
|
Cholesterol:
136
mg
|
Sodium:
1509
mg
|
Potassium:
1337
mg
|
Fiber:
10
g
|
Sugar:
19
g
|
Vitamin A:
1298
IU
|
Vitamin C:
106
mg
|
Calcium:
189
mg
|
Iron:
6
mg