Homemade Butter Toffee is a classic candy with rich, caramel flavors. The chocolate and pecan topping make this sweet an enduring favorite!
You can make toffee in all sorts of styles. Whether it's English or American, this old fashioned candy is an all-time favorite! Perfect to make and give as a gift this holiday season.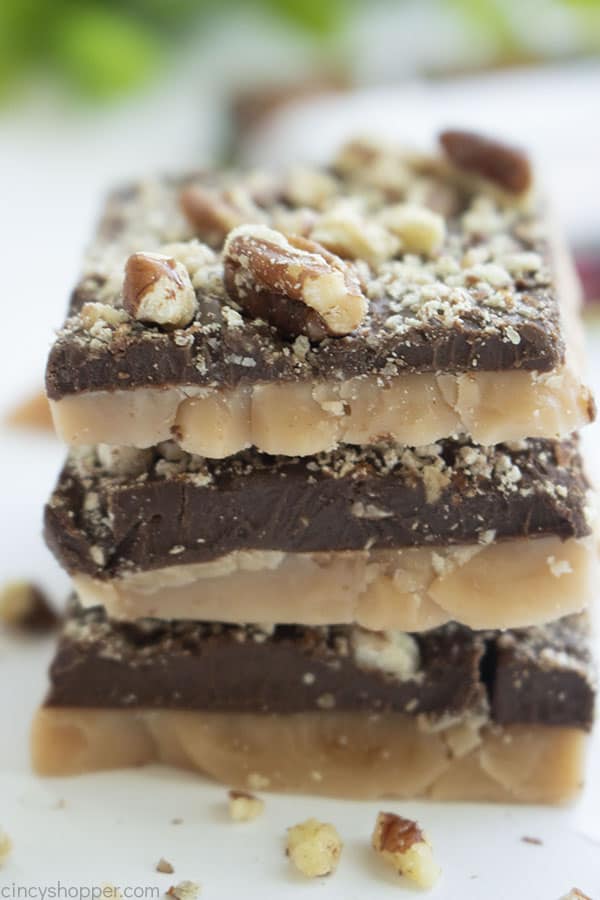 Homemade Butter Toffee
Everyone's got their favorite candies. Some people enjoy a simple chocolate bar- maybe with some filling inside, like nougat or caramel. There are folks who enjoy something a bit fruiter- gumdrops or lollipops maybe? In our house, we have a soft spot in our hearts- and stomachs- for classic, old fashioned candies! You can usually whip up these vintage candies in the comfort of your own kitchen, and toffee has always been a big favorite for us!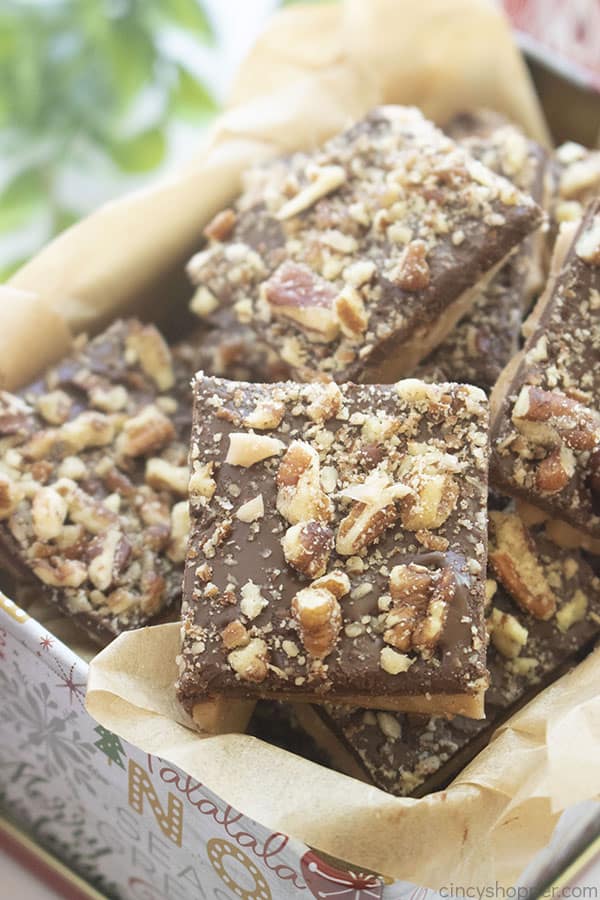 Toffee, to put it simply, is something like a caramel brittle. You whip up a batch of toffee on the stovetop, pour it out into a thin layer, and hit it with some toppings before cracking into pieces for serving. It's a fairly simple dessert you can make all by yourself- all you need is a bit of time and a watchful eye.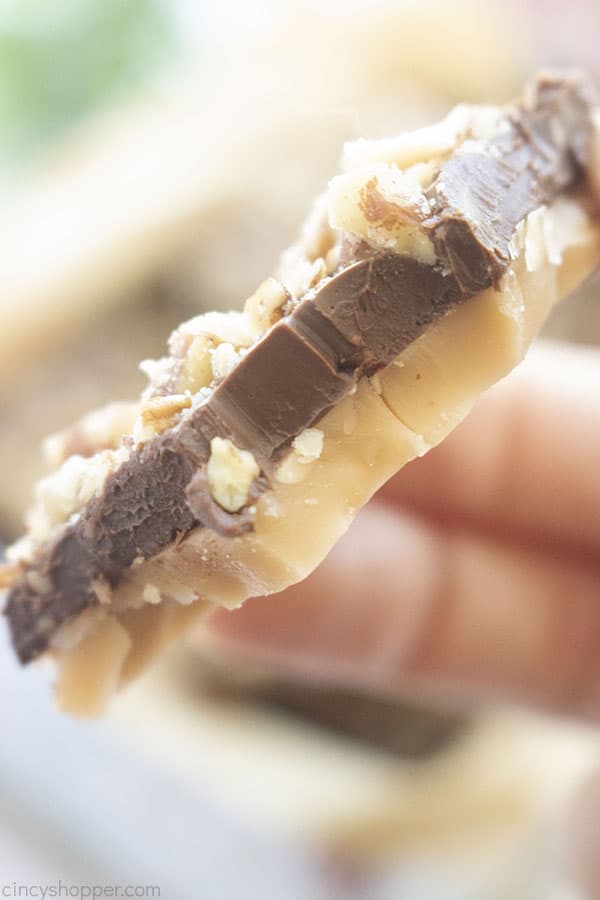 Making a candy like toffee at home can be a little daunting, but we're here to help you through the process! If you're willing to put it a bit of effort, you too can make a delicious back of this timeless homemade candy. Once you've whipped some up, you'll find it makes for a good treat to gift out this holiday season. Follow along with us and enjoy this timeless treat!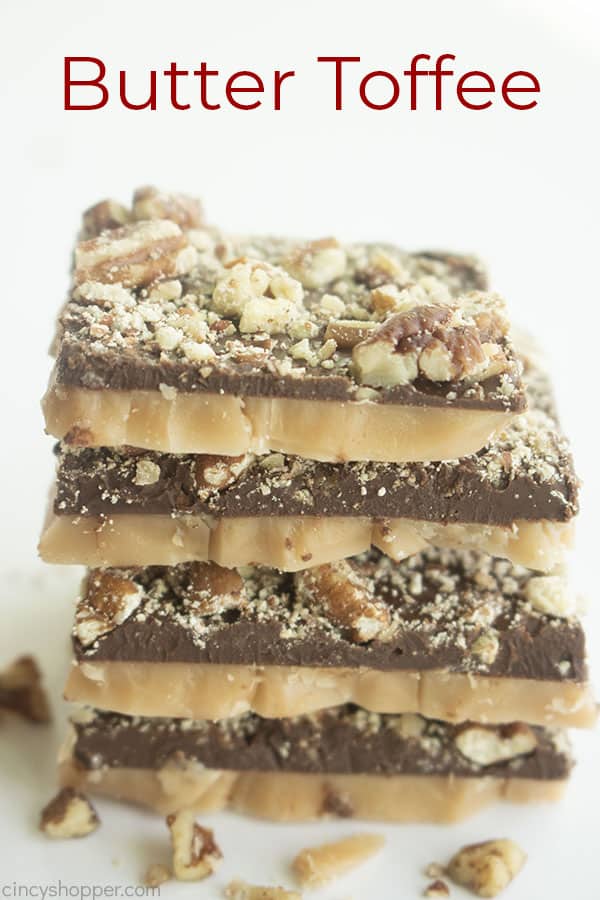 Liked our Butter Toffee? Try these old fashioned candy recipes!
Another classic crispy, crunchy candy you'll love is

Homemade Peanut Brittle

. It's got a similar texture but it's loaded with peanuts! Sweet, nutty flavors in this timeless candy recipe!

Hankering for more sweet, peanut flavor? Follow along with our

Old Fashioned Peanut Butter Fudge Recipe

for a sweet, chewy treat!

Using peanut butter in place of something like chocolate, you get a rich, creamy, and smooth candy that's certain to be a big hit

.

If you're needing some more chocolate, you've got to try our

Chocolate Covered Cherries Recipe

!

We used some invertase to help make a nice, gooey filling to cover our cherries before getting that chocolate coating on there

. The perfect gift idea for the holidays and up through Valentine's Day!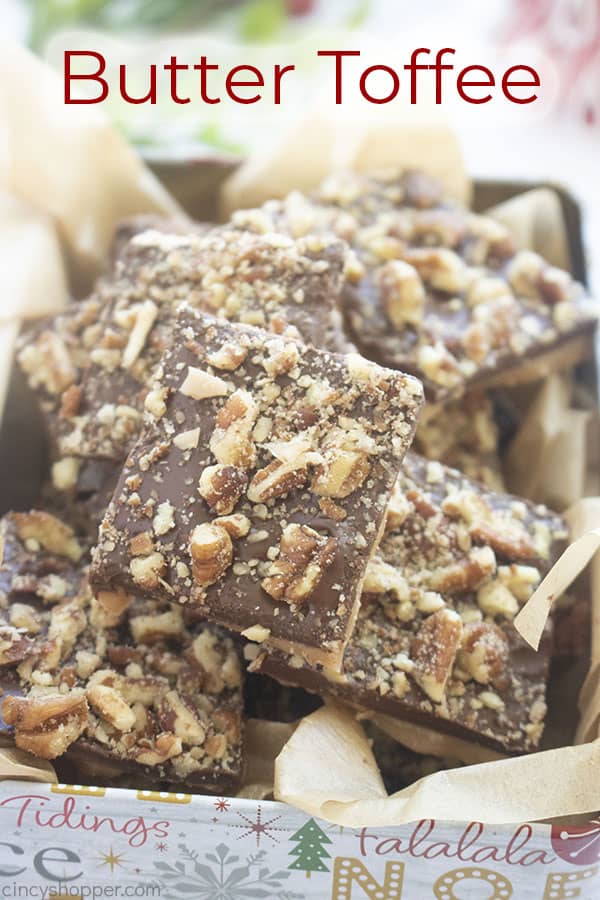 What is Toffee made of?
Butter – You

can't

use a margarine or spread here.

Sugar – American Toffee will use white sugar while English Toffee will use brown sugar. Each has a different taste, so pick whichever you prefer!

Chocolate – Use semi-sweet chocolate here,

ideally

.

Shortening

Salt – If you're using salted butter, feel free to use less salt.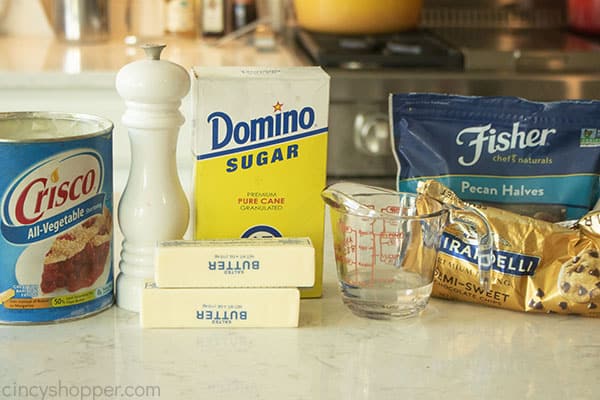 How to make Toffee
The first thing we need to do is make the toffee itself. For that, we start by melting our butter over medium/medium-high heat.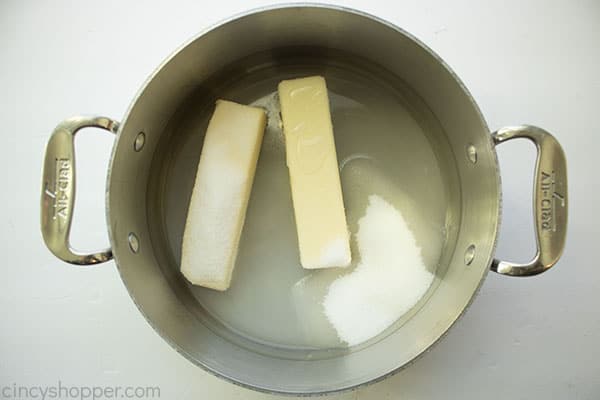 Once that's melted, we add in our other toffee ingredients. That's going to be our sugar, salt, and some water. Keep a close eye on this and keep a thermometer handy! We want to bring our toffee to the "hard-crack" stage while stirring it constantly. Your toffee is at this stage when it reaches 300 degrees. You should probably use a wooden spoon here- a plastic one might melt and a metal one might get too hot!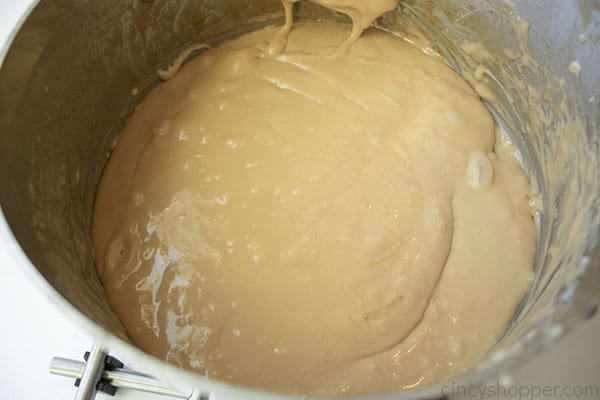 Once your toffee reaches 300 degrees, cut the heat and pour your melted toffee into an ungreased parchment-lined baking pan. If you have an offset spatula, you can use it to help level out your toffee as it cools. While the toffee cools, we're going to prep our chocolate. For that, we'll combine our shortening and chocolate chips in a microwave-safe bowl.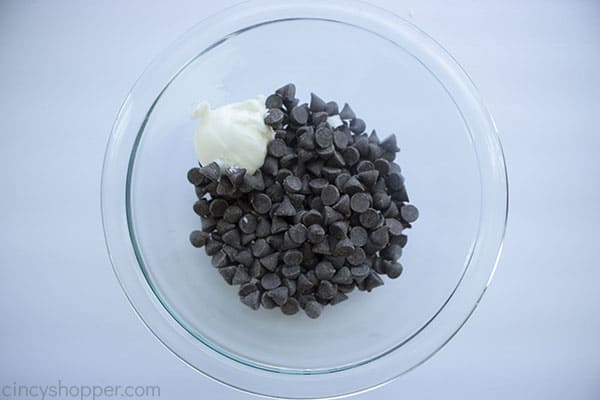 Melt this in the microwave, cooking and stirring in 30 second intervals until fully melted and thin. When you've reached this point, pour your chocolate topping over your cooled toffee. Again, an offset spatula will help level things out!
While that chocolate is still pretty melty, we're going to hit it with our pecan topping. Sprinkle your crushed pecans over the chocolate- try to lightly press the nuts into the chocolate. This will embed them in the chocolate topping and help them stick.
From here, all that's left is to let everything set. You can do this by letting the toffee sit on the countertop for a few hours or- if you want your toffee sooner rather than later- in the fridge. After 30 minutes of chilling, the toffee should be set! Once set, crack it into bunches of bite-sized pieces, and enjoy!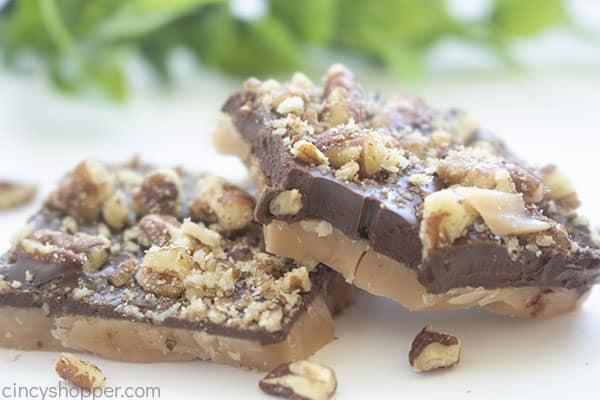 Butter Toffee
Homemade Butter Toffee is a classic candy with rich, caramel flavors. The chocolate and pecan topping make this sweet an enduring favorite!
Ingredients
2

stick

Butter

1

cup

Sugar

1/4

cup

Water

1/2

tsp

Salt

1/2

cup

Semi Sweet Chocolate Chips

1

tbsp

Vegetable Shortening

1/2

cup

Pecans crushed
Instructions
Line a baking sheet with parchment paper and set aside.

In a medium pan over medium high heat, melt butter.

Add sugar, water, and salt.

Cook stirring constantly until candy thermometer reads 300 (hard crack stage).

Pour onto prepared baking sheet.

Cool until hard.

In microwave safe bowl, combine chocolate chips and shortening.

Melt this in the microwave, cooking and stirring in 30 second intervals until fully melted and thin.

Pour melted chocolate over the cooled toffee and spread to even layer.

Before chocolate cools, spread pecan pieces evenly over chocolate and gently press in.

Let stand on counter for several hours of refrigerate for 30 minutes.

Crack into bite-size pieces.
Nutrition
Calories:
426
kcal
|
Carbohydrates:
32
g
|
Protein:
2
g
|
Fat:
34
g
|
Saturated Fat:
18
g
|
Cholesterol:
61
mg
|
Sodium:
349
mg
|
Potassium:
98
mg
|
Fiber:
2
g
|
Sugar:
29
g
|
Vitamin A:
706
IU
|
Calcium:
19
mg
|
Iron:
1
mg