Creamed Eggs is a simple dish of eggs served in bechamel- or eggs in gravy. Serve on toast or biscuits for a comforting & filling breakfast!
This easy recipe is a perfect way to use up those leftover eggs this Easter! Serve up with some Creamy Fruit Salad and a side of Easy Breakfast Potatoes.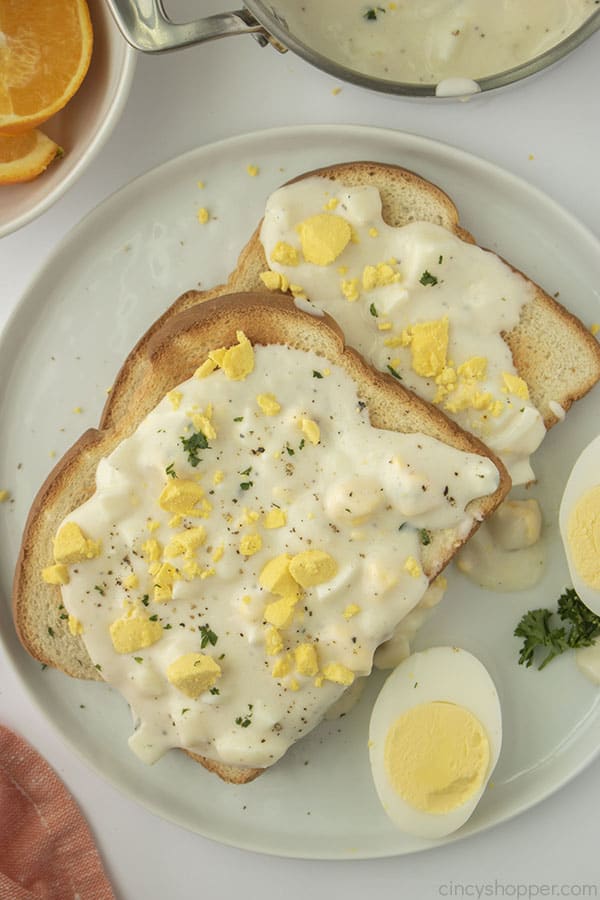 Creamed Eggs
I often have plenty of leftover hard-boiled eggs sitting around. They're useful in so many recipes and, on their own, they can make for a quick healthy, and nutritious snack! Recently, I learned about Creamed Eggs- also called Eggs Goldenrod-, a simple but delicious breakfast dish that's perfect for using up those leftovers!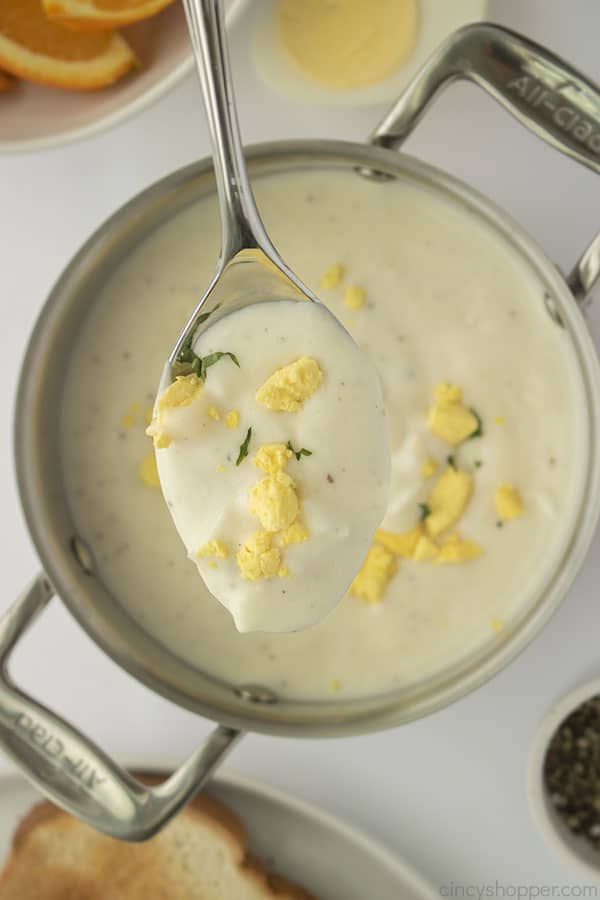 This dish put simply, is chopped hard-boiled eggs in a creamy bechamel sauce. "Bechamel" might sound intimidating but, as we've shown before, it's easy to make if you pay attention! It's worth it too because this dish is some simple, comforting fare that's perfect for Easter brunch or breakfast. I mean, come on- it's basically Eggs and Gravy! Who's going to turn down a good, country-style gravy?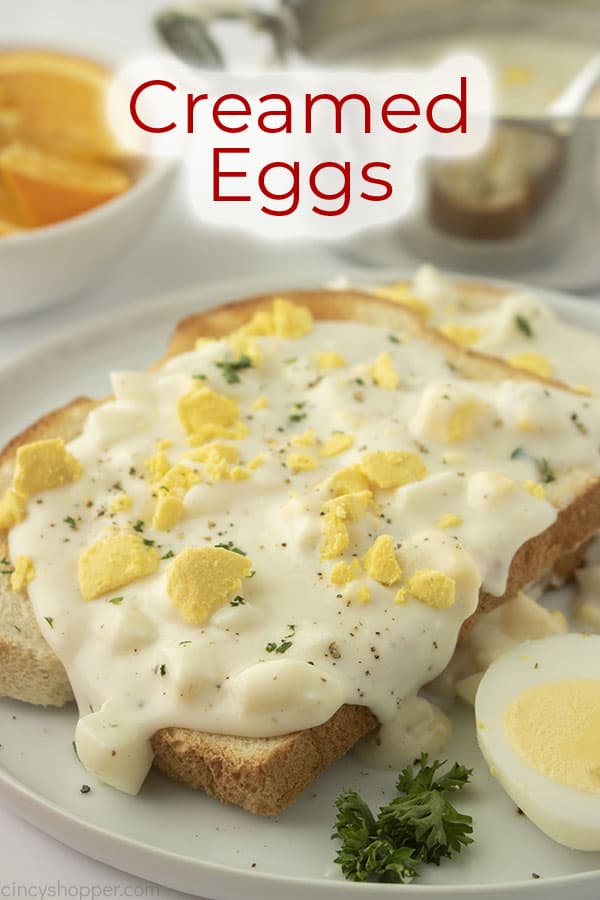 Whether you're using up Easter leftovers or just looking for a comforting breakfast dish, give Creamed Eggs on Toast a try. If it sounds too simple for you, we'll include a few ideas for seasoning and stuff to mix in with it! However you serve it up, we're certain you're going to love it.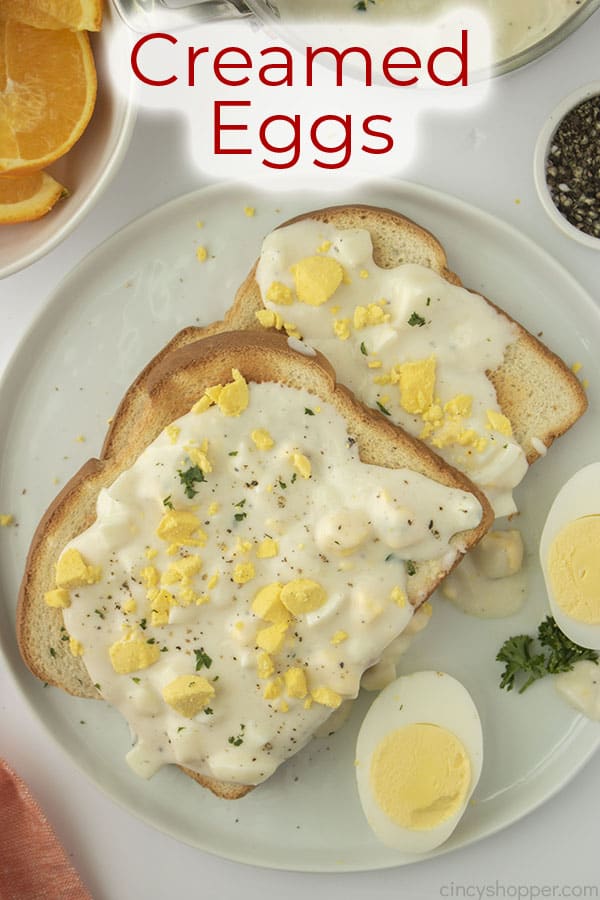 Enjoyed this recipe for Creamed Eggs on Toast? Try these hard-boiled egg recipes next!
Classic Deviled Eggs

are the perfect place to start! These are a perennial favorite party appetizer or barbecue snack. Simple to make up too- especially if you follow along with our easy recipe!

We're big fans of the

Best Egg Salad

as well. This stuff is great on its own or served up in an egg salad sandwich. Easy to make in advance, perfect for packed lunches, and high in protein as well!

Hard-boiled eggs also show up in our recipe for

Tuna Pasta Salad

.

Another great dish for your next barbecue- loaded up with eggs, macaroni, tuna, and plenty of veggies

! Pull it all together with a simple creamy dress and it's perfect.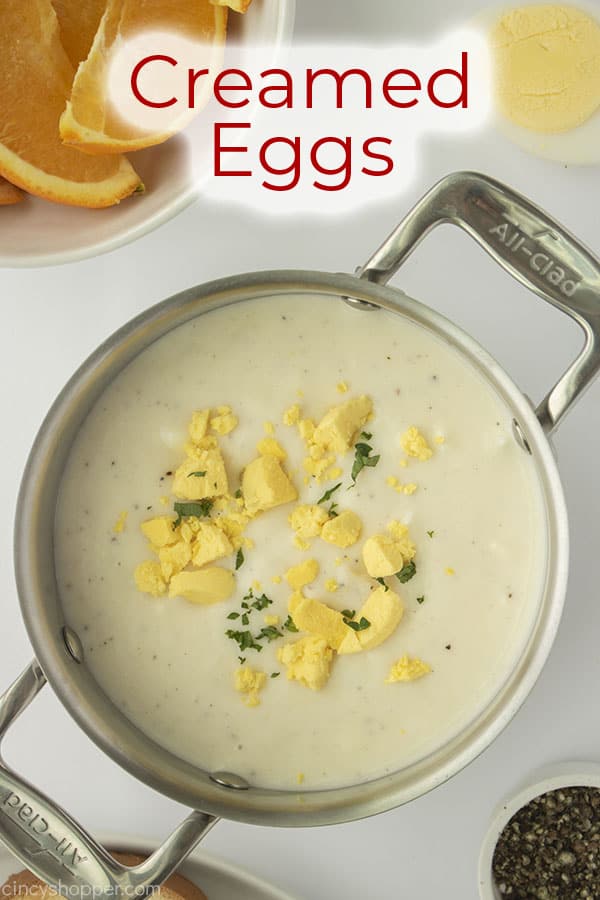 Ingredients for Eggs Goldenrod
Butter

Flour

Milk

– For an even creamier sauce, consider subbing some of the milk out for half-and-half.
You'll also want some bread to serve it on- either some toast or some biscuits.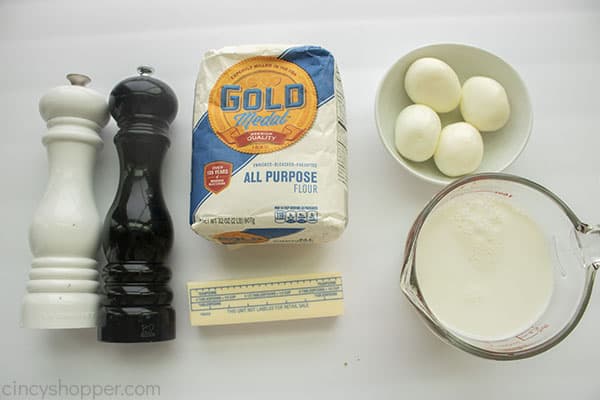 How to make Creamed Eggs
Make this breakfast/brunch dish is very easy. Here's what you need to do…
Half your eggs to separate the yolks and whites

before

chopping each

separately

.

Prepare a bechamel sauce

and

allow to thicken

before

stirring in chopped egg whites

.

Top with chopped egg yolks

and

serve over toast or biscuits

.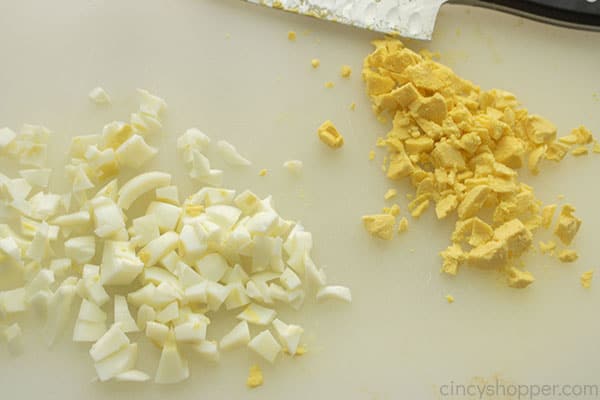 Start things off by prepping your eggs. Cut your hard-boiled eggs in half and separate the yolks from the whites. Give each of those a fine dice before setting it aside. Head on over to the stovetop and get some butter melting in a saucepan over medium heat.
Once the butter has melted, add in an equal amount of flour to start making a roux. Stir that flour in and allow that roux to cook until the raw flour smell has disappeared.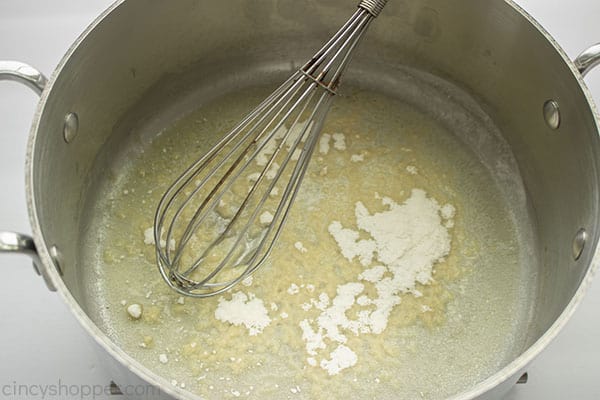 To make a good bechamel from a roux, you'll want to slowly stream the milk in. Add the milk in small amounts to start off, mixing thoroughly with the roux to dissolve it into the milk. Keep at this until all the milk is added.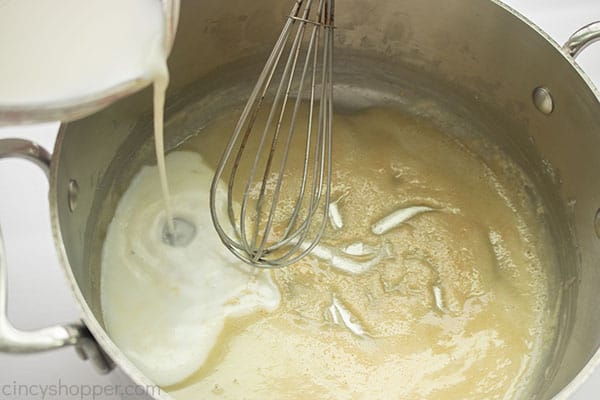 Stir constantly as the sauce continues to thicken over medium/medium-low heat. We don't want this stuff to scorch!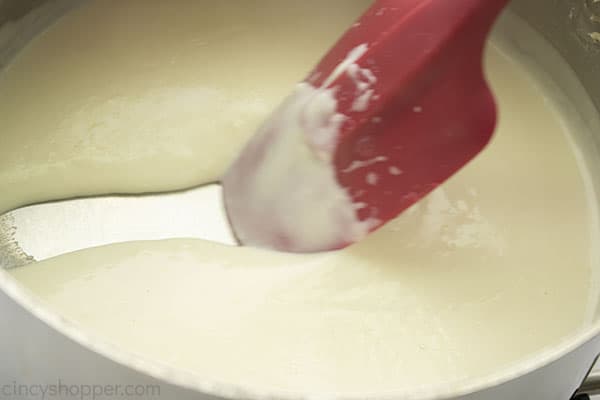 Once the bechamel has thickened to your liking, season to taste with salt and pepper. Consider adding in a dash of hot sauce or cayenne pepper to heat things up!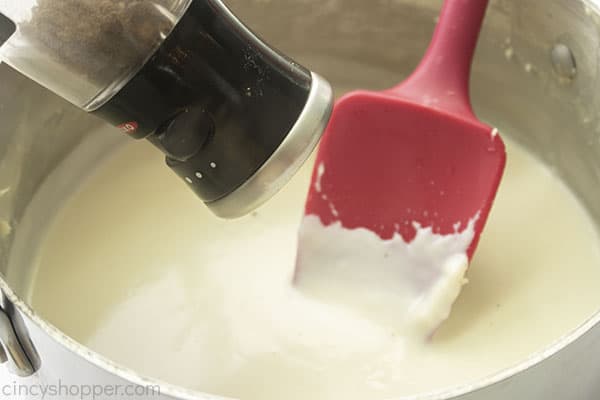 After seasoning, add your egg whites and stir to coat them and incorporate.
Top your Creamed Eggs with your reserved egg yolks. All that's left is to serve over some biscuits or toast and enjoy!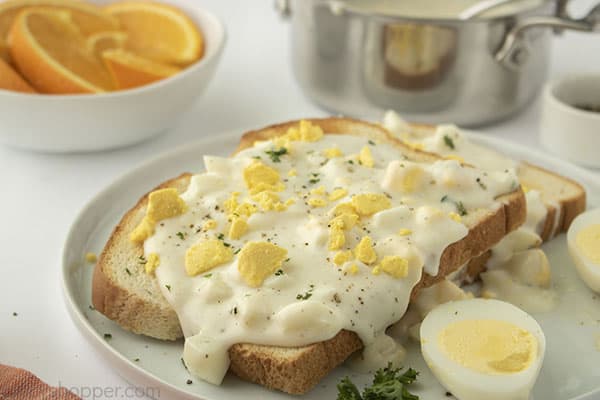 Flavoring the Cream Sauce for Eggs
The cream sauce- the bechamel- is where you're going to be able to add the most flavor to this recipe. There's
a number of
things people have added to their cream sauces to change or improve the flavor. Here's just a few to get you started…
Onion/Garlic Powder

– You could, instead, cook up a bit of garlic in your pan before starting on the bechamel.

Worcestershire Sauce

– In a similar way to the hot sauce, add a dash or two to the bechamel while seasoning to add a savory flavor to it

.

Wine

– A little splash of something like white wine or sherry might

really

brighten the sauce up some! This would also help this recipe taste more like French Creamed Eggs.
Creamed Eggs Variations
Creamed Eggs and Ham

– When adding in your egg whites, consider adding some cubed or sliced ham in with them.

It helps introduce some meat into the dish which can improve the flavor and make it a bit more nutritious and filling

.

Creamed Eggs and Peas

– In a similar way, add in some cooked peas for a bit of color and fresh, vegetable flavor. You might also consider adding some other chopped greens-

maybe

some spinach?

Eggs a la Bechamel

– This dish is a sort of distant cousin to this one but it's still worth checking out!

Serve soft-boiled or poached eggs over some buttery croutons before topping with some bechamel

.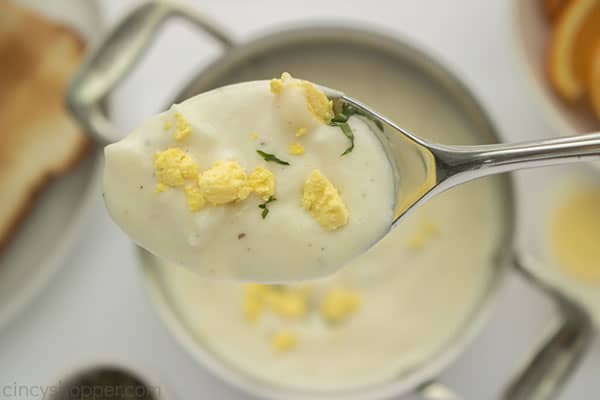 Creamed Eggs
Creamed Eggs is a simple dish of eggs served in bechamel- or eggs in gravy. Serve on toast or biscuits for a comforting & filling breakfast!
Ingredients
5

Eggs

hard boiled and peeled

2

tbsp

Butter

2

tbsp

Flour

1 1/2

cup

Milk

Salt and Pepper to taste
Instructions
Cut eggs in half and separate yolks from whites.

Chop each separately and set aside.

Melt butter in a pan over medium heat.

Add flour and stir to make a roux. Cook for several minutes.

Gradually add the milk while stirring to dissolve roux in the milk.

Cook while stirring until sauce thickens.

Add chopped egg whites and season with salt and pepper to taste.

Cook until eggs are heated.

Top with chopped egg yolks.

Serve over toast or biscuits.
Notes
Great use for leftover Easter eggs.
For creamier gravy consider using half and half instead of milk.
Nutrition
Calories:
264
kcal
|
Carbohydrates:
10
g
|
Protein:
14
g
|
Fat:
19
g
|
Saturated Fat:
9
g
|
Trans Fat:
1
g
|
Cholesterol:
305
mg
|
Sodium:
223
mg
|
Potassium:
270
mg
|
Fiber:
1
g
|
Sugar:
6
g
|
Vitamin A:
827
IU
|
Calcium:
182
mg
|
Iron:
2
mg