Air Fryer Bacon is another way to make this classic breakfast side. Using the popular kitchen gadget makes your bacon so crispy & so easy!
Using an air fryer might be the key to perfect bacon every time. Our Air Fryer Bacon is so easy, it might be your new favorite recipe! Serve with some French Toast, Easy Breakfast Potatoes, and your favorite eggs!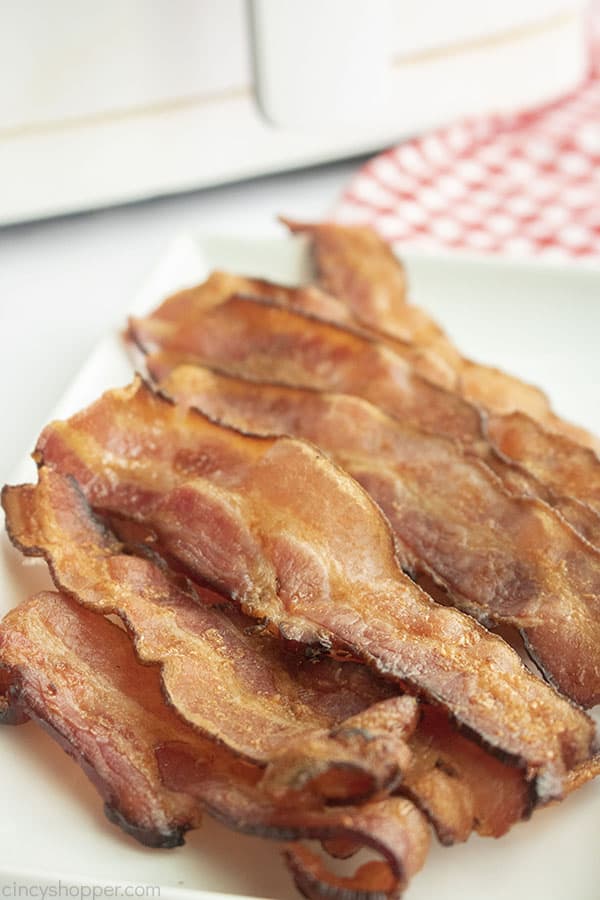 Air Fryer Bacon
Bacon is probably one of the kitchen's simplest pleasures. It's a cut of pork that needs no spices or special prep done to it. Just cook it up, plate it, and enjoy. It's hard to mess up bacon and it's real easy to cook it perfectly! One of the easiest ways to cook it perfectly every time is by using an air fryer.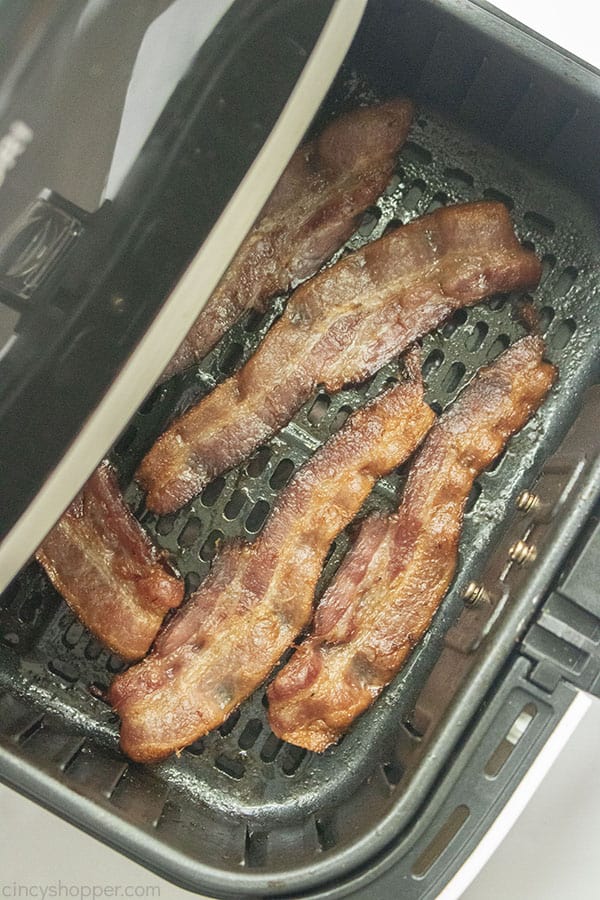 Yep, this gadget proves itself again: there's something about the small cooking environment that cooks bacon just right! Perfect bacon isn't the only reason you'll want to try air fryer bacon- it's easier to clean up. Once it's done cooking, just pour off the fat, give your fryer a quick wipe-down, and then go enjoy your food! No need to scrub away at skillets and spatulas before eating your breakfast.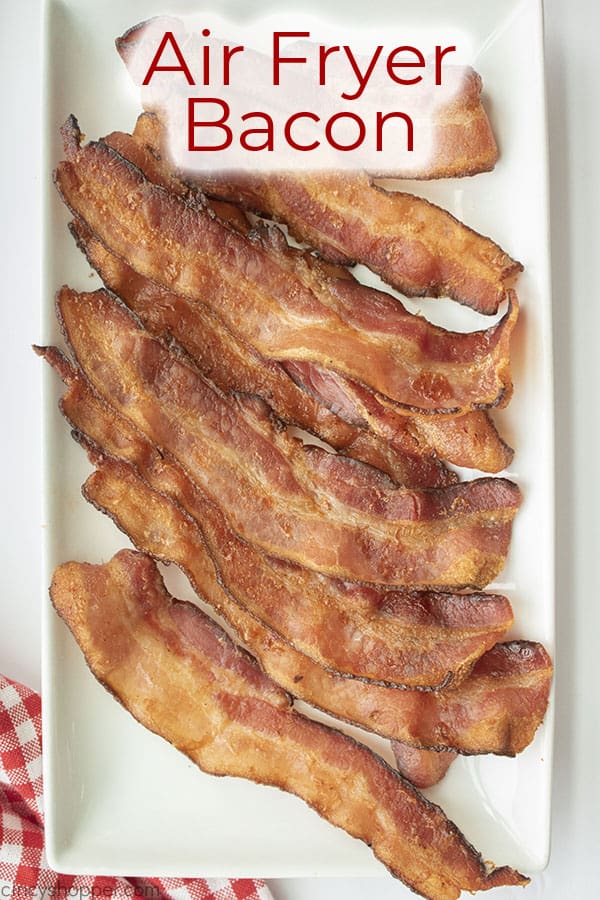 This recipe- because it's so simple- will also work with all sorts of types of bacon. Thick-cuts, thin-cuts, Canadian, turkey, vegan- I don't see any reason why they wouldn't work here! Once you've gone through this recipe a few times, you'll eventually be able to "set-it-and-forget-it." Perfect no-stress, no-fuss, no grease-burns bacon every time? Sign me up!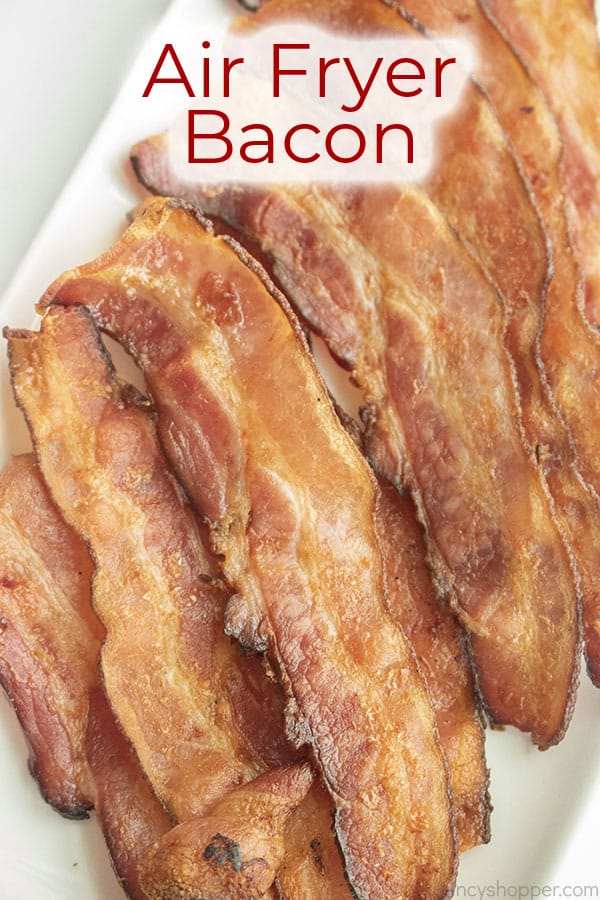 More Air Fryer recipes you might like!
Our

Air Fryer French Fries

are better than any fast food fries that you can get! Cutting these fries real thin will give you crispy, tasty fries with almost no oil needed.

Air Fryer Asparagus

will look good on almost any dinner plate. This recipe might be your new favorite: crispy, easy-to-make asparagus spears!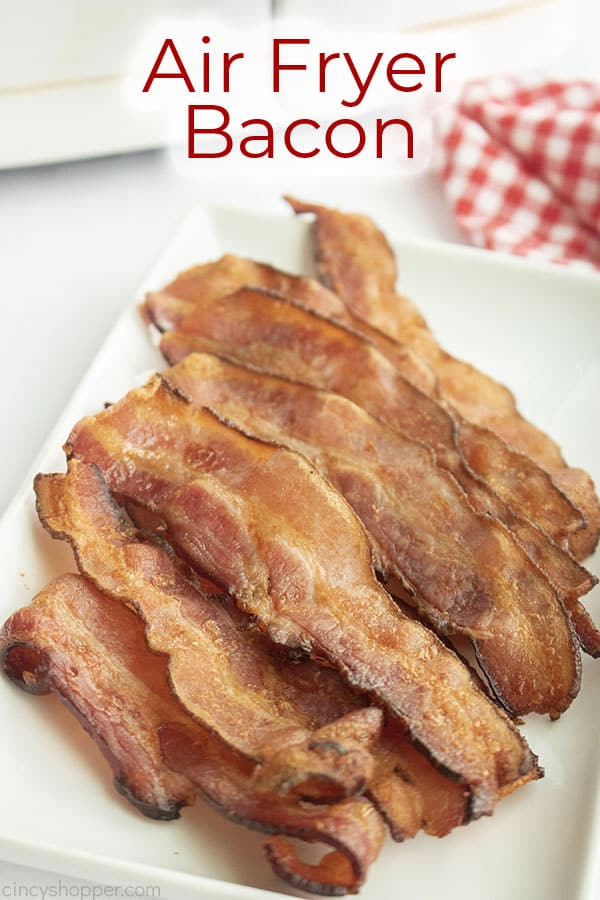 How to cook Bacon in Air Fryer
The process for air-frying bacon is real simple…
Pour some water beneath your air fryer basket

(We'll explain in a minute…)

.

Place your bacon

in a single layer

in the air fryer basket.

Fry your bacon for 10 minutes, checking often to ensure it doesn't burn.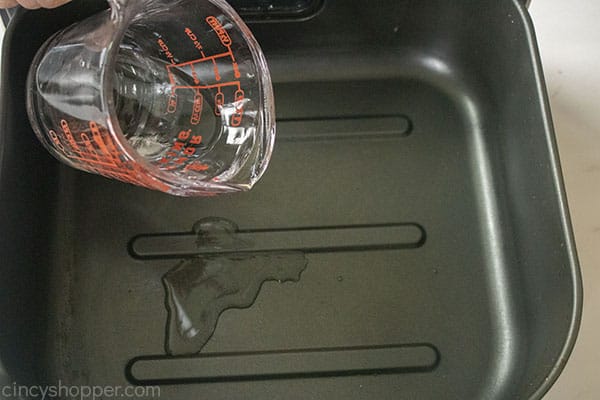 What's with the water?
If you try and make our Air Fryer Bacon without adding some water beneath the basket, you're going to have a lot of smoke to deal with
. Bacon is a
really
fatty cut of pork, so it's natural that all that fat is going to cook-off. The issue is all that fat cooks off and starts burning in the little cavity beneath the fryer basket. Adding a bit of water- about a 1/4 cup- creates a sort of grease catch which will prevent most, if not all, of the smoking. When you are done, pour your grease off into a can or jar and save it for future use! Eggs fried in bacon fat, anyone?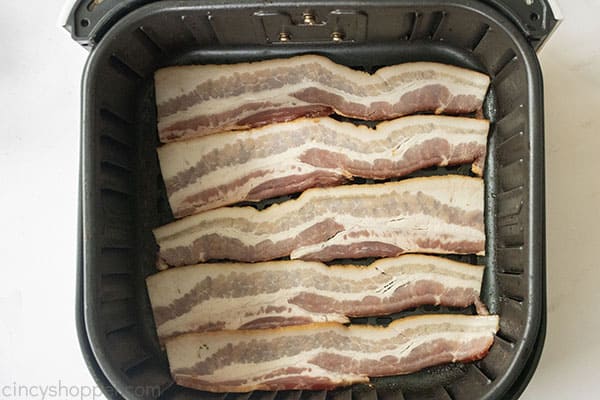 How long to cook Bacon in Air Fryer?
This is all going to depend on how thick your bacon is. Thin cuts of bacon are going to cook up real quick- 8 minutes or
maybe
even less. Thicker cuts could take 12 minutes or more.
The one thing to remember here is to keep an eye on your bacon: check it every couple of minutes while it's frying until it reaches your preferred doneness
.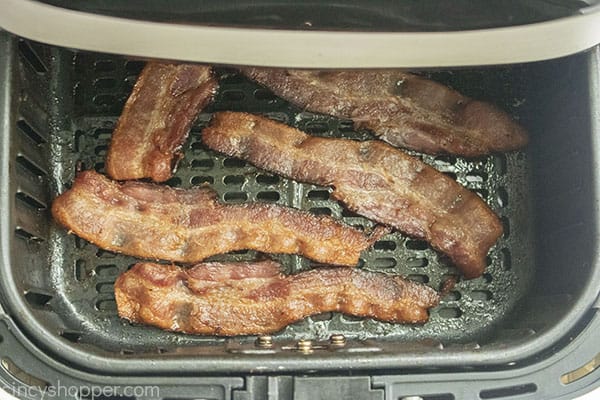 Other types of Bacon to try
We only tried this recipe with classic, thick-cut bacon. Since our process here is so simple, I can imagine it working for other sorts of bacon and bacon-like cuts of meat! Here are a few you can try:
English/Irish/Canadian Bacon

– There are a few classic breakfast dishes that taste better with these leaner cuts

. You might

be limited

with how many you can fit in, but give it a try!

Speck/Pancetta

– Bacon's spiced European cousins. The main difference between these two is speck

being smoked

while pancetta is not. Like bacon, they should taste great fried-up!

Turkey Bacon

– While pork bacon is always going to be the best bacon, there's no reason you can't use this method for turkey bacon

. Great for the more health-conscious folks!

Beef Bacon/Navel

– Here's a really interesting one:

apparently,

some folks can find bacon cut from the beef belly! I've never tried it myself but, like I said before, I don't see any reason you can't air-fry it.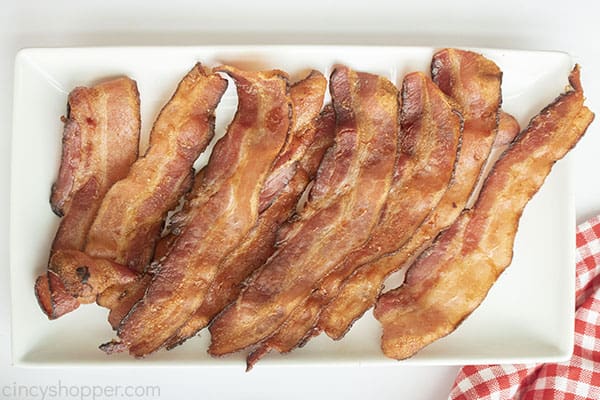 Air Fryer Bacon
Air Fryer Bacon is another way to make this classic breakfast side. Using the popular kitchen gadget makes your bacon so crispy & so easy!
Ingredients
8

oz

Bacon

about 8 strips

1/4

cup

Water
Instructions
Preheat the air fryer for 5 minutes at 350.

Pour 1/4 cup of water into the bottom of the air fryer basket to prevent smoking.

Arrange bacon in a single layer, cut strips as necessary to fit.

Cook for about 10 minutes, until bacon reaches desired crispness.
Nutrition
Calories:
236
kcal
|
Carbohydrates:
1
g
|
Protein:
7
g
|
Fat:
23
g
|
Saturated Fat:
8
g
|
Cholesterol:
37
mg
|
Sodium:
376
mg
|
Potassium:
112
mg
|
Vitamin A:
21
IU
|
Calcium:
3
mg
|
Iron:
1
mg