Strawberry Jello Parfaits are dessert cups that are sweet, simple, and oh-so delicious. Our recipe makes for an easy and elegant dessert!
If you're in need of some easy-to-make Fancy Jello Desserts, this recipe is perfect! For more Jello Desserts, try some Easy Strawberry Pie or a Strawberry Poke Cake.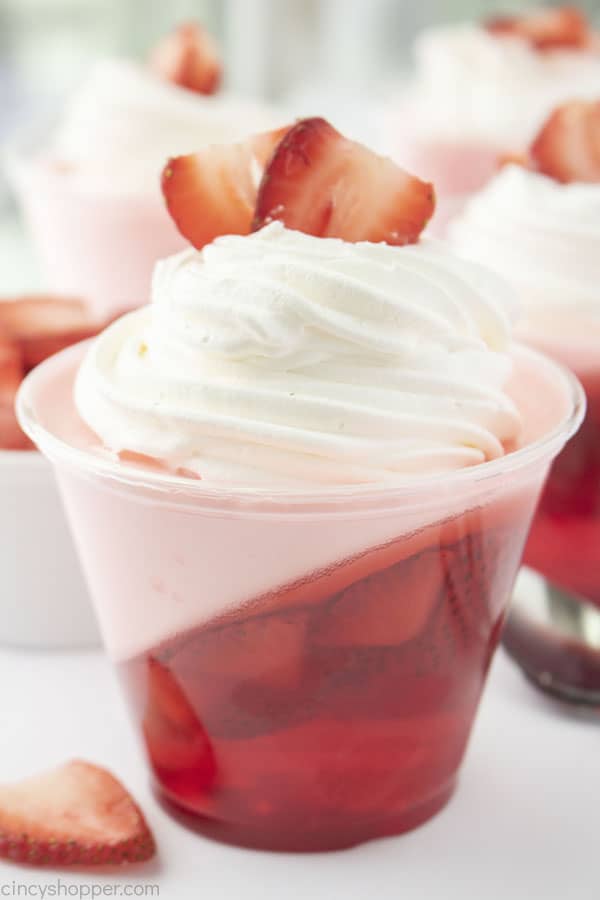 Strawberry Jello Parfaits
Let me start this off simply: I love strawberries. I could eat them by the dozen straight from the container- being able to make great desserts from them is just icing on the cake for me! There's plenty of great strawberry dessert recipes out there- and you can find plenty here on our site. Today, though, I'm going to give you folks a simple layered dessert that looks elegant, fancy, and will impress any guests at your next get-together.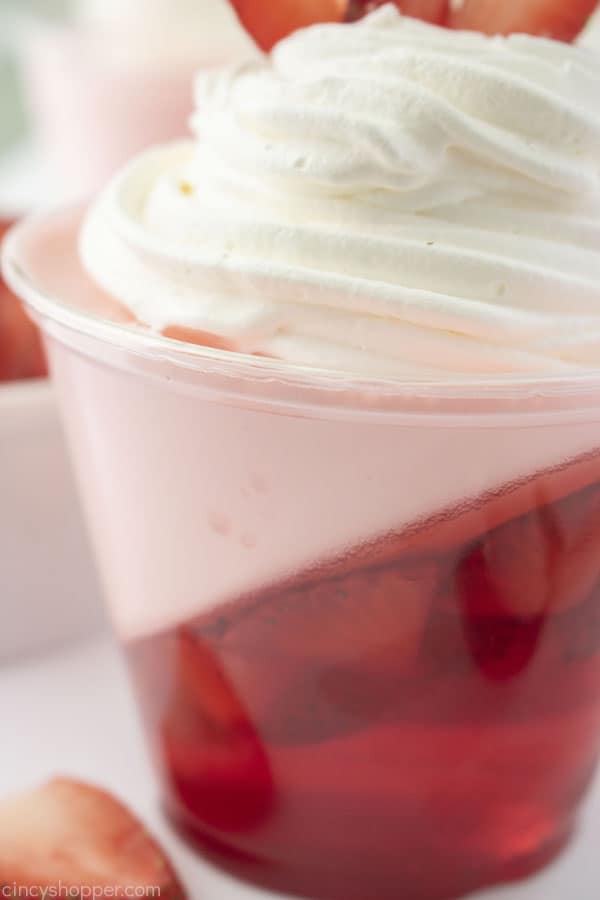 These Jello Parfait Cups are easy to make and perfect for Valentine's Day Dessert- you only need 3 ingredients. If you offset your glasses, you'll get these nice, diagonal layers that look so good. Combine this interesting appearance with a simple, whipped cream and strawberry garnish and you'll have a very-impressive looking dessert! We encourage you to try these fancy Jello Dessert Cups at your next party- we know you'll love them and they might just become your new go-to holiday or party dessert…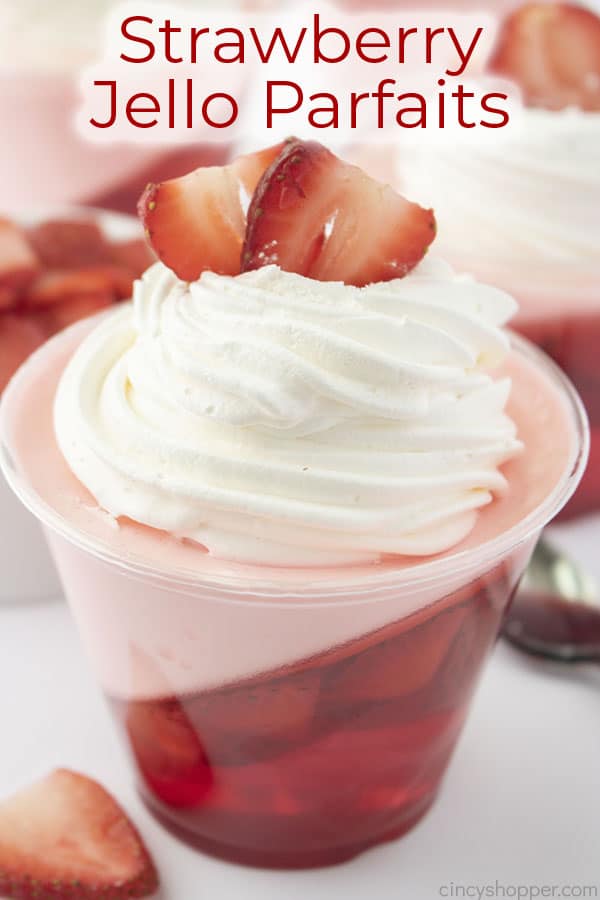 Loved our Jello Dessert Recipe? Try these Strawberry Desserts next!
For a fun cheesecake recipe, look no further than our

Strawberry Crunch Cheesecake

. This dessert tastes

just

like those delicious ice cream bars you might've had before!

Our layered cheesecake recipe is certain to be a real crowd-pleaser- and you'll love the DIY "crunch topping

!"

If you're in need of a dead-simple dessert that needs no baking at all and is quick to make, try our

Strawberry Icebox Cake

.

All you need is 3 ingredients that you can

easily

find at your local grocery and prep is as simple as

just

layering your ingredients

. This one is great for the summer season!

Once the warm weather returns, you'll love making this recipe for

Easy Strawberry Banana Ice Cream

! This is another easy 3 ingredient recipe that you don't even need an ice cream maker for. So simple to make and a fun way to sneak some fruit into your diet!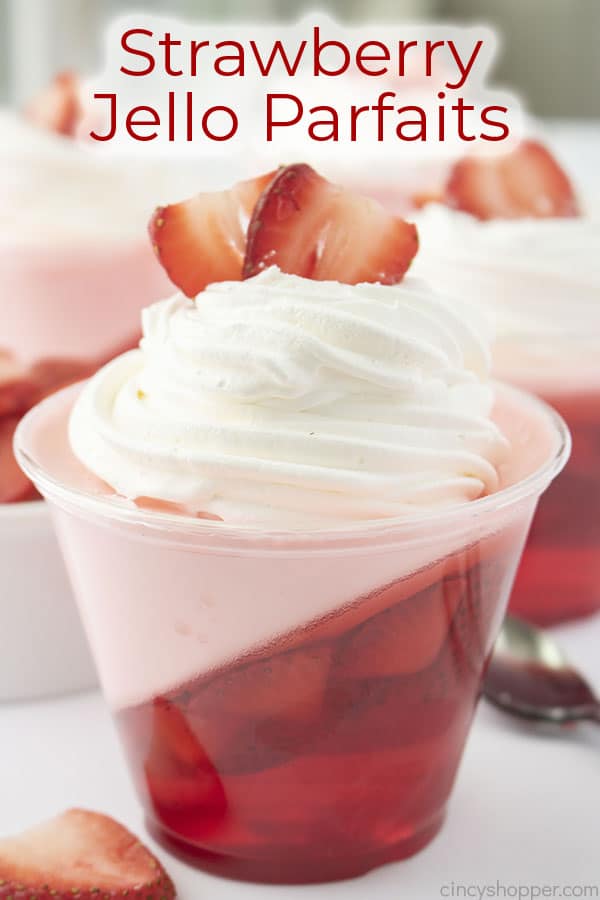 Ingredients for our Jello Parfait Recipe
Strawberry Jello Mix

Fresh Strawberries

Frozen Whipped Topping

– Like Cool Whip.
You'll need these ingredients to make the actual Parfait Cups. If you want to make these look even better, you'll want to hit them with some garnishes. Try using…
Whipped Cream

– Either whipped by hand, Cool Whip topping or

just

use some Reddi-Wip.

Strawberry Slices

Sprinkles

Mint Leaves
How to make Jello Parfaits
Making this Jello Dessert is very simple and easy to do. Here's all you need to do…
Fill offset glasses halfway with Strawberry Jello and chopped strawberries.

Fill the glasses

the rest of the way

with your Cool Whip-Jello mixture.

Top with a garnish of whipped cream and strawberry slices for presentation before serving.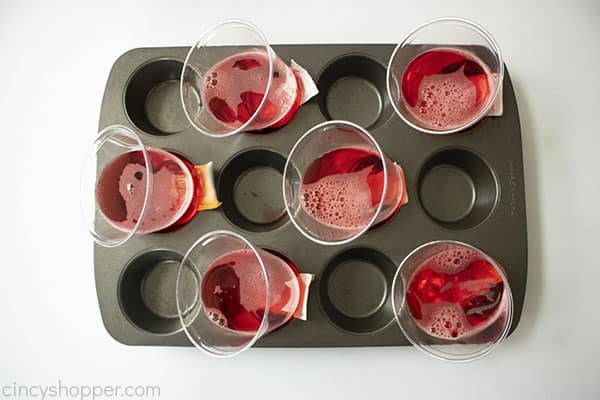 While you could prep these Parfait Cups in an upright fashion, we find they look better when you make them with these diagonal layers. You can hold these cups on a diagonal by setting them in a muffin tin. Surprisingly, setting them on some ketchup packets kept them relatively stable- give it a try yourself!
After prepping 2 of your Strawberry Jello boxes by following the instructions on the box, start filling your cups. Don't fill the cups too much- you still have to add the chopped strawberries. We found that chopping the strawberries into quarters or eighths worked best. After adding your strawberries, the Jello should be close to the lip of the offset glasses.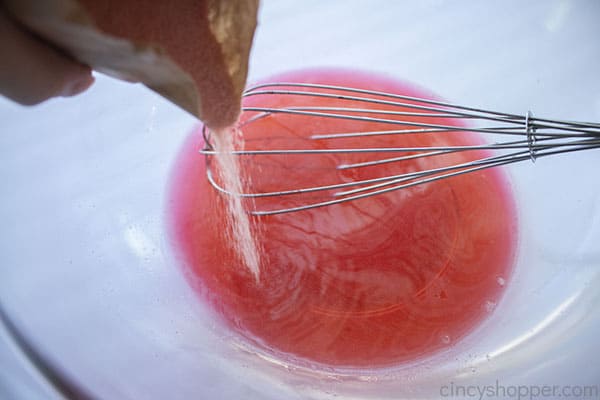 Let those cups chill in the fridge for about an hour until they've set. After letting them chill, we'll start making up our top layer. First, start making the last box of Jello- again, following the instructions on the box. Let cool down to room temperature before moving on.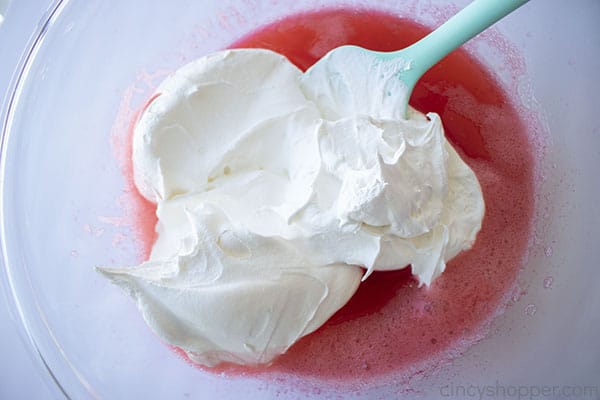 Once cooled and starting to thicken, add your frozen whipped topping to the Jello. Make sure you're folding the Jello and Cool Whip together- we want to keep that whipped texture! Once the mixture has been folded together, pour it over each of your Jello cups.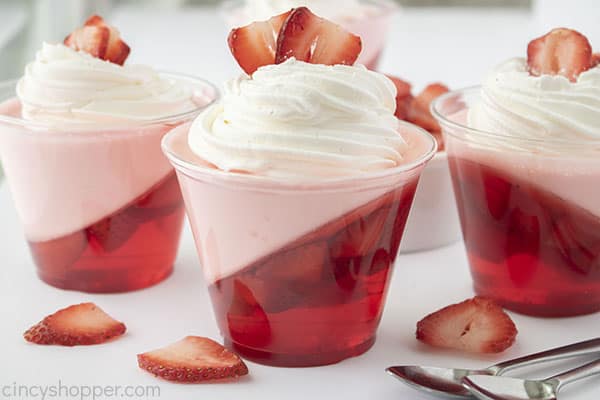 All that's left is to let your cups set in the fridge for a few hours! It should only take about 3 for the Jello to set completely. If you want to make these ahead for a party, they should be good in the fridge for a day or two! When it comes time to serve, pull your Parfait Cups from the fridge, garnish with some whipped cream and some strawberry slices, serve, and enjoy!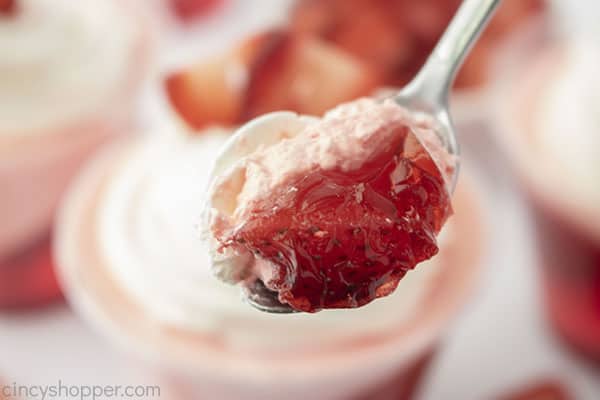 Strawberry Jello Parfaits
Strawberry Jello Parfaits are dessert cups that are sweet, simple, and oh-so delicious. Our recipe makes for an easy and elegant dessert!
Ingredients
3

pkg

Strawberry Jello

3 oz. each divided

3

cup

Boiling Water

divided

3

cup

Cold Water

divided

8

oz

Whipped topping

2

cup

Strawberries

huled and chopped
Instructions
Hull and chop the strawberries. Set aside.

Put something in bottom of muffin tins to allow cups to sit at a diagonal. Disposable ketchup packets worked for me.

Place 8 -9 ounce glasses (on the diagonal) in the muffin pans. Set aside.

Make 2 boxes of the Jell-o according to box directions.

Carefully pour liquid gelatin into diagonal cups.

Add strawberries to the gelatin.

Carefully transfer muffin tins to the refrigerator to chill for an hour.

Make the remaining box of Jello according to box directions.

Allow the gelatin to cool to room temperature.

Fold the whipped topping into the Jello.

Set the cups upright and pour this mixture evenly over the chilled Jello layer in each cup.

Place in the refrigerator and allow to set completely (about 3 hours).

Optionally, garnish with whipped topping and strawberry slices.
Notes
I purchased my plastic party cups at the grocery. The 9-ounce size worked perfectly for the dessert cups.
Nutrition
Calories:
196
kcal
|
Carbohydrates:
38
g
|
Protein:
4
g
|
Fat:
4
g
|
Saturated Fat:
3
g
|
Cholesterol:
1
mg
|
Sodium:
178
mg
|
Potassium:
86
mg
|
Fiber:
1
g
|
Sugar:
36
g
|
Vitamin A:
25
IU
|
Vitamin C:
21
mg
|
Calcium:
32
mg
|
Iron:
1
mg