Fresh raspberry filling is made with ripe red raspberries that are lightly sweetened with a touch of sugar. This recipe is perfect to use for raspberry cake filling, cupcakes, Danish pastries, and other sweet desserts. It's delicious on toast, too!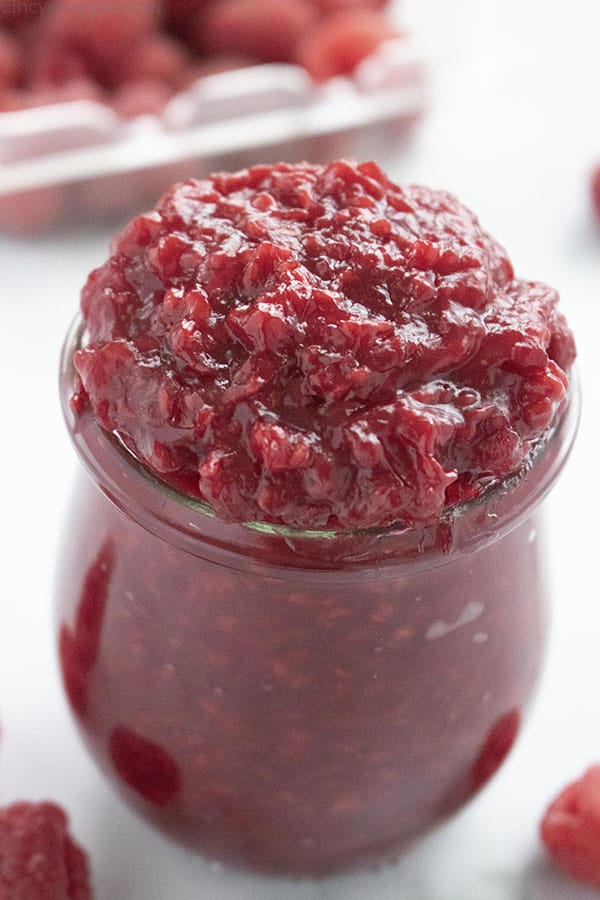 I think you'll love how quick and easy homemade fruit filling is to make. Because it tastes so fresh and delicious, you may never want to buy canned pie filling again!
Uses for Raspberry Filling
This is truly an all-purpose sweet treat. Let your imagination loose and create your own uses for it, or try some of these ideas:
raspberry cake filling
Danish pastries – with or without cream cheese!
place a dollop onto a stack of pancakes, waffles, or French toast
spread for bagels, toast, or English muffins
fruit filling for parfaits
topping for cheesecake brownies or blondies
topping for ice cream sundaes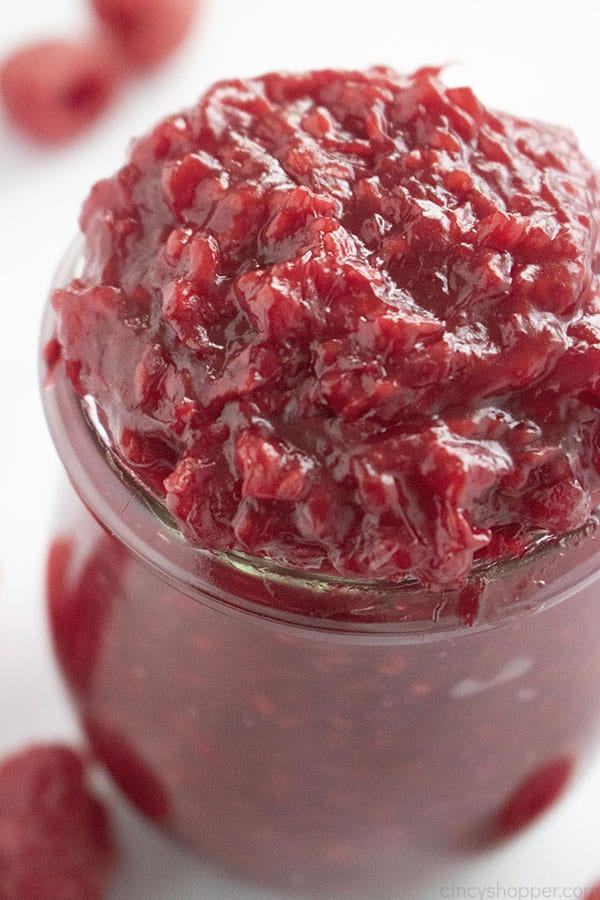 What's the difference between raspberry puree and fruit filling?
There are just two simple differences between a fruit puree and fruit filling.
Raspberry puree (also called raspberry coulis) is nothing more than fresh raspberries that are cooked and then mashed, blended, or pushed through a sieve. As a result, you have a thick and creamy blended fruit mixture. Purees made with raspberries and berries are strained to remove any seeds.
Raspberry filling starts the same way, in that the fruit is cooked. Then, sugar is added, as well as a thickener. Also, a bit of acidity, usually from lemon or lime juice.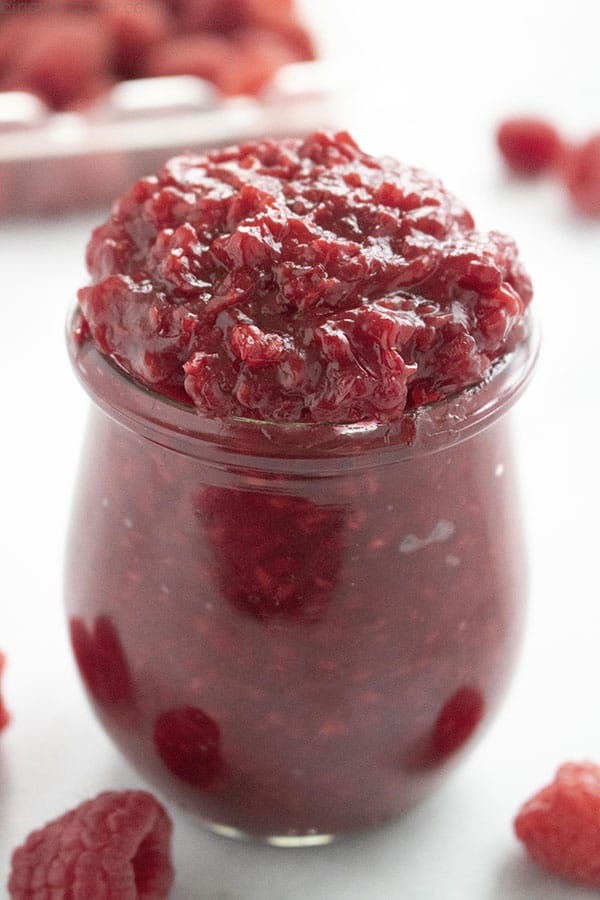 You have a few options for thickening a fruit filling like this one. Most often, the thickener of choice is cornstarch. However, other options include arrowroot and xanthan gum.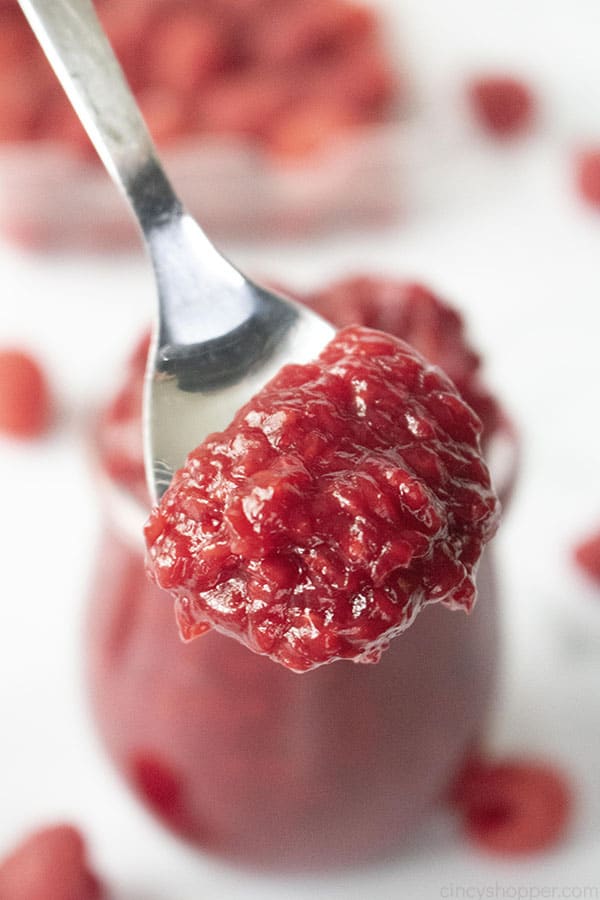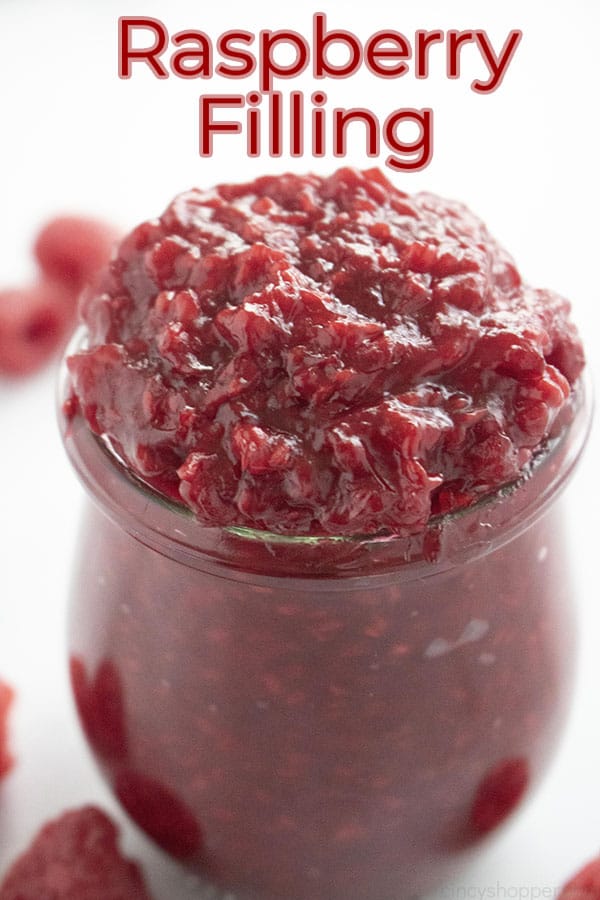 Ingredients for this raspberry filling recipe
You will only need four ingredients to make this recipe, which are:
Fresh or frozen raspberries – If you use frozen berries, you will want to thaw them before cooking. There will be raspberry juice in the bag, but that can be used as well
Sugar – To reduce the calories, you can swap out traditional sugar for any artificial granulated sweetener. Just be sure to choose one that measures cup for cup to regular sugar.
Lemon juice – You can use freshly squeezed lemon juice or 100 percent lemon juice from a bottle. If all you have available is lemon juice concentrate, start with half the amount noted in the recipe below. Then, taste the filling and add more juice if you think it needs it.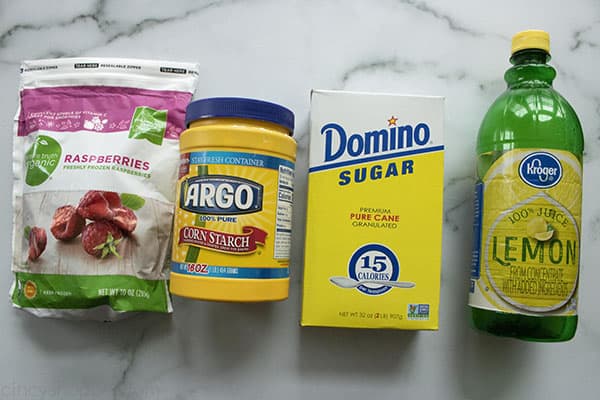 To make the filling:
COMBINE all of the ingredients in a large pot over medium-high heat.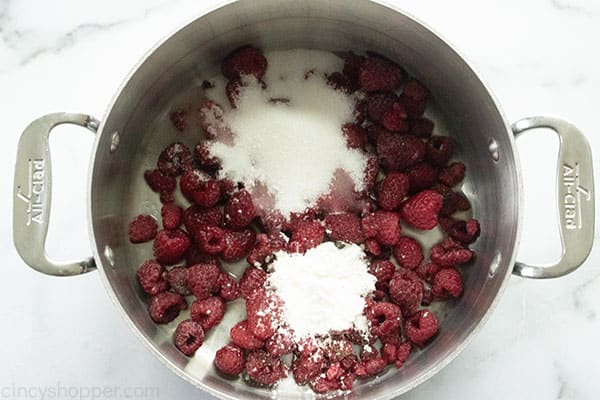 COOK the mixture until it begins to boil and it thickens. Stir occasionally to prevent any fruit from clumping or sticking to the pot. When it's thick, remove the pan from the heat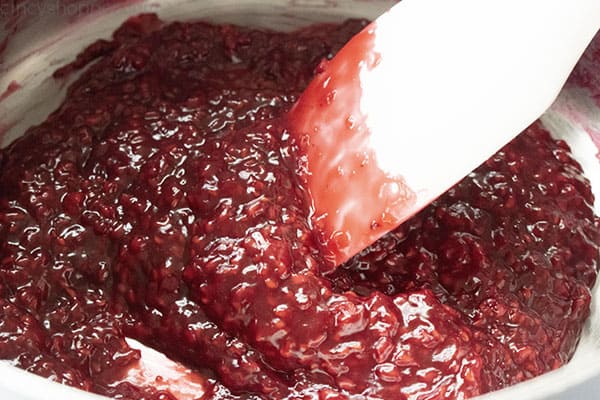 COOL and use immediately or store for future use. (Storage directions below.)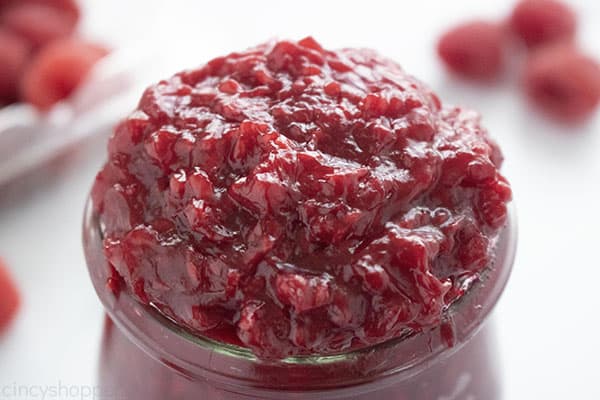 Raspberry cake filling (or cupcake filling)
A quick note about using this as a raspberry cake filling or cupcake filling:
I don't mind the texture of raspberry seeds, so I usually leave them in my raspberry cake filling.
If you want a smoother consistency, it is easy to remove the seeds. Just cook the raspberries and sugar according to the recipe below, but don't add the lemon juice or cornstarch. After cooking, press the berries through a fine mesh strainer with a bowl set underneath it. The bowl will catch the raspberry puree while the strainer keeps the seeds behind. You can throw the seeds away. Then add the mixture back to the pot. Stir in the lemon juice and cornstarch and continue cooking to thicken the mixture.
In addition to cakes and cupcakes, seedless raspberry filling is also beautiful (and delicious!) on the top of a cheesecake or in your morning yogurt.
Storage and Shelf Life
Keep in mind that homemade raspberry filling does not have preservatives in it. As a result, it isn't like canned fruit filling, which can be kept on a pantry shelf. Store your raspberry filling in a tightly covered jar in the refrigerator. It should keep well for up to 5 days.
I don't know if it freezes well, as I've never tried it. That being said, if you plan to try it, be sure to leave some air space in the jar, as the filling will expand as it freezes.
Other Dessert Sauce Recipes
Here are some other fruit dessert toppings and fillings for you to make:
Raspberry Filling for Desserts
Fresh raspberry filling is made with red raspberries and a touch of sugar. This recipe is perfect to use for raspberry cake filling, cupcakes, and pastries.
Ingredients
1 1/2

cup

Frozen Raspberries

2

tbsp

Cornstarch

2

tbsp

Lemon Juice

1/3

cup

Sugar
Instructions
Combine all ingredients in a small pan over medium heat.

Bring to a boil while stirring constantly until thickened.

Remove from heat and allow to cool.
Nutrition
Calories:
419
kcal
|
Carbohydrates:
105
g
|
Protein:
2
g
|
Fat:
1
g
|
Saturated Fat:
1
g
|
Sodium:
4
mg
|
Potassium:
272
mg
|
Fiber:
12
g
|
Sugar:
75
g
|
Vitamin A:
59
IU
|
Vitamin C:
59
mg
|
Calcium:
45
mg
|
Iron:
1
mg