Apple Pie Bites are great for breakfast or dessert. Use Pillsbury Crescent Rolls and fill with apple pie filling to make these muffin-sized delicious pies.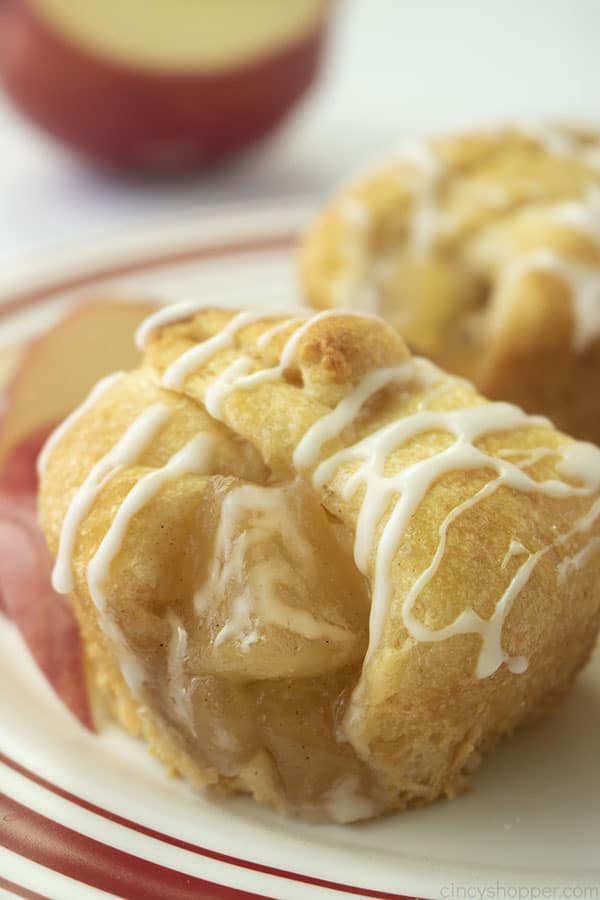 Apple Pie Bites
Pillsbury's crescent rolls, in themselves, are an amazing snack and make for a great, bready side-dish with plenty of dinner entrées. What Pillsbury likely didn't expect were all the recipes that found creative, new uses for their crescent roll dough. Whether served up or as an ingredient, I've struggled to find anyone who doesn't enjoy the flakey, buttery goodness of a crescent roll.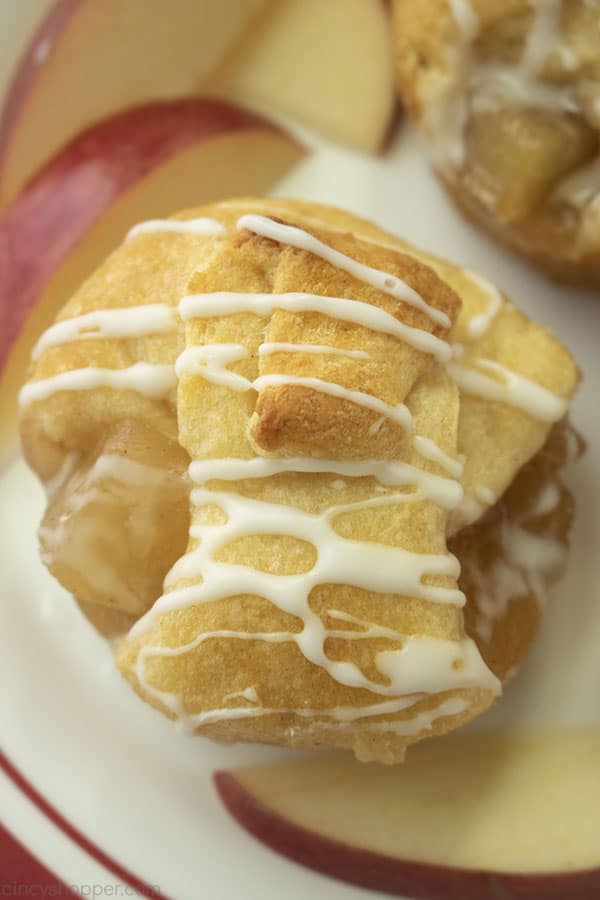 We're no strangers to crescent rolls here on the site- we've already used them in a number of recipes. We've used them in our simple Apple Dumplings and a delicious Caramel Apple Cream Cheese Crescent Ring in the past! Both of those recipes are amazing examples of just what you can do with some apples and a few cans of crescent roll dough.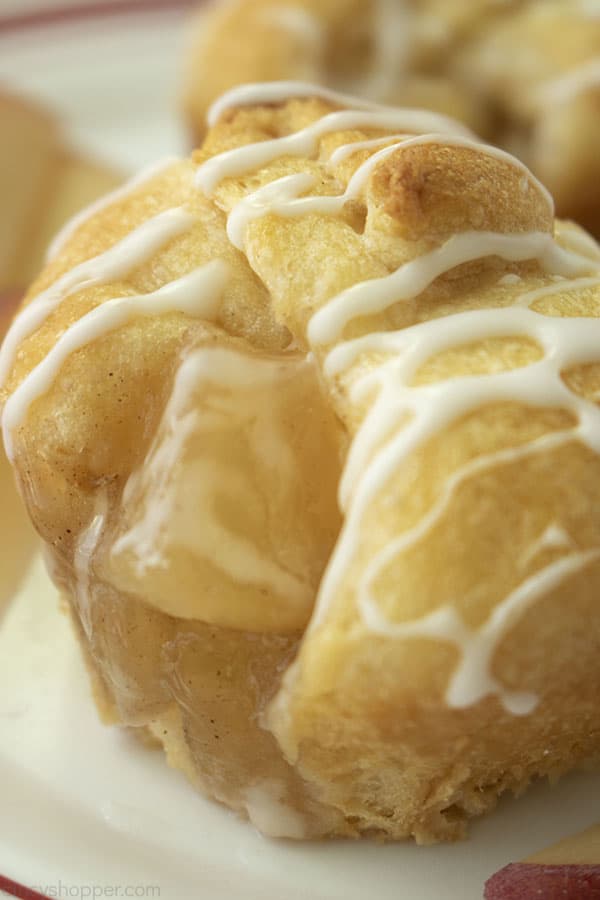 This time around, we've found another easy recipe that's incredibly delicious but still super simple! You just need to reach for your favorite muffin pan- that's right: muffin-sized apple pie bites! All topped with a tasty little glaze.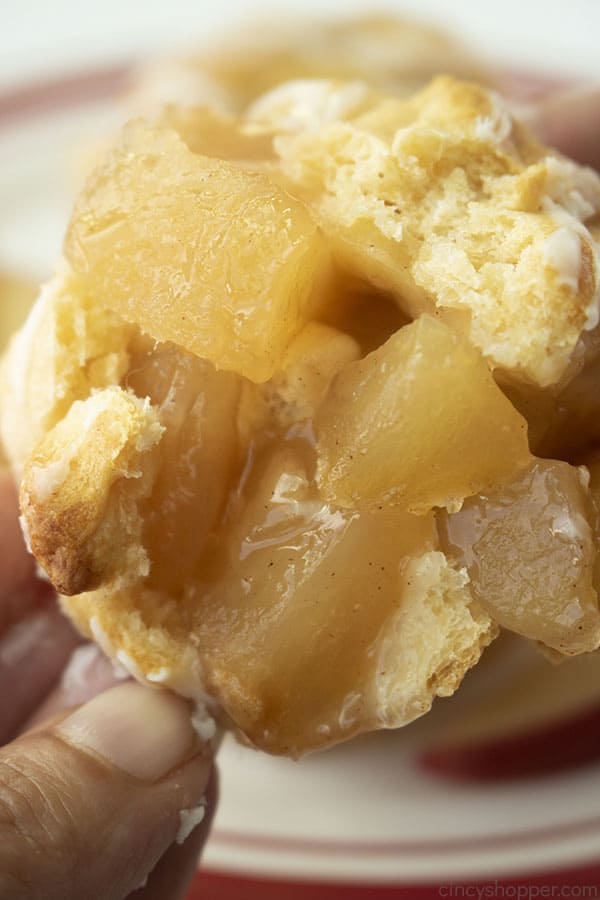 These little apple pie bites are an amazing treat to have for either a sweet breakfast or a little evening dessert. If you're more a fan of cherry than apple, we've also put out some Cherry Pie Bites before that might be right up your alley.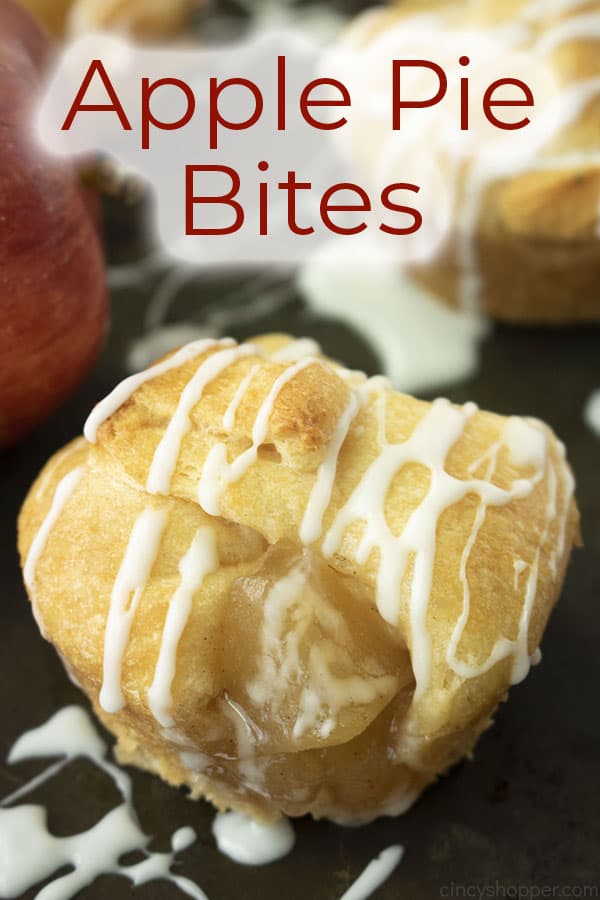 I'm certain all of you with love this fun little recipe. With the autumn season on the horizon, many of you will be coming back to this recipe. That's because once you try these sweet little pie bites, you'll never have just one!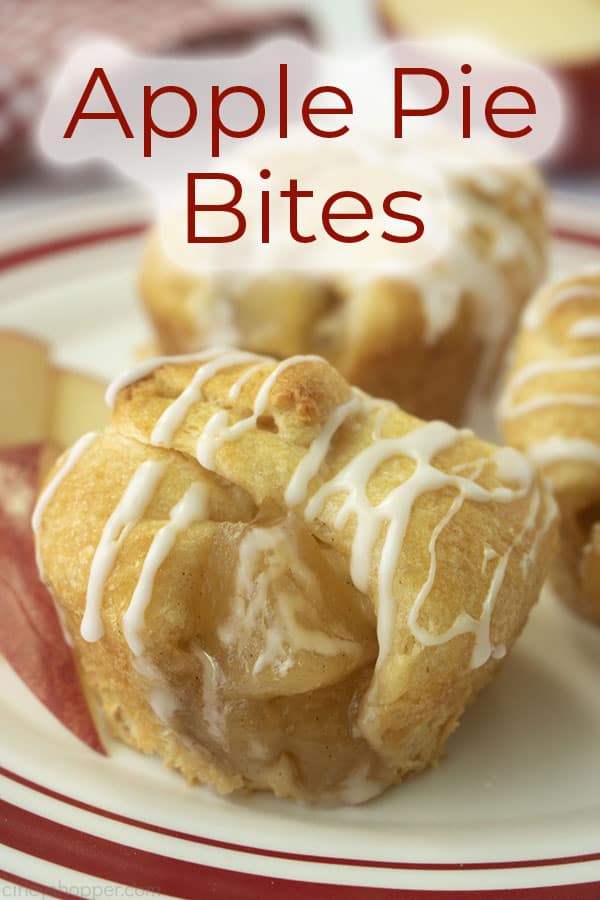 Ingredients for Pie Bites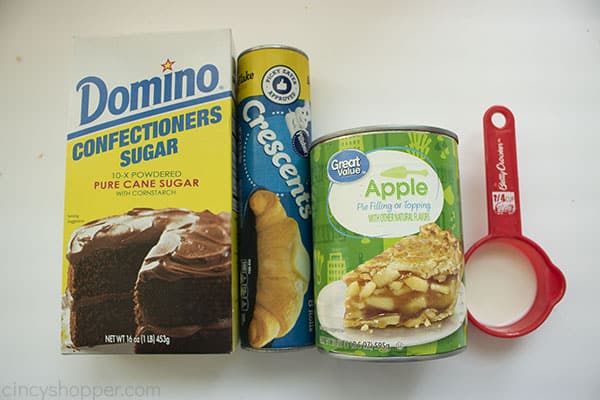 How to prepare our Apple Pie Bites
Before getting started on this recipe, you might find it necessary to cut your apple pie filling down into smaller chunks. We want our filling to be comfortably stuffed into our dough later on. A quick, rough chop with a kitchen knife should do the trick.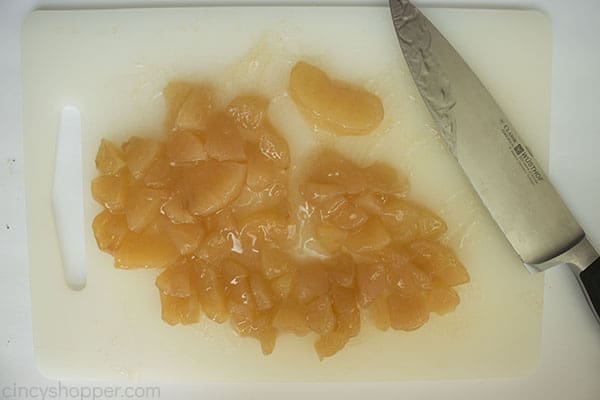 Once you've got that filling taken care of, it's time to get started. Turn your oven up to 375 degrees and allow to preheat while you get your bites ready. To make sure you can remove your bites from their tins down the line, spray your muffin pan down with cooking spray.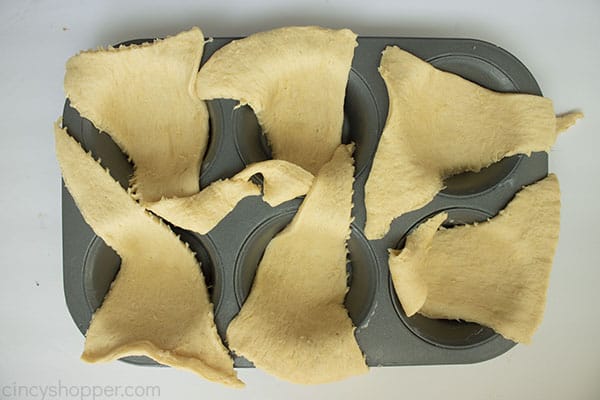 After cracking open your crescent roll dough, roll it out and separate it. You'll take the triangles of dough and drop them into each of the cavities in the muffin pan.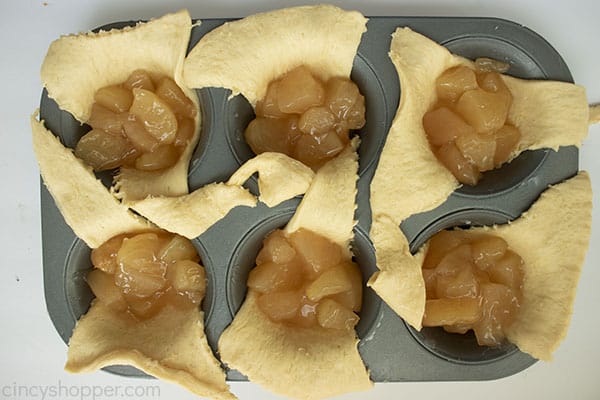 From there, you'll be adding your filling. It'll probably come out to about a tablespoon of pie filling per pie bite. Though, no one's going to complain if you add a little extra…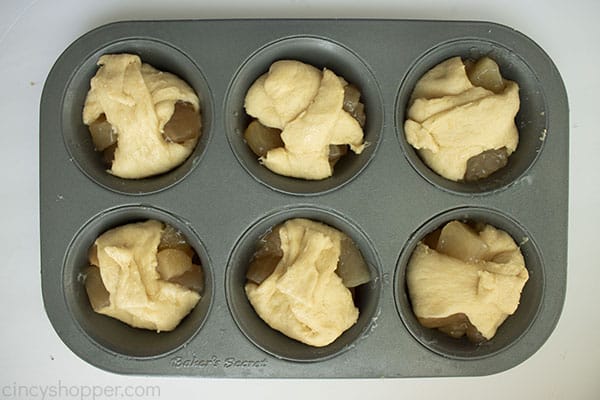 However much filling you add, you'll be sealing your pie bites by folding the ends over top. Start with the two shorter ends of the dough that are sticking out and then fold the longer end over those two.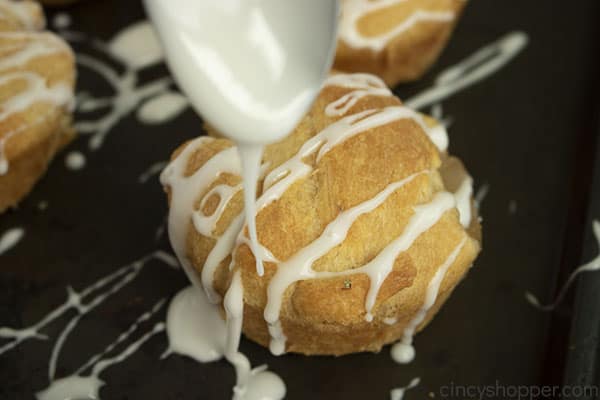 Now comes the baking: pop those pie bites into the pre-heated oven and allow to bake until they looked lightly-browned. Should take around 15 minutes. Once those finish baking, pull them from the oven, set them aside to cool, and prep a simple glaze using your milk and powdered sugar.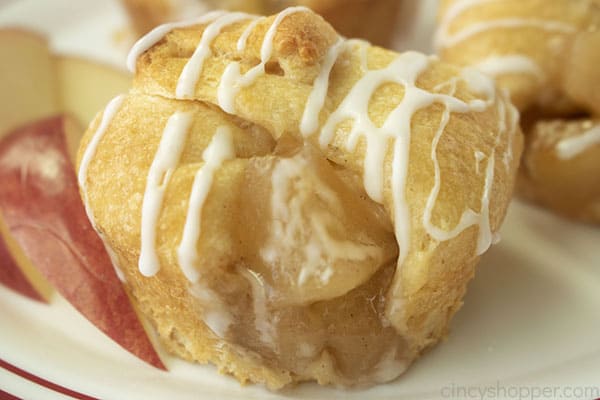 Drizzle your glaze over your pie bites once they have cooled down. With that, your pie bites are ready to eat. That wasn't so hard, was it? Easy as pie!
Apple Pie Bites
Apple Pie Bites are great for breakfast or dessert. Use Pillsbury Crescent Rolls and fill with apple pie filling to make these muffin-sized delicious pies.
Ingredients
1

can Cresent Roll Dough

10

oz

Apple Pie Filling

chopped

1/2

cup

Powdered Sugar

1

tbsp

Milk
Instructions
Preheat oven to 375.

Spray muffin pan with cooking spray.

Unroll and separate dough.

Place one triangle into each cup and fill with a tablespoon of diced apple pie filling.

Fold 2 shorter ends together on the top and pull longer end over those.

Bake for 13-15 minutes or until lightly browned.

Set aside to cool.

Whisk together powdered sugar and milk until smooth.

Transfer cooled bites to wire rack and drizzle with glaze mixture.
Nutrition
Calories:
78
kcal
|
Carbohydrates:
18
g
|
Protein:
1
g
|
Fat:
1
g
|
Saturated Fat:
1
g
|
Cholesterol:
1
mg
|
Sodium:
45
mg
|
Potassium:
16
mg
|
Fiber:
1
g
|
Sugar:
13
g
|
Vitamin A:
9
IU
|
Vitamin C:
1
mg
|
Calcium:
4
mg
|
Iron:
1
mg