Rice Krispie Nests are a tasty Easter dessert idea! These easy Rice Krispie Easter Treats are so simple to make and are perfect for parties.
Rice Krispie Treat desserts are definite crowd pleasers- who doesn't love Rice Krispie Treats? For some other Easter Rice Krispie Treats, try our Krispie Treat Easter Carrots and Easter Bunny Krispie Treats.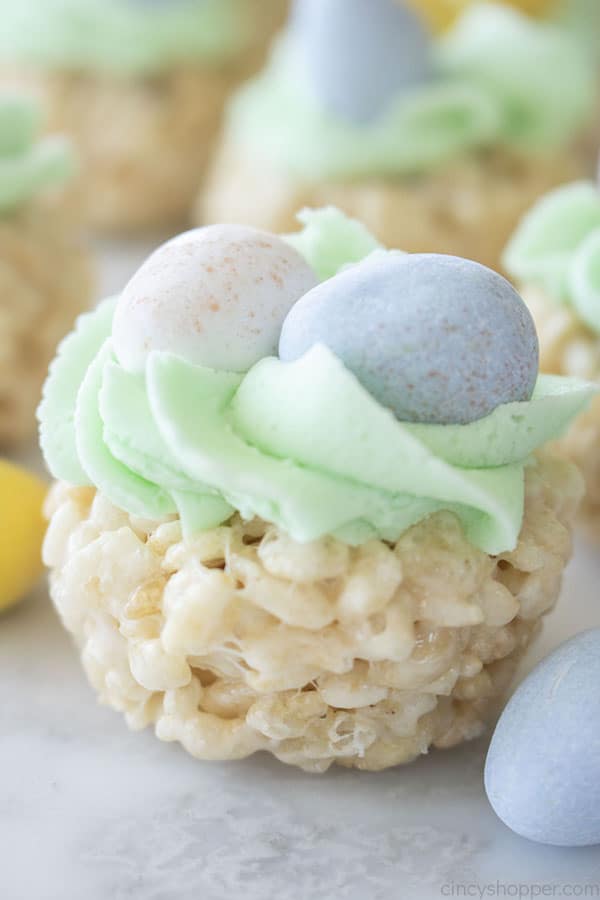 Rice Krispie Nests
With the Easter holiday coming up here soon, I've been thinking about what desserts I'm going to make to celebrate. When it comes to making Easter desserts, there's so many different choices and directions you can take. In between all the thoughts of carrot cakes and chocolate eggs, I kept coming back to this fun dessert idea I've been wanting to try. I love Rice Krispie Treats, so I decided to make some of these Rice Krispie Nests!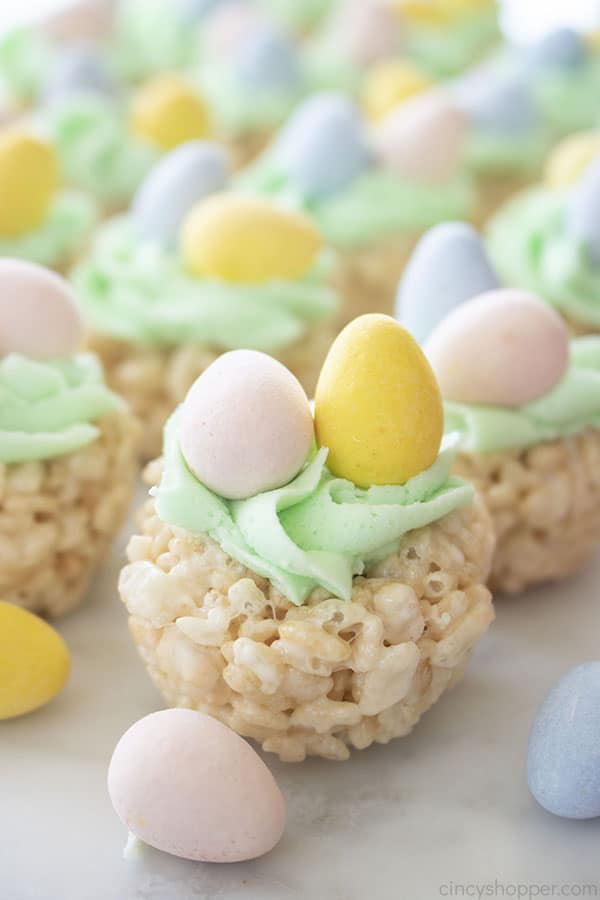 These Easter Rice Krispie Nests work sort of like Rice Krispie Cupcakes, where the "cake" is replaced with gooey Rice Krispie Treats. Top those off with some simple but tasty buttercream frosting, and you've got an easy dessert that's certain to be a crowd pleaser! To keep things extra festive, we even went and garnished these Rice Krispie Cups with a couple Cadbury Mini Eggs for a little chocolatey treat on top.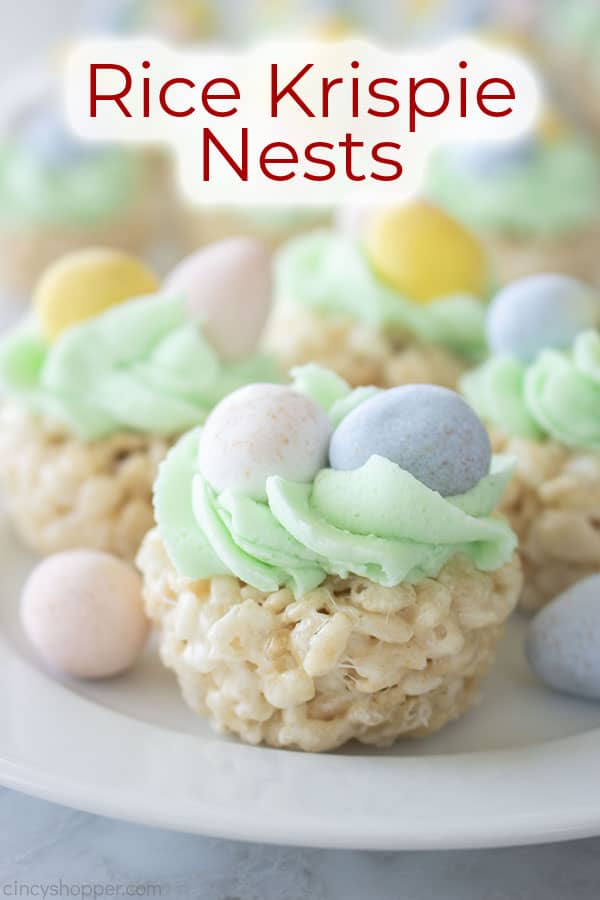 These Easter Rice Krispies are perfect for any parties or get-togethers you might have planned for this holiday season. Everybody loves Rice Krispies and I'm certain these things will get eaten up no matter where you take them! Our recipe below will make plenty of these things, so feel free to pack them in lunches or keep them around for snacking. You'll love them!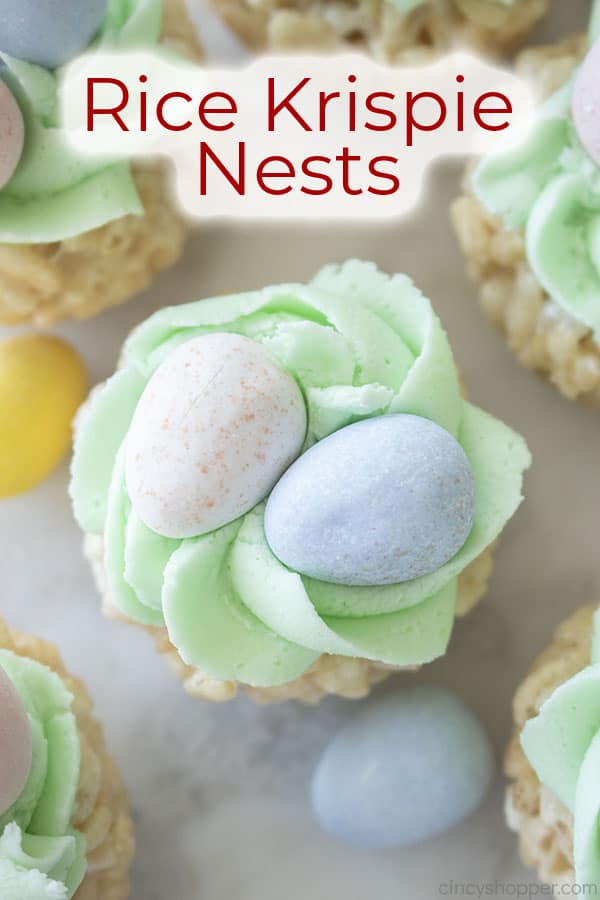 Loved this recipe? Try these cute Easter dessert treats next!
For another super simple Easter treat, we've got to recommend our

Nutter Butter Easter Chicks

.

Nutter Butter cookies make for delicious little snacks and they have the perfect shape for decorating into little Easter chicks

!

Grab some candy melting chips, some chocolate chips, and some Starburst candies and follow along with our recipe

.

You can make Easter chicks with pretzels too,

just

look at our

Easter Pretzel Chick Treats

!

These Easter treats are a bit on the lighter side but still have some similar ingredients: candy chips, chocolate chips, and more Starbursts for decoration

. These are especially great for packed lunches: a little dessert!

Chocolates and fruits can taste amazing together if you pick the right combo and we definitely hit the jackpot with these

Easter Chocolate Covered Strawberries

!

Using candy melting chips or some colored white chocolates, you can make a sweet coating for fresh strawberries that makes for a lovely little dessert

. Take the time to get the color right and these things end up looking almost like carrots- how cute!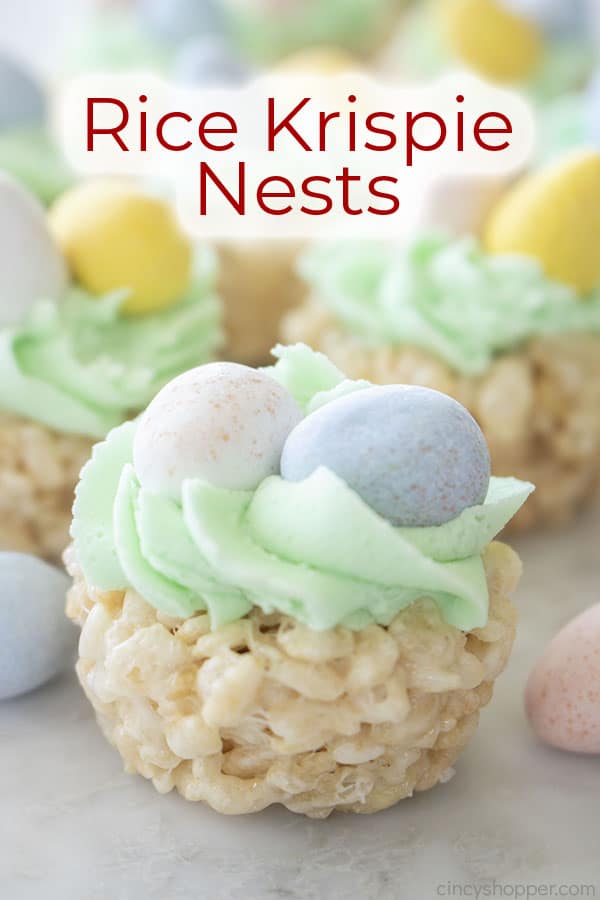 Rice Krispie Nest Ingredients
For the Rice Krispie Nests themselves, you'll need the following:
Butter

Marshmallows

– Mini marshmallows will work and melt the best.

Vanilla Extract

Rice Krispies Cereal
We'll also make a buttercream frosting for topping. For that, you'll need:
Softened Butter

Confectioners Sugar

Milk

Food Coloring

–

Just

a few drops of green to give our frosting that pale green color.
For a sort of "garnish" on top of our Rice Krispie Easter Treats, we're also going to use these
Cadbury Mini Eggs
. Consider jelly beans or other oval candies for eggs.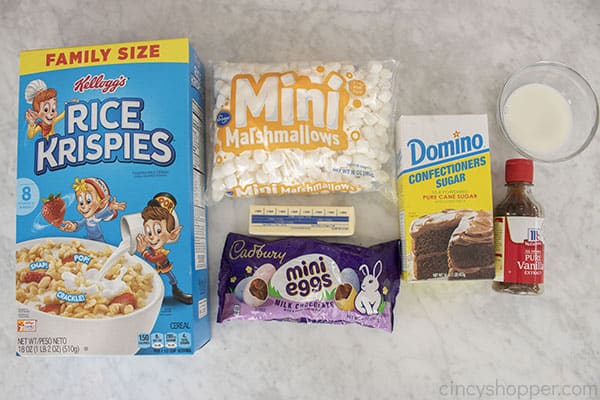 How to make Rice Krispie Nests
These Rice Krispie Easter Treats might seem hard to make at first, but they're actually pretty easy to make
! Here's all you have to do:
Prep Rice Krispie Treat mix by

melting marshmallows

then

adding vanilla extract and cereal

.

Press into molds

and

form into nests

.

While nests set, make a buttercream frosting by

beating together creamed butter and sugar

.

Thin with milk

then

add food coloring

.

Top Rice Krispie Nests with buttercream frosting

.

Garnish with Cadbury Eggs

and serve.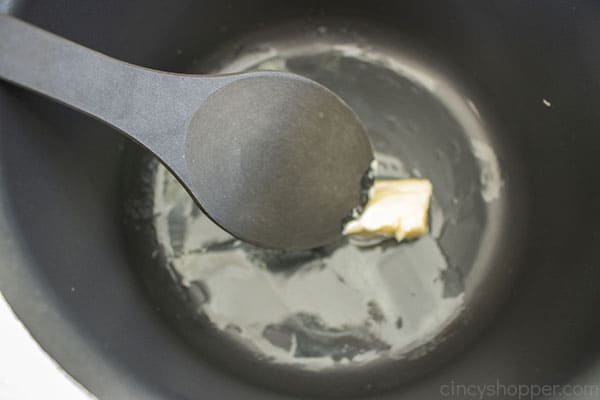 Melt some butter in the bottom of a non-stick pot before adding in most of your marshmallows. Melt the marshmallows over low to medium-low heat.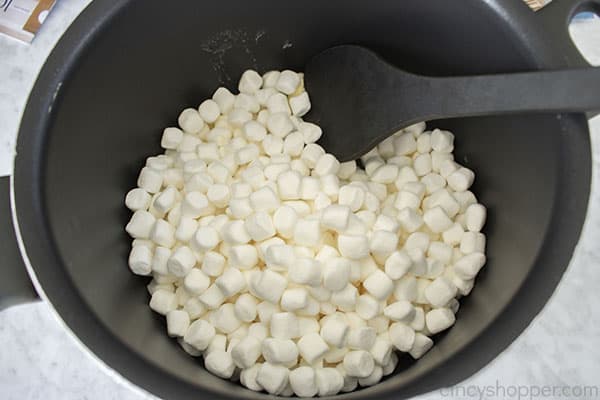 With the marshmallows melted, we can start adding our other ingredients. Add in the vanilla extract and start adding the cereal one cup at a time as well as any remaining marshmallows, stirring constantly. It helps to have someone adding the cereal and marshmallows while you stir.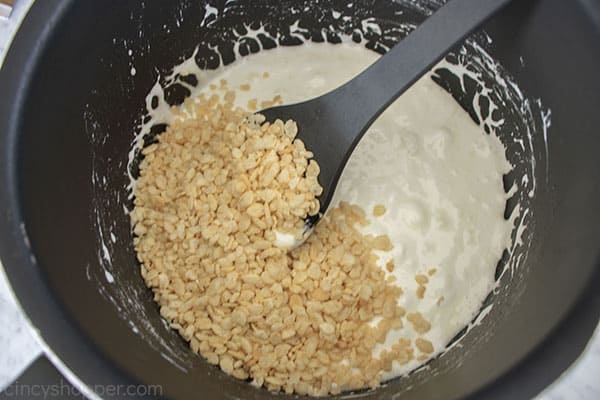 Eventually, you'll have your Rice Krispie Treat Mix ready. Transfer this to your awaiting molds: you can use mini muffin tins or a cupcake pan of some kind- you'll have plenty of this mix made! If you have any left over, shape into bars and snack on them later. After adding and pressing the mix into the tins, press a divet into the middle to make the nest shape. Now we can make our frosting while they set.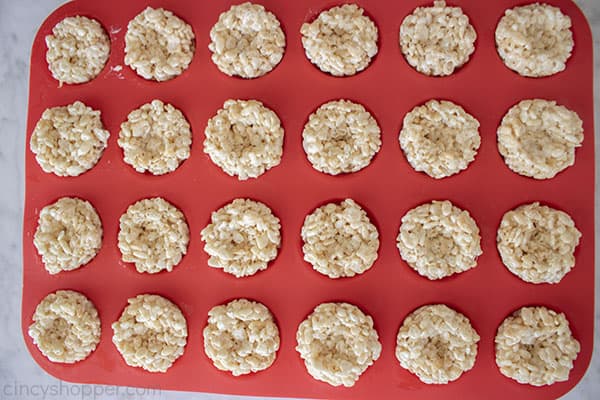 How to make buttercream frosting
To make the buttercream frosting for our Rice Krispie Nests, we'll start by first beating some softened butter. Do this in a mixing bowl until the butter is creamy and fluffy.
At this point, you'll start gradually adding in the sugar, bit by bit. Keep adding sugar until you get a thick buttercream frosting.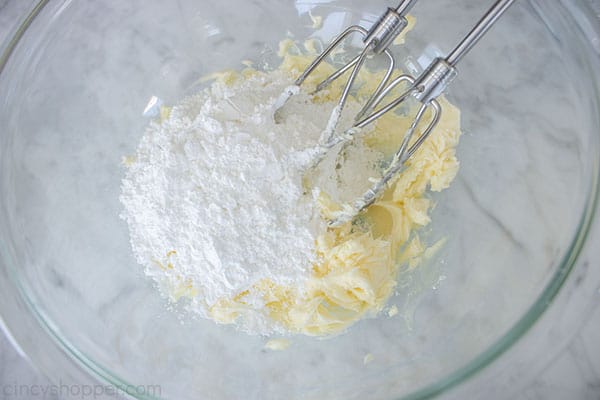 To thin the frosting out a bit and make it more workable, start adding in milk a tablespoon at a time. You want something you can put in a bag and pipe onto your nests later.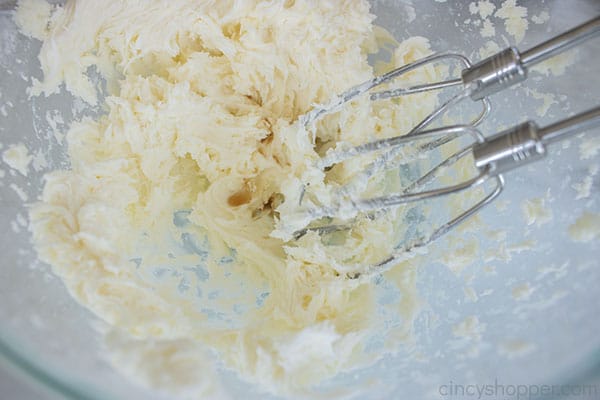 For color, you only need to add a couple drops of green to the frosting.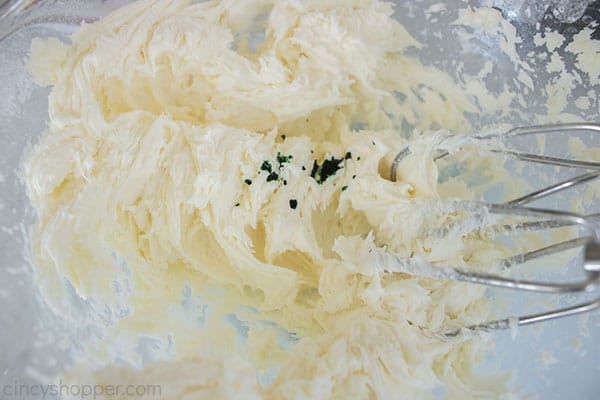 Once your color is mixed in, transfer the frosting to a piping bag. By now, your nests should be set, so feel free to get to topping each of the nests with a generous dollop of piped frosting.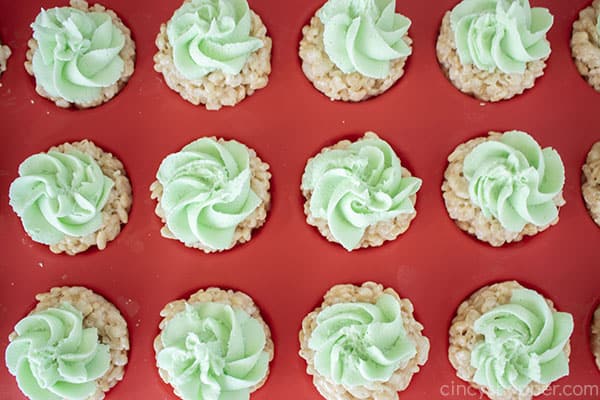 To garnish our Rice Krispie Nests, we'll take a Cadbury Mini Egg or two and press them into the frosting.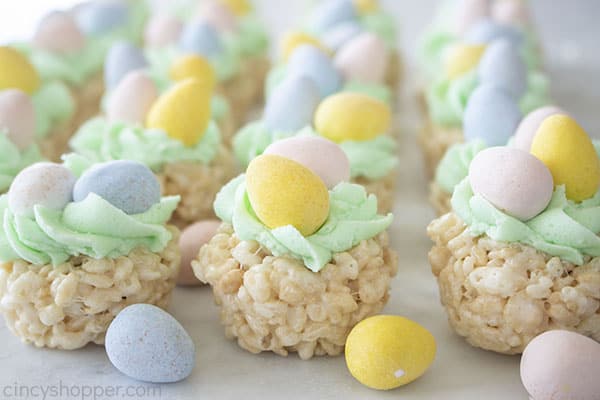 Remove the Rice Krispie Easter Treats from their molds, serve, and enjoy!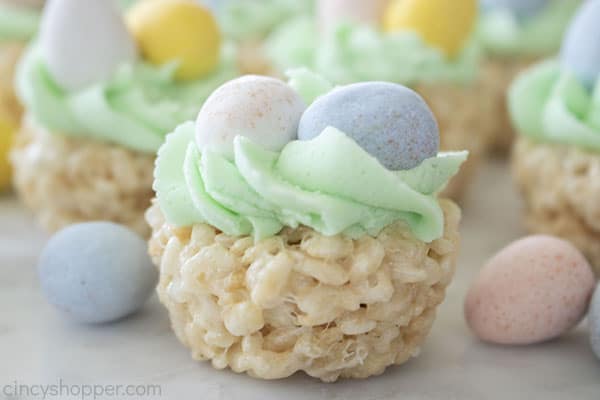 Rice Krispie Nests
Rice Krispie Nests are a tasty Easter dessert idea! These easy Rice Krispie Easter Treats are so simple to make and are perfect for parties.
Ingredients
Nests
3

tbsp

Butter

10

oz

Marshmallows

6

cup

Rice Krispies
Buttercream Frosting
2-3

drops

Green Food Coloring

1/2

cup

Butter

4

cup

Powdered Sugar

1/4

cup

Milk

1

tsp

Vanilla
Eggs
9

oz

Cadbury Mini Eggs candy
Instructions
Melt the butter in a non stick pan over medium heat.

Add marshmallows and stir until melted.

Add rice cereal and stir until combined.

Spray a mini muffin tin with cooking spray or use silicone pan.

Shape and press the nests into pan.

In a mixing bowl, cream butter for frosting until fluffy.

Add vanilla and mix to combine.

Add powdered sugar one cup at a time until rich and thick.

Add milk one tablespoon at a time to thin slightly for piping.

Add food coloring to get green color.

Transfer to piping bag and put a dollop of frostng on each nest.

Top each with a couple of the candy eggs.

Remove from pan.
Nutrition
Calories:
163
kcal
|
Carbohydrates:
28
g
|
Protein:
1
g
|
Fat:
6
g
|
Saturated Fat:
4
g
|
Polyunsaturated Fat:
1
g
|
Monounsaturated Fat:
1
g
|
Trans Fat:
1
g
|
Cholesterol:
10
mg
|
Sodium:
65
mg
|
Potassium:
10
mg
|
Fiber:
1
g
|
Sugar:
22
g
|
Vitamin A:
439
IU
|
Vitamin C:
3
mg
|
Calcium:
18
mg
|
Iron:
2
mg