Tasty Homemade Cinnamon Rolls are perfectly spiced and sweetened in your own kitchen. These from-scratch treats are way better than Cinnabon!
Few sweets are as warm and comforting as gooey cinnamon rolls! Instead of running out to a bakery or grocery, make these much-loved treats from the comfort of your own kitchen. We will enjoy them for holiday breakfasts like Christmas!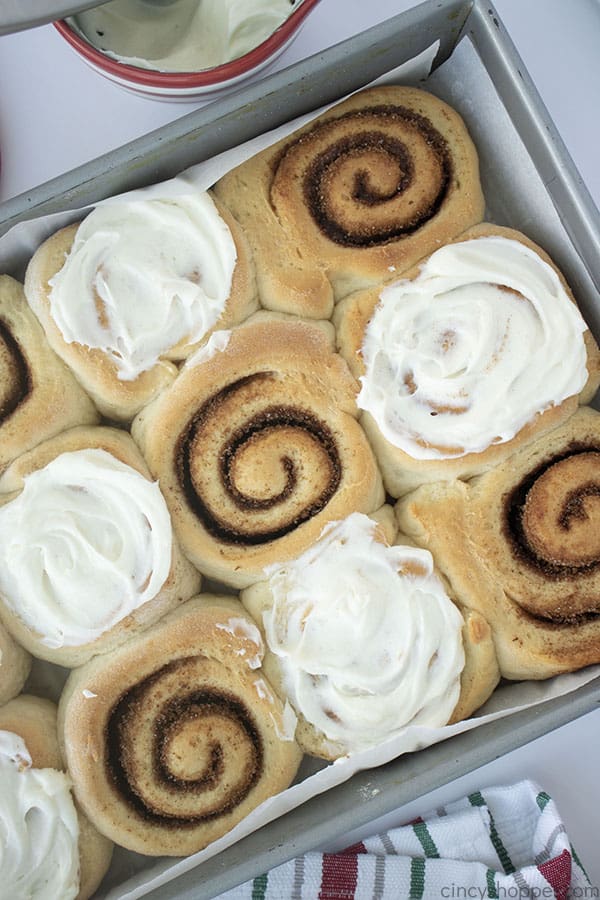 Tasty Homemade Cinnamon Rolls
Cinnamon rolls are such a delicious treat that I enjoy whenever I get the chance. Usually, I'm just cracking open a tube of the Pillsbury Cinnamon Rolls- it's just so easy and convenient. That's mostly because it's hard to find places that make good, homemade cinnamon rolls around me- the nearest Cinnabon is half an hour away! Recently, I took matters into my own hands and made up a batch of these Tasty Homemade Cinnamon Rolls.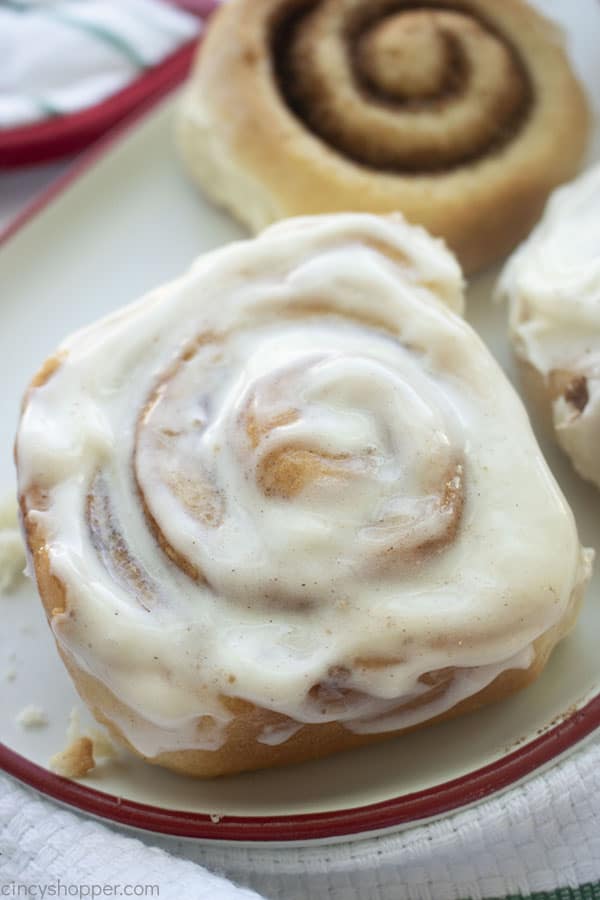 While these need a bit more work than the Pillsbury rolls, putting in the effort to make cinnamon rolls from-scratch is worth it! Homemade dough is so much better than the packaged, preservative-packed stuff from the tube. Making your own filling with sugar, cinnamon, and butter yields a more delicious roll as well. Don't forget a proper, handmade cream cheese frosting as a topping- that Pillsbury dough boy can't even compete!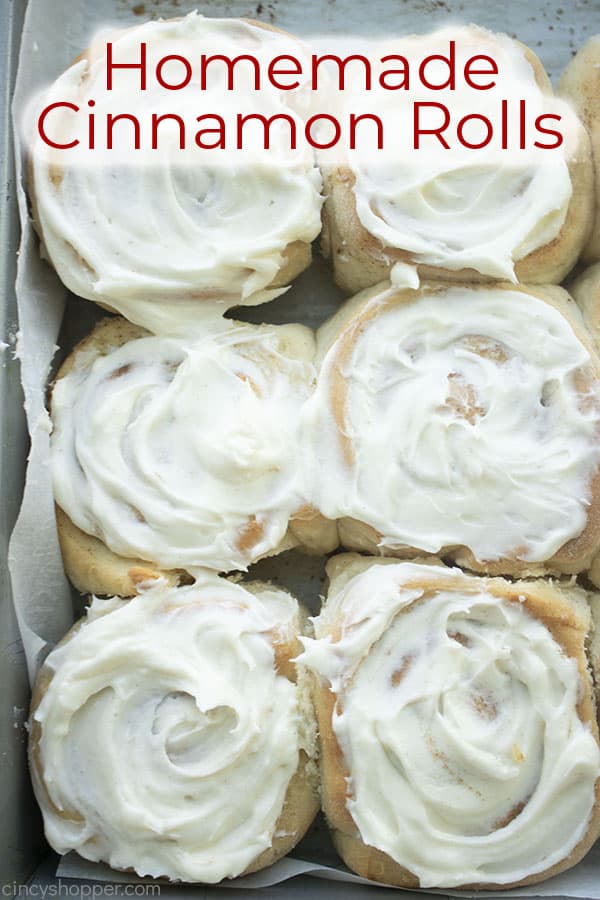 Pillsbury can't compete and I'd dare to say that these homemade rolls could easily compete with the ones from Cinnabon. Between the savings, you get from making homemade and the joy of baking some sweets by yourself, I'd take these from-scratch rolls any day! Certainly helps that it saves me from making a long drive- and I hope it saves you folks the drive as well. Enjoy!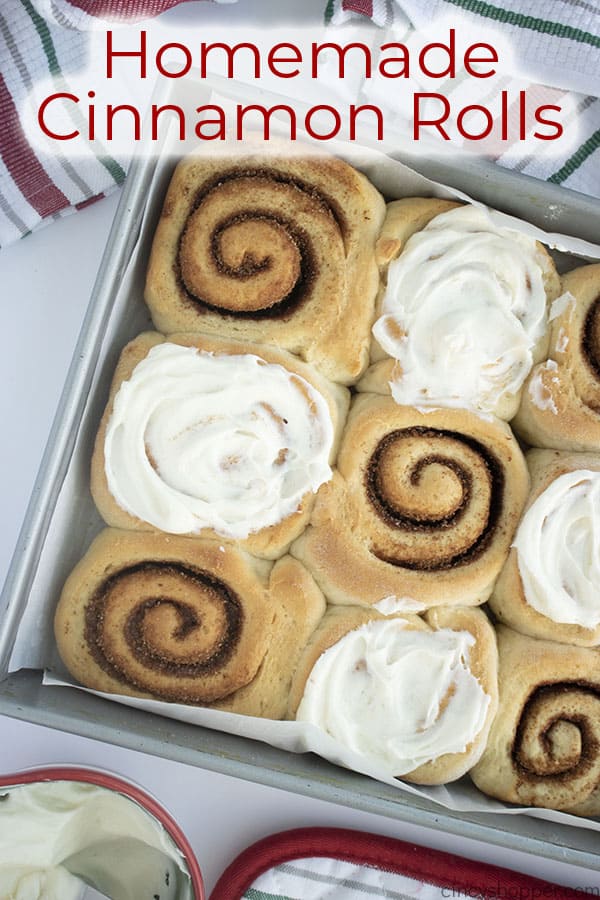 More Sweet Breakfast Recipes
Pull Apart Cinnamon Bread

is another delicious breakfast- especially for cinnamon roll lovers. This Dollywood specialty can

be made

easily

at home using frozen bread dough. Oh so delicious!

Our

Easy Cinnamon Sticks Recipe

captures tasty cinnamon roll flavors in some breakfast sticks

. Super yummy with a simple, vanilla icing!

Danishes are another delicious breakfast option and we love our recipe for an

Easy Cream Cheese Danish

. Using crescent roll dough, making these tasty on-the-go breakfast treats is simple. Topped up with a cream cheese frosting, these danishes are to die for!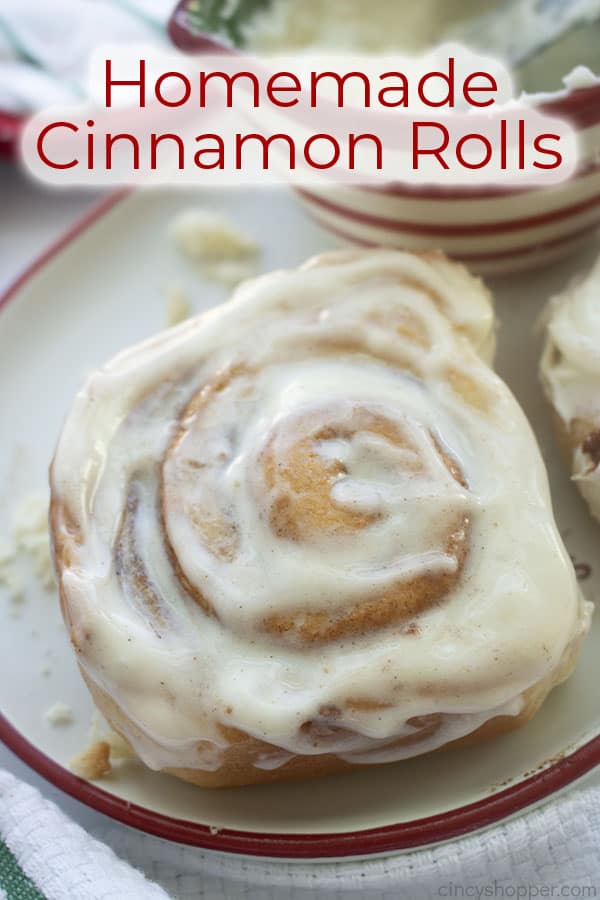 Our Cinnamon Rolls Ingredients
Our Cinnamon Rolls have 3 main parts to them: the cinnamon roll dough, the filling, and the cream cheese frosting
. For the dough, you'll need…
Next, for the filling, you need…
Finally, our cream cheese frosting is going to use…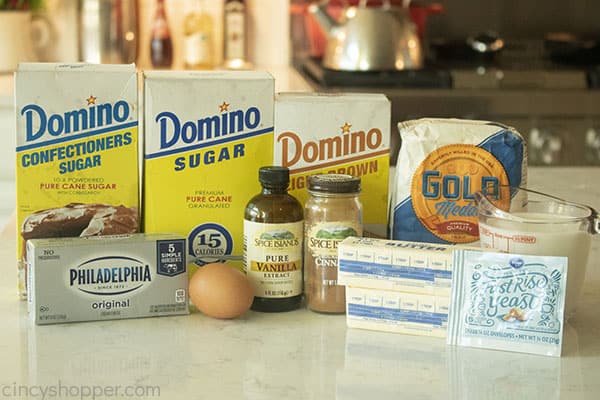 How to make Cinnamon Rolls from Scratch
The first thing to deal with is our dough. For that, first, warm some milk up to around 100 degrees- if you don't have a thermometer, you just want it warm and not hot. Once warm, add your yeast on top and let rest for around 10 minutes.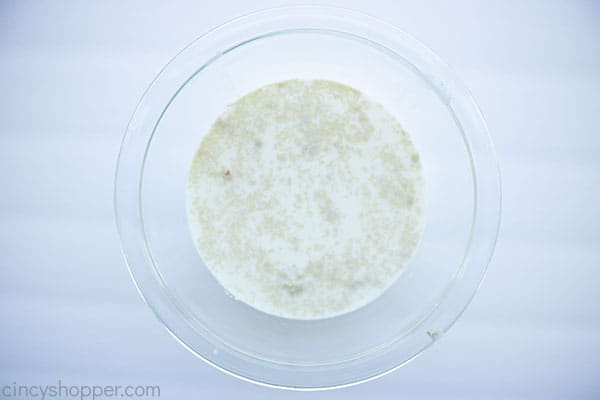 While that's resting, whisk together some flour and sugar using a stand mixer.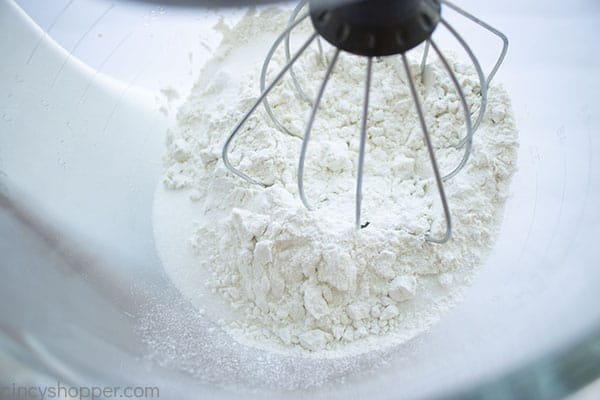 Once the yeasted milk has sat for 10 minutes, mix in an egg, some melted butter, and some vanilla. After mixing those in, add this wet mix to the dry ingredients in the stand mixer.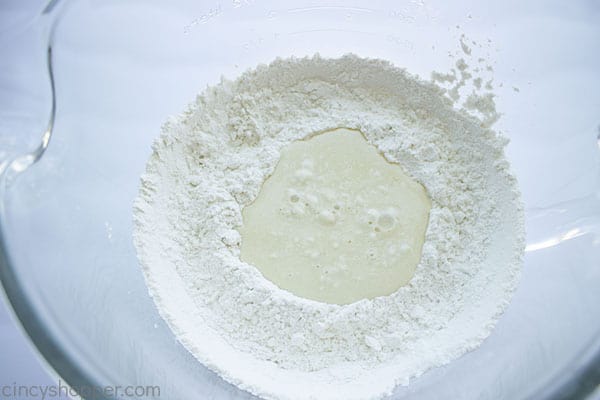 Replace your stand-mixer's whisk with a dough hook before setting the mixer to low and letting the dough come together. Once it starts coming together, crank the speed up to medium and let the stand-mixer knead the dough until the dough sticks to the hook. This should take around 6-8 minutes.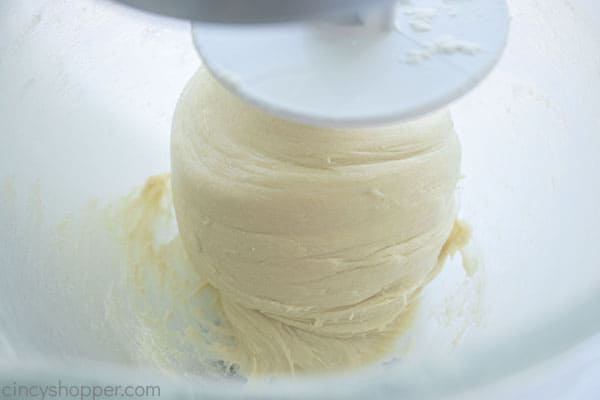 Filling and Baking Homemade Cinnamon Rolls
Remove your dough from the mixer bowl before cleaning the bowl out and greasing with melted butter. Add the dough back to the bowl and give it a quick tossing to coat in butter. Let the dough rise for about an hour and a half before transferring to a floured work surface or cutting board.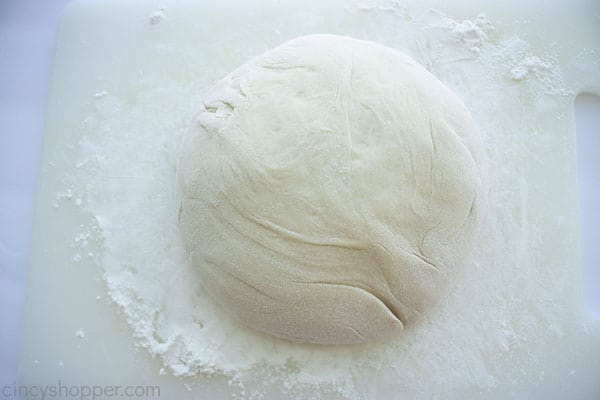 Using a floured or oiled rolling pin, roll the dough out to about a 12″x15″ rectangle. Turn the dough so that the longer side is facing you if you need to before moving on.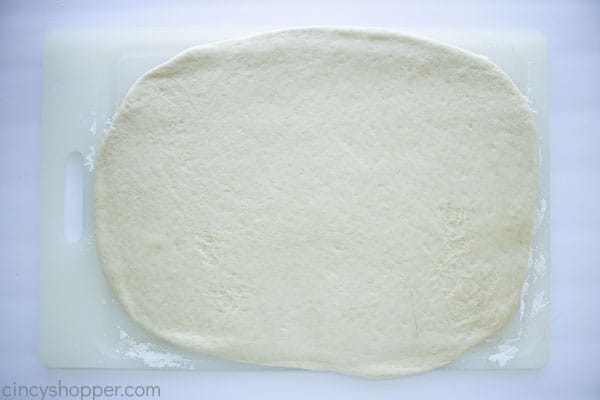 Brush the dough down with some melted butter. Make sure to leave a 1/2-inch edge uncoated on that long side facing you.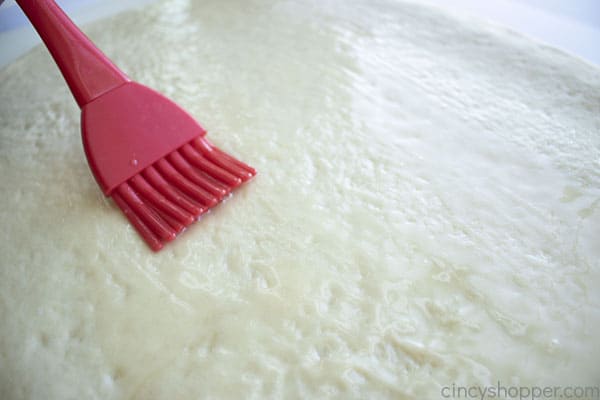 In a mixing bowl, combine some white sugar, brown sugar, and your cinnamon. Whisk or mix until thoroughly combined before sprinkling evenly over the buttered area.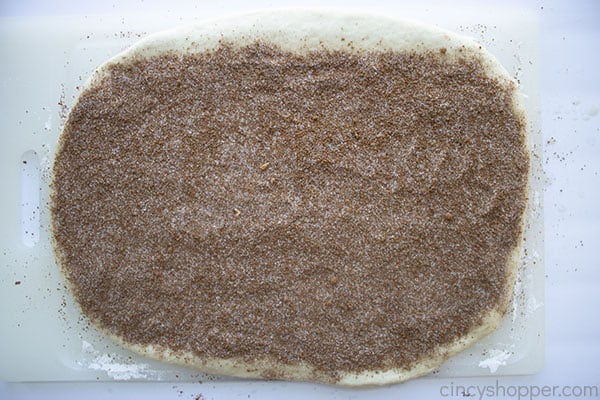 Now roll this rectangle up into a long log-shape, trying to not leave any gaps. As you get close to that unbuttered edge, wet it with some water to help seal the log up as you finish rolling it up.
Now we want to divide this log up into 12 even rolls. We found that using some unflavored waxed floss makes the job really easy!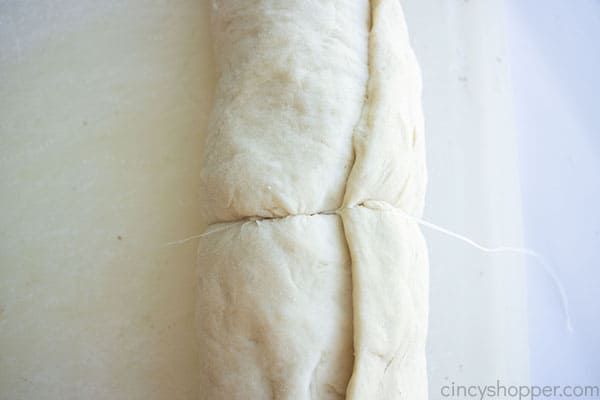 Line a 9×13 pan with some parchment paper before placing your rolls into it. Leave a bit of space between your rolls- they're going to grow after we cover them with a towel and let them rise and proof for 45 minutes.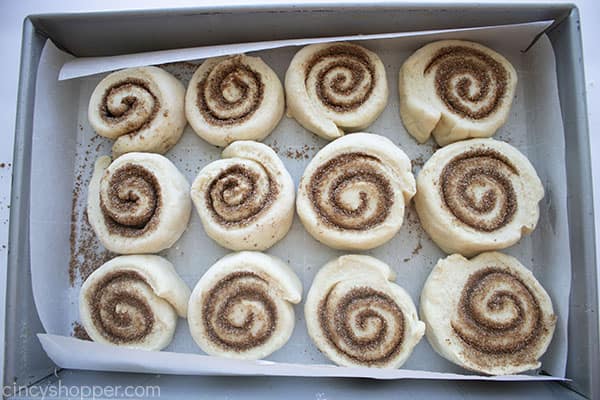 Start preheating the oven to 325 degrees. Once those rolls have proofed, we're going to transfer them to the oven to bake.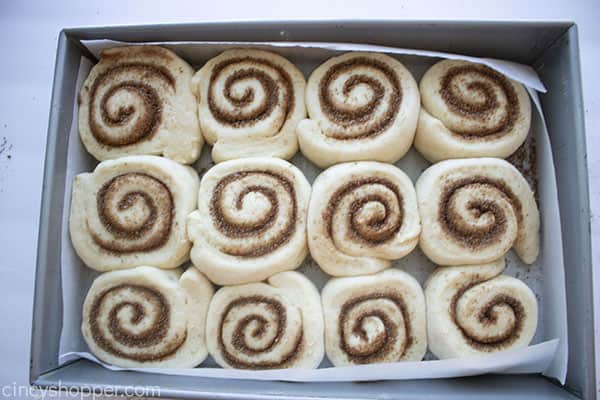 We want those to bake until they're a delicious-looking golden brown. This could take anywhere from 20 to 30 minutes so keep an eye on them! Once they're done baking, allow them to cool for 15 minutes. In the meantime, we can make our cream cheese frosting.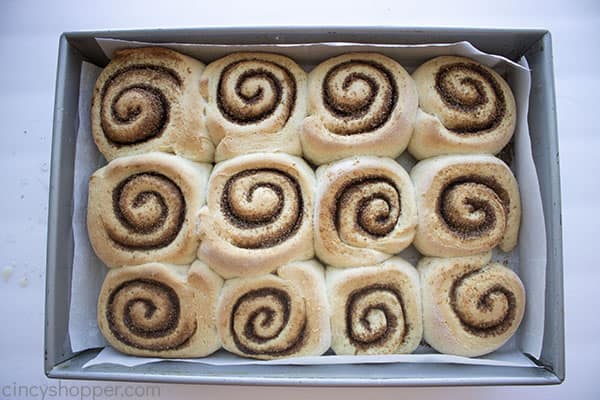 How to make Cinnamon Roll icing
For our icing, you first want to beat together some butter and the cream cheese. Once those are mixed, add in your powdered sugar, beat to combine, and then add your vanilla and beat it to combine.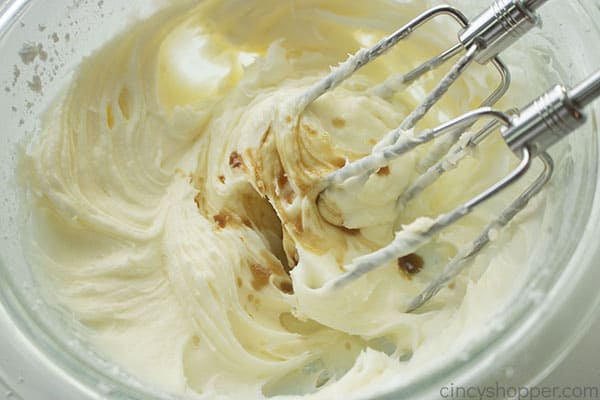 If this frosting seems too thick, add milk to thin it out some. Once you've gotten it to the consistency you like, you can add it to your rolls.
Apply your frosting evenly. The leftover warmth from your rolls should help that icing get a bit melty, giving that gooey finish to your homemade cinnamon rolls. If the icing still seems too thick, you could maybe put the rolls into your oven after you've turned it off. Just remember to apply the icing a bit sooner next time- maybe 5-10 minutes after the rolls are out of the oven.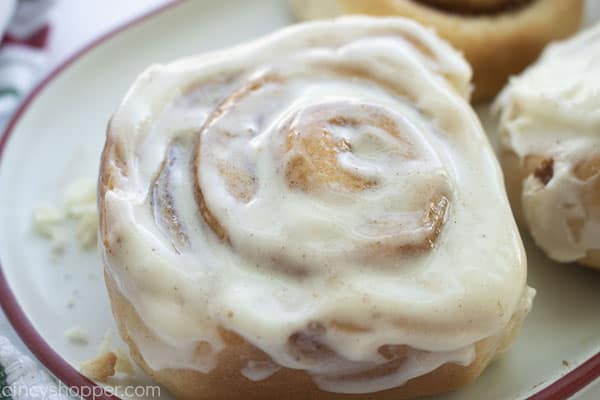 After adding your icing, serve your rolls by keeping them all together. Cutting them can pinch the edges and mess with the texture- instead, tear and pull your rolls. Hope you enjoy them! Leftovers? Store them in an air-tight container. Microwave for about 10 seconds to enjoy them warm.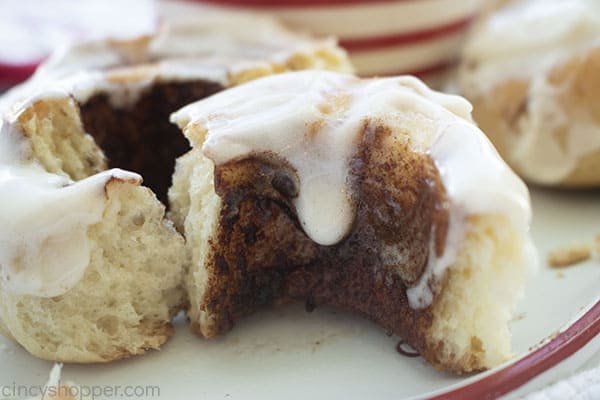 Cinnamon Rolls
Tasty Homemade Cinnamon Rolls are perfectly spiced and sweetened in your own kitchen. These from-scratch treats are way better than Cinnabon!
Ingredients
Dough:
1

cup

Milk

2 1/4

tsp

Active Dry Yeast

1/4

cup

Sugar

4

tbsp

melted Butter

1

Egg

1

tsp

Vanilla

2 3/4

cup

Flour
Filling:
1/2

cup

softened Butter

1/4

cup

Sugar

1/4

cup

Brown Sugar

3

tbsp

Cinnamon
Icing:
4

oz

Cream Cheese

4

tbsp

Butter

2/3

cup

Powdered Sugar

1/4

tsp

Vanilla

1/4

tsp

Milk
Instructions
Heat the milk just until feels warm (about 100 degrees)

Sprinkle the yeast on top and leave it sit for 10 minutes.

Whisk in the egg, butter and vanilla.

Using the whisk attachment on a stand mixer, combine the flour and sugar on low for 3 minutes.

Replace whisk with dough hook attachment.

Pour wet ingredient mixture in the center of dry ingredients and mix on low speed until dough comes together.

Increase speed to medium and knead until the dough sticks to the hook (6-8 minutes).

Remove from hook and shape dough into a ball.

Clean mixer bowl and lightly grease with butter.

Return the dough to the bowl and turn to coat.

Cover with towel and allow to rise until doubled (about 1 1/2 hours).

Flour your work surface, and roll the dough into roughly 12x15" rectangle.

With longer side facing you, spread butter over the the surface, except for 1/2" edge opposite you.

Mix together your brown sugar, sugar and cinnamon and sprinkle mixture evenly over buttered area.

Roll the dough towards the unbuttered edge, trying not to leave gaps.

Gently rub water along the unbuttered edge and continue rolling to seal up the roll.

Cut the roll into 12 even pieces.

Line a 9x13" pan with parchment paper and plae rolls in the pan, leaving a little space between each. You can use multiple smaller pans if desired.

Cover with towel and allow to rise about 45 minutes.

Preheat the oven to 325.

Bake until golden brown (20-30 minutes).

Cool for 15 minutes.

In a medium bowl, beat together cream cheese and butter until blended.

Add in powdered sugar and beat until incorporated.

Add in vanilla and beat until incorporated.

If too thick, add milk to thin out slightly.

Spread icing evenly over rolls.
Notes
Leftovers? Store them in an air-tight container. Microwave for about 10 seconds to enjoy them warm.
Nutrition
Calories:
374
kcal
|
Carbohydrates:
45
g
|
Protein:
5
g
|
Fat:
20
g
|
Saturated Fat:
12
g
|
Cholesterol:
67
mg
|
Sodium:
182
mg
|
Potassium:
97
mg
|
Fiber:
2
g
|
Sugar:
21
g
|
Vitamin A:
658
IU
|
Vitamin C:
1
mg
|
Calcium:
66
mg
|
Iron:
2
mg