Easy Strawberry Shortcake is made simple using homemade Bisquick biscuits. These individual desserts are simple, sweet, and delicious!
This homemade shortcake is perfect for special occasions- Christmas, Valentines, or Mother's Day. For more easy strawberry desserts, give our Strawberry Pie Cupcakes or Strawberry Poke Cake a try!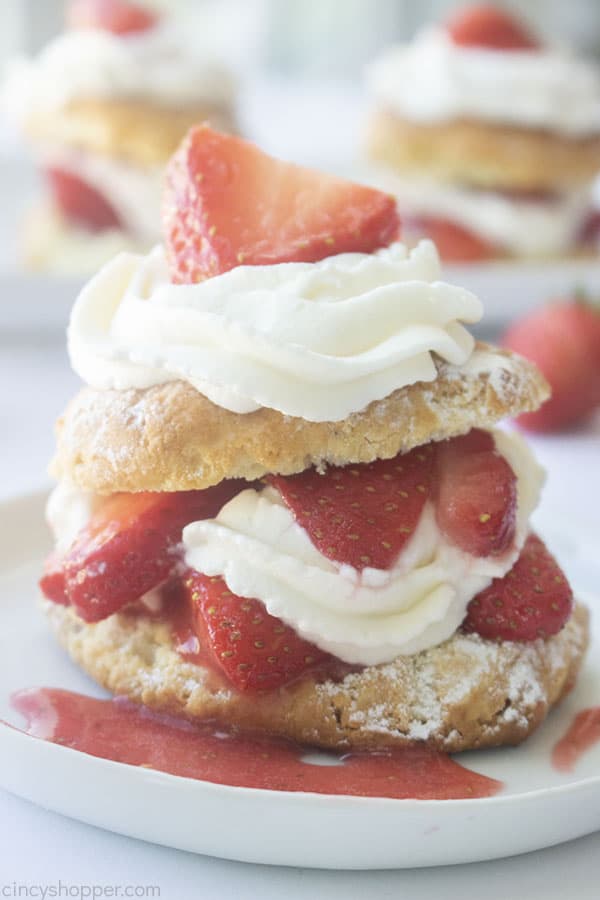 Easy Strawberry Shortcake
Homemade desserts have a charm to them that store-bought just can't recreate. While I could run to Walmart, stop by the bakery section, and grab a Strawberry Shortcake, why would I when I can make my own easy in the kitchen? You might be confused– isn't it hard to make Strawberry Shortcake at home? No- simple as that. Using a few tricks and tips, you too can make Homemade Strawberry Shortcake on your own. It's the perfect dessert for special occasions like Valentine's Day, Mother's Day, or even Christmas!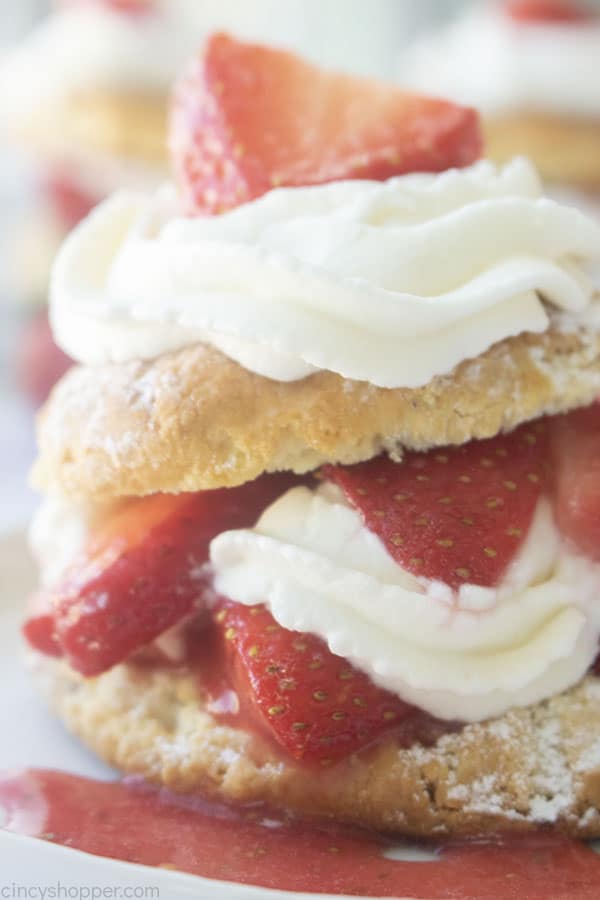 The first trick to remember with this dessert is "macerated strawberries." These soft, syrupy strawberries make for the perfect Strawberry Shortcake filling and they're worth the wait! Outside of that, you'll want to make some homemade sweet biscuits. Finally, while you could use store-bought whipped cream, it's better to just whip up some whipped cream from scratch. All of these ingredients and tricks are going to come together into the perfect shortcake dessert. Hope you love it!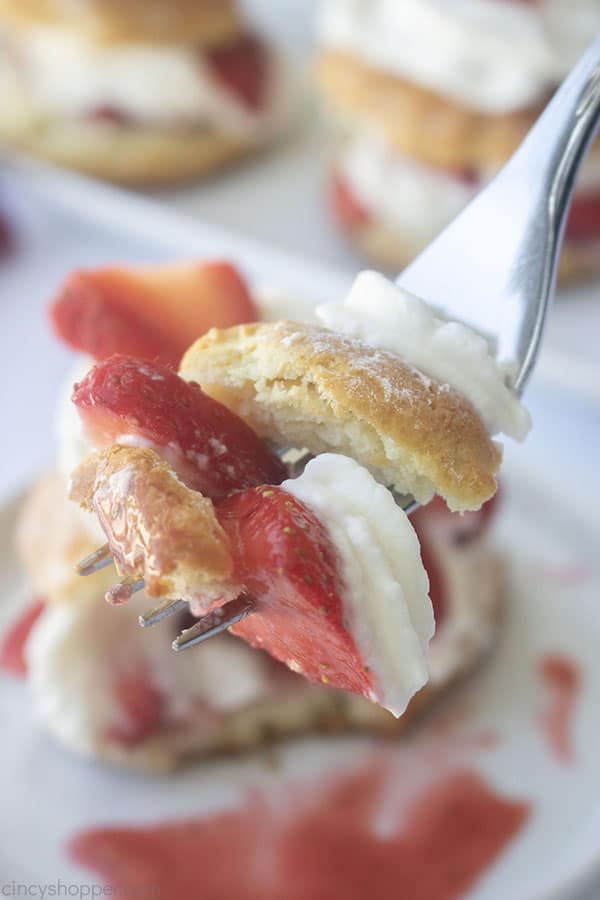 Loved this Strawberry Shortcake recipe? Try these Strawberry Dessert recipes next!
Our

Easy Strawberry Pie

is an absolute treat to eat! If you're a fan of the pies sold at diners like Frisch's or Shoney's, you're going to love this pie recipe. That delicious, sweet jello pie filling is

just

to die for!

This recipe for

Strawberry Crunch Cheesecake

tastes

just

like the delicious ice cream bars you had as a kid

!

This easy, no-bake cheesecake

is made

with a sugar cookie crust and topped with a homemade strawberry crunch topping

. What's not to love about this homemade dessert?

Easy Strawberry Banana Ice Cream

is delicious and refreshing, especially during the summer!

This homemade ice cream recipe doesn't need any ice cream maker or fancy gadgets-

just

grab your food processor

.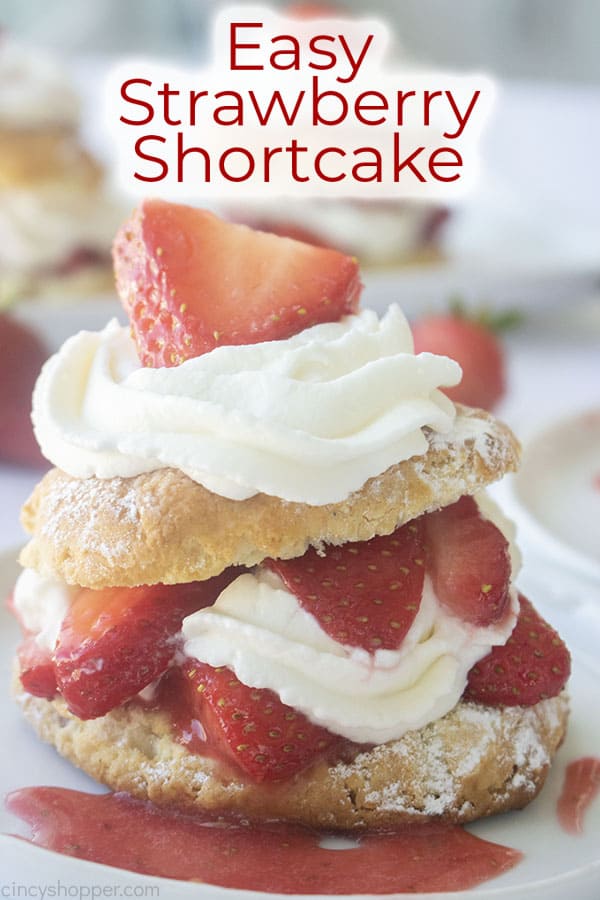 Ingredients for Homemade Shortcake
There are a few working parts in this recipe, so we'll break things down into a few ingredient lists to make this easy. First, for our macerated strawberries, you'll need…
Strawberries

Granulated White Sugar
For our homemade sweet biscuits, you're going to use…
Flour

Bisquick

Sugar

Baking Powder

– Make sure it's as fresh as you have!

Baking Soda

Salt

Butter

– Use cold butter that's fresh from the fridge

Milk

Vanilla Extract
Lastly, for our from-scratch whipped cream…
Heavy Cream

Vanilla Extract

Powdered/Confectioner's Sugar
You'll also want a bit of extra butter and powdered sugar for dusting your biscuits.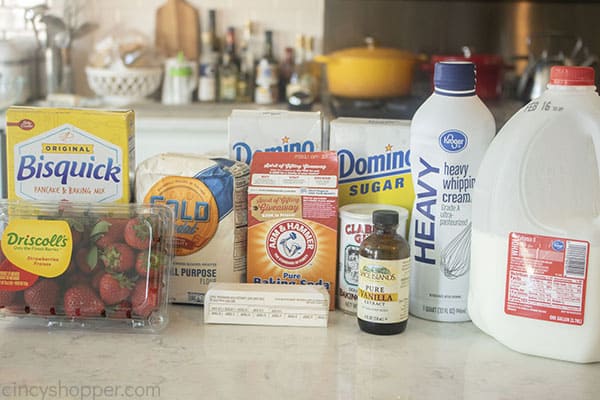 How to make Strawberry Shortcake easy
Making Homemade Strawberry Shortcakes is easy! Here's all you'll need to do:
Macerate your strawberries

by covering them with sugar and letting them sit for several hours

.

Bake up a batch of sweet biscuits

and

whip up some homemade vanilla whipped cream.

Assemble your shortcakes

by layering your whipped cream and strawberries on your biscuits.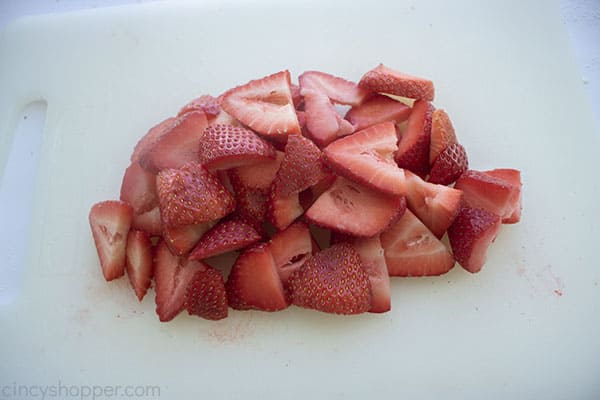 These macerated strawberries will really make your shortcakes tastes special. Covering them in sugar and letting them sit really softens them up and draws some of the syrup out of the berries. Trust us- macerating them is worth it! If you're pressed for time, you can optionally puree some additional strawberries and add those to the bowl with the rest.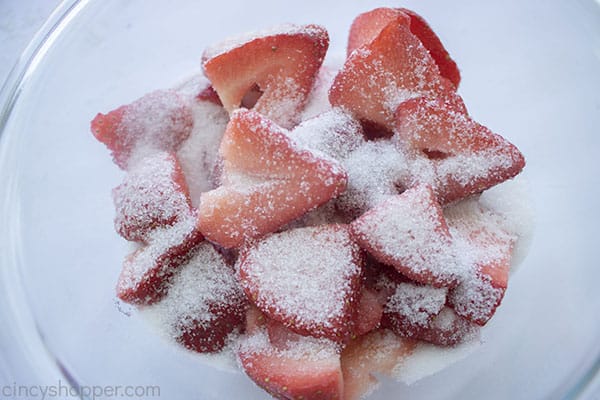 Making Homemade Sweet Biscuits
Homemade biscuits can be daunting but we covered how to make Bisquick biscuits before in our
Buttermilk Bisquick Biscuits
post
. We're going to change the recipe up
to make them into sweet biscuits for shortcakes.
First, you want to make sure you
thoroughly
sift
all of
your dry biscuit ingredients- 3 passes through a fine-mesh sieve
.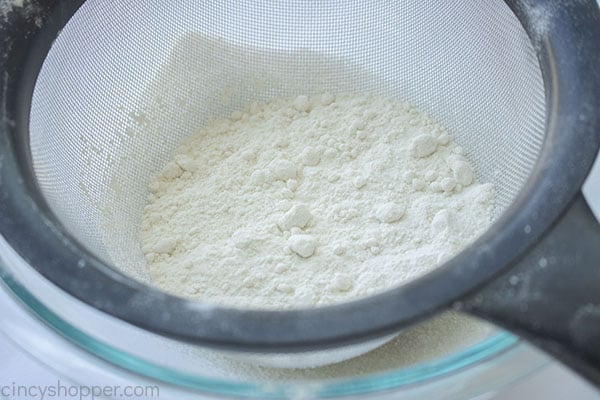 Like we mentioned in the Buttermilk Biscuits recipe, you want to sift and mix your ingredients well to introduce air into the biscuits. That's what gets you fluffy, perfect biscuits! So sift, sift, sift! If you want to be extra sure you're adding air, make sure you're whisking with a proper whisk.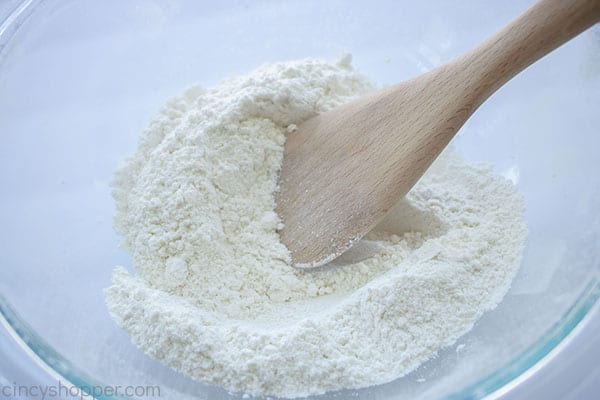 Once the dry ingredients are all mixed up, we can add in our butter. Pull your butter from the fridge, cut it into more manageable pieces, and dot it around your dry ingredients. Using something like a pastry cutter, start chopping the butter into the dry mix. Keep working it until small "pebbles" of dough start to form.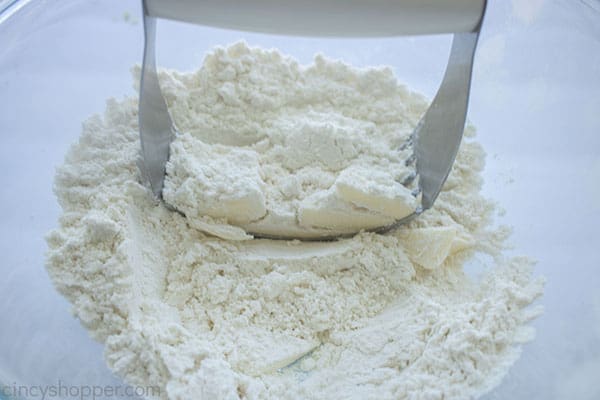 Add some vanilla extract to your milk. Just a bit of extra flavor!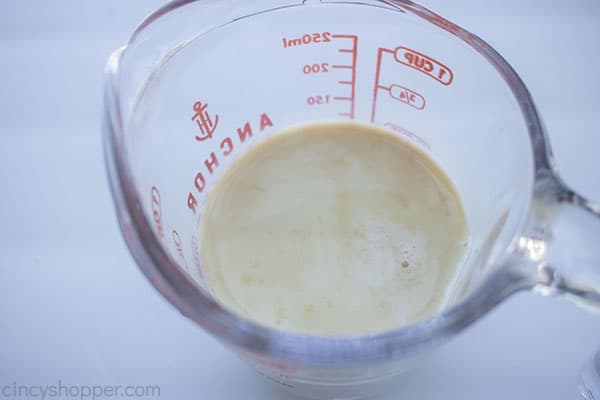 While stirring constantly, slowly stream that milk into your dry ingredients. Everything will start coming together into one, cohesive dough. Keep adding the milk until you have a workable dough- not too wet! We want it just dry enough to where it won't stick to our hands.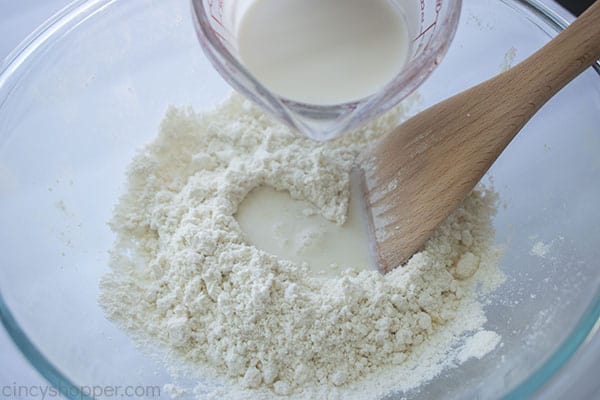 Turn dough out onto a floured work surface, dust the top with flour and roll out to 1/2-inch thickness. Using something like a round cutter or a mason jar lid, cut out biscuit rounds.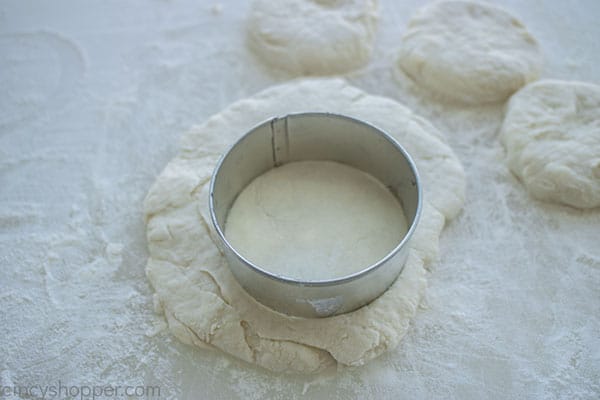 Transfer your biscuits to a baking sheet and let bake at 450 degrees about 10-15 minutes. Keep an eye on them- everyone's oven is different and your biscuits might bake quicker or slower. They're done when the tops are slightly browned. Pull from the oven, brush tops with melted butter, dust with powdered sugar, then set off to the side.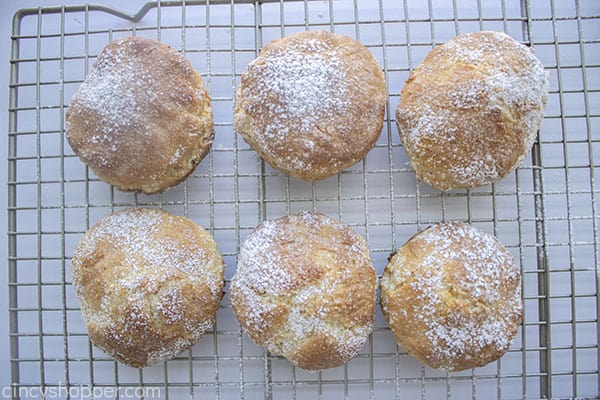 Making Whipped Cream from scratch
While you might be able to use something like Reddi-Wip, we enjoy the taste of some homemade vanilla whipped cream for this recipe
. It's easy to make:
just
add our whipped cream ingredients to a large mixing bowl. Grab a hand mixer or- if you have one- use a stand mixer.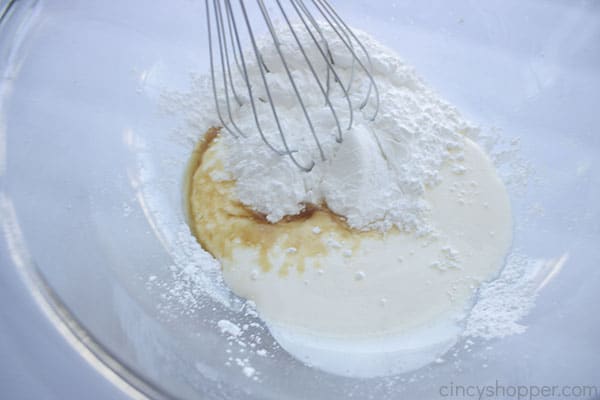 We're going to whip all of these together until mixed and firm peaks start to form. Once we have these stiff peaks, we're going to transfer our whipped cream to a piping bag and set off to the side.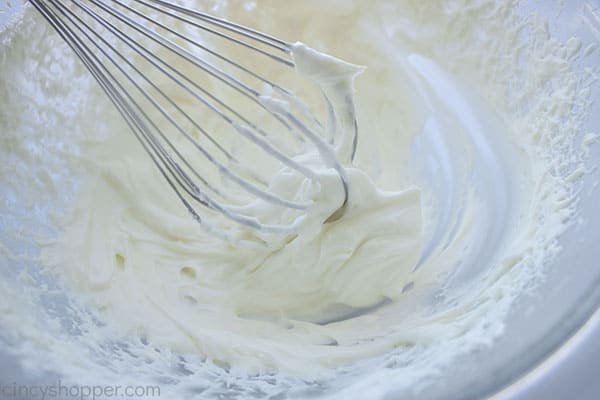 How to assemble Bisquick Strawberry Shortcake
Our strawberries
are macerated
and syrupy, our biscuits
are baked
, and our cream
is whipped
. Time to assemble our Strawberry Shortcake! First, break your biscuit in half with a serrated knife. Take about 1/8 of your strawberries and make a layer of them on your biscuit half.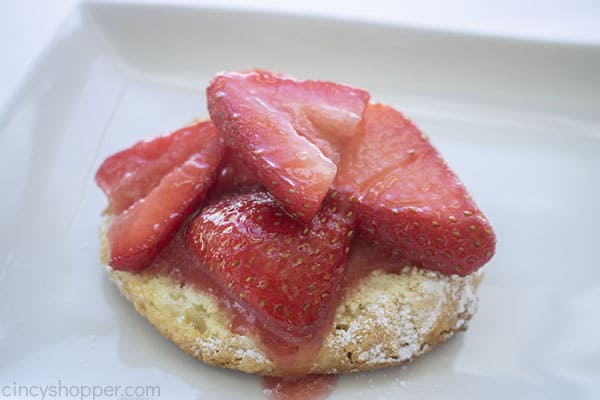 Pipe a layer of whipped cream on top of your strawberries.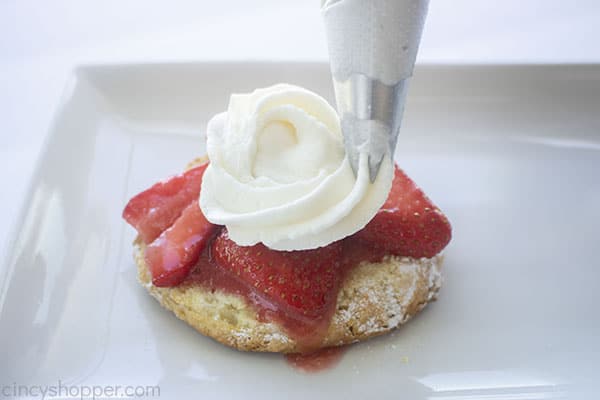 Next, lay another layer of strawberries on top of that whipped cream.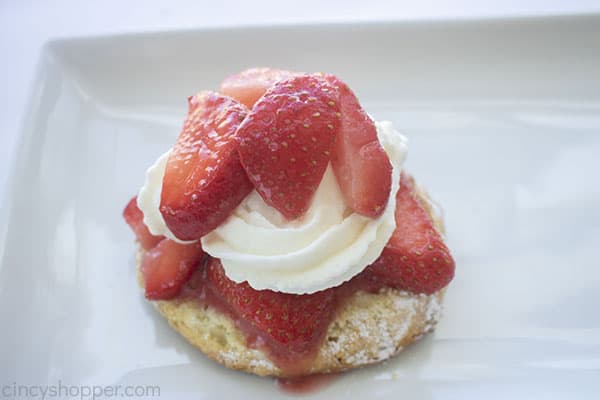 Grab the other half of the biscuit and place it on top.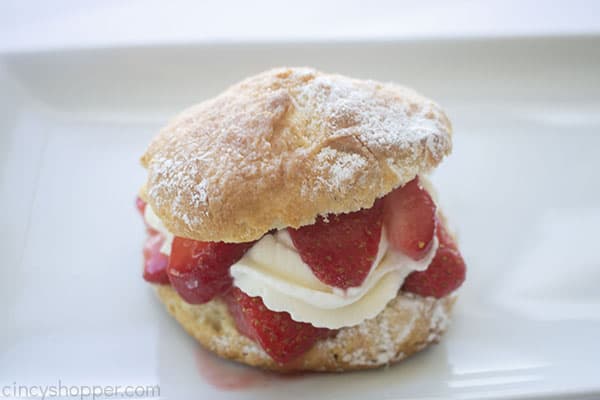 Finally, for a bit of garnish, pipe a small dollop of whipped cream on top and add a strawberry slice. Repeat with the rest of your biscuits and remaining strawberries and cream. Serve and enjoy!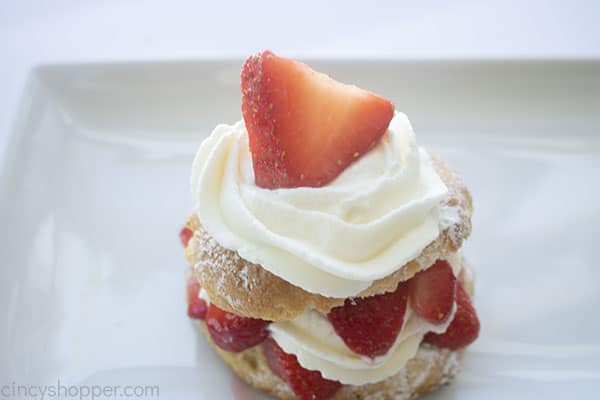 Tips for perfect Shortcake Biscuits
Use fresh baking powder/soda

– These ingredients tend to lose their potency after they've

been opened

– baking powder especially

. If your biscuits aren't rising well, try using a fresh baking powder.

Be Gentle!

– Overworking your dough will result in tough biscuits, which we don't want! If your biscuits turn out tough, be a bit more gentle with the dough next time when you are adding the milk in.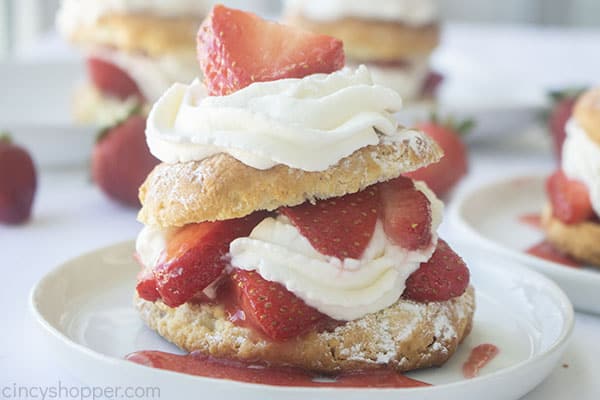 How long will Strawberry Shortcake last in the fridge?
Individual cakes and desserts like these Strawberry Shortcakes can be a bit finicky. The first issue is the whipped cream: that cream will not stay light, fluffy, or stiff! The other ingredients, meanwhile, do have somewhat longer shelf-lives. While you can't store these Strawberry Shortcakes in the fridge, you can store the macerated strawberries and the sweet biscuits in air-tight containers and keep them in the fridge. The biscuits will last for about a week while the strawberries will last about 3-4 days- though they may be a bit mushier than you'd like by then. When you're in the mood for a shortcake, whip up some whipped cream, pull your biscuits and berries from the fridge, assemble and enjoy!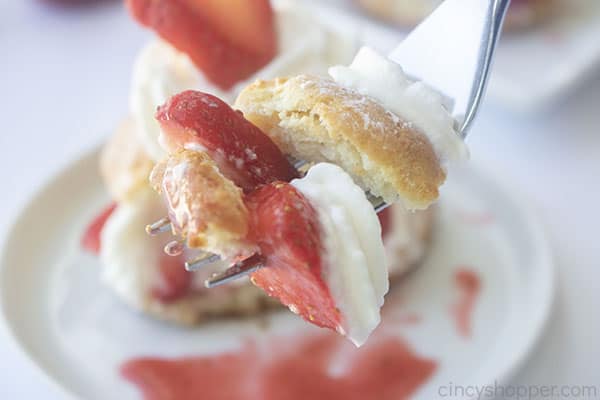 Easy Strawberry Shortcake
Easy Strawberry Shortcake is made simple using homemade Bisquick biscuits. These individual desserts are simple, sweet, and delicious!
Ingredients
Macerated Strawberries
3/4

lb

Strawberries

hulled and sliced

1/3

cup

Sugar
Biscuits
1/2

cup

Flour

1/2

cup

Bisquick

1 1/2

tsp

Baking Powder

1/8

tsp

Baking Soda

1/8

tsp

Salt

1

tbsp

Sugar

2

tbsp

Cold Butter

3

oz

Milk

1/2

tsp

Vanilla

1

tbsp

Powdered Sugar
Whipped Cream
3/4

cup

Heavy Cream

5

tbsp

Powdered Sugar

1/2

tsp

Vanilla
Instructions
In a medium bowl, combine strawberries and sugar and toss to coat.

Refrigerate for at least several hours to allow syrup to develop.

If you do not have enough time, take several more strawberries, puree, and add to the bowl.

In a large bowl, sift together the Bisquick, flour, baking soda, baking powder, sugar, and salt.

Cut butter into pats and add to dry ingredients.

Using a pastry cutter, cut in the butter until small "pebbles" are formed.

Gradually pour in the milk while stirring with a spoon until just combined.

If the dough is too wet, add a little more flour, just until the dough is able to be handled.

Turn out onto a floured surface, dust top with flour, and form into just over 1/2" thickness.

Cut circular shape with a biscuit cutter, jar lid, or drinking glass. Dip cutter in flour as necessary to avoid sticking.

Place biscuits on a baking sheet.

Bake for 10-15 minutes until tops are lightly browned.

Brush tops with melted butter and dust with powdered sugar. Set aside.

In a large bowl, combine heavy cream, powdered sugar, and vanilla.

Whip until firm peaks form.

Transfer to a piping bag and set aside.

Using a serrated knife, cut each biscuit in half.

Take about 1/8 of macerated strawberries and place them on each biscuit bottom.

Top each with whipped cream then add another layer of strawberries.

Place biscuit tops on top of each.

Pipe whipped cream on each and garnish with a strawberry.

Refrigerate until ready to serve.
Nutrition
Calories:
492
kcal
|
Carbohydrates:
62
g
|
Protein:
5
g
|
Fat:
26
g
|
Saturated Fat:
15
g
|
Trans Fat:
1
g
|
Cholesterol:
79
mg
|
Sodium:
535
mg
|
Potassium:
237
mg
|
Fiber:
2
g
|
Sugar:
39
g
|
Vitamin A:
876
IU
|
Vitamin C:
50
mg
|
Calcium:
186
mg
|
Iron:
2
mg