Chicken Pot Pie Soup is easy to make with frozen vegetables and leftover chicken. This comforting & delicious soup is perfect for warming up!
This creamy chicken soup recipe is great for those cold fall and winter days. Enjoy with a side of Buttermilk Bisquick Biscuits or some Breadsticks.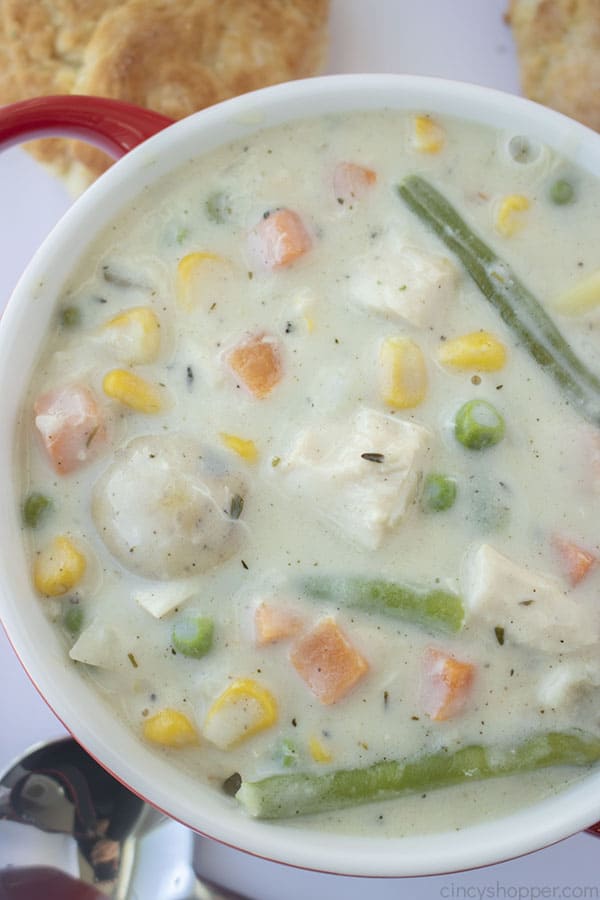 Chicken Pot Pie Soup
When the weather starts getting colder, I usually find myself making plenty of rich, creamy, and comforting chicken dishes. Chicken and biscuits, chicken noodle soup- there all great recipes that are perfecting for warming up on a cold winter day. One of my favorite recipes recently has been our recipe for Easy Chicken Pot Pie– so easy to whip up and tastes way better than the frozen ones. I'm a big fan of those creamy chicken and vegetable flavors and thought they'd taste great in a soup!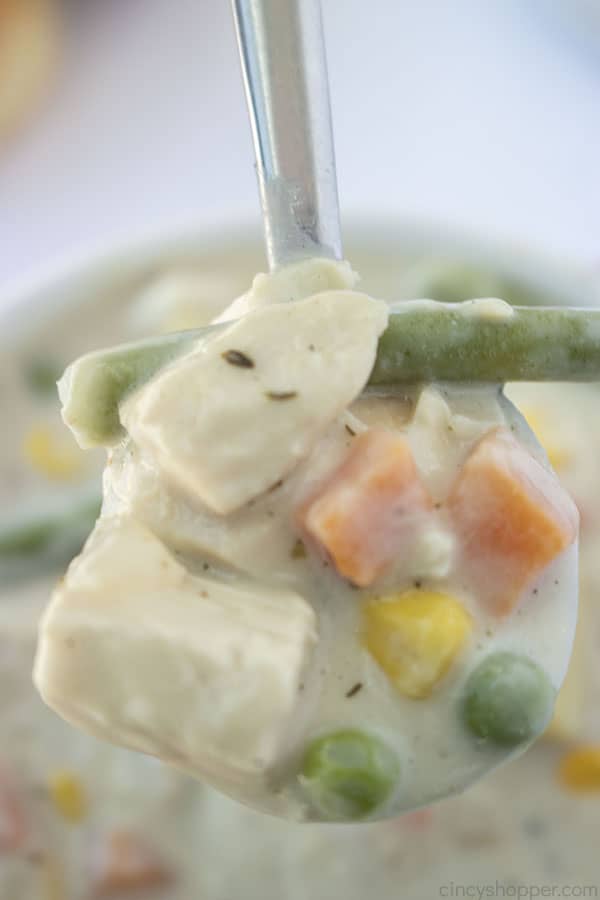 In making this Chicken Pot Pie Soup, I wanted to make sure it did everything that chicken pot pie does right. The gravy or sauce had to be rich and creamy. There had to be plenty of vegetables- but not too much. Really, I think I copied the flavors of Chicken Pot Pie very well with this soup!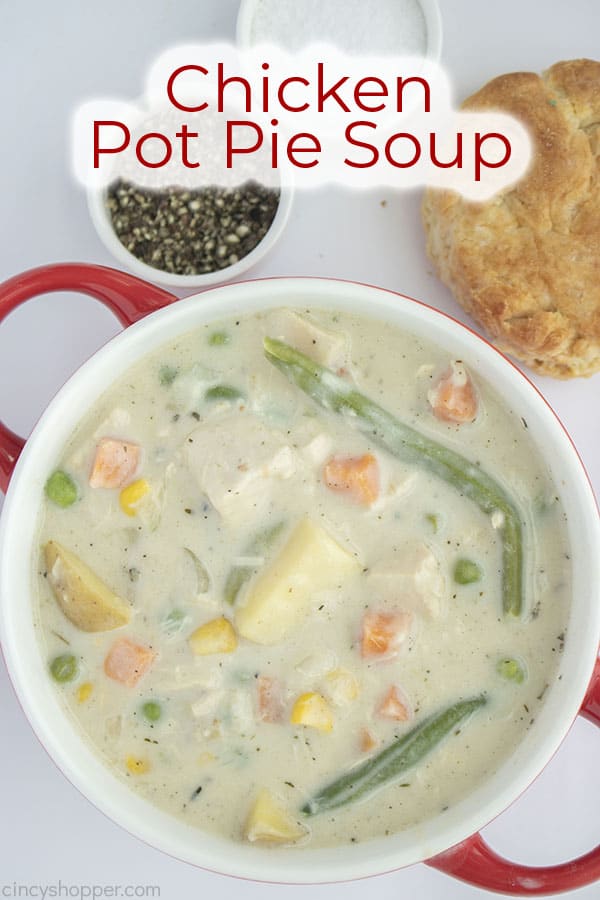 This creamy chicken soup recipe is perfect for a busy weeknight. While it's not as easy as just tossing everything in a pot, there's only a little bit of extra work to make this soup. It's all worth it though: when you have that first spoonful, you'll know right away that you're going to have some seconds! We know you're gonna love our recipe for Chicken Pot Pie Soup!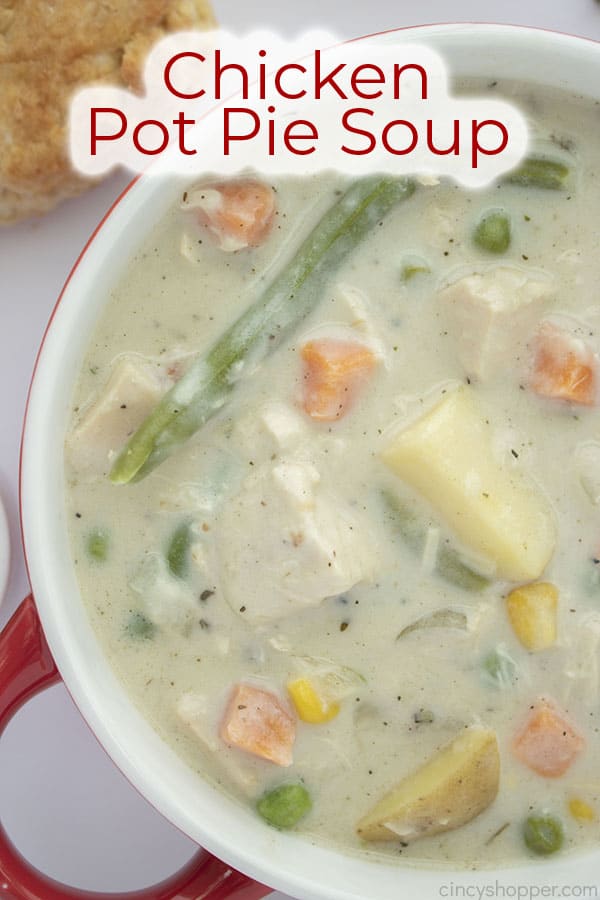 Loved our Chicken Pot Pie Soup recipe? Try these Chicken Soup recipes next!
If you're a big fan of Panera Bread, our

Creamy Chicken and Wild Rice Soup

might seem familiar. This easy and filling soup

is loaded

up with tons of chicken and veggies- all swimming in a nice, creamy broth! This is a great recipe for a simple weeknight chicken dinner.

Our

Easy White Chicken Chili

is plenty filling and brings tons of flavor!

Chicken, cheese, and beans make sure you're walking away from dinner feeling nice and full while some garlic, chiles, and spices bring some welcome heat to the dish

. Great for dinners, potlucks, and game days!

Chicken Tortilla Soup

is definitely one of my biggest favorites! It's so easy to make: you can

just

toss everything into a pot or slow cooker and let it cook. You still get tons of flavor from such a simple and easy recipe- a rich, delicious, no-stress soup!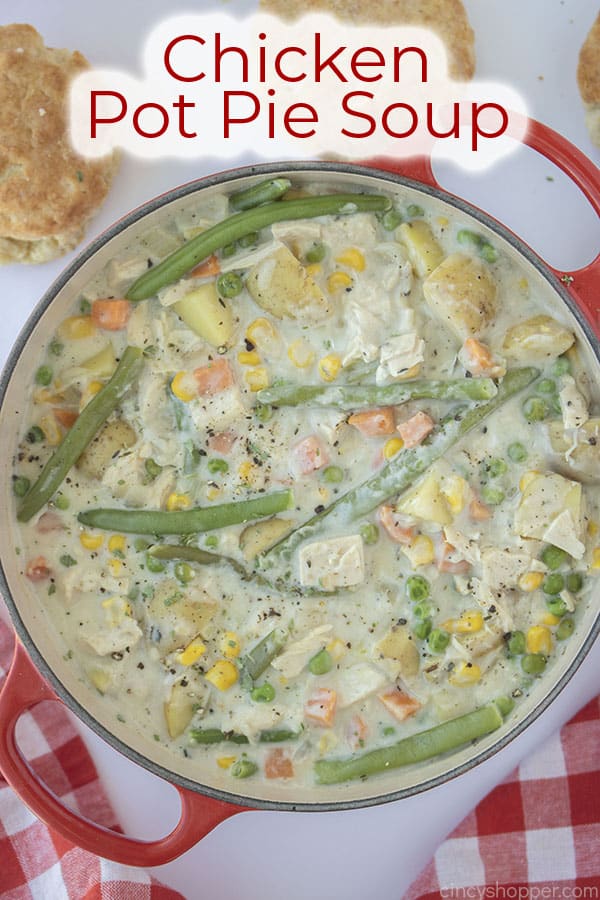 Ingredients for Easy Chicken Pot Pie Soup
Cooked Chicken

– You could use leftovers, a store-bought rotisserie chicken, or

just

make up some chicken for this recipe

. Here are a few simple chicken recipes you could use in our soup:

Potatoes

– We went with these petite golds, but you can go with your favorite soup or stew potatoes here.

Pick something that will hold its shape- consider Yukon golds, red or white potatoes, or

maybe

even fingerlings

.

Frozen Veggies

– We used a mix of frozen corn, green beans, and peas, and carrots.

Onion

Minced Garlic

Chicken Broth

Milk

Half & Half

Butter

Flour

Poultry Seasoning

Thyme Leaves

Salt & Pepper

– To taste.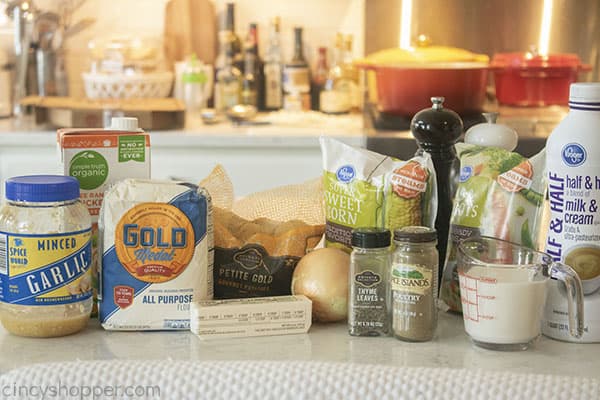 How to make Creamy Chicken Pot Pie Soup
There are a few steps to making this delicious soup recipe. We'll try to break things down a bit- it
really
isn't hard at all! Here's what you need to do:
Saute some onions and garlic

in the bottom of a dutch oven before

adding your potatoes, stock, and seasonings.

Thicken your soup with some bechamel

before

slowly

adding some half & half.

Add your frozen vegetables and cooked chicken

before

letting cook over low heat

until heated through

.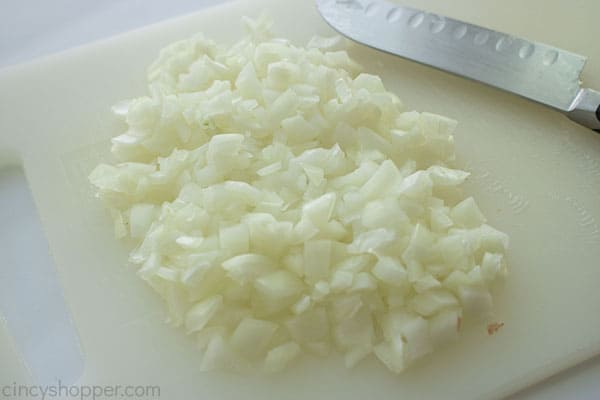 After giving your onions a fine chop, toss them into the bottom of a dutch oven. Let those saute over medium-high heat for a couple of minutes until softened.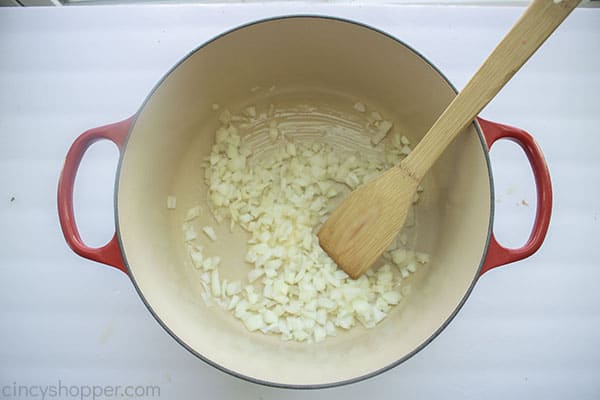 Add in your minced garlic and let cook for another minute until fragrant.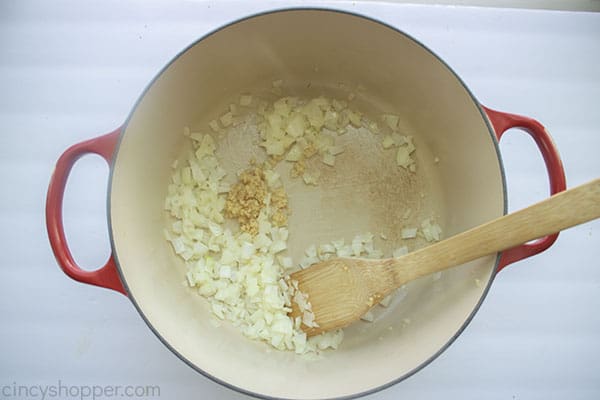 Now we're going to add our stock and use something like a wooden spatula to work up any brown bits off the bottom of the pot.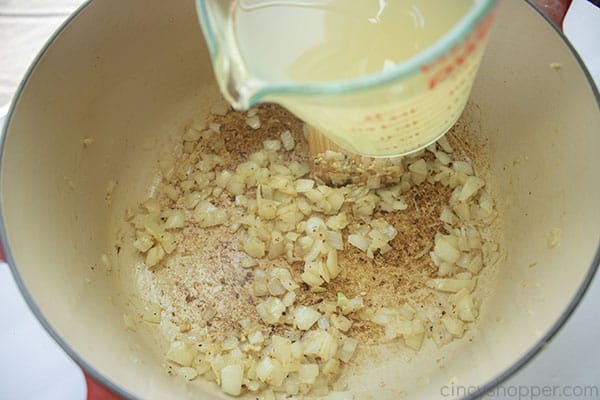 Let's add some seasonings while we're here. First, a bit of thyme…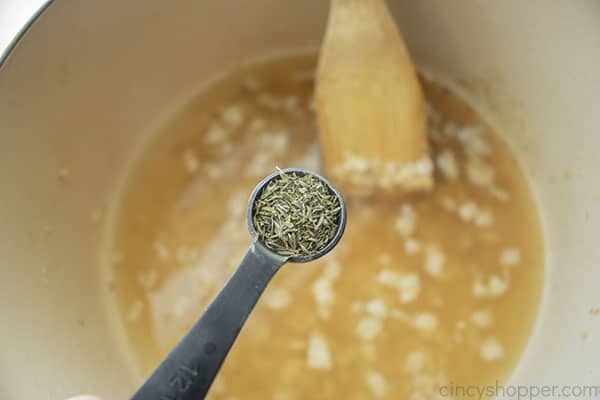 …And some poultry seasoning.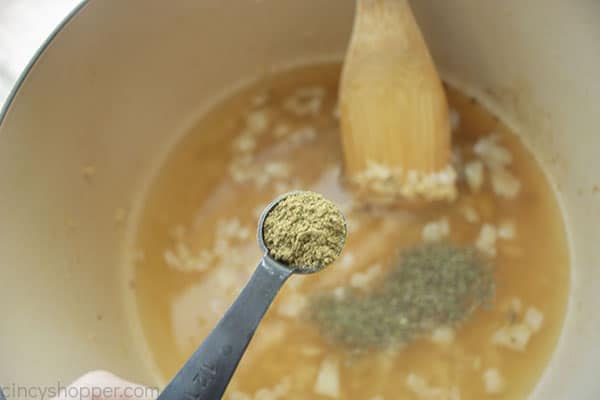 Let that stock come up to a boil before adding some chopped potatoes and bringing them to a simmer. Keep those at a simmer while we work on making a quick bechamel.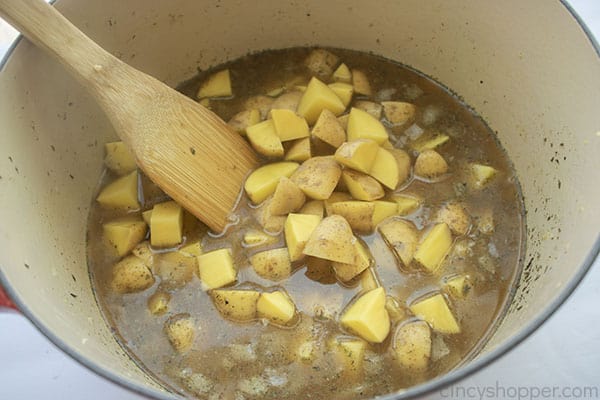 How to make
Bechamel
Bechamel is
typically
a thick sauce that you use to make creamy soups or sauces- you might add some cheese to make a cheese sauce for mac and cheese
. We're going to make a thicker bechamel than you'd usually use.
First, we have to make a roux: melt some butter in the bottom of a separate pot until it's nice and bubbly before adding an equal amount of flour
.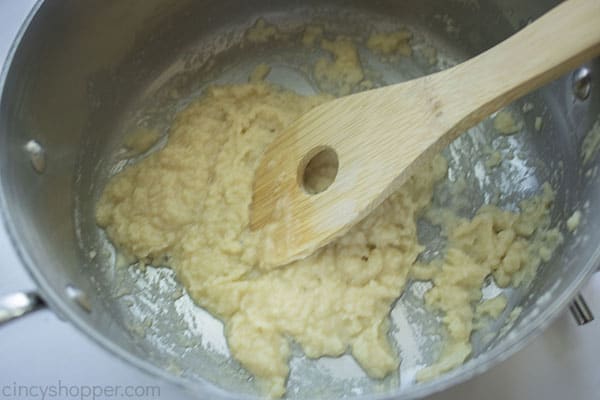 Let that roux cook for a couple of minutes before slowly adding in your milk. For best results, make sure your milk is at room temperature when you add it. Whisk or stir constantly until you get a consistent mixture.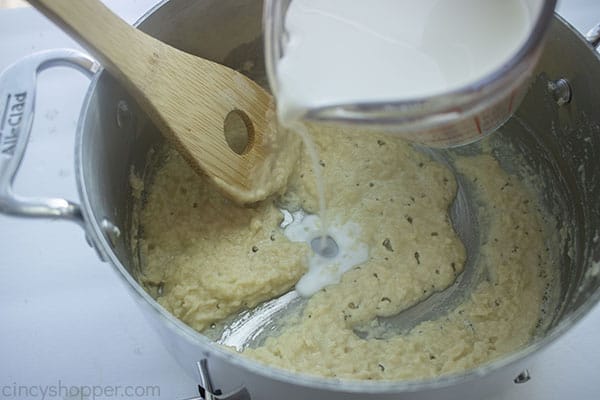 Once that bechamel has all come together, we can add it to our soup over in the dutch oven. Add it in and start stirring it until it's fully mixed in.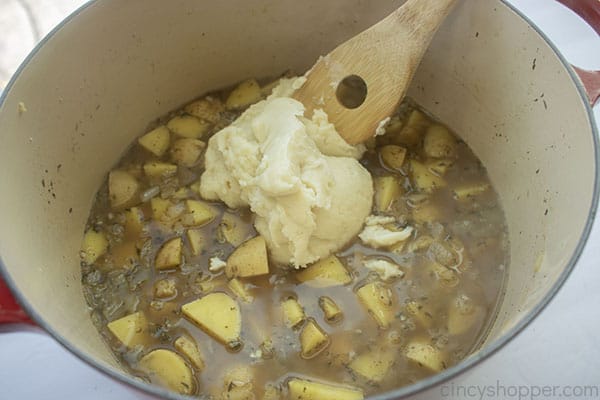 Lastly, just to make this soup extra creamy, we're going to add in that half & half. Do this slowly, mixing constantly until your soup is consistent and creamy.
Now we can add all those delicious veggies and chicken! Again, we used some frozen corn, green beans, carrots, and peas. Feel free to add your own preferred veggies here.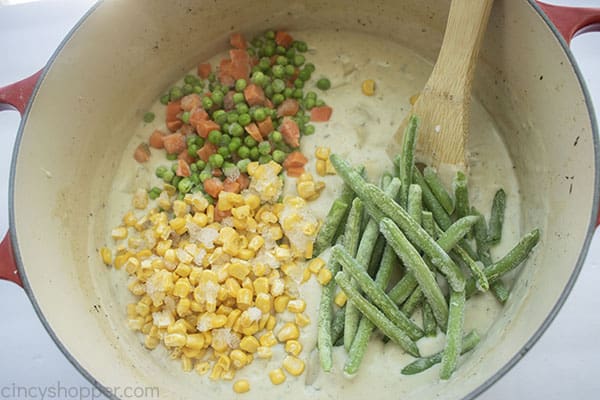 Of course, this wouldn't be a recipe for Chicken Pot Pie Soup without chicken! Add it in after your veggies and give everything a quick mix. All that's left is to let your soup cook.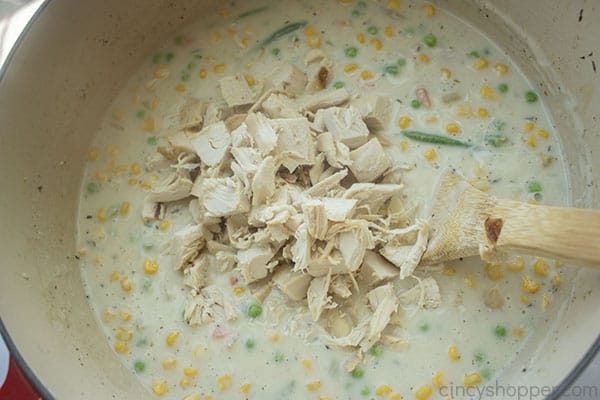 Set the heat to low and let your soup cook for about 10-15 minutes. No need to cover the pot while the soup is cooking. Once those 15 minutes are through and the chicken and veggies are heated through, serve up your soup and enjoy!
What to serve with Chicken Pot Pie Soup?
This creamy chicken soup will pair up with a wide range of side dishes. We'd recommend serving it up with a side salad, some biscuits or breadsticks, or maybe spooning it over a bed of rice.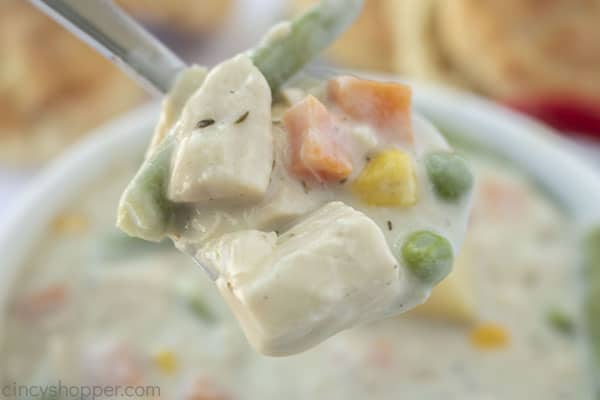 How to store soup
In the Fridge

– Store your leftover soup in an airtight container or ziploc bag. Kept well, it will stay good for about 3-4 days in the fridge. You can, optionally, omit the potatoes from the recipe and cook them up fresh when you reheat your soup. This way, you can avoid the mushy potatoes you usually get in the leftover soup.

In the Freezer

– Since there are potatoes and dairy in this soup, it won't taste as good after it's

been frozen

.

If you still want to freeze your leftovers, store in an airtight container or plastic bag and squeeze out any air

. Seal and lay flat in the freezer until it's frozen. Kept this way, it should be good for about a month. When it comes time to reheat it, do so on the stovetop over medium-to-low heat. Heat until

fully

melted and heated through.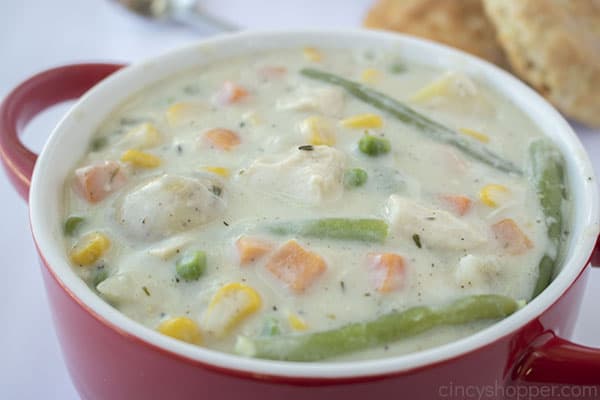 Chicken Pot Pie Soup
Chicken Pot Pie Soup is easy to make with frozen vegetables and leftover chicken. This comforting & delicious soup is perfect for warming up!
Ingredients
6

tbsp

Butter

divided

1

Yellow Onion

peeled and diced

1

tbsp

Minced Garlic

32

oz

Chicken Broth

1/2

tsp

Thyme

1/2

tsp

Poultry Seasoning

2

cup

Potatoes

peeled and diced

6

tbsp

Flour

1

cup

Milk

1

cup

Half and Half

2

cup

frozen Peas and Carrots

2

cup

frozen Corn

2

cup

Frozen Green Beans

3

cups

cooked Chicken

diced
Instructions
Melt 1 tablespoon of butter in a large pot over medium high heat.

Add in onions and cook until softened.

Add garlic and cook for another minute.

Add thyme and poultry seasoning and bring to a boil.

Add potatoes and reduce to a simmer and cook for about 10 minutes.

In another pan, melt remaining butter over medium heat.

Add flour to the melted butter and stir while it cooks for a couple of minutes.

Keep stirring while adding the milk to the roux until mixture is well blended.

Add this sauce to the larger pot and stir until blended.

Slowly add in the half and half while stirring to mix well.

Add green beans, corn, peas and carrots. Stir to mix.

Add chicken, stir and cook over low heat until everything is heated through (about 15 minutes).

Salt and pepper to taste.
Nutrition
Calories:
498
kcal
|
Carbohydrates:
49
g
|
Protein:
28
g
|
Fat:
23
g
|
Saturated Fat:
12
g
|
Trans Fat:
1
g
|
Cholesterol:
102
mg
|
Sodium:
790
mg
|
Potassium:
1150
mg
|
Fiber:
7
g
|
Sugar:
6
g
|
Vitamin A:
5578
IU
|
Vitamin C:
46
mg
|
Calcium:
173
mg
|
Iron:
4
mg